If you're looking to go camping or fancy a quick weekend getaway, Devil's Den State Park is an excellent place to go visit. Located in Lee Creek Valley, Arkansas, this unique area boasts an impressive rock dam, 8 acres of lake for fishing, canoeing, and renting pedal boats as well as various hiking and biking trails for all levels of ability.
We know it can be daunting to know where to begin planning a visit, so we've compiled a guide of everything you need to know about Devil's Den State Park.
Devil's Den State Park Opening Hours
First things first, it's important to know the dates and times facilities are available:
The Visitor Centre
This is a great place for getting more information about the area and the types of activities that are on offer. You can check prices and availability of canoes and kayaks or pick up a booklet on one of the many hiking trails.
Open all year, Jan – Dec
Mon – Sun, 8am – 5pm
NOTE: There is also a meeting room in the Administration Office of the Visitor Centre that you can access by reservation.
Campsites:
Devil's Den offers various different campsites to suit your needs – 143 in fact! These campsites are open all year, but some restrooms and bathhouses are closed from December 1st to March 1st.
There are various levels of sites to choose from. Some sites have electric hookups and running water, whereas others offer no hookups and simply an area for pitching a tent.
Types of Campsites:
Premium Class A: with water, 50AMP and Sewer
Standard B
Standard C
Class D: no electric hookups and eight Hike-in/tent only sites
Horse Camp: access to horse trails, water and electricity
Cabins:
There two types of Cabins that you can access all year round:
Full service Cabins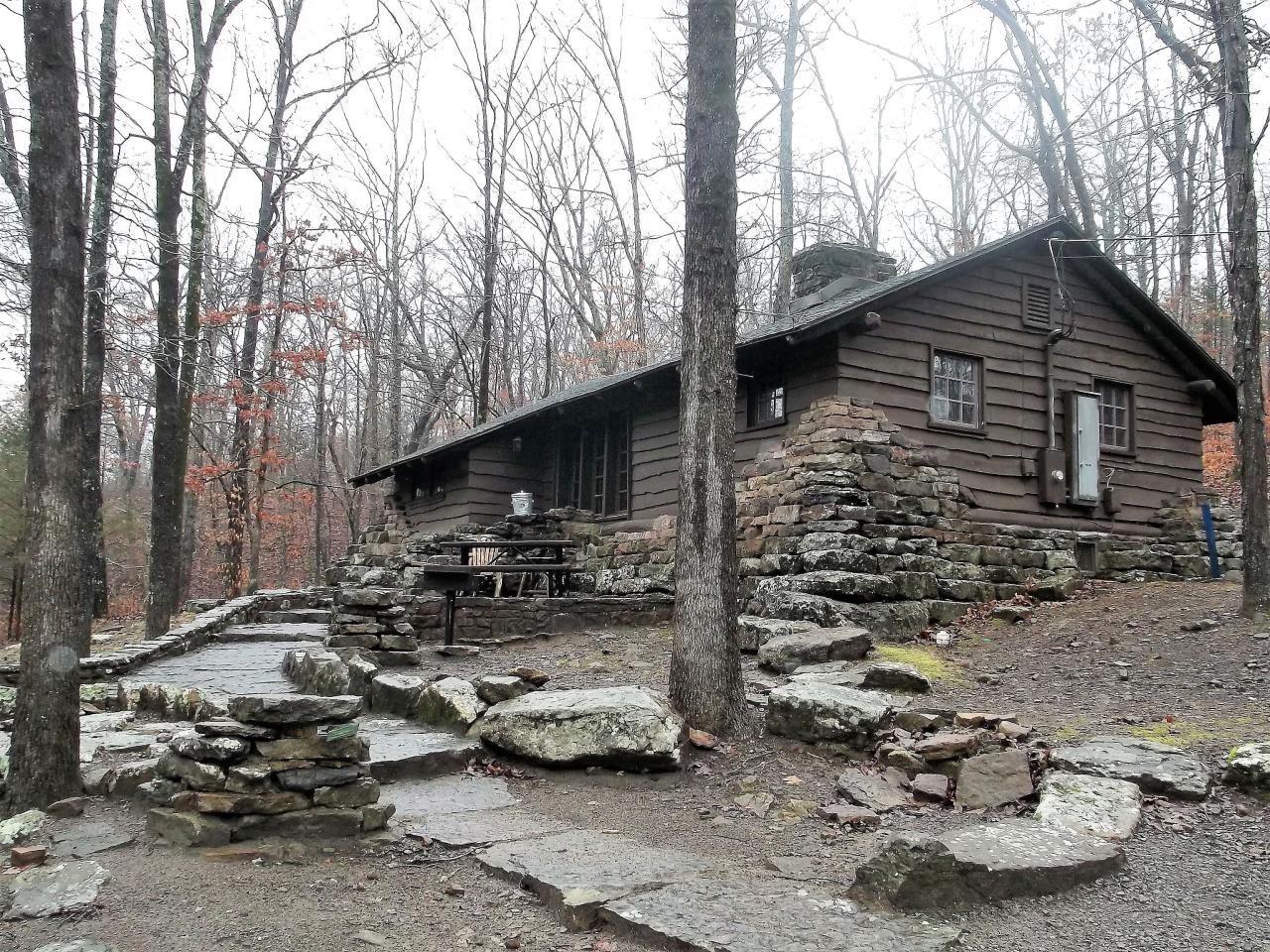 A 1930s build with modern amenities, these cabins are great for those who want to maintain some comfort while camping.
Features include:
A television, air conditioning and heating
Full kitchens with utensils as well as fresh linen for your beds
Cabins 2, 3, 5 and 7 are dog-friendly, however, you will need to pay a fee
You can reserve here if you would like to book a full-service cabin.
Camper Cabins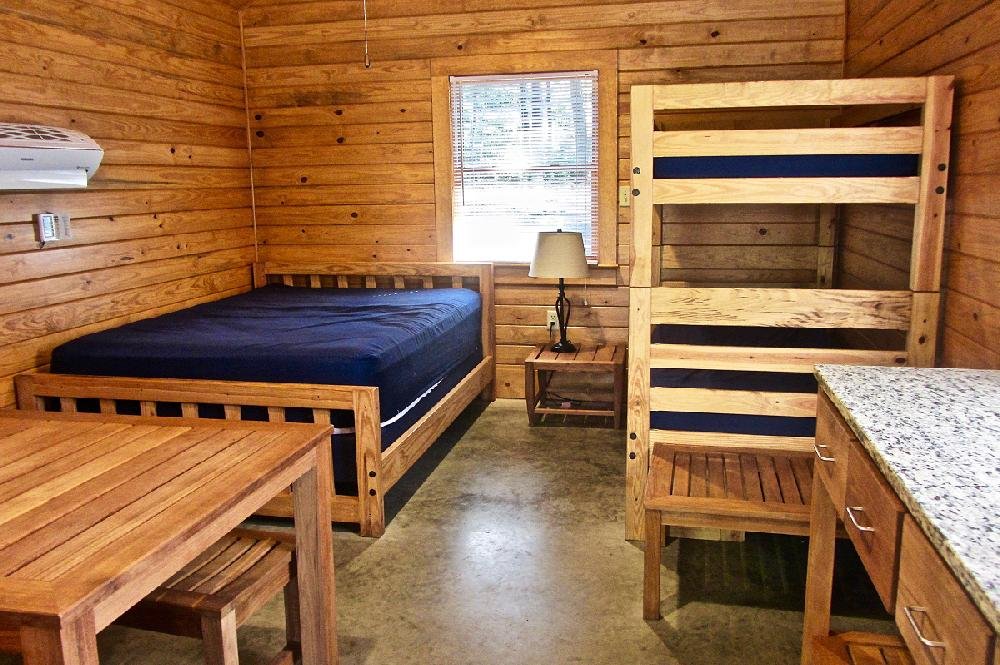 These cabins may not have the same comforts as the full-service cabin, but if you're looking for a more authentic camping experience, this option is for you.
They do not have their own kitchen, bathroom or television, and you must bring your own linen. Guests can use a shared bathroom and shower, which offers complete privacy.
Other features include:
Screened porch with chairs
A dining table
A picnic table, grill and lantern hanger outside
Air conditioning and heating
If the Camper Cabin is up your alley, you can reserve here.
Cafe
The on site cafe serves wonderful breakfast for campers and is open seasonally.
Memorial Day Weekend – Labor Day, Wed-Sun, 10 am – 6pm
Closed Mon & Tue
Park Store & Boat Rental:
You can purchase groceries, gifts and snacks at the park store as well as rent boats, canoes and kayaks from:
March 1st to Memorial Day Weekend, 9am – 5pm
Memorial Day Weekend to Labor Day, 9am – 6pm
Labor Day to Nov 15th, 9am – 5pm
Closed Mon & Tue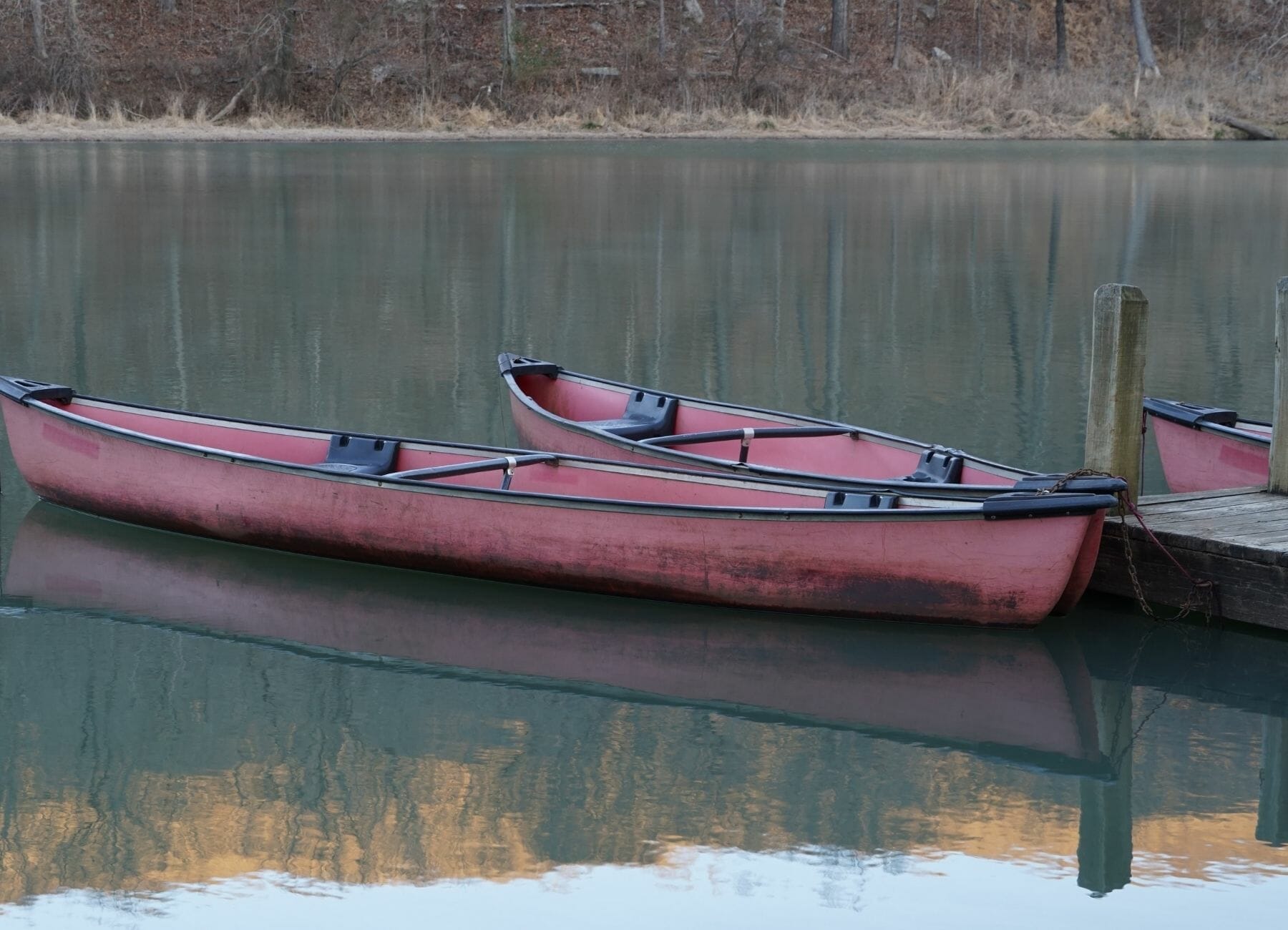 Pool
Why not check out the swimming pool if you fancy going for a splash during your stay? Open only in the summer months, from Memorial Day Weekend to Labor Day Weekend, and guests can gain free admission.
For those staying outside the camping and cabin sites, prices for children aged two to five are $4.00; for ages six and up, prices are $5.00. Families can also purchase a family pass for $70.00.
When Is the Best Time to Visit Devil's Den State Park?
Although Devil's Den State Park is open all year round, you may want to consider when you'd like to visit.
Despite the summer months being glorious for vacations, this period tends to be the busiest. Autumn and Winter may be lovely for some, but you will have to endure the cold weather and icy trails, which might not sound so fun.
Therefore, we'd recommend visiting during Spring (March-May). This time is exceptionally beautiful as wildflowers begin to bloom and waterfalls are at their biggest due to snowmelt.
5 of the Best Devil's Den State Park Hiking Trail
1. Yellow Rock Trail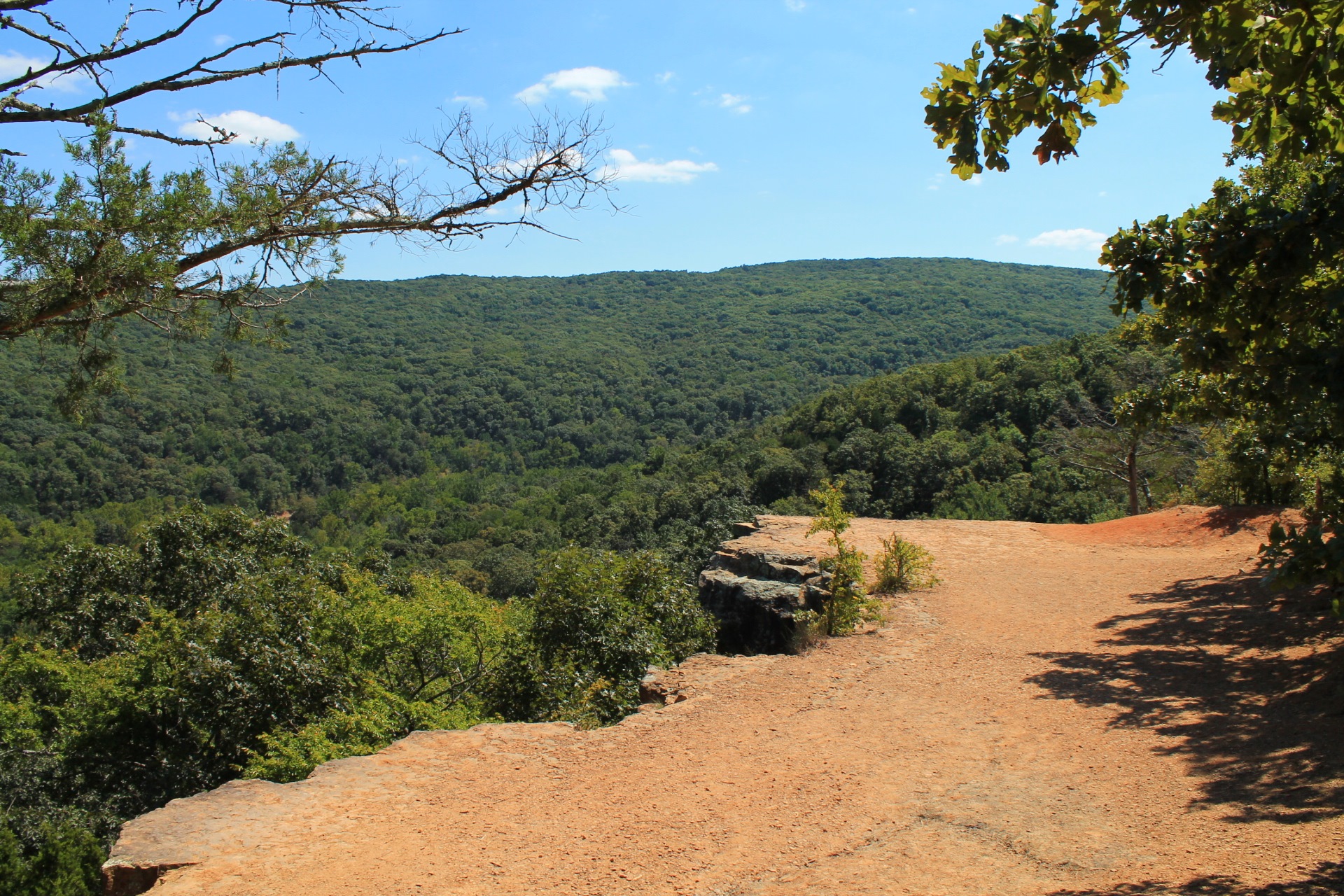 Level: Moderate
Average Time to Complete: 1 hr 27 mins
This 5.0km circular trail is close to West Fork and offers one of the best views of the Lee Creek Valley. Visitors can enjoy Yellow Rock's interesting rock formations along the route, but be careful to stay away from the edge, as there are some steep drops you may want to be wary of. For those bringing small children and pets, keeping them safe and away from the edge is advised.
You can park at either end of the trail and, since this is a popular trail amongst hikers and horse riders, please do be mindful of bumping into people whilst you explore.
2. Devil's Den Trail
Level: Moderate
Average Time to Complete: 40 mins
You can't come to Devil's Den State Park without visiting the Devil's Den Trail!
Built by the Civilian Conservation Corps in 1930, this beautiful trail has it all. Visitors can walk under waterfalls, along creeks and scuttle through deep caves while surrounded by greenery. Not only is this trail great for families, but avid photographers can also benefit from capturing the natural wonders this trail has to offer.
This trail is popular amongst hikers, so you will likely bump into other people while exploring. However, you can visit this place anytime during the year as it is always open.
3. Butterfield Hiking Trail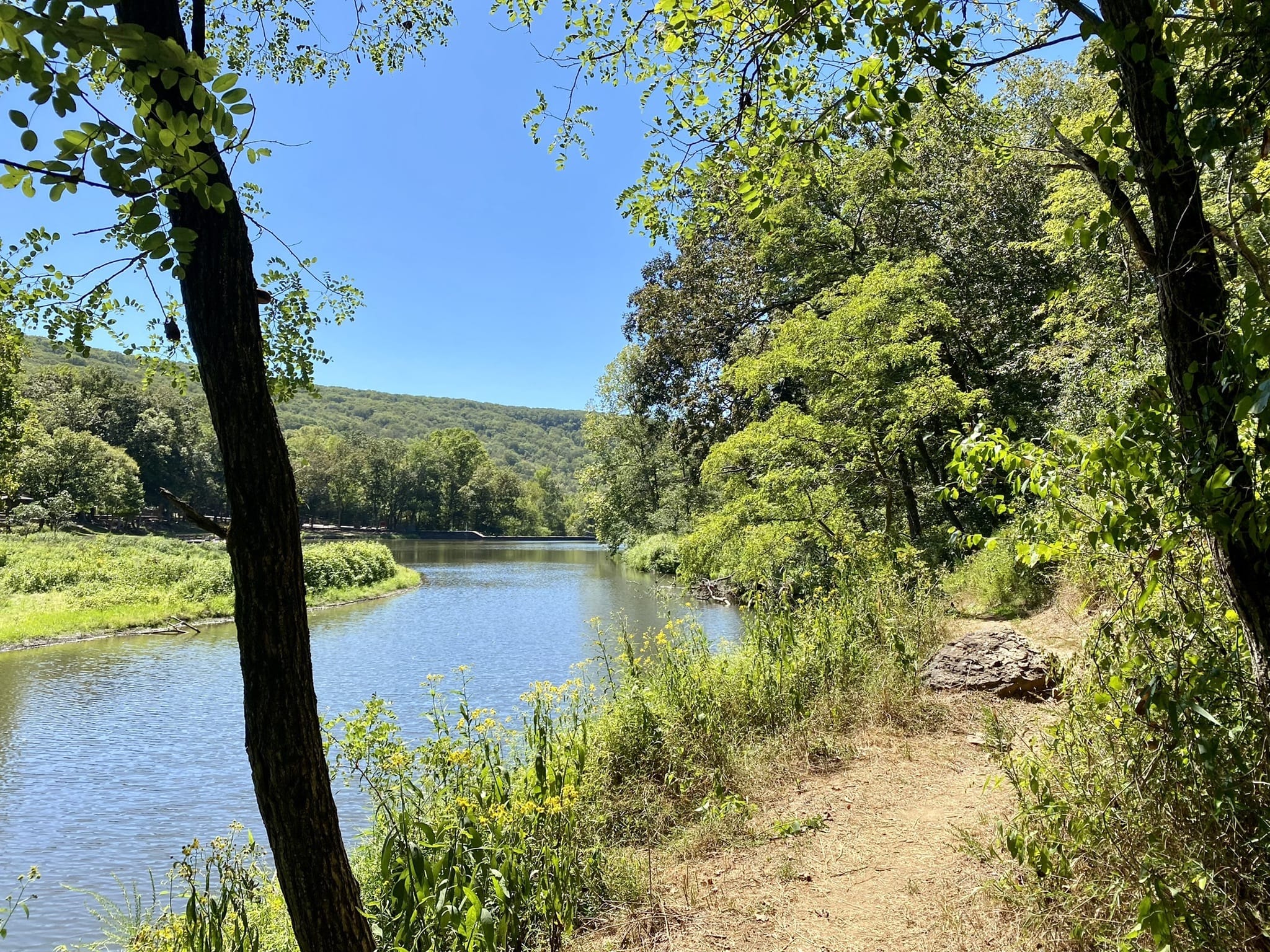 Level: Hard
Average Time to Complete: 6 hr 32 mins
As the toughest on this list, Butterfield Hiking Trail is great for those looking for a challenge. With scenic views of Blackburn Creek and the Vista Point Trail, you'll certainly be rewarded for tackling this trail.
Since this trail is 25.1 km, you can stay here over night at one of the various campsites – Quail Valley, Rock Hole Camp or Junction Camp. You do not have to set up camp at one of these sites, however, as the trail allows you to camp wherever as long as you're out of the state park area and 100 feet away from the trail and water sources. You will also need to have a permit if you wish to backpack during the night, which you can get at the visitor center.
If you would like to tackle this trail but are unsure about doing the whole thing, it is possible to only tackle a small portion of it. Park staff can advise on more minor routes that will allow you to experience what this trail has to offer
4. Fossil Flats Trail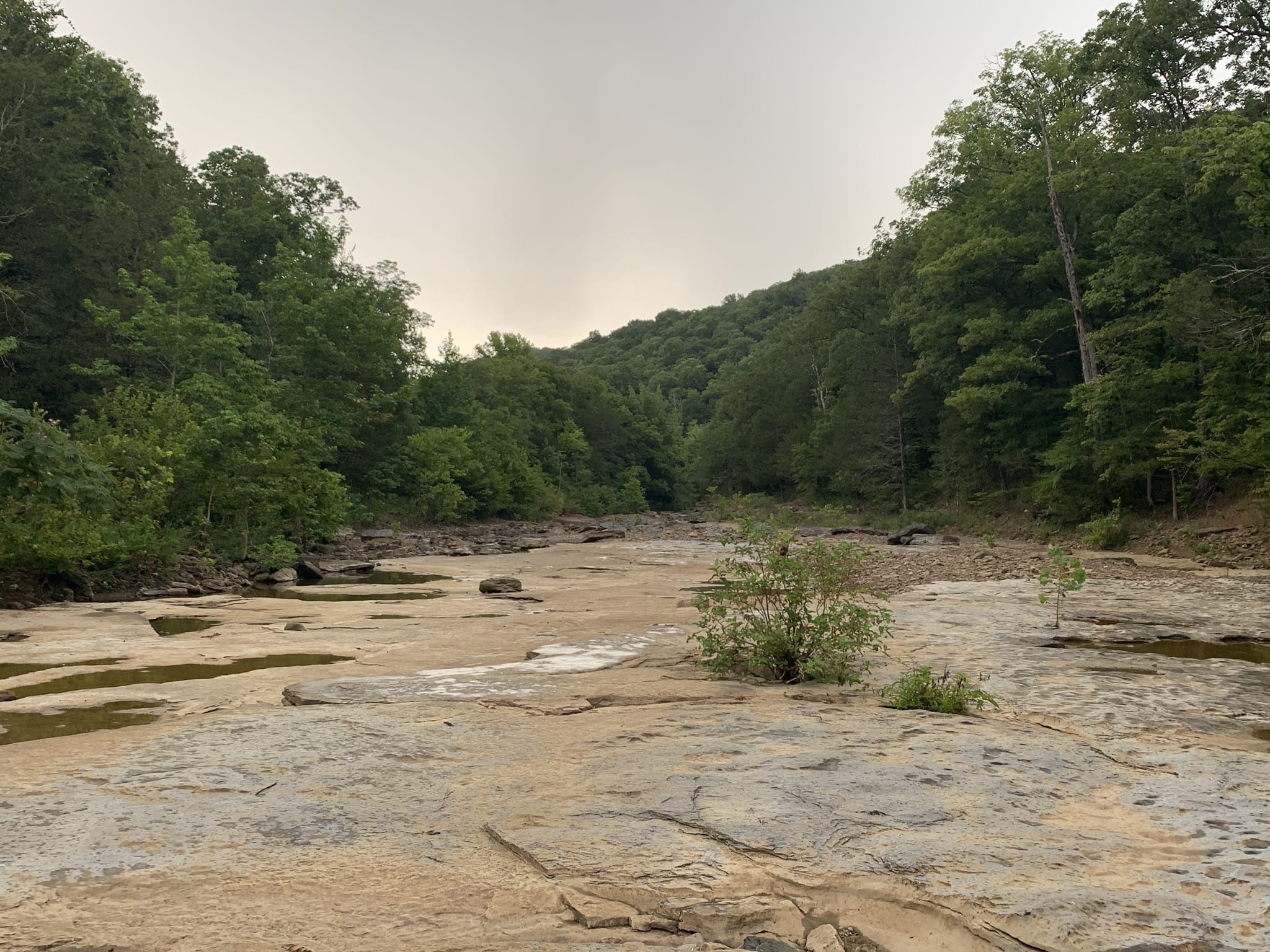 Level: Moderate
Average Time to Complete: 2 hr 16 mins
Beginning at Camp Area A, Fossil Flats Trail is most notable for its flat, exposed rock surface that harbours fossils in the creek bed. As well as interesting Ozark rock formations, visitors can adjust this trail by taking loops to suit their ability.
These include:
2.4-mile Outlaw Loop
4.2-mile Sawmill Loop
6-mile Racer's Hill Loop
This trail is open all year round and popular amongst visitors; however, many have reported that there are a lot of ticks in the area, so you may want to prepare yourself for these pesky guys. Make sure you check for them after you've finished the trail!
5. Gorley King Trail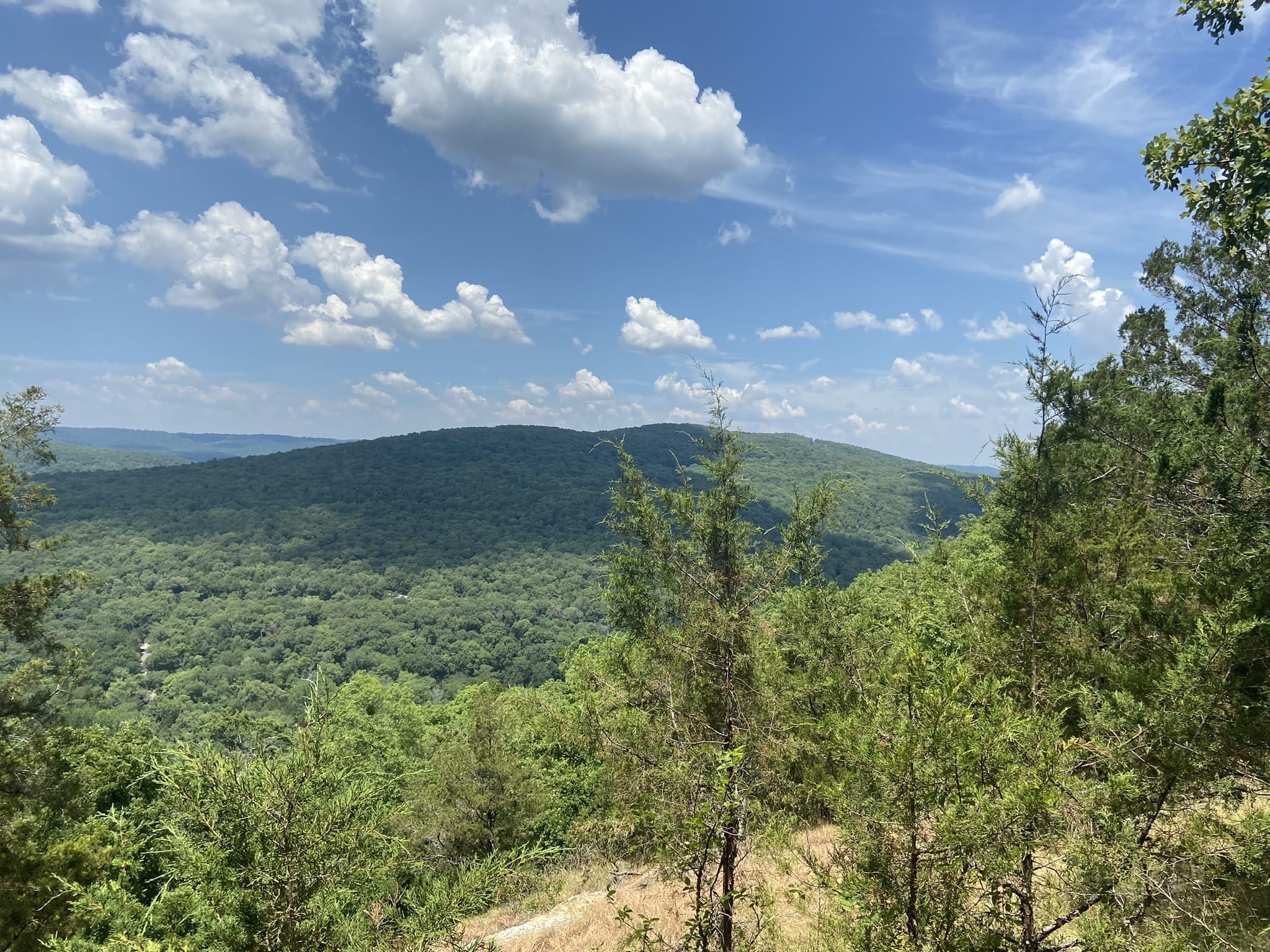 Level: Moderate
Average Time to Complete: 2 hr and 35 mins
If you'd rather keep away from seeing people and be alone with nature, then the Gorley King Trail is excellent for getting away from the crowd. Following Holt Ridge, you can expect to see natural bridges and limestone as well as experience beautiful views of the CCC Dam and Lake Devil.
Since this trail has many fallen trees and much rougher terrain than our previously mentioned trails, you will experience a unique and unkempt adventure. Perhaps even something more authentic to suit your desires. Though the trail is well-marked with red signs, you may find the trail difficult to follow at some points on your journey. This, however, might be perfect for someone wanting to challenge their navigation skills as well as discover any natural wonders along the way.
5 of the Best Places to Stay near Devil's Den State Park
If staying in a tent or cabin doesn't sound appealing to you, no worries; plenty of accommodation options are available to you. The following places are close to the trails and natural wonders of Devil's Den State Park.
1. Beard and Lady Inn
Located in the Ozark Mountains in the small town of Chester, this quaint hotel is the perfect alternative to camping. You'll be transported back in time with each delicately decorated themed room which encourages you to stay, read and relax. During your stay, you can enjoy historic train rides, perfume-making workshops at the Apothecary Shop and close walks to the creek.
Hollywood Directors and travellers enjoy the richness of the Beard and Lady Inn, especially for its ties to the murder mystery genre, which can spark a real sense of adventure.
The Inn offers terrific native foods from Ozark in its restaurant, Homegrown Native Foods, where visitors can enjoy a three-course gourmet meal sourced locally and taking inspiration from indigenous ancestors.
Pets are not allowed at the Inn, but this place is excellent for families looking to enjoy activities away from phone screens.
2. Staybridge Suites Fayetteville, an IHG Hotel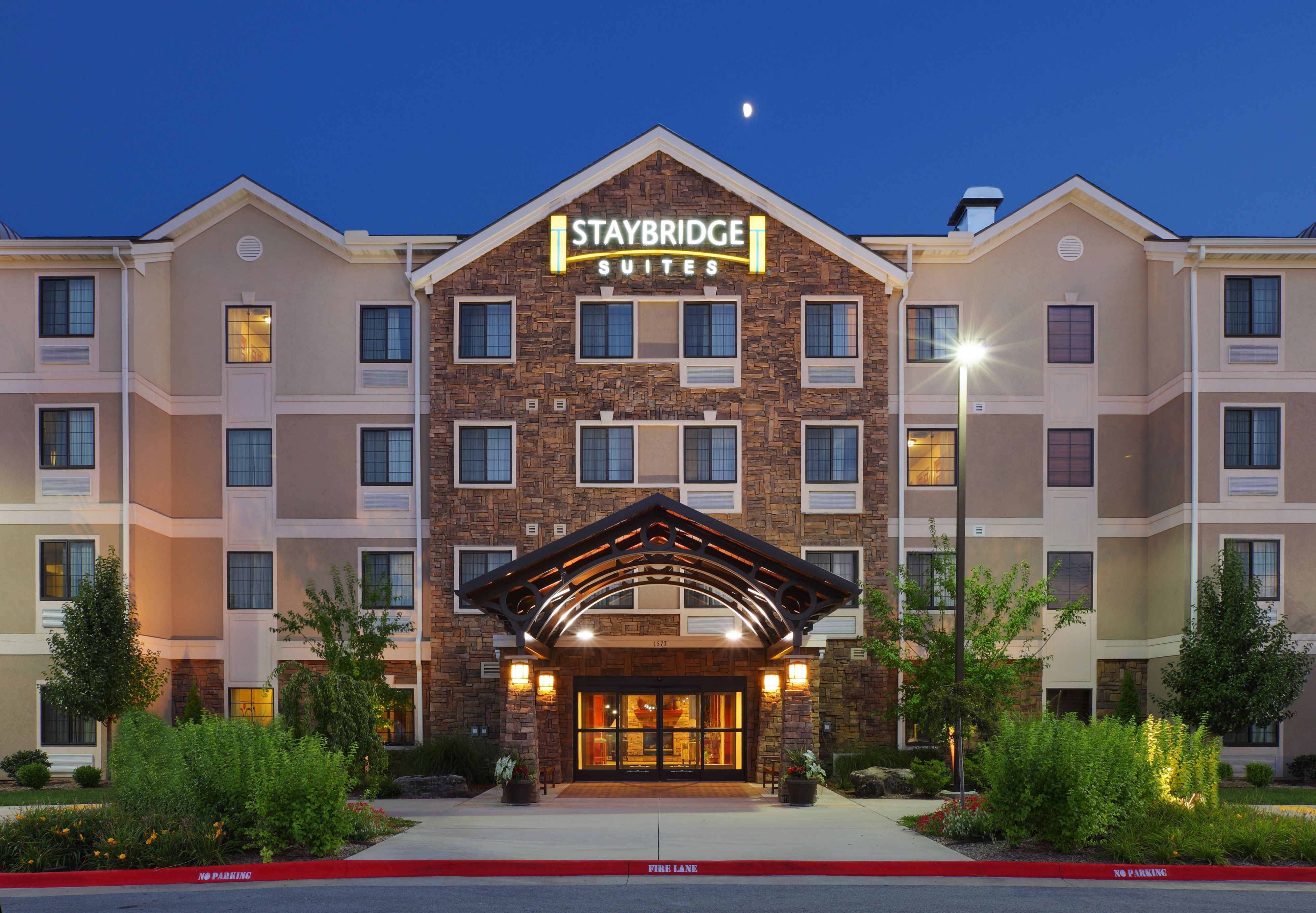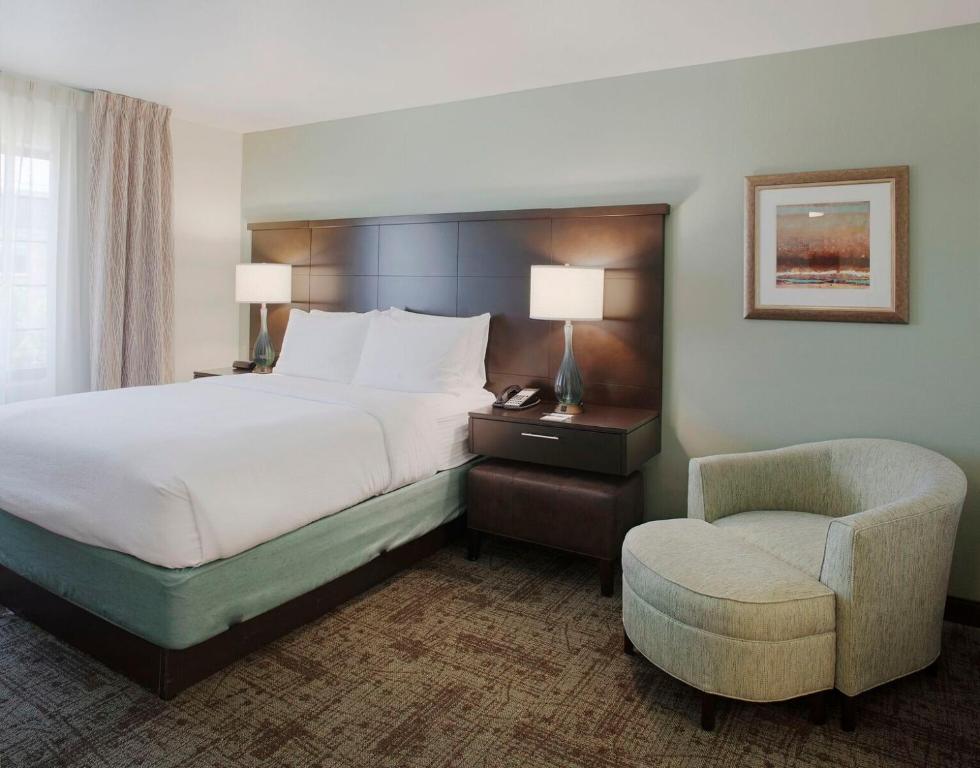 The Staybridge Suites Fayetteville is a great contemporary hotel, serving complimentary breakfast and parking. This spot suits travellers looking to get away for the weekend. With an indoor pool, fitness center and 24-hour market, guests can look forward to kicking off their hiking shoes after a long day of fun-filled activities.
The hotel is near Devil's Den State Park and other neighbouring trails. Since it is positioned in the city of Fayetteville, Arkansas, there are many things for you and your family to enjoy in and out of the town.
Fayetteville is one of the best places to vacation in Arkansas with kids, as you and your little ones can spend some quiet time basking in this historic town.
3. Graduate Fayetteville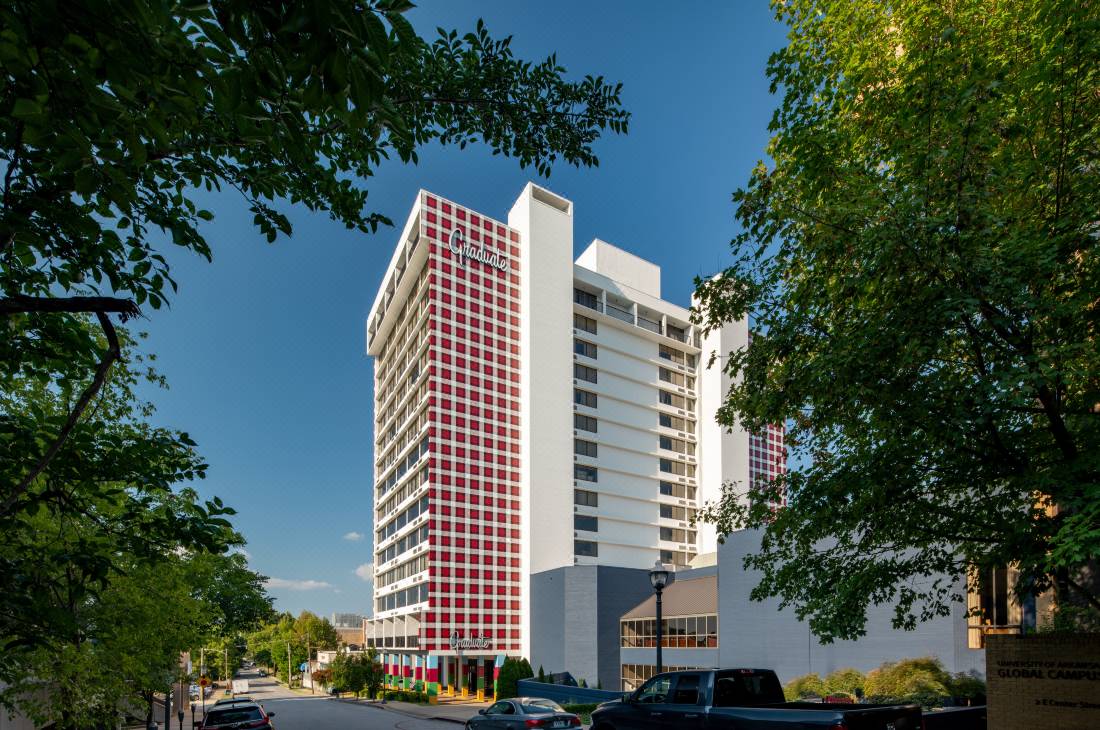 A contemporary little boutique hotel in the town of Fayetteville, this place is fantastic if you're looking for something rustic and full of character. With wooden floors and repurposed furniture, you'll feel like you're experiencing the beauty of camping with all your comforts included.
Why not take a dive in the pool or lounge by the bar? With over 12,000 square feet of event space, you'll never be bored at The Graduate Fayetteville. This is an excellent stay for families and pet owners looking to enjoy their time in luxury and the surrounding nature.
4. Hampton Inn Van Buren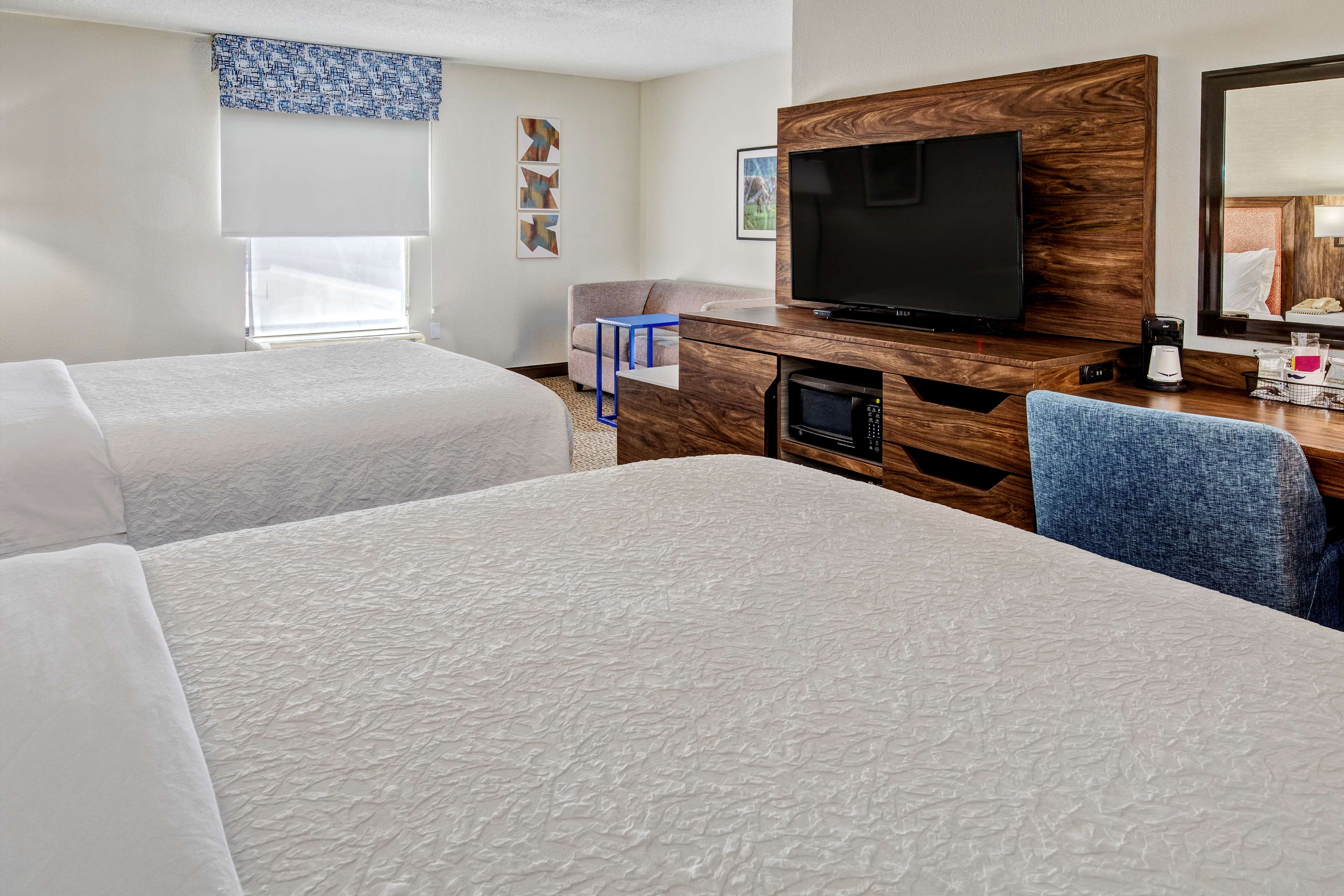 South of Fayetteville, in the Victorian town of Van Buren, you can stay at the welcoming Hampton Inn. Located near Lake Louemma Park, travellers can enjoy this hotel's convenience and beautiful Victorian architecture. You can sit by the fire in the lobby after enjoying hikes around Devil's Den State Park.
Pets are allowed here, and the Inn is close to numerous restaurants that are great for feeding little ones. Why not try Chili's Grill & Bar? Or perhaps stop by Waffle House for a change in breakfast?
If you're looking for a getaway that is in a good location, then this is the spot for you!
5. Sky-Vue Lodge Bed and Breakfast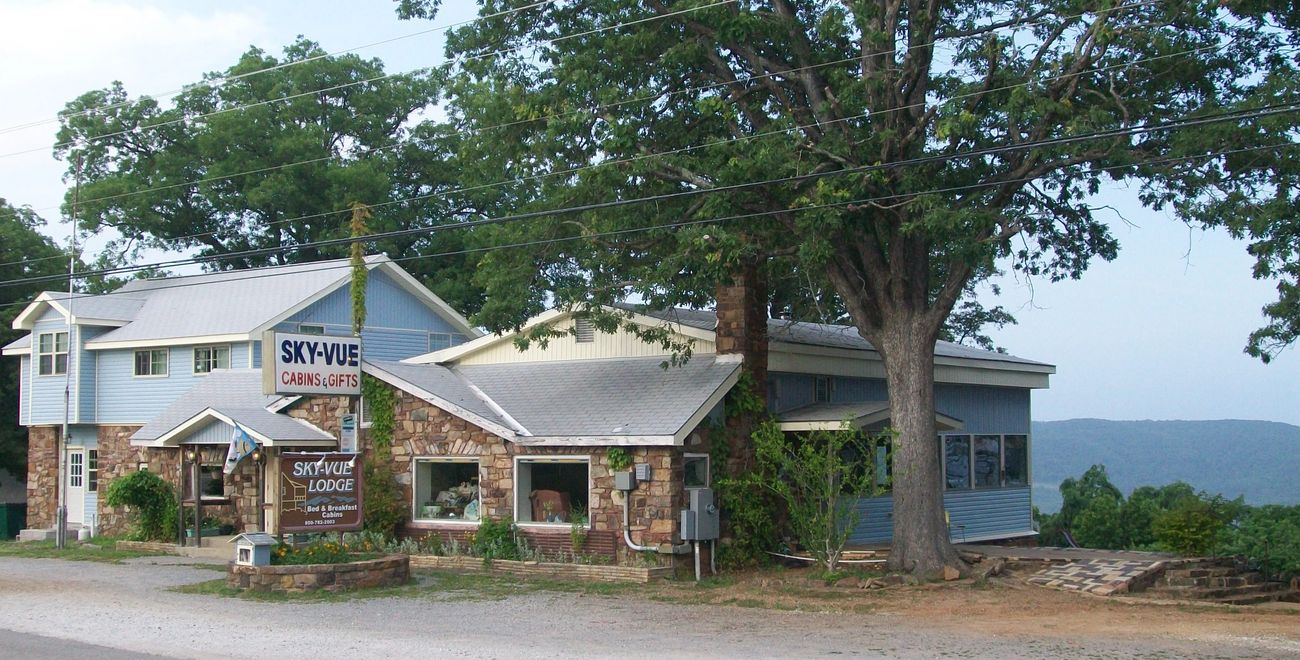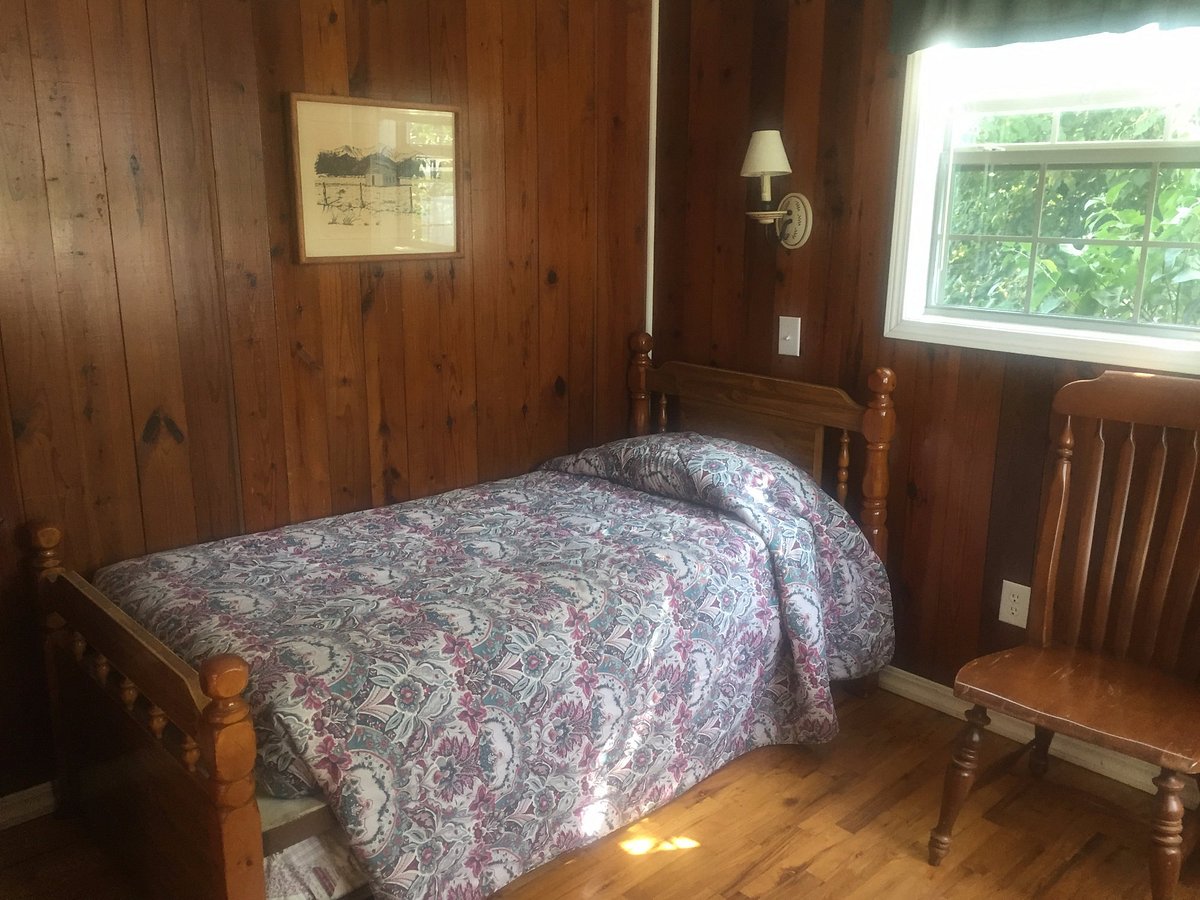 If you'd like to wake up to birds whistling in the trees, why not stay at the Sky-Vue Lodge? This quaint bed and breakfast is excellent for those wanting a taste of the outdoors while seeing the beautiful vistas of the Ozark Mountains.
This place is fantastic if you're looking for some peace and quiet while spending quality time with the family.
Everything You Need to Know About Devil's Den State Park Campgrounds
For campers looking for a place to eat, the following list will show you some excellent places to feast your eyes on!
5 of the Best Places to Eat near Devil's Den State Park
1. Cheers at The Old Post Office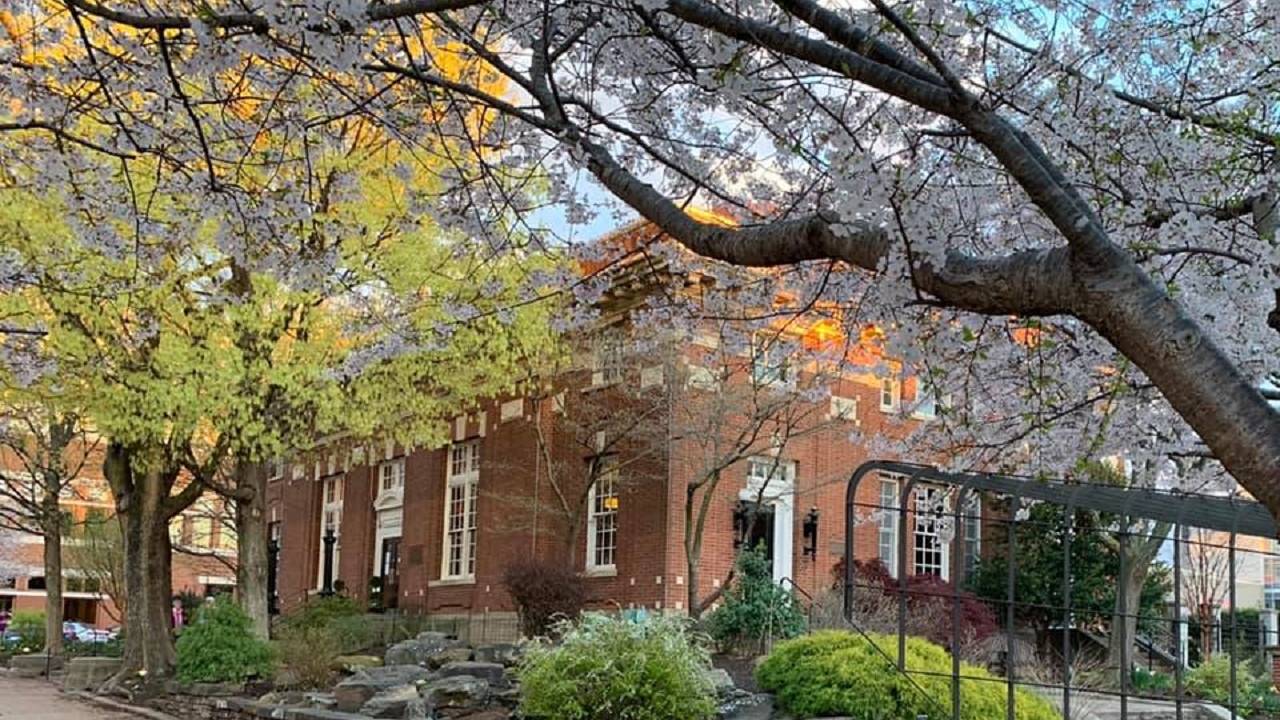 If you're staying in the Fayetteville area, why not stop by this neighbourhood gem? Originally built in 1911 as the city's Post Office, it was saved from demolition in 1974 and has since transitioned into the great grilled restaurant, Cheers.
From classic steak dishes to unique meals like lamb chopped lollipops and crab cake eggs benedict, you'll be met with a variety of exciting food options. Keeping with the restaurant aesthetic, smoky flavors will come from select mesquite wood to give you an authentic taste.
Price Range: $30 and under
Opening Times:
Wed-Fri, 11:00 am-10:00 pm
Sat, 10:00 am-10:00 pm
Sun (Brunch), 10:00 am-3:00 pm
2. Ella's Table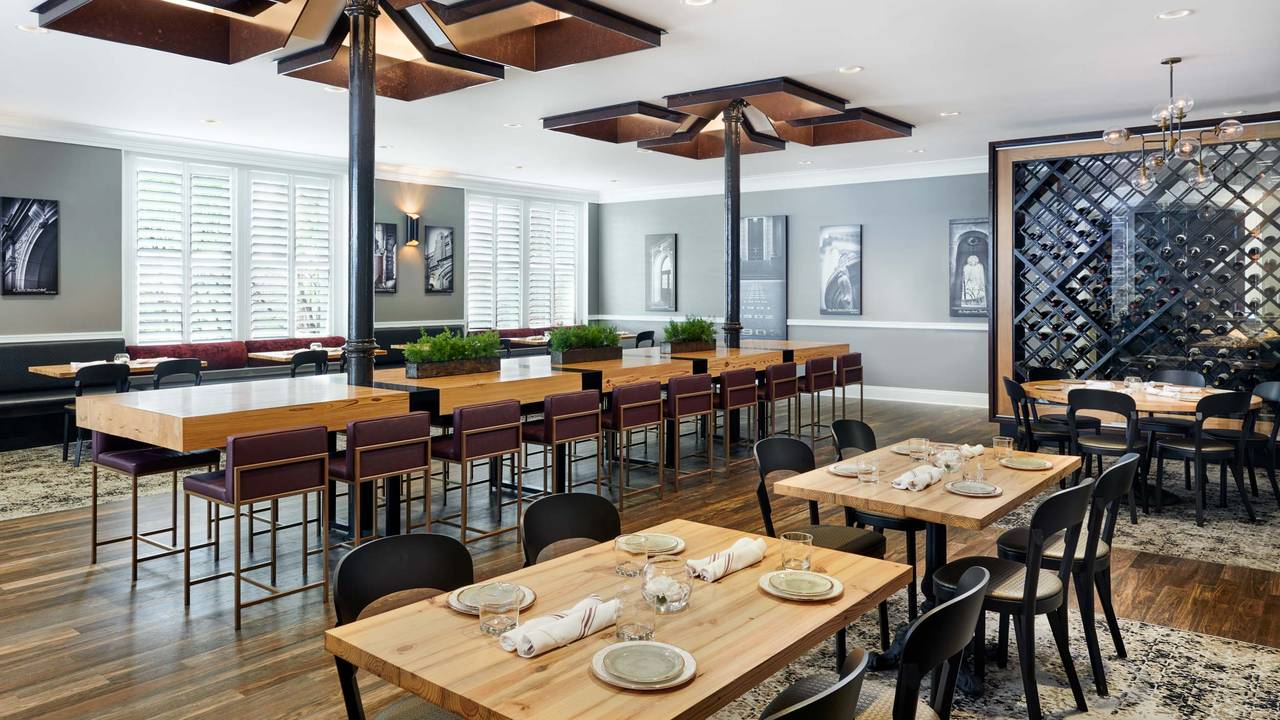 This chilled and laid-back restaurant offers traditional American cuisine in an easygoing manner. Situated at the University of Arkansas, the Inn at Carnall Hall was built as the first female dormitory at the college. It is named after a professor of English and modern languages, Miss Ella Howison Carnall, who graduated in 1881 and helped initiate the construction of the dormitory.
In modern times, you can find yourself sipping some sweet cocktails and enjoying the vast amounts of entertainment on offer!
Ella's Table has an annual Sippin' at Sunset event at the Inn, lasting from April to October. As you tuck into some Salmon Tartine or a Chicken Roast, you can bask in the rich history of your surroundings.
Price Range: $30 and under
Opening Times:
Every day, 7:00 am-2:00 pm
Thu-Sat, 5:00 pm-10:00 pm
3. Vetro 1925 Ristorante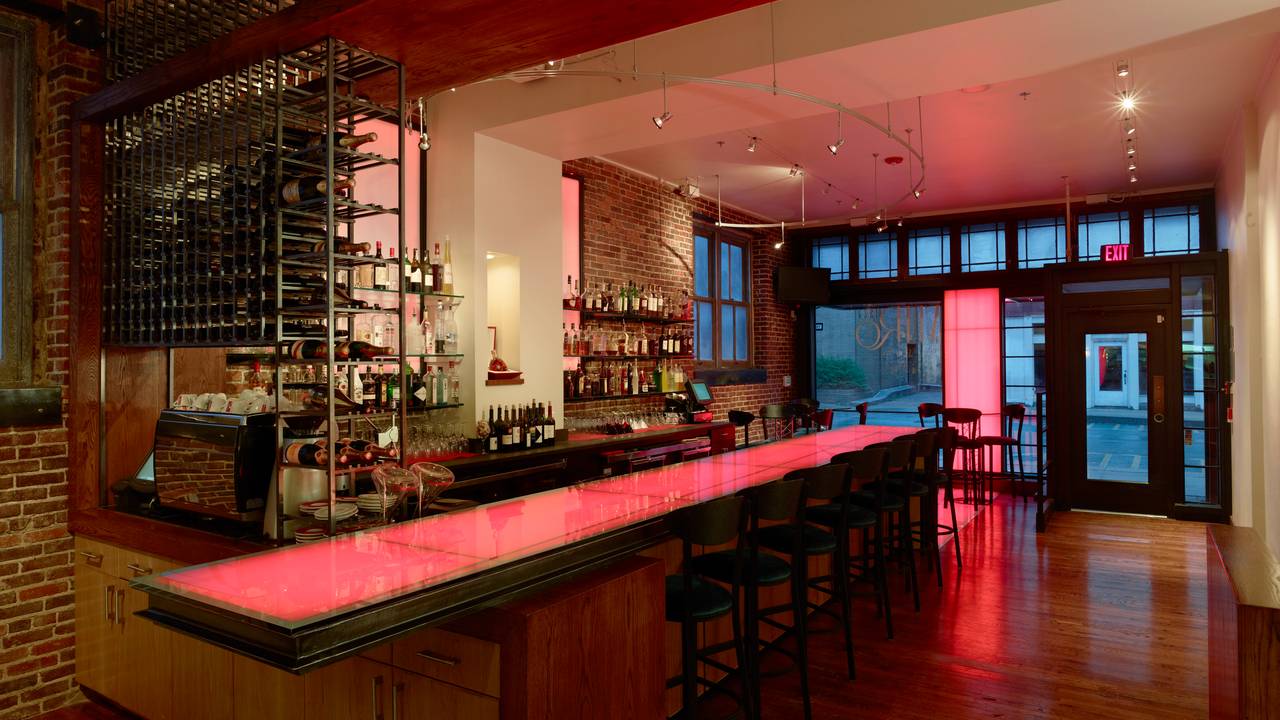 If you fancy a change from American cuisine, why not taste some Italian flavors at the Vetro 1925 Ristorante?
Not only serving classic pasta dishes, but Chef Alan Dierks also aims to cook up traditional meals using sustainably sourced ingredients alongside imported prosciutto, cheese and olives. The menu has gluten-free, vegetarian and vegan options, so there are plenty of delicious dishes to suit everyone.
You'll feel like you're romancing in Sicily with this Ristorante!
Price Range: $31 to $50
Opening Times:
Tue – Thu, 5:00 pm–8:00 pm
Fri – Sat, 5:00 pm–9:00 pm
4. Preacher's Son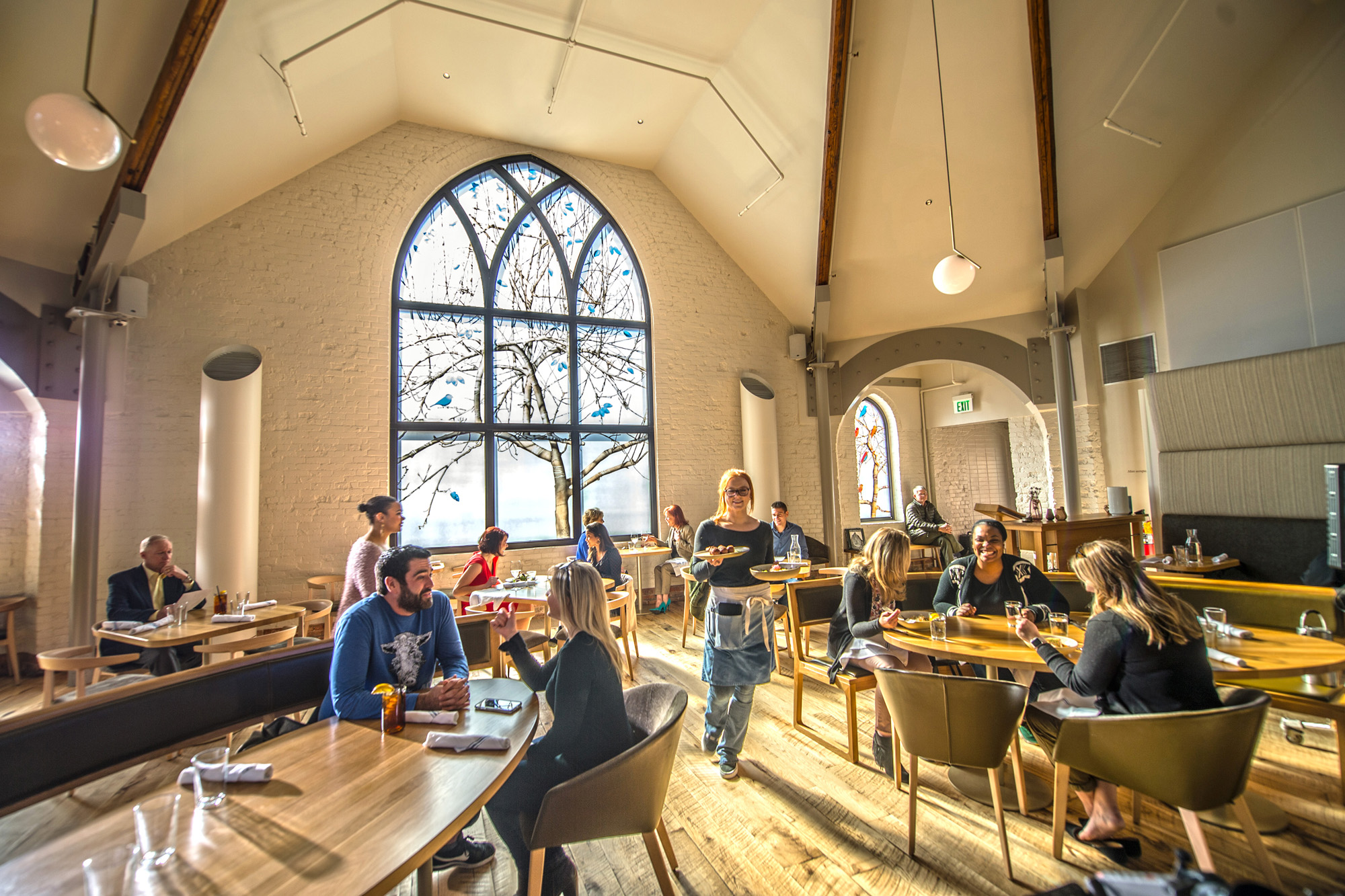 With beautiful stained glass windows by George Dombek, a rooftop bar and a garden patio, The Preacher's Son is great for thoughts looking for a good time. Serving sustainable and locally sourced cuisine, this friendly and cutting-edge restaurant is an explosion of Gothic Revivalism from 1849 to 1904.
This casually elegant place is perfect for those looking to enjoy stunning works of art whilst dining!
Price Range: $31 to $50
Opening Times:
Mon – Thu, 5:00 pm – 9:00 pm
Fri – Sat 5:00 pm – 10:00 pm
5. The Hive at 21c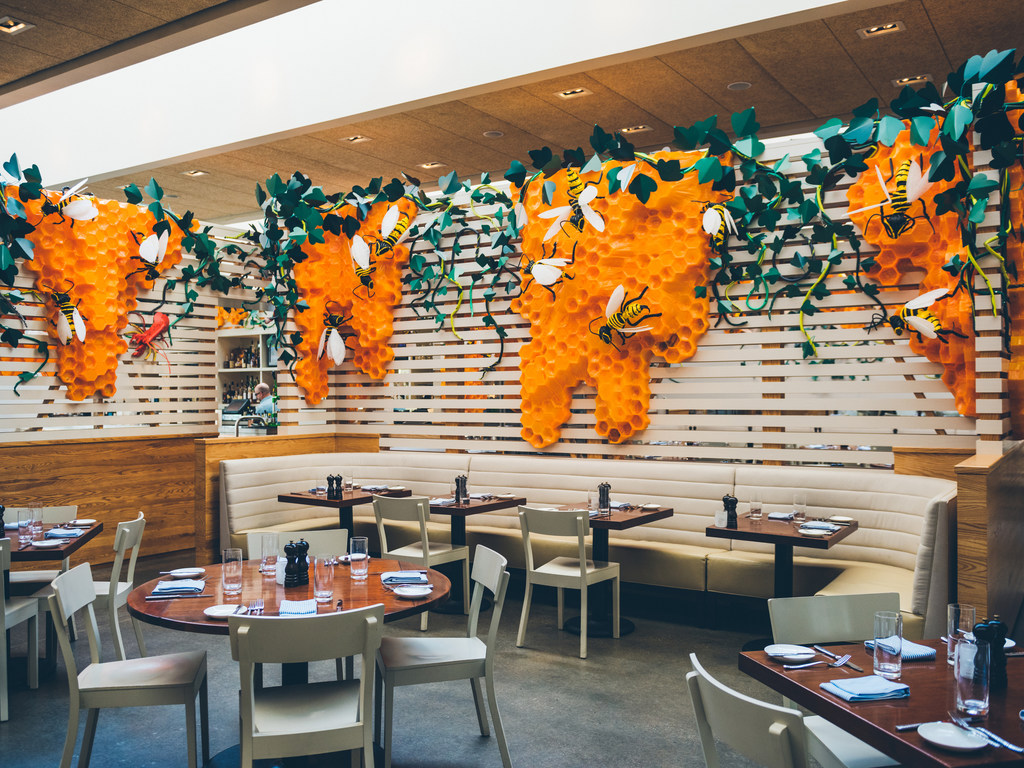 Boasting a unique dining experience, The Hive offers contemporary American meals in a relaxed and welcoming environment. The Hive is located at the 21c Museum Hotel Bentonville, where guests can view the gallery before or after eating. There is a strong emphasis on community at The Hive, which invites friends and family to come together to enjoy food, drink and art.
Price Range: $30 and under
Opening Times:
Dinner
Mon–Thu, Sun 5:30 pm–9:00 pm
Fri-Sat, 5:30 pm–9:30 pm
Bar
Mon–Thu, Sun 5:30 pm–9:00 pm
Fri, Sat 5:30 pm–10:30 pm
Brunch
Sat-Sun, 11:00 am – 2:00 pm
Afternoon
Sat-Sun, 2:00 pm – 5:30 pm
5 Top Tips for Visiting Devil's Den State Park
Before we wrap up this list of everything you need to know about Devil's Den State Park and what to look out for when planning your visit, let's quickly run down a few tips that will be useful for you to know!
1. How long should you stay?
Of course, the length of your stay is entirely up to you, but for those looking to spend time exploring, we'd recommend having at least two full days dedicated to this. Devil's Den is also perfect for those seeking a short weekend getaway. No matter the length, however, you certainly won't be bored of things to do!
2. Beware of the Bugs
Since you're likely to be out in the wilderness, there may be an odd bug or two that you'll encounter. We would suggest bringing some bug spray, protective clothing, and any hiking gear.
3. Book in Advance
Don't assume you can show up without booking your preferred accommodation; otherwise, you may sleep somewhere you'd rather not!
4. Policy on Pets
Devil's Den State Park allows pets on its premises, but owners must be responsible. Keep leashed on and tidy up after them where necessary. The park is a popular destination, so please be mindful of other visitors.
5. Keep Things Clean
Probably the most important tip on this list – keep the park clean. Since becoming more conscious about environmental issues, it's more vital than ever to keep our green spaces tidy. In order to protect the wildlife, make sure to follow the Leave No Trace Principles set by the park such as picking up litter and being careful with the nature around you. With your efforts, we can keep this lovely park reviving for years to come!
Conclusion
No matter how you wish to spend your time at Devil's Den State Park, you can be sure to have a fun and unique experience. Adventure and nature lovers will surely love this rural getaway and enjoy spending time with family and loved ones.
For more information, visit the State Park's official website.
More about our TFVG Author