San Francisco is a multi-faceted city with an equal amount of adult-orientated intrigues and kid-friendly activity.
Although often reserved as an adults-only trip, it's definitely worth exploring this bucket list-worthy city with your whole roost, as there's plenty of opportunity for shared enjoyment, laughter, and the making of life-long vacation memories.
Before getting too excited about all that San Francisco and California can offer family vacationers, check out this list of the 15 best family hotels in San Francisco, and book a hotel that can meet your family's requirements!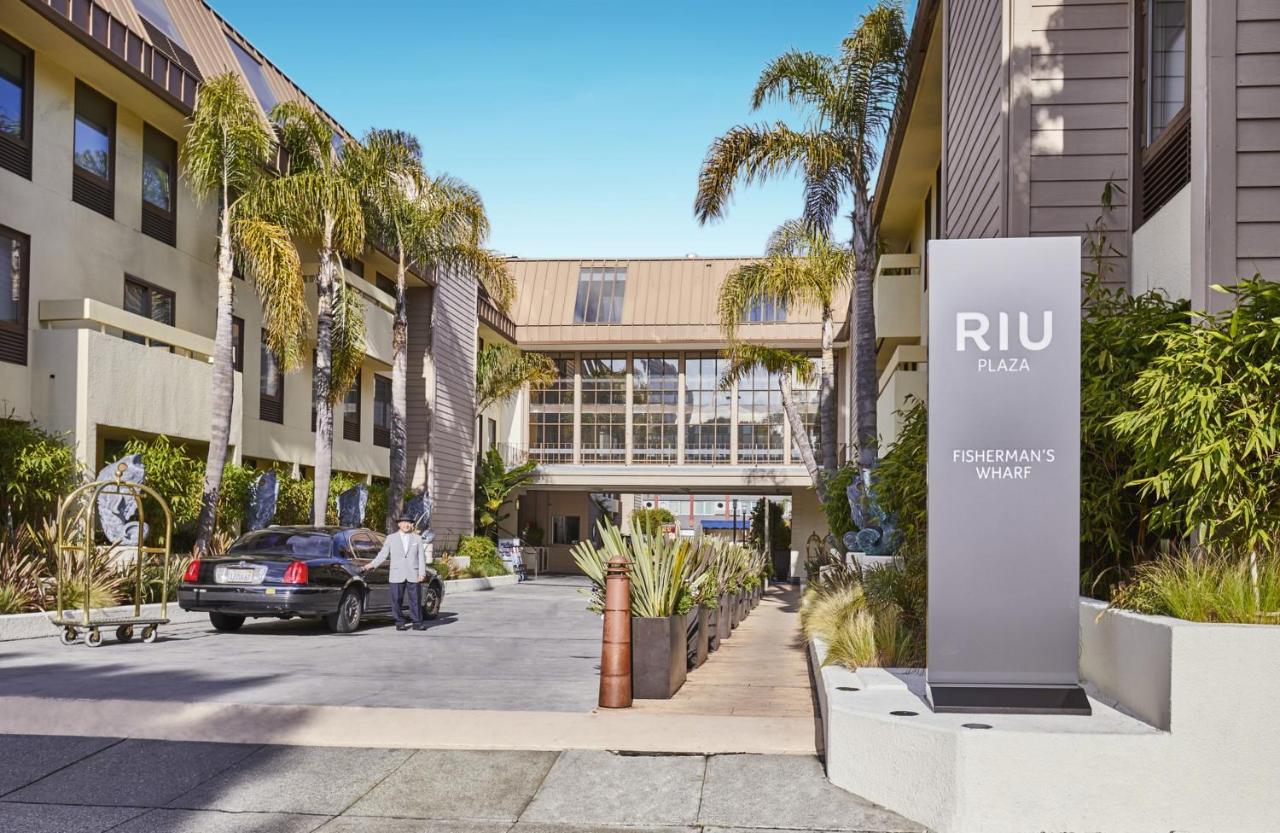 Kicking off our guide to the best kid-friendly hotels in San Francisco, The Hotel Riu Plaza Fisherman's Wharf is located in the heart of the action. It's just a 5-minute meander away from Pier 39 – a bustling waterside world of play, featuring theme park attractions, arcades, a mirror maze, and a laser maze challenge – essentially, kids' paradise!
When not glued to Pier 39, kids will love swimming in the Hotel Riu Plaza's outdoor pool, socializing by the fire pits, and pitching up at the golf course. Although the hotel encourages guests to get out as much as possible and explore Downtown San Francisco, the hotel's an ideal place to spend the off-days of your vacation.
Take advantage of the gym and workout room, and fill up for breakfast, lunch, and dinner at the on-site North Point Bar and Restaurant. Parents can catch a bit of quiet time in the lounge area while kids settle down to an on-demand movie, selected on the 49-inch TV that each room comes equipped with.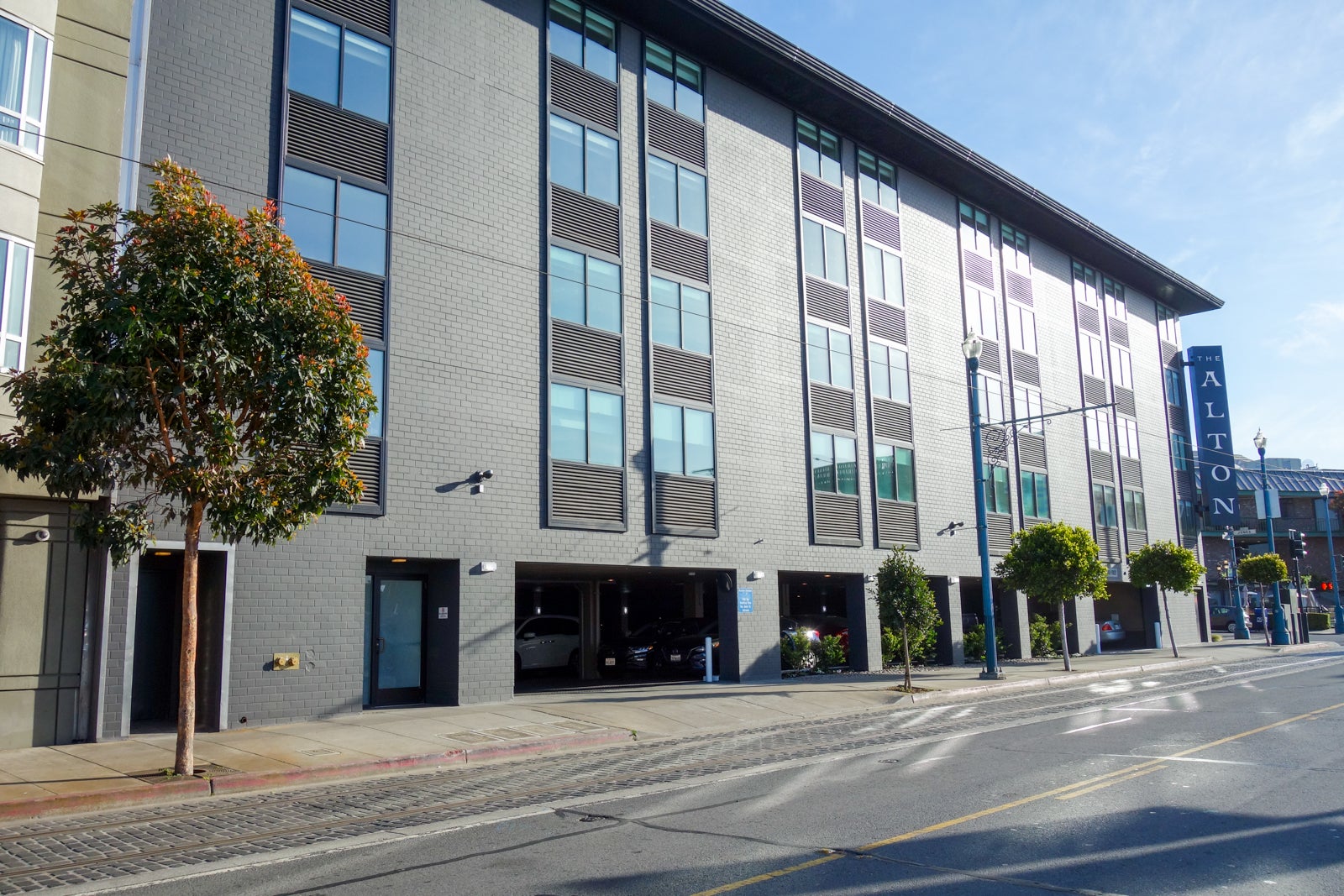 If you're looking for contemporary luxury, treat your family to a stay at the Kimpton Alton Hotel, located in Fisherman's Wharf. The decor of this place is unparalleled, with white oak, lavish upholstery, and modern art and photography pieces lining its walls.
Dine in style at the on-site restaurant, ABACÁ, which serves up mouthwatering takes on Filipino-Californian cuisine. The irresistible rice, noodle, and BBQ stick dishes are guaranteed to keep you coming back for more.
The luxury extends to the suites, with swanky furnishings, flat-screen TVs, and soft bedding made more inviting by the blackout curtains found in each.
The lack of swimming facilities is made up for by the hotel's excellent bike hiring service and offsite watersport experiences. Family members who like to stay active even when on vacation can feel free to complete a few reps in the on-site gym or hit the nearby tennis court.
The location of the Handlery Union Square Hotel allows for guests to make a beeline straight to whichever San Francisco attraction they please, with a cable car stop right outside its front doors!
Union Square itself is where families can satisfy their shopping cravings or catch a performance at one of the district's many theaters, including the San Francisco Playhouse.
The pool is located in the courtyard area at the center of the building, with a quaint appeal with a chequered perimeter, and is surrounded by chaise lounges and private balconies. Other suites look out onto the lively metropolis of San Francisco.
Inside the rooms, families will find high-speed internet access, a refrigerator, a wide-screen TV, and exceptional air conditioning to keep the night temperature agreeable.
This is one of the best kid-friendly hotels in San Francisco because it has a community feel, with an on-site barber and sauna, both of which ensure that guest replenishment is fully attained by the end of the vacation.
This historic hotel has been welcoming back guests for over a century now, and its present staff strives to uphold its legacy as one of the best city center hotels for families in San Francisco. The Chancellor Hotel on Union Square was once the tallest building in all of San Francisco, and today, kids will surely be mesmerized by its quaint allure.
Offering few thrills, the Chancellor Hotel focuses all its energy on providing the best place to rest at the end of a long day exploring the Golden City. What it does offer is valet parking, a well-equipped gym, and a bar area. In addition, Union Square plays host to an array of restaurants, so it'll be easy to find a place to satisfy your hunger.
Get the full San Francisco experience by leaving this old-fashioned hotel and hopping straight onto a San Francisco cable car – the only cable car service that is still manually operated in the world today!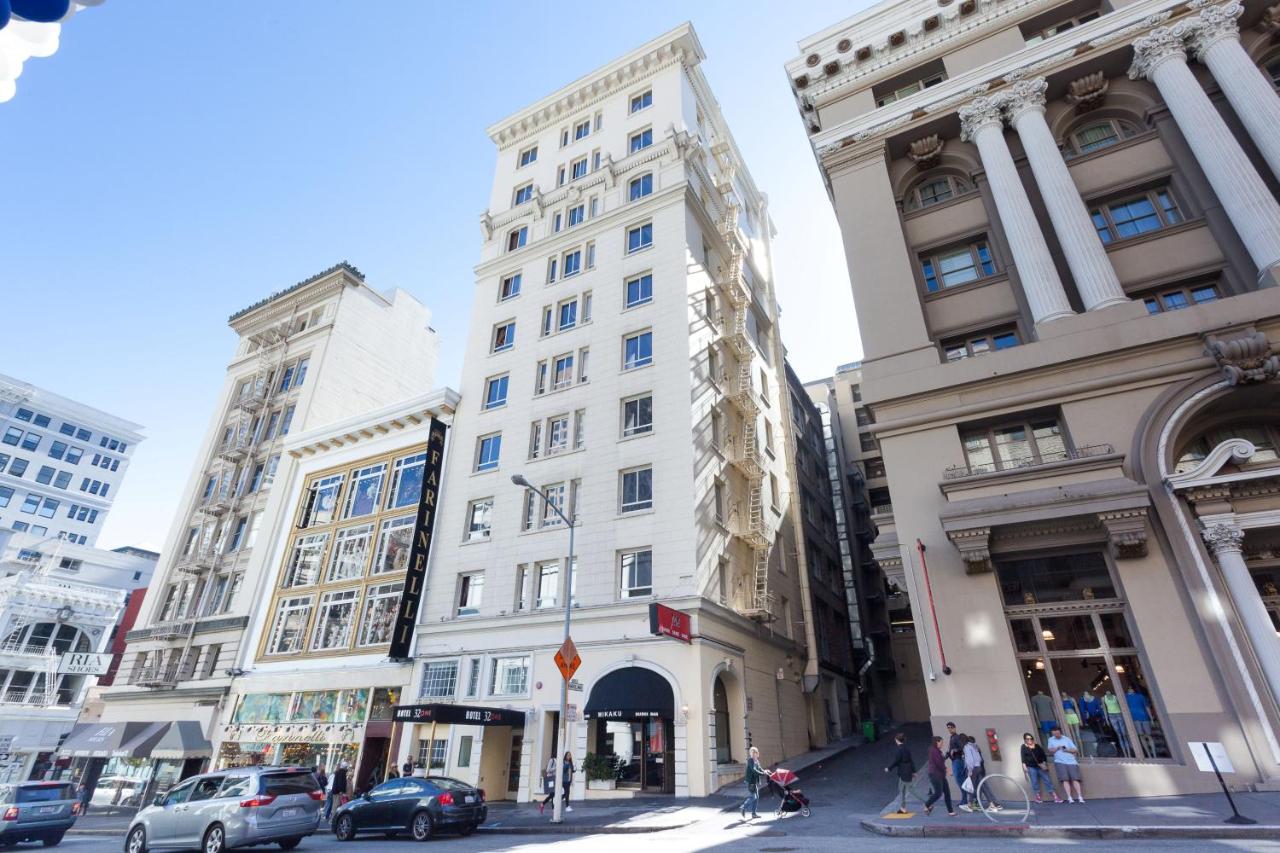 This Union Square boutique hotel provides San Francisco first-timers with a comfortable resort to base themselves, with many of the Downtown highlights found nearby, including the entrance to Chinatown.
The rooms are inviting and homely, and guests can choose between big suites featuring two double beds, the superior king or the king suite, to make their family getaway as comfortable as possible.
In-room amenities include a safe, great for keeping kids' valuables while you're out exploring, excellent Wi-Fi, and satellite TV. Not only are the rooms great for kids, but if they're under 12, they get to stay for free! Get a sense of the city by people watching from the window of your suite, which provides unbeatable views of the surrounding square and San Francisco skyline.
A stone's throw away from all the highlights of the district of SoMa – the San Francisco Museum of Modern Art, Oracle Park, etc. – the Axiom Hotel stands proudly as a well-priced family hideaway in Downtown San Francisco.
The Axiom may be an old building, but the hotel has certainly kept up with the times, with a modern interior layout, Smart TVs and Kube Clock Radios in every room, advanced sensory locks, and a convenient online check-in service. Kids can socialize in the downstairs lounge and take full advantage of the high-speed Wi-Fi available throughout.
Choose between the meta queen, featuring two queen beds, the mono king, featuring one king, and the nano and mono queen, featuring one queen bed to make your family stay as luxurious as possible.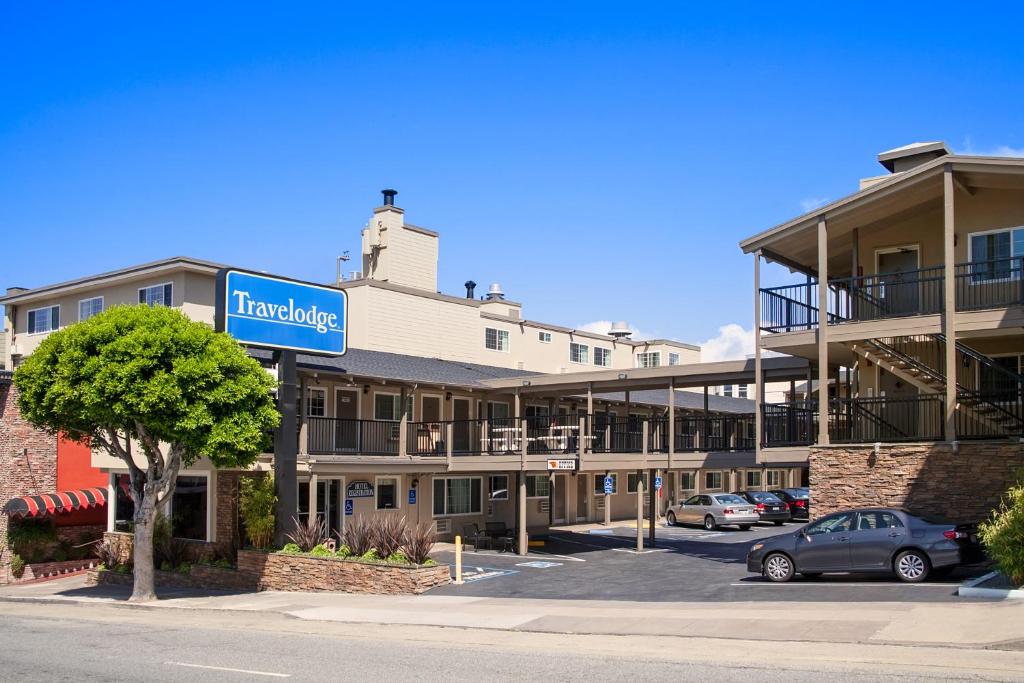 The Travelodge by Wyndham San Francisco Bay may appear basic from the outside but provides all you and your family will need to enjoy all of the delights of the Bay Area inside. This has made our list of the best family hotels in San Francisco as it offers horseback riding excursions for guests and can even provide access to a nearby golf course for a relaxing afternoon spent pitching and putting.
Inexpensive compared to other hotels on this list, this Travelodge still provides guests with such essentials as cable and satellite TV, a walk-in shower, and air conditioning.
With a central location, the iconic Lombard Street, with its eight unique hairpin turns, is within walking distance, as is the idyllic Aquatic Cove for some beach-bound fun.
Found right on Lombard Street, the Francisco Bay Inn will provide you and your family with some much-needed authenticity. Instead of opting for a plush hotel, introduce your kids to the real side of San Francisco: the accommodating, friendly, and generous side of the city. You'll be reminded of this every morning as you wake up to this Inn's free breakfast service.
The exceptional hospitality is extended to the charming rooms, which each come with a coffee and tea maker – ideal for getting you up and at 'em in the morning. Choose between rooms with two double beds or the queen room, where you'll find two larger double beds and enough space to fit six people.
A tour leaves from the Francisco Bay on most days that you and your family can get involved in and learn all there is to know about San Francisco from an educated local.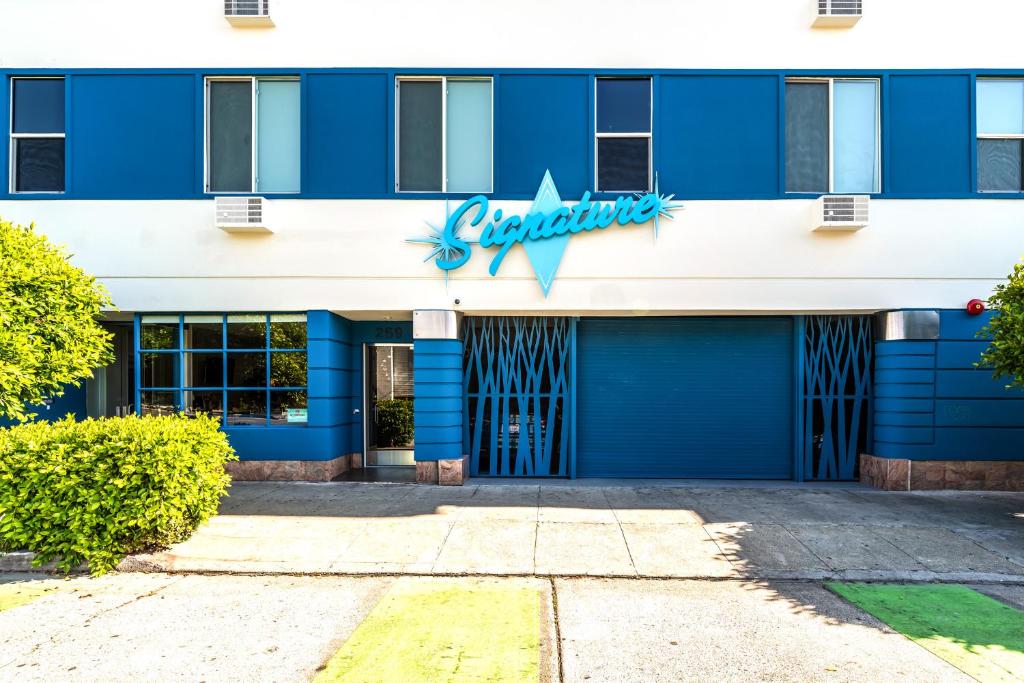 Describing their aesthetic as 'retro modern,' the Signature San Francisco gives families a sense of what 20th century vacationing in San Fran was like, with modern amenities against a backdrop of vintage colors and furnishings. Vibrant and zany patterns decorate the walls of the bedrooms, some of which are perfectly designed for teenagers with comfortable bunk beds and sofas to hang out on.
Guests don't even have to leave the room if they need anything; each suite is kitted out with voice-activated tablets that you can use to contact a receptionist to ask about anything, including general information on San Francisco and nearby landmarks.
Guests can wake up to a continental breakfast each day and get out and explore the surrounding SoMa area of San Francisco.
One of the latest editions to Union Square's vibrant family hotels, the Clancy, Autograph Collection is a fetching hotel for any family planning on catching a theater performance in the neighborhood. Not only ideal for if you've got an event, but the Clancy is also perfect if you want to spectate at Oracle Park, embark on a family walk along the Embarcadero, or circle Coit Tower on Telegraph Hill.
The rooms command lofty views of these attractions, with the guest bedroom providing privacy and comfort. Some suites are even dog-friendly, which is ideal if you enjoy vacationing with your canine!
A great resort for late arrivals, or for those who just get peckish in the middle of the night, The Clancy has a 24/7 market selling basic food and essentials to all who need it.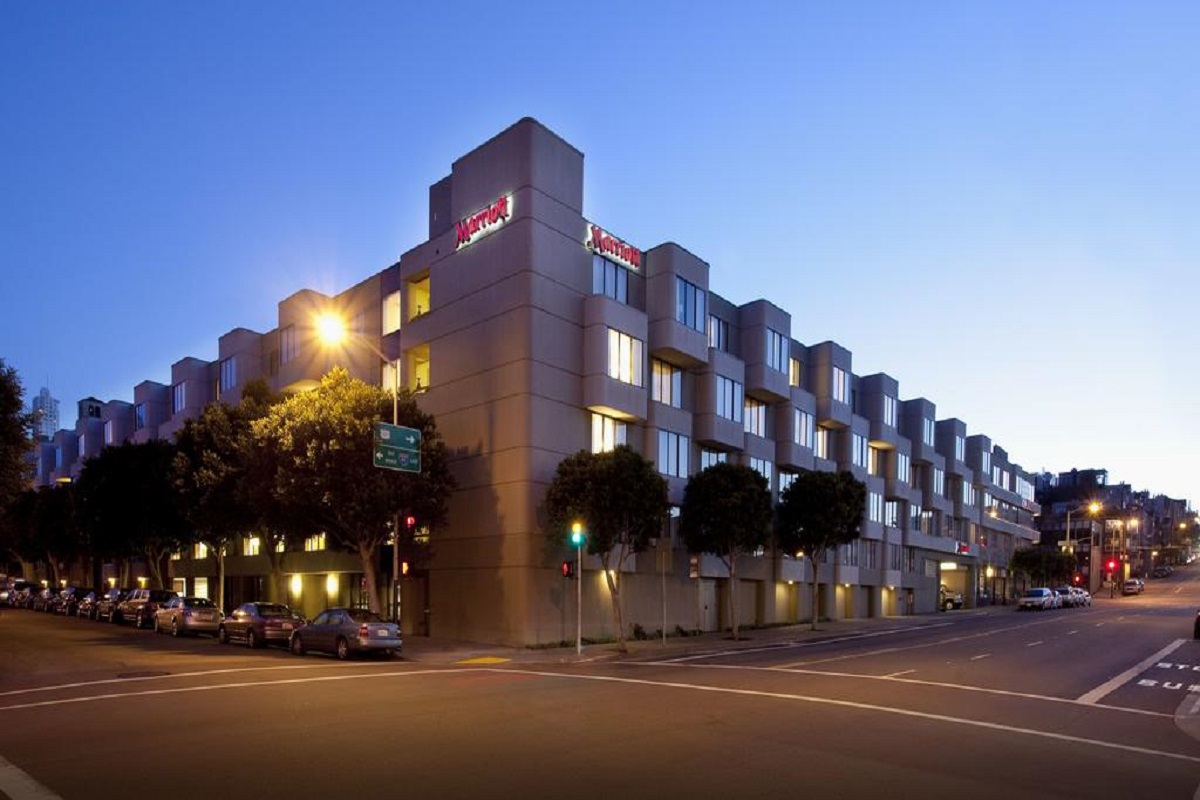 Guests at San Francisco Marriott Fisherman's Wharf usually have an action-packed itinerary in mind, with access to Alcatraz, Pier 39, and Lands End all within reach from this swanky city-center accommodation. In addition, bicycle rentals are available, which makes ticking off every item on the itinerary more achievable.
It's also a good spot if you want quick access to some of the city's coolest beaches, including Crissy Field Beach and Marshall's Beach, the latter being one of the perfect spots to take a dramatic photo of the Golden Gate Bridge.
In terms of on-site amenities, guests can work out in the fitness suite, watch on-demand movies, or order up some food using room service. The room decor is of an attractive white and beige color, making for an inviting place to retire to at the day's end. Double rooms are available for families, as well as deluxe one-bedroom suites.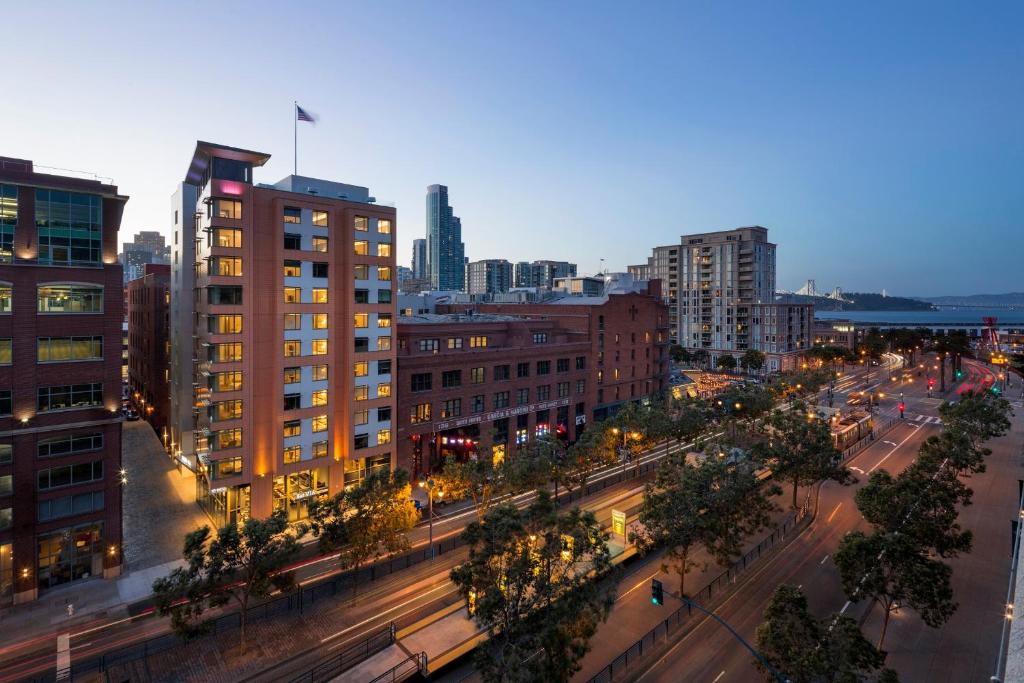 The rooftop sun terrace is definitely the highlight of Hotel VIA, giving guests sprawling views of the city of San Francisco, especially of South Beach and Oracle Park. This is certainly the place to go if you want to impress your mature kids, with a real sense of elegance found throughout the hotel, defined by its minimalist decor.
Kick back and order room service, stream music, and movies, or enjoy an espresso from the in-room Illy coffee machine – each guest room is the perfect place to both start and end your day.
Guests can enjoy working out in the on-site gym or relaxing in one of the VIA bars, where they serve an array of toothsome appetizers based on classic bar food.
The Westin St. Francis San Francisco, located on Union Square, is for families who aren't contented with using their feet or public transport to get around. With both a car hire facility and an electric vehicle charging station found on-site, San Franciso is your oyster while staying here!
Take a drive over to Golden Gate Park or try driving up the challenging Lombard Road – get around it all with your own private conveyance! If that seems too easy for you, you can also use the Westin St. Francis bike hire facility and get your exercise in while you explore the expansive city.
Blackout curtains can be found in each suite, but be sure to leave them open throughout the day to admire the spectacular views of the city that they offer. A number of restaurants and cafes can be found throughout the hotel, including the Oak Room Restaurant, providing your kids with some American home comfort food, and the Clock Bar.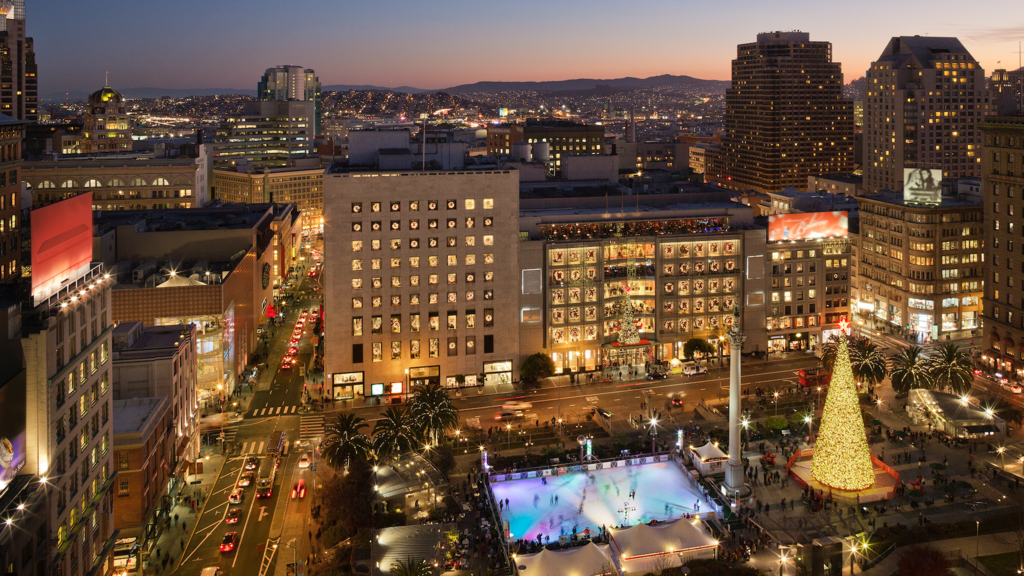 Another Union Square hotel highlight, the Grand Hyatt San Francisco aims to provide families with maximum ease during their stay, starting with a concierge service that leads you towards one of the plush family suites. The best option for families at this Grand Hyatt is probably the Club Double room, which features two double beds and provides space for two adults and three kids.
Airport shuttle can be arranged between Grand Hyatt and the San Francisco International Airport, when can take you to and from this central location. If you've got a family of shoppers, they're sure to fit right into the shopping mecca surrounding Union Square, where you can find Victoria's Secret, Gucci, and Louis Vuitton.
Although Union Square is also known for its restaurants, guests can opt to stay in at the Grand Hyatt and dine at the OneUp Restaurant, which serves a unique take on American cuisine.
The last of our kid-friendly hotels in San Francisco, the Marriott Marquis is one of the most awe-inspiring structures to grace the San Francisco skyline. The imposing 39-story skyscraper peers above its neighbors and looks out onto the glorious Yerba Buena Gardens.
The park is best viewed from the hotel's View Lounge, which features a massive arched window. Here, guests can dine or enjoy a coffee while admiring the art deco design and view.
Classiness can also be found in the family suites at the San Francisco Marriott Marquis. Each has a minibar, a coffee machine, a writing desk, and great Wi-Fi. A variety of room sizes are available, with connecting rooms being an option for big families.
A mere four blocks away from Union Square, the San Francisco Marriot Marquis is also close by a San Francisco cable car stop and the San Francisco Museum of Modern Art.
In Summary
Having narrowed down what we believe to be the 15 best family hotels in San Francisco, it is clear to see that the majority of the best ones can be found on and around Union Square or further towards Lombard Street.
Given how well connected both districts areas are via the San Fransisco cable car – a must-experience on any San Francisco visit – it's difficult to determine which area is best for a family vacation, given the equal amount of landmarks that surround each.
A hotel near Union Square, such as San Fransisco Marriot Marquis, will put you right in the heart of the hustle and bustle, with plenty of restaurants and shops to satiate the teenagers. However, opting for a resort nearby Lombard Street, such as the Francisco Bay Inn, will give you a better sense of what it's like to live in San Francisco as a resident on the quieter side of town.
Weigh up the options detailed in this article and choose a hotel that's going to best meet your family's expectations for the ultimate San Fransisco vacation, and enjoy as many delights of the Golden City as you can!
More about our TFVG Author
A seasoned traveller, Dad, and avid sports tourist, James foundered The Family Vacation Guide to share his expert vacation experiences- especially when it comes to being a travelling family man.
Featured in Travel articles such as Travel + Leisure, TripSavvy and SFGate, you know you're reading some of the best vacation tips online.