Cabins are great; they offer you a rustic natural experience while still providing you the luxury and comfort of a hotel. You can plan the entire trip from the start and engage in many activities near the lake.
The cabins near a lake especially pair well with the hot weather of California. There are so many things that you can do in the water, like fishing, swimming, kayaking, and more.
A splashy cabin on a rocky beach surrounded by pine trees is just what you need to recharge and get back in the city ready to take on new challenges.
Cabins are secluded, tourist-friendly, and definitely worth visiting. In California, a popular attraction is Lake Tahoe. Therefore, there are many lakeside spots spread around the states that are smaller but extremely fun.
Regardless of where you live, California is a state that should definitely be on your bucket list. People living there visit a lake cabin almost annually and have reservations at cabins every year. Whether you need a break from your sedentary lifestyle or like to engage in more outdoor activities, lake cabins in California, USA is a perfect choice.
Lake Cabins in California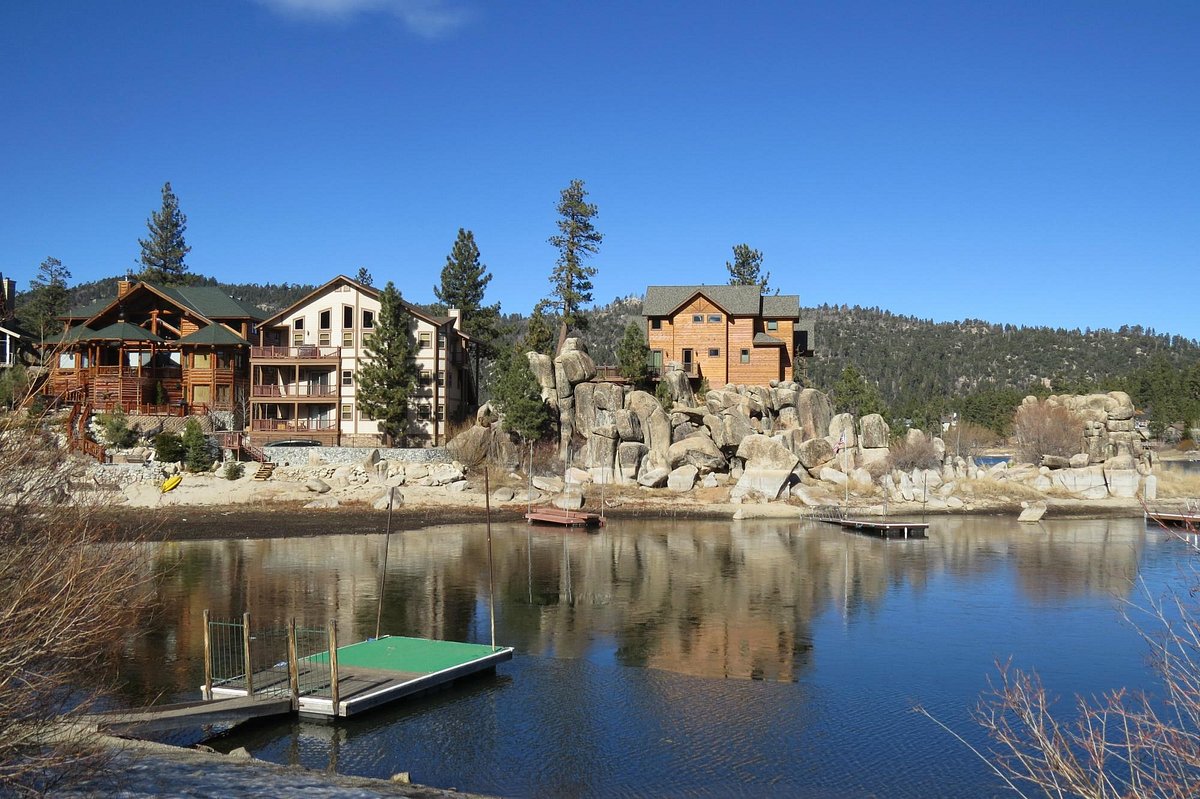 If you are ready to embark on an adventure and bring along the entire family, we have the best lake cabins in California for you. The state is huge, and there are thousands of lake getaways. All of them are open to recreation and offer the perfect scenery.
These lake cabins in California have many amenities like a shower, a fully equipped kitchen, free Wi-Fi, and private parking. Additionally, they allow you to bring your furry friend with you and have a pet-friendly policy. This means that your furry little friend will not have to wait for you in the house alone but can join up on the adventure.
Lakehouse rentals in California are surrounded by gorgeous trees and offer the perfect view for your morning coffee. California is the dream destination of every explorer because it has extraordinary vistas at every corner. From hidden gems at the coast to mountainous parks, we are confident that you can find a resort with the amenities you enjoy.
6 of the Best Lake Cabins In California for Families
The spectacular woodland scenery of California will inspire you to take a hike or run on the trails. You can also spend your days lounging by the dock or paddling in the water.
You can choose between Lake Tahoe, Lake Arrowhead, and Big Bear Lake and find a lakeside cabin that can accommodate your entire family.
After thorough research, our picks for the best lake cabins in California offer the most luxurious perks, like hot tubs, fireplaces, and the most picturesque mountain views.
Eagle Lake House
Lakefront Home in South Lake Tahoe
California Lake House Rental in Lake Arrowhead
South Lake Tahoe Vacation Lake House
Bear Lake Hideaway
Red Roof Lake Cabin
Let's review each lake cabin and talk about the amenities it offers, how many people it can accommodate, whether or not it allows pets, and of course, how much is the rate for one or multiple nights.
Going on a vacation in a lake house has never been more relaxing than in the Eagle Lake House. Taking the number one spot on our list, this lake house is situated near the water and many hiking trails.
This resort is perfect if you are a fan of beautiful views. The lake house is secludedly located in a private gated community. Despite the beautiful views, the house is very close to the water, where you can swim, paddleboard, or rent a kayak and have a ton of fun.
People are more worried about the house's exterior, but regardless of how the resort appears on the outside, the interior is decorated with style. There is a fully equipped kitchen where you can make your favorite dish, enjoy a cup of coffee on the deck, and look at the beautiful mountain views in solitude.
| | |
| --- | --- |
| Location | Susanville, California |
| Accommodates | Maximum of eight guests |
| Price | Around $344 per night |
| Pets | Not allowed |
Amenities
At this resort, you will have access to free internet, linens, towels, heating, AC, wood, a stove, a TV, a fully equipped kitchen, video games, satellite/cable, a washer and dryer, a first aid kit, and more.
Policies
Canceling the reservation two weeks before your arrival will get you a refund at this resort. If you cancel only a couple of days before arriving, you cannot ask for a refund. Smoking is prohibited, and parties or any gatherings with loud music are not allowed in the resort.
This cabin is one of the most beautiful places near Lake Tahoe. Like a slice of paradise, this resort is only a few steps from the lake and has beautiful water views. You can observe the lake and its calming waves from the outdoor hot tub on the deck, start a fire in the fire pit, and bake marshmallows for some nighttime fun.
The house is quite large; it is 3200 square feet and can accommodate up to 14 guests. It has six bedrooms and a huge outdoor lot with chairs and tables. Many guests come here during the winter and use the house as a ski resort.
The resort is family-friendly and has a lot of activities for kids. Also, a strong and free internet connection allows you to work remotely and enjoy the beautiful mountain views.
This house is near South Lake Tahoe and has a gas fireplace, a modern kitchen, and a playground for small kids. You can rent kayaks or go paddleboarding in the lake during the summer.
| | |
| --- | --- |
| Location | South Lake Tahoe, California |
| Accommodates | Maximum of 14 guests |
| Price | Around $800 per night |
| Pets | Not allowed |
Amenities
Since this is a huge property with pretty high rates, more than 100 amenities are available for guests from all around the world. There is a pool, a spa, a kitchen with equipment, AC, wireless, a TV, parking, a coffee maker, beach chairs, clean towels, a dishwasher, a fridge, a stove, an ice maker, and much more.
Policies
In this lakeside resort, you must check in after 4:00 PM and check out before 11:00 AM. There is no smoking, and unfortunately, the house is not pet friendly. Additionally, all the events on the property are approved by the city. Anything inappropriate will terminate your stay, and you will be responsible for any damage that may occur during your gathering.
Why would you take the time to book a trip to Lake Arrowhead and stay in a cabin without a lake view? This California rental offers astonishing 180-degree water views and can be the perfect temporary home for you and your entire family.
This single-story cabin has 1,300 square feet and vintage vibes that resemble the 1950s era. The resort perfectly combines modern amenities with an old-school charm, which is why it is one of the highest-rated lake cabins in California.
The cabin has a gas fireplace and large windows that complement your coffee or meal with beautiful views.
Also, the cabin is located in a quiet lane, and if you decide to stay there, only a 15-minute drive can get you to the Lake Gregory Recreation area.
| | |
| --- | --- |
| Location | Lake Arrowhead, California |
| Accommodates | Maximum of six guests |
| Price | Around $360 per night |
| Pets | Allowed |
Amenities
At this lake house, you have access to the internet, a Roku streaming device, linens, towels, AC, a fridge, a toaster, a stove, a coffee maker, pantry items, a movie library, games, puzzles, and free parking. For the outside activities, you can ski and snowboard. Also, there is a fire pit on the deck.
Policies
This cabin has a pets-allowed policy which means the entire family can come along on the trip. The most guests that the cabin can accommodate is six, and you must be older than 25 to be able to rent it. There are strict policies against hosting events, and frat parties are not allowed. Also, you can't smoke inside the lounge.
This cabin can be described in two words – spacious and tasty. The interior of the lake house is rustic yet sophisticated and offers all the comforts that are traits of a modern home. It has a spacious dining area, a smart TV, a fully equipped kitchen, a sound bar, a loft area, and, last but not least, a pool table. The cabin is like a man cave with TVs in all the bedrooms and a gaming system for the kids.
There is also free Wi-Fi, and you can turn one bedroom into an office while you are there. The lake house is perfectly located and only a few minutes from Lake Tahoe, ski resorts, beaches, and casinos. The cabin was not always as "fancy" as it is now. It has been recently renovated and offers a welcoming atmosphere for each guest.
There is a hot tub on the deck that can fit even six people. The lake house is perfect if you want to go on a vacation with another family and can accommodate large groups of people.
| | |
| --- | --- |
| Location | South Lake Tahoe, Pioneer Trail |
| Accommodates | Maximum of 10 guests |
| Price | Around $610 per night |
| Pets | Allowed, up to two dogs |
Amenities
In the cabin, you get all the important resources like kitchen utensils, Wi-Fi, a hair dryer, AC, heating, a desk with a chair, a coffee maker, a dishwasher, an oven, a grill, a blender, a coffee grinder, a pool table, and much more. But, to get the full experience, you need to engage in outdoor activities. If you stay at this lake house, you get access to a spa whirlpool. Also, you can rent two adult and two kid-sized bikes from the hosts to explore the trails.
Policies
This cabin has one "odd" policy – you need to be at least 30 years old to rent. In the past, many students would rent the lake house and throw parties at night. After the renovation, there is a no-events policy, and guests are accountable for any damage done on the property during their stay. This is a family place that allows kids of all ages. You can also bring two dogs without any extra charge.
A bit smaller than our other suggestions, this two-story log cabin can be the perfect vacation resort for your family. Separated from the lake with only a five-minute walk, this Big Bear lodge is equipped with some of the best resources. Lake cabins in California are perfect for getting proper rest. If you are looking for comfort, you just found it.
There are many reasons why you should choose this lake house as your temporary home. For instance, there is a fully-stocked kitchen, a fireplace, and a jacuzzi. If you are a sports fan, you can find Meadow Park, which has volleyball and tennis courts, just down the road.
There is also a dog park nearby and a playground for kids. You can find the Ski Beach near Bear Lake and enjoy water skiing during the summer.
| | |
| --- | --- |
| Location | Big Bear Lake, California |
| Accommodates | Maximum of four guests |
| Price | Around $190 per night |
| Pets | Only dogs are allowed |
Amenities
Despite offering basic amenities like utensils, a coffee maker, a hair dryer, heating, Wi-Fi, and a TV, this cabin also has outdoor furniture. You can take as many photos as you wish. There is free parking although the space is limited to two cars.
Additionally, you get access to the spa whirlpool. As mentioned above, in Meadow Park, which is only two blocks away, there are two tennis courts if tennis is your "cup of tea".
Policies
The minimum age of a primary renter for this lodge is 21. However, parties and private events are still not allowed. When it comes to pets, the cabin hosts only dogs, provided they are not dangerous. If you decide to stay at this Bear Lake Hideaway, you must check in after 4:00 PM and check out before 12:00 PM.
Looking like a house from Hollywood, the Red Roof Lake Cabin has a private deck, three bedrooms, two bathrooms, and a lot of space for the most comfortable stay possible. The cabin offers 180-degree astonishing views of the lake and can help you reconnect with nature.
On top of that, the house's front door and the water's edge are only separated by a lawn.
The resort offers a lot of amenities, but the most noticeable one is the fully equipped kitchen. There is an outdoor gas grill, perfect for family cookouts.
By staying at this lake cabin, you get access to the private deck, which is perfect for swimming or fishing. If you are a proud boat owner, you can always keep a close eye on it by docking it on your private deck.
Despite being perfect for relaxing and spending time with the family, the Red Roof Lakefront Cabin offers many activities that will make the entire kick-back-and-relax time hard to achieve.
| | |
| --- | --- |
| Location | Peninsula Village, Westwood, California |
| Accommodates | Maximum of eight guests |
| Price | Around $450 per night |
| Pets | Not allowed |
Amenities
By staying at this cabin, you get free internet, a hair dryer, towels, linens, a stove, a microwave, a dishwasher, a refrigerator, dishes, utensils, an oven, a grill, a blender, and a dining table. The kitchen is fully-equipped, and you can even cook on the deck. Also, there is outdoor furniture, beach towels, and a golf course. You can rent a canoe or kayak and enjoy the lake for a small weekly fee. Lastly, there are free parking spaces with additional room for your boat trailer.
Policies
At Red Roof Lakefront Cabin, you can only get a full refund if you cancel at least two months before checking in. Because the cabin is so close to the lake, children under five should always be supervised. That is not a policy but just a warning from the hosts. There is no smoking in the cabin either. If you have guests coming over to join you during the day, whether for lunch or some water-based activities, you must get permission from the owner.
Summary
There you have six of the best lake cabins in California that you can visit during the summer. Some lodges have access to ski centers, so, despite being near a lake, these cabins can be a perfect and warm nest for you to spend your winter vacation. All cabins combine nature's ruggedness with the modern world's amenities.
California has quite the reputation for beach attractions, but the lake cabins and the scenery they offer surely don't get the attention they deserve. Hopefully, our article has given you all the information you need for your next family vacation.
More about our TFVG Author