From the hot springs to the golf courses, Palm Springs, California, is a popular vacation location for visitors worldwide. Couples, singles, and families with kids all enjoy the remarkable experience waiting for them in sunny California.
Taking your kids to Palm Springs could be a great family trip. There are so many exciting museums, engaging outdoor activities, and lovely local restaurants that you'll stay occupied for your entire stay.
Finding the best places to stay in Palm Springs for families with kids is relatively easy. Fortunately, it's a very safe area with many good hotels and rental options. And no matter what part of the city you choose, you'll be close to many exciting amenities.
So let's walk through some of the best places to stay in Palm Springs for families with kids!
Where To Stay with Kids
From Downtown Palm Springs to Vista Las Palmas, there are some fabulous places for you and your kids to stay when you visit one of California's sunniest cities!
Palm Springs is filled with family-friendly rentals, hotels, attractions, and more. It's a safe community, so you don't need to worry about ending up in the sketchy part of town.
You'll most likely want to plan your trip around the fun activities Palm Springs offers every visitor. To start, here are some of the best places to stay with kids:
Downtown Palm Springs
Desert Hot Springs
Rancho Mirage
Movie Colony
La Quinta
Palm Desert
Vista Las Palmas
Tahquitz River Estates
Downtown Palm Springs
The downtown area is one of the best spots you can pick when you're staying in Palm Springs. You're close to the best restaurants and a wide selection of parks and museums.
Not only that, but Downtown Palm Springs gives you a chance to experience life in the sunny city. You might catch a glimpse of a movie star or spot a famous building.
Since California's beautiful natural scenery surrounds you, you'll never be too far from a great photo opportunity.
If you can stay in Downtown Palm Springs, book your trip as soon as possible.
Where To Eat
It's hard to pick one restaurant in Palm Springs that you must try, but Tyler's Burgers is at the top of the list. You'll love the great selection of burgers, and they even have a hot dog menu for the little ones in your crew. All the ingredients are fresh and delicious.
From the spring rolls to the curry, you won't find a better Thai place than Peppers Thai Palm Springs. You can enjoy fresh ingredients, delicious flavor combinations, and fast and friendly service.
If you want to treat your kiddos to a delightful French meal, consider stopping by Farm. It's a simple, chic, farm-to-table inspired by the owner's trip through France. She returned wishing everyone could share that remarkable experience, so she created Farm.
What To Do
You'll have plenty of things to do when you visit Downtown Palm Springs. The Palm Springs Art Museum is a great place to start, with constantly rotating exhibits for visitors to enjoy.
Head to the Palm Springs Art Museum Architecture and Design Center after the art museum. You can learn more about architecture and design in the Palm Springs area and see some fascinating creations.
Hollywood isn't the only place to find a Walk of Stars. In Palm Springs, you can view the names of influential people who lived in the greater Palm Springs area embedded in the sidewalk along Palm Canyon Drive, Tahquitz Canyon Way, and Museum Drive.
If you want to see desert plants without going to the desert, you must visit the Moorten Botanical Garden. It's a small, family-owned operation that exposes visitors to the array of plant life around Palm Springs.
Palm Springs Air Museum is an excellent place for the history lovers and aircraft nerds in your family. It's all about the importance of aircraft during World War II and pays special attention to the individuals who made a difference.
When you need a break from all the indoor activities, take your kids to Frances Stevens Park. They can run around in the green space while you relax in the shade. You can even enjoy a picnic together while you're there.
When To Go
Some people think that it's never a bad time to visit California. However, if you want to avoid the swarms of tourists and the sweltering heat, consider booking your stay in Downtown Palm Springs for the late fall or early winter months.
Desert Hot Springs
Just north of Palm Springs, you'll find the charming community of Desert Hot Springs. If you're interested in the natural healing power of hot springs, you'll find them here.
Desert Hot Springs is a great place to stay if you're visiting Palm Springs for two main reasons. First, it offers plenty of attractions that are well worth exploring. And secondly, it's close enough to Palm Springs that you can easily get there for a day trip.
If you decide to keep your family in Desert Hot Springs, you'll come to love the natural beauty and the friendly community. Plus, it's usually a little cooler in Desert Hot Springs because of the windy conditions.
Where To Eat
Casa Blanca Restaurant is a great Mexican restaurant serving authentic cuisine and delicious mixed drinks. Your kids will appreciate the summer lemonade selection, and you can enjoy something with a little more kick.
Another excellent Mexican cantina choice is El Matador Mexican Restaurant, a local favorite since the mid-1990s. The atmosphere is about family here, making it easy to sit for hours while you enjoy a nice meal and friendly conversation.
The Cottage Too has been a staple in the Desert Hot Springs community since the 1980s. It's a coffee shop with a family-friendly environment that serves fresh, hot breakfast and delicious lunch options. It's an excellent place for a quick, light bite before starting your day exploring.
What To Do
Situated in a home built by an early pioneer in the Colorado Desert, Cabot's Pueblo Museum is a fantastic museum that gives you an inside look into some of the most beautiful architecture in the area. It also tells Cabot's story, which people of all ages can enjoy.
You'll find the stunning Mission Creek Preserve in between the Sonoran and Mojave Dessert. The wildlife conservancy is a great place to explore, hike, bird watch, or even camp if you're feeling adventurous.
If your kids need time at a playground, you can take them to Guy J Tedesco Park and let them run free. There's even a big rock on the property that they can climb – as long as you're watching them closely.
Finally, you have to make time to visit The Living Desert Zoo & Gardens in Palm Desert. Your kids can experience over 150 different species of desert animals, including rhinos and giraffes.
When To Go
If you want to avoid steep prices and crowds, try not to visit in August, June, or May. You'll experience great weather in October, and April is generally considered a lovely time to go to Desert Hot Springs.
Rancho Mirage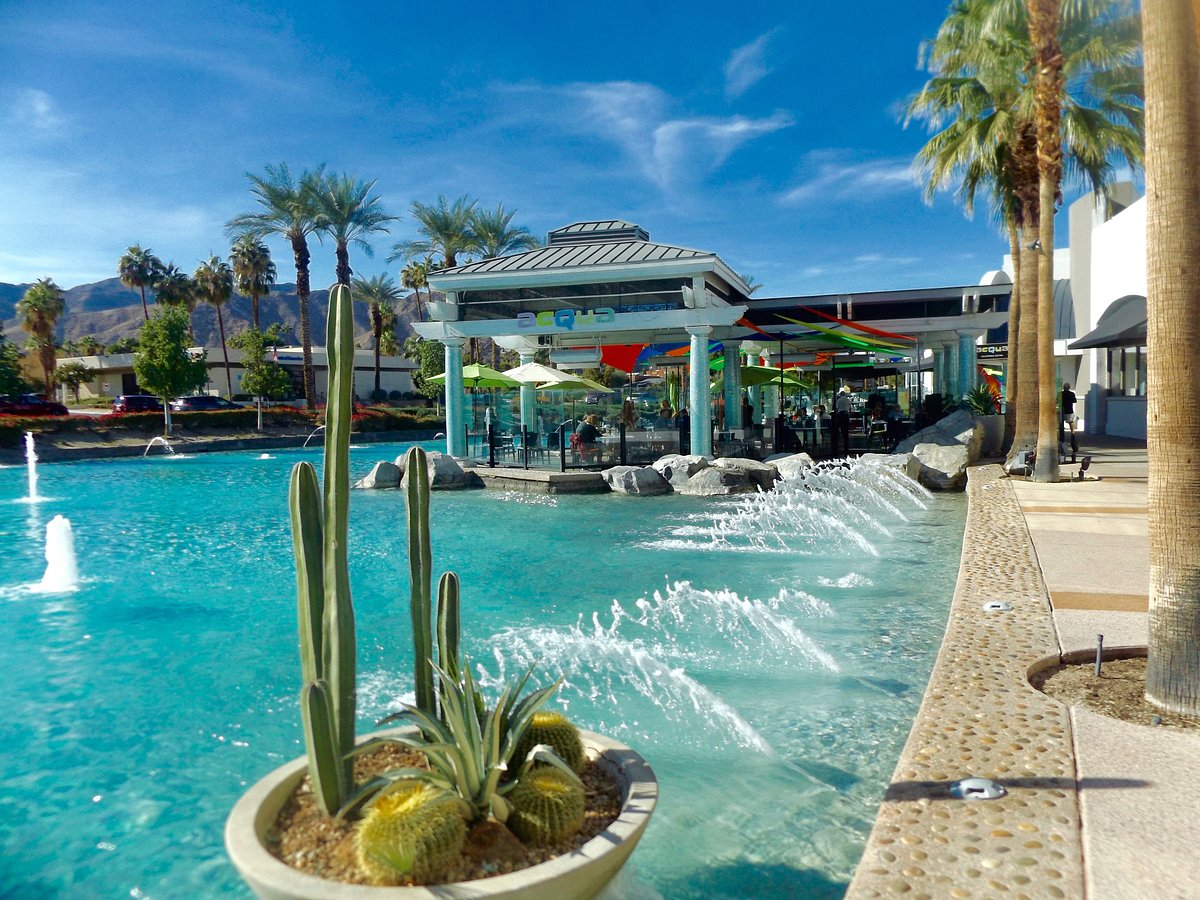 Southeast of Palm Springs, you'll find Rancho Mirage, a great vacation spot for anyone with young kids. Rancho Mirage has a strong sense of community, contrasting the big-city feel of other California vacation destinations.
Rancho Mirage is a great place to book a hotel if you want to see Palm Springs but don't feel you should stay within the city limits.
Known for its rich history and intense cleanliness, you and your kids will have a great time staying in Rancho Mirage. There are plenty of things to do and nice places to eat, so there's no reason to go to Palm Springs every day.
Where To Eat
You've probably heard of Old Spaghetti Factory before, but you've never experienced it in Rancho Mirage. The old Italian-style restaurant is one of the best popular chain locations and is worth checking out with the kiddos.
If you like the look and feel of a classy sports bar, the Yard House is the place for you. There's a wide selection of new American fare and plenty of craft beers for the adults in your group.
The Cheesecake Factory is a local favorite in Rancho Mirage. If you feel like eating there, there's a full menu! It's another chain restaurant, but finding a better dessert location is hard.
What To Do
The Community Park at Rancho Park is as much an experience as a place to play. With a large outdoor arena, an outdoor fitness area, and plenty of ball courts, you never know what you might stumble upon when you visit.
You don't need reservations to stop by the famous and historic Sunnylands Center & Gardens. As long as you come sometime between Wednesday and Sunday, you'll be able to tour the beautiful grounds and take in the views of the exquisite, historic estate.
At some point during your stay in Palm Springs, you have to visit Mt. San Jacinto State Park. It's a little bit of a drive from Rancho Mirage, but it's well worth the trip. Whether you're hiking or just driving around, it's an experience you and your kids will cherish for years.
If you've ever wanted to visit an observatory and look through a giant telescope, you can do that when you stay at Rancho Mirage. The Library & Observatory is an excellent educational opportunity for all the kids in your family.
When To Go
If you want to avoid the rainy season, early March is a great time to visit Rancho Mirage. That said, anytime in the early spring will be remarkably temperate and pleasant.
Movie Colony
Filled with Spanish Colonial-style homes, jogging trails, and green spaces, you'll have the time of your life staying in the Movie Colony – or "TMC" as it's known to the locals.
The Movie Colony is a unique Palm Springs neighborhood once home to several famous Hollywood elite. Today, it's known for its vintage style, chic boutique shops, and truly glamorous hotels and rentals.
If you're willing to shell out a few bucks for a nice room, you're guaranteed to have the time of your life with your family when you stay in the Movie Colony. And with plenty of fun activities to keep you occupied, you'll fill your days with exciting Californian adventures!
Where To Eat
If you're already staying at the hotel, you might as well enjoy the cozy restaurant knowns as Colony Club. The atmosphere is carefully catered to make you feel like you're in a vintage diner. The meals are based on fresh, seasonal ingredients. It's an altogether excellent experience.
John's Restaurant is the perfect laid-back space to enjoy a classic burger or delicious American BBQ. You'll never feel rushed or unwelcome at John's. Best of all, you can enjoy the scenic views of Palm Springs while you dine.
Since it opened its doors in 1985, El Mirasol at Los Arboles has been a Movie Colony favorite for authentic Mexican cuisine. You can find excellent meals, delicious drinks, and friendly service when you stop by for lunch or dinner.
What To Do
Rudy Hardy Park is a great place to spend a day. With swings, slides, tennis courts, and sand volleyball courts, there's no shortage of fun; enjoy all 22 acres of outdoor paradise.
Have you ever wanted to see mountains aboard the world's largest rotating tramcar? Well, you can when you visit Palm Springs. The Palm Springs Aerial Tramway is a thrilling way to experience the beauty of Palm Springs and the surrounding vistas.
When To Go
The Movie Colony is usually busiest in the summer months, with flocks of tourists and high prices for accommodations. If you want to avoid that and visit when things are quieter, consider October or November.
La Quinta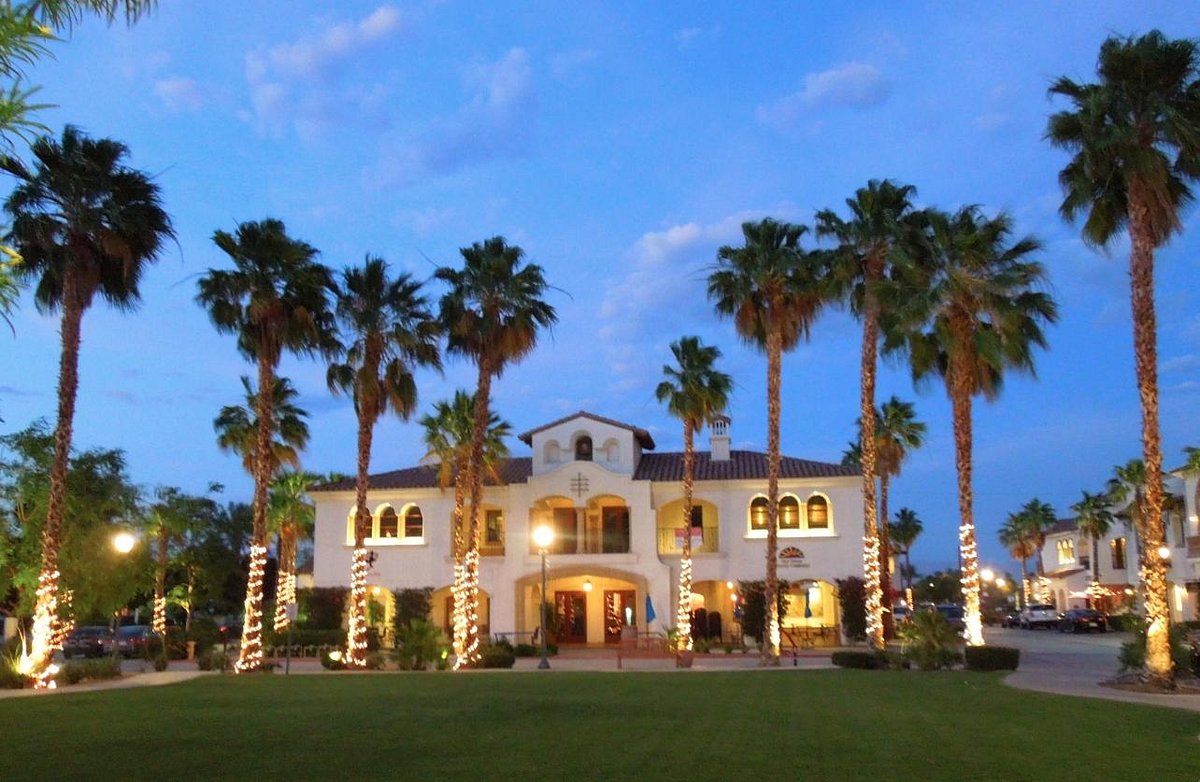 One of nine cities in the famous Coachella Valley, La Quinta is a nice, quiet, quaint place to stay that's close to Palm Springs but not directly in the city. La Quinta is loaded with outdoor activities and fun hiking trails.
You're only a short drive from Palm Springs, so it's easy to access when you want to visit. But staying in Law Quinta also gives you easy access to other Coachella Valley features worth exploring.
Drive a little bit north, and you'll find the Coachella Valley Preserve, a great place to experience wildlife and the California desert. To the east is Joshua Tree National Park, a famous park to hike, drive, and camp.
Whatever activities you're fond of, you can find many ways to stay occupied when you book your stay in La Quinta.
Where To Eat
You'll have a wonderful time at the family-owned Stuft Pizza Bar & Grill, a local operation established in the 1970s. With patio seating available, you can enjoy the fresh California air while you snack on a delicious, freshly-made pizza.
Chef Brett Maddock presents his take on fresh American cuisine at The Grill on Main. This La Quinta favorite is sure to please everyone in your crew, even the pickiest of eaters.
If you need a throwback to simpler times, consider visiting Louise's Pantry. It's an old-school diner that serves all the classic diner foods. Best of all, when you finish your meal, you can order a slice of delicious homemade pie.
What To Do
La Quinta offers visitors plenty of exciting activities, indoor and outdoor. La Quinta Museum is a great first stop. You can learn all about the local history and view exquisite art exhibits.
If you have at least four hours to burn and your kids are up for a challenging hike, consider the eight-mile out-and-back at Bear Creek Oasis. You'll be blown away by the stunning views of southern California along the trail.
There's no better way to experience the spectacle of California ecosystems than driving along the Palms to Pines Scenic Byway. With over 60 miles of beautiful scenery that ranges from valleys to mountains, you won't mind spending a couple of hours in the car.
You can hike, jog, bike, or drive through the Fred Wolff Nature Preserve. There are parks where you can stop and let your kids play and pools where they can enjoy a swim after a day in the California sun. It's a beautiful backdrop for a fun day in the great outdoors.
When To Go
If you want to stay in La Quinta, consider going in the early spring or fall. You'll have the best weather and the prices won't be as high as during the tourist season. But if you want to experience the region in all its glory, the summer is the best time to visit.
Palm Desert
Don't let the name deceive you: Palm Desert is a beautiful and arid place to stay if you're visiting Palm Springs. Palm Desert is the perfect vacation spot with local eateries that you can't find anywhere else and amazing outdoor adventures just waiting for you and your kiddos.
Palm Desert is also an excellent spot for families with kids. Because the community is family-friendly, you'll find lots of food and amenity options to suit the kids in your family.
Where To Eat
Wilma & Frieda's Cafe is the master of delicious comfort food, but they take it to a whole new level. The cafe is comfortable and great for kids. They have a delightful menu of American classics, and their staff will make you feel at home.
Keedy's Fountain & Grill is an excellent option if you're looking for a vintage diner. The best part about Keedy's is the soda fountain and the all-day breakfast. You can crave pancakes at four in the evening and order some at Keedy's.
If you're looking for excellent, friendly service and a delicious pastrami sandwich, you need to head over to CJ's Diner. It's a family-friendly establishment with an excellent reputation for being a local favorite.
Another great family-owned cafe is the Paradise Cove Cafe. Famous for their delicious, fluffy pancakes, you can enjoy a nice meal on the patio in the bright California sun.
What To Do
The Palm Desert Cross is situated in the San Jacinto and Santa Rosa Mountains National Park. There are great trails that will get you to the cross, as long as your kids are a little older. It's a popular trail, so don't be surprised if you run into other hikers along the way.
Desert Adventures is an open-air jeep tour that lets you experience the beauty of the Coachella Valley in style. These guided tours are completely safe and have loads of fun. It's the sort of experience your kids will remember forever.
Palm Desert is filled with exciting places to explore. There are plenty of easy trails if you have little kids in your family or hard ones for the more adventurous. Indian Canyons gives visitors a wide experience of the differing California ecosystems.
If you have older kids in your group interested in World War II, consider taking them to the Desert Holocaust Museum. It's a somber experience that will leave a lasting impression as you learn about the horrific story of the Holocaust.
When To Go
The best time to visit Palm Desert is generally the late spring or early summer. However, you'll run into more crowds if you go in the summer.
Vista Las Palmas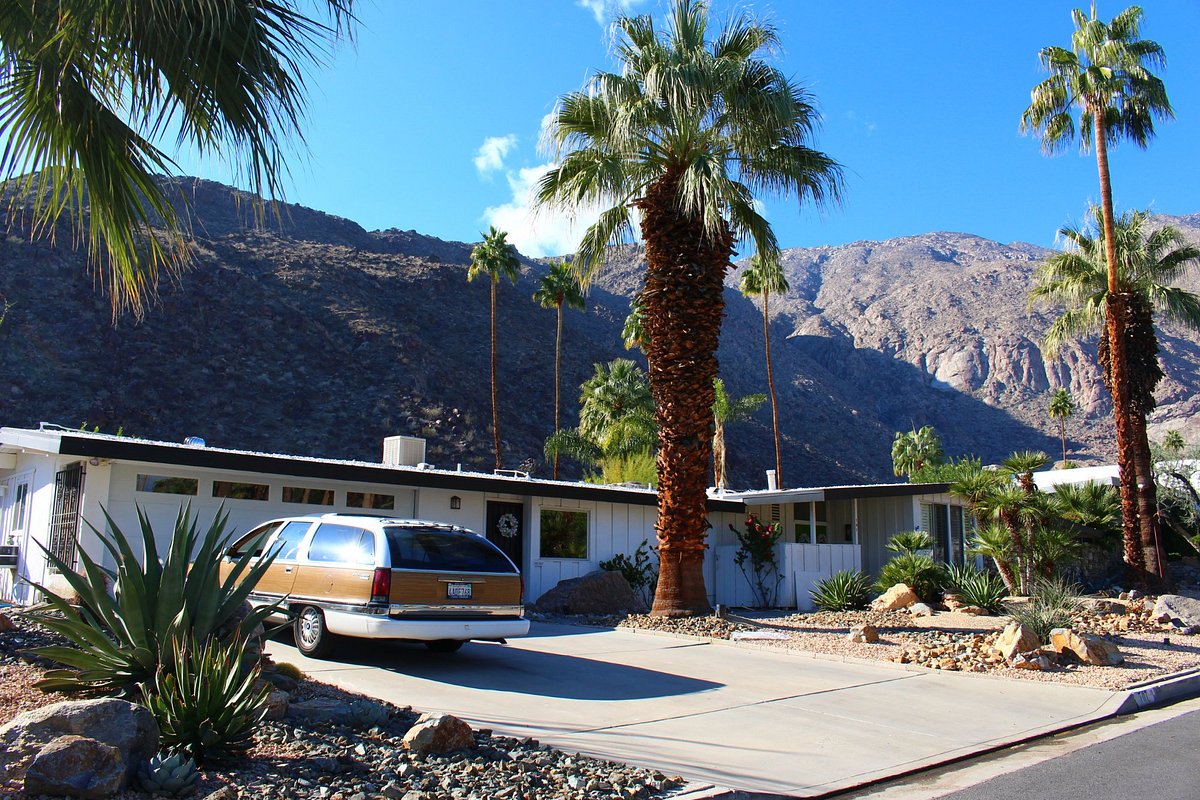 Are you interested in seeing a home once owned by the legendary singer Dean Martin? Then you need to book your stay for Vista Las Palmas. This Palm Springs neighborhood is a great place to experience unique architecture and delicious local eateries.
It's only a 15-minute walk from Downtown Palm Springs, but you'll feel like you have your own private space when you head back to your hotel.
If you avoid the busy season, staying in Vista Las Palmas will be a quiet and secluded vacation for you and your family.
Where To Eat
If you want a truly authentic Mexican cuisine experience, head to Mariscos Las Palmas. There's something there for everyone to enjoy, even the youngest in your crew.
1501 Uptown Gastropub is a new, chic take on the classic gastropub experience. And best of all, if you visit on the weekend, you can get brunch.
Take a drive to Rancho Mirage to get a fine meal at bluember. The patio seating is one of the best options, especially if you're there in the evening.
What To Do
Not too far from the best Vista Las Palmas resorts is the North Lykken Trail, consisting of four miles of out-and-back hiking. The hike isn't too challenging, but it's probably not the best choice if you have young kids.
The Frederick Loewe Estate is a beautiful piece of architecture that sits on a perfectly manicured lawn. It's a great place to take a few family pictures and see the wonder of Palm Springs living.
Did you know that Marilyn Monroe used to live in the Palm Springs area? You can still see her home when you visit the Marilyn Monroe House on North Rose Avenue. It's now available for rent, but you can see it even if you aren't staying there.
When To Go
California is pleasant all year long, but spring and fall are generally considered the best time to visit for vacation.
Tahquitz River Estates
If you want to see beautiful homes all around while you're on vacation, consider staying in one of the larger Palm Springs neighborhoods.
Tahquitz River Estates doesn't feel like it's very big. It has a village vibe that makes the whole atmosphere incredibly charming.
There are almost always walking tours around Tahquitz River Estates because of the unique architecture that the neighborhood is known for, midcentury modern and Spanish Revival.
Where To Eat
Gabino's Creperie is the perfect place to visit if you're in the mood for crepes. Let's face it, who isn't in the mood for crepes? The best part is that you can find sweet or savory crepes, meaning you have a crepe for every mood.
If you're looking for the best bagels in town, then check out Townie Bagels, Bakery & Cafe. With classic boiled bagels, you'll never have a better bagel in your life.
What To Do
Tahquitz Canyon has a little bit of everything: there's a visitor's center where you can learn about the canyon, plenty of wildlife, and beautiful waterfalls.
If you want to picnic in the secluded Josie Johnson Vista Park, you must hike about a mile and a half up the South Lykken Trail. When you get there, you can see all of Palm Springs, the Santa Rosa and San Jacinto Mountains and Memorial, and even the Little San Bernadino Mountains.
When To Go
Book your stay for the fall or spring. October and November are some of the best times for good weather and reasonable prices.
Wrapping Up
Palm Springs is a beautiful vacation option for anyone looking to get away with their family for a little while.
Even if you have little kids who don't like to hike, you'll find plenty of exciting things to do and to keep them occupied during your stay.
With several safe and secluded places to stay, you and your family will feel at home in Palm Springs, California.
More about our TFVG Author