Los Angeles, California. Synonymous with the silver screen, the rich and famous, and, ahem, pancakes?
Not quite.
But it should be.
LA is home to some of the very best pancakes that the States has to offer. Don't believe us?
Why not try these eateries for size, then? Let's delve into our indulgent list of the 16 best spots for Pancakes in the City of Angels!
1. Blu Jam Cafe
Kicking off our list is an LA staple, the Blu Jam Cafe. While the original cafe stood in Hollywood, there are now three of these wonderful eateries to try out in the city. Breakfast is served all day, and that includes their epic pancakes.
While there are only two options for pancakes on their menu, don't let this dishearten you. Whichever you choose is sure to be a winner. You can decide between blueberry pancakes or their simple triple stack served with powdered sugar – you won't be disappointed!
2. Tintorera
Imagine not being much of a fan of pancakes. Unthinkable, right? Well, this was the dilemma facing Chef Calderon.
So, what did he do? He created his very own pancake-type marvel right here in Los Angeles. Made from buttermilk rather than the traditional way, the pancakes at Tintorera are light, and fluffy and will easily keep you coming back for more. Usually served alongside the most divine agave honey and powdered sugar.
The secret to these pancakes? Chef Calderon says the key is his masterful ratio between baking soda and baking powder to keep these pancakes light and divinely tempting.
3. The Griddle Cafe
The Griddle Cafe is the place to be if you want some of the most unique pancakes in all of Los Angeles. You won't find any run-of-the-mill pancakes in this joint, oh no.
Choose from a multitude of weird and unusual flavors, including the Hear Me Roar pancakes which come with frosted flakes and strawberries, or the boozy Saturday Morning Fever, made from Baily's and Kahlua.
Now, if that won't put a spark in your step, we don't know what will! There's also a host of seasonal options, so if it's the holiday season, make sure you get in line to sample their inventive Easter of Christmas creations.
4. Aloha Food Factory
This colorful and exciting Hawaiian eatery may not be the fanciest of restaurants in LA, but when it comes to creating moreish pancakes, these guys know what they are doing. By far, their best creation is the macadamia nut crème pancakes which are a winner with many returning customers.
Fresh, fluffy pancakes topped with vanilla cream sauce and macadamia nuts – what could be better?
5. Jinky's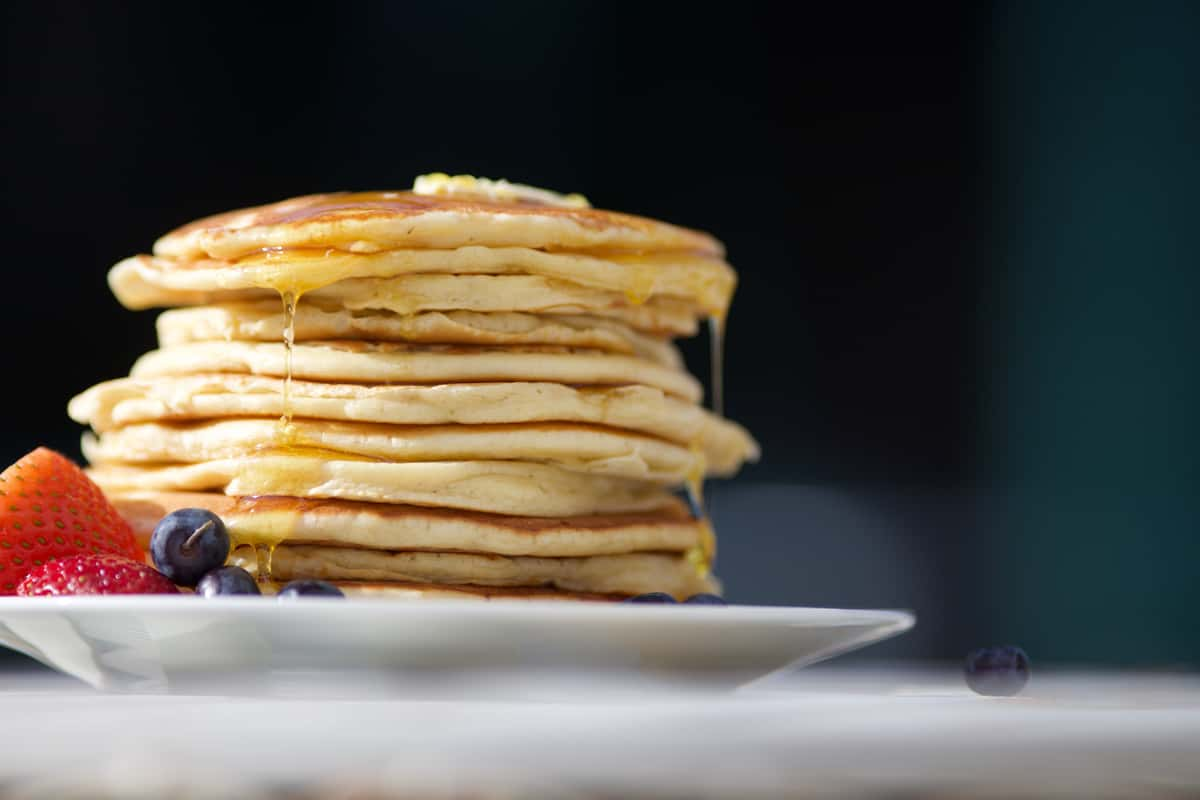 Jinky's is a staple in the city, with multiple outlets across LA. They are known for having an impressive 30 varieties of pancakes (yes, you read correctly!). From caramel cream pancakes to pumpkin pancakes and everything in between, there's something for the whole family to enjoy here!
Those that have gluten intolerances are well-catered for, too. While many restaurants have only limited options for those with food intolerance, Jinky's has ample options of gluten-free pancakes to choose from.
And, take it from us; choosing will be hard!
6. John O'Groats
First opened in the early 1980s, there are eight delicious varieties of hotcakes to decide over. These pancakes come with a range of extras, too. You'll be spoiled for choice with options for maple syrup (a must in our eyes!) or beautiful fresh berries.
Served with a freshly squeezed OJ or piping hot cup of coffee, John O'Gorats is the perfect place to start your day off in Los Angeles. It's so good, in fact, you'll find the locals lining the tables – a sure sign that the hotcakes here are some of the best in town.
7. Uncle Bill's Pancake House
If you're in or around the Manhattan Beach area, no visit would truly be complete without a quick stop at Uncle Bill's Pancake House. And what Uncle Bill doesn't know about creating pancakes, well, frankly, it isn't worth knowing!
Established in 1961 by Uncle Bill McElroy himself, the eateries offer 12 delicious varieties of pancakes to soothe the soul and keep your tummy happy. The buttermilk pancakes here really are something to be savored, and the menu is constantly changing and evolving.
So, even if you frequently vacation in Los Angeles, you'll always find a great new seasonal delight at Uncle Bill's. If you're visiting in the Autumn, opt for the pumpkin spice for a decidedly Halloween-ish delight.
8. The Original Pantry
Open since 1924, the Original Pantry is open 365 days a year. It also, somewhat incredibly, manages to stay open all night too! The food and atmosphere are unpretentious, and the eatery is known for drawing an eclectic crowd of hungry diners.
Don't fancy getting dressed up in the morning for a big helping of lemon pancakes? This breakfast spot is the perfect place in Los Angeles when you feel like slumming it while dining on good quality fare at very reasonable prices.
9. Cafe Gratitude
In need of a healthy kick coupled with a great breakfast or brunch? Choose from the four Cafe Gratitude locations dotted across the Los Angeles area. Each of these restaurants is well-known for its organic plant-based food. It also has a great range of unbeatable gluten-free options when it comes to its pancakes.
The best part is you won't even know they are gluten-free. One bite of their buckwheat flax pancakes topped with toasted coconut, fruit, maple syrup, or cashew whipped cream, and you'll be amazed at how great pancakes can be gluten-free!
10. Square One Dining
Square One Dining, based in Fountain Valley, offers only the highest quality organic ingredients in all its recipes. The buttermilk pancakes are no exception. Choose between a variety of bacon-laced caramel sauce or vanilla whipped cream to smear over your pancakes.
There's even a bourbon-pecan topping available for those who like a bit of booze with their brunch!
Not feeling in a pancake mood? Square One also has plenty of other tasty options on the menu too. They serve all your breakfast favorites, from a classic eggs benedict to a deliciously stuffed breakfast burrito.
11. Du-par's
Fluffy, thick pancakes are the star of the show at Du-par's, a restaurant that has been serving Los Angeles for over 70 years.
Du-Par's legendary buttermilk pancakes come served crispy and soft with salted clarified butter – it doesn't get more delicious than that!
The eatery is firmly a no-frills type of establishment, so if quality, homemade buttermilk pancakes without the bells and whistles are your things, ensure you make a stop off at Du-par's when in Los Angeles.
12. Salt's Cure
If you are traveling with the family or with friends to Los Angeles, Salt's Cure could be your best bet when it comes to variety. If you or one of your companions is desperately seeking pancakes while others want something else to satisfy their hunger, this restaurant has a wide and varied brunch menu.
The star of the show, however, simply has to be the oatmeal griddle cakes slathered in maple cinnamon butter. These pancakes are created from oat batter and are definitely not typical pancakes. And, hey, that's no bad thing! If you fancy a little bit of something different, Salt's Cure could be your place.
13. More Than Waffles
Set in Encino, the family-owned More Than Waffles offers a full stack of three pancakes for those with big appetites. They also have smaller portions of their delicious food if you have a smaller appetite or the kids are in LA with you.
Highly recommended are the banana pancakes, as well as the chocolate chip pumpkin pancakes. There's a range of toppings to choose from – our favorite is adding some fresh kiwi slices, blueberries, and nuts for a crunchy, healthy finish.
14. Jacks N Joe
While Jacks N Joe isn't all about the pancakes (i.e. they serve other crazy good food), they are definitely a strong theme. Popular with students at the nearby University of Southern California, the restaurant has a laid-back, comfortably lazy feel to it. That doesn't mean you won't be treated to exceptional service and a host of high-quality pancake options, however.
What's even better is the pancake options are exceptionally well-priced. In a city as expensive as LA, finding some money-saving food can be quite a task. Not at Jacks N Joe, however.
Wait, it gets even better again.
On a diet but still want to indulge in some pancakes, all while feeling 100% guilt-free? These guys have your back. Their "Totally LA" pancakes are ideal for those who are watching their weight. With this option, you get three thin pancakes covered in luxurious sweet lemon butter and lashings of fresh fruit. Heaven.
15. A-Frame
If you love, like really love, pancakes, brunch at A-Frame is an absolute must when you are out and about in LA. Just make sure to work up a big appetite before you venture here – this place offers all-you-can-eat pancakes! Order two stacks of pancakes, and if you can finish 'em, you'll be offered another two, and so on.
There's just about every flavor going here. From buttermilk pancakes topped with chicken to blueberry pancakes with whipped cream and pineapple or maple syrup, there's truly something for every taste at this popular eatery.
16. Jon & Vinny's
Jon & Vinny's has made quite an impact on the Los Angeles dining scene. Famed for its great food, including pizza, fresh pasta dishes, and Italian-inspired desserts, it also makes the most delicious pancakes.
These pancakes are made with buttermilk, making them extra light. Don't let that fool you, though; too many of these, and you'll be struggling to walk for a few hours!
Typically served the straightforward way, you can opt to add salted butter, berries, or Vermont maple syrup to your buttermilk pancakes. Just don't blame us when you're too full to move!
FAQs
Which pancake spot makes the best pancakes in Los Angeles?
It's a hard choice, given that the city has so many brilliant options. In our humble option, any of the eateries on our list could be worthy winners. However, Jacks N Joe is a winner if you want some of the best pancakes at great prices in a home-from-home-like setting.
Is LA famous for pancakes?
While Los Angeles isn't specifically known for its pancake eateries, it certainly isn't short of them! Pancakes are a staple here in the US, and like any great American city, LA has a huge selection of places to enjoy them.
How much can I expect to pay for a round of pancakes in LA?
LA isn't cheap. Like many big cities, you can expect to pay more than you would likely out of town. However, there are budget-friendly options, too. On average, expect to pay between $9-$10 for a trio of pancakes in Los Angeles.
What are pancakes usually served in LA?
Pancakes in LA are served in pretty much the same way they are served elsewhere in the country. Typically, they come in 3's, each one stacked on top of the other, and can be served with a huge variety of options.
Some of these include fresh berries, maple syrup, fruit jam, peanut butter, whipped cream, powdered sugar, salted butter, chocolate chips, and nuts. The options really are endless.
What are the main ingredients in American pancakes?
Usually, pancakes are made from just a few simple ingredients. These include flour, milk, eggs, baking soda, and butter. Some, however, are slightly more inventive, like banana pancakes, blueberry ricotta pancakes, or organic brown rice pancakes, which have some obvious additions.
All in all, pancake preparation is incredibly simple and takes only a matter of minutes, meaning you won't have to wait long to be served up some delicious food!
More about our TFVG Author