Did you know that Los Angeles, California, is home to some of the best waffle restaurants? So, whether you are an LA native or just a visitor knowing the best places to satisfy your waffle cravings is a must. 
The menus at the various waffle restaurants across LA offer both sweet, savory, and a combo of both. This means no matter what you crave, be it sweet or salty, a place in LA will provide you with it. Let's see where you can find the best waffles in Los Angeles.
The Waffle
Hollywood's The Waffle is a warm, trendy diner where folks go for delightful comfort food in a relaxed, informal setting. The restaurant was opened in 2008 and quickly became a favorite waffle joint among locals.
The Waffle is open daily and offers the best in American breakfast, brunch, and lunch, many of which have delectable twists.
There is a waffle for everyone on their menu, which is naturally centered around their namesake and features waffles in various shapes and flavors.
From savory to sweet, large and tiny waffles, bacon-topped waffles, and gluten-free or vegan waffles are all available. They provide various alcoholic beverages, including fantastic cocktails from their complete bar, to wash down all those waffles.
Award-winning waffles
The Waffle's signature Red Velvet Waffle has been featured on the Food Network's "The Best Thing I Ever Ate," the LA Travel Guide, and on the CW Network's "Foodbites."
The Waffle joint has also received the 2019 Certificate of Excellence from Tripadvisor and was featured on its 2020 Travelers' Choice.
You can always visit and try The Waffle's Seasonal Waffles, which might brighten your day up and put you in a great holiday mood.
You will surely love the restaurant's tasty waffles, even if you are vegan or vegetarian, as the restaurant is continuously expanding its vegan menu.
A community staple
The Waffle is not just a restaurant that sells mouthwatering waffles but also a staple in the local community. The restaurant has been making positive changes by using only fresh and locally sourced products.
The restaurant also works closely with the SPCA LA, the animal rights organization, and many other non-profits.
The owner's love for dogs has even inspired them to create a dog-friendly patio. So, take your little friend with you, and they can also enjoy the homemade "Woofles".
Additional information
Poppy & Rose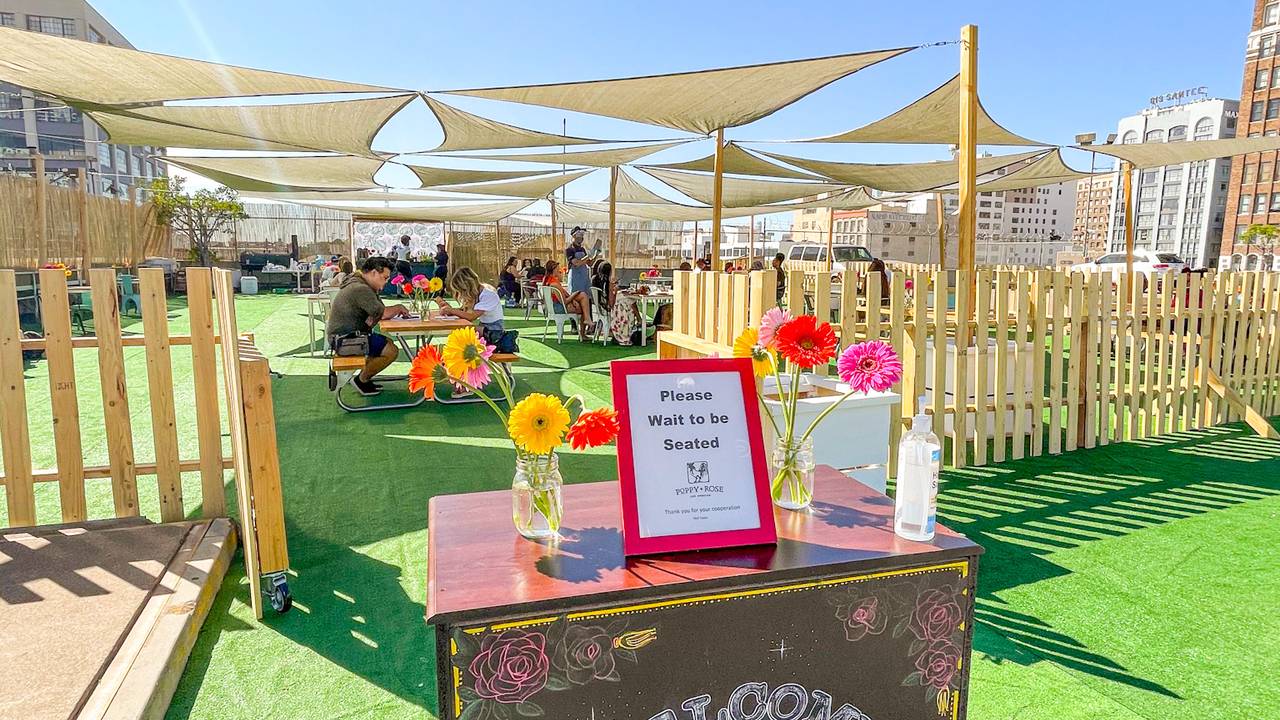 Poppy & Rose is a restaurant in the center of Downtown Los Angeles' Flower District that serves American brunch dishes with a Californian influence. Their waffles are the ultimate comfort food that will dance on your taste buds.
The restaurant was established in 2014 by husband-and-wife team Chef Michael Reed and Kwini Reed. It serves comfort food in the seasonal, elevated country kitchen style in a laid-back, floral-themed setting.
Every item on the restaurant's menu is freshly prepared, utilizing authentic recipes and premium ingredients. The Fried Chicken Sandwich and Buttermilk Chicken + Waffles are two must-try menu items. You can dine inside or outside on the Poppy Patio Friday through Sunday.
Homemade menu
Every item available on the Poppy & Rose menu is made completely from scratch in their kitchen. The recipes are all original and created in Reed's kitchen. You can enjoy homemade food that will keep you coming back for more.
The restaurant's Buttermilk Chicken + Waffles are a crowd favorite and come with sides of honey butter, maple syrup, and chives. Also, try out the Fried Chicken Mary cocktail, Chef Michael's twist on the classic Bloody Mary.
Charitable restaurant
In addition to its delicious food, Poppy & Rose restaurant is also known for frequently giving back to the community by supporting hospitals, children's organizations, social justice causes, and more through financial assistance and meal donations.
The restaurant plans to expand its offerings someday to include a "supper menu" and collaborations with other local black-owned businesses.
Additional information
Roscoe's House of Chicken & Waffles
Herb Hudson, a native of Harlem, created the soul food restaurant business Roscoe's House of Chicken & Waffles in 1975. Although they do offer more conventional menu items, their most popular dish is chicken and waffles, both together and separately.
Since its first days, Roscoe's House of Chicken & Waffles was a celebrity favorite, with MR. Hudson's close friends, such as Stevie Wonder and Natalie Cole, spread the word about Roscoe's mouthwatering soul food.
President Obama even visited the restaurant, so if you visit the restaurant, try out Obama's Special, three wings served with your choice of two waffles and a side of potato salad with french fries.
LA institution
With its celebrity attraction and delicious menu of soul food offerings, Roscoe's is considered one of LA's staple institutions. If you find yourself in LA, visit their Hollywood location, as you are sure to catch a glimpse of some of the restaurant's celebrity diners.
Despite being an uncommon pairing, Roscoe's waffles with fried "Chix" and maple syrup are an incredibly delicious combination and one of their most famous menu items.
Moreover, try Roscoe's original Waffle Tenders, three house-made waffle battered tenders, and coleslaw with a waffle. Whatever your order choice, one thing is sure you are in for a delicious treat.
Service and accessibility
Roscoe's has several service options, including dine-in, delivery, and takeaway. The service is also fast, and the staff is incredibly friendly. The restaurant also has a wheelchair-accessible car park, entrance, lift, seating, and toilet.
Additional information
Met Her At A Bar
The couple that owns and runs Met Her at a Bar, Kinny and Mindy, as per the name they met in a Los Angeles pub, and in 2017 they opened up the Cafe.
You will find Met Her at a Bar at the intersection of Eighth and La Brea. The Cafe delivers excellent coffee and the most delicious breakfast cuisine in a modern setting.
The restaurant's attractiveness is enhanced by small details like the community table made of reclaimed wood and the enormous, up-close pictures of happy couples worldwide.
Wooden boards and other unusual plates are used to plate the food, while big stemless bulbs are used for iced drinks.
Fun menu
Met Her at a Bar specializes in authentic Belgian waffles. The menu at Met Her at a Bar builds on the quirkiness of the establishment with meals with ironic names like "Every time I see you, you Avocado Toast me."
Order the "Wake Up Happy." dish, which consists of scrambled eggs, bacon, sausage, handmade maple whipped butter, and, of course, a waffle to wake up happy, as the name suggests.
Moreover, try the "Can I see you again," a sweet Belgian waffle with berries. You'll want to make this dish again without a doubt.
There is a fantastic "Hey you turkey sandwich" among the lunch options. The "Oh no, you didn't" Sriracha turkey waffle sandwich is another option if you want to take it up a level.
Service options and offerings
At Met Her at the Bar, you can sit outside and soak up the sun while enjoying delicious waffles or dine in and be surrounded by a modern and chic interior. There are also delivery and takeaway service options.
Besides the delicious waffles and other comfort food, the Cafe offers cocktails, wine, happy-hour food and drinks, and vegan options. Also, Met Her at a Bar has a wheelchair-accessible entrance, sweating, and toilet.
Additional information
More Than Waffles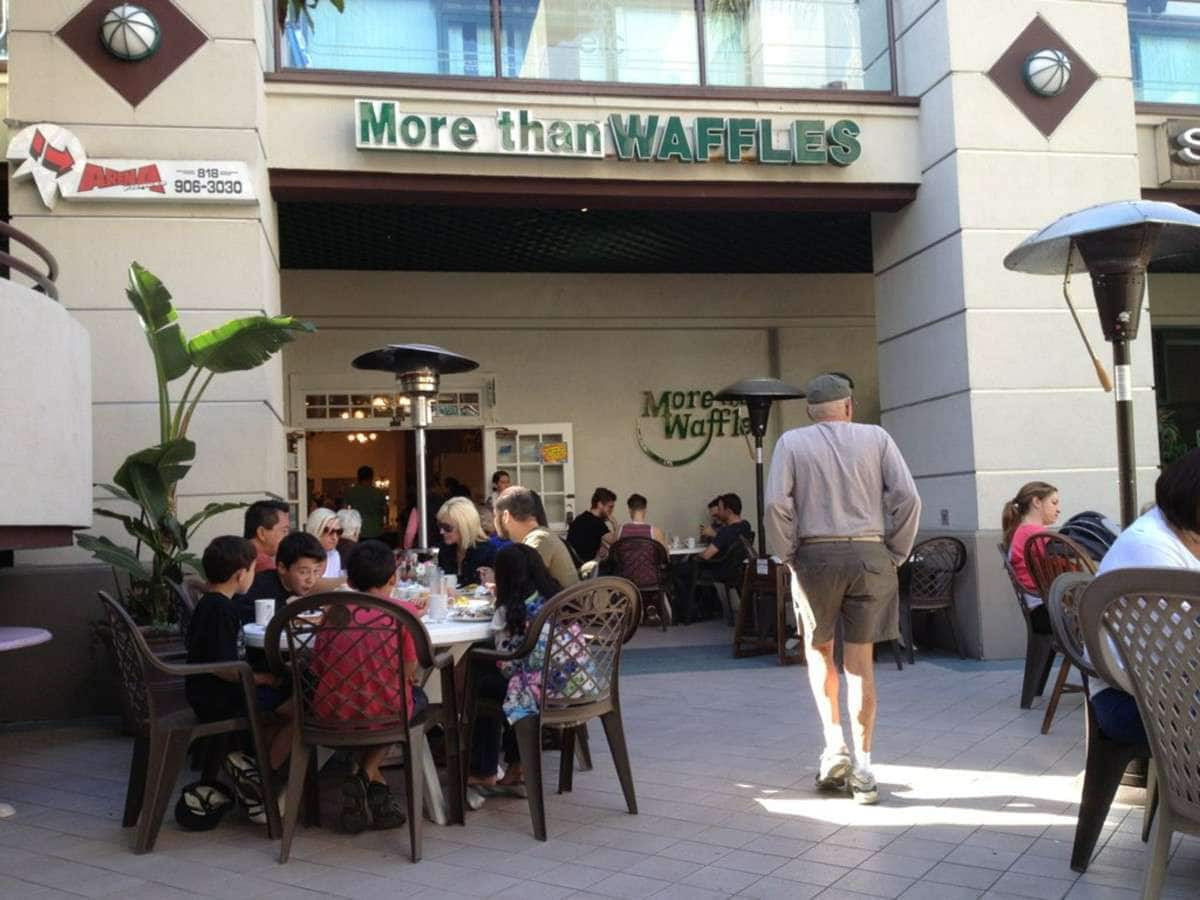 More Than Waffles has been providing some of Los Angeles's most delectable breakfast foods since it opened in 1975.
This family-run business still upholds the legacy of excellent home-style cuisine that has contributed significantly to the restaurant's success.
With wooden tables and chairs inside, umbrella-covered tables, and patio furniture outside on the restaurant's front deck, its decor is similar to that of a private dining room or kitchen.
Originally offering primarily waffles and crepes, More Than Waffles has expanded its menu to include eggs, sandwiches, and salads and now serves lunch in addition to its extensive breakfast selection.
It is situated inside the Encino Town Center at the intersection of Ventura Boulevard and Louise Avenue. This Encino icon is a local eatery where many of the original patrons now bring their young families.
Delicious food and live music
More Than Waffles serves tasty crepes with Nutella and egg waffles. It's time to sample some delectable wine, liquor, or Mimosas. Try the excellent espresso, almond coffee, or cappuccino here.
Evenings feature live performances by musicians. This place is amazing because of the workers' hard work, optimism, and friendliness.
Besides the delicious food, another big plus for the restaurant is the reasonable cost of the dishes. Visitors can unwind in this space thanks to the magnificent decor and welcoming ambiance.
Belgian waffles and great service
At More Than Waffles, you can enjoy tasty Belgian Waffles served warmly. You can order Belgian Waffles with bacon & cheddar, Baconuttela, Banana Fudge, Banana Honey, Blueberry, Caramel Apple, Chocolate Chip, Coconut Pecan Waffles, etc.
There are waffles that will satisfy every craving you may have, whether savory, sweet, or a mix of both.
More Than Waffles provides its guests with a wheelchair-accessible car park, entrance, toilet, and seating. The service options include outdoor seating, curbside pickup, delivery, takeaway, and dine-in.
Additional information
Belgium Waffle Haus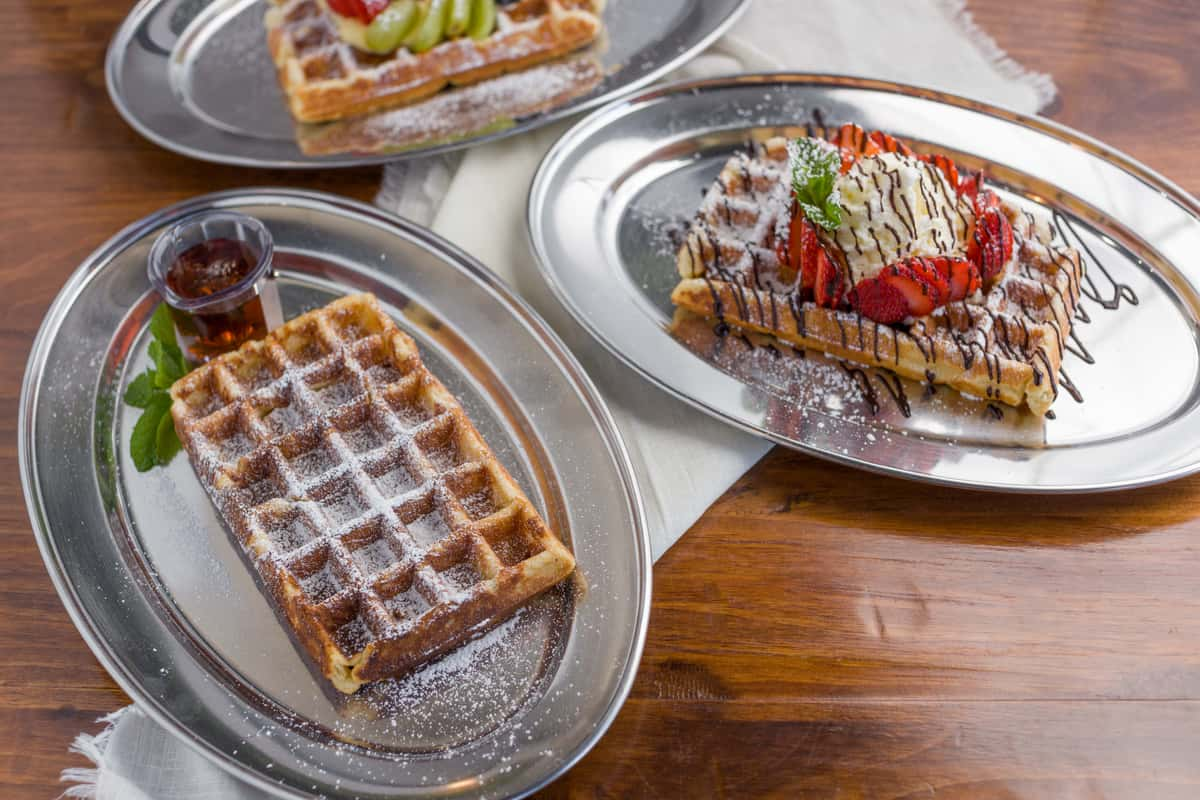 Visit the Belgium Waffle Haus to sample tasty tapas, bacon, and ham sandwiches. Nothing is better than enjoying delicious strawberry ice cream, banana splits, and egg waffles.
At Belgium Waffle Haus, delicious wine or nice bitter are the most popular beverages. Start your meal with a delicious coffee, iced green tea, or matcha latte.
The Belgium Waffle Haus is a hidden gem located in a little plaza. Even during peak hours, it is simple to get to this venue thanks to its excellent location. Customers can unwind in the unique environment and decor.
Authentic Belgian waffles
The restaurant's unique Belgium Liege Waffles are made with authentic pearl sugar imported from Belgium. The waffles are made entirely from scratch in the restaurant, with a 17-hour dough fermentation. After the fermentation process, the waffles are baked in unique cast iron waffle machines.
Outstanding service
Although it might get busy, the service is excellent. You pay first, choose a seat, and wait for the food to be delivered. Both locations provide a wheelchair-accessible car park, an entrance, seating, and a toilet.
Additional information
Conclusion
There you have our top choices for the best waffles in Los Angeles. The places on our list offer various takes on the waffle recipe, from authentic Belgian waffles to sweet and savory combos that are simply mouthwatering. No matter which you decide to visit, one thing is guaranteed you will enjoy delicious food.