Long Beach is the place to be, no matter what time of year. Whether you're planning a weekend getaway or an extended stay, it's a good idea to do some research before nailing down any plans. With parks, museums, and plenty of options for exploring the Pacific Ocean, there are more than enough ways to keep the kids entertained on your family vacation.
Before finalizing your itinerary, take a look at some of the best things to do in Long Beach with kids. There is excitement to be had at every turn, and fun is guaranteed for the whole family in this magical place by the sea.
Aquarium of the Pacific
What better way to kick off your journey than by exploring a fun, interactive aquarium representing the world's largest ocean? Looking to share the wonder of the Pacific Ocean with the public, you can explore the various habitats here, including the tropical, northern, Southern California, and Baja regions.
A friendly, clean, and comfortable environment will welcome you and your crew as you explore exhibits on coral reefs, sea otters, seals, sea lions, penguins, jellyfish, sharks, and so much more.
There's plenty to keep the kids entertained, and the adults of the group are bound to come away feeling more informed and a little bit more in love with the ocean. With guest speakers and field trip activities, the aquarium is a great place to learn and have fun.
There are plenty of interactive opportunities to keep the family engaged. Touch pools are open, even for jellyfish! And feeding the lorikeets will make memories that you are sure to remember. A cafe upstairs offers outdoor seating where you can stop for a bite and enjoy the fresh air of Southern California.
Tour the Queen Mary
If you're looking for an authentic experience on a real-life steamship, then the Queen Mary needs to be on your list of things to do. This full-service Long Beach hotel and historical landmark was built in 1937, sailed around the world, served a troopship in World War II, and retired to Long Beach in 1967.
Now a hotel and museum, you can tour the isolation wards, visit the now-empty aft machine room, and even experience an original first-class stateroom. As one of Long Beach's most known landmarks, this tourist attraction is well worth the time it takes to visit.
Self-guided tours are available, but it's far more rewarding to go on a guided tour. The professional guides will give you lots to think about and allow you to experience the fascinating history of the ship. One of the most popular tours is the ghost tour that explores the paranormal legends surrounding the Queen Mary.
Don't miss out on the opportunity to experience events and celebrations on board, a Scottish festival, and even a mystery murder dinner show! If you're visiting Long Beach, be sure to stop by the Queen Mary. You won't regret it.
Harbor Breeze Cruises
You can't go to Long Beach without spending some time out on the open ocean. One of the best ways to do that is on a cruise with Harbor Breeze. These charter cruises let you experience the glory and beauty of the Pacific Ocean in style.
On a Harbor Breeze cruise, there's something for everyone to enjoy. It's one of the best ways to see gray whales during your stay in Long Beach. And if you know where to look, you might get to see blue whales and dolphins as well. That's something your kids won't want to miss.
The cruises are comfortable, the staff is knowledgeable, and the sights are unbeatable. Offering a six-hour tour that exposes you and the kids to all manner of sea life, the Harbor Breeze captains are experts in their craft. They know exactly where to go to see the good stuff and make sure that you and the family have a memorable adventure out at sea.
Museum of Latin American Art
If you have some art enthusiasts in your group, then the Museum of Latin American Art is a must-see during your Long Beach trip. The perfect place to take your older kids to experience a little culture and learn about Latin American artists in an educational environment.
This Long Beach museum is the only museum in the United States that is completely dedicated to Latin American and Latino art. The museum's compelling collection includes over 13,000 pieces to display, a 15,000 square foot sculpture garden to explore, and a constantly expanding research department to educate.
The museum hosts cultural events, educational activities, and art workshops that children of all ages can experience and enjoy. There's plenty to keep the family occupied and entertained. With so much to offer, it makes good sense for you to swing by the museum and make your vacation a little educational.
El Dorado Nature Center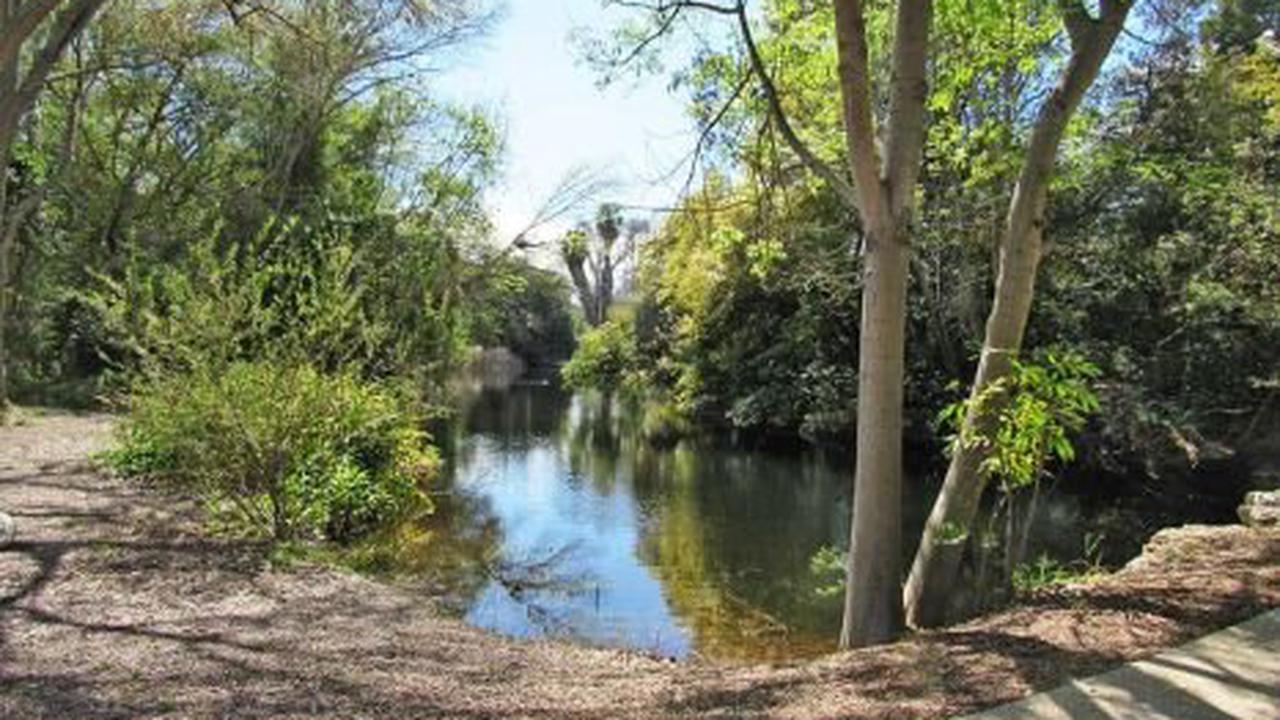 A trip to Long Beach would be incomplete without a stop at the El Dorado Nature Center. This little slice of heaven in the middle of the hustle and bustle of the urban area provides a nature getaway without even leaving the city. Resting beside the San Gabriel River, this is the perfect place to come for a little peace and quiet.
An oasis of natural habitats, the Nature Center expands 105 acres of an animal sanctuary and plant life. There are over two miles of trails that allow you to explore the park and experience nature up close. A wooden bridge will take you to the small island that houses the visitor's center, where displays and educational resources are available.
After exploring the streams, the forest, and the lake of El Dorado Nature Center, it's easy to see why many consider this the number one place to visit in Long Beach. It's the perfect getaway from the busy urban life of Southern California.
Rosie's Dog Beach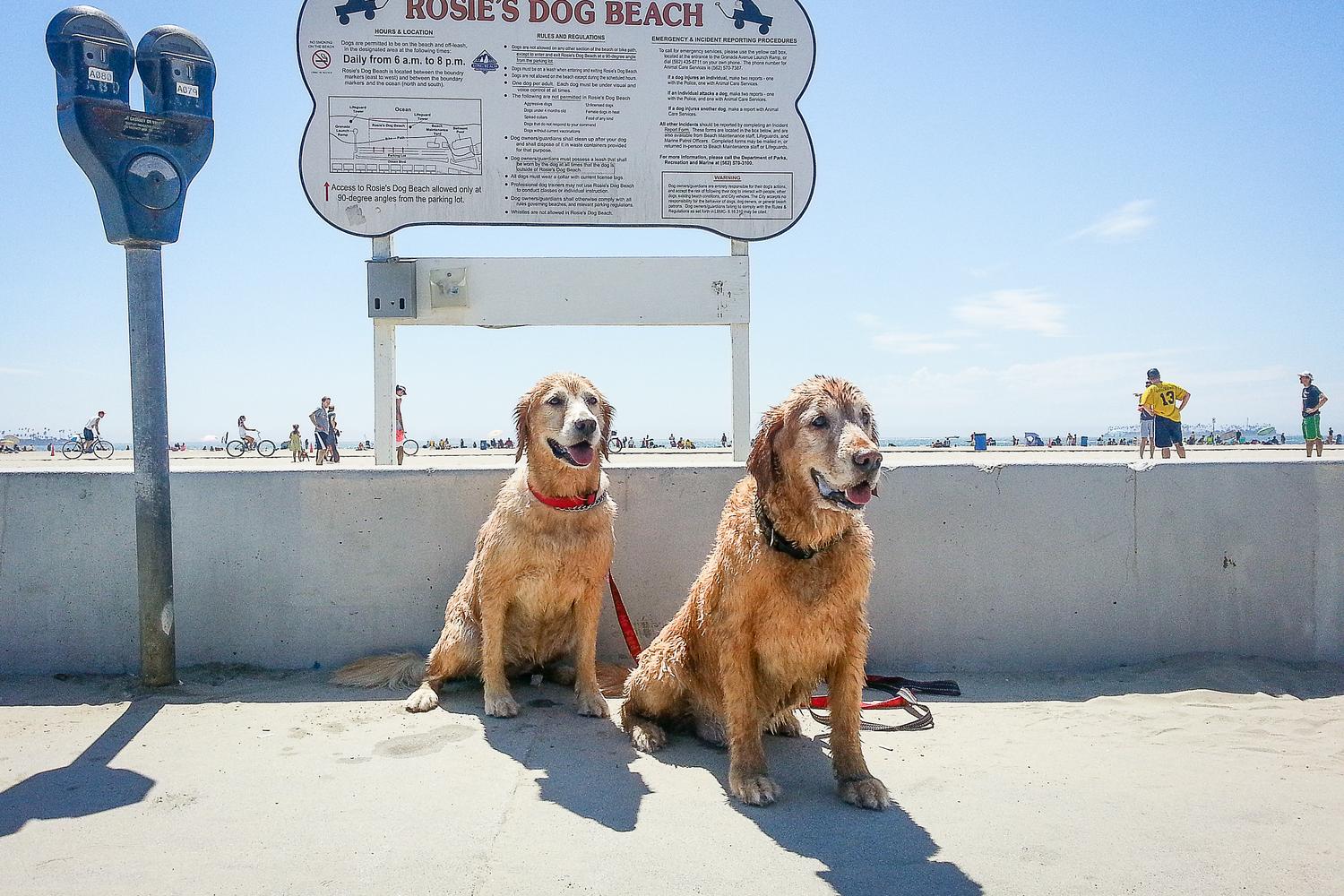 Good news for the furry ones in your family: they don't need to stay home while you're out and about. Fido can enjoy Long Beach just as much as the rest of you at Rosie's Dog Beach, where dogs are free to run wild along the coast of the Pacific Ocean.
Located between Granada Avenue and Roycroft Avenue, Rosie's Dog Beach offers four acres of ground where your furry friend can run free, enjoying the beach as much as you do.
Be aware that the area is not fenced in, as it is not a dedicated dog park. However, as long as the area is not closed for a special event, it's the perfect place to let those four-legged family members experience Long Beach in the best way possible.
Rosie the Riveter Park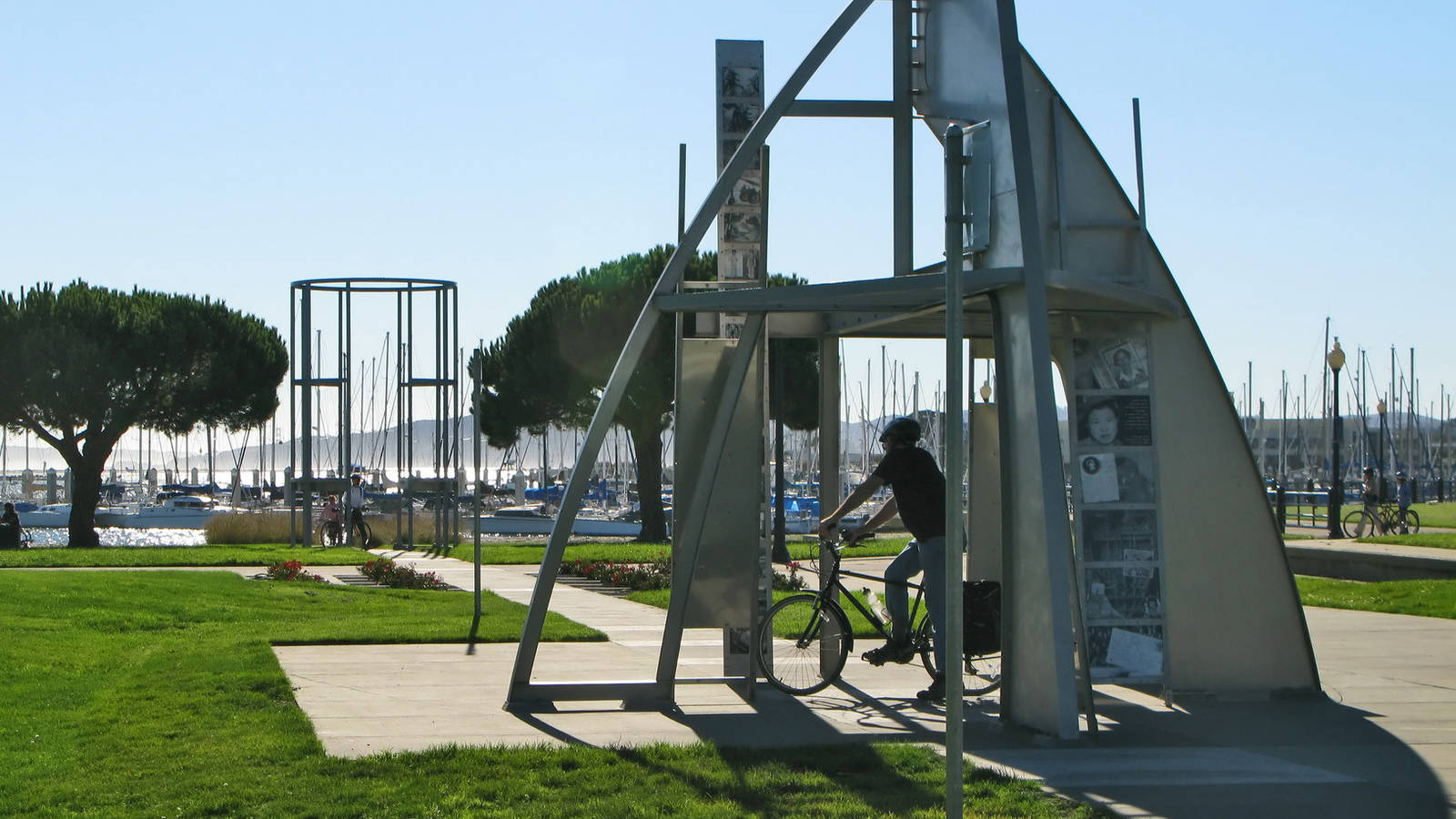 Who doesn't love Rosie the Riveter? The strong symbol of women's contributions to World War II on the homefront, she has long been the inspiration for little girls everywhere. There are few better ways to learn and enjoy her legacy than at Rosie the Riveter World War II Home Front National Park.
The educational center focuses on the extreme mobilization efforts of the 1940s when American civilians banded together to assist the war effort in every way possible. It's the perfect place for families to learn all about the great things that civilians did to help the Allies win World War II.
With an outdoor park, regularly hosted special events, and a neat gift shop, there is bound to be something for everyone at the National Park. The exhibits are phenomenal and educational, with plenty of interactives to get the kids involved. Multimedia displays will entertainingly deliver information, engaging folks of all ages.
Rosie the Riveter Park is a great place to learn about history, appreciate American civilians of the past, and experience authentic World War II items up close.
Earl Burns Miller Japanese Garden
About one acre of land dedicated to an authentic Japanese garden exists on the campus of California State University, Long Beach. This beautiful plot of land creates a peaceful space where you can get away from the busy streets, slow down, and enjoy a marvel of nature in the middle of Southern California.
Inspired by the Imperial Gardens in Tokyo, the Earl Burns Miller Japanese Garden was built in 1981 as a living museum. Beautiful, filled with informative displays, the garden has become a popular wedding venue in the area.
When it's not being used for weddings, it's the perfect place to bring the kids for a little exploration. You can enjoy the Zen Garden, check out the Tea House, walk along the many paths, and even take your kids to feed koi in the koi pond. That's something they're guaranteed to remember for years to come.
Long Beach Museum of Art
This is a great place to explore for the art enthusiasts in your group. It's not as vast as other art museums, so you won't spend a whole day trying to keep the kids wrangled while you appreciate some art.
It is an exciting, dynamic, and engaging place to enjoy. With fun events, illuminating displays, and an expansive collection of works, the museum displays pieces of art that span across all mediums.
The museum began as the Municipal Art Center in 1950. By 1957, it had become the Long Beach Museum of Art. Featuring local California artists, this is the perfect place to experience a little culture and a little art while on vacation. You can even swing by Claire's for a quick bite!
Shoreline Village
When you're in Long Beach, your trip will be incomplete until you take the opportunity to stop by the Shoreline Village and experience the best that the community has to offer. This waterfront shopping, dining, and entertainment center has something for everyone.
Overlooking Long Beach's Rainbow Harbor, the Village is a great place to grab a bite and find the perfect souvenir. With plenty of dining choices ranging from casual to reservations necessary, you have your pick of cuisine options for you and the family. The Village is home to a myriad of fun, unique shops that represent the locality of Long Beach.
And there are plenty of fun things to do if you're looking for some activities to fill your day. You can find sailing and parasailing opportunities, you can check out the Pelican Pier Pavilion, look into a cruise around the Pacific, or even rent some bicycles for you and the crew. Whatever grabs your interest, the Village is a must-see during your stay in Long Beach.
Kidz Town

If you're thinking that this place sounds like a blast, then you are right on the money. This place is as fun as you would expect, and it's bound to give your kiddos a memorable experience that will leave them begging to come back again and again.
Kidz Town is a great place to let the kids run free, burn off some energy, and even learn a little bit while they're at it. With a toddler-only zone, the littlest ones among you can have a good time without being trampled by the older kids. With fun, interactive toys that build fine motor skills and a ball pit, the toddlers are going to love it.
The older kids aren't forgotten here at Kidz Town. With a ball pit, three rock walls that they can climb, a race track with arm-propelled cars, and three large slides, the kids are going to have a blast at Kidz Town.
Take a Gondola Ride
If you've never taken a ride in a gondola before, this is the opportunity for you to remedy that and experience the ride of a lifetime in Alamitos Bay. With the experts at Gondola Getaway, you can explore Long Beach in a fun, unique way that will leave you and the family changed forever.
The professionals at Gondola Getaway strive to bring an old-world charm to Long Beach, with top-notch customer service and a dedication to absolute authenticity. They even send a team to Venice every year, to race Venetian gondola experts!
So take the family to cruise the Alamitos Bay in a gondola. You won't regret it.
Long Beach Getaway
Whatever your itinerary, Long Beach is guaranteed to satisfy your vacation expectations. With plenty to explore and opportunities for the whole family to engage with the environment and the community, Long Beach will be a family vacation to remember.
More about our TFVG Author
A seasoned traveller, Dad, and avid sports tourist, James foundered The Family Vacation Guide to share his expert vacation experiences- especially when it comes to being a travelling family man.
Featured in Travel articles such as Travel + Leisure, TripSavvy and SFGate, you know you're reading some of the best vacation tips online.