Looking to plan a California vacation with fun and adventure for the whole family?
If you're looking to spend some time in the great outdoors, beautiful Yosemite Park makes an excellent destination for families of all sizes and varying interests. The park offers stunning natural beauty, great hiking trails, and wildlife with a vibrant surrounding area and no shortage of nearby attractions.
Here are some of the best Yosemite National Park hotels that will exceed expectations for the whole family and help ensure a fantastic trip. 
For a unique and immersive experience, you really can't beat AutoCamp. With six locations nationwide, their Yosemite offering provides amazing experiences and accommodations. Camp out in style with a selection of airstreams, luxury tents, basecamps, and cabins, providing a rustic outdoor experience with modern luxury. The camp offers several dining options, including a general store, cafe, and BBQ pits where you can have family cookouts.
Located in Midpines, about 40 minutes from the entrance to the park, Autocamp offers some unique Yosemite experiences for all seasons, including Yosemite Park day tours, easy access to the Yosemite Mountain Sugar Pine Railroad, hiking, skydiving, horseback riding, and snowshoe/skiing. There are plenty of camp activities, including a sundeck and seasonal pool. They also provide complimentary mountain bikes to explore the nearby area and hammocks with a variety of lounging spots. With maximum comfort in a unique scaled-back setting, a stay at AutoCamp is an exciting and memorable change of pace.
Located near Yosemite National Park, the lodge is an excellent choice for families. The hotel is located right next to beautiful Yosemite Fall with easy shuttle access to travel throughout the park, making it an ideal basecamp. The lodge offers multiple rooming options, including traditional and family rooms with rustic wood architecture and floor-to-ceiling windows. For a relaxed atmosphere in a perfect location, you can't beat the Yosemite Valley Lodge.
The lodge ranks among the top Yosemite National Park hotels for families with an intimate setting and rustic feel. Amenities at the lodge are plentiful. There are multiple dining options, an outdoor swimming pool, amphitheater, onsite bike rentals, and transportation throughout the surrounding area. Other nearby attractions and activities include hiking, backpacking, biking, guided bus tours, and rafting.
Suppose you are looking for excellent quality, affordable rates, and an ideal location. The Yosemite Southgate Hotel & Suites checks all those boxes. Located in Oakhurst, CA, just 14 miles from Yosemite National Park, the hotel offers excellent comfort with an assortment of seasonal specials and packages. Accommodations include spacious and luxurious suites with plenty of room for the whole family. Amenities include a seasonal heated pool and spa as well as a sauna. A complimentary breakfast is also included.
If you are looking to save money but not cut back on the comfort, Yosemite Southgate is an excellent launchpad for the beauty in the surrounding area. Experience the nearby Yosemite Valley to witness some of the world's most famous rock formations, including El Capitan and Cathedral Rocks, as well as a vast array of wildlife.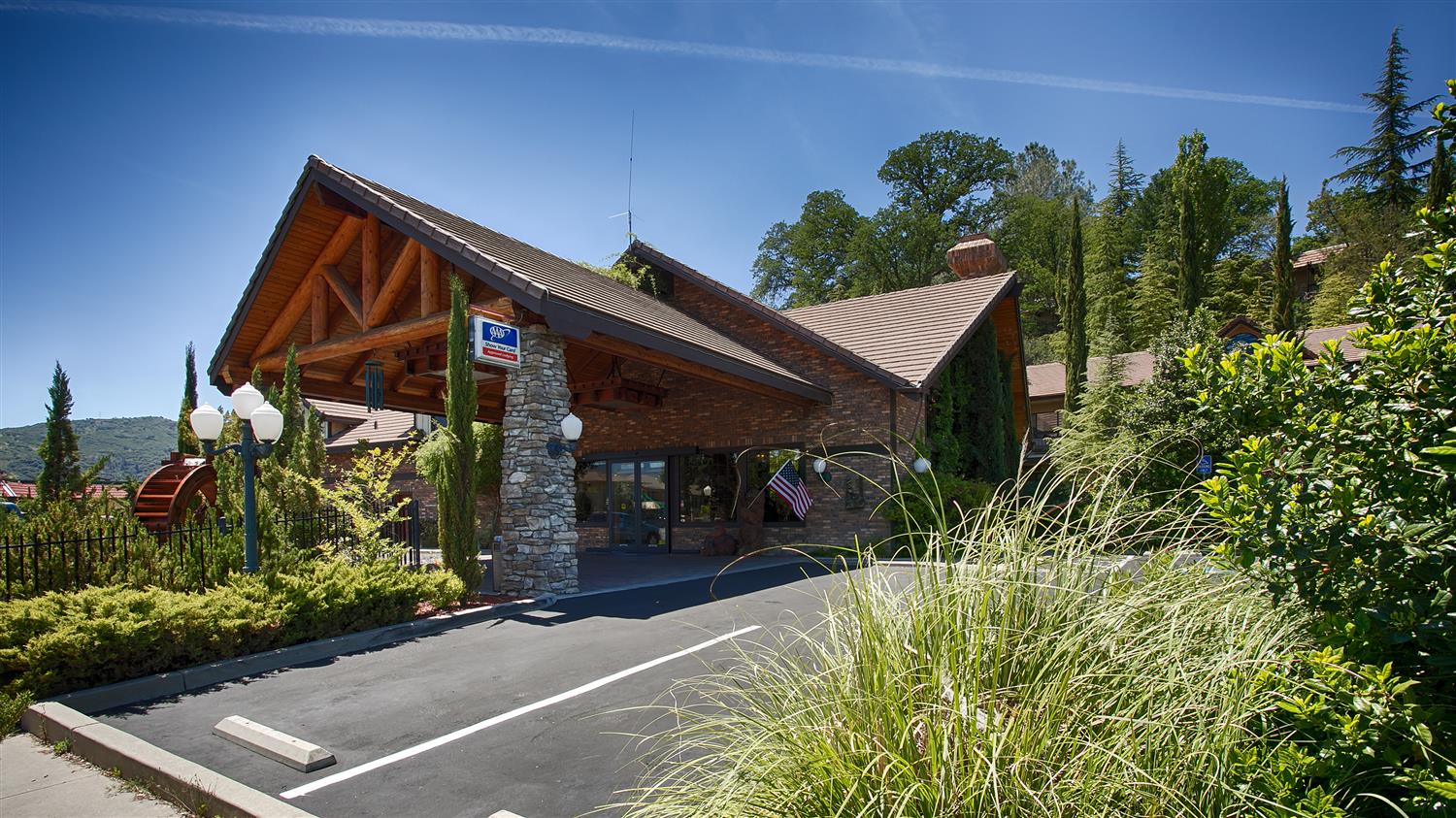 Families that want access to Yosemite National Park along with plenty of amenities and luxury can turn to Best Western Plus Yosemite Gateway Inn for a trusted and dependable brand name. The hotel provides a charming rustic lodge-style feel while offering exercise facilities, indoor/outdoor pools, a year-round spa, a cocktail lounge, a restaurant, and a complimentary breakfast. There are rooming options of all sizes to best match your needs.
In addition to Yosemite National Park, other nearby attractions include Sugar Pine Steam Railroad and Bass Lake. There are activities for all seasons, including the nearby Badger Pass Ski Center (located in Yosemite). Best Western is a great hotel for families, and they do not miss a beat with their Yosemite location.
Echo Adventure's Yosemite Basecamp provides a compelling housing option that is one of the best hotels for families in the area. The Bunkhouse offers a neat 450 square foot hideaway with one queen and five twin beds. The room also includes a TV, couch, and workspace. Lodging is located less than 30 minutes from the entrance of the park.
Echo Adventure is one of the best Yosemite National Park hotels for families wanting a more unique experience. Echo Adventure includes an outdoor outfitter with equipment to match your needs. Activities include bike rentals, snowshoe rentals, and bear vaults (ideal for camping). Other nearby adventures include fly fishing, backpacking, and rafting. If you and your family are looking to up the ante with an exciting outdoor experience, this is an opportunity not to be missed.
Located within Yosemite National Park, the Ahwahnee is the height of luxury in an unbeatable location. The hotel itself is listed in the National Register for Historic Places and has earned the distinction of National Historic Landmark with its stunning architecture and impressive interior. The Ahwahnee is located near famous park landmarks, including Yosemite Falls, Half Dome, and Glacier Point. Other nearby activities include biking, hiking, rock climbing, and ranger/naturalist programs appropriate for all ages.
The Ahwahnee will easily rank as one of the most memorable stays among all Yosemite National Park hotels for families and is worthy of consideration when mapping out your trip. Apart from being a physical marvel, the Ahwahnee includes excellent amenities, including a heated swimming pool, lounge/bar, gift shop, and waterfall/mountain views. The hotel also provides shuttle access to the rest of the park.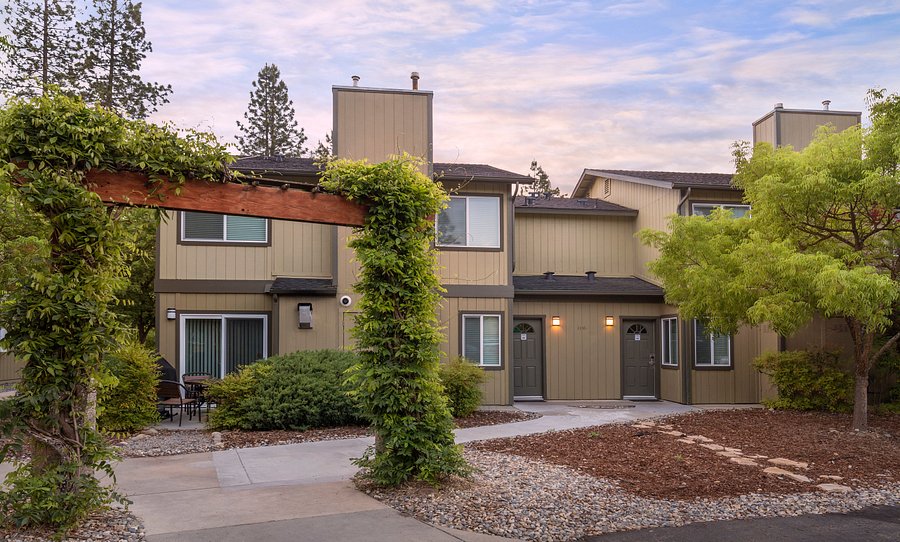 WorldMark is an excellent option for families who would like to explore Yosemite National Park and want the flexibility to explore the surrounding area. The resort makes for a great extended stay with full house rentals providing ideal space and privacy. Units come equipped with a balcony/patio, fireplace, BBQ grill, and washer/dryer with options for full or partial kitchens.
There is no shortage of family-friendly activities on scenic Bass Lake, including swimming, boat rentals, and jet skiing. Resort amenities include a children's playground, basketball courts, adult and children's pools, and a recreational center. In addition to Yosemite, other popular nearby attractions include California State Mining and Mineral Museum and the Yosemite Ski and Snowboard Area.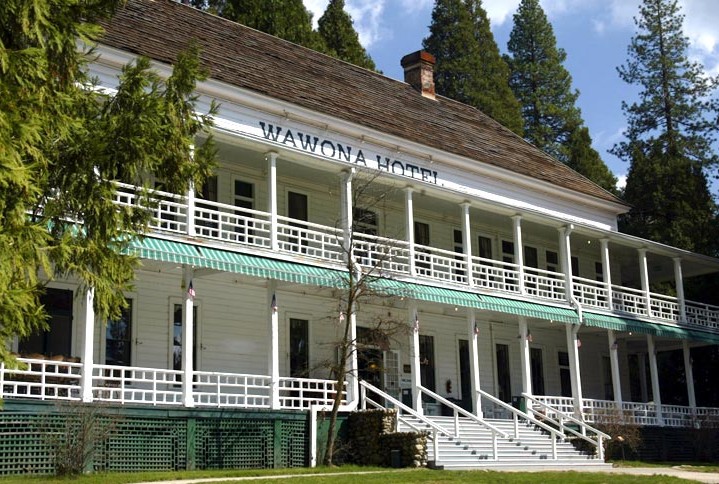 Another excellent lodging option within the Yosemite National Park area is the Wawona Hotel, which served as one of California's original mountain resort hotels. The hotel has some really nice features that have stood the test of time, including over 100 rooms, horse stables, a swimming pool, and an onsite golf course. The hotel plays into its victorian charm with nightly piano music and a cozy fireplace with nightly fires during the winter months.
The hotel provides ideal access to many hiking trails within the park and provides access to horseback riding lessons, tennis, shopping, and the Yosemite Mountaineering School. If you're looking to take a trip back in time, the Wawona Hotel is a fun and memorable experience that ranks among the best Yosemite National Park hotels, and it's just 27 miles from the world-famous Yosemite valley.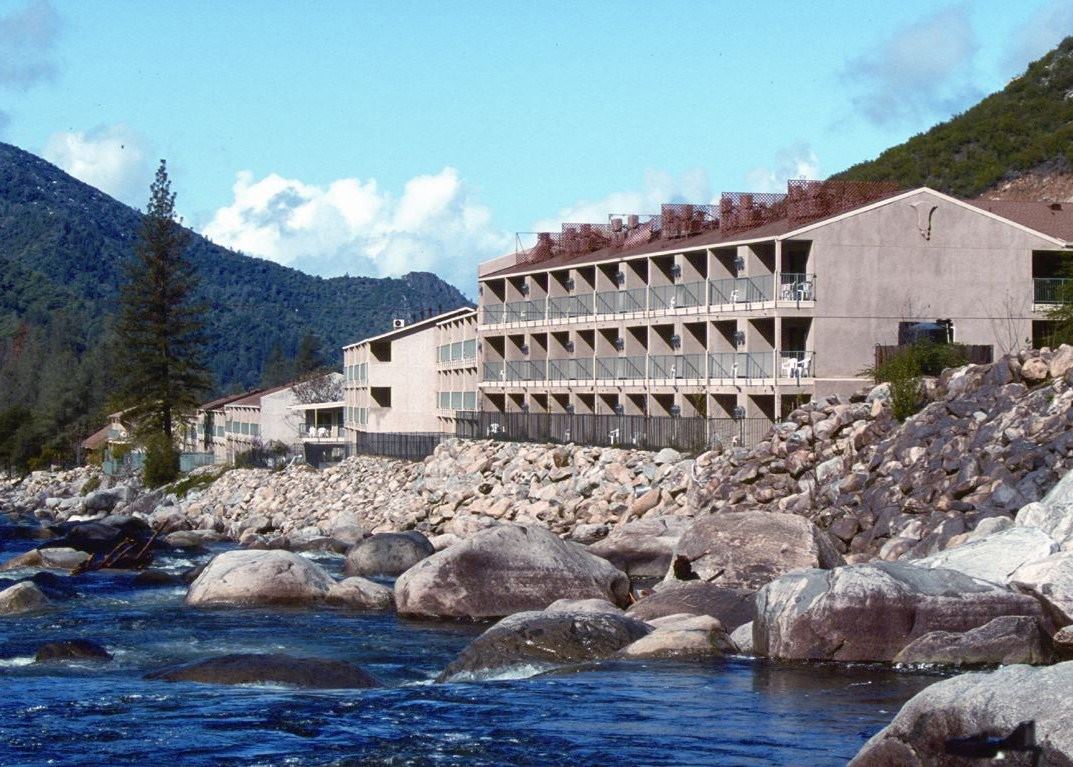 Hotel location can play a crucial role when planning the perfect Yosemite vacation. The Yosemite View Lodge ranks as the closest resort to Yosemite valley, making it the ideal launchpad for daily family adventures. Right on the banks of the Merced River, the hotel provides gorgeous views, balcony rooms, a pool, fireplace, and meeting spaces. The resort offers an ideal setting for all seasons.
Convenience is one of the major selling points, with easy driving access to the park and some of the most famous landmarks found in Yosemite Valley. The lodge is also near a YARTS (Yosemite Area Regional Transit System) stop making it easy to travel throughout the park. If you want to maximize your time in Yosemite National Park, this makes for the perfect accommodations to do so.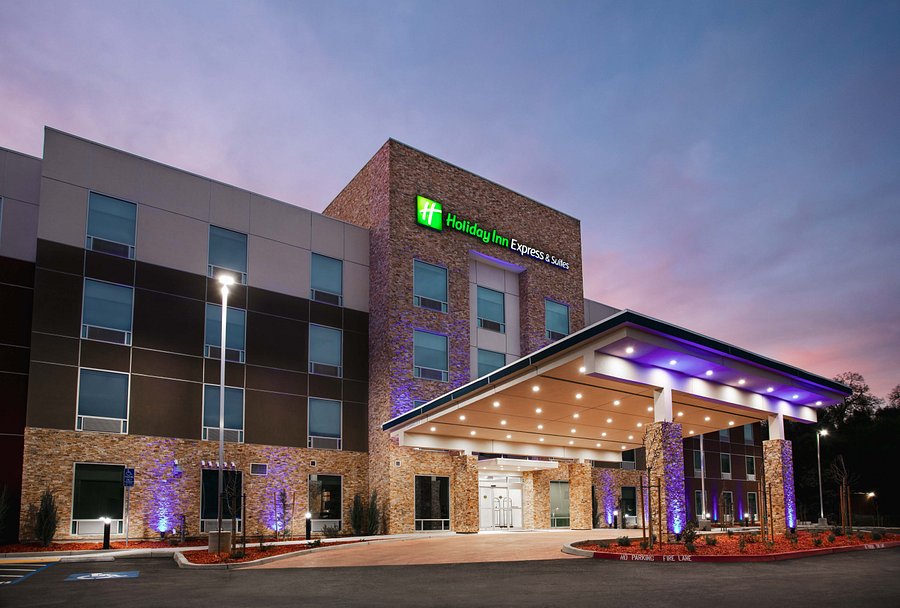 While the Holiday Inn may not jump off the page as the most exciting option on this list, it provides a really solid choice for families looking to save costs on lodging while still offering some great amenities in an ideal location. The hotel provides an assortment of rooms and suites with connecting rooms available for families. The facilities include an outdoor pool and an indoor fitness center. Complimentary breakfast is included, and the hotel is pet-friendly.
In addition to Yosemite, the hotel is situated between some great local attractions, including Bass Lake, several pristine golf courses, historical museums, and plenty of restaurants. If you are planning for an extended stay and looking to explore the surrounding area, the Holiday Inn makes for a great affordable option for families of all sizes.
Step back in time at the beautiful Evergreen Lodge nestled right along the border of Yosemite National park. Self-described as a "historic resort combining a timeless feel with modern comforts," the lodge combines quaint rural charm with some really nice amenities–all in a quiet, laid-back natural setting. The resort offers an assortment of cabins with plenty of room for families and a balcony.
If you are looking for quiet and comfort in a scaled-back setting, the Evergreen Lodge is one of the best Yosemite National Park hotels for families around. The resort offers tailor-made adventure plans that you can book for the whole family, including Yosemite flight tours, naturalist hikes, glassblowing, and painting. Some notable nearby attractions include Dana Mountain, Taft Point, and the Sentinal Dome Loop trail. There are also plenty of nearby dining options.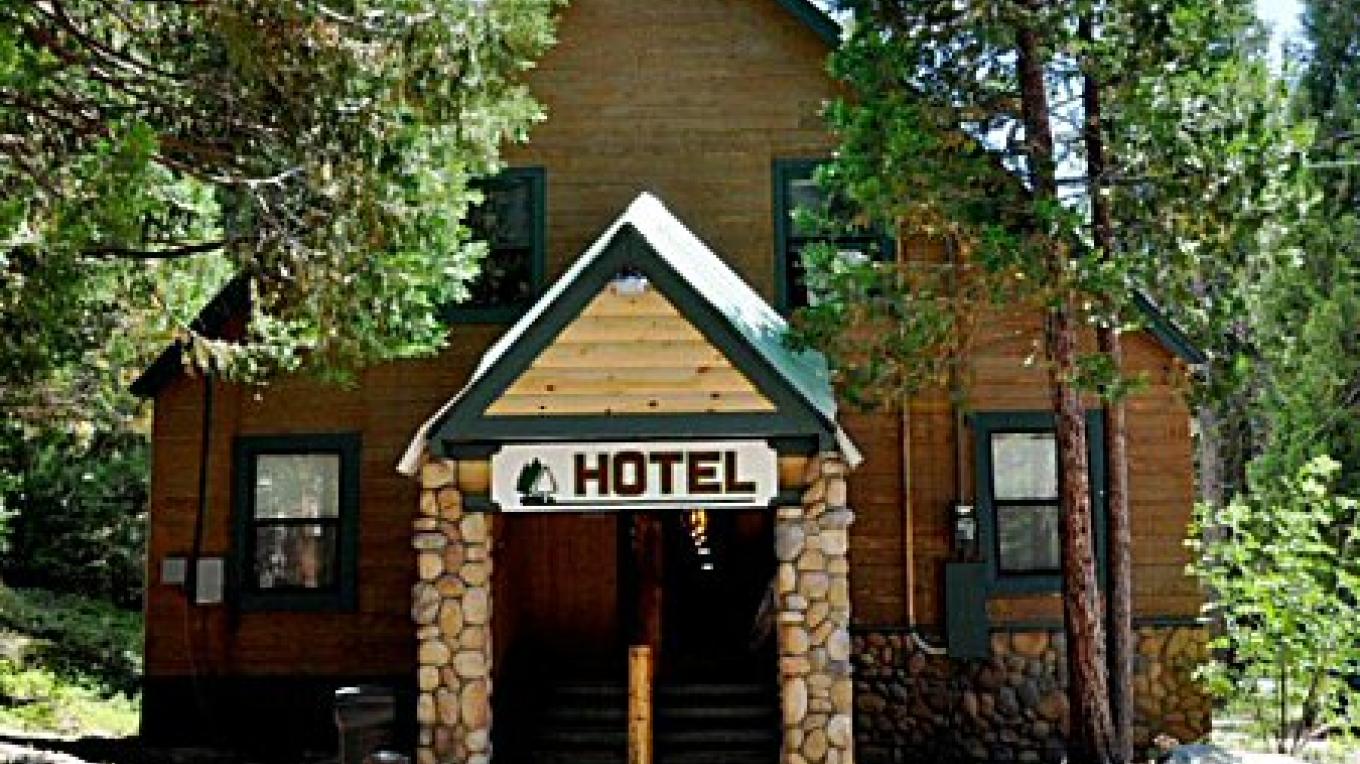 The Shaver Lake Village Hotel isn't as close to Yosemite National Park as some of the other options on this list, about a 90-minute drive away. If you don't mind the drive, it provides a unique opportunity to take in the surrounding area and explore off the beaten path. The hotel offers access to several spectacular outdoor activities for all seasons. Summer activities include fishing, boating on the lake, jet skiing, biking, and camping. Winter activities include cross country skiing, snowmobiling, downhill skiing, and snowboarding with close proximity to China Peak Ski Resort.
Built in the 1930s, the resort itself includes a rich history with a rustic feel on beautiful and secluded Shaker Lake. The hotel offers over 30 cozy cabins and is located in the Sierra National Forest. Shaker Lake provides an opportunity to get out and explore all the region has to offer.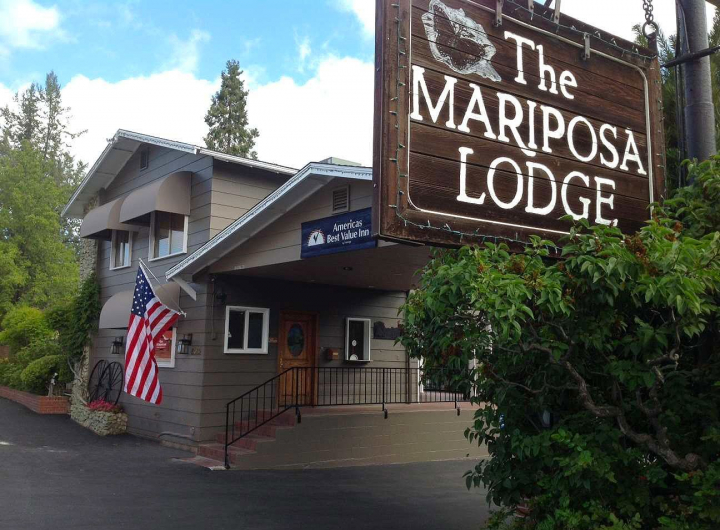 Located about an hour from the entrance to Yosemite National Park, the Mariposa Lodge is located right in the heart of downtown Mariposa with plenty of shops, restaurants, and museums within walking distance. Accommodations include multiple queen bedrooms, a private deck, a swimming pool, and a whirlpool spa.
The lodge has a friendly and knowledgeable staff that can help plan excursions and map out sights in Yosemite National Park, such as Half Dome, Glacier Point, and Sentinel Rock. Popular daily activities include hiking, rock climbing, wildlife viewing, and whitewater rafting. If you are looking for a plethora of activities in a convenient setting, the Mariposa Lodge is an excellent hotel for families.
Those looking for closer access to Yosemite will love the convenience of Cedar Lodge, which is located just 8 miles from the park entrance. The hotel offers a combination of rooms and suites that are plenty big enough to house the entire family. Rooms come with balconies, and the resort has a pool and hot tub.
If you and the family are looking for outdoor adventures and want to maximize your time in the park Cedar Lodge makes for a great base camp with a lovely relaxed setting. Located in El Portal right on the central Yosemite highway, you can beat the morning traffic and hit the trails whenever you like. Given its proximity, the hotel ranks among the most convenient Yosemite National Park hotels for families.
Last but definitely not least, the award-winning Tenaya Lodge combines the tranquility and beauty of the surrounding area with maximum comfort and luxury. The resort is excellent for all seasons but offers some unbeatable winter packages with cozy cabins and campfire pits. The hotel provides an assortment of rooms with options that can easily accommodate families of all sizes. Amenities include a pool, a spa, and a game room equipped with skee ball, air hockey, billiards, and foosball.
The Hotel offers guided Yosemite Park tours with easy access to famous landmarks such as Yosemite Valley, Mariposa Grove, Half Dome, and Yosemite Falls. They also offer guided nature hikes and flashlight hikes.
Suppose you and the family are looking for maximum adventure but don't want to sacrifice quality. In that case, a stay at the Tenaya Lodge will provide the perfect combination of action and leisure, offering a little something for everyone.
Visit Beautiful Yosemite Park
Planning a trip to Yosemite National Park is an excellent idea for families, with breathtaking beauty, local attractions, and outdoor activities as far as the eye can see. The region is unique in that it offers tons of activities regardless of the season and provides a range of things to do for any age group.
While your trip to Yosemite is sure to be a memorable one, top it off by considering some of the best hotels for families in Yosemite National Park that combine modern comfort with laid-back vibes in an unforgettable setting.
More about our TFVG Author
A seasoned traveller, Dad, and avid sports tourist, James foundered The Family Vacation Guide to share his expert vacation experiences- especially when it comes to being a travelling family man.
Featured in Travel articles such as Travel + Leisure, TripSavvy and SFGate, you know you're reading some of the best vacation tips online.