Northern California is home to Six Flags Discovery Kingdom. The 135-acre amusement park provides entertainment for the entire family. There's much to do and see, from thrilling coasters to kid-approved rides and many wildlife attractions along the way. Then, when you're ready for a bite to eat, there's a wide range of mouth-watering goodies.
Your kids will love your next family vacation, from rides to attractions and dining. So, let's uncover everything you need to know about Six Flags Discovery Kingdom.
There are several ticket options and packages Six Flags offers. If you live nearby, the yearly membership will get you more bang for your buck. The Six Flags Discovery Kingdom annual membership is a monthly payment.
If the yearly membership is too much, perhaps a seasonal pass is right for you. A seasonal pass is valid through the calendar year. So, it's an excellent option if you don't want to commit.
However, you'll want the one-day ticket option if you live out of state. While you can buy tickets at the gate, you can also purchase tickets online. Plus, you'll save money, and pre-purchasing tickets is easy and convenient. Six Flags tickets are flexible, and tickets are valid for any day during the season.
The best part is if you have young kids two and under, they'll get in for free. However, there's no discount for kids above this age. The parking fee is separate unless you upgrade your annual membership. Although, there are add-ons when purchasing one-day tickets.
Add-ons for one-day tickets include the following:
General parking
Preferred parking
One-day dining deal
One-day dining deal with drinks
THE FLASH PASS, regular or gold
Overall, it's best to plan ahead. Before you know it, you'll be riding some of the best roller coasters at Six Flags Discovery Kingdom.
Let's uncover some of the best rides at the park. Six Flags Discovery Kingdom offers an incredible selection. Discover fast speeds, tall hills, and unique experiences that'll leave you breathless. From Batman and Superman rides to Kong, Six Flags Discovery Kingdom has you covered.
First, experience a 4D wing vehicle coaster that'll lift you 12 stories. With the first 90-degree hill, you'll also encounter unexpected free-fall drops. BATMAN: The Ride thrill coaster will leave you weightless six times. With magnetic technology, you'll ride smoothly and safely.
If you want heart-pounding action, this ride reaches the maximum thrill level. At 38 miles per hour, the upside-down ride is a must. All riders must be 48 to 77 inches tall.
The suspended steel coaster Kong will leave your feet dangling and your kids screaming with joy. Go to the very top at 109 feet before reaching top speeds at 50 miles per hour. Additionally, the red and yellow ride also goes upside down. All passengers must be between 52 and 78 inches to ride.
Another superhero ride that won't disappoint is SUPERMAN Ultimate Flight. At 150 feet tall, it's one of the best steel coasters. Start by launching through a tunnel to 62 miles per hour in seconds. However, just as you build momentum, you'll race backward. Then, finally, you'll swivel on top of the loop through many twists and loops.
Not only will you ride outside the track, but you'll also go upside down. The 45-second ride has a height requirement of 52 inches, and younger children will need to be accompanied by an adult. Although safely strapped with a lap bar, you'll feel like flying in the air.
While many rides make you scream, there are also tame rides for little ones. Six flags Discovery Kingdom welcomes all ages.
Aside from daring heights, there are also plenty of kid-friendly rides. No matter your kid's age and comfort level, there's something for all with varying height requirements. From swinging ships to flying planes and junior coasters, adventure awaits.
Bugs' Buccaneer is for younger kids within Looney Tunes Seaport. While your little one may not be ready for the bigger coasters, they can still seek adventure. The ride is a smaller swinging ship. Aboard the boat and hang on as the ship swings back and forth. Soon, the ride goes higher and higher. Overall, the experience is mild and is great for 36 to 54-inch kids.
Next up is Yosemite Sam's Flight School. Similar to Bug's Buccaneer, the ride is within the same area. Your little ones will enjoy a pint-size plane ride as soon as it lifts off the ground. Plus, you can choose the controls. For example, stay low, or go high in the sky. The mild ride is for kids at least 36 inches, with a maximum height of 54 inches.
Last, there's Road Runner Express. Enjoy the junior coaster, also in the Looney Tunes Seaport. The western-themed ride is 262 feet long and is excellent for kids who want to ride a mini coaster. You'll zip around the track and over a kid-friendly hill with a slight dip. While any child with an adult can ride, kids must be 42 inches tall to ride alone.
While there are many rides and coasters for all ages, there are also fun attractions.
At Six Flags Discovery Kingdom, other attractions are available to excite your family, from alligators to marine mammals.
If you and your kids love alligators, make Alligator Isle a priority. See alligators submerged in water. You'll see various alligators throughout your stay, including the following:
Red eared alligators
Red-bellied slider alligators
Alligator snapping
Aside from alligators, you'll even see snapping turtles.
Get ready for a dolphin show at the Dolphin Discovery. While it's educational, it's also great entertainment for the whole family. At the Discover Our Ocean Friends show, dolphins will show their personality in the water. However, sitting by the sidelines may not be enough. Luckily, you can also interact closely with Dolphin Discovery in the water.
So, if you're feeling brave, this is an excellent opportunity. Six Flags Discovery Kingdom does have a specific capacity for shows. So, when attending live events, it's a great idea to come early to avoid disappointment.
The next animal presentation you can attend includes other marine mammals. See the Seals, Sea Lions, and Otters show with your little ones. Again, you'll want to get there early to get great seats. You'll see how the animals interact and behave while learning new facts. You'll find it near the Looney Tunes Seaport to get to the exhibit.
Next, meet tigers in the demonstration show, Odin's Temple of the Tiger. You'll see Bengal and Siberian tigers swimming underwater. While the tigers aren't performers, they act naturally in front of a crowd. It's a beautiful opportunity to see tigers up close. Prepare to feel a splash if you sit close.
Six Flags has a daily guide for entertainment show times, so you won't miss the fun. Grab your seat early, and don't forget to download the mobile app.
Next to Tava's Jungleland lies The Wildlife Experience. The Discovery Theater show is an excellent mix of small mammals, birds, and more. See Animal Care Specialists walk through different natural animal behaviors.
Animals also include the following:
Turkey vultures
South ground hornbills
Cockatoos and parrots
Wolves
Watch birds fly as they show off their abilities. You may even hop on stage and meet one of the animals during the show. But don't worry, as animal ambassadors and veterinary specialists are nearby.
Last on the list for animal lovers includes the Animal Nursery/Vet Clinic. The clinic is also next to Tava's Jungleland. It's home to many animals, including lizards, bats, sloths, and ferrets.
Owning ferrets in the state is illegal to keep as pets. However, Six Flags Discovery Kingdom has trained professionals who have permits. Additionally, many of the animals are nocturnal. So, don't worry if you see them sleeping when visiting Six Flags Discovery Kingdom.
Indoor areas include temperature regulating rooms. Therefore, animals who enjoy humidity feel comfortable. All animals at the nursery go for walks around Six Flags by the specialists, and you may see them out and about.
Six Flags Discovery Kingdom has a wide selection of animals. The exhibits showcase birds to larger marine animals, and you'll also see tigers. After learning about the various wildlife, you'll want to grab a bite to eat.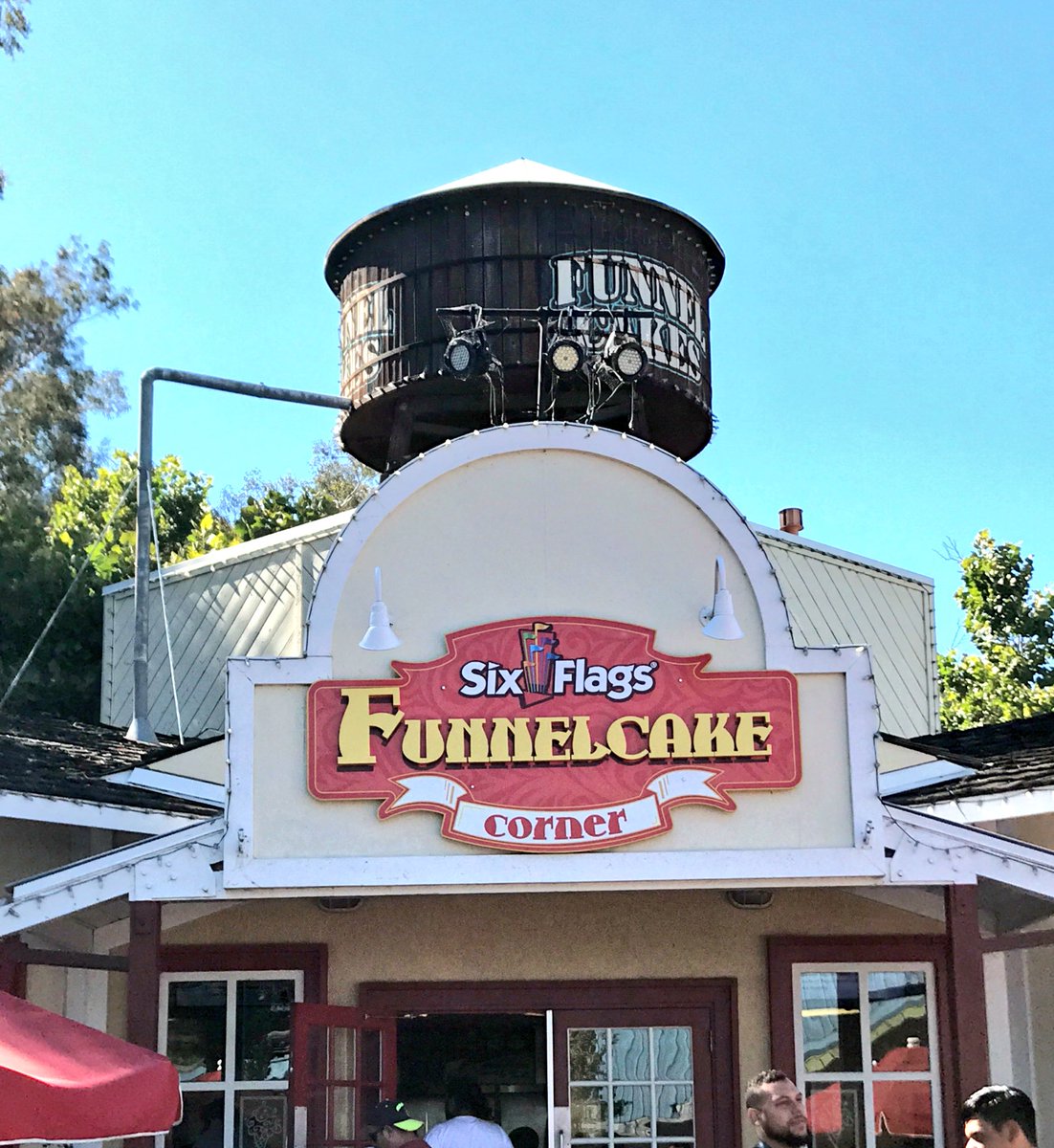 You won't go hungry with Six Flag food items, as there are plenty of options from snacks to drinks to lunch and dinner. Six Flags Discovery Kingdom also offers kid-friendly items, including corn dogs, fries, and burgers. However, some restaurants provide healthier options. Additionally, several restaurants are stroller friendly, which is excellent for young families.
Take your pick from the following dining options:
Big Belly Burger
Dare Devil Grill
JB's Sports Bar and Grill
Johnny Rockets
Paddle Handle Corn Dogs
Safari Grill
Primo's Pizzeria
After lunch or dinner, you can grab a sweet treat. Snacks include ice cream and popcorn. For instance, California Crepes also includes donuts and nachos.
Other quick grab-and-go food items include the following:
Funnel Cake Corner
GOTHAM CITY Snacks
Macho Nacho
Pirate Popcorn
Seaport Sweets
Sidewinder Snacks
Sky High Snacks
Regardless of what you're in the mood for or how picky your kids are, you'll find tasty grub. Throughout the park, there are several options. So whether you want a quick snack or a filling meal, you'll work up an appetite.
Here are some top tips for a memorable vacation at Six Flags Discovery Kingdom. First, before booking, make sure you search for the best deals and discounts. From there, decide which pass is best for you and your family.
Then, decide which attractions you want to ride and see and which ones are currently available. Some rides and attractions get closed depending on the time of year. Additionally, some rides may be down for maintenance reasons. If you're looking for a special event or concert, call ahead or go on the website for updated information.
Also, plan to visit when the park isn't during its peak for the best experience and fewer queues. Spring and fall months work best, from April and May to September and October. However, if you're looking for hot summer months, going to the park during the week is best.
In a popular theme park, prioritizing safety is always a good idea. As a family, discuss ahead of time where to meet in case someone gets lost.
Regarding little kids, you can rent a stroller. If you don't want to bring one in your vehicle, it's a convenient option. Additionally, renting wheelchairs is also a possibility.
Other time-saving tips and tricks include the following:
Grab a map and show schedule
Visit attractions furthest from the entrance
Ride your must-see favorites first
Eat at non-busy times
Planning your trip ahead of time equals success. If you have younger kids, check out the height requirements for each ride. Not only will it help the planning process, but it will save time at the park and prevent disappointed kids.
Remember that there will be fewer crowds later in the day, so try your day plan accordingly. If you're planning on visiting the park in the hotter months, don't forget to pack sunscreen, bottled water, and hats.
Final Thoughts
Six Flags Discovery Kingdom is a family favorite for your next Californian adventure. Look out for fast coasters and entertainment while grabbing delicious food and drinks. From young to old, the park is a great place to visit next. Whether you prefer taller coasters or gazing at wildlife, you'll enjoy the variety.
Make Six Flags Discovery Kingdom your next family vacation. So, your guide is complete, and you know everything there is to know. Now, you're ready to book your tickets and enjoy making memories with your loved ones!
More about our TFVG Author
A seasoned traveller, Dad, and avid sports tourist, James foundered The Family Vacation Guide to share his expert vacation experiences- especially when it comes to being a travelling family man.
Featured in Travel articles such as Travel + Leisure, TripSavvy and SFGate, you know you're reading some of the best vacation tips online.