Los Angeles, California, USA is an excellent destination for a family vacation, thanks to the many great things to see and do.
Often referred to as the world's entertainment capital, Los Angeles County has a great selection of beaches, museums, movie studios, restaurants, theme parks, and more.
You will have no problem finding things to entertain your family during the day in LA, but what about the evenings? After dinner, as the sun sets in the sky, you will still have a few hours to fill.
This post will look at the 16 best things to do with kids in Los Angeles at night to help you plan a memorable holiday and stop anyone from getting bored.
1. Go-Kart Racing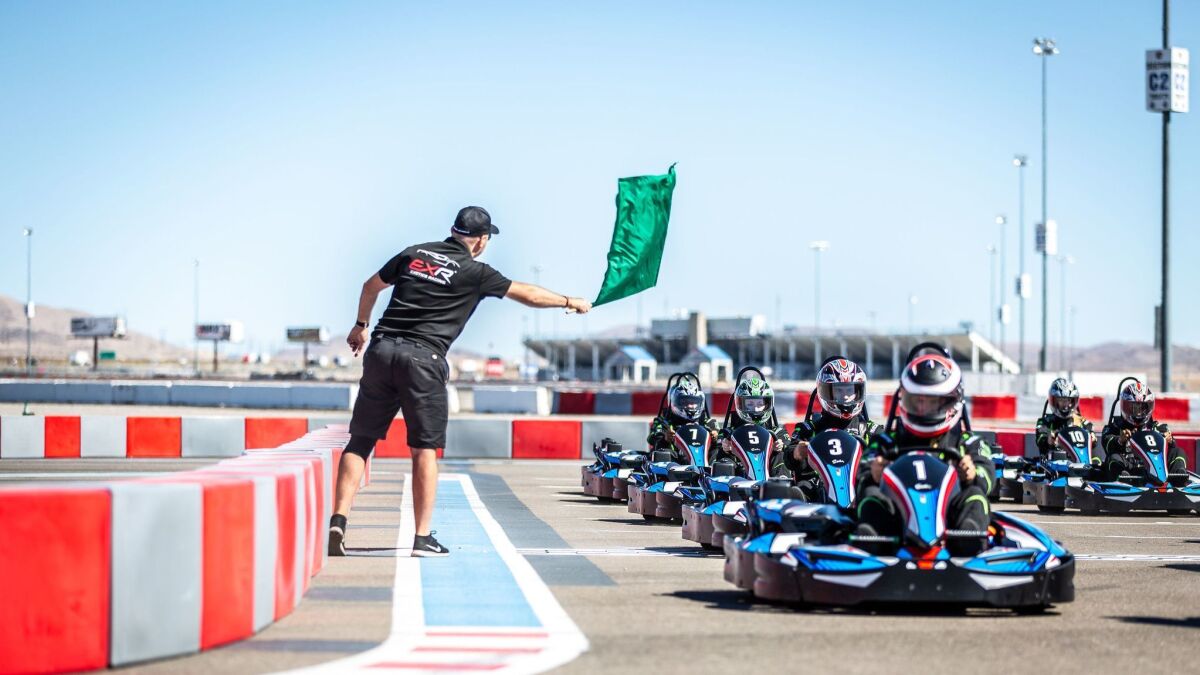 If you and your kids love a bit of excitement and are the kind of family to go for the thrilling rides at theme parks, you might want to consider the go-kart racing options in Los Angeles.
SpeedZone Los Angeles is a great option and has more than go-karts to entertain the family. If you get tired of racing, you will be able to enjoy the video game arcade, mini-bowling, mini-golf courses, or even grab something to eat at Johnny Rockets Restaurant and Sports Bar.
This is an excellent option with lots to do, and you will be able to choose from a range of packages that include all-day action and arcade value in the price.
2. Loads To Do At the Santa Monica Pier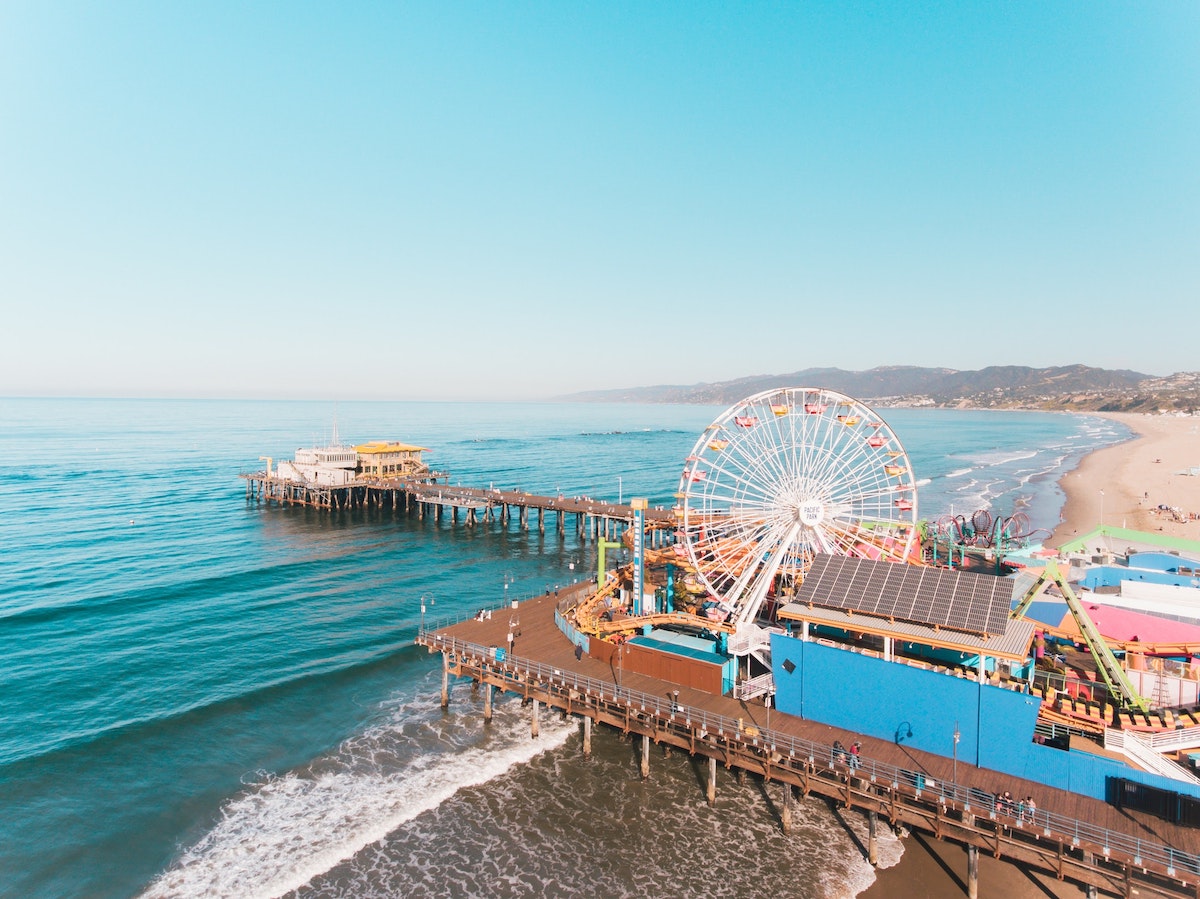 As well as being able to walk Santa Monica Pier, there are many other fun things to enjoy. The amusement park on the Santa Monica Pier has fun rides like the Pacific Wheel, West Coaster, Sea Dragon, Shark Frenzy, Pacific Plunge, and Inkie's Scrambler rides.
If you prefer to keep your feet grounded, as you walk Santa Monica, you will see plenty of attractions like fun arcade games, including Whac-a-mole, Top Glow, Penalty Kick, and more. Not to forget, the Santa Monica Pier Aquarium that offers a full day of deep-sea discovery.
You will be able to grab a snack or dinner at the great selection of eateries, including the Pacific Wheel Pizza Company, Beach Burger, Coffee Bean, Tea Leaf, Scoops Ice Cream and Treats, or Funnel Cakes.
You will even be able to pick up some souvenirs at the Santa Monica shops on the pier, like Pier Gear. You will find a great selection of t-shirts and customisable products, Magnet Wall, the ideal gift store, and Marlene's Beachcomber for toys and beach gear.
3. Roller Skating
Step back in time to the Glendale Moonlight Rollaway roller skating rink. This is a great night out for the whole family.
Thanks to the great '80s music and disco lights, you will be able to skate and show the kids how it's done.
The snack bar has a great selection of food and drinks to keep you fueled for the evening, including pizza, hot dogs, corn dogs, chicken nuggets, cookies, nachos, tater tots, popcorn, pretzels, and doughnuts.
The Moonlight Rollerway has an impressive history, and the building has been used for rollerskating since 1956.
You will be able to skate the night away as it is open until 11 PM every night, with tickets starting from $18.
4. Miniature-Golf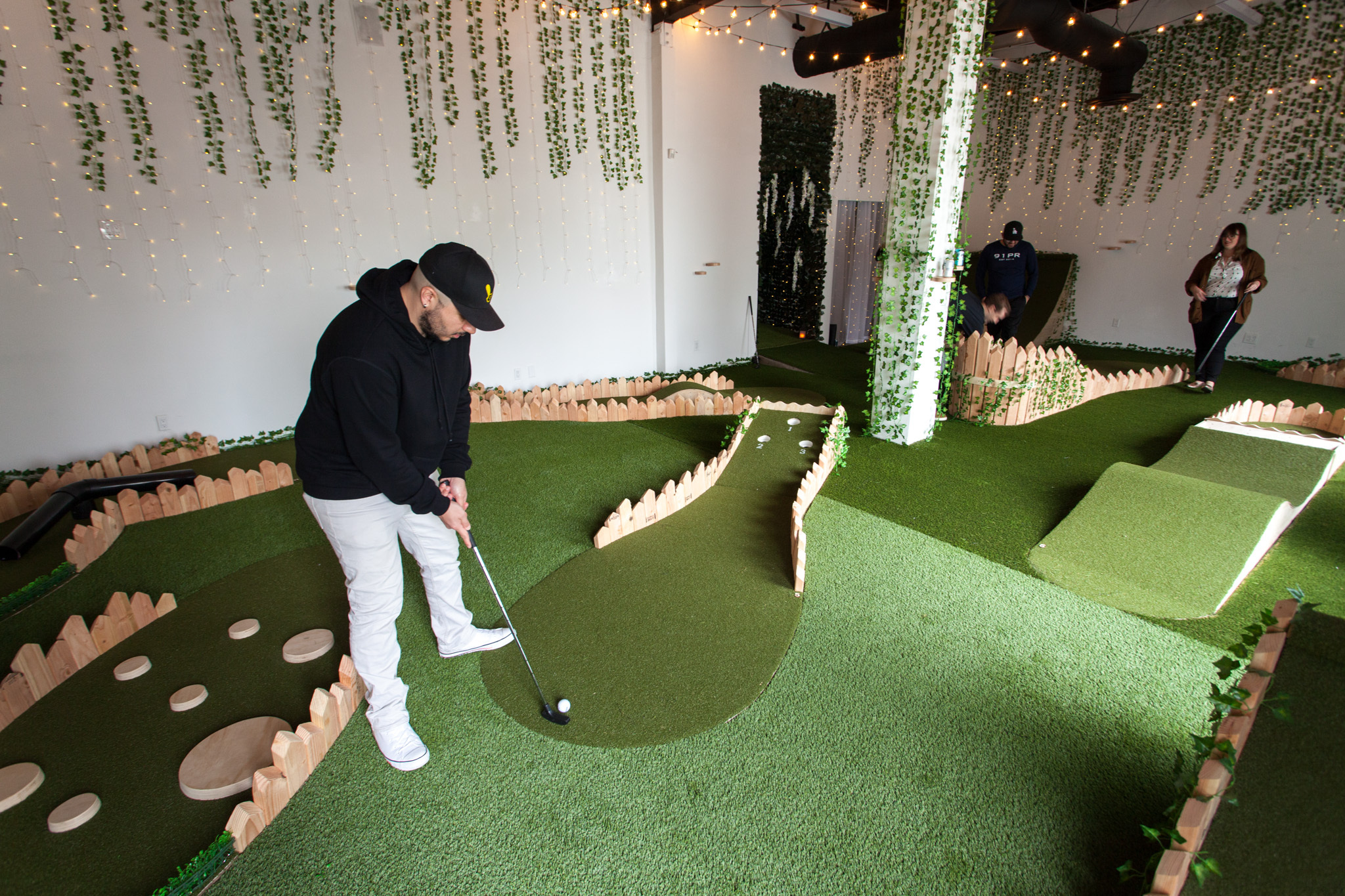 Mini-golf is always fun, especially when the golfer of the family gets beat!
If you are looking to spend an evening playing mini-golf, there are many great locations in Los Angeles for you to consider.
Arroyo Seco Golf Club in South Pasadena has a straightforward 9-hole course with tunnels, castles, and windmills. There is also a patio to enjoy a snack from their cafe. Costing just $9 per person and $5 for an additional game.
Sherman Oaks Castle Park is another excellent mini-golf option that only costs $6.50 for adults and $5.50 for kids aged 5 to 12. Kids under 5 get to play for free.
Mulligan Family Fun Center in Murrieta has lots going on with two 18-hole mini-golf courses, bumper cars, go-karts, rock climbing, batting cages, and paddle boats.
Golf N' Stuff in Norwalk has many great themed holes in the mini-golf course. Play through Big Ben, a candy house, a haunted mansion, and more at this fun location.
5. All Aboard The Starline Tour
Starline city tours are a great way to see more of Los Angeles. Some hop-on-hop-off options are also available, allowing you to explore more of the city before resuming your tour.
Some of the most popular Starline tours take you to celebrity homes and places of interest. See how the world's biggest stars live in their beautiful mansions and take in some great film and TV locations.
Visit Beverly Hills, Mulholland Drive, Sunset Strip, Rodeo Drive, and other famous landmarks on these fantastic tours.
The guides are great and will keep you entertained for the duration of the journey.
6. Two Bit Circus Is A Must
The Two Bit Circus is a great, futuristic gaming experience where visitors can make the most of an extensive range of arcade games, Virtual Reality experiences and enjoy the 'Story Rooms' (the Two Bit Circus version of an escape room).
The park is recommended for kids aged eight and over, and you will be able to look at different admission options with great deals available. One option is a $70 admission charge for two people. Not only do you get an entry for this, but you also get a card that goes towards the cost of attractions, drinks, or snacks to the value of $70.
7. World Of Illusions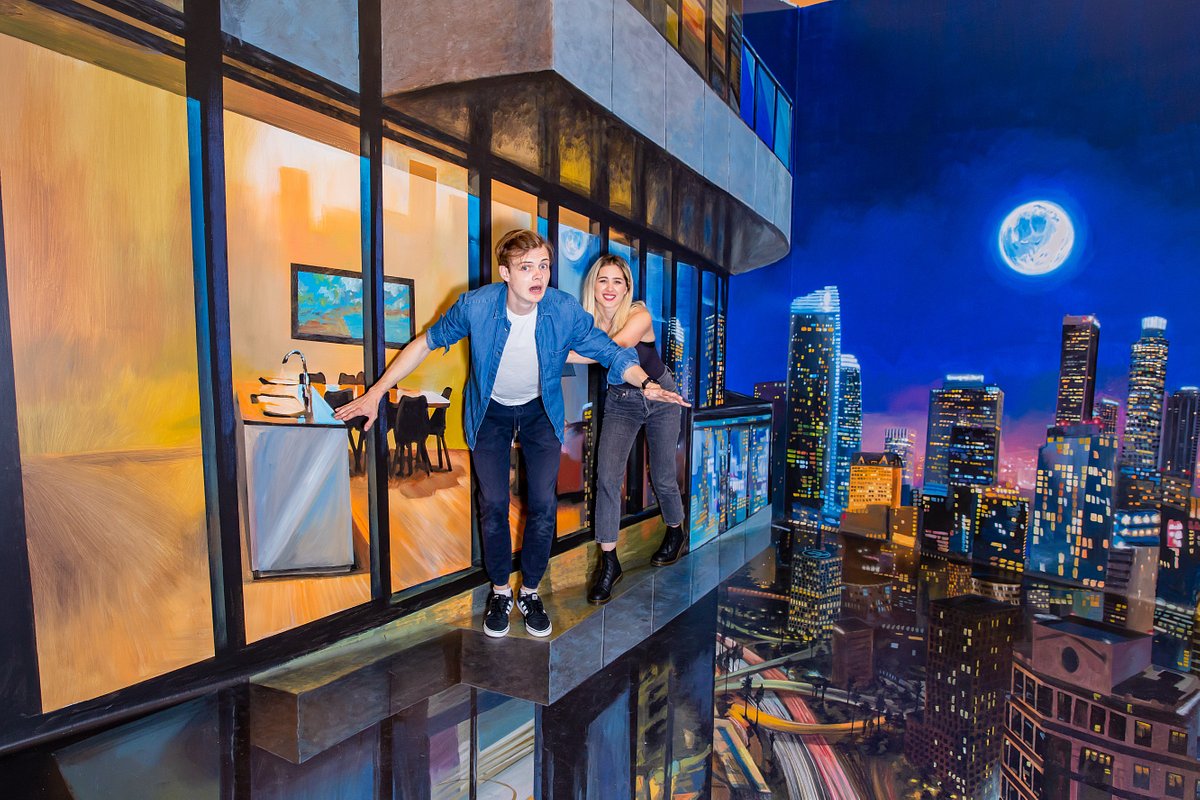 World of Illusions in Los Angeles is an excellent interactive experience for the whole family.
World of Illusions comprises four different experiences: the Upside Down House, Smash It, Museum of Illusions, and the Giant's House.
The Giant's House is a mirror maze filled with optical illusions. Museum of Illusions is an immersive experience that is fun and interactive. Smash It lets you smash things up and release all your pent-up aggression. It's like free therapy!
8. Museum Of Dream Space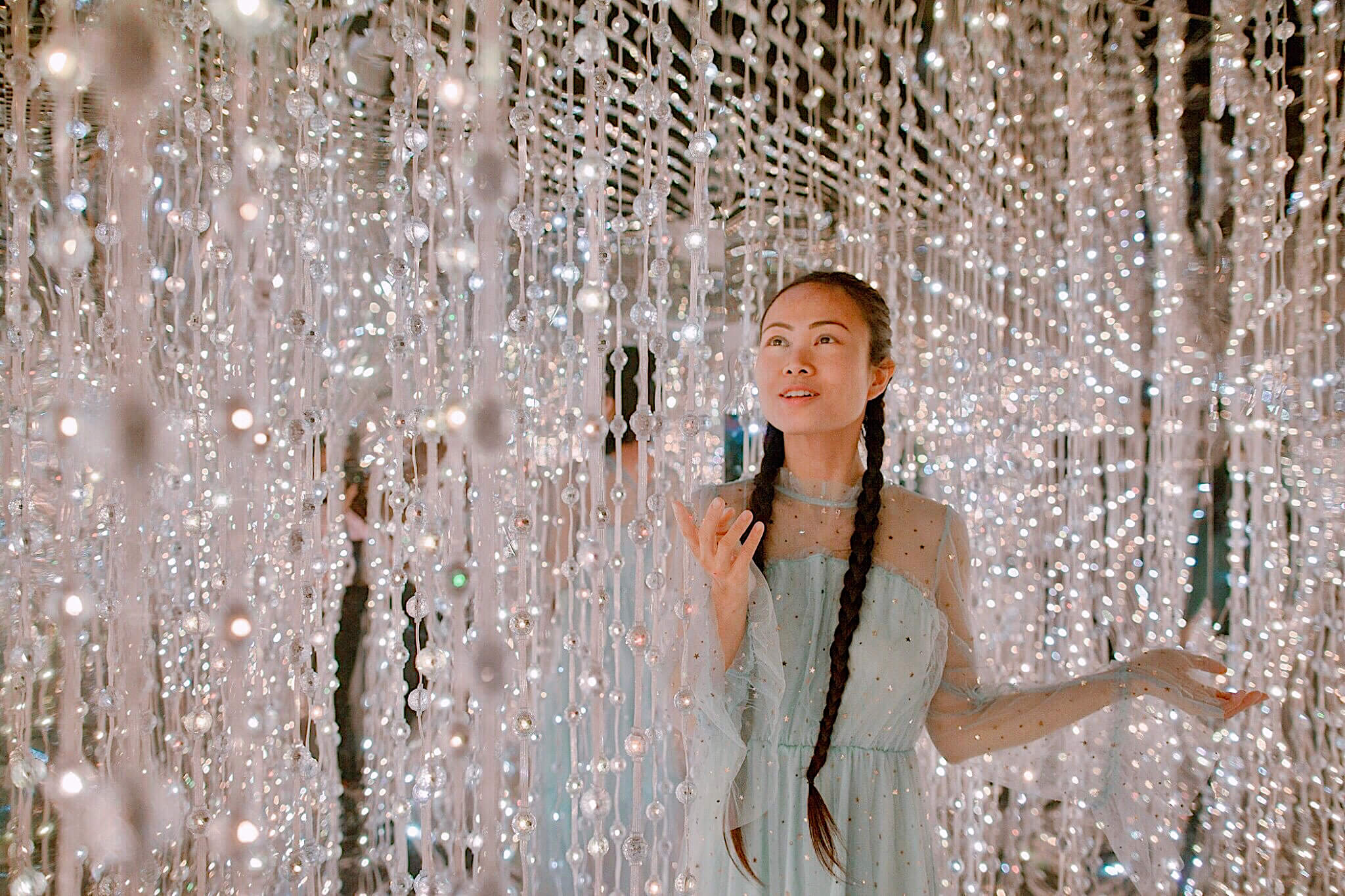 Suppose you or your family are big social media fans, so finding a great location for pictures and content will be a priority.
The Museum of Dream Space, located on Beverley Boulevard, near Hewitt St Los Angeles, is an excellent option. It is a museum made up of digital art, light installations, and interesting projections.
The six rooms designed by Yayoi Kusama make for an exciting evening, and you are sure to get a load of great photo's when you are there.
9. Ice Skating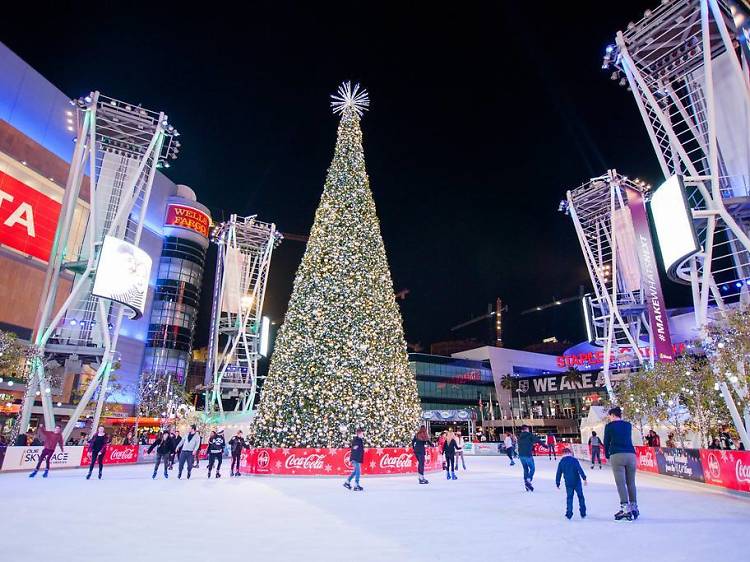 Sometimes the heat in Los Angeles can get a bit much, especially if you aren't used to warm weather. With so much to see and do, you can find yourself out in the heat for long periods, so finding a more relaxed activity can bring a welcome change.
Thankfully there are cooler options like ice skating. There are several ice skating venues to choose from.
L.A. Kings Holliday Ice is available around the festive period and features an outdoor rink, giant Christmas tree, and LED light show. For $25, you will enjoy skate rental and access to the rink.
Another skating option available for visitors to Los Angeles during the festive period is the Dodgers Holiday Festival, where a temporary rink is set up in the outfield.
The Rancho Palos Verdes rink offers a synthetic ice skating experience all year round, and ICE in Santa Monica is another great ice skating option.
10. Bowling
One activity that always goes down well for families is bowling. The fun experience usually goes hand in hand with tasty drinks and snacks and fun arcade games. There are lots of great bowling alleys in Los Angeles.
X Lanes has 24 lanes lit by LEDs and an arcade with around 100 games, billiard tables, and karaoke rooms. Bowling costs between $3 and $6.50 per person, and shoe rental is available for $4 per adult and $3 for kids.
Jewel City Bowl also has 24 lanes of bowling and is known for its great snacks and food and an arcade. Games will cost between $1.75 and $7 per person.
Pinz costs between $4 and $10 per game, with shoe rental costing $5 per person. There are 32 lanes, an arcade, and a deli next door for snacks.
Environmentally friendly families will want to visit Gable House Bowl, which donates to the homeless of Los Angeles, recycles, and uses solar energy. Shoe rental costs $5, and games are between $4 and $6.
For a more traditional bowling experience, Winnetka Bowl is an excellent option for between $2 and $6.50 per game and $2 to $4.50 shoe rental. There is a restaurant and arcade here as well.
Bowlero Los Angeles costs between $3.50 and $10.50 per person and has recently undergone an upgrade that makes it a great choice for families to visit.
11. Griffith Observatory
The Griffith Observatory in Griffith Park is a wonderful opportunity to enjoy great views of the city and, when night falls, go stargazing.
The famous location has even been featured in films like La La Land and Rebel Without a Cause.
Visitors will be able to explore the grounds, view exhibits, or look through the telescopes, making it a fun and educational option.
12. Electric Mile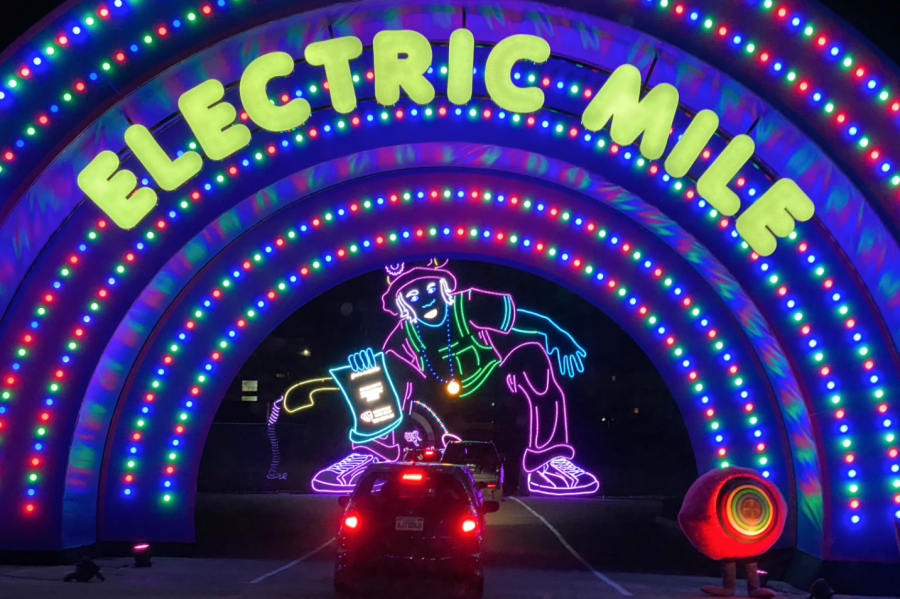 Take the kids on a drive-through concert to remember with the immersive Electric Mile.
You will drive through incredibly choreographed light installations while listening to the fun soundtrack. Smoke machines, lasers, and a helpful crew ensure all have a wonderful time.
The track runs for 1.5 miles, and there are 7 'worlds' to travel through. Prices start from $69.99 per vehicle, and you will be allowed up to eight in each car.
13. Movie Night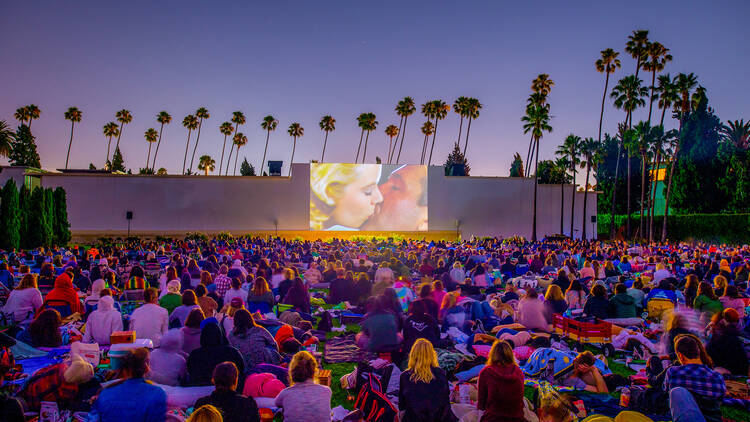 Movie fans will love Los Angeles with access to some tremendous movie-themed attractions at theme parks, studio tours, and driving tours that take in celebrity homes. As well as that, you will be able to visit one of the many great kid-friendly movie theatres in Los Angeles to take in the latest releases.
El Capitan Theatre boasts exhibits and a stage show before all the films, making it a wonderful experience for families to enjoy.
For a unique cinema experience, visit the Rooftop Cinema Club for outdoor viewing. Another great outdoor movie experience can be had at the Cinespia Cemetary Screenings.
14. Adventure City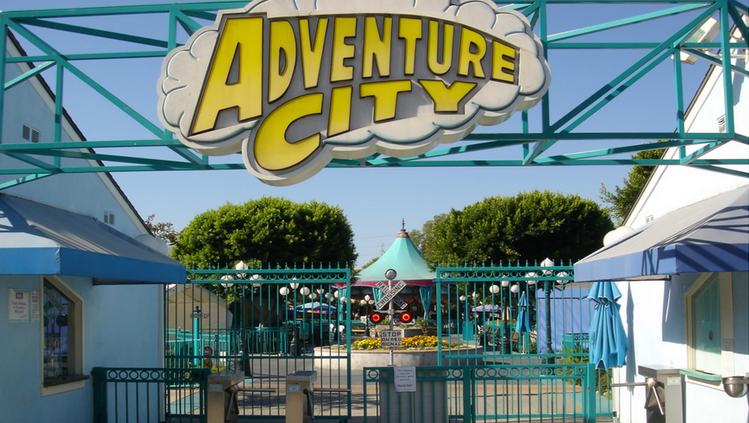 Adventure City is an amusement park famous for being one of the smallest in Los Angeles County. While many people might see this as a disadvantage, Adventure City leans into it and offer a different experience from larger theme parks.
The smaller park means there are fewer people, fewer queues, less walking between rides, and you will be able to enjoy all the rides and attractions in one day and evening.
The price is another big selling point, with the price of admission for a family of four being comparable to the price of admission for one to one of the larger theme park options in Los Angeles.
15. Laser Tag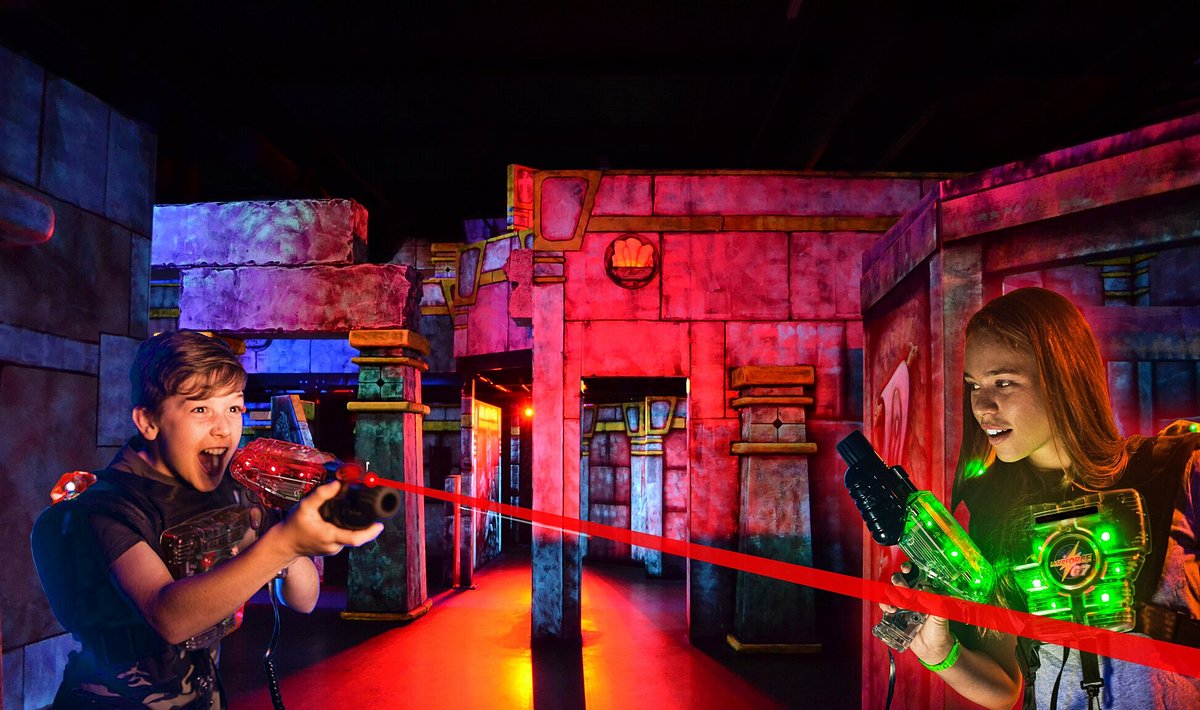 If you are looking for a kid-friendly activity near downtown LA, many great laser tag options include Ultrazone, Two Bit Circus, Escape VR, Dave and Busters, and Xlanes.
16. Universal Studios Hollywood
Universal Studios Hollywood has a great selection of tours, rides, attractions, and places to eat for families to enjoy. Fans of Harry Potter and Jurassic World will love the attractions available at this world-famous theme park.
FAQs
When is the best time to visit Los Angeles?
Los Angeles can get warm and crowded during the summer, so planning your trip around this can be a good idea, especially travelling with kids.
It is nice to enjoy the good weather that Los Angeles offers visitors, but you might not want to venture out for too long if it is too hot. This makes it difficult to enjoy the great beaches and wonderful amusement parks for any length of time.
Avoiding busy crowds will also make trips to theme parks more enjoyable as you will spend less time queuing and more time enjoying the rides and attractions.
The best times to visit Los Angeles are March, April, May, September, October, and November. During these months you will still get to enjoy the sun, but it won't limit what you can see and do.
Popular attractions are not as busy during these off-peak months so that it will be a more enjoyable visit all around.
Can you drive up to Griffith Observatory at night?
Griffith Park is open until 10:30 PM, and you will be able to park in and around the observatory. This is a great place to visit, and you will be able to enjoy great views of the city and watch the stars when the sun goes down.
How many rides does Adventure City have?
Adventure City has 17 rides in total and a low entry price, meaning you and your family will be able to enjoy everything they have on offer without breaking the bank.
How much does it cost to go to Santa Monica Pier?
Access to Santa Monica Pier is free, but the rides at Pacific Park cost between $5 and $10. Alternatively, you can buy wristbands that entitle you to unlimited rides for $32.95 for anyone eight and over, and for under 8, unlimited ride bands cost $17.95.
The Santa Monica Pier Aquarium is free for those under 13. Anyone 13 or over will be charged $5 for admission.
Final Thoughts
There you have it. Los Angeles is a wonderful family vacation destination with lots to see and do during the daytime. Still, there is also a great and diverse range of things to do in the evenings to keep your family entertained.
Planning your tip will help you get a better idea of what you will be able to fit in on your holiday, and having a couple of backup options in case you change your mind can also help.
Plan your family vacation to California, and Los Angeles is a destination you have considered. You will find it a family vacation to California, and Los Angeles is a destination you have been considering; you will find it is an excellent option with lots to offer.
The options provided above are just some of the great things to see and do with kids in the Los Angeles area. There are plenty of other options to explore, whether your kids like a contemporary art museum, children's museum in Downtown Los Angeles or want to visit the Space Shuttle Endeavour, a music centre, the California Science centre, or city hall near Grand Ave Los Angeles.
Los Angeles, CA, also has many great beaches, like Long Beach or San Pedro, to explore Southern California's Oceans and watersports. Sports fans might also want to take in a basketball game at the Crypto.com Arena, formerly the Staples Center, on Figueroa St, Los Angeles.
Check out these other articles about Los Angeles:
More about our TFVG Author