Perhaps one of Mother Nature's most breathtaking and powerful water displays is Niagara Falls. Each year, this popular destination draws millions of visitors to its brinks, offering an expansive array of thrill-seeking opportunities on land, water, and beyond. 
After visiting the falls, why not take to the sky? You can try ziplining in Niagara Falls or choose from other exciting aerial adventures to acquire a fresh perspective on this iconic destination.
A unique feature of Niagara Falls is that it spans the border between Canada and the USA, so you'll need to plan for any passport requirements. Learn whether you need a passport to visit Niagara Falls here.
What To Know About Ziplining
Ziplining is an adrenaline-spiking adventure activity suitable for most members of the family. Even though it feels like a free-fall, it is still safe, thanks to sound equipment and the precautions taken by course operators. Nevertheless, there are a few things to consider before taking the (literal) leap. These include:
Age restrictions
Medical conditions
Weight limits
Safety equipment
Weather conditions
Age Restrictions
Very young children may not be allowed to zipline. Check the course guidelines for their age restrictions.
Medical Conditions
This activity is not for you if you have heart problems, back problems, or serious medical conditions. Additionally, pregnant women should not zipline.
Weight Limits
There are upper and lower weight limits for zipliners, with 60 lbs falling near the bottom end of the spectrum and 275 lbs near the top. However, weight requirements will vary from course to course. There may also be limits based on body dimensions. Depending on the park's safety guidelines, you could be weighed or measured on-site.
Safety Equipment
Parks will provide all the safety equipment you need, including helmets and harnesses, and you'll be required to wear all of it the entire time you're on a course.
Weather Conditions
As an outdoor activity, aerial parks may close seasonally or in bad weather. Be sure to check before you go!
Best Zipline Adventures
Here are the top choices for ziplining in Niagara Falls.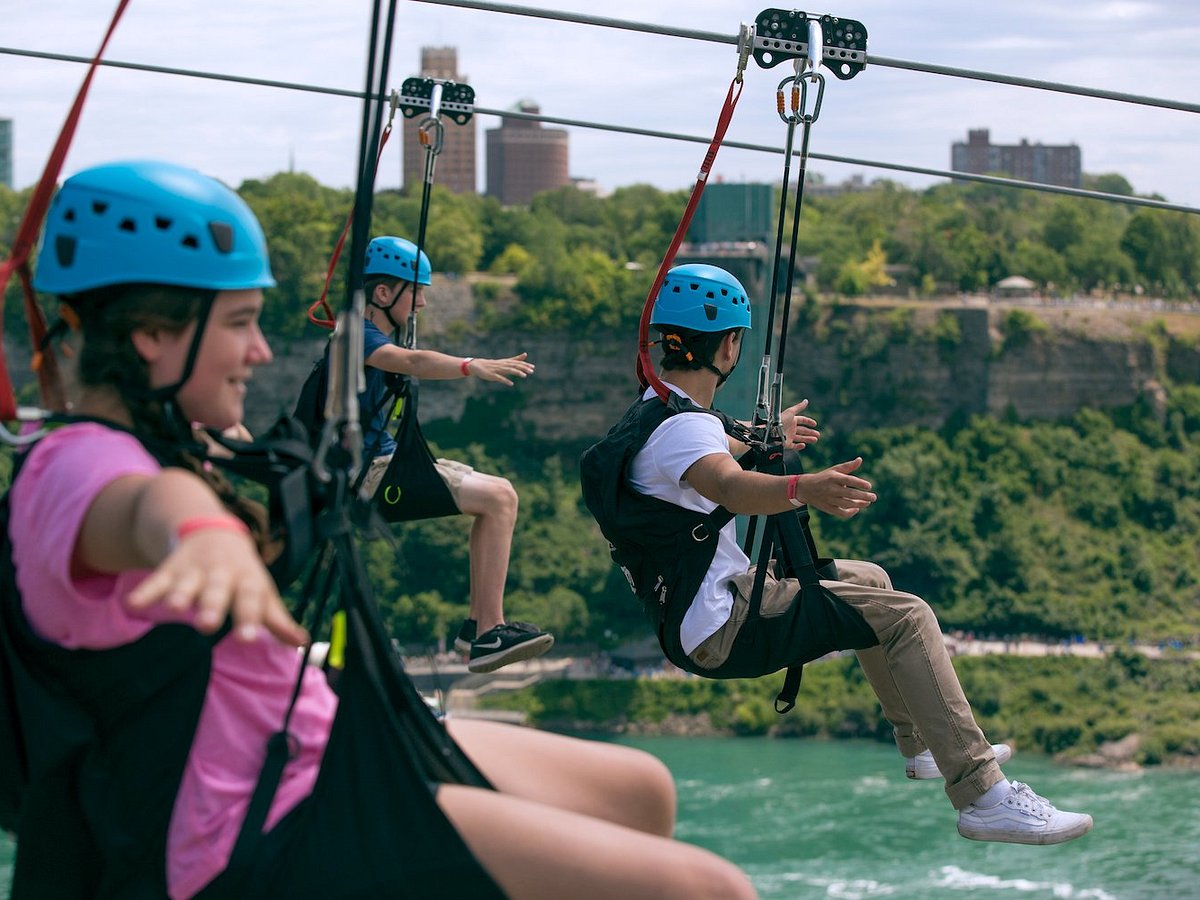 Known as the "Mistrider," this falls-facing zipline starts 220 feet above the Niagara River Gorge and reaches speeds above 40 miles per hour along its 2,200-foot journey. You can soar in the spray alongside the family, enjoy the swing-seat harnesses, and buy an official souvenir photo afterward. An observation deck at the bottom gets you even closer to the waterfall.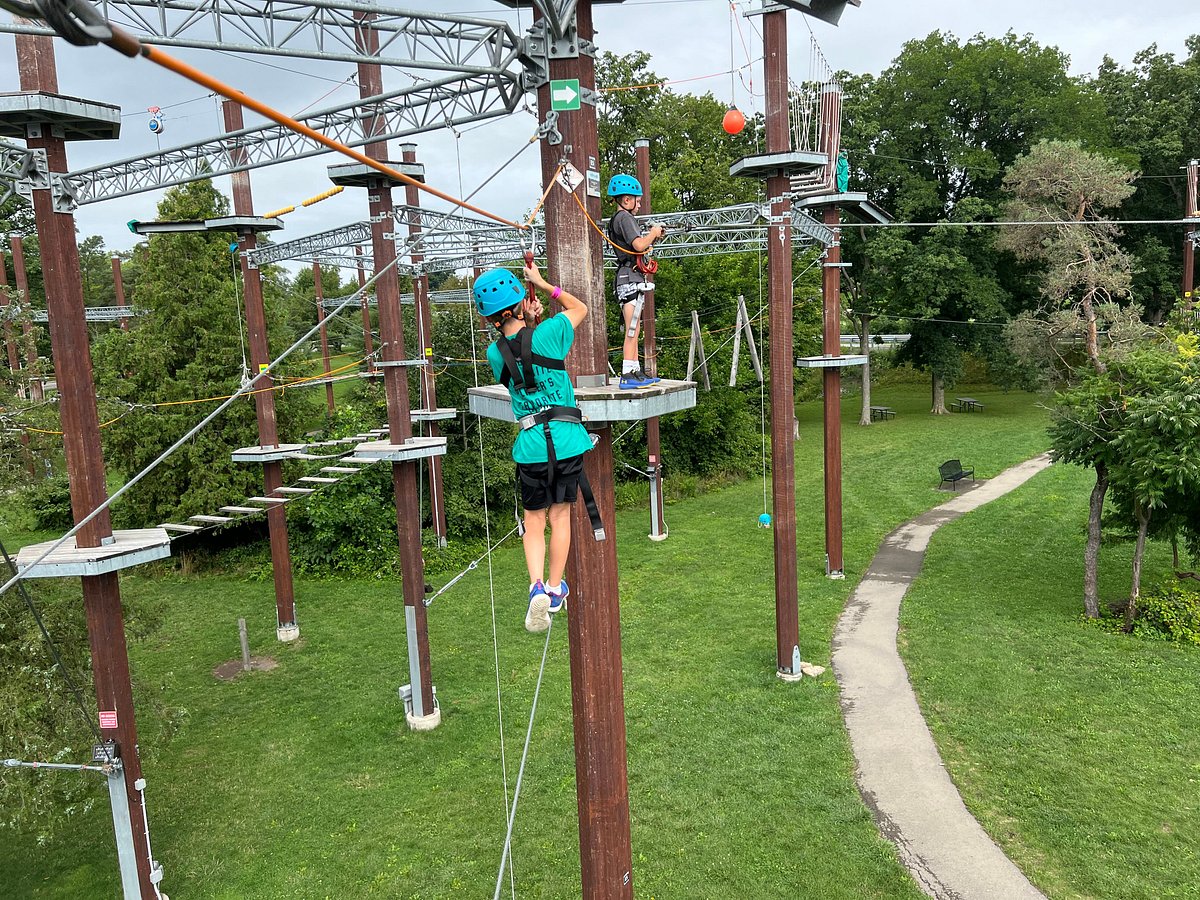 The adventure course has three levels of increasing height and difficulty. In addition to ziplines, you'll encounter tightropes, swinging logs, and more. Take your experience to the next level by booking a nighttime excursion on the course. Or test your mettle in Wildplay's "What's to Fear" jump. You'll have to launch yourself from a 40-foot platform — safely connected with rope and harness, but intense nonetheless.
Just 20 miles from Niagara Falls, Buffalo RiverWorks has four different zipline tracks. The final line is a side-by-side adventure that pits friends and family against each other as they race to the bottom.
The massive RiverWorks facility offers other ways to get a bird's-eye view: try the outdoor high ropes course, an urban silo climbing wall, and the Buffal-O Ferris wheel. This entertainment complex has plenty of other amenities and activities to explore.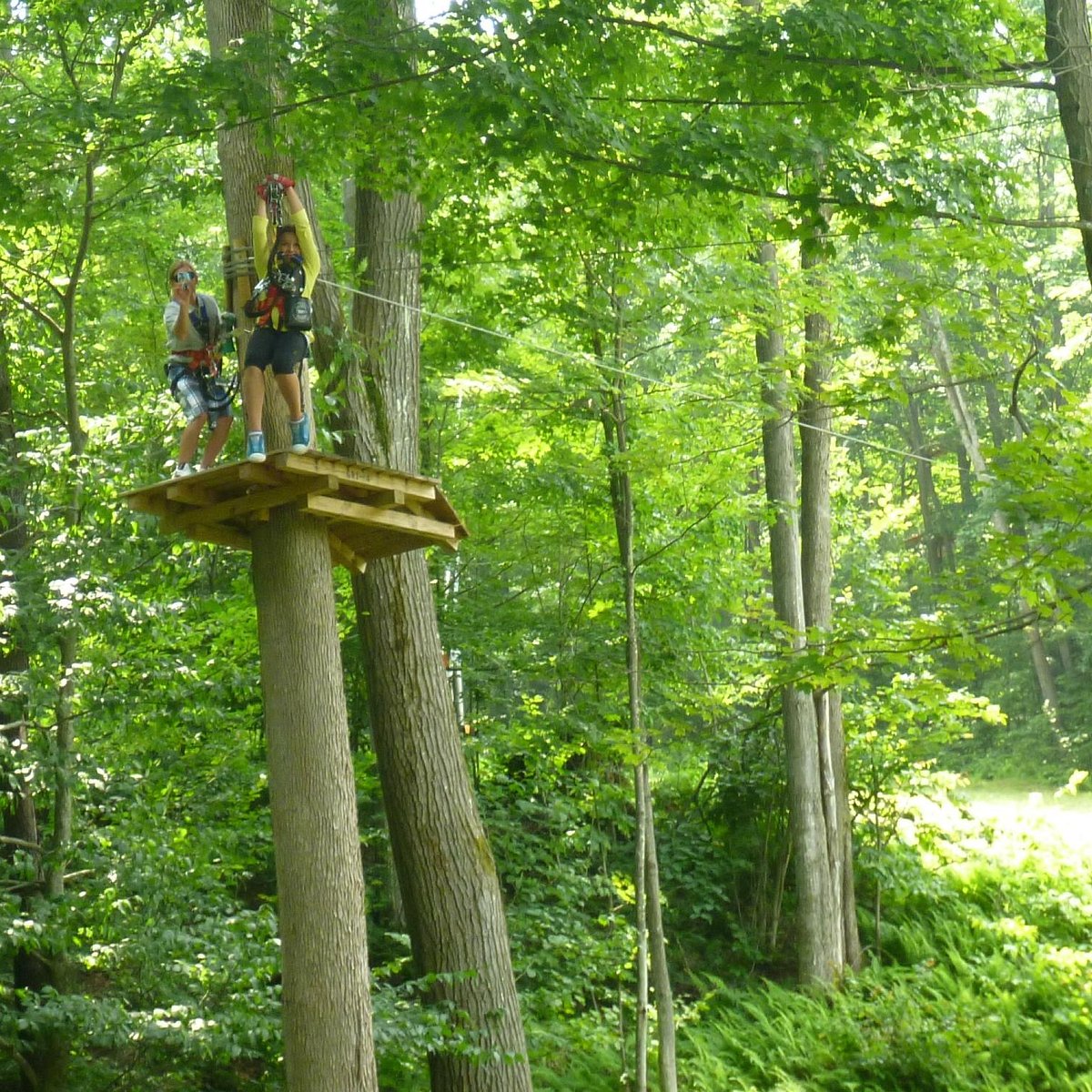 If you're staying in the area for a few days and are willing to drive out of town, check out one of the largest aerial parks in the USA. Ellicottville is just over an hour south of Niagara Falls. Sky High boasts 13 different zipline courses of increasing difficulty and height — up to 68 feet above the forest floor.
The Adventure Park also has a scenic chairlift and a Climbing Forest — think rock walls, but on trees. The trees range in difficulty levels, and there's a special area for kids who like to stay lower to the ground.
Another noteworthy activity is the Sky Fly Mountain Coaster: a roller coaster track that takes you down a mountain and through the trees! Each car can fit two people, and the driver controls the speed of the descent with the car's brakes. Children as young as three can ride the coaster with a parent, making this ride one of the few aerial options for the littler members of your family.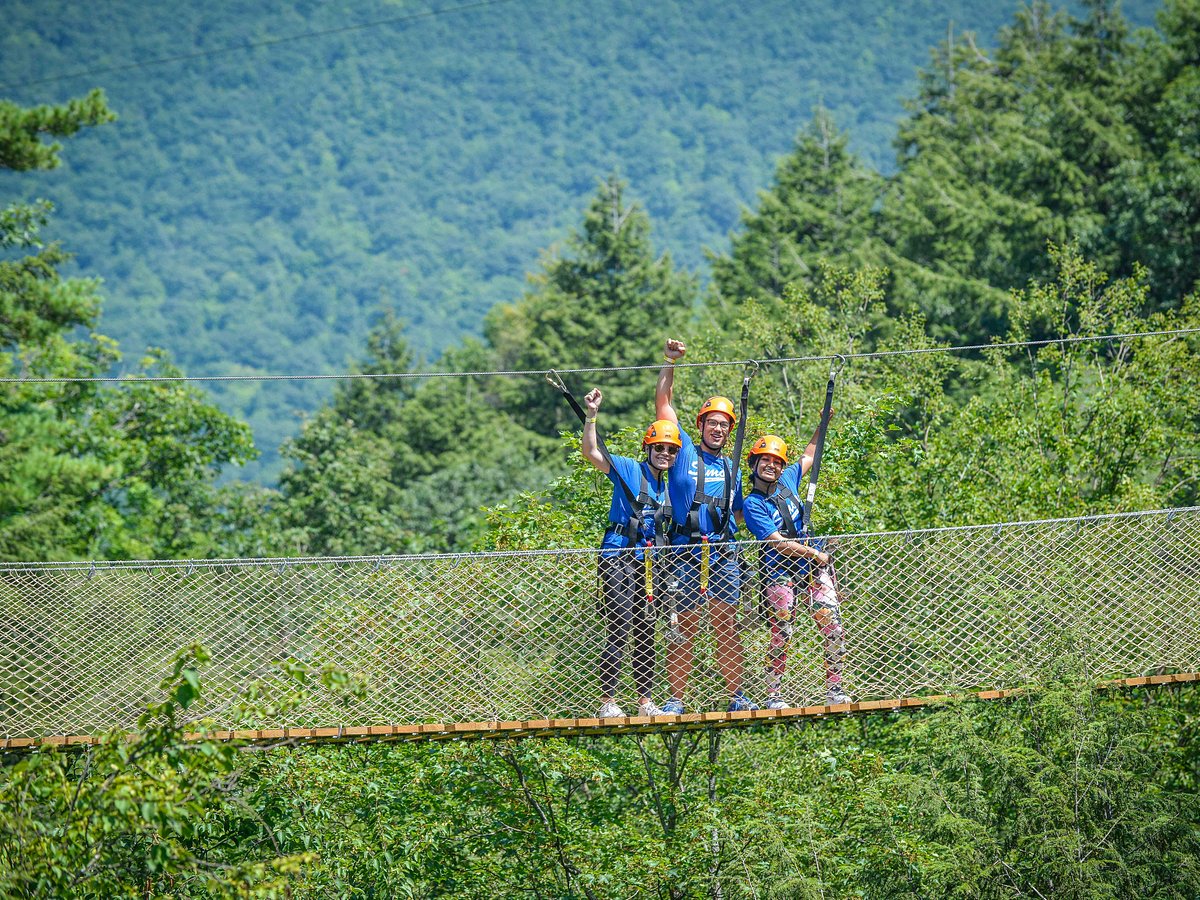 Two hours east of Niagara Falls, you'll find this aerial park at the peak of Bristol Mountain. It's worth the drive for the zipline canopy tour: a guided, 3-hour adventure through the treetops. And kids 4 to 7 years old can take on two different courses designed just for them, with staff members ready to help them conquer any challenge.
Other Aerial Adventures
Ziplining is not the only way to experience aerial thrills. Some other exciting aerial adventures include cable car rides and helicopter tours.
This historic cable car is a great way to enjoy the Niagara River Gorge from high up — just at a slower pace. The Whirlpool Aero Car is named for the spiraling waters you'll see below you as you travel: the Niagara Whirlpool.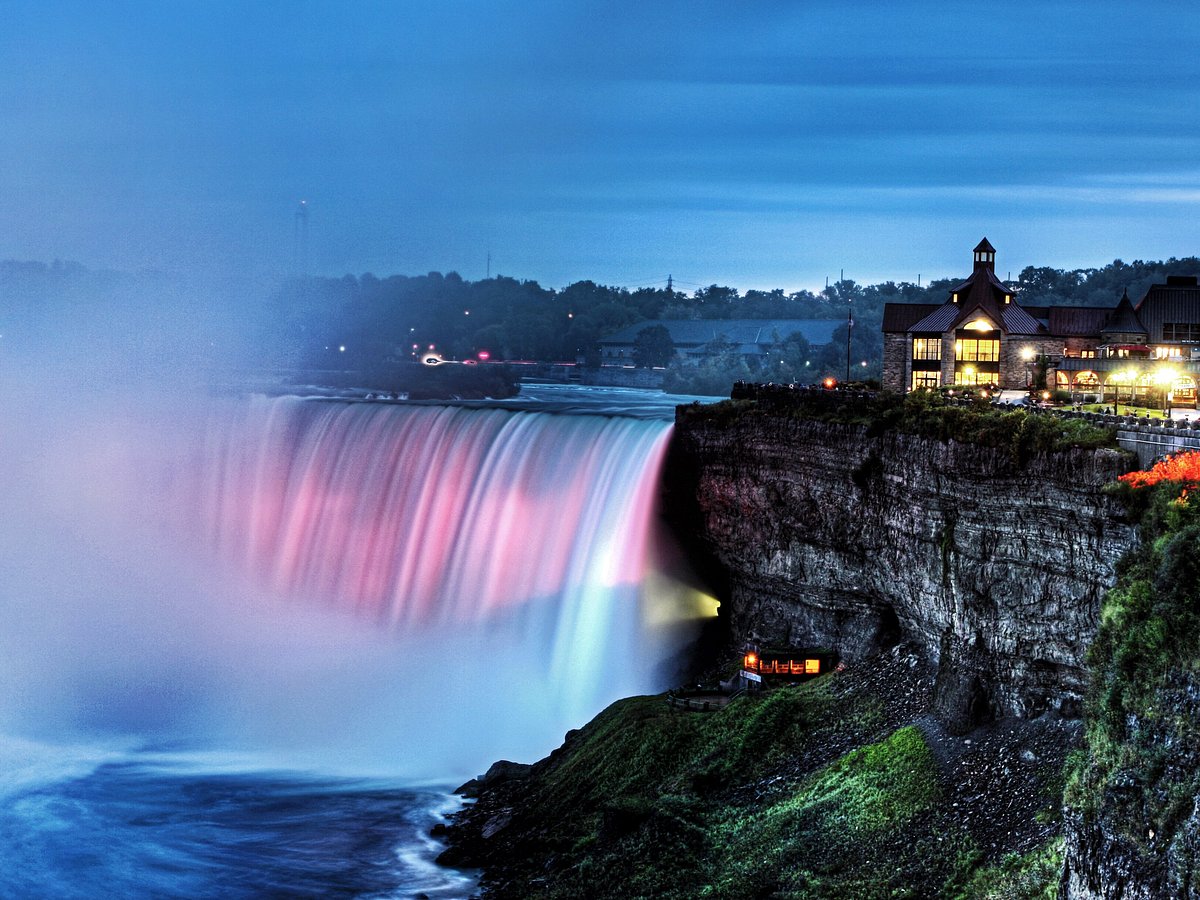 If you want to splurge, a helicopter tour is the way to go. Up to seven people can enjoy this aerial tour, with the addition of a falls boat ride in the summer or admission to a 4-D movie experience and a butterfly conservatory in the winter.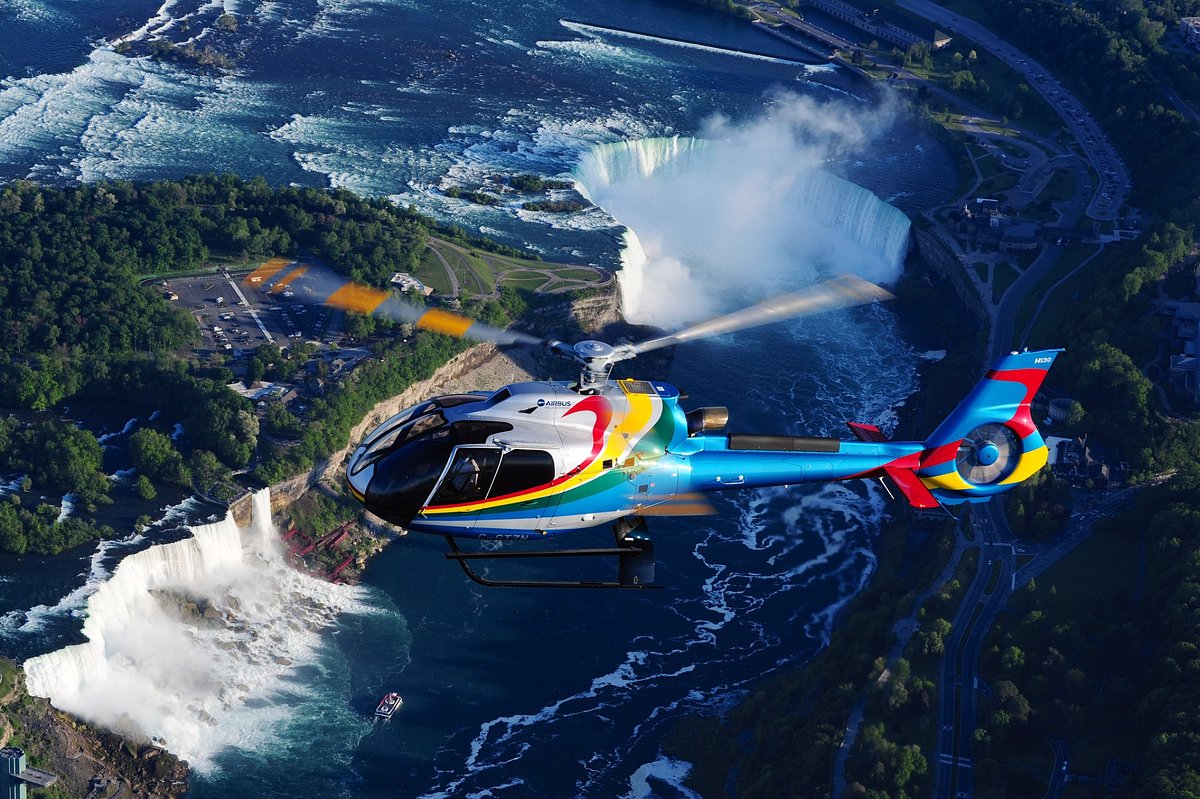 With 50 years of experience, Niagara Helicopters prides itself on its safety record. Their classic "flightseeing" tour operates year-round, and its helicopters offer large windows that are perfect for capturing views over the waterfalls. You'll have the rare opportunity to fly above the rainbows that appear in the mist from the cascades below you.
Something for Everyone
Ziplining in Niagara Falls is just one way to add an unexpected thrill to your vacation. Whether your family is full of adrenaline junkies or they're partakers of simpler pleasures, you're bound to find an aerial adventure on this list to suit your needs.
More about our TFVG Author