If you're planning a trip to Niagara Falls, you might wonder if a passport is necessary for the journey. The answer is yes and no, and we will explain further below.
Niagara Falls is the blanket name for a collection of 3 massive waterfalls found right along the border between Ontario, Canada, and New York, USA. 
The biggest waterfall, known as "Horseshoe Falls" or "Canada Falls," is located predominantly on the Canadian side of the border. The other two, "American Falls" and "Bridal Veil Falls," can be accessed from the US.
Given that two of the three waterfalls are located on American territory, it's safe to say you can get a great look at most of Niagara Falls without needing a passport.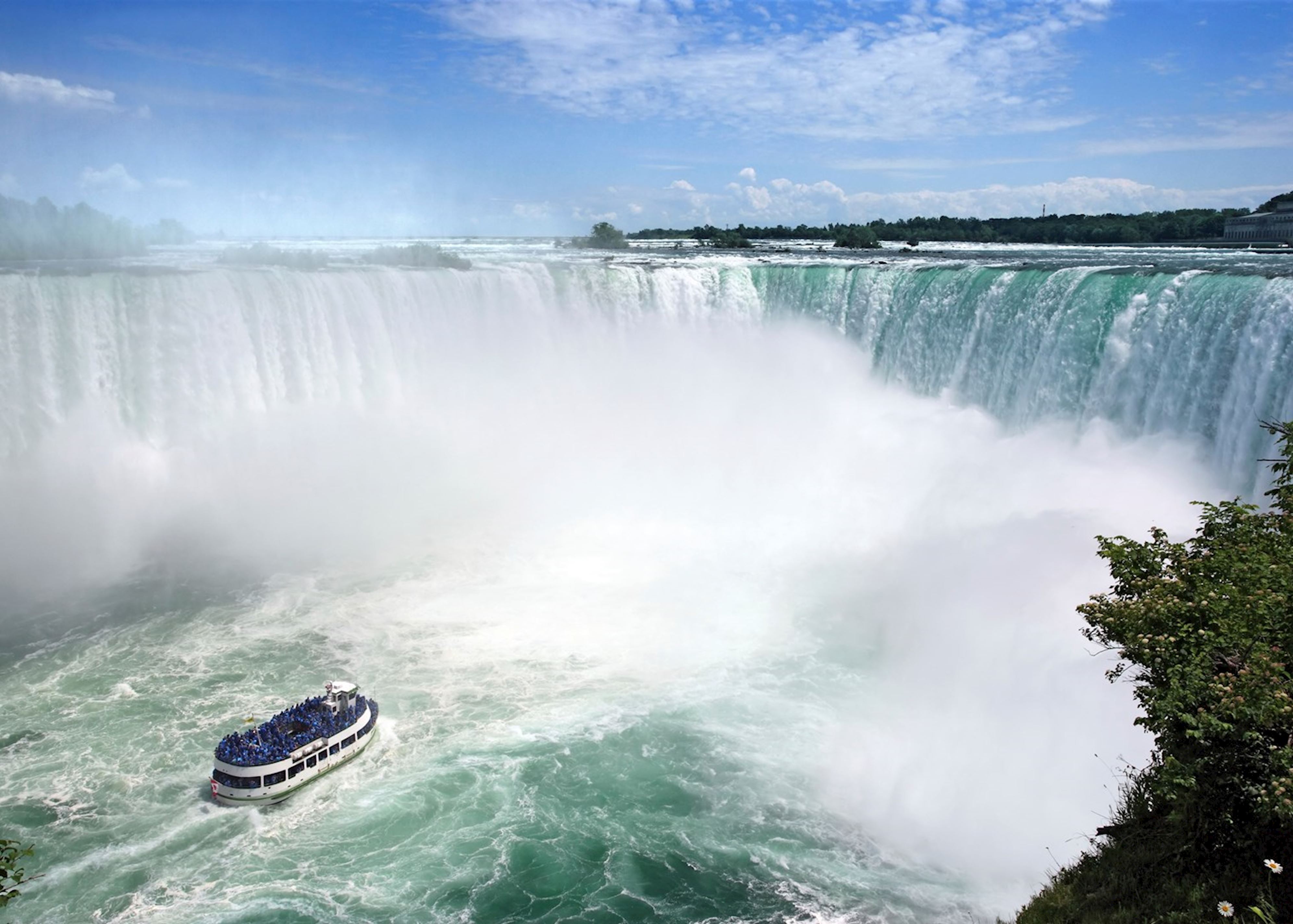 However, if you have your heart set on seeing the largest and most magnificent "Canada Falls" and its attractions, you will have to cross over into Canada. You can do so via the "Rainbow Bridge," where you will be stopped by border patrol and will need all the proper documentation.
Adults crossing the border will need a passport book or passport card. Enhanced Drivers Licenses are also acceptable, but these are only available to residents of 5 states. Minor children must have a certified birth certificate and a note from the parents if they are not present. 
Can I Enjoy Niagara Falls Without A Passport?
You are not required to use a passport to see two of the three waterfalls that make up Niagara Falls for those in the US. 
Instead, you will be in what is known as Niagara Falls State Park, and it's a fantastic way to have a memorable visit without having to cross over to Canada.
Terrapin point has a great view of "Canada Falls," or an up-close view from the water. Some would say it's a more peaceful way to view the falls, with fewer tourist attractions and less noise.
"American Falls" is the second largest waterfall in Niagara falls, receiving about 11% of the flow from the river. It is around 188ft high and over 900ft across, with a torrent of water about 2ft deep.
On the American side, you can get within a few feet of the edge of the waterfall or view it from the edge of the river. At the base of the falls is a large clump of rocks that have fallen off the falls over the last century.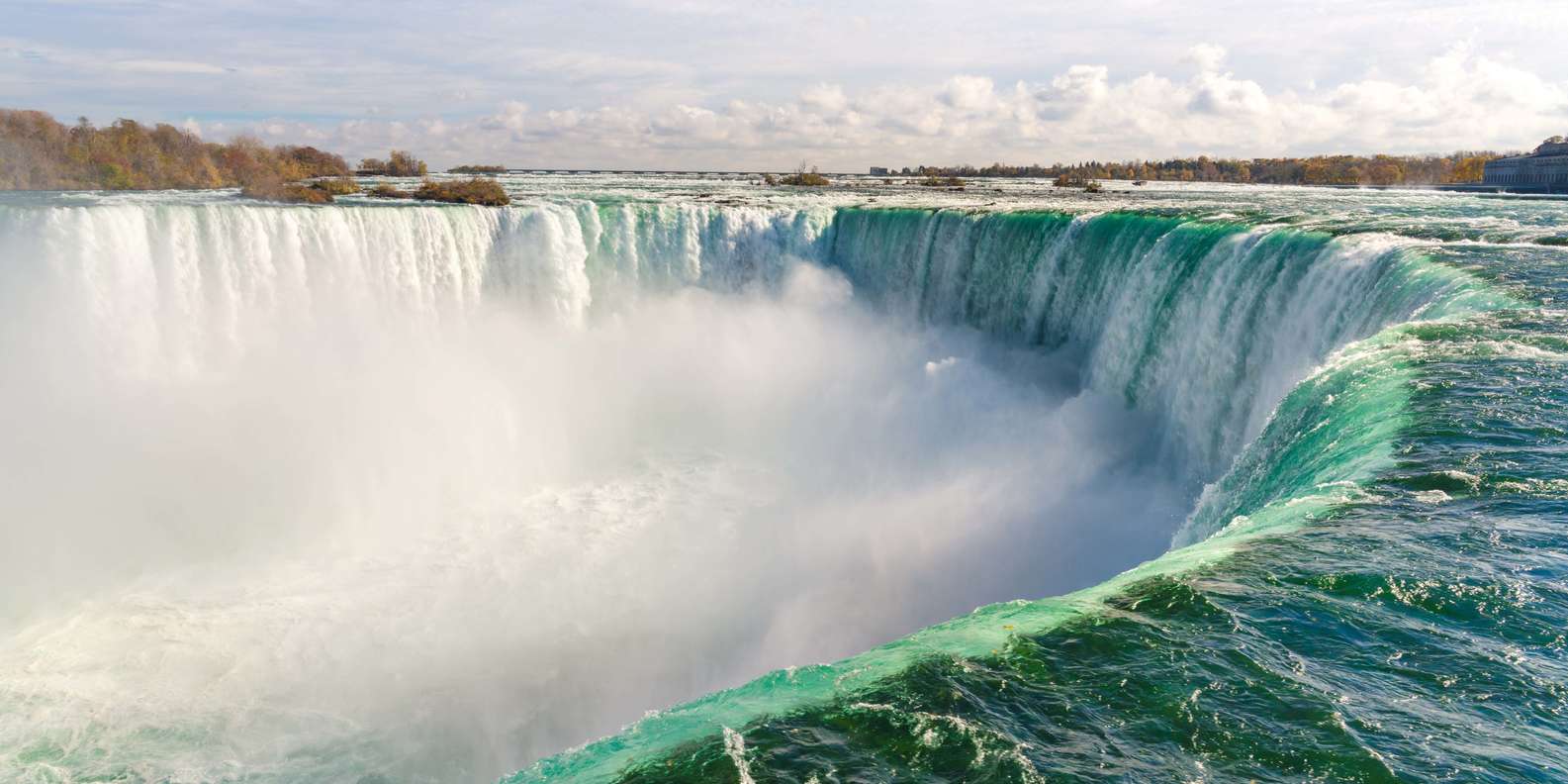 "Bridal Veil Falls" is significantly smaller than its sister falls, though by no means less beautiful. It is narrow compared to the others, at only 56ft across, but has a 181ft drop into the water below.
You can take the Maid of the Mist tour near this site, which does not require a passport even though it passes briefly through Canada before docking in NY. You can also walk the paved path that leads directly underneath the waterfall—it is recommended to bring a smock. 
There are several attractions available at Niagara Falls State Park, including the Aquarium Of Niagara, Niagara Scenic Trolley, Rainbow Air Helicopter Tours, Cave of Winds Tour, and so much more. There is truly something for everyone, with the park hosting many eateries, shops, and arcades.
Niagara Falls Canada
If getting a passport isn't an issue, or if you're originally from Canada, then by all means, "Canada Falls" is a must-see.
Despite literally being in a different country, "Canada Falls" is located just 3400ft from "America Falls." The only thing that separates them is the island known as "Goat Island" because of a herd of goats that froze there in the winter of 1780.
The largest and most breathtaking of all the waterfalls, "Canada Falls"' crescent-shaped edge reaches an awe-inspiring 2700ft wide. It reaches 187ft high, and the water below is almost equally as deep.
It's the most powerful waterfall in North America, with an approximate flow rate of 168,000 cubic meters. The river above flows at around 35mph and hasn't frozen over since 1848. 
Another must-see Canadian attraction is the Skylon Tower. The most famous restaurant in Niagara Falls, this revolving dining room is located 775 feet above Niagara Falls. On a clear day, you can see over 75 miles.
The observation deck and "Ride To The Top" attractions are free with any meal at the Skylon Tower. The tower was built in 1964 for $7 million, paid for by Hershey.
If you're looking for something a bit more daring than eating dinner in a giant tower, visit The Whirlpool Aero Car. This Canadian attraction has been running since 1916 and offers an up-close and personal view of the Niagara Whirlpool.
The antique cable car is suspended on steel cables and travels roughly four mph. It carries 35 passengers with standing room only and takes them on a 1km trip across the river.
Niagara Falls Ways Of Travel
Niagara Falls sees over 8 million visitors each year, and while they come from all over the world, over 80% of them are Canadian or American.
Many Americans and Canadians are close enough to make the drive, while others may choose to fly. It's essential to remember that you will need a passport book if you decide to fly across the border, as passport cards are only accepted for ground travel. 
If you are flying into New York, the closest airports would be Niagara Falls International Airport or the Buffalo Niagara International Airport. Your closest options would be the Niagara District Airport or the Billy Bishop Toronto City Airport on the Canadian side.
Shuttle options at many airports will offer you transportation to your hotel if you don't plan to rent a vehicle.
If you take the train to Niagara Falls, the nearest station is Niagara Falls Amtrak in New York or the Niagara Falls VIA Rail in Canada. From there, you can set yourself up with a shuttle, bus, or taxi to get to your hotel, or there are a variety of rental car options nearby.
Niagara Falls Fun Facts
While you visit Niagara Falls, you will likely learn a lot about its history, but it can be fun to know your stuff before you get there, too.
Who knows, you may find yourself in a game of Niagara Falls Trivia. Here are some fun things to know about the famous waterfalls and their surrounding areas.
The first person to document Niagara Falls was a French priest named Louis Hennepin in 1677.

The first-ever wide-ranging hydroelectric generating station opened in Niagara Falls in 1895.

Between the American and Canadian power plants, the falls can produce up to 2.4 million kilowatts of electricity.

Niagara State Park is the oldest state park in America. 

The first person to ever go over Niagara Falls in a barrel was a 63yo school teacher.

The falls pour out about 700,000 gallons of water every second in peak season.

Fish can swim right down the flow of Niagara Falls and survive.

This is not a fun fact, but it is worth noting that over 5,000 people have died going over Niagara Falls since 1840. Stay safe!
Final Thoughts
In short, you can thoroughly enjoy a trip to either side of Niagara Falls without the use of a passport. Both sides offer a great selection of views, attractions, and tourist hot spots.
However, if you truly want to enjoy Niagara Falls in its 3-water-fall glory, consider getting or renewing your passport.
More about our TFVG Author
A seasoned traveller, Dad, and avid sports tourist, James foundered The Family Vacation Guide to share his expert vacation experiences- especially when it comes to being a travelling family man.
Featured in Travel articles such as Travel + Leisure, TripSavvy and SFGate, you know you're reading some of the best vacation tips online.