Suppose you're planning a vacation to Puerto Rico. In that case, you shouldn't miss out on their top ziplining destinations if you're interested in experiencing thrills and immersing yourself in the island's breathtaking sights, from lush forest treetops to high mountaintops.
You can find several of them scattered across Puerto Rico, making this experience a great change of pace from a simple day at the beach.
Are you having trouble deciding where to visit for this exciting pastime? Then, consider browsing through our list of the top options for ziplining in Puerto Rico and make your trip more unforgettable.
First up on our list of the best places for ziplining in Puerto Rico is Rainforest Zipline Park, located in the Rio Grande area, just beyond San Juan.
They offer the longest zipline in the area, measuring over 2300 feet, and lets visitors enjoy a lovely treetop view as they soar through the El Yunque Rainforest. Their platforms are stationed about 30 feet over the ground.
If you're looking for something extra to do, you can sign up for one of their ziplining tours with a 30-foot rock climbing wall or an adventure trail with hanging bridges, tree rappelling, and a Tarzan swinging section.
Their highly-trained staff is friendly and provides plenty of help for anyone who might need some help preparing for their ziplining experience.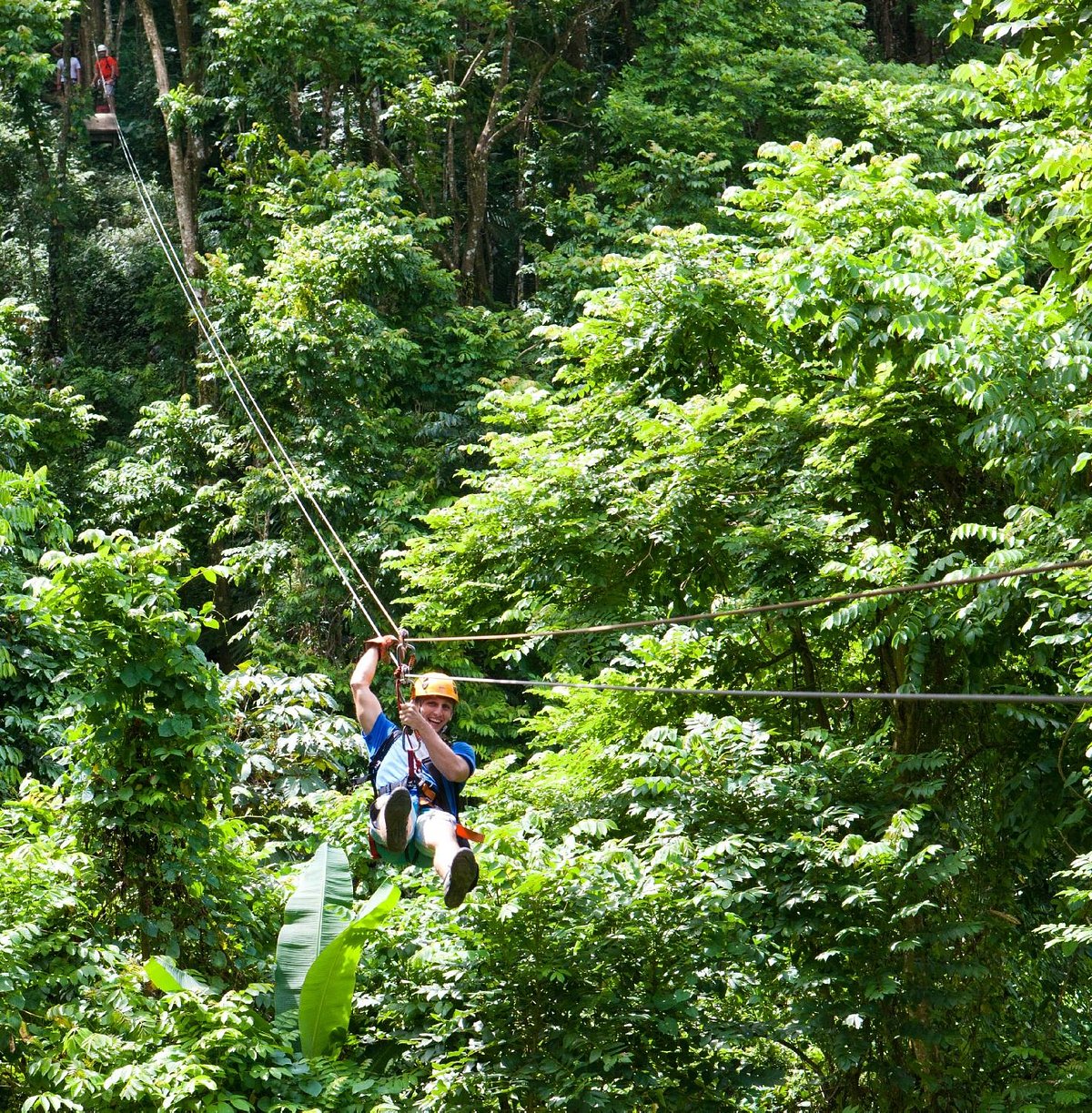 Rocaliza Adventure Tours is another excellent option for ziplining in Puerto Rico through their El Salto Waterfall Adventure Tour.
Located in Caguas, about 45 minutes south of San Juan, this tour is ideal for anyone interested in a six-hour adventure through one of Puerto Rico's lush rainforests with abundant fauna and flora.
After hiking upriver and rappelling down El Salto's beautiful waterfall, you can ride on one of three ziplines and get a scenic view of the river and forest.
Rocaliza Adventure Tours offers its visitors other popular activities, including Guided Rock Climbing, Basic Climbing Course, and Enchanted Secret Waterfall Hike.
They also let guests enjoy an authentic Puerto Rican meal in a scenic mountain setting near the end of the tour as they unwind after a day of excitement.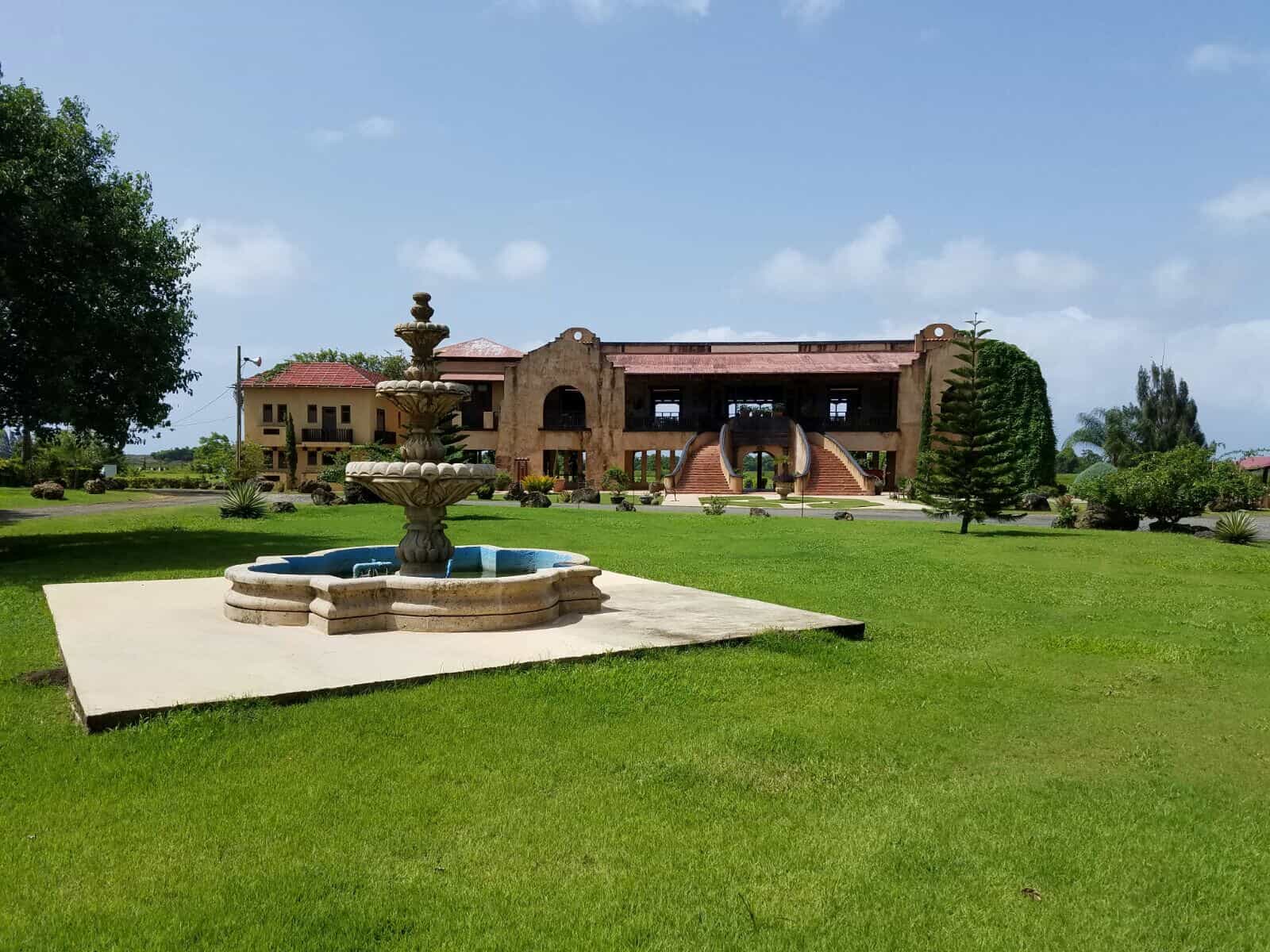 Located ten minutes east of San Juan, Hacienda Campo Rico offers plenty to do if you have free time during your trip to Puerto Rico. This spacious 2000-acre destination offers one of the most exciting ziplining experiences in Carolina.
The Campo Rico Ziplining Adventure has five ziplines, five hanging canopy bridges, an educational hike, and a local lunch after morning tours. We consider it a great place to stop by before driving to any nearby beaches to the north.
They also have a zipline safari with a cave rappelling experience, although it features three ziplines and hanging canopy bridges.
If you're looking for another activity to do, they offer archery, all-terrain vehicles, horseback riding, trolley tours, and a refreshing mojito bar.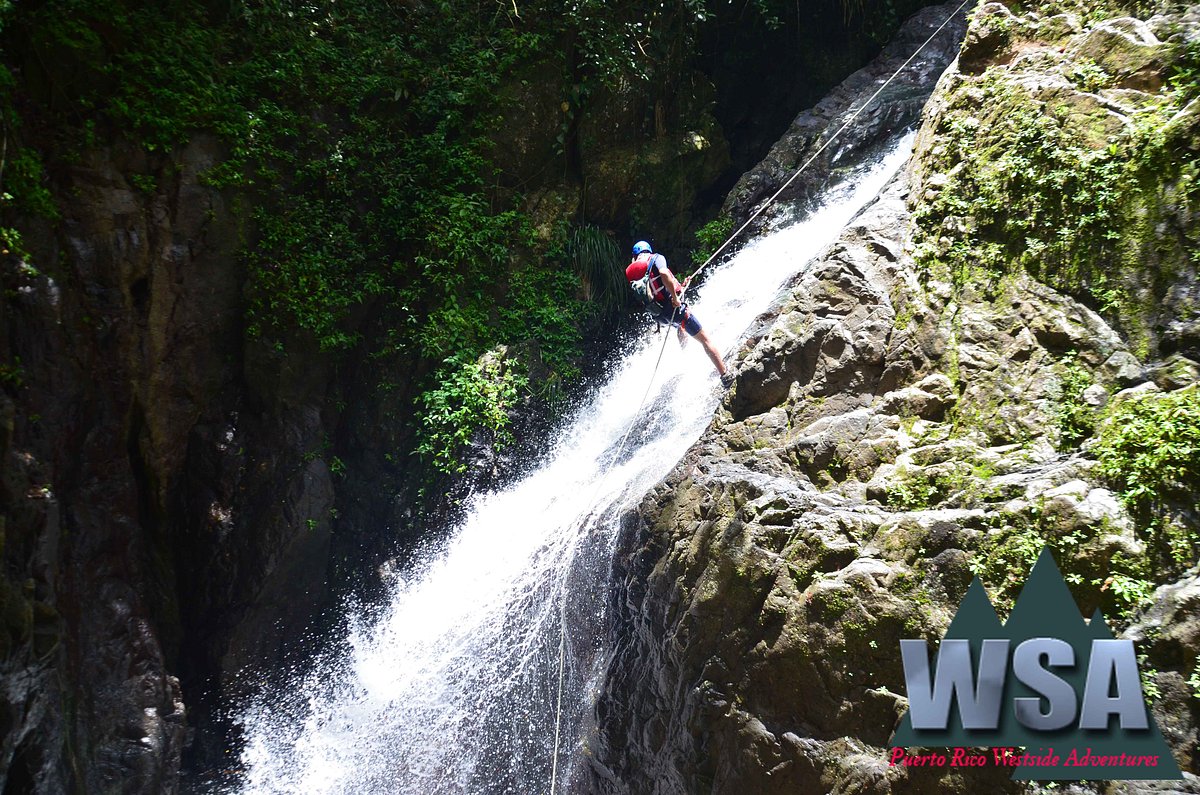 Westside Adventures stands out from some of the previous entries on this list of the top places for aerial adventures and ziplining in Puerto Rico because of its setting. Their ziplining tours take you over the Tres Pueblos Sinkhole, located within Camuy Cave River Park.
One zipline is 750 feet long and 420 feet high and goes from Camuy to Hatillo, while the other is 680 feet long and 409 feet high and leads to Lares. Each option offers an excellent view of the Camuy River and the nearby caves.
Westside Adventures also has a six-hour cave tubing in calm or rapid waters within an immersive cave. Many of their activities have varying difficulty levels, so you should consider reaching out to their guides to see which one suits your physical demands and comfort.
You can find Toro Verde Adventure Park in Orocovis. This destination's mountainside view makes it a go-to destination for ziplining in Puerto Rico. As the largest adventure park in the Caribbean and the Americas, you can enjoy various activities with your friends, family, or co-workers.
Toro Verde has eight ziplines for guests to enjoy, but The Beast and The Monster are their most popular ones. The Monster measures about 1.5 miles long and lets you reach horizontal flight speeds of about 95 miles per hour.
The Monster lets you reach speeds of about 60 miles per hour, making it ideal for thrill-seekers looking for something slower yet exciting.
They also have team-building incentives for company trips, including strategic games, breakfast, lunch, and a panoramic view of the mountains. Don't miss out on their Toro Roller, climbing towers, and Toro Bikes for more aerial thrills during your time at this adventure park.
Located in Tanamá National Forest of Utuado, west of Cayuco, Batey Adventures offers plenty of adventurous activities for anyone looking for an adrenaline rush.
They offer three tour options: their Zipline Tour, Classic Half-Day Tour, and Extended Tour. Guests can ride on five different ziplines and cross the 150-foot-long La Jamaka suspension bridge over the Tanamá River.
If you prefer a simple ziplining experience, consider signing up for their standard 2.5 to three-hour Zipline Tour and enjoy a brisk hike before and after soaring across the forest.
If you want to stay longer, consider signing up for their Half-Day or Extended Tour for an unforgettable 70-foot-drop rappelling, underground river cave kayaking, and river trekking experience.
Can't find any zipline parks in northeastern Puerto Rico offering fun for the whole family? Then, consider visiting Junglequi Zipline Park, located in the Rio Grande. During this two to 2.5-hour tour, you and your family can ride 11 ziplines through the El Yunque National Forest.
Although many visitors might prefer ziplining on sunny, clear days, Junglequi runs tours when it rains. Thankfully, you'll love ziplining and hiking alongside the forest's beautiful greenery if you're interested in looking at Puerto Rico's nature, no matter what weather you prefer.
Their ziplining guides are friendly and resourceful, providing extra support for anyone nervous about heights.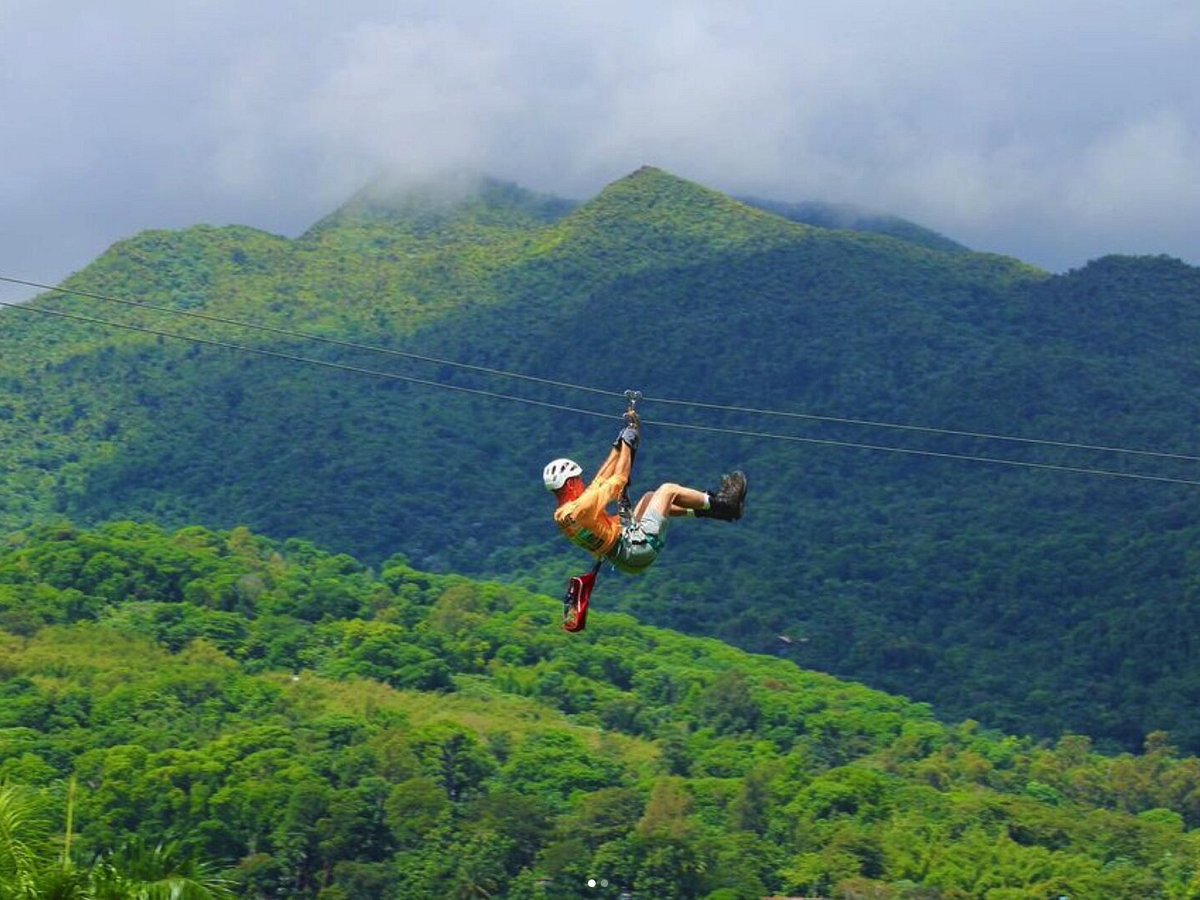 Located in Luquillo, Puerto Rico, Yunque Ziplining is another ziplining destination you should consider visiting if you crave excitement during your vacation.
This ziplining destination has five ziplines ranging from 400 to 1000 feet long and 50 to 100 feet high, giving guests plenty of options for beginners or experienced zipliners. Their tours usually last about three hours.
Their ziplines are installed with double cables and inspected weekly to ensure quality safety and functionality for guests within their age and weight ranges.
Their ten-minute moderate educational hike is an excellent way to learn about El Yunque National Forest, Puerto Rican culture, and the local wildlife from knowledgeable guides. In addition, this hike has a hanging canopy bridge where you can catch a glimpse of the forest's greenest trees.
Another excellent place for ziplining in Puerto Rico is the La Marquesa Canopy Tour, located in the La Marquesa Forest Reserve in Guaynabo, about half an hour away from San Juan and several of its local hotels. You can choose between 14 ziplines and maneuver to 14 platforms for an engaging aerial adventure.
Their ziplining tour lasts two hours, so you and your family are encouraged to visit plenty of times if you enjoyed your first time there.
Their ziplining cable heights range between ten to 70 feet in the air, so you can use their lowest height as an ideal starting point if you're not a fan of heights or are new to ziplining.
Then, you can stay within your comfort zone or gradually work your way to more advanced heights if you're up to the challenge whenever you visit.
Are you having trouble finding places with ziplining near San Juan without a rainforest backdrop? Then, consider traveling 24 minutes southeast to Sector Sixty6, located inside The Outlet 66 Mall.
This indoor amusement park has an innovative Fun Box where families can traverse an obstacle course with a zipline. Adults have to maneuver through 17 obstacles, while younger kids need to go through eight.
This attraction is open all week from 11 AM to 9 PM, making it a great place to have fun before going to lunch or dinner. Besides its closeness to the capital, it's a great alternative to outdoor ziplining on rainy days.
Before traversing through Sector Sixty6's top-level obstacle course, you'll wear a full-body harness attached to a lanyard connected to a set path.
Their team prioritizes each patron's safety, so they incorporated it into the lanyard system's design by keeping close to the course if you slip. That way, you can continue without too many interruptions.
This facility also has bowling, indoor go-karts, drag racing, and an arcade that offers fun for the whole family.
If you're near San Juan, Tropical Adventures Guides Puerto Rico is your best option for an authentic ziplining experience during your vacation. Experience Puerto Rico's great outdoors by participating in several eco-adventures that you'll never forget.
Their most popular highlight you shouldn't miss out on is the La Plata Zipline Experience, stationed near Toa Alta and El Dorado. Their half-day expedition starts with a tour of the nearby towns and the area's natural landmarks.
After arriving at Finca La Plata, a private farm with scenic views of lush landscapes, you'll hike and ride their 800-foot-long zipline to a creek within a tropical forest, surrounded by other canopy ziplines for fast-paced, aerial fun.
If you're looking for something else to do over the next few hours, other activities you can experience during this expedition include:
Crossing challenge bridges above Cruz Creek.
Swimming in natural pools.
Hiking toward the Guaraguao Trail for a spectacular view of nearby natural landmarks.
At the end of the tour, guests can enjoy a sample of traditional Puerto Rican cuisine bursting with bold flavors. After all, the best way to enjoy a trip is to thrill all of your senses.
Are you looking for something to do in Lares? Then, consider taking a ziplining tour with El Mirador Ziplines. This destination lets guests enjoy a lovely view of Mirador Mariana Bracetti, one of Puerto Rico's iconic landmarks.
Although this option doesn't have as many high-speed ziplines or tour options as some of the other options on this list, we consider it an excellent choice for anyone who loves sightseeing beyond Puerto Rico's urban areas. The average time to complete their ziplining course is about an hour.
You can also stop by the area for something to eat, buy a souvenir, let your kids play at their playground, or hike on one of their short or steep paths.
Hacienda La Fé Adventure Park lets guests passing through San Sebastián enjoy four interconnecting ziplines with excellent bird's eye views of the rural landscape. It's about two hours west of San Juan and is open all week. Each zipline has a slightly different height and distance, perfect for families interested in an exhilarating ride during their stay in Puerto Rico.
Their staff helps you prepare for the ride by securing your ziplining equipment and explaining their safety precautions and how to maneuver on the zipline, regardless of any rider's experience. That way, you'll know what to expect if this is your first time ziplining.
Acampa Nature Adventures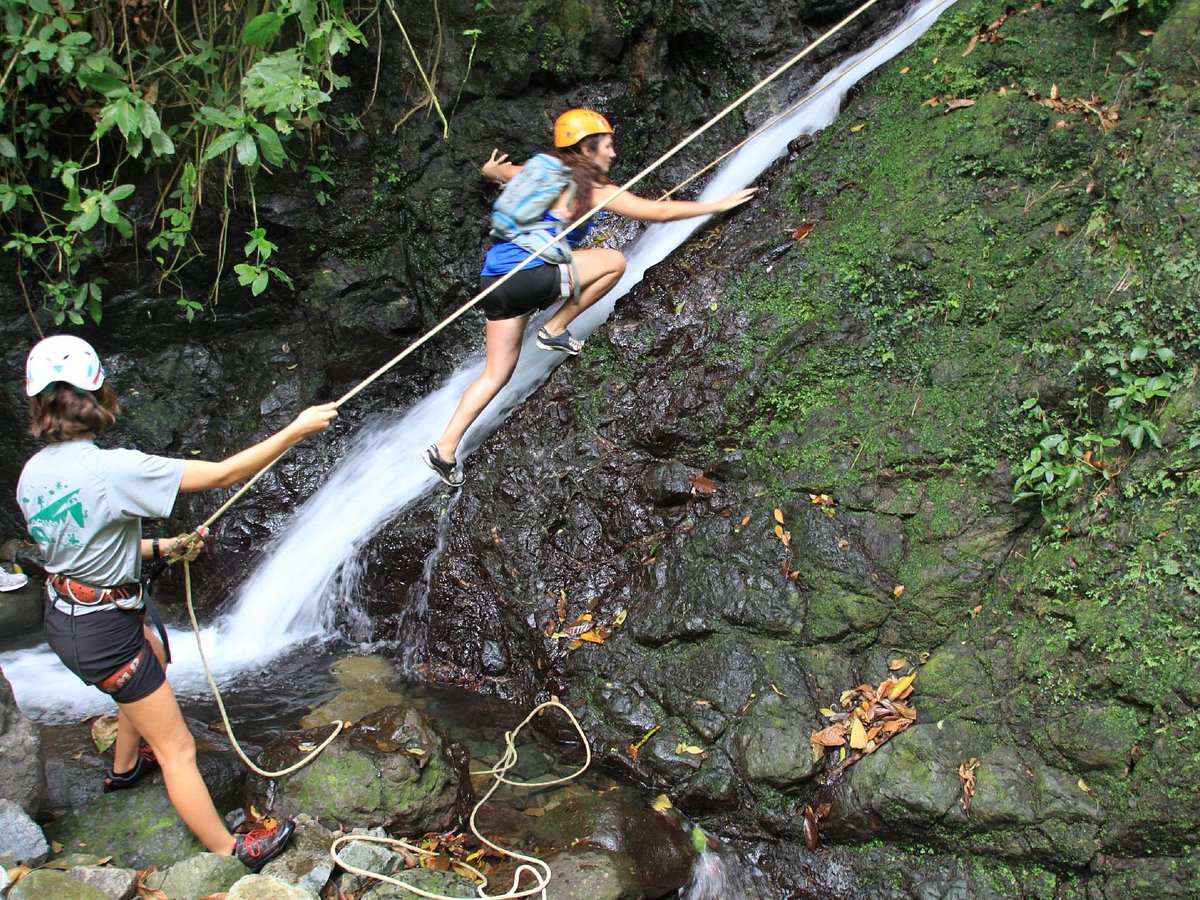 If you're in San Juan, you can sign up for one of Acampa's ziplining tours. Acampa offers two zipline tours for guests. Their family-oriented half-day Mucaro Zipline Adventure offers four ziplines as you hike through Carite National Forest.
Their full-day Toro Negro Rainforest Adventure includes a waterfall hike and ziplining over 125 feet in the air. This option is suitable for adults.
Conclusion
Puerto Rico is one of the best tourist destinations for getting fresh air and enjoying the sights with your family if you're interested in natural beauty. Several places offering ziplining in Puerto Rico let guests immerse themselves in nature and create fond memories for anyone who loves to travel and experience new things.
Although some ziplining destinations lean more for a faster experience for tourists and locals, others offer shorter riding distances and heights suitable for anyone who might feel nervous about participating in this activity. Many of our options also prioritize their guests' safety.
Even if you don't have time to visit them all, we recommend setting up some time during your schedule to make your stay a little more exciting.
More about our TFVG Author