Often referred to as the World's Best Kept Secret, the Turks, and Caicos Islands in the Caribbean are a beautiful and secluded vacation destination. Visitors marvel at the lush vegetation, white-sand beaches, and bright blue water. Consisting of over 40 islands and cays, you and your family will be able to get away from it all and enjoy spending time together in paradise.
When choosing a family-friendly resort, you'll need to consider a few factors beyond what's necessary if you're traveling solo. For example, how many rooms do you need? What activities are available that you can enjoy as a family? Do kids cost extra, or are lodging and meals included as part of an adult reservation?
Here are the 15 best all-inclusive family resorts in the Turks and Caicos Islands, including a closer look at room types, cuisine options, unique activities, and everything else you need to know to book the vacation of a lifetime.
If you're not looking to go all-inclusive, check out our guide to the best resorts to stay at with kids in Turks and Caicos.
Beaches Turks & Caicos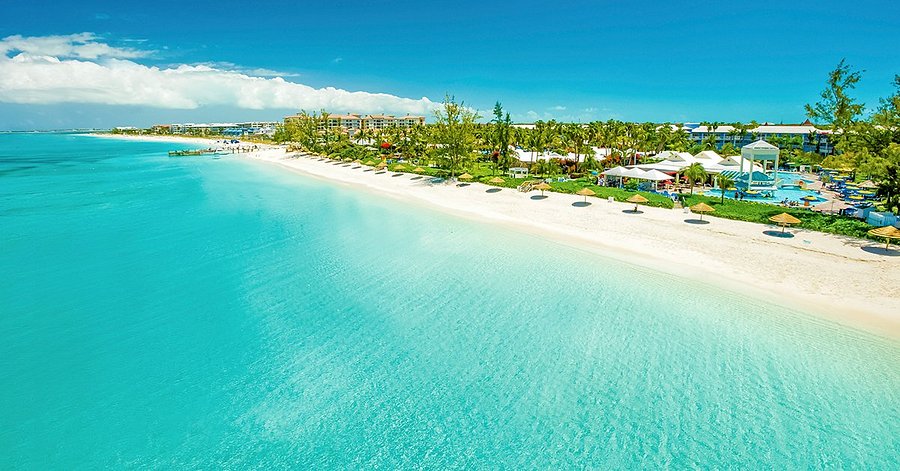 First on our list is Beaches, an all-inclusive resort with plenty of fun for the whole family. It's divided into five different Villages, each inspired by another corner of the world, including Italy, France, Key West, and the Caribbean.
If you're looking to take a dip, you have plenty of options. The resort provides a 12-mile beach with turquoise water, ten pools, and a 45,000 square foot waterpark. In addition, professional instruction and equipment are provided for a huge range of water sports, including kayaking, hydro bikes, Hobie cats, paddleboards, and more.
Tons of activities are available for kids of all ages. Little ones can meet their favorite Sesame Street characters, while tweens and teens will enjoy hanging out in the Xbox Play Lounge and the teen disco. So not only will your kids have a good time, but they'll also find it easy to make new friends.
Bring your appetite because the resort offers 21 international restaurants and 15 bars, ranging from fun and fancy to chill and casual. Even better, all food and drink is unlimited and included with your stay.
Kokomo Botanical Resort and Spa
A relaxing beach vacation doesn't have to cost a fortune. At Kokomo Botanical Resort and Spa, you can enjoy five-star service across five acres of organic botanical gardens. Located in the middle of Providenciales, you're only as connected to the outside world as you choose to be.
Spread throughout the gardens are 38 Caribbean Family Cottages. They're large and luxurious, perfect for families, weddings, and other groups. Trails connect each Cottage to the freshwater oasis pool, the hot saltwater plunge, and the Garden Spa Pavilion.
If you're a fan of beaches – and who isn't – you'll love the resort's private beach club on Grace Bay Beach West. You can also easily access the other beautiful beaches throughout Kokomo.
While there's no shortage of fancy feasting options across the islands, you'll find nothing else quite like Kokomo's WE Kitchen + Bar, where you can dine on fresh offerings from the local gardens and waters. With indoor and outdoor seating, it's the perfect place to watch the sunrise or set.
Amanyara
Relax and rejuvenate at Amanyara, a resort located on 18,000 acres of nature reserve. You get to experience lush tropics, white sand beaches, and turquoise waters.
Each pavilion is secluded and roomy, with both three and six-bedroom options available. In addition, pavilions have floor-to-ceiling glass doors, lounging and dining areas, private rooms, and the option for a private pool.
One way this resort stands out from other options is the emphasis on wellness. They offer a holistic approach to health with four treatment pavilions, a Fitness Center, four tennis courts, two volleyball courts, and a multi-sport field.
Additionally, they welcome a rotating lineup of wellness experts throughout the year. You could experience traditional Chinese medicine, acupuncture, cutting-edge sports therapy, and much more. Island-inspired treatments are also available, such as massage with locally sourced healing oils.
The whole family will enjoy the resort's Nature Discovery Center. They offer a variety of programs designed to educate while they entertain. You can snorkel, kayak, explore rock pools, and participate in other programs that help cultivate an appreciation and enthusiasm for the local flora and fauna.
Windsong Resort
Do you love to explore the underwater world? The Windsong Resort is the only hotel located on a snorkeling reef. You only have to swim out 20 yards to enter the reef, where you can swim among turtles, tropical fish, stingrays, and more.
Plus, the Windsong borders the Princess Alexandra Marine Park, home of the third-largest coral reef system in the world. You can even see Jojo, a bottlenose dolphin, and a local celebrity. You'll find the water is welcome all year long, as the reef helps keep cold ocean water from entering the bay.
The resort offers butler services that can arrange excursions and dinner reservations for you and your family. You can also take advantage of pre-arrival services by letting the resort take care of grocery shopping or buy you the perfect champagne and anniversary cake.
Families of practically any size will have no problem finding comfortable and affordable accommodations. Single rooms, studios, and one to four bedrooms are all available. You can even find options with penthouse terraces, ocean views, and other amenities.
Parents can enjoy an intimate dinner at Dune, the restaurant overlooking Grace Bay. The whole family will love the Veranda Coffee Bar, where you'll find two 80″ LED televisions playing favorite movies and major sporting events.
Ocean Club
The Ocean Club is two resorts in one. Ocean Club East is located only minutes from Ocean Club West, and guests are allowed to travel freely between the two, enjoying the amenities of each.
Ocean Club East is the smaller, more intimate option. It's ideal for families who want to get away from it all. Ocean Club West is the better choice for those who want quick access to local island life, such as shopping, restaurants, and dancing.
Your family will find plenty of adventures to embark on, including guided tours of the Caribbean's largest cave system, catamaran rentals, golf, and much more. Learn about the amazing ocean creatures from a catamaran, glass-bottomed boat, and other watercraft. Don't forget about the unique Glow Worm Tour, where you can watch the waters turn green due to the luminescent Bermuda glow worm.
Adults will enjoy the two wine bars, while the whole family can get together at the Solana, a restaurant with three separate dining styles. For large groups, check out The Grill Deck, which offers breakfast, lunch, and dinner from an a la carte menu, so everyone will find foods they love.
Beach House Turks & Caicos
The Beach House aims to create a sense of home for each guest so that you can experience life as a local living in paradise.
The 21-suite resort provides guests with private access to the white beaches of Grace Bay. Your family can relax by the beach, kayak to Iguana Island, and much more. Later in the day, let the resort's Fun Plans program watch the kids for a few hours while the adults enjoy a cocktail or two at the swim-up pool bar.
Boarding options range from oceanfront suites to three-bedroom penthouses. Family options with pull-out beds and other amenities are also available. Each includes Wi-Fi, easy access to water bicycles, and even shuttle access to restaurants and sister properties around the island.
Families can save big because kids under 12 stay for free. Plus, the resort offers numerous age-appropriate activities.
Turkoise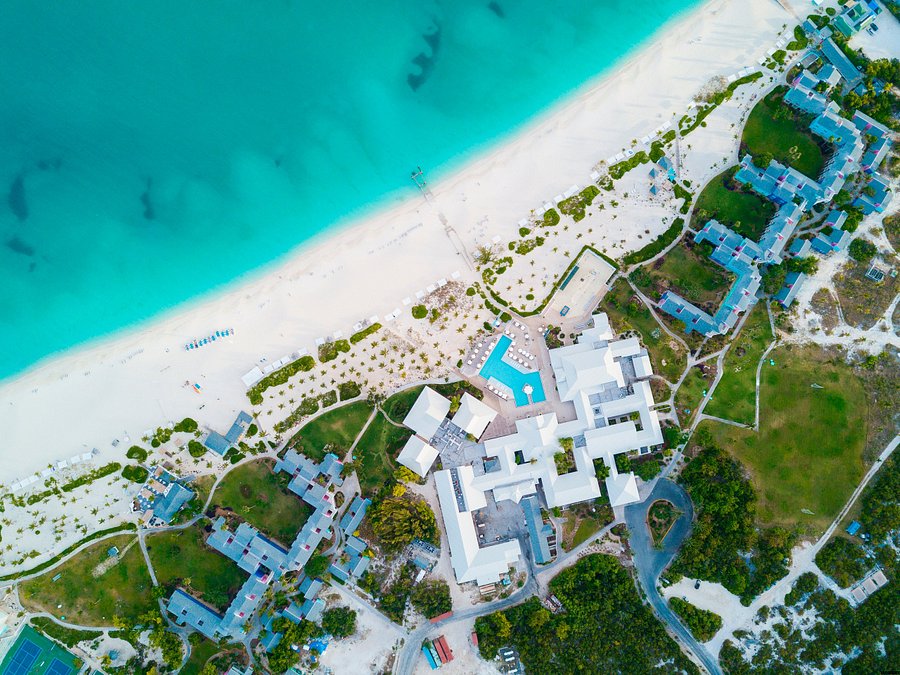 Turkoise is Club Med's resort in the Turks and Caicos. As you'd expect from such a legendary name in luxury, you'll find a full range of services, including two-room options, a beach bar, exercise classes, a spa, and more.
Enjoy breakfast, lunch, and dinner at either of the resort's two on-site restaurants. The newly redesigned Grace Bay offers both local and international fare, while the open-air Sharkies Grill and Beach Bar allow you to dine while enjoying breathtaking ocean views.
As in line with the Club Med tradition, guests will find many ways to treat both their bodies and minds. Activities include tennis school, pickleball, fitness courses, stretching, scuba diving, and more. Of course, you can also sit and relax at the beach, wellness area, or spa.
Keep in mind Club Med resorts require all guests to be 18 years or older. While that does mean the littles will have to stay at home, it's an excellent option for couples, adult siblings, and more.
East Bay Resort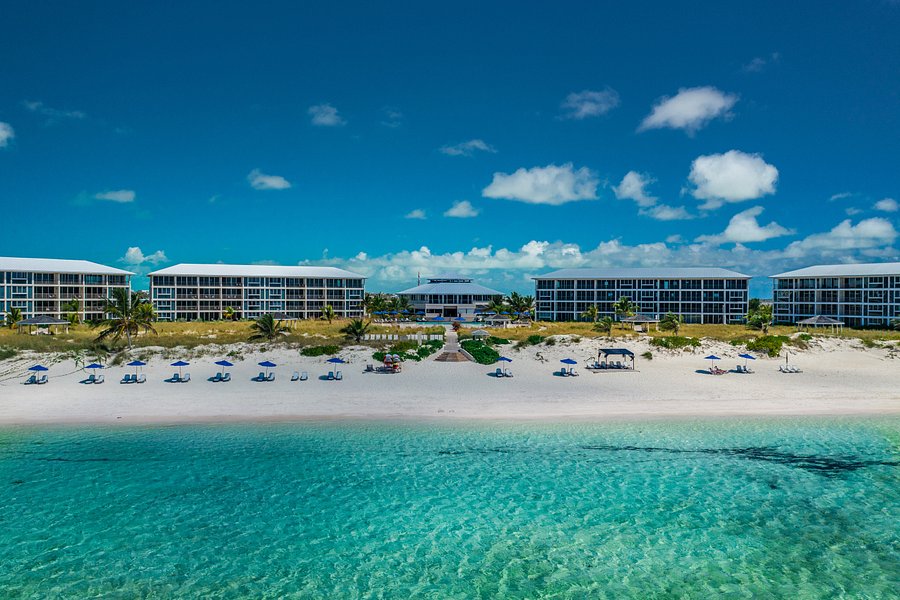 If your idea of a perfect vacation involves lots of adventure, you'll love the East Bay Resort. Located on the island of South Caicos, almost all of their 86 suites feature views of the Caribbean Sea and East Bay Beach. Plus, all guests have access to a private, 1.5-mile beach.
The resort is located within the Admiral Cockburn Land and Sea National Park so that guests can participate in a vast range of watersports, including diving, kayaking, fishing, snorkeling, and more.
Easy Bay Resort also offers a one-of-a-kind diving experience. Guests have exclusive access to the PADI dive center. In addition, it's home to the world-famous South Caicos Wall, an underwater diving spot that drops from 35 to 700 feet.
Rooms range from smaller 592-foot studios to 1,280-foot suites with two bedrooms. Most of the two-bedroom suites also have two-and-a-half bathrooms, so both parents and kids should have plenty of space.
West Bay Club Turks and Caicos Resort
The West Bay Club is an oceanfront resort dedicated to providing luxury at every turn. They're a family-friendly resort with spacious suites and a wide range of food options.
Each suite and studio has expansive arrays of windows for the spectacular ocean and beach views. In addition, you'll feel pampered with luxurious linens, free Wi-Fi, a 60-channel flat screen, full kitchens, Elemis toiletries, and more.
Enjoy locally sourced dishes at Drift, a beachfront restaurant open to the public and resort guests. Another popular dining option is Bar + Kitchen, where they serve traditional American breakfast foods plus a variety of grilled meats and seafood.
The West Bay Club is a popular choice for family-friendly destination weddings. They're able to accommodate up to 120 people and offer several picture-perfect locales, including the beach, a private catamaran, or many nearby cays (a low bank of coral, rock, and sand).
If your family loves food, schedule your stay during the annual Caribbean Food & Wine Festival. The festival is put together by the resort and brings together world-famous gourmands to enjoy the very best in Caribbean food and wine.
Parrot Cay
When you're looking to get away from it all, head out to Parrot Cay. It's the most secluded resort in the Turks and Caicos, accessible only by a 35-minute boat ride from Providenciales. The entire resort is contained on a private island with over a thousand acres of beaches and tropics.
Not only is it the most exclusive resort in the Caribbean, but it also has one of the most interesting histories. The resort's main building was originally a private residence created by a Kuwaiti family in 1998. However, they forfeited their ownership during the Gulf War, and the residence was bought by COMO Hotels and Resorts, who turned it into Parrot Cay.
You can choose from a vast range of accommodations, from a 618 square foot garden view room to three-bedroom houses. Each of the places is unique from the others. One of the most popular is Lucky House, a three-bedroom estate owned by Christie Brinkley.
Another highlight of the resort is the Como Parrot Cay Spa. Experts in Asian-American holistic therapies lead retreat weeks, which vary throughout the year. Along with holistic exercises, you'll also enjoy a specialized (and delicious) diet of healthy foods.
Guests also have many other savory meal options, including the Como Beach Club, the Terrace Restaurant, Lotus Restaurant, and Shambala.
Royal West Indies
If you're looking for a truly authentic experience, book a stay at the Royal West Indies. It's one of the first beachfront resorts built on the islands, with a long history of delivering an outstanding experience for families.
When you first enter the resort, you're handed a glass of fresh fruit punch, and the experience only gets better. You and your family have multiple options for fun, such as water sports, beach games, shopping, golf, and even gambling at the nearby Casablanca Casino.
Guests can also book tours through Silver Deep. Kids love Iguana Island, home to a protected sanctuary for the reptiles. You can also explore pirate caves in Sapodilla Bay, tour a former plantation in Cheshire Hall, or even arrange for a private picnic on a beach.
Rooms include studios along with one and two-bedroom suites. Each suite has a full kitchen and large living area, so even families of more than four should have plenty of room to be comfortable. In addition, with large, open porches, you can feel the Caribbean climate anytime, day or night.
Northwest Point Resort
When you want to avoid even the possibility of the hustle and bustle, book a stay at the Northwest Point Resort. Located on what's considered the Quiet Side of the island, the resort provides miles of unpopulated beaches, a hidden reef, and total privacy.
They recommend that guests rent a car if they wish to explore the island. A rental is often a worthwhile investment because you don't have to drive too far to find many world-class restaurants. Of course, the food options found on the resort are also worth noting, including burgers, fish tacos, and other family-friendly choices.
Suites are available with one, two, and three bedrooms. The three-bedroom suite can comfortably hold up to eight people. All rooms include a covered porch with a view of either the ocean or the pool.
Speaking of pools, Northwest Point Resort boasts one of the largest on the island. The heated pool features lounge chairs, umbrellas, and beach huts. There's even an outdoor grill for BBQing with the fam!
Other fun activities available include paddleboarding, kayaking, scuba diving, snorkeling, and more.
The Sands at Grace Bay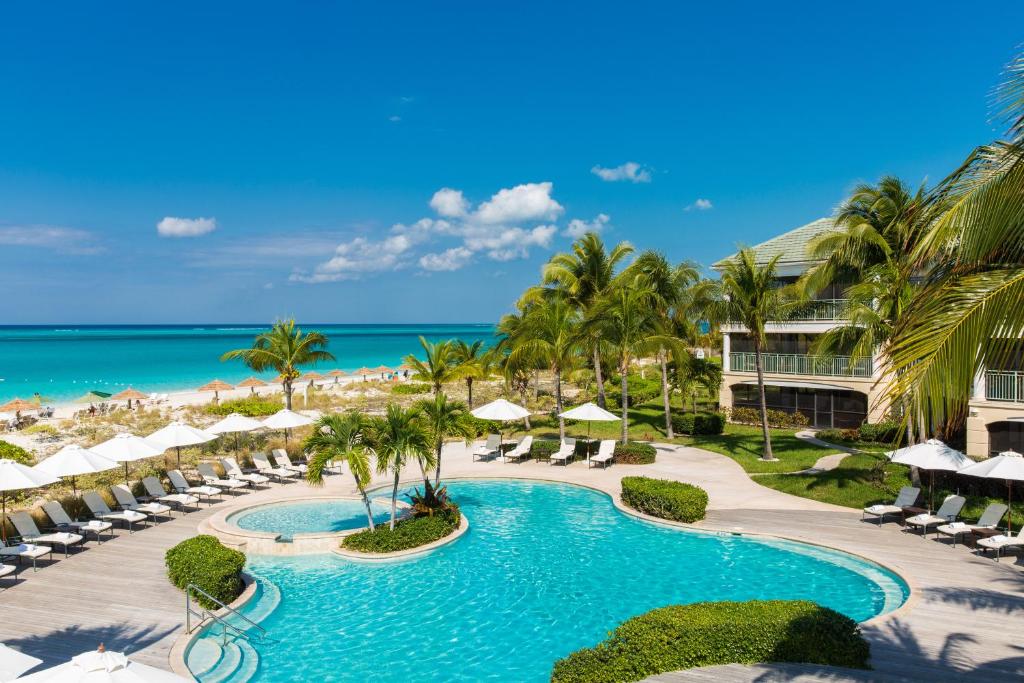 Set upon six acres of central beachfront, The Sands combines modern luxury with access to natural beauty and wonder, including the 12-mile Grace Bay Beach with white sand.
During the day, you and your family can enjoy water sports, golf, shopping, or even day trips where you can explore nearby islands. You can also swim in any of the three free-form pools or beach loungers.
Once the kids go to bed, the adults can head over to Hemingway's Beachfront Restaurant, which features a cocktail hour and starlight dining. Other nearby restaurant options include fine dining at the Coyaba Restaurant, casual comfort food at the Tiki Hut Island Eatery and a taste of Boston at the Sharkbite.
The Sands is ready to accommodate all types of families, including parents with infants and large reunions. Of course, they understand that parents want time to themselves, which is why the resort offers in-room babysitting services. It's $12 per hour for one child, $16 for two, and $26 for three.
Another fun, kid-friendly activity is the Mommy & Me Little Mermaid Package at the resort's spa, Tropique. Mom gets a conventional spa mani and pedi, while Daughter receives special mermaid versions along with Happy Hair Braiding.
Alexandra Resort
The Alexandra Resort offers one of the best deals for families on the entire island. Kids 12 and under stay, eat and can access activities, all for free. They can play watersports, table games, and much more. Plus, activities are divided by age, so everyone from toddlers to teens will have fun.
If your kids are ten or older, the entire family can ride stand-up paddleboards, kayaks, or catamarans. Kids six and up are allowed to snorkel under adult supervision. Lessons for all activities are available on-site.
Up for a game of golf? The Provo Golf Club is only a 10-minute drive away. Designed by Karl Litten, the par 72 course is a fun challenge in a beautiful setting. After 18 holes, you can enjoy a meal at the Fairways Grill or visit nearby shopping plazas, Regent Village, or Salt Mills Plaza.
Four lodging options are available: Studios, one-bedroom suites, two-bedroom suites, and four-bedroom oceanfront penthouses. With two master bedrooms and two queen sleeper sofas, the penthouses comfortably house 12 people, making them the best choice for large families.
The Palms Turks and Caicos
Rest and relax in the lap of luxury at The Palms Turks and Caicos. With 12-acres of beaches and nature, you'll find no shortage of activities and beauty.
Accommodations are spread across 72-suites. The three-bedroom suites and penthouses are usually the best option for large families. All suites have king-sized beds, Wi-Fi, cable TV, as well as optional washer/dryers and full kitchens.
The resort boasts a fantastic array of fine dining such as the Caribbean infusion cuisine of Parallel 23, family-friendly dishes at 72° West, and the original cocktails of L'Attitude Bar. You can also arrange for a private chef to prepare meals in your suite, dinner under the stars, or boxed lunches for your family's daily adventures.
For the ultimate in relaxation, try their unique moon bathing experience, where you'll receive mini-spa treatments along with cocktails and snacks. During the day, a full spa and fitness center are also available for guests.
Final Thoughts
The Turks and Caicos Islands offer a one-of-a-kind experience sure to delight every member of your family. Young ones will find plenty of opportunities to learn and play, while adults can enjoy fine dining, opportunities for romance, and more.
When selecting the best Turks and Caicos all-inclusive family resorts, consider the size of the rooms, the amenities offered, the resort's location on the island, and other factors that pertain to your family specifically for a holiday they'll remember fondly for a lifetime. 
If you're looking for other destination inspiration, check out some of our other all inclusive family vacation guides below!
More about our TFVG Author
A seasoned traveller, Dad, and avid sports tourist, James foundered The Family Vacation Guide to share his expert vacation experiences- especially when it comes to being a travelling family man.
Featured in Travel articles such as Travel + Leisure, TripSavvy and SFGate, you know you're reading some of the best vacation tips online.