The Bahamas is one of the most fantastic places on the planet. Full of awe-inspiring beaches, incredible food, and plenty of family fun, these islands are the best place for you and your family to have a vacation that you'll remember forever.
The Bahamas are a slice of paradise close to home. You can fly there quickly from just about anywhere in the eastern and southern United States.
These ten all-inclusive family resorts will help you make the most of your time in the beautiful Bahamas.
Reasons Why the Bahamas Makes the Perfect Family Vacation Destination
The Bahamas is the ideal family destination. It's full of incredible white sand beaches and tons of activities that will delight your entire family. If you love snorkeling and diving, the crystal-clear blue waters of the Caribbean are perfect for exploring everything the seas have to offer. The Caribbean is teeming with all sorts of marine life, from tropical fish to turtles.
Many all-inclusive resorts have their own stretches of beach and excursions and boat trips. Nassau's glass-bottom boat tours are especially popular. You can check out all of the fantastic creatures of the Caribbean without actually having to go into the water.
If you don't mind getting wet, you can swim with majestic sea turtles in certain parts of Nassau. Guided tours are available from any part of the island. Nassau also has a rich history and was a home base for pirates between 1690 and 1720. Nassau has an excellent pirate museum where you and your family can learn all about these swashbuckling scoundrels first-hand.
You can also visit Fort Fincastle, get a fantastic view of the entire island, and catch a brilliant tropical sunset. No matter if you're into lounging or exploring, there's something for you and your family in the Bahamas.
Recommended Bahamas All-Inclusive Resorts for Families
The Bahamas has some of the best all-inclusive resorts for families on the planet. Any of these great options are sure to make your family vacation one to remember.
Address: Churchill Drive, Doubloon Rd, Freeport, The Bahamas
Website: Viva Wyndham Fortuna Beach
Viva Wyndham Fortuna Beach is a completely family-friendly resort located in Freeport. Every room is fully equipped with a flat-screen television, refrigerator, and air-conditioning. In addition, you and your family will have full access to the resorts' concierge, as well as an ocean-view pool.
Viva Wyndham Fortuna Beach offers nightly family-friendly entertainment, tennis courts, an ocean-view trapeze, a full fitness center, and plenty of world-class dining options. Junkanoo is a global-themed restaurant where you can sample fantastic flavors from all over the planet. It's an open-air restaurant serving breakfast, lunch, and dinner.
Bamboo, the resort's Asian-themed restaurant, will satisfy your sushi cravings, and Viva La Pizza is the ideal place to get that late-night slice. So whether you're looking to explore Freeport's beautiful beaches or just hang out by the pool, Viva Wyndham Fortuna Beach is a great place to soak in the Bahamas.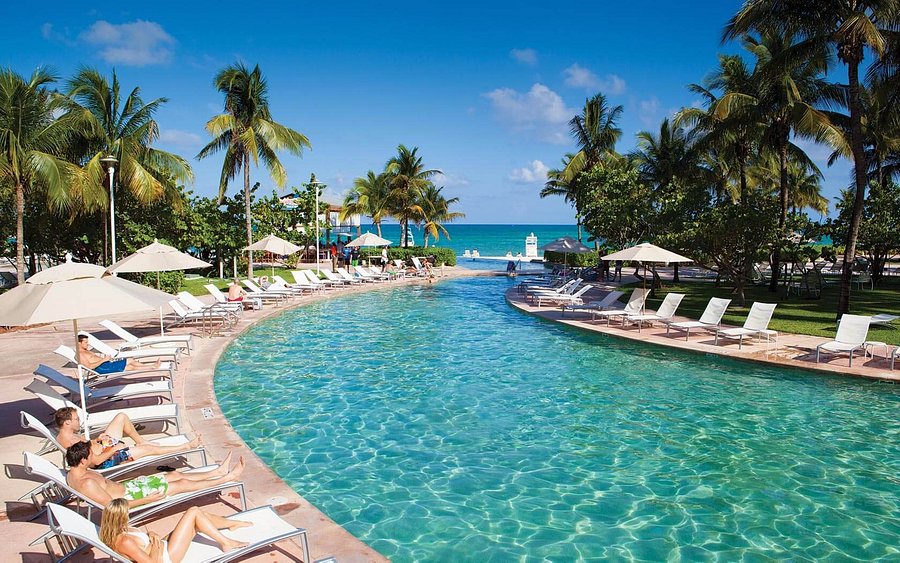 Address: 1 Royal Palm Way, Freeport, The Bahamas
Website: Lighthouse Pointe at Grand Lucayan Resort
Lighthouse Pointe at Grand Lucayan Resort is a cost-effective, family-friendly, all-inclusive resort in beautiful Freeport. The resort offers all of the amenities that you'd expect from home, including free WiFi, air conditioning, and a refrigerator in your room. You can also order room service whenever you'd like or visit one of the resorts' premiere restaurants.
Manta Ray Beach Club, Pisces Seafood House & Pizzeria, and Cappucino's Fine Italian Restaurant are part of the all-inclusive package and offer great dining options for children and adults alike. 
One of the greatest things about this resort is its location. You will be within walking distance of historic Count Basie Square, Port Lucaya Marketplace, and Cooper's Castle. Alternatively, you can just spend the day right at the resort itself. Between the fine dining options, fabulous pool, and swim-up bar, you will have plenty of things to keep you occupied.
Exuma Palms Hotel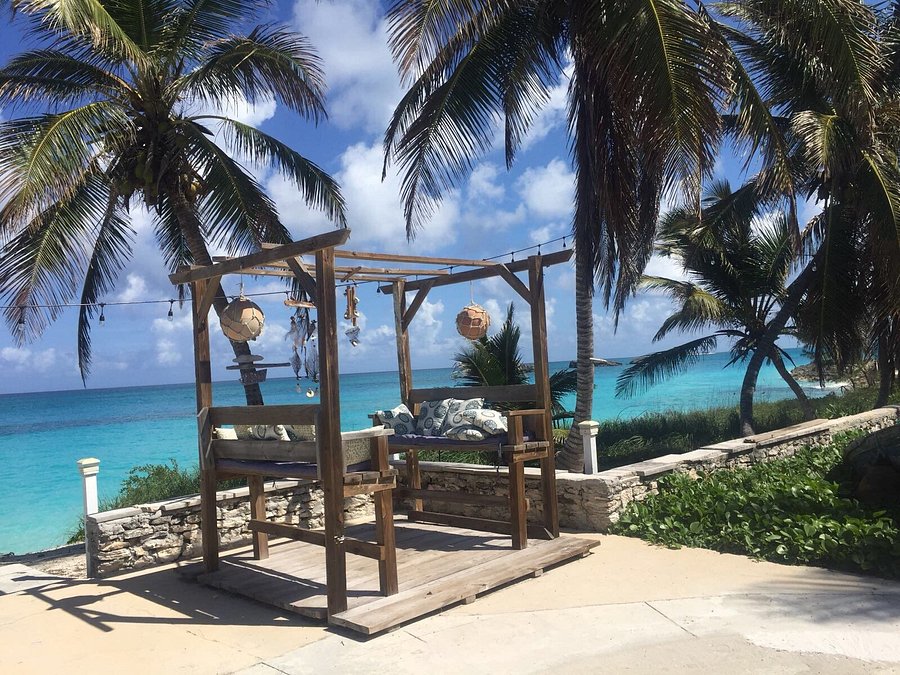 Address: Queens Highway, Mt. Thompson, Bahamas
Website: Exuma Palms Hotel
Exuma Palms Hotel is a brand new hotel with a heavy focus on environmentalism. If you or your family are science-oriented or care about the environment, this could be an excellent option for you. Like many of the resorts on our list, Exuma Palms Hotel has exquisite fine dining options and gorgeous ocean-view rooms.
There's also plenty of excursions that you can take, including visiting James Bond's Thunderball Grotto and swimming with the pigs. Additionally, Exuma Palms Hotel has a marine biologist right on-site who can tell you all about the Bahamian marine life and give you detailed information about the history of this magnificent Caribbean island.
The rooms at the Exuma Palms Hotel are stunning, with private balconies and all of the amenities that you could expect from home. So not only will you have a relaxing tropical vacation, but you will also learn a thing or two about the creatures that share our planet.
Club Med Columbus Isle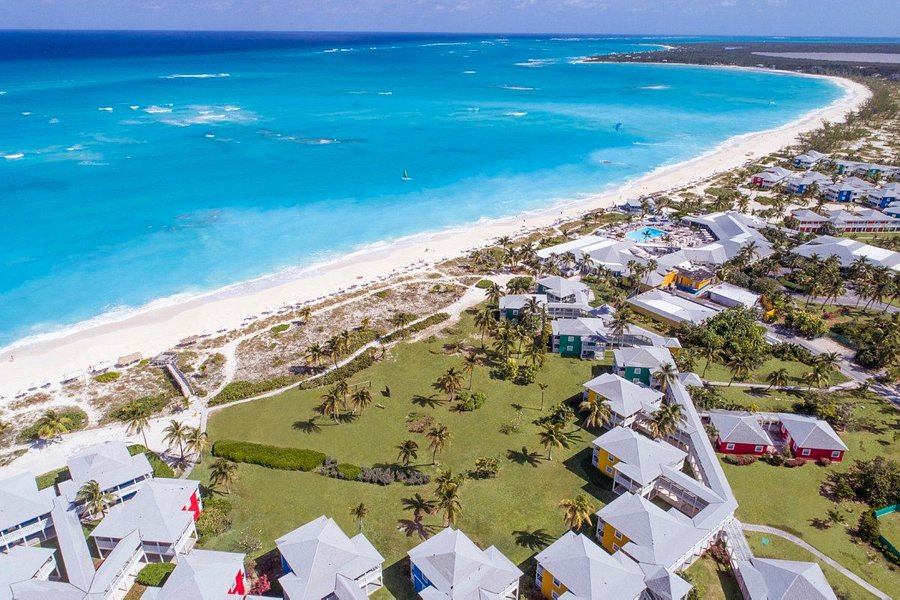 Address: Bonefish bay, Cockburn Town, Bahamas
Website: Club Med Columbus Isle
If you want to relax in true style and absolute comfort, make Club Med Columbus Isle your next family destination. It's a great place to go diving and snorkeling, and the exclusive, secluded resort has its own stretch of untouched beach. You will be able to relax and avoid the crowds while experiencing a pure, tropical paradise.
Club Med Columbus Isle is entirely environmentally friendly and has plenty of activities for adults and kids alike. One of the most popular things to do is wall diving, but you can also enjoy a nice massage or have a terrific spa day.
If you prefer land-based activities, Club Med Columbus has you covered as well. Rent a bike, or explore one of the resort's many jogging trails. There's also tennis on-site and a golf course nearby.
Melia Nassau Beach
Address: Nassau, W Bay St, Nassau, Bahamas
Website: Melia Nassau Beach
Melia Nassau Beach is right on Cable Beach, close to the city's center. Its location makes it genuinely unique since most resorts are in more secluded areas. Melia Nassau Beach lets you get the best of all worlds; a fabulous all-inclusive resort and the perfect home base to explore Nassau.
This resort features 694 rooms with spectacular views of the sea, pools, or nearby gardens. There are also 32 on-site suites, perfect for couples or families. Melia Nassau Beach has a perfect stretch of beach and three heated pools facing the ocean. There's also a swim-up wet bar.
Pamper yourself in one of their hydro-massage tubs and enjoy seven unique dining options, all with five-star cuisine. There's a secure 24-hour gym, room service, and a Kid's Club for the little ones. Additionally, resort guests get discounts in Nassau, including at the Royal Blue golf course, Baha Mar casino, and plenty of restaurants, lounges, and sporting venues.
Of course, you could always stay close to Melia Nassau Beach itself. The resort hosts spectacular beachside entertainment several days a week.
Small Hope Bay Lodge
Address: Queens Highway, Small Hope, Bahamas
Website: Small Hope Bay Lodge
This resort is an excellent option for active families who love watersports. Small Hope Bay Lodge caters explicitly to scuba divers and snorkelers and puts a significant emphasis on eco-tourism. It's right near a huge barrier reef, so the sea life is second to none.
Small Hope Bay Lodge offers fishing trips, scuba, and snorkeling. If you want to take it easy, you can relax in one of their many hammocks and simply enjoy the scenery. This resort has two beaches and spacious rustic cabins that give you an authentic taste of nature but with all of the amenities that you could ask for.
It's one of the oldest resorts in the Bahamas, catering to eco-tourists and families for over 60 years. Enjoy all-inclusive perks like free meals, unlimited drinks, bike and kayak rentals, and even complimentary babysitting service for the kids.
Address: W Bay St, Nassau, Bahamas
Website: Breezes Resort Bahamas
Breezes Resort Bahamas sits right on the beautiful white sands of Cable Beach, arguably the best beach on the island. This prime location makes Breezes Resort Bahamas the ideal place for soaking up some rays and getting your dose of Vitamin Sea.
When you get tired of the incredible scenery, you can always partake in some of the great activities this resort offers. Tennis, rock climbing, and snorkeling are all available. In addition, guests can dine at one of the resort's three restaurants or the tasty beach grill.
There are four bars, a nightclub, and a piano bar right on site for the adults. There's also a state-of-the-art fitness center with new equipment and exercise classes and the Blue Mahoe Spa, where you can get world-class spa treatments without even leaving the resort.
You won't experience any hidden resort fees or charges at Breezes Resort Bahamas. Almost everything is included in the upfront price for a truly all-inclusive experience. The only real exception to this rule is the treatments available at Blue Mahoe Spa.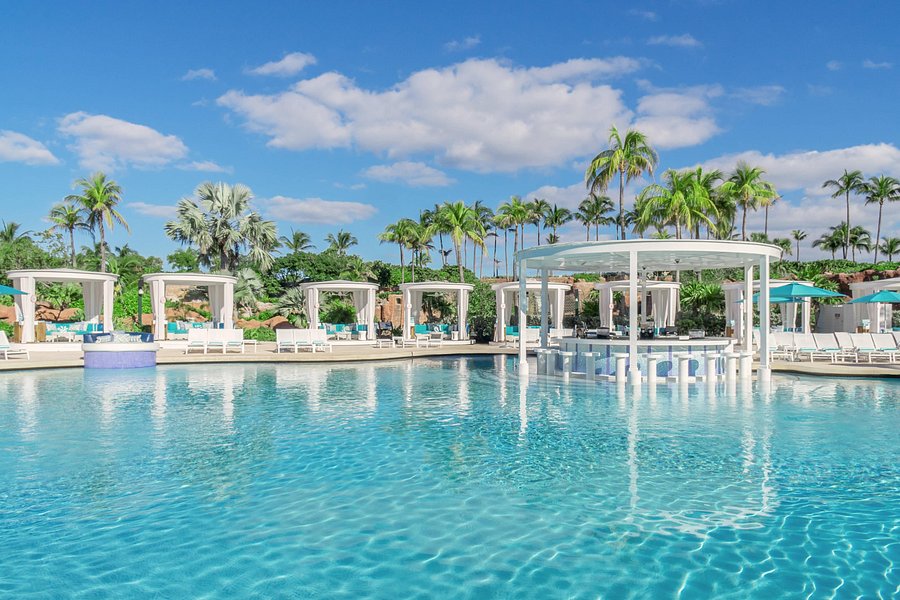 Address: One Casino Drive, Suite 21, Paradise Island, Bahamas
Website: The Coral Towers at Atlantis Resort and Casino
The Coral Towers at Atlantis Resort and Casino is one of the most popular resorts in the Bahamas, and there's an excellent reason why; it ticks off virtually all of the boxes. This resort has over 600 rooms and is full of family-friendly entertainment, including a special club for teenagers.
The rooms at this resort are spacious, with large windows facing the sea. Room service and amenities are available at any time. The Atlantis resort itself has a huge waterpark and tons of marine animals right on site. You and your family will love the slides and rides and intimate marine life experiences. There's even a lazy river for you to relax by.
With 11 pools onsite, you don't even need to go to the sea, but it's just steps away if you want to. Three pools, the Poseidon's Kids Pool, Ripples Pool, and Splashers, were explicitly designed for the little ones. There is also an on-site full-service spa and salon.
If you're feeling lucky, you can check out the sixty-thousand-square-foot casino, just steps away from the hotel itself, or enjoy additional free activities like snorkeling, yoga, and fitness classes. The Coral Towers at Atlantis Resort and Casino staff genuinely do everything to make your experience as memorable and unique as possible.
Kamalame Cay Private Island Resort & Residences
Address: Great Barrier Reef, Andros, The Bahamas
Website: Kamalame Cay Private Island Resort & Residences
Kamalame Cay Private Island Resort & Residences is one of Andros Island's hidden gems. It's relatively secluded, and you can really only get there either by seaplane or private ferry. Its inaccessibility makes it one of the key destinations on our list if you're looking for a private, relaxing vacation.
Kamalame Cay Private Island Resort & Residences is surrounded by natural beauty. If you and your family love getting out and exploring nature, this resort is an excellent pick for you. With a full 96-acres of beautiful landscape, you'll have plenty of safe beaches to explore to your heart's content.
This resort has white sand beaches, coral gardens, and beautiful untouched Caribbean waters. Go snorkeling, and there's a good chance that you could see blue tangs, parrotfish, and maybe even a manta ray or two.
Even though Kamalame Cay Private Island Resort & Residences is secluded, it still has some of the best cuisine in the Bahamas. Private chefs work up new takes on traditional Bahamian dishes using fresh, locally sourced ingredients.
The Spa at Kamalame Cay is an overwater spa featuring state-of-the-art treatments. Learn to dive at the PADI-rated Dive Centre, where divers of all ages and experience levels can explore the beautiful Bahamian waters under the care of a trained professional.
One of the key ways that this resort differentiates itself is by adhering to a "barefoot in paradise" philosophy, and all elements of the resort reflect that ethos. Kamalame Cay Private Island Resort & Residences is casually stylish, with a significant emphasis on relaxation and getting back to nature.
Address: General Delivery, The Bluff, Bahamas
Website: Andros Beach Club
Andros Beach Club is an idyllic resort situated on a four-mile-long white sand beach. Many of the rooms at this resort are ocean-facing, and the beach itself is absolutely perfect for swimming. It's a fairly safe beach where even children can wade and swim without having to about undercurrents or dangerous marine life.
Andros Beach Club is an excellent place to go snorkeling, head out on a sailboat, or try your hand at ocean kayaking. Since the waters around the resort are relatively calm, it's a good place to learn sea kayaking. You can also rent a bicycle to explore Andros Island itself.
Andros Beach Club offers a whole host of different types of tours, including snorkeling, nature, fishing, and diving. There's also all-inclusive dining, featuring "sea to table" cuisine that focuses heavily on conservation and fresh ingredients. You'll enjoy incredible lobster, tuna, and mahi-mahi, all of which were just plucked from the sea hours before.
Andros Beach Club features a mix of Bahamian and International cuisine, so you don't have to worry about fussy eaters. There will be something for them on the menu for sure.
Visit one of these phenomenal family-friendly resorts on your next vacation. You won't regret it!
A seasoned traveller, Dad, and avid sports tourist, James foundered The Family Vacation Guide to share his expert vacation experiences- especially when it comes to being a travelling family man.
Featured in Travel articles such as Travel + Leisure, TripSavvy and SFGate, you know you're reading some of the best vacation tips online.