If you want to make memories that will last forever, head to the Bahamas. The Bahamas is a fantastic family vacation destination with sprawling, beautiful beaches, aquamarine waters, rich history, and plenty of outdoor adventures.
It's also home to one of the most significant barrier reefs on earth. The Andros Barrier Reef is 190 miles long and full of incredible marine life. So if you're looking for a piece of paradise close to home, the Bahamas is a convenient, fun, and family-friendly spot. 
Reasons Why The Bahamas Makes the Perfect Family Vacation Destination
The Bahamas is an excellent destination for all types of travelers because it's perfect for every vacation style. So whether you and your family want to soak up the sun on a gorgeous Bahamian beach or go explore the depths of the Caribbean or lush jungle, you'll find more than enough to do in the Bahamas.
The waters around the Bahamas are full of shipwrecks. If you are PADI or SCUBA certified, you can explore them independently or as part of a larger team. Snorkeling is also a lot of fun. Swim around the coast or near Andros reef to see some fascinating and diverse marine life. Since Bahamian waters are crystal-clear, you'll be able to tell where the fish are right away.
You can also see a whole other side of the Bahamas from the sea. Boat tours and excursions take you and your family on an island-hopping adventure that allows you to thoroughly soak in what this part of the world has to offer. Of course, you can also opt for a glass-bottom boat tour and check out the Bahamian sea creatures without setting foot into the water.
If you don't mind getting wet, you can always swim with the turtles, stingrays, or even sea-loving pigs in certain parts of the Bahamas. There are also premium amusement parks, like Atlantis' Aquaventure, where you can go snorkeling and enjoy sky-high water slides to your heart's content. 
Check out the Pirates of Nassau Museum and learn all about the country's infamous inhabitants, like Blackbeard, who terrorized the Caribbean back in the Golden Age of Piracy. Graycliff Chocolatier is another family-friendly destination where your family can learn about the intricate process of making chocolate from scratch.
Whatever you're searching for, you're bound to find it in the Bahamas!
Recommended Bahamas Resorts for Families with Kids
These resorts are jam-packed with plenty of family fun for kids and adults of all ages. So make one of them your home base for your next great Bahamian adventure.
Hideaways Exuma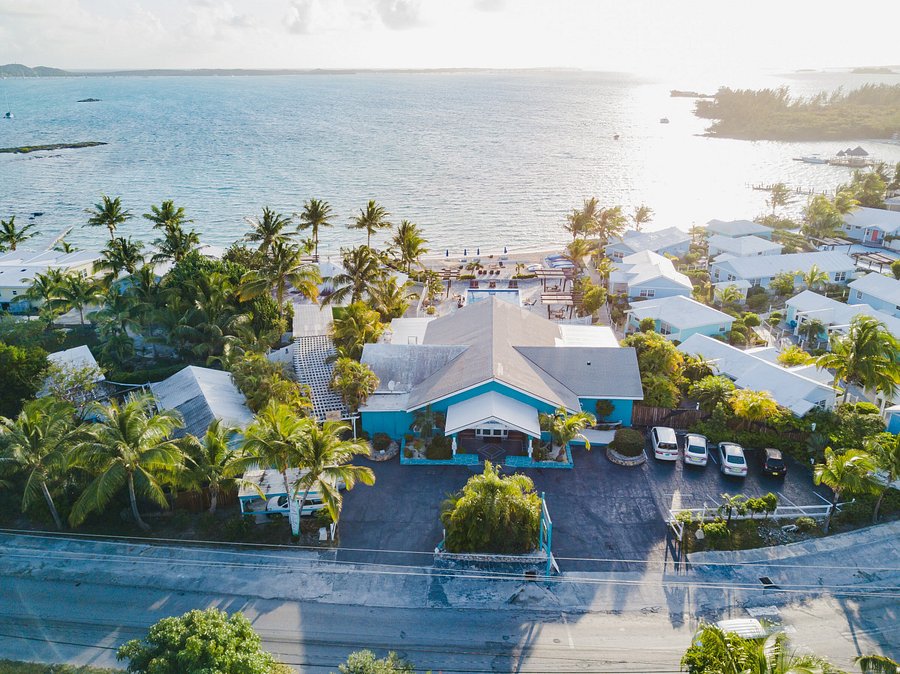 Address: Jolly Hall at Queen's Highway, George Town, Bahamas
Website: Hideaways Exuma 
Hideaways Exuma has plenty of different accommodations to satisfy any budget. You can rent a studio, multi-bedroom cottage, or villa. This resort embraces the laid-back, friendly vibe of the Bahamas with a casual but upscale atmosphere where you won't want for anything. Hideaways Exuma has a private beach, pool, on-site dining options, and plenty of amenities.
They even offer in-suite spa services and have plenty of water toys on hand for the kids. Hideaways Exuma also provides plenty of activities like:
Happy Hour
Water Sports
Diving
Canoeing
Snorkeling
Fishing
In addition, there's a fitness center and games room on-site, where you can engage in a competitive game of table tennis or billiards.
Parking and WiFi are both free, as are children's television and movies. With daily housekeeping, concierge service, and laundry available, you can focus solely on having a good time. There's also a free shuttle service and tour desk.
Ultimately, Hideaways Exuma goes out of its way to be as accommodating as possible. There's more than enough to do at the resort, but they make it easy for you to explore the island safely too.
Sandyport Beach Resort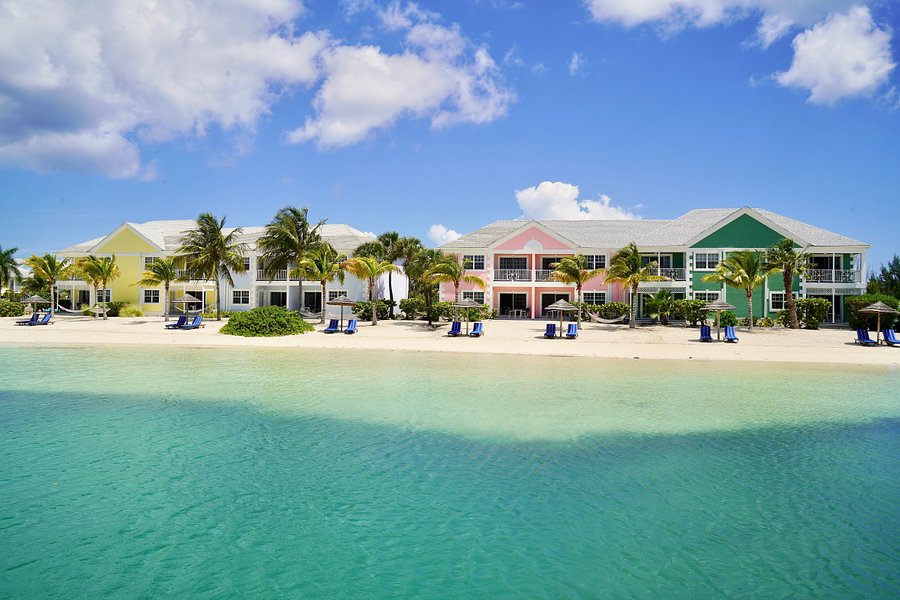 Address: W Bay St, Nassau, Bahamas
Website: Sandyport Beach Resort
Sandyport Beach Resort is three miles outside the Nassau International Airport and very close to the island's premier beach, Cable Beach. It's a tranquil slice of heaven where you can kick back in a hammock and enjoy a tropical paradise in style.
Sandyport Beach Resort has 72 beautifully appointed rooms crafted in traditional Georgian Colonial style. Although these rooms are influenced by historic Bahamian architecture, they are all full of every modern amenity that you could want. Sandyport Beach Resort offers suites and rooms, many with complete kitchen and living rooms. Some accommodations have Jacuzzis and incredible views of the lagoon.
If you and your family don't want to get your feet wet in the sea, you can always check out one of the resorts' three swimming pools. There's a kiddie pool with water slides, half basketball court, and tennis court. Get free, high-speed WiFi anywhere in the resort.
Although Sandyport Beach Resort has everything you need for a great family vacation, there are shopping and off-resort dining options nearby at Sandyport Marina Village.
Comfort Suites Paradise Island
Address: Paradise Island Dr, Nassau, Bahamas
Website: Comfort Suites Paradise Island
If you want to access the Atlantis Resort and Aquaventure Water Park on a budget but don't want to stay at the resort, consider Comfort Suites Paradise Island. This adjacent resort offers free access to:
Aquaventure Water Park
The Dig
Tidal River Rapids
Other marine exhibits at the Atlantis
Additionally, you get all of the amenities at Comfort Suites Paradise Island that you've come to expect from top-notch resorts.
Comfort Suites Paradise Island offers complimentary parking, WiFi, and a la carte breakfast. The rooms are comfortable and modern and come equipped with safes for passports and other valuables. In addition, there's a business center, hospitality area, plenty of dining options, and an outdoor pool on site.
Comfort Suites Paradise Island offers laundry services and regular housekeeping. It's also right in the heart of Nassau, making it the perfect home base to do plenty of exploring.
Viva Wyndham Fortuna Beach
Address: Churchill Drive, Doubloon Rd, Freeport, Bahamas
Website: Viva Wyndham Fortuna Beach
Viva Wyndham Fortuna Beach is an all-inclusive, family-friendly gem in Freeport. Guests stay in the lap of luxury, with air-conditioned rooms, free WiFi, and all of the perks that you'd expect from a five-star resort. There's on-site parking, refrigerators in every room, and flat-screen televisions for those family movie nights.
Viva Wyndham Fortuna Beach has a concierge on-site, complimentary breakfast, and a luxurious pool. It's also got its own beach and is well within walking distance of Freeport's other great, untouched beaches.
Since Freeport is less touristic than Nassau, these beaches are far more authentic, unspoiled, and you could even have them all to yourself. Viva Wyndham Fortuna Beach is a great place to visit if you want a laid-back, nature-focused, authentic Bahamian experience.
Since it's an all-inclusive resort, you don't have to worry about spending any extra cash unless you go off-site.
Lighthouse Pointe at Grand Lucayan Resort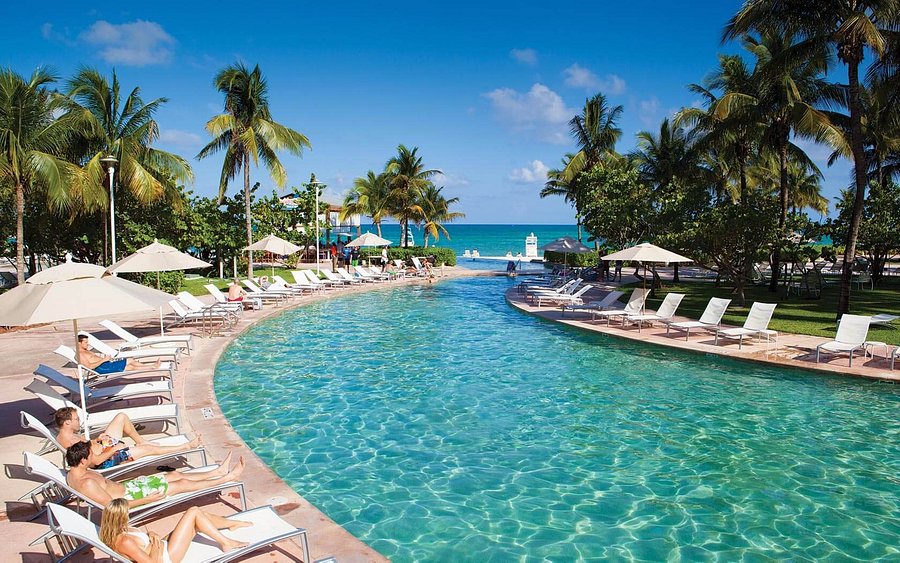 Address: 1 Royal Palm Way, Freeport, Bahamas
Website: Lighthouse Pointe at Grand Lucayan Resort 
Lighthouse Pointe at Grand Lucayan Resort is an all-inclusive experience popular with single travelers and families alike. Right in the center of Freeport, this resort is both comfortable and convenient, with a heavy focus on family-friendly travel.
Although you could easily spend all of your time at the resort itself, Lighthouse Pointe at Grand Lucayan Resort is near plenty of Freeport's major tourist attractions, including Cooper's Castle and Count Basie Square. Both of these are within walking distance, and you'll be back at the resort in plenty of time to catch dinner and some entertainment.
At Lighthouse Pointe at Grand Lucayan Resort, all amenities are taken care of during your stay. Every accommodation has:
A Refrigerator
Air Conditioning
Free High-Speed WiFi
Order room service at any time of day or night, or visit one of their premier on-site dining options.
Manta Ray Beach Club is a popular choice, as is Pisces Seafood House & Pizzeria and Cappucino's Fine Italian Restaurant. All of these choices have plenty of good options for kids and adults, and many of them are open relatively late.
Lighthouse Pointe at Grand Lucayan Resort is also close to Port Lucaya Marketplace, where you can pick up plenty of souvenirs from your grand Bahamian vacation.
The Cove at Atlantis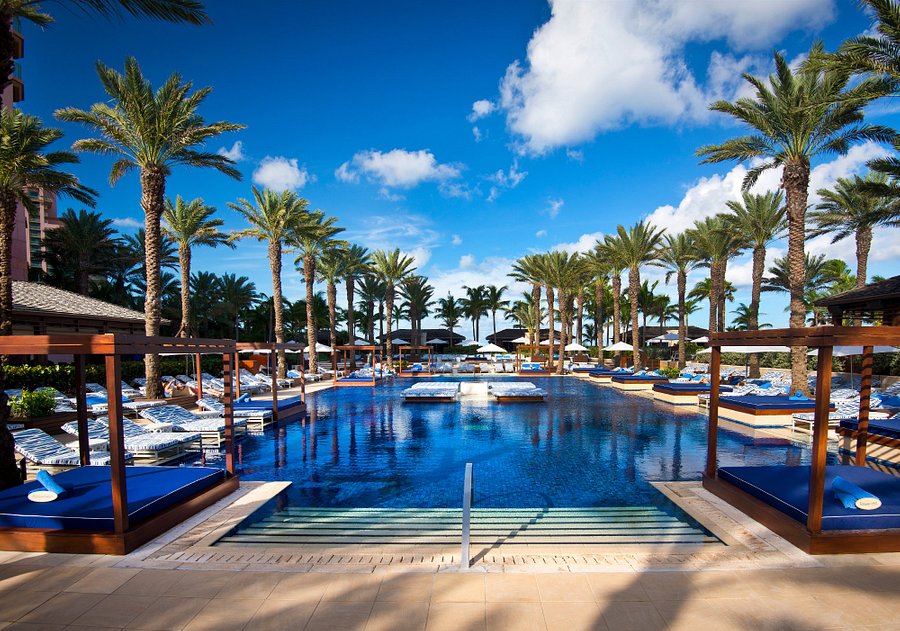 Address: 1 Casino Drive Paradise Island, NP, Bahamas
Website: The Cove at Atlantis 
The Atlantis Resort complex is one of the Bahamas' most popular destinations, and the Cove at Atlantis is undoubtedly no exception. You simply can't beat the location between Paradise and Cove beaches. Although you're right in the middle of the action, the Cove at Atlantis has a great, secluded feel to it that's ideal for nature enthusiasts.
The Cove at Atlantis is nothing if not luxurious. It's a five-star hotel with a gorgeous open-air lobby and beautiful rooms with every amenity that you'd expect from the worlds' finest accommodations. You and your family will not want for anything at this resort.
The Cove at Atlantis also features the Mandara Spa, a state-of-the-art spa that combines European, Balinese, and Bahamian treatments for a truly unique and memorable experience. There are sauna rooms, cold pools, and a whole menu of different treatments.
At the Mandara Spa, you can get:
Body Wrap
Scrub
Massage
Facial
Hair Treatment
You can also use the spa's fitness room. There are spa services for the kids, too, so you can make a whole family day of it.
The Cove at Atlantis has excellent dining options too. Try traditional, locally sourced Bahamian options at Sip Sip, or experience authentic Mediterranean cuisine at Mosaic. There's also premium coffee available and plenty of places for you to grab a cocktail and enjoy the sunset.
The Coral at Atlantis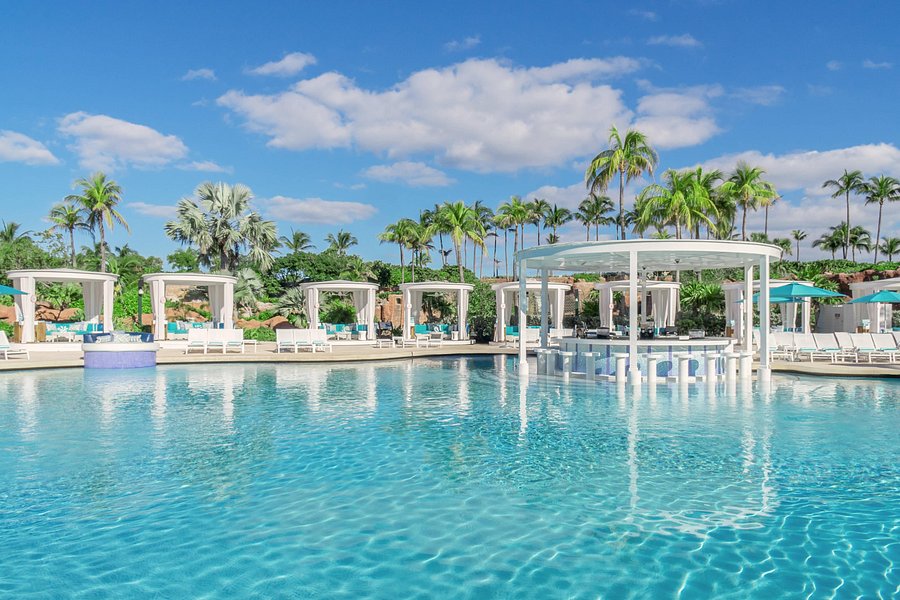 Address: One Casino Drive, Suite 21, Paradise Island, Bahamas
Website: The Coral at Atlantis
The Coral at Atlantis is another fantastic option for the Atlantis Resort family. This resort focuses heavily on ensuring that you and your family are having the best time possible in Nassau. Their accommodations are top-notch, with plenty of amenities and WiFI throughout the entire facility.
The Coral at Atlantis is huge, with 600 rooms, private cabanas, on-site pools and water activities, and a fabulous white-sand beach. Although most of the resorts on our list offer activities for younger kids, the Coral at Atlantis goes a step further. Their CRUSH nightclub is strictly for teenagers and provides a safe space for them to socialize.
The Coral at Atlantis is also an excellent home base for excursions. Guests can rent charter boats and explore untouched nearby islands. In addition, this resort has on-site tennis courts where you can play a game or two or even take lessons from a professional.
There are ample shopping and dining options on-site, as well as a 141-acre water park that will delight your whole family. Aquaventure is a destination all of its own. There's a river ride with:
Rapids
High-Speed Slides
Eleven Pools
Kids' Area with a Water Fort
Marine Animal Encounters
Although you probably won't want to leave the Coral at Atlantis, it is located right in the middle of Nassau, so exploring the island is easy and convenient.
The Royal at Atlantis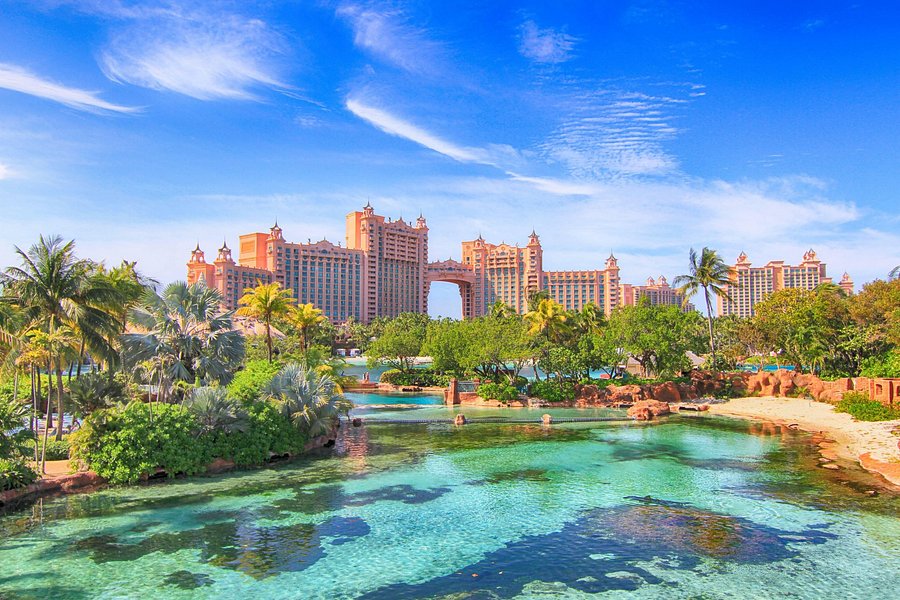 Address: 1 Casino Drive, Paradise Island, Bahamas
Website: The Royal at Atlantis 
The Royal at Atlantis is one of Nassau's favorite resorts featuring plenty of whimsical artwork and beautifully designed rooms. If you like the story of Atlantis and have a creative side, there's a good chance that the Royal at Atlantis will appeal to you.
One of the major draws of this resort is its vast open-air marine habitat. Kids and adults alike will love learning about aquatic animal husbandry and the sea creatures that inhabit the water of the Caribbean. There's also a casino nearby and plenty of dining and shopping options.
This resort has plenty of things to do both day and night, and the service is second to none. It's a secure, family-friendly, luxurious place to stay while you're enjoying your time in Nassau. There is valet parking right on-site, plus free WiFi, a fitness center, babysitting options for the kids, and a casino nearby.
All rooms are adequately outfitted with all of the amenities that you'd expect from home, including:
A Coffee Maker
Room Service
Private Balconies
Cable And Satellite Television
Housekeeping Services
Some rooms have beautiful ocean views where you can catch a brilliant sunset.
Chub Cay Resort & Marina
Address: Chub Cay Resort & Marina Chub Cay, Bahamas
Website: Chub Cay Resort & Marina
Chub Cay Resort & Marina is known for being a fisherman's paradise, but it's so much more than that. This private island is right on the southernmost part of the Berry Islands and features a full resort with marina access. One of the key draws of Chub Cay Resort & Marina is its miles of gorgeous beaches and clear Caribbean waters. This unspoiled paradise is perfect for you and your family.
Although you can certainly spend your time relaxing in one of Chub Cay Resort & Marina's many hammocks, you can also enjoy plenty of excursions and activities. Fishing and snorkeling are two top-rated options. Since the island boasts a huge variety of fish, you'll be able to catch and spot plenty of different tropical types just steps from the resort itself.
Chub Cay Resort & Marina is also close to an undersea trench known as "The Tongue of the Ocean." You'll find creatures there that you can't spot anywhere else in the Caribbean, making it ideal for divers. If you'd prefer to stay on land, you can play dominos or board games while enjoying authentic island beverages at one of Chub Cay Resort & Marina's many bars.
Enjoy exploring the island with golf carts and bicycles. There are plenty of safe paths and trails right near Chub Cay Resort & Marina. Alternatively, you can rent paddleboards and check out Turtle Creek, a famous lazy river known for its friendly sea turtles. If your children love the outdoors and animals, this is the perfect activity that they'll remember forever.
Of course, Chub Cay Resort & Marina offers plenty of ways that you can pamper yourself as well. Deep tissue massages, facials, and manicures are all available at their on-site spa, and there's shopping nearby at Post Peacock and Marlin Market.
Ocean Reef Yacht Club & Resort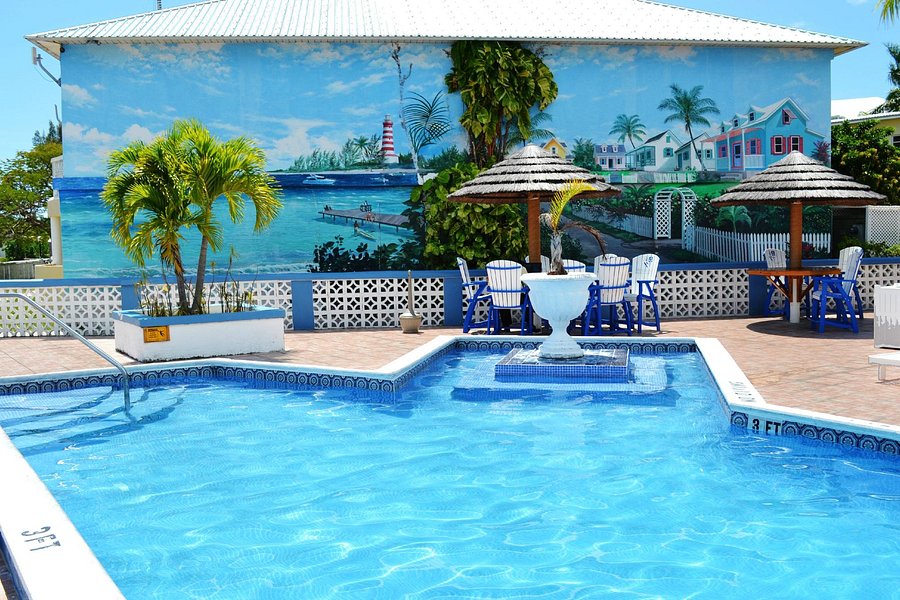 Address: G83Q+Q5X, Freeport, Bahamas
Website: Ocean Reef Yacht Club & Resort 
This Freeport resort is an excellent place for the whole family to experience the host of watersports and activities that the Bahamas offer. Ocean Reef Yacht Club & Resort is right near both the beach and the Port Lucaya Marketplace, where you can pick up any souvenirs that you might want for back home.
One of the key draws of this resort is its outdoor adventure options. There are plenty of hiking and biking trails nearby, as well as:
Kayaking
Water Skiing
Parasailing
Snorkeling
This resort is an excellent bet if your family is active and looking for a true Bahamian experience.
You can also enjoy Ocean Reef Yacht Club & Resort's premier restaurant, spa, and pool. In addition, there's a fitness center that's open day or night, a swim-up bar, and a lounge for those fantastic sunset cocktails.
Every room comes equipped with a coffee maker, kitchen, hairdryer, safe, and television. Enjoy complimentary high-speed WiFi, room service, and housekeeping while you relax in paradise.
The Ocean Club, A Four Seasons Resort, Bahamas
Address: One Ocean Drive Paradise Island Nassau N.P, Bahamas
Website: The Ocean Club, A Four Seasons Resort, Bahamas
The Ocean Club is a Four Seasons resort that fuses all of the excellent services you can expect from the Four Seasons brand with a tropical vibe that gives you a true taste of the islands. It's rapidly becoming one of the most popular family-friendly destinations in the Caribbean.
The service is incredible, with staff trained to attend to your every need. If you have any questions, there are people on-site to answer you promptly or give you the help you need. Enjoy premier dining services, beach access, and tranquil pools on site. There's also a fitness center, bikes for rent, and a nearby golf course that caters to enthusiasts and novices alike.
The Ocean Club offers a wide variety of different accommodation options. You can choose between different suites with balconies or patios. Some suites face the ocean, and others have a fantastic view of the Versailles garden. Expect outstanding room service, fresh food, activities for the kids, and an overall relaxing experience that will undoubtedly tick off all the boxes!
Rosewood Baha Mar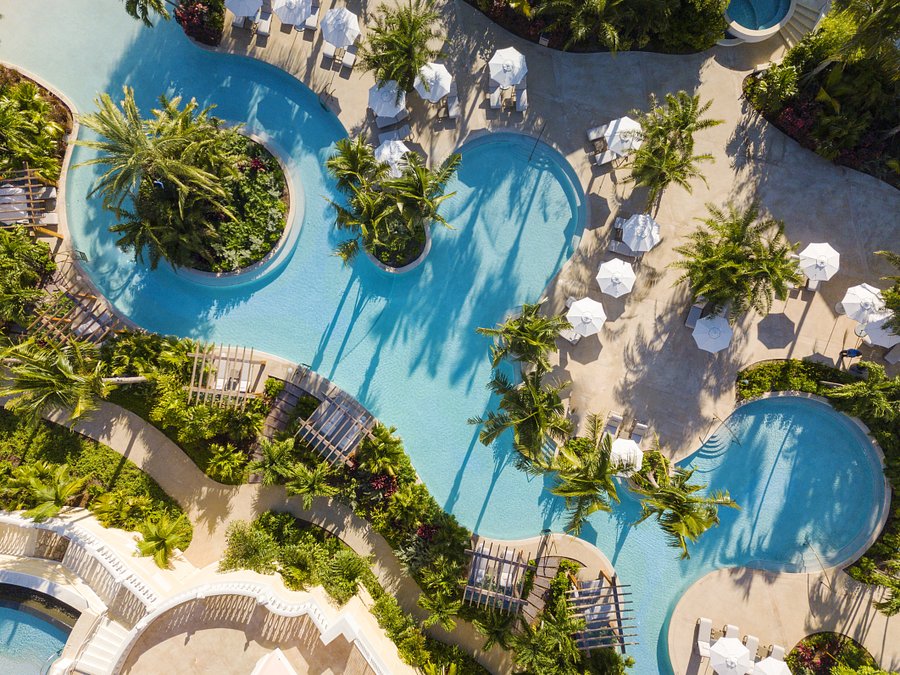 Address: One Baha Mar Blvd, Nassau, Bahamas
Website: Rosewood Baha Mar
The Rosewood Baha Mar is right on idyllic Cable Beach. Cable Beach is renowned for its pristine white sand and blue tropical waters and is easily one of the most popular beaches in Nassau. This resort has its own private enclave, so you can enjoy Cable Beach without contending with all of the crowds.
With 230 guestrooms, Rosewood Baha Mar has something for every family. Choose between beachfront villas and suites, and enjoy authentic Bahamian cuisine right on site. The Sense Spa offers premium spa services for every budget. Great excursions are available that will ensure that you and your family make the most of your Bahamian experience.
As with many of the resorts on our list, the service is incredible at Rosewood Baha Mar. Expect excellent housekeeping, room service, and attentive staff at every turn. Since it's located right on Cable Beach, you'll also have access to Nassau's greatest attractions if you choose to leave.
Conclusion
When it comes time to plan your next unforgettable family vacation, think about heading down to the Bahamas. This tropical destination is just a short flight from just about everywhere in the eastern and southern United States, and there are family-friendly resorts for every budget and taste.
You'll make memories that will last a lifetime, see unique sea creatures, and experience Bahamian hospitality at its finest at any of these twelve options. Check out our comprehensive guide to 12 of the best Bahamas resorts & hotels for families.
More about our TFVG Author
A seasoned traveller, Dad, and avid sports tourist, James foundered The Family Vacation Guide to share his expert vacation experiences- especially when it comes to being a travelling family man.
Featured in Travel articles such as Travel + Leisure, TripSavvy and SFGate, you know you're reading some of the best vacation tips online.