Kids are the pickiest eaters. One second, they want something sweet, the next, they'd prefer nothing. To keep their little stomachs full and satisfied, you must get creative.
When vacationing, parents can experience difficulty meeting their children's dietary needs. It will be a tug-of-war between snacking and sugary drinks to get your kids to take even a single bite.
Are you scheduled for a vacation in Anna Maria soon? If yes, you must be wondering how kid-friendly the eateries and restaurants are. Few people realize it, but Anna Maria Island is undoubtedly the best vacationing spot for families with kids.
Anna Maria Island bursts with life, fun, and splendor day and night. Be ready to sample tons of delicious seafood on your trip here. But if you want something different, there are more than enough restaurants that serve finger-licking cuisines.
From fine dining in restaurants to wooden, grass-thatched shacks, there are unique places to eat with your kids across Anna Maria Island to suit everyone's taste buds and budget.
Below are 13 of the best Anna Maria Island restaurants for families with kids you should try.
Imagine enjoying your favorite meal with your toes buried in the shallow sand? After all the swimming, running around, and sand castle building, your kid's stomachs are probably growling as pangs of hunger threaten to cut short their fun.
Anna Maria Beach Café is an intimate beachfront restaurant ideal for a family setting. The glistening ocean waters and white sandy floors will make yours the most memorable dining experience. Feel free to visit this homey restaurant for all three meals of the day.
They have an intricate menu to cater to adults' and kids' taste buds. A standard breakfast consists of waffles, omelets, and pancakes. For lunch, you can choose from various options, including salads, sandwiches, and plenty of side dishes. A special kid's menu caters to children of all ages.
You can request a unique combination for dinner or choose from a rich menu. During the day, you'll enjoy meals in some quiet and some occasional soft music playing in the background. In the evening, the place comes alive with plenty of live entertainment. After your meals, feel free to enjoy a family dance before retiring to your hotel.
Located in Bradenton Beach, Bridge Street is conveniently the place to find the best accommodation during your trip to Anna Maria Island. It's a welcome contrast from the quiet beachside hotels. There are many shops, bars, stores, and fun activities for families to enjoy here.
One of the places you must visit is the renowned Bridge Street Bistro for the most authentic taste of this part of Florida. It's, by far, one of the best Anna Maria Island restaurants for families with kids.
Your kids will love sampling different types of fresh seafood and steaks. It's an all-inclusive restaurant with happy hours for adults and plenty of food and drink options for kids.
The Bridge Street Bistro remains open from 5:00 p.m. to 9:00 p.m. on weekdays. During weekends, the restaurant remains open till 10:00 p.m. These hours make this eatery ideal for late-night meals for your family whenever you need something hot and fresh to eat.
If you're looking for a beachfront setting that serves a wide array of seafood, the SandBar Restaurant will leave you in awe! If it's your wedding, anniversary, or one of your kids has a birthday during your vacation, this restaurant is famous for catering special events, big or small.
They have plenty of staff available to you when taking occasional meals or if you're having a full-fledged event.
The SandBar menu may not be as expansive as what's available in other restaurants on this list, but you can bank on enjoying high-quality services and the best tasting food. This eatery serves gluten-free and vegan options for people keen on their diet. On average, a meal here costs between $20 and $30. If you order drinks, the price will be slightly higher.
The restaurant has a large parking area that's excellent for families driving to this part of the Island.
Note that the SandBar Restaurant doesn't accept reservations. It's a popular spot that can get super crowded in the evenings. To avoid waiting for a table to become available, consider arriving here earlier for dinner.
On the same street, not too far from Bridge Street Bistro, hides the Bridge Tender Inn, another one-of-a-kind eating spot for the free-spirited ones. Better known as the Bridge Tender Inn Dockside Bar & Grille, this is the place to be when you are craving great entertainment with live music and some sizzling hot food.
The restaurant has an indoor area and a separate outdoor waterfront patio where kids can get comfortable and enjoy kiddie meals. The best surprise is that pets too are welcome here.
The views here are captivating, and the sunsets are enchanting! The kind of ambiance here is like nothing you've experienced in other places before. You'll always want to visit this bar and grill whenever you visit Anna Maria Island.
There's no competition; this is, hands down, the best Anna Maria Island Restaurant for families with kids.
The sophisticated five-star cuisines are great, but only for that occasional lunch or dinner. You'd settle for the simple potatoes, burgers, chips, and fish if you had your way. Hurricane Hanks has got you if you are looking for pocket-friendly food options.
Generally, meals here cost between $10 and $20 per plate. A regular bowl of salad goes for about $10. A standard-sized seafood meal costs around $25.
On your visit here, try their peel-and-eat shrimp and crab cake. These are fan-favorite meals that have people flocking to the eatery during peak hours of the day. Hurricane Hanks has plenty of meal options that you and your kids can have for lunch or dinner at unbeatable rates without compromising on the quality of service.
If you are on your way to the beach or to visit one of the many attractions on Anna Maria Island, Hurricane Hanks makes it easy to keep your kids' stomachs full. They have flavorful meals and soft drink options suitable for kids.
The adults haven't been left behind either. The large-sized portions will leave you fully satisfied and ready for a warm or cold drink to finish off. This restaurant has a vast collection of wines, craft beers, and delicious cocktails to cater to everyone's needs.
Hurricane Hanks has take-away and food delivery services for families who prefer to have their food and drinks in their hotel rooms or at a separate location.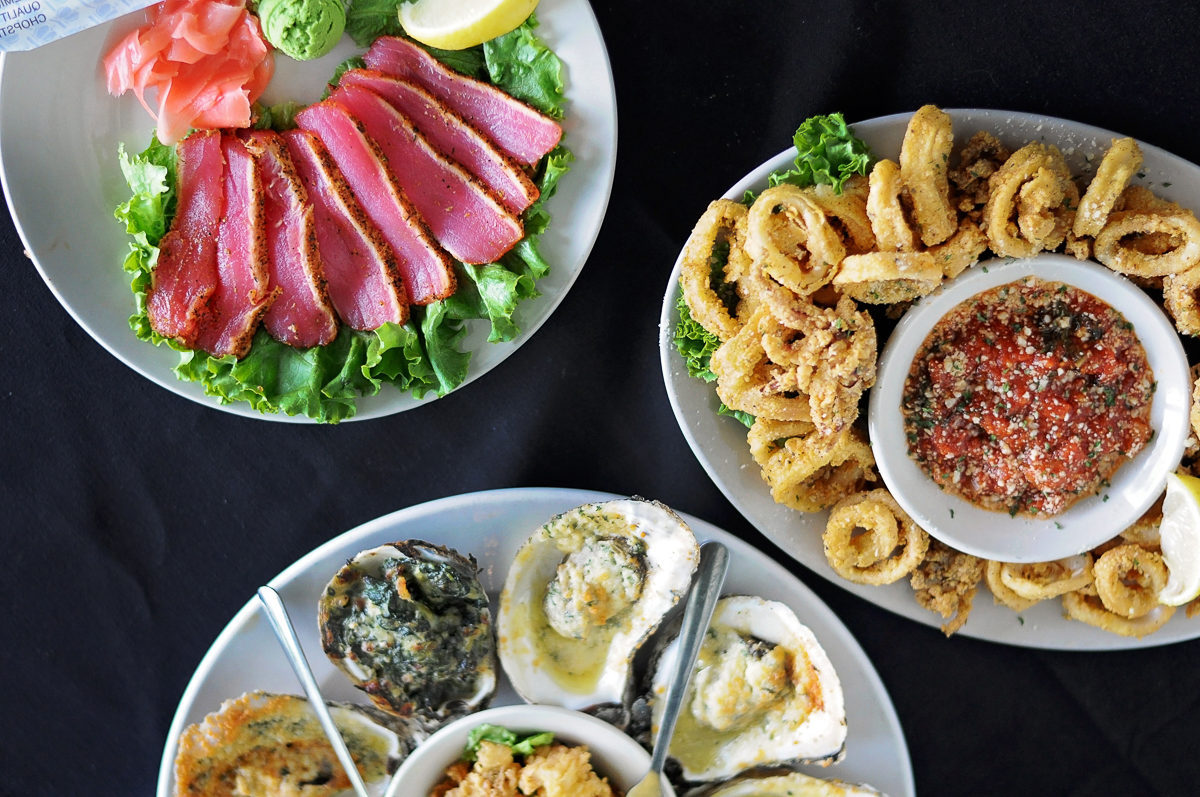 Well-cooked oysters are an excellent source of protein for kids. What's more, oysters are loaded with iron and essential minerals crucial in producing red blood cells and general growth. As the title hints, Anna Maria Oyster Bar is the number one spot for you and your kids to enjoy mouth-watering sea foods.
Located at the very end of Bridge street, this well-known eatery presents you with a unique waterfront setting where you can have your favorite meals while watching the waves with soft background music and people chattering away.
Their restaurant has four different branches on Anna Maria Island. If you visit the one in Cortez, a few miles off the Island, you'll be lost for choice, thanks to their wide selection of oyster meals. If you want to, you can get creative and craft detailed oyster meals just as your family would like.
The skyway bridge, the Pier, and the ocean water are some magical views that surround you as your family enjoys their favorite meal at the Waterfront Restaurant. The food here is unquestionably delicious.
The restaurant has a unique collection of both modern and traditional dishes. In a cut-throat competition between restaurants on Anna Maria Island, The Waterfront Restaurant edges out a niche for itself by using locally sourced, fresh ingredients.
Their prices may be significantly higher than other waterfront restaurants in the same area. A full meal with food and drinks will likely cost $50 to $100 per person. But considering the top-notch service and world-class cuisines, you can agree that you'll get value for your money.
The restaurant has a comprehensive menu with ordinary food choices, kid-friendly meals, and gluten-free options. Top food choices for people who frequent this restaurant include fried shrimp, chicken parmesan, and wasabi-crusted tuna.
It's a drama-free, laid-back hideaway you and your family can go to when you want to escape the hustle and bustle of Anna Maria Island, especially during peak vacationing seasons.
No family will turn down fresh pizza on a hot day filled with tons of activity and fun exploring Anna Maria Island. This is a secret that Oma's Pizza seems to have been let in on.
Oma's pizza is an Italian restaurant based in Bradenton Beach that specializes in making different types of bespoke pizzas to satisfy even the rarest customer demands. In fact, they welcome a challenge.
The restaurant makes from scratch and by hand to create mouth-watering pizzas. Their signature crusts include the one-inch-thick Sicilian crust and the hand-tossed crust. Despite their prowess in making a near endless list of delicious pizzas, this restaurant has a rich menu comprising other Italian dishes. These include Chicken Picatta, Baked Ziti, Grouper Fradiavolo, Veal & Mushrooms, etc.
When you and your kids have had enough seafood, Oma's Pizza brings in a welcome alternative on the Island. You will find all kinds of pizzas, desserts, spaghetti, sandwiches, salad, and soup.
The restaurant remains open until midnight. If you are shacked up in your hotel room at night and feel like you crave some pizza, Oma's Pizza will be waiting for your visit or call to prepare and make any pizza delivery you want.
Is your family made up of loved ones who can ravage through mountains of food on a whim? If yes, the Feast Restaurant is the place to be. This place is ideal for you if you love seafood. One meal here, and you'll never stop raving about your time here.
The food is fantastic, the servers are the most accommodating, and the kitchen staff is attentive to your needs. Their food smells terrific, but how the cooks plate your food is even more beautiful. They bring their creative artistic edge to present good-looking food whose taste will match and surpass the visual treat.
Besides seafood, the restaurant offers salads and pizzas with over twenty different toppings. Other food options on the menu include lobster risotto, coconut shrimp, and hogfish Sanibel, to mention but a few.
If you or your kids have allergies or health concerns, this is one of the restaurants that will accommodate your health and dietary needs. This restaurant is safe and has earned and passed all the health standards set by the respective authorities.
The beach is an excellent opportunity for your kids to have so much fun that they'll beg you never to return home. However, at some point, they'd prefer a different setting where they can play too. Here, a playground or a park gets a fast thumbs up!
Coquina Gulfside Café is located on a beach with a park, trails, and playgrounds. You're always free to bring your food to the beach. But why would you go through the hustle if you could instead have professionally prepared food?
Here, you can have everything from burgers, hot dogs, tacos, and fish, all of which are good options for kids and adults. Once you're all satisfied, how about some ice cream for the kids and a cold beer for you from the Tiki bar? The café is open throughout the day and serves breakfast, lunch, and dinner.
It's gorgeous and romantic! And yes, you can bring the kids too. The Beach Bistro is a fantastic option when you're feeling like spoiling your family with some gourmet meals. This upscale restaurant has a waterfront setting that makes your meals more enjoyable.
It's the best place for a family sundowner because it has the most beautiful sunsets. The interior décor is breathtaking. The restaurant pays a lot of attention to detail in the food they serve and their spaces.
When it's not sea turtle hatching season, you and your family can have dinner outside on the beach. Fan favorites on the menu include scallop pan roast, chocolate truffles, and lobster. These meals can be tweaked to cater to young ones' stomachs without causing irritation.
Be sure to make reservations before you visit this restaurant.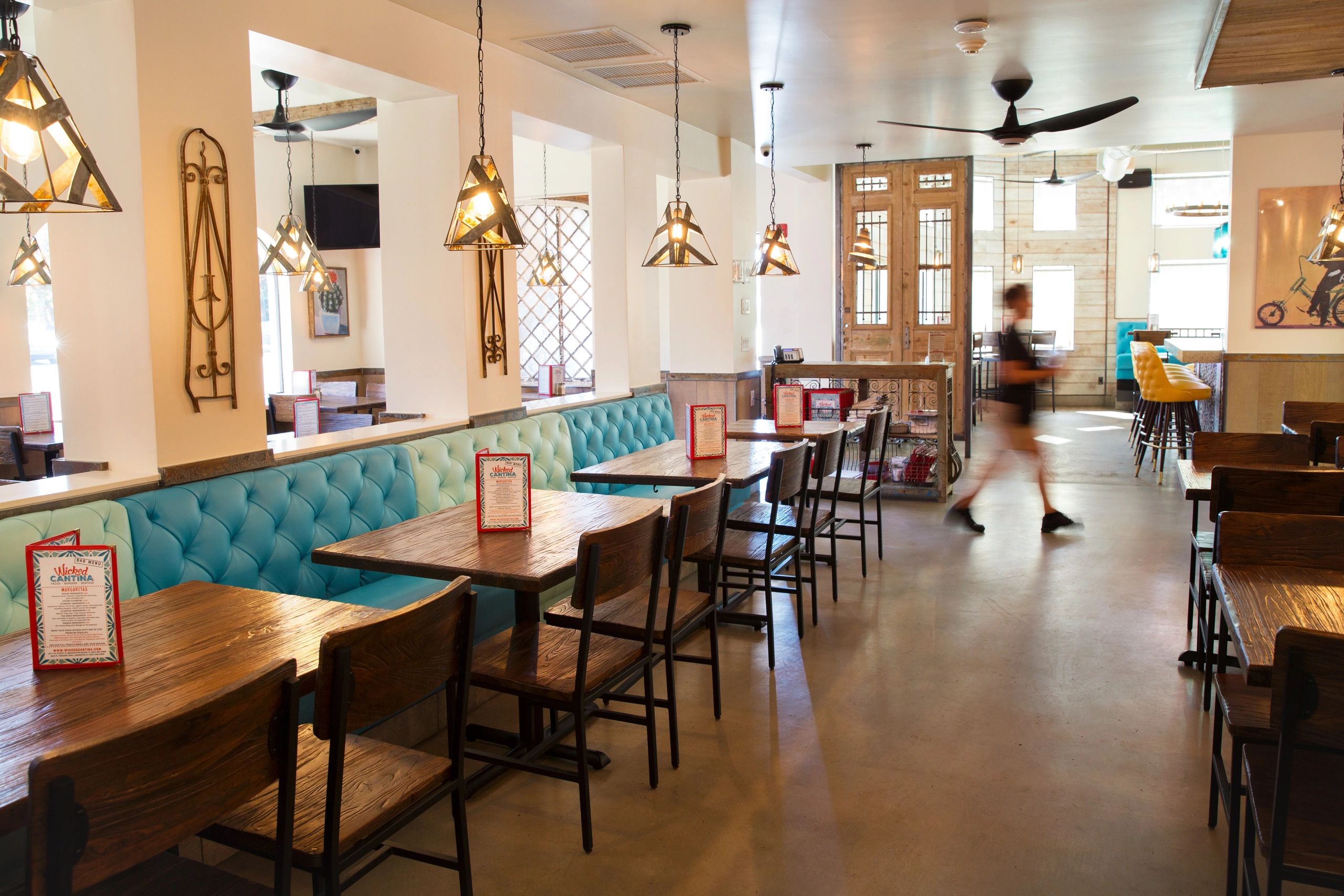 Sharing food as a family is a culture that families across the globe enjoy. The Wicked Cantina realizes how important this seemingly simple meal-sharing occasion is and goes out of its way to ensure that each member of your family, including the kids, has an excellent time.
Considering Anna Maria Island is on the Mexican border, it makes sense that the Wicked Cantina Menu is full of sumptuous Mexican foods.
On average, meals cost between $10 and $30 per plate. The restaurant remains open throughout the day, making it a convenient spot for vacationing families looking for a reliable place to have breakfast, lunch, or dinner.
The Wicked Cantina has happy hours where you can have endless margaritas with a couple of sweet non-alcoholic options for the young ones. Feel free to linger long after you're done with your meals for some live entertainment to complete your dining experience.
The grouper fish is certainly not the most attractive to the eye but wait until a grouper meal is prepared for you. The Ugly Grouper is a revered Anna Maria Island restaurant that's superb for families with kids.
This restaurant prepares the freshest Grouper sandwiches, Grouper Reuben, Grouper tacos, and Grouper dinners.
When you're not in the mood for fish, the Ugly Grouper has wings, soups, salads, burgers, and plenty more food options ideal for kids.
The best thing about choosing to eat here is that it's open for both lunch and evening bites all seven days of the week. Hop in for some delicious snacks, main meals, and live music if you happen to be staying at the Marina Resort or are shopping with family along with the shops around Holmes Beach Plaza; the Ugly Grouper is a stone's throw away.
Final Say: Best Restaurants in Anna Maria Island for Families With Kids
Indeed, Anna Maria Island does not fall short of places to dine. However, you have to get a bit more selective when traveling with kids. We've listed 13 great restaurants for families with kids in this guide.
From burger joints to seafood eateries to classy waterfront restaurants, there's a place to suit everyone's needs and budgets on this part of the Florida Gulf Coast.
Planning your next family vacation doesn't have to be a hassle. Check us out for more insight into planning your next family vacation.
More about our TFVG Author