Did someone say crystal clear blue waters with a side of soft white sand? Sign us up! If you're like us, you're itching to get you and your family on the next train, plane, or road to the best beaches that the US has to offer. 
Summer is right around the corner, and the urge to take a much-deserved vacation to a beach with cooling crystal waters, gorgeous delicate sand, and fun adventures must have you searching for the best of them.
We've compiled an exciting list of the top ten US beaches with the clearest water perfect for snorkeling below the surface, basking in the sun, or riding the waves. 
1. Flamenco Beach, Puerto Rico
The gorgeous sands of Flamenco Beach are located on a small island, Culebra, right off the coast of Puerto Rico. Its calm waters make it the perfect destination for families or couples to sit back, enjoy the tranquility, and do a bit of snorkeling or swimming if you're feeling adventurous.
Despite its distance from the states, you don't need a passport to get there. Getting there may be difficult, with visitors purchasing a ferry ticket to journey off Puerto Rico and onto the island. If boats make you queasy, you can opt to fly in from the east coast for very affordable prices.
Once you arrive, you can venture down the shoreline, delight in some authentic Puerto Rican cuisine, or visit The Tank, a famous attraction set as a reminder of the U.S. Navy's occupation of the island.
2. Kapalua Bay Beach, Maui, Hawaii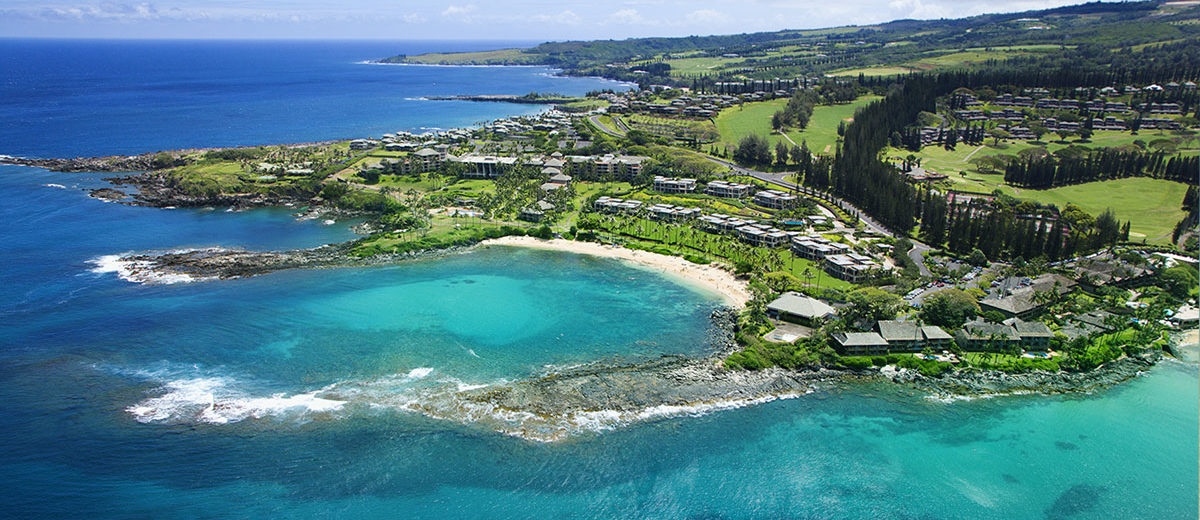 Hawaiian beaches are famous for their picturesque views and dreamlike sunsets. Right of the island of Maui is one of Hawaii's best beaches with wavering palm trees and serene blue waters. 
The beach has soft, shallow parts perfect for kids wanting to take a peek at sea turtles and colorful fish. The island boasts lots of activities, such as self-guided bike tours, airplane tours, and scuba diving.
Take a break from the water to enjoy delicious food offered by Merriman's Maui or Sea House Restaurant, which serves a combination of American fare and authentic Hawaiin delicacies.
After a long day of beach bumming, you can retreat to Kapalua's luxurious resort Montage Kapalua Bay, right on the edge of the sea. If luxury isn't your highest priority, Kapalua offers much more affordable options like The Kapalua Villas Maui for around $400 to $600 a night.
3. Destin, Florida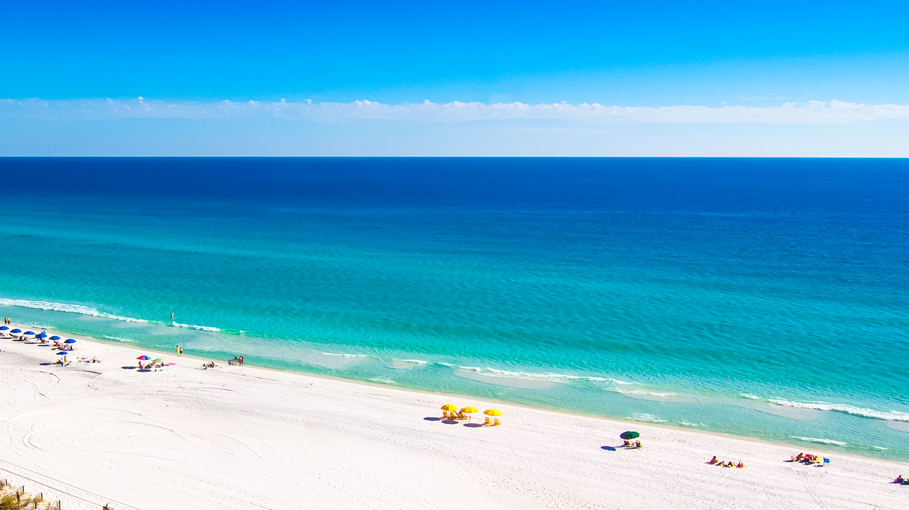 Florida is known for its amazing beaches and top-notch attractions. In the state's panhandle lies a boisterous beach town is known as Destin, with tons of activities for kids, restaurants, shops, and, of course, shining emerald and blue waters. 
The atmosphere is lovely and friendly, suitable for families wanting to enjoy the beach during the day and the city during the night.
In Destin, Okaloosa Island, Henderson Beach, and Crab Island all present the bluest and best waters off the Gulf Coast. You can rent a pontoon boat or jet skis and book a parasailing adventure to truly explore the town's crystal clear waters.
Destin is a popular tourist hotspot, so crowds may be a nuisance, but the city's affordable accommodations, limitless adventures, and tasty seafood make taking a trip to its waters an absolute must.
4. Laguna Beach, California 
In California's Orange County lies the picture-perfect Laguna Beach, enchanted with blue waters, soft sand, and an aesthetic art scene. 
Laguna Beach is one of the most unique beaches in the US, with a vibrant art scene featuring beautiful art pieces from the Laguna Arts District and Laguna Art Museum, on top of the stunning natural landscape known as Top of the World.
The secretive coves, untouched seaside cliffs, and miles of shoreline make it the perfect getaway for a couple or the ideal spot for families.
Aside from building sandcastles and swimming in its blue waters, kids and adults can visit injured rescued wildlife at the Pacific Marine Mammal Center.
Whether you're staying at the luxurious Montage Laguna Beach or the seaside The Inn at Laguna Beach, you'll find magnificent views of the pacific views, and they'll only be a minute's walk from the glistening water.
5. Clearwater Beach, Florida 
Florida has earned another spot in its top ten list with its stunning crystal blue waters, white sandy beaches, and the charming beach town of Clearwater.
Clearwater beach is located on Florida's gulf coast and hosts a ton of family-friendly activities besides swimming in its ocean and soaking up the sun. The Clearwater Marine Aquarium is an exciting experience for everyone, teeming with wildlife that will intrigue your kids.
Clearwater's beaches are so inviting that many opt to stick with refreshing boat rides from The Sea Screamer and Mega Bite Shark Boat. However, the city's nature scene is just as exciting for the whole family, with nature trails filled with wildlife and exquisite scenery.
It's no surprise that tourists see Clearwater as one of Florida's most popular beaches with affordable hotels, clear waters, tasty treats, and exciting adventures fit for the whole family (or solo travelers).
6. Myrtle Beach, South Carolina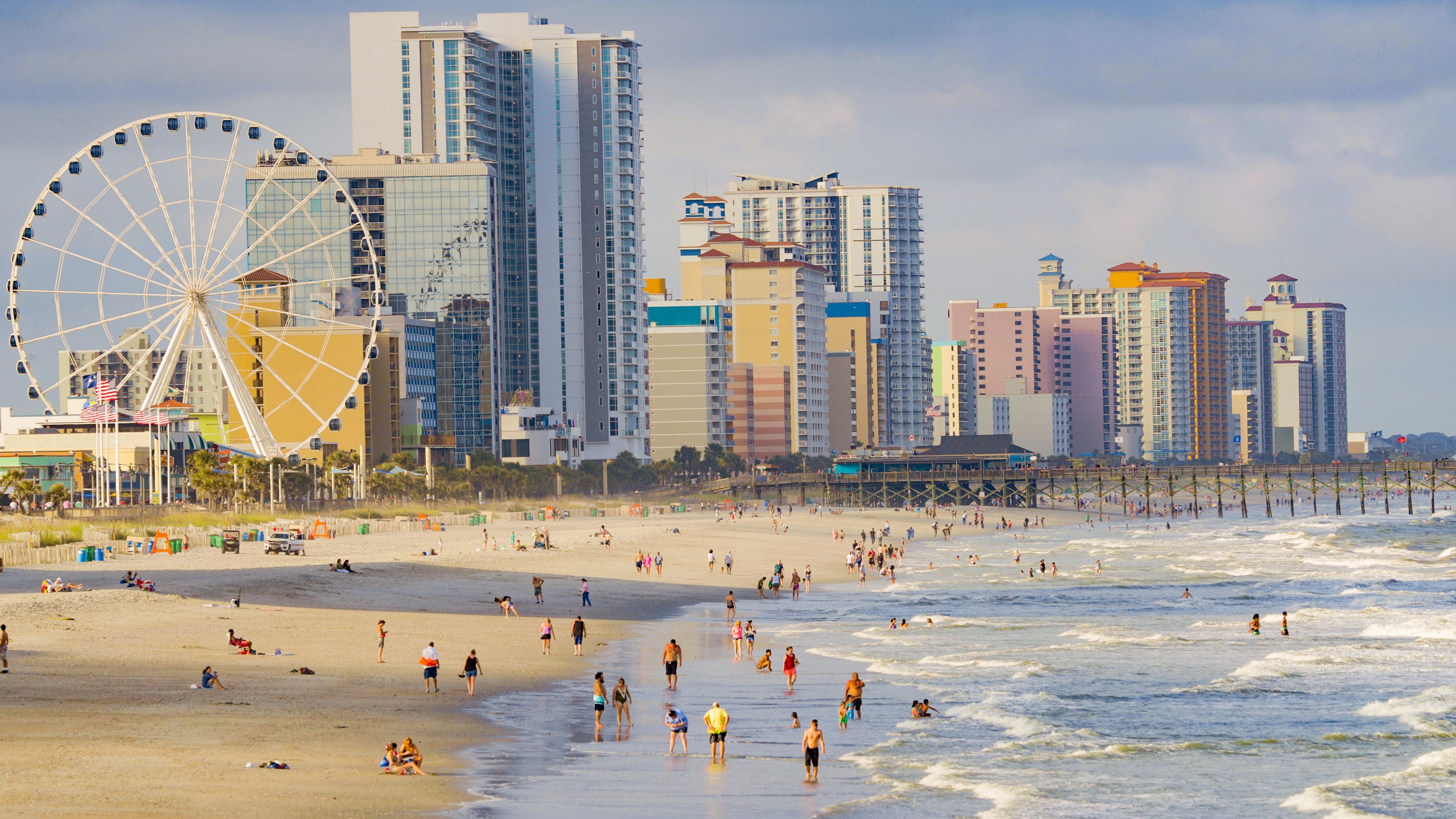 The pacific and gulf coasts aren't the only ones to house beautiful beaches. Right on the Atlantic coast sits Myrtle Beach, a town located in South Carolina that holds every visitor's eyes captive when they take in the views. 
Myrtle Beach offers plenty of things to do that will entertain both adults and kids from sun up to sundown. Ripley's Aquarium offers a completely wild experience with close encounters with the Amazon's piranhas and birds and the Dangerous Reef's tunnel of sharks.
You and the family can even race go-karts, see spectacular live performances at the Alabama Theatre, explore water parks, or splash around in the ocean!
Finding the perfect beach resort won't be difficult since this coastal town's beauty and affordability (as low as $95 a day) are enough to rival the beaches in Florida.
7. Honokalani Black Sand Beach, Hana, Hawaii
Looking for a bit of privacy and quiet on your vacation? Then, we've got the perfect choice for you: Honokalani offers up one of Hawaii's most amazing black sand beaches located in Wai'anapanapa State Park, Hana.
The name is quite a mouthful, but its seclusion and peculiar black sand make it the perfect location for a more private getaway. Its sparkling blue waters create a mesmerizing contrast against the black sand and green foliage behind it, ideal for capturing memories!
The unique little spot offers abundant nature and private cabins in addition to cafes and gourmet bakeries that are perfect for an early morning breakfast or late lunch. You can even explore Hana's nature by traveling through trails and secret coves.
There are tons of airlines that fly to Hawaii, so finding your way there won't be much of a problem. If you or your family are looking for a secretive getaway, then this black sand beach and dazzling blue water is the way to go.
8. Carmel Beach, Carmel-by-the-Sea, California 
One of California's most stunning beaches is located in the charming town of Carmel. Carmel Beach is both a surfer and dog's paradise, with rolling waves that pop up frequently and instant access for friendly pets.
Carmel Beach's crystal clear water is still safe enough to swim in, as long as visitors swim responsibly and mind the water conditions.
Carmel-by-the-Sea offers an abundance of hotels and inns to choose from, all at an affordable price. Guests fall head over heels for the European-style accommodations with gorgeous plants and village-style streets.
Carmel Beach satisfies every member of the family, with historic walking tours, art experiences, hiking, and cozy shops.
If you're looking to find that European vacation vibe (without actually going there), then Carmel Beach has all you need.
9. Smathers Beach, Key West 
Many people dream of vacationing out in Key West but hardly ever choose to make it a reality. Smathers Beach is arguably one of Key West's most beautiful, clean, and relaxing beaches.
Its waters are calm, peaceful, and serene, making it the perfect place for parents to relax and their little ones to splash around.
If hunger strikes, you can go right down the road to Paradise Cafe or Tin Cup Chalice Bar and Chill. After you munch on some delicious food, you and your family can explore more than just the dreamy waters of Smathers Beach, like Key West's Historic District.
Key West's accommodations are the cherry on top, with beachfront condos, whole houses, and affordable hotels ranging from $150 and up! So, rent a chair and umbrella, play sand volleyball, swim in the cooling waters, and enjoy a lovely relaxing trip to Smathers Beach.
10. Cannon Beach, Oregon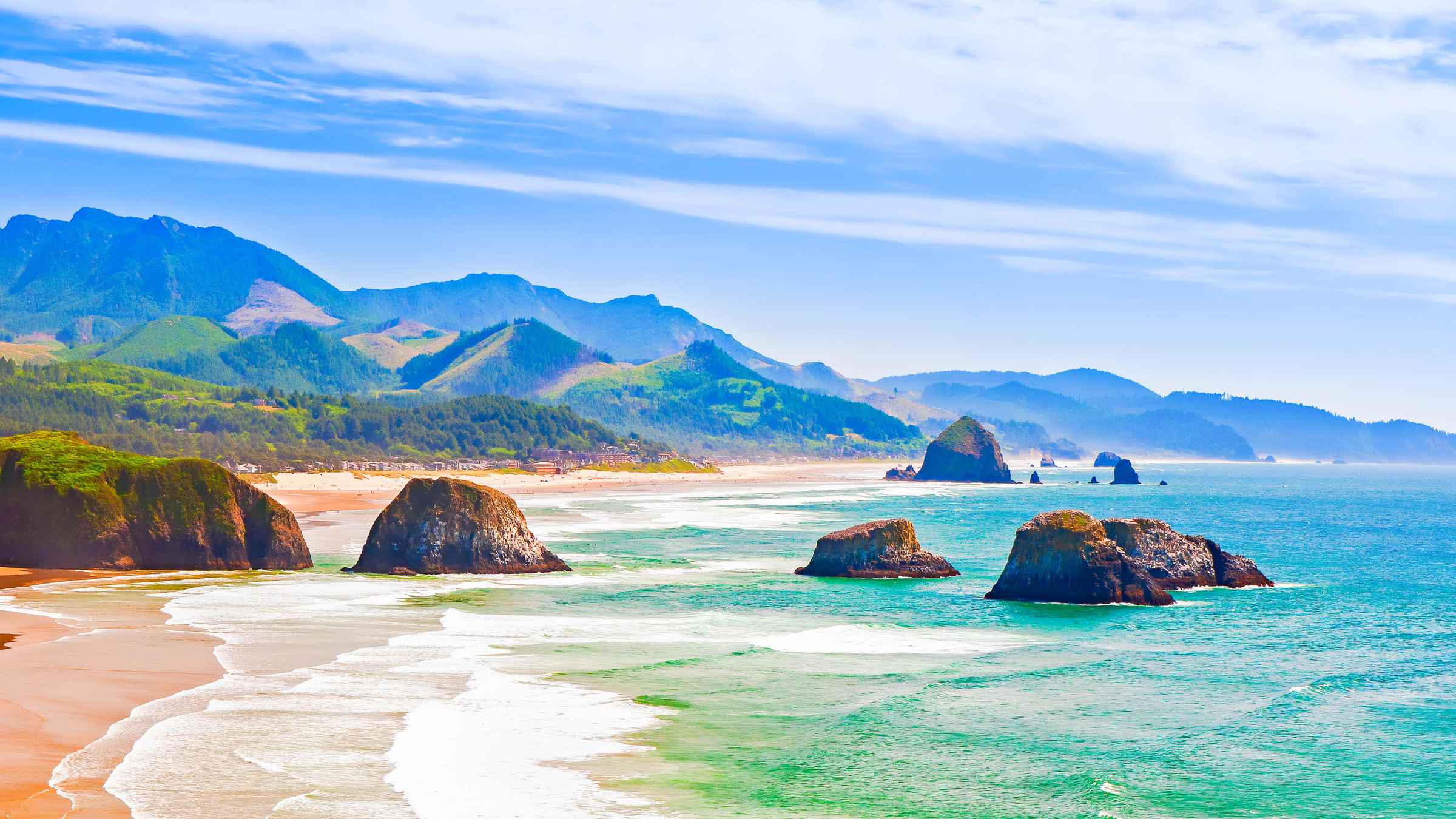 Most people don't see Oregon as a state that has beaches worth visiting (or beaches at all). But this state is located on the Western Coast, and therefore, does have some breathtaking oceanic views, especially on Cannon Beach.
Your family can stroll miles down the beaches and explore Ecola State Park, one of Oregon's most beautiful nature escapes. Cannon Beach also offers a lively art scene, with the city hosting multiple festivals and family events throughout the year.
This beach offers hotels, inns, resorts, home rentals, and more to satisfy travelers of any size and kind. For luxury and European style, book your stay with the Arch Cape Inn & Retreat, or for more beachy views, consider staying with Surfsand Resort.
Named by National Geographic as one of the world's 100 most beautiful places, its walking tours, miles of beautiful shores, and iconic Haystack Rock make it worthy of a visit.
Where Will You Go Next?
If you're stuck on a choice, don't worry because each of the beaches in this list, from the private black sands of Honokalani Beach to the bustling white sands of Destin, have their own ways of charming visitors.
All are great options for families and travelers looking for a combination of adventure and relaxation, with a high selection of food and activities.
Those looking to get away from the typical US fashion of accommodation will devour Carmel-by-the-sea and Flamenco Beach. For visitors with an artist's soul, Laguna Beach is a no-brainer!
And families looking for that extra bit of space and privacy will find solace in Hawaii's Honokalani Beach and Key West's Smathers Beach.
So, no matter which of the beaches you decide to pack up and venture to, there will be affordable accommodation, a plethora of fun activities, heavenly food, and gorgeous crystal clear beaches waiting for you.
More about our TFVG Author
A seasoned traveller, Dad, and avid sports tourist, James foundered The Family Vacation Guide to share his expert vacation experiences- especially when it comes to being a travelling family man.
Featured in Travel articles such as Travel + Leisure, TripSavvy and SFGate, you know you're reading some of the best vacation tips online.