Are you looking to plan a luxury vacation for the whole family in Florida?
Why not consider a trip to iconic Miami and experience one of the nation's cultural capitals? The city offers stunning ocean views, white sand beaches, and bustling nightlife.
The city is also home to an active artistic scene that extends to incredible art deco buildings and designs.
Along similar lines, when planning your stay, a great feature of Miami is its vast array of boutique hotel offerings. With a combination of stylish flair and modern contemporary comforts, the Miami hospitality scene will make your stay memorable and immensely relaxing.
If you want a hotel that is an experience in and of itself, then look no further than our list featuring the best boutique hotels in Miami.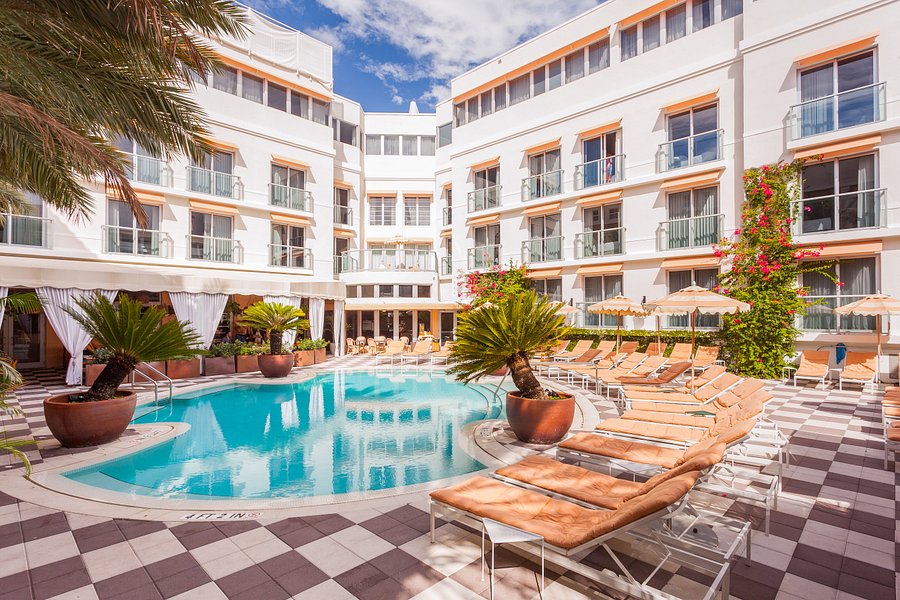 The Plymouth jumps out at you the moment you walk- through the door with its unique award-winning interior designs. This boutique hotel is far from a cookie-cutter chain providing a combination of visually stunning art-deco designs and high-class luxury that will leave an impression long after you check out.
The hotel offers an assortment of rooming options, including larger options that incorporate families. Amenities include a gorgeous pool with plenty of lounge chairs, a fantastic sushi restaurant, and its own private beach.
There are always ongoing events at the Plymouth, including yoga on the beach and cinema by the pool (with early nightly screenings for kids). Located right in the heart of vibrant South Beach, the hotel offers the right mix of luxury with family-friendly activities.
The Betsy Hotel is another beachfront gem located at the end of Ocean Drive. It offers stylish comfort with an array of dining options. Rooms come in all shapes and sizes, including deluxe and suite options with balcony options available. There is also a rooftop pool with a sundeck and tons of lounge chairs.
While the Betsy Hotel offers plenty, what makes this one of the best boutique hotels in Miami for families is its location. Betsy Hotel is firmly positioned in one of the country's cultural capitals with a vast range of diversity and eclectic artistic, cultural expression, including live music and outdoor exhibitions.
There is a ton to explore along South Beach, including no shortage of bars and delicious dining options. The hotel staff is also highly knowledgeable and can help you craft trips around the surrounding area. This includes an accelerated "24-hours in Miami" itinerary that takes you to several of the city's most popular attractions, incorporating family-friend activities, including a trip to the Miami Children's Museum.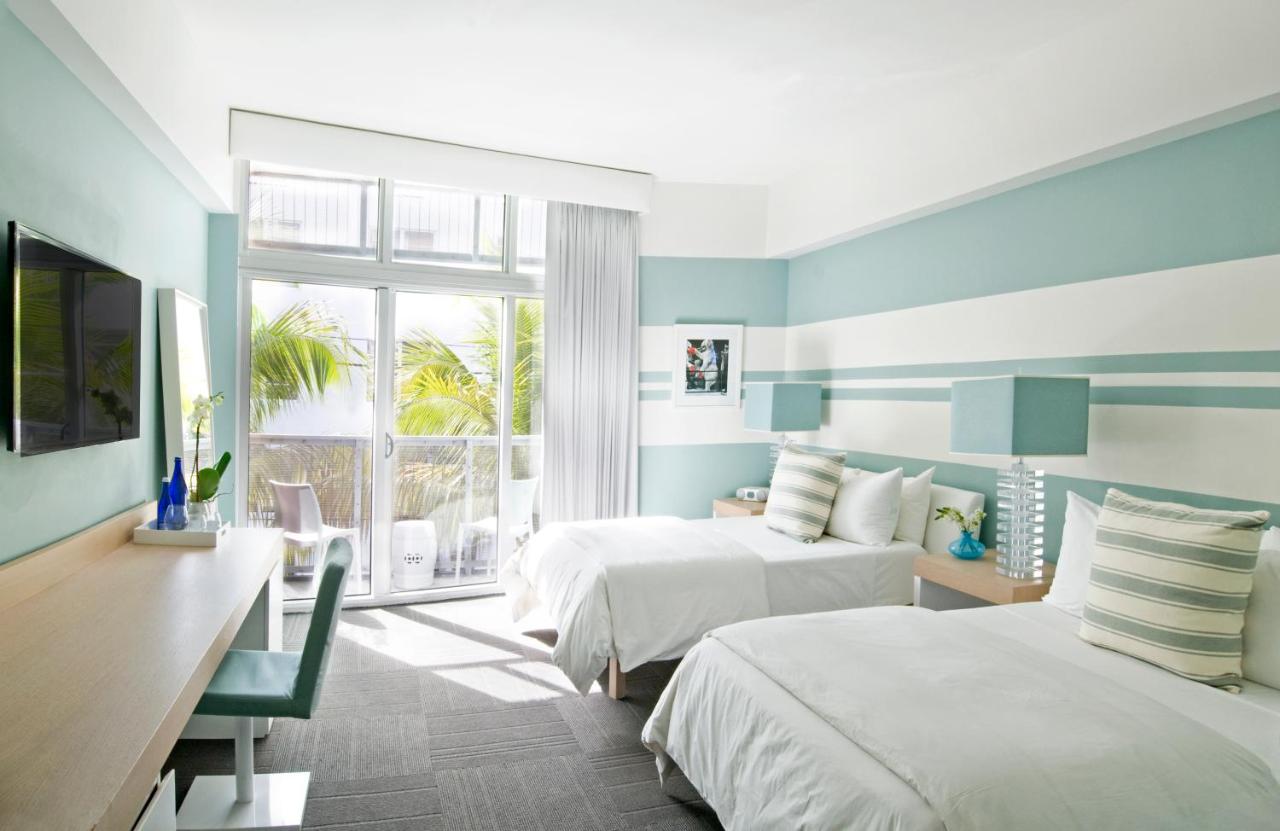 Another excellent option to consider is the Local House, a family-friend oceanside retreat that offers stunning views and maximum relaxation. Kids will love the easy accessibility to the beach and shoreline, providing limitless outdoor fun. Aside from the beach, there is plenty for guests to explore nearby, including the historic Art Deco district, the Bass Museum, and the Vizcaya Museum & Gardens.
If you are looking for one of the best boutique hotels in Miami that provides a homey vibe, the Local House is a great option to consider. The Local House offers comfortable deluxe-sized rooms with ocean and city views, with private balconies available upon request. The hotel offers complimentary breakfast, yoga classes, and a rooftop pool. You are always welcome at the Local House with special deals available for returning guests.
Lennox Hotel brilliantly meshes upscale luxury with maximum comfort to create a unique/stylish environment and world-class modern amenities. The hotel offers plenty of fun activities for all ages and comes equipped with a state-of-the-art swimming pool, excellent five-star dining, a lounge, and watersport rentals. There are multiple rooming options, including deluxe and superior options for families, as well as balcony options.
Lennox is ideally situated right in the heart of South Beach, a short walk from the beach and many of Miami's other top attractions. The welcome setting, phenomenal customer services, and no shortage of nearby options rank it among the best boutique hotels in Miami for families.
Suppose you're looking for an unpretentious vibe that doesn't cut back on maximum comfort. In that case, the Circa 39 hotel is easily one of the best boutique hotels in Miami with an international flair.
The hotel is located just a stone's throw from Miami Beach and features plenty of nearby local attractions that are excellent for families. Possible activities include exploring the great outdoors at Oleta River State Park, nearby museums, Little Havana, outdoor yoga, and a vast range of diverse dining options.
There is also plenty to do at the hotel, with some spectacular amenities that include a swimming pool/sun deck, lounge chair and umbrellas, fitness rooms, and a courtyard. The Circa 39 provides a friendly laid back vibe in a perfect setting, making it a worthy consideration for families looking to explore the area.
If you are looking for one of the best boutique hotels in Miami that places added emphasis on relaxation, the Standard is an excellent option to consider. Located on Belle Isle, just off the Miami Beach shoreline, the hotel is located in the heart of the action with beautiful panoramic views.
The hotel brands itself as "less of a hotel and more a spa with guest rooms," providing gorgeous grounds that feature tropical gardens, tranquil rooms, and private balconies. It is an excellent option for those looking to unwind with both outdoor and indoor soaking tubs, expert yoga practitioners, and deciduous dining at the Lido Bayside Grill.
The Standard is a relaxing option that offers a little something for everyone. While the spa packages cater more towards an adult crowd, the hotel does provide special packages for families with kids in mind. Some standout features for families include a spacious pool, easy access to nearby activities (including the Miami Botanical Gardens and Bass Museum), and outdoor games, including giant life-size Jenga.
The Balfour provides modern, stylish luxury with art deco designs. It is a peaceful retreat surrounded by the chaotic, vibrant energy of South Beach. There are multiple rooming options with ten family-sized rooms available. Amenities include free bike rentals, private beach access, an outdoor pool, a fitness area, and business centers.
There is plenty to do and see in the surrounding area, including all the sights and sounds found right on Ocean Drive. Other nearby attractions include Lummus Park, Espanola Way, Lincoln Road Pedestrian Mall, and the Miami Beach Convention Center.
There are several fantastic dining options in and around the hotel, including superior Latin dining at the Mehzcla Restaurant right around the corner.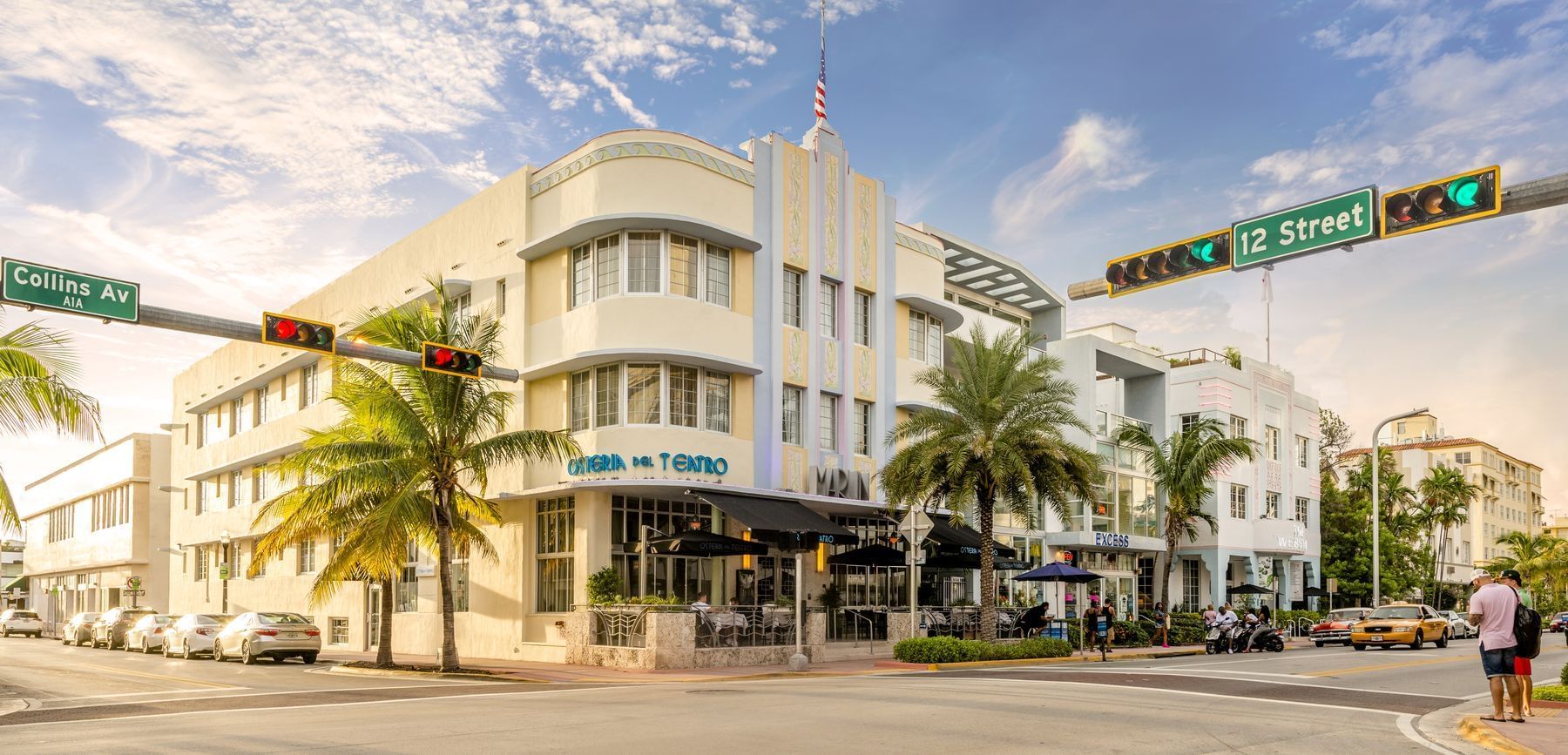 With a sleek modern design, the Marlin Hotel is up there among the best boutique hotels in Miami. The hotel is snugly tucked away on Collins Avenue, just two blocks from the beach, and firmly entrenched within the city's shopping, nightlife, and entertainment districts. The Marlin's laid-back vibe makes it an excellent option for families with an assortment of rooms & suites to match all accommodation needs.
The hotel offers excellent in-room amenities, including a 55-inch flat-screen 4K TV, IHome play center, and spa-quality robes and slippers. The hotel is also pet-friendly.
The Marlin also provides world-class dining options, with Osteria Del Teatro ranking among the best Italian restaurants in the entire city. You can't beat the ideal location of the Marlin hotel with a neighborhood that captures the beat of the town. The Marlin strikes the perfect balance of relaxation and intrigue.
The Savoy Hotel & Beach Club is a quiet oceanfront oasis located right in the heart of South Beach. With two acres of serene private grounds, it is one of Miami's best-kept secrets offering stunning coastline views and fantastic interior designs. One major highlight is the outdoor bar and patio, making for great lounging and relaxation while enjoying the sea breeze.
All rooms are beautifully furnished and spacious with bright colors and streaming sunshine, overlooking the ocean. Amenities include two outdoor pools, multiple dining options, and access to the beach club. There are also balcony rooms available upon request.
With its intimate, exclusive feel and easy access to all of South Beach's local attractions, a stay at the Savoy Hotel provides the best of both worlds with top-notch relaxation and plenty to do.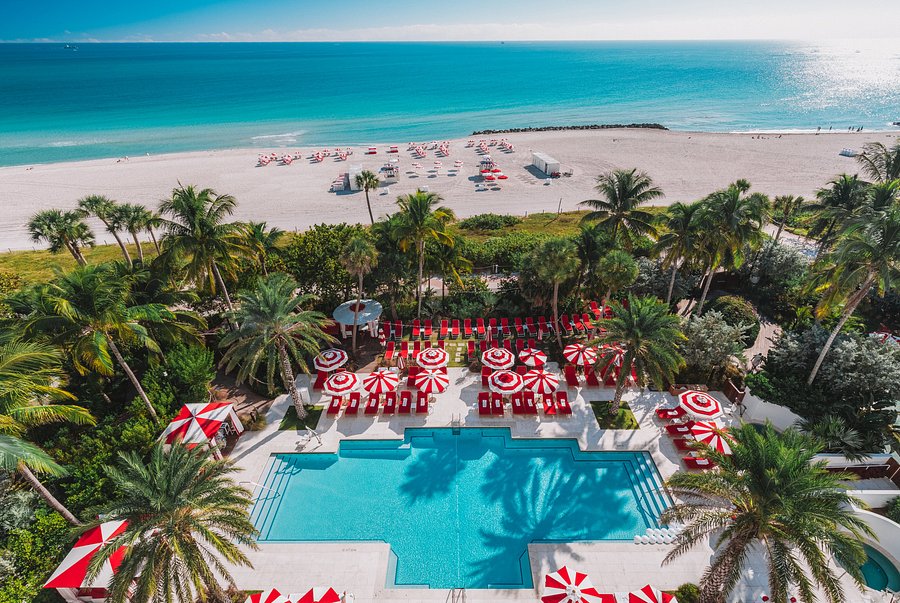 The Faena offers the height of 5- star luxury with lavish rooms and suites overlooking white sands and gleaming ocean. The hotel offers a relaxed setting and modern amenities for all age ranges. Art-lovers will enjoy the rotating exhibitions and theater that features tons of live performances throughout the calendar year.
If you are simply looking to unwind by the water, you can head down into the palms by the private pool or head over to the beach (right downstairs) for fun water sports activities. Faena is located right in the heart of South Beach, making other local offerings easily accessible.  
The Kimpton Angler pays tribute to the nearby Art Deco District with an elegant architectural space that begins in the lobby as soon as you walk in and is constant throughout the grounds. The rooftop pool and sundeck with phenomenal panoramic views are among the hotel's best features.
The hotel is located just two blocks from the beach and provides easy access to beachfront and water sports activities. The hotel offers a range of diverse rooming options that are great for families, including suites, villas, and poolside bungalows. Other amenities include bike rentals, spa packages, and the renowned Bowers & Wilkins airplay speakers.
With plenty of rotating ongoing events and numerous artistic tributes throughout the grounds, a stay at Kimpton Angler's will leave you with a unique and memorable experience, making it easily one of the best boutique hotels in Miami.
The Novotel Miami Brickell provides a nice change of pace, located right in the heart of downtown Miami. While its location and offerings have earned it a strong reputation with business travelers, several features make it ideal for families as well. 
It is definitely on the more affordable side than some of Miami's other best boutique hotels, with larger rooms and suites available. There is a rooftop pool that provides exceptional views of the city skyline and Miami Bay. There is numerous transportation to travel throughout the city, making it an excellent choice for tourists.
While it lacks some of the bells and whistles other locations on this list have, the sleek and intelligent interior designs provide a relaxing vibe making it a great home base to explore the rest of the city from.
Urbanica The Meridian is a global chain with Miami and Buenos Aires locations. Its Miami Beach locations provide exceptional customer service, including concierge services, beach services, and transportation assistance. Amenities include a pool, sundeck, and comfortable lobby/lounge areas.
Each location is constructed with unique art deco designs with a ton of charm and character, well-fitting seamlessly within the neighborhood, providing local flair and modern comfort. In addition, there are some exceptional dining options at the hotel and in the surrounding area, including Orilla Bar & Grill.
Urbanica The Meridian captures the very essence of Miami Beach, making it a pleasant stay with a lot to offer.
One an artist colony, the refurbished Esme Miami Beach Hotel is one of the more uniquely artistic hotels you will find. The hotel brilliantly balances its creative roots with modern comfort and luxury with fantastic amenities, including a rooftop pool, fine dining, and a beautiful lounging area.
Rooms provide both artistic charm and comfort with meticulous attention to detail. Each room is equipped with high-speed Wifi, and a 43" High-Definition Smart TV and more spacious options are available for families.
There is a seemingly neverending list of weekly events at the Esme, including guest artists, live jazz, DJs on the roof, and weekday happy hours. If you are looking to unwind in an unorthodox artistic setting, the Esme is the perfect choice with plenty to do nearby.
Mr. C brings you the height in modern luxury with fantastic panoramic views of the city, including Biscayne Bay and Coconut Grove. Rooms are brilliantly furnished for a clean contemporary look and ideal comfort.
Amenities include a rooftop pool, state-of-the-art fitness center, a wellness club & spa, and fine dining. There are some excellent nearby attractions for families to explore, including Peacock Park, which makes for awesome bike riding. There are also several nearby local art galleries and exhibitions.
Mr C is one of the best boutique hotels in Miami to experience local culture while treating yourself to five-star service and maximum relaxation. The stunning ocean views don't hurt either.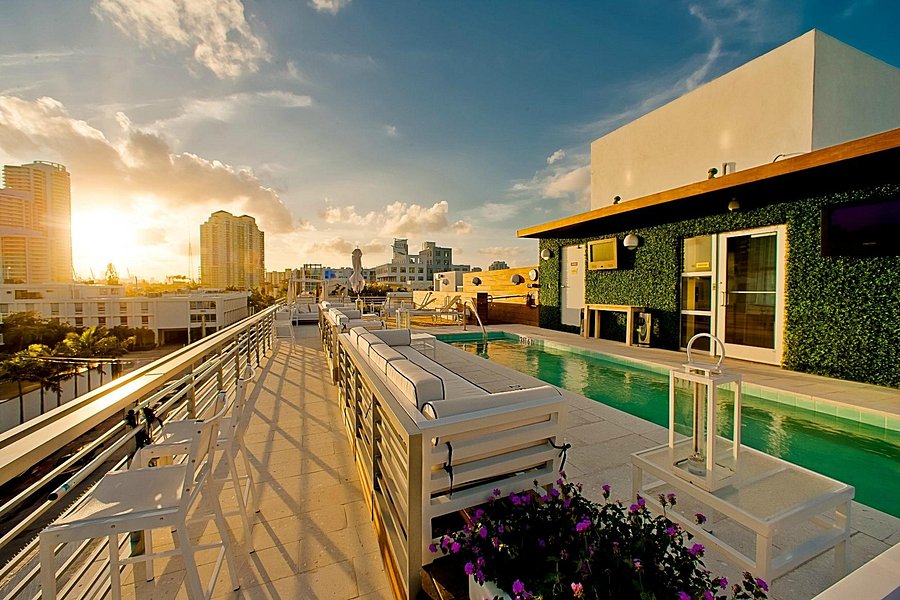 Prime Hotel is a great way to escape the hustle and bustle of the city and kickback. Although slightly more scaled back than several of the other options on this list, the hotel does not sacrifice quality with 14 unique custom-designed rooms with floor-to-ceiling windows.
Food lovers will be excited by the array of options as the Prime Hotel offers four different dining options for your consideration. Seafood and Italian cuisine feature prominently and are among some of the best in the city.
If you are looking for easy access to plenty of local attractions before returning to a laidback setting with fine dining, then the Prime Hotel makes for a great option.
The Leslie Hotel offers an exciting and vibrant experience right on the world-famous Ocean Drive in South Beach, with easy access to the ocean and local bars and restaurants. Despite the commotion outside, the Leslie provides the height of relaxation. Enjoy ocean views as you kick back in luxury.
Amenities include a rooftop pool with a hot tub and sunbeds, a gym, and a business center. There are multiple rooming options to match your needs, with the Leslie Queen providing an exceptional choice for families.
The proximity to Miami Beach helps make the Leslie Hotel a significant draw and one of the best boutique hotels in the city with a vast range of amenities and nearby activities. There is also plenty of flexibility to accommodate families of all shapes and sizes.
Plan Your Trip to Miami
Miami ranks among the top ten tourist destinations in the country with warm weather and a neverending list of local attractions.
There is plenty to do and see in Miami and a plethora of exciting places to stay. With some exotic boutique options, a trip to Miami provides the added twist of staying somewhere outside the box that creates its own unique experience.
Start planning your trip today and scroll through the extensive list of boutique hotel options. Experience modern luxury and all Miami has to offer.
More about our TFVG Author
A seasoned traveller, Dad, and avid sports tourist, James foundered The Family Vacation Guide to share his expert vacation experiences- especially when it comes to being a travelling family man.
Featured in Travel articles such as Travel + Leisure, TripSavvy and SFGate, you know you're reading some of the best vacation tips online.