Millions of tourists travel the world to catch a glimpse of royal castles. Florida is home to picturesque beaches and world-renowned theme parks, but it's home to castles too.
Castles might not be the first thing that comes to mind when visiting the state, but they are fascinating areas to explore, take stunning pictures, and even hold destination weddings.
Their architecture, rich history, and nature mimic the famous European castles in almost every aspect, so you never miss out on anything. Here's a roundup of the best Castles in Florida.
Coral Castle
Carved from 1,000 tons of coral rock, the Coral Castle has a fascinating history. Edward Leedskalnin, the designer, built the castle to pay homage to his lover, who had canceled their wedding ceremony a day before.
He had harvested large blocks of coral rocks on his property, but the process used to build this castle remains a mystery. Some people attribute it to supernatural powers. However, Edward explained that he used masonry skills used to construct pyramids and techniques passed down from the stonemason lineage.
At the entrance is a sign with the writing, "You will see unusual accomplishment," and a nine-tone gate ushering you into the fascinating nature of the castle. There are huge carvings, tables, a throne, rocking chairs, and a bathtub made from pure stone. Edward lived in the castle until 1951 when he passed on.
Cinderella Castle
This roundup of the best castles in Florida isn't complete without mentioning Cinderella's Castle. It's not just a fairytale in Disney's princess-themed cartoons – it's an actual castle. The castle is a great place to start a trip to the Magic Kingdom Theme Park during the day. At night, this castle stuns with a breathtaking fireworks display.
If you stroll into the castle, you'll notice stained glass windows reminiscent of Cinderella's rags-to-riches story. If you walk further into the castle, you'll find the Bibbidi Bobbidi Boutique and the fairy Godmother who transforms you into a prince or princess.
A stroll around the castle and the park may leave you hungry, so a stop at Cinderella's Royal Table may be what you need to replenish your energy. Visiting this castle is the perfect adventure for families.
Castillo de San Marcos St. Augustine
Located on the shores of St. Augustine's Matanzas Bay, this castle takes on the appearance of a fort. It was constructed in 1672 to replace the original wooden fort and serve as the new military base. Castillo de San Marcos is made from semi-rare stone composed of coquina, which gives it a distinct appearance and long-lasting nature.
Although it was never conquered, many cultures have occupied the fort, including:
The Spanish
The Americans
The Britons
Most people believe the soft, porous stone walls make it last longer.
Coquina is a hardy structure that can absorb blasts of projectile cannons. As a result, ammunition gets stuck in the walls preventing an explosion. This fascinating construction draws travelers from far and wide to Castillo de San Marcos. If you love history, this castle is the perfect place to visit.
Solomon's Castle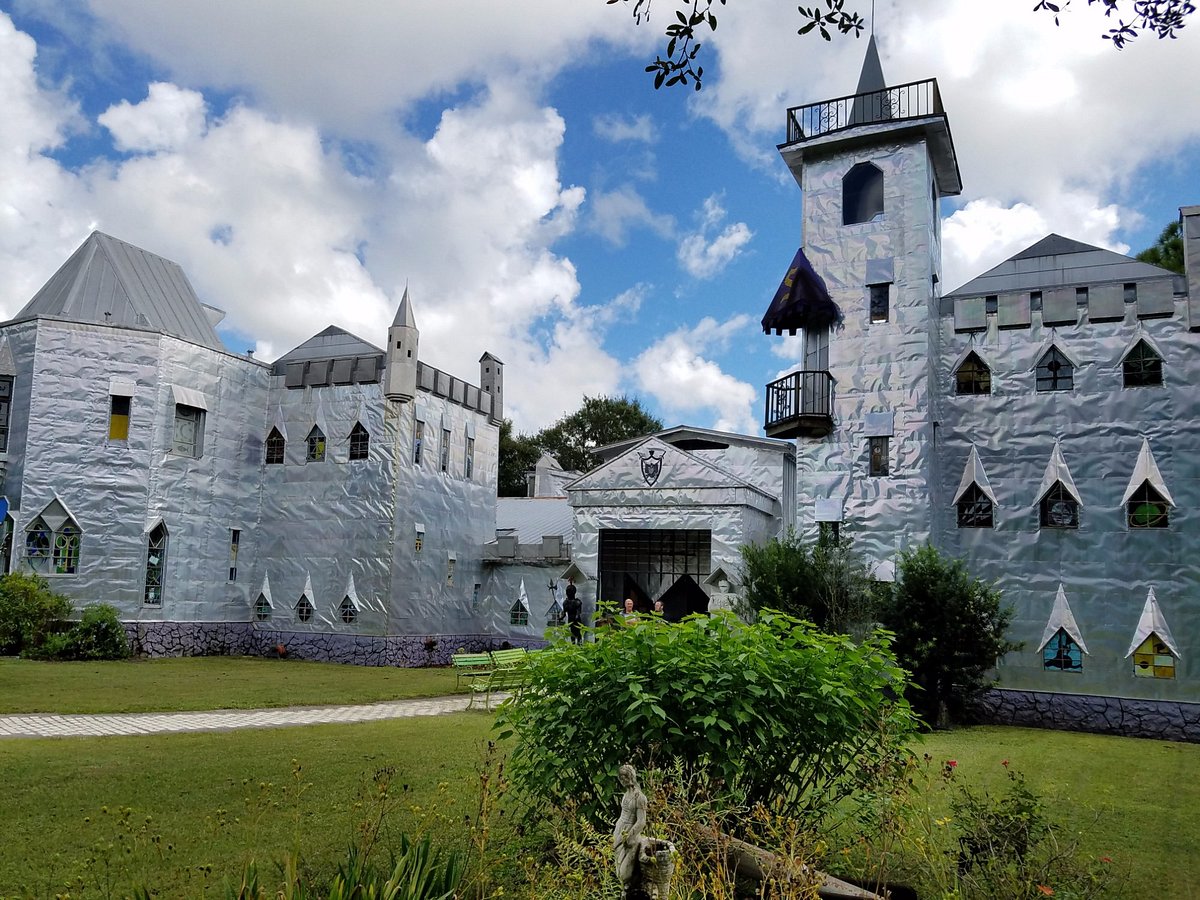 Tucked away in swampy Central Florida is the gleaming Solomon's Castle. Howard Solomon built the castle using aluminum to showcase his profound masonry skills. The exterior features shiny silver metal printing plates, while the 80 stained glass windows give this castle its characteristic medieval look.
Solomon used the castle as his home, workshop, and gallery as he offered guided tours to visitors. Besides the castle's unique construction, the vast collection of artwork created from reclaimed materials is a major draw. The art collection includes steampunk figurines and unique animal sculptures.
The castle's remote location could make it difficult to access nearby restaurants. Still, you can dine at the 60-foot boat and lighthouse, offering a medieval-themed menu including sandwiches, salads, and hot plates.
Loews Don Cesar Hotel
Initially envisioned as a Pink Castle, the Don Cesar Hotel takes you back to the jazzy 1920s. The castle was constructed in 1924, featuring a mix of Mediterranean and Moorish styles. It features:
Red clay tile roofing
Tower-like stories
Arched openings
Balconies
The hotel was opened in 1928 but was later transformed into an army hospital in the 1940s. Years of neglect rendered it a potential candidate for demolition until a hotelier offered to renovate it.
Today it has a large pool, spa, and stunning seaside views. Its iconic construction has attracted famous figures like Scott Fitzgerald.
Castle Otttis
Castle Otttis is another famous castle in St. Augustine based on old Irish castle architecture. Rusty Ickes and Ottis Sadler built it for three years, caring for all the masonry without additional labor.
The final result was a 50-foot-tall stone castle built to express spiritual and artistic devotion. The exterior features exquisite woodwork complete in pinewood and cypress, while the interior is adorned with elaborate staircases, a series of pews, a pulpit, and a bishop's chair.
You'll also notice that none of the windows have glass to allow air to flow freely. Unlike other castles designed for public view that display historic relics, Ickes and Ottis wanted to create a work of art that would evoke the spirit of an old Christian church or Irish abbey.
That's why the castle is never open for public view; rather, you can visit by appointment. It also hosts a public interdenominational Christian worship service on the last Sunday of every month.
Castle Warden
Remember Ripley's Believe It or Not? The 60-minute investigation explaining bizarre objects and activities showcased the Castle Warden. The castle has, however, changed hands over time since its construction in 1887.
Initially, it was a twenty-three-room winter home for William Warden and his family. Later, it was transformed into a hotel before Robert Ripley acquired it in the 1950s. Ripley converted it into an auditorium where he would store bizarre artifacts.
He has since died, but the desire to showcase the weird collection lives on. His heirs bought the estate and transformed it into a Ripley's Believe It or Not! Museum, which is open for public view.
Besides viewing the unusual objects, you can explore the unique Moorish architecture. If you're into spooky stuff, Warden Castle makes a great place to visit too. It's believed that it's a focal point for ghost hunters, who ride ghost trains from the castle to the city.
Casa Monica
Located a few miles from Castle Warden, Casa Monica is more of a luxury resort than a castle. But, it has many features that create the illusion of an age-old castle, thanks to the Moorish architecture.
The castle was built in 1888 by Henry Flagler, a railroad pioneer, and Standard Oil co-founder, adding to the iconic landmarks in the city. After the 1932 Depression, the hotel closed shop leaving it vacant until 1968, when it was transformed into a courthouse.
Casa Monica underwent another conversion in 1997 and re-opened in 2000 as a luxury hotel. Visitors come here to relax and explore its impressive white stone entrance, spacious suites, historic charm, gold-leafed archways, and Spanish-themed tapestries.
Hogwarts Castle
Are you a fan of Harry Potter or J.K. Rowling? A visit to Hogwarts Castle provides the ultimate experience of your favorite wizard. Located near Hogsmeade village in Universal Orlando Resort, the lofty castle looks as if it's sitting atop a small mountain.
The castle was designed after the famous Alnwick Castle, which features in one of the Harry Potter films. It features a blend of architectural styles, including Gothic-style lancet windows, turrets and windows, and Romanian towers.
The interior is equally stunning as it showcases most of Harry Potter's relics, including the Sorting Hat and the Triwizard Cup. You'll also find moving paintings that talk back at you. If you plan to visit during Christmas, you get to enjoy the castle's most breathtaking views as faux snow forms on the rooftops.
Villa Zorayda
If you're big on exploring Moorish-themed castles, Villa Zorayda Castle should be added to your list. Located in the downtown area of St. Augustine, the castle was constructed in 1883 by renowned millionaire Franklin Webster Smith.
Franklin wanted to bring Spain to St. Augustine, and the best way was to build the castle. He set a precedent for Spanish-inspired architecture in St. Augustine, and many other castles built after Villa Zorayda followed suit.
Initially, the castle served as his home, but it was converted into a club and restaurant, then into a casino. It was later shut down and declared a national landmark.
A visit here takes you on a journey of exploring bizarre artifacts, including the sacred cat rug, which is said to be more than 2400 years old. The interior is also fascinating as it's dotted with many pieces of furniture, including hand-painted wood tiles, mosaics made from stained glass, and detailed fireplaces.
Whitehall Mansion
Want to experience traditional Italian architecture? Head to Whitehall Mansion in Palm Beach. Henry Flagler, the famous railroad magnate, built it as his private residence. The mansion has 75 rooms featuring unique Beaux-Arts architecture.
The interior has walls, columns, and floors made from marble. The breathtaking murals accentuate the high ceiling.
There's also an open-air courtyard at the residence's center, which makes a great picnic spot. The courtyard's Spanish and Italian-inspired architecture adds to the mansion's elegance. You can visit the castle or even take a virtual tour of the property.
Fort Jefferson
History buffs will love visiting one of the biggest fortifications in the United States – Fort Jefferson. The Fort comprises a six-sided building made from 16 million red bricks and a lighthouse built on the Garden Key to warn sailors.
Located in the Dry Tortugas National Park, Fort Jefferson allowed ships to seek refuge, resupply, and refit their arms too. Its strategic location on one of the busiest shipping lanes was its greatest asset.
The location meant that soldiers could seek refuge from their enemies and remain unnoticed. A visit here allows you to explore the gun rooms, prisons for the captured deserters, and casemates which were the backbone of the Fort.
Final Thoughts
You don't have to restrict your vacation to beaches and theme parks when in Florida. With our list of the best castles in Florida, you can try something new. The unique construction, intricately designed artifacts, and scenic views of these castles allow for endless exploring.
Whether you're a history buff or an architecture lover, you should plan to visit a castle during your next trip to Florida.
More about our TFVG Author