Every Harry Potter fan needs to visit the Wizarding World of Harry Potter at Universal in Orlando. You get the opportunity to step into the stories and see the imaginative world that wizards inhabit come to life around you. Even for people who aren't huge Harry Potter fans, the parks offer a range of enjoyable activities and experiences that everyone can enjoy.
With so much to see and do, it's critical to plan your trip carefully. That's where this guide comes in handy. We'll start with an overview of the two parts of the Wizarding World: Hogsmeade at Universal's Islands of Adventure park and Diagon Alley in Universal Studios, Florida.
Next, we'll discuss the things you need to do before you go to plan your visit correctly. Then we'll detail everything to see and do at each of the parks, provide sample itineraries, and even include some of the other highlights of visiting both parks. Let's take a look.
A Brief Overview of The Wizarding World of Harry Potter
The Wizarding World of Harry Potter is split between two distinct lands, one in each of Universal's two theme parks in Orlando. We'll tell you right off the bat. You'll need to purchase admission to both parks to access both lands. It's pricey, but most visitors agree that it's worth it.
Hogsmeade: Universal's Islands of Adventure
The first phase of the Wizarding World opened was Hogsmeade, which opened in 2010. Hogsmeade is a fictional village officially introduced to fans in Harry Potter and the Prisoner of Azkaban, the third installment in the seven-book, eight-film series of the Harry Potter saga.
Hogsmeade is memorable for two main reasons: it is one of the few all-wizard communities in England, and it is adjacent to Hogwarts, the famed school of witchcraft and wizardry that Harry Potter and his peers attend.
When you enter Hogsmeade, it's wintertime, when Hogwarts students frequently visit on weekends from the school. You can see Hogwarts itself above the snowcapped rooftops of Hogsmeade, a looming presence on the horizon that pulls visitors along the thoroughfares.
The two most popular attractions in Hogsmeade are Hagrid's Magical Creatures Motorbike Adventure and Harry Potter and the Forbidden Journey, located inside the castle itself. There are also several places to shop, dine, and cast spells of your own.
Diagon Alley and London: Universal Studios Florida
The second phase of the Wizarding World opened in 2014. Diagon Alley is the fictitious wizarding district in London. Accessible only to wizards and witches, this secret street is lined with stores selling everything a wizard needs, from wands to robes to spellbooks to owls.
Guests enter Diagon Alley through a seemingly normal part of the London Waterfront, the first of five areas in this part of the Wizarding World.
Even though you're still technically in the muggle world, you can glimpse evidence of the magic around you, including spotting Kreacher the house-elf in the window of 12 Grimmauld Place, the phone booth entrance to the Ministry of Magic, and the magical Knight Bus.
Enter Diagon Alley in much the same way Harry Potter himself did, where your eye is immediately drawn to the fire-breathing dragon atop Gringotts Wizarding Bank. You'll see several familiar shops in the different towns here, such as:
Horizont Alley
Carkitt Market
The dark wizard's favorite, Knockturn Alley
We've provided lots more details on all the shops and attractions below. First, though, let's look at tips and tricks for planning your visit.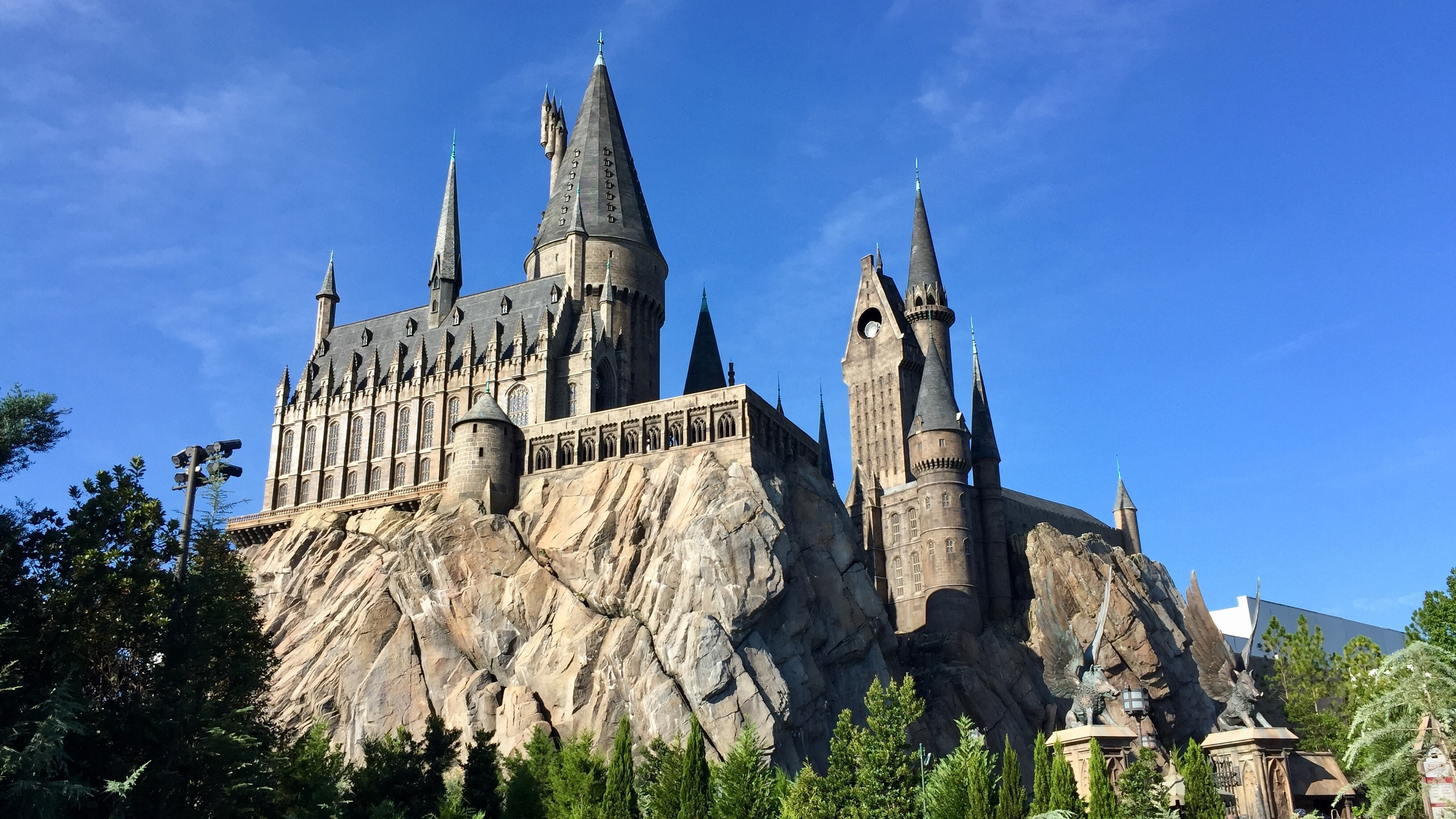 Planning Your Visit
As with any vacation event, visiting the Wizarding World of Harry Potter requires some planning, including park admission, when to visit, and more.
One essential item to note: With the ongoing and unpredictable nature of the Covid-19 pandemic, regulations surrounding masks, park reservations, park capacity, and more are constantly in flux.
At the time of this writing, Universal does not require park reservations for guests (unlike nearby Walt Disney World parks). They are requiring masks or face coverings, though. Check their website frequently before your visit for updates.
Park Admission
As stated above, to see all of the Wizarding World of Harry Potter, you must purchase admission to both of Universal's parks, since Diagon Alley and London are located in Universal Studios, Florida, and Hogsmeade is located in Islands of Adventure.
Therefore, assuming you want to see both parts of the Wizarding World, you either need to purchase a one-day two-park ticket or two one-day tickets.
Two-park, one-day tickets for adults start at $164 and $159 for children under nine. Prices may go up depending on when you want to visit. Peak times cost more money, and adult tickets can reach over $200 per day.
If you buy a two-day, one park per day ticket, prices start at $107 for adults and $102 for children under nine. Again, prices vary depending on the date of your visit. We should note that when we browsed the calendar, we went out more than six months to find a day priced under $114. In other words, planning might save money.
Of course, you can add extras to your tickets, including visiting both parks on both days, doing more than two days, or visiting Volcano Bay. Visit Univeral's park tickets page to learn more.
Can you do both Harry Potter parks in one day? Yes, you certainly can. You may not see every little thing, but it's perfectly doable to conquer both sides in a single day. Keep reading to see how.
Peak Seasons, Off-Seasons, and Special Events
When is the best time of year to visit the Wizarding World of Harry Potter in Universal? That depends on what kind of experience you want to have.
Peak seasons are certainly busier, and the parks are more crowded. However, Universal also goes all out during these times. They have full staffing, everything is open, and there are extra shows.
Peak season, when crowds are most extensive and the parks are in full swing, include:

New Year's
The week of President's Day (February)
Easter week
Summer: the end of May through mid-August
Thanksgiving week
The weeks before and after Christmas
Off-season times include:

January (aside from New Year's and MLK Day) and early February
Early May
Mid-August through September
Early and mid-November, until the week of Thanksgiving
As you plan, you may also want to think about attending special events. Christmas time is one of the best for visiting the Wizarding World. Both Diagon Alley and Hogsmeade are decked out for the holidays. There's special merchandise, shows, and best of all, a nightly spectacular with light projections on the castle.
In addition, throughout September and October, you can experience Halloween events in the Wizarding World and Universal's famous Halloween Horror Nights through the rest of the parks.
Universal Express
Another thing to consider while planning your trip and purchasing tickets is whether or not to buy Universal's Express Pass. Depending on which pass you buy, these allow you to skip the lines one or more times at many attractions in the parks. It can save a ton of time, and it almost guarantees you'll be able to ride everything you want.
Of course, a perk like this isn't cheap. The regular Express Pass, which allows you to skip the line for each attraction once, is an additional $79.99 per ticket for one park. For two parks, the price jumps to $89.99. Everyone in your party must have it to access this benefit.
If you want the Unlimited Express Pass, which allows you to bypass lines an unlimited number of times, it will cost $109.99 per ticket for one park and $119.99 for two parks in one day.
For many families, it makes more sense to buy the Express Passes than to risk having to visit a second day and pay ticket prices for an additional day. It comes down to how your family likes to vacation and what pace you want to go.
Accommodations
Unfortunately, there is no Harry Potter or Wizarding World-themed hotel at Universal. Universal has several hotels at the park itself and staying at one of their resorts grants you early access to the parks, a significant perk.
That being said, there are hundreds of comfortable accommodations in the area, including on Walt Disney World property. Browse a site like Booking.com to find the best place to stay.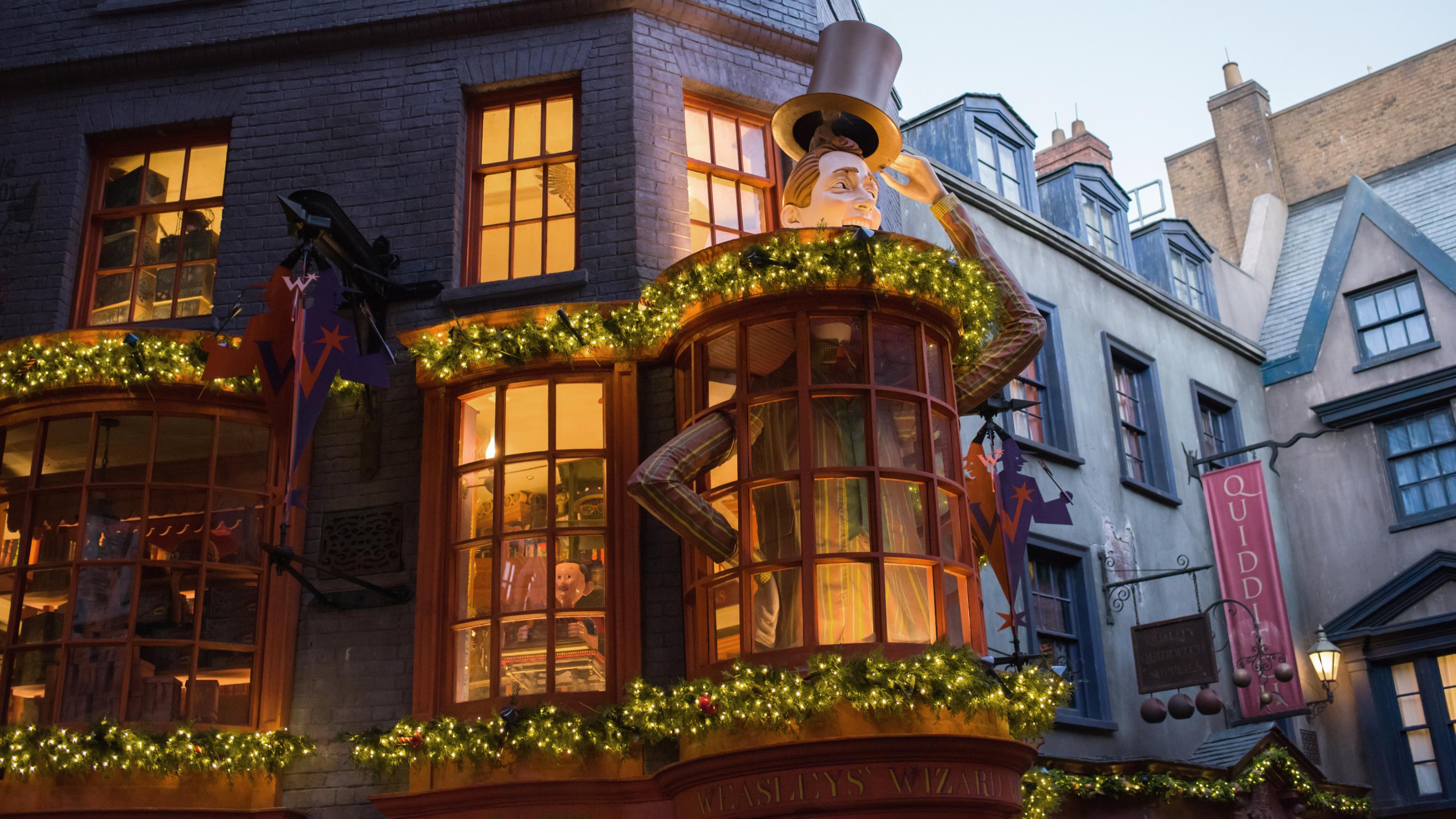 The Ultimate Guide to Diagon Alley at Universal Studios Florida
Now that the logistics are out of the way, it's time to visit the Wizarding World! We recommend starting in Diagon Alley (even though it was the second park opened) to experience it as Harry did: You begin in the muggle world and enter Diagon Alley.
Rides and Attractions
The most popular attraction in Diagon Alley is undoubtedly Harry Potter and the Escape from Gringotts. On this thrill ride, you'll join Harry, Ron, and Hermione in a cart that goes whizzing through the underground vaults of Gringotts, the famed wizard bank.
In search of an object they can use to defeat Lord Voldemort, you'll encounter some other familiar, though less-than-friendly, faces as you make your grand escape.
The queue area for this ride might be a reason to skip Express Pass. The journey through Gringotts and that entire experience is one that you'll want to take your time and savor, especially as you pass through the main hall where goblins keep watch over the wizard gold beneath.
This attraction is a thrill ride with sudden turns and drops and the utilization of simulators, and it comes with typical precautions. It also has a minimum height requirement of 48 inches.
Wands
As soon as you enter Diagon Alley, you'll see wizards and witches casting spells all around you using what appear to be real wands, and they are! Make your way to Ollivander's Wand Shop, where you can get fitted for your very own wand. Remember, "the wand chooses the wizard!"
The wand ceremony takes place about every 15 minutes (a bit less frequently during off-seasons), where Ollivander chooses a budding wizard or witch from the crowd to participate. You'll better your odds of being selected if you're toward the front and dressed in wizard robes, but it's fun to watch either way.
Wands start at around $55, and it's worth the price. There are dozens of spots throughout the Wizarding World where you can cast spells and watch the magic happen. It greatly enhances the whole experience. 
Things to See and Do
Other than Escape from Gringotts and Ollivanders, the best thing to do in Diagon Alley is to shop, of course! You can visit many of the same stores that Harry himself shopped in on his first visit to Diagon Alley, which have been recreated with meticulous attention to detail.
At Madam Malkin's Robes for All Occasions, you can get actual wizard attire, robes, and all the fun attire that they had in the books and movies. They also sell a range of apparel, accessories, and jewelry, much of it themed for the four houses of Hogwarts (Gryffindor, Hufflepuff, Ravenclaw, and Slytherin).
At Gringott's Money Exchange, you can interact with a real goblin to change your money from muggle currency into wizard's gold. Just be careful not to ask if your goblin is a house-elf!
Magical Menagerie is where Hagrid bought Harry his snowy owl, Hedwig. Your family can shop for plush toys of some of the most beloved magical creatures, along with other souvenirs.
Quality Quidditch Supplies has all kinds of quidditch and fan gear, while Wiseacre's Wizarding Equipment has all the stuff you'll need at Hogwarts, from crystal balls to binoculars and much more.
End your time in Diagon Alley with a visit to two fan favorites: first, Weasley's Wizard Wheezes. Ron's goofball twin brothers opened this uproarious joke shop, and it's bursting with all kinds of fun items.
Then, take a trip down Knockturn Alley to shop in Borgin and Burkes. This dark wizarding store has less savory fare and was the site of Malfoy's malfeasance.
Places to Eat and Drink
There are plenty of places to wet your whistle and slate your appetite in Diagon Alley, and most of them are also themed to enhance your experience.
The most popular is undoubtedly the Leaky Cauldron, where Harry and his friends visited and even stayed on multiple instances. They serve English favorites like fish and chips and cottage pie and more family-friendly dishes like macaroni and cheese.
Of course, you can also get a sweet Butterbeer, or for the over-21 members of your party, a Hog's Head lager.
If you're looking for something sweet, head to Florean Fortescue's Ice-Cream Parlor. They have a range of unique ice cream flavors. You can also get pumpkin juice, Butterbeer, and other treats at street vendors.
A word about Butterbeer: it might seem a bit strange or even off-putting, but it's so good. Not only that, but it's an essential part of the Wizarding World experience, as it's a favorite of Harry, Ron, Hermione, and all their counterparts in the books and films.
Riding the Hogwarts Express
Now that you've experienced all that there is to see in Diagon Alley, it's time to board the Hogwarts Express, then train that will take you from Platform 9 ¾ in King's Cross straight to Hogsmeade Station. Riding this train is one of the best parts of the experience and a reason in itself to have a two-park-per-day ticket (you can't ride without one).
Along your journey, you'll encounter some memorable moments and characters from the films, including:
Hagrid on his motorbike
Harry
Ron
Hermione
Dementors
Death Eaters
Keep an eye out for spooky Malfoy Manor as you make your way through the British countryside.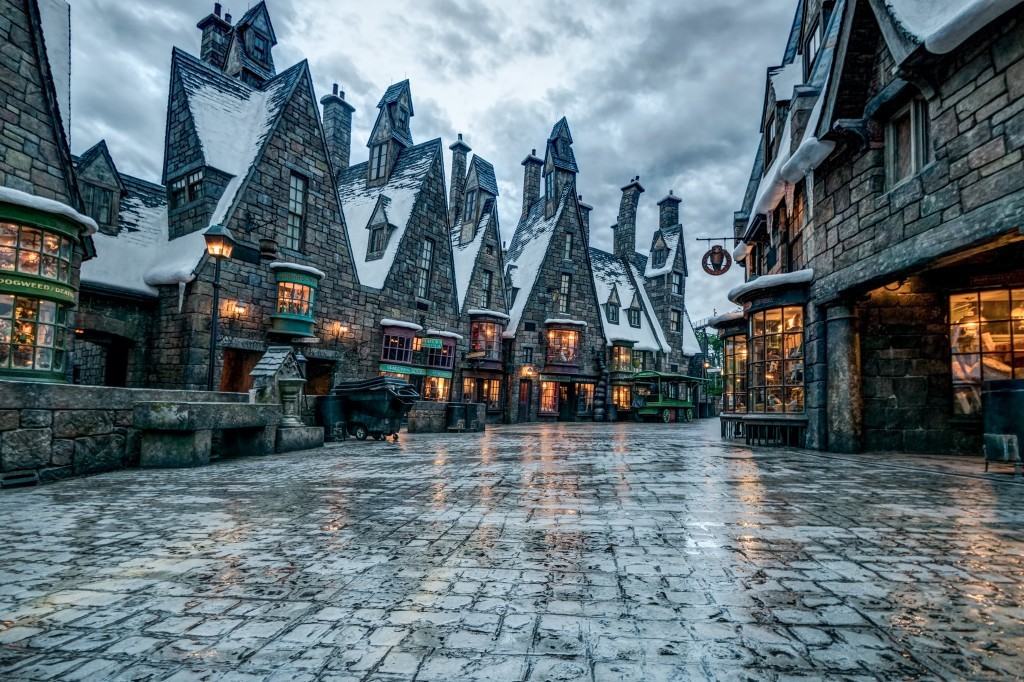 The Ultimate Guide to Hogsmeade at Islands of Adventure
You've bought all of your supplies and ridden the legendary Hogwarts express to arrive in Hogsmeade finally. If the recreations floored you in Diagon Alley, be prepared to be even more amazed by the sight of Hogsmeade and Hogwarts in the distance.
Rides and Attractions
There are three main rides in Hogsmeade. The first and most popular is Hagrid's Magical Creature Motorbike Adventure, a thrill ride with a 48-inch height requirement. Join Hagrid on his famed motorbike through the ride's unique storyline, which combines state-of-the-art roller coaster technology that will amaze everyone.
Nearby, be sure to ride Flight of the Hippogriff, a more gentle, family-friendly coaster (36-inch height requirement) that recreates Harry's ride aboard Buckbeak in book/film three. Once again, you'll have Hagrid as your guide, and you'll spot a recreation of his homey hut on your flight.
Inside the castle is Harry Potter and the Forbidden Journey. This ride is a part coaster and part simulator with a 48-inch height requirement.
A word of caution: It can cause motion sickness, but the experience might be worth it since you'll get to see a quidditch match on Hogwarts' grounds, soar through the Forbidden Forest, fight a Hungarian Horntail, and much more.
The queue for this attraction is just as thrilling as the ride itself, if not more. Harry Potter fans will ooze with delight as they walk through Hogwarts castle and some of the most memorable rooms and spots, including:
Dumbledore's office
The Defense Against the Dark Arts classroom
The Great Hall
Much, much more
Have your cameras ready at all times!
Things to See and Do
As in Diagon Alley, there are many spots to use your magic wand and cast spells. By the time you leave Hogsmeade, you'll practically be a wizard yourself.
Shopping
There's ample shopping in Hogsmeade as well. Ollivanders has another outpost, and you can buy actual stamps and writing supplies and send letters to loved ones at the Owl Post and Owlery.
You can also visit Honeydukes, the favorite sweets shop of Harry and all Hogwarts students. Load up on all the yummy items you've read about in the books, especially chocolate frogs.
For any other wizarding needs, Dervish and Banges have you covered. They've got everything from Sneakoscopes to The Monster Book of Monsters. It's fun to shop, but it's even more fun to see the actual items from the books and films.
Finally, Filch's Emporium of Confiscated Goods sells all the items Hogwarts students shouldn't possess but often do, from Pygmy Puffs to chess sets to Death Eater masks.
Places to Eat and Drink
Like in Diagon Alley, there are several quick-serve carts in Hogsmeade selling snacks and beverages, including Butterbeer and pumpkin juice. There's also the Three Broomsticks, the famous eatery featured in the books and films.
Like the Leaky Cauldron, they serve authentic British food such as fish and chips, roast beef, and Yorkshire Pudding. Try the Butterbeer Potted Cream for dessert, a unique twist on butterscotch pudding.
Return on the Hogwarts Express
While you may not need to return through Universal Studios, it's worth another ride on the Hogwarts Express since the experience is different than the arrival.
You'll see other characters and scenes from the books and films, including an advertisement for the Weasley twins' joke shop, the Knight Bus, and Buckbeack, among others.
Become a Wizard at the Wizarding World of Harry Potter
By now, we hope you're inspired and excited about your chance at becoming a wizard in the Wizarding World of Harry Potter. Whether you decide to do both parks in one day or split it up into two, there's plenty to keep your family busy, and there are lots of activities for kids of all ages.
It's also worth mentioning that both parks–Universal Studios and Islands of Adventure–are home to many other lands, attractions, rides, experiences, shopping, dining, and more. You could easily spend days exploring all that they have to offer. Visit them online ahead of time to plan out anything else you want to see.
The Wizarding World of Harry Potter offers visitors a unique experience that they can't get anywhere else, even at Disney World. Fans get to step right into scenes from the movies and enjoy a completely immersive yet familiar experience.
Plan it carefully, and your family will have a vacation they'll never forget!
More about our TFVG Author
A seasoned traveller, Dad, and avid sports tourist, James foundered The Family Vacation Guide to share his expert vacation experiences- especially when it comes to being a travelling family man.
Featured in Travel articles such as Travel + Leisure, TripSavvy and SFGate, you know you're reading some of the best vacation tips online.