Many condos near Disney World charge extra for shuttle service or don't have such packages for their customers. Having to do it all by yourself might be intimidating.
However, several great accommodations offer a free shuttle service to and from Disney World. That way, you can forget about driving, congestion, and parking hassles and have a more relaxing day with your family.
If you want to make the most of your stay at Disney World, you should book one of these condos near Disney World with a free shuttle.
1. Encore Resort Condo
Encore Resort Condo provides complimentary shuttle service to some of Orlando's most popular attractions, such as Disney World and Universal Studios.
The visitors can enjoy the resort's excellent facilities, such as the Encore Waterpark. There is much to do on the premises if you spend the day or night without wandering away. An outdoor area with a heated swimming pool and spa is available, providing guests with a beautiful place to relax and rejuvenate while taking in the breathtaking view of the lake.
You'll also have access to an entertainment center featuring a big screen and lazy boys where you can relax while watching films or playing Xbox with your kids. The rooms also have a pool table, air hockey, and arcade games for the guests' entertainment.
The condo has space for up to 12 people, so you're welcome to tag along with the entire squad.
2. Grove Resort Condo
The magnificent, contemporary condo is an excellent place to stay while you're on vacation in Orlando. Because it is part of the Grove Resort Orlando, its waterpark guarantees that your children will have a fantastic time while staying there.
In addition, the Grove Resort Condo provides free shuttle services to some of the most popular tourist destinations in the area, like SeaWorld and Universal Studio. With its two bedrooms, the property can accommodate six people comfortably. The kitchen is well stocked, making it simple for you to prepare meals.
The property has a screened-in balcony where you can sit and enjoy the fresh air and scenery. You can also relax in the air-conditioned living area outfitted with a TV and Wi-Fi if you'd rather remain indoors.
3. Wyndham Bonnet Creek Resort Condo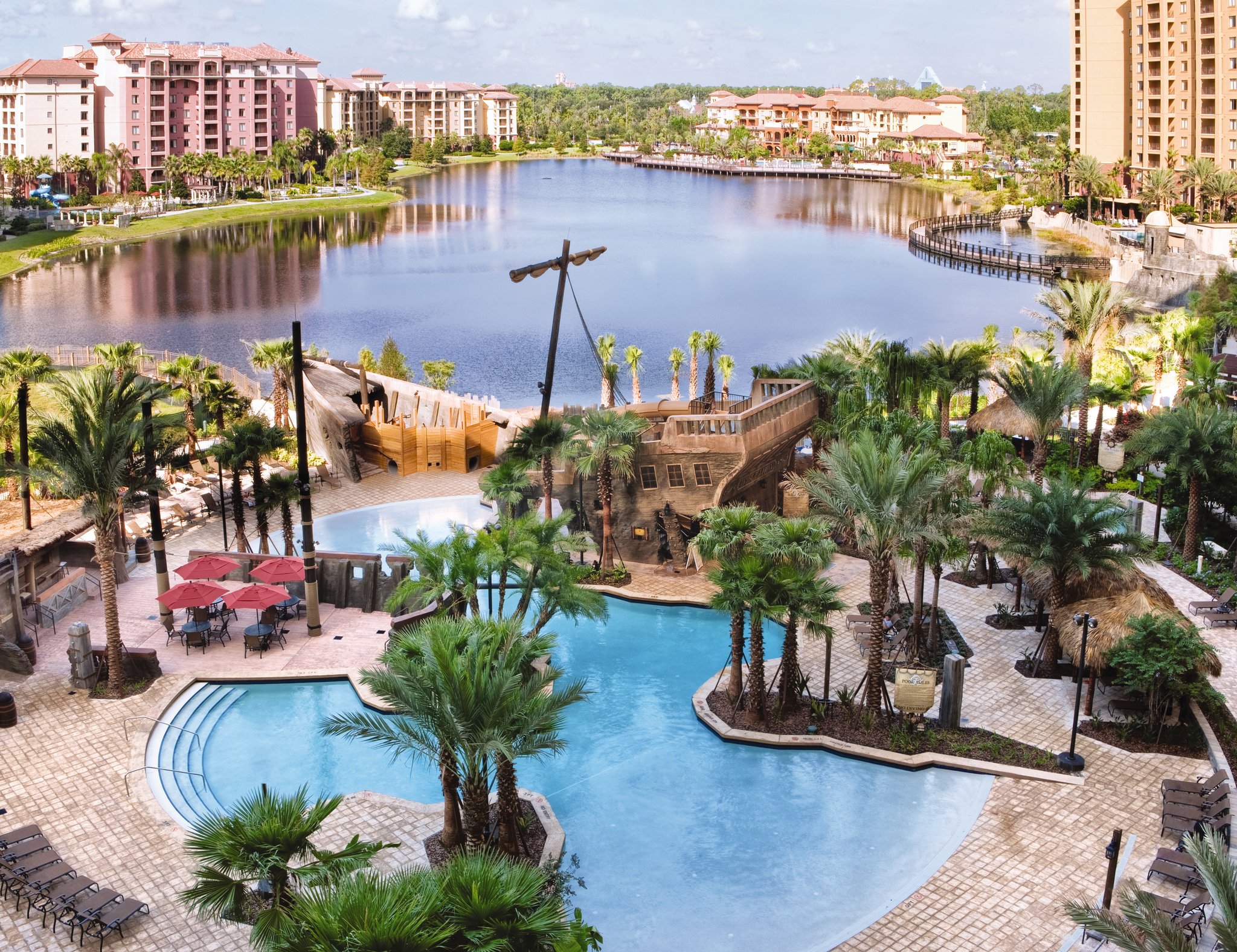 Taking advantage of this home's prime location in the heart of Orlando, Florida, will allow you to get the most out of your trip. Access to all major theme parks like Disney, SeaWorld, and Universal Studios is convenient.
Wyndham Bonnet Condo is conveniently located near Kennedy Space Center and Wyland Galleries, but it also has many appealing features of its own, such as:
Five swimming pools equipped with slides
Splash zones
Lazy rivers
Hot tubs
Poolside bars
The condos also offer guests complimentary shuttle rides to local hotspots. The property is ideal for small groups or families, as it can accommodate up to four guests. It has central air conditioning, Wi-Fi connectivity, a television, and all the conveniences of a contemporary house.
4. Enchanted Oaks Lake House
Enchanted Oaks Lake House is a beautiful, renovated, modern luxury apartment in the heart of Kissimmee, Florida. The condo has one bedroom, two bathrooms, a kitchen, and cable television. It's a few minutes from the city's best restaurants, golf courses, shopping centers, and tourist sites.
The stunning condos in a peaceful park-like location provide guests with various exciting amenities and services. You can use the complimentary shuttle service to get to the Disney area. In addition, you can cool off in one of the two heated indoor pools open throughout the year.
Visitors can use any of the facilities here, including the gymnasium, the tennis court, and the gaming room.
5. Storey Lake Resort Condo
The Storey Lake Resort Condo is the perfect place to unwind on holidays. As you go through the front door, you will notice an open floor plan that includes the kitchen and the sitting room. Therefore, you may relax and watch a movie as you cook.
Additionally, each of the four bedrooms has its TV, and because the rental has high-speed Wi-Fi, you may watch movies online and hold meetings from your room. You will have access to several of the resort's wonderful amenities.
To cool off, visit the water park and float down the lazy river. In addition, there is a swimming pool for anyone who would like to get in a few laps. Your kids will have a good time in the play area, where they can play and jump around. The clubhouse has a Jacuzzi and a Cocktail bar, so there's always something to do there.
6. Lovely Magic Oaks Villa
The magnificent property boasts four bedrooms, three full bathrooms, a well-appointed kitchen, and a spacious sitting room. The property has just undergone extensive renovations to provide visitors with a remarkable experience.
Magic Oaks Villa has enough room for two whole families to stay comfortably. The property will provide you with everything you require, including but not limited to:
Bed sheets
Towels
Kitchen equipment
Access to Wi-Fi
TV
You can easily access Disney World Park, Sea World, Universal Studios, and Old Town with a complimentary shuttle service.
7. Legacy Dunes Resort Condo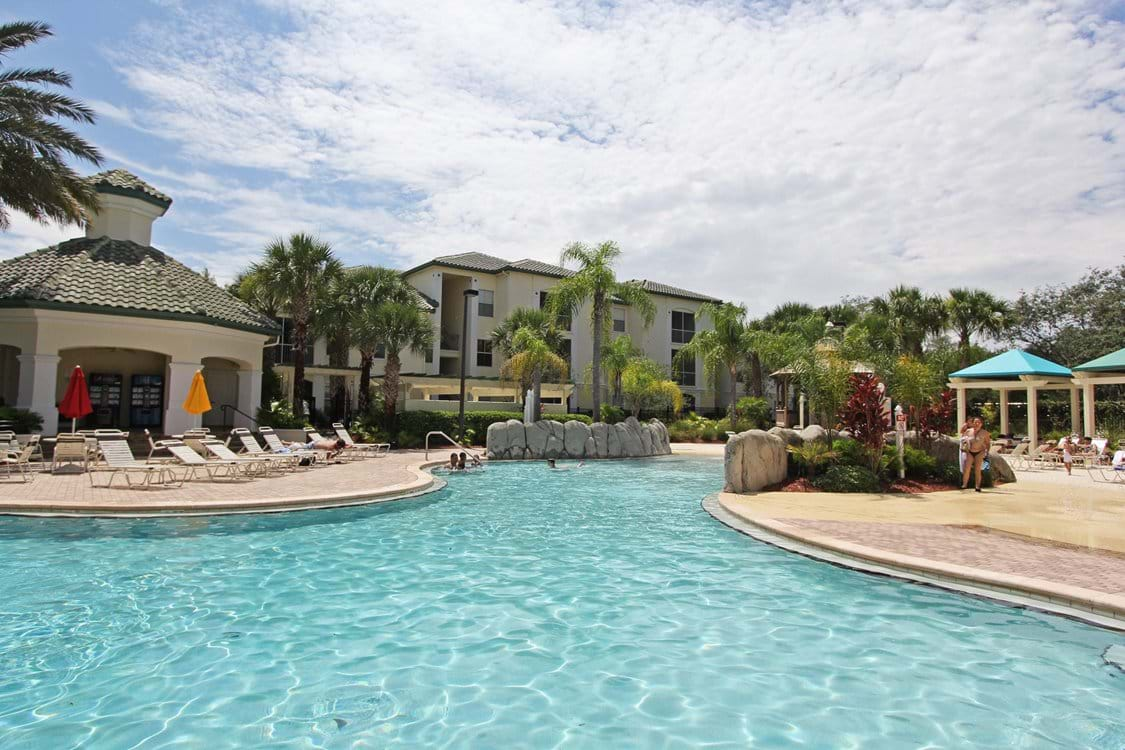 The condo has high-end conveniences to make your stay comfortable and enjoyable. The condo's queen-sized bed can accommodate up to four people. In addition, there is free Wi-Fi for all your streaming needs and a balcony where you can relax and enjoy some cocktails.
Because of the condo's location within Legacy Dunes Resort, you get unrestricted access to the resort's extensive collection of on-site facilities and conveniences. You can decide to get a few laps at the pool, play tennis or go to the gymnasium.
8. Hilton Orlando Bonnet Creek Orlando
In addition to providing a free shuttle service to Disney World every 30 minutes between 7:30 a.m. and 10:30 p.m., the property also offers guests on-site conveniences such as a three-acre lazy river, elegant beachfront, a golf course, gymnasium, spa, and youngsters' club.
You will have a wonderful time each day while staying at Hilton Orlando Bonnet, so you can remain there for as long as you like. The game area is stocked and ready to keep you occupied. You can ease your stress by taking a dip in the outdoor pool.
There's a movie theater where you can watch movies whenever you want. Besides the spa and pool, there is a fully equipped kitchen with a microwave, fridge, and juicers.
9. High Grove Resort Condo
The comfy condo is close to some of Orlando's most famous places, like Walt Disney World. If your trip to Orlando will include lots of sightseeing, this rental is a great choice. You will also have access to several superb amenities, which will make you reluctant to check out this condo.
High Grove Resort Condo has four bedrooms, three of which have private bathrooms, a sizable living area, and a kitchen that is well-stocked with all of the necessary appliances. In addition, there is a private pool that is suitable for families with children because it features a child safety alarm.
You can use the clubhouse, gym, kid's playground, mini-golf, and many other facilities on the premises at no additional cost.
10. Moonlight and Stars House
Moonlight and Stars House features six bedrooms and can comfortably accommodate up to 13 guests throughout their stay. It is only ten minutes away from Disney World. The condo's biggest feature is its free shuttle service three times a day.
The condo's conveniences are perfect for groups of friends or families. You may use the clubhouse, swimming pool, poolside dining, sports courts, waterslides, gymnasium, and children's play area.
If you're looking for a place to have a good time, you've found it. In the game area, guests can enjoy a variety of entertainment options, including air hockey, football, and a movie theater. It will cost you $40 a night, not including taxes if you wish to use the pool and hot tub, but it's well worth it.
11. Pool Side Paradise Condo
The holiday property has two bedrooms and is close to Disney World. Pool Side Paradise Condo has space for around seven individuals.
It has a variety of leisure and entertainment amenities, such as a gymnasium, hot tub, and pool sunbeds, so there is a lot to do here. When you wish to spend some time outside, you can take advantage of the BBQ grills and picnic area.
The property has complimentary Wi-Fi, washer/dryer machines, and more. There is a check-in age requirement of at least 21 years old, which means that smaller children will not be able to make a reservation here. Cleaning services are available for an extra USD 130. The facility also provides a safe in your rooms to keep your belongings.
12. Luxury Villa Vacation Rental in Disney
It's a holiday home with eight bedrooms and just ten minutes from Walt Disney World. Furthermore, the trip to Orlando's airport will take just half an hour. Luxury Villa is conveniently near other popular tourist destinations, such as Sea World and Universal Studios.
With all eight bedrooms in use, the rental can accommodate 17 guests. The property has an array of high-end services, including a clubhouse, cafeteria, and gymnasium. In addition to the standard amenities such as air conditioning, towels, and a hairdryer, the rental provides complimentary Wi-Fi to guests.
13. Island Club Villa
Besides free shuttle service, Island Club Villa has three bedrooms, two bathrooms, a living room, a kitchen, and a dining area. After spending the day visiting Disney World, those looking for a quiet location to unwind will find this hideaway an excellent option.
The kitchen has everything you'll need to prepare a home-cooked meal. In addition, if you would like to enjoy a picnic on the field, you are welcome to use the barbecue grills.
When you wish for a more authentic at-home experience, you may take advantage of the living room's dining table, TV, and other entertainment options. Recreational facilities such as a volleyball court, gaming room, pool, tennis courts, and more are available at the condo.
14. Sweet Retreat Resort
Sweet Retreat Condo has five bedrooms and is located only a few minutes from Walt Disney World. It is designed with an open floor plan, so there is plenty of room to move around. The kitchen has stainless steel appliances, granite counters, and seating for four at the bar.
When you want to relax and unwind after a long day, you can watch a movie on the big flat-screen television in the living area. You can enjoy the clubhouse, dining options, and swimming pool.
You can also use the premium amenities at Encore Resort. Therefore, you shouldn't pass up the chance to have some fun at the on-site waterpark, which features thrilling drops. Enjoy the benefits of the complimentary shuttle service to Disney World and the Dutton Family Theater.
15. Champions Gate Condo
The condo, which can accommodate up to eight people, is only a few minutes' drive from the Disney World entrance gates. Champions Gate Condo provides shuttle services to and from Disney and Universal Studios on both ends of your stay.
Besides having a fantastic location, the holiday home also provides first-class services and amenities. You can unwind in the comfort of your room, which features a private bathroom, TV, desk with space for a laptop, and a balcony where you can take in the scenery while sipping a cup of coffee.
You can swim in one of the five pools, relax in the bathtubs, or have fun in the lazy rivers.
16. Sea Isle Condos Near Sea Coral Drive
Sea Isle is a contemporary condo with one bedroom and bathroom. Since the sitting room couch also folds into a queen bed, the property can comfortably accommodate four people.
Because the host offers free Wi-Fi, you won't have trouble staying in touch with everyone during your visit. A fully-stocked kitchen is available, which is great news if you plan on cooking your meals during your stay. A microwave and mini-fridge are available at your request.
The condo's location is convenient as it's 15 minutes from Disney World and just 3 minutes from Sea World. The property also offers free parking on the grounds, so you won't have to worry about finding a place to leave your car if you're driving to Orlando.
17. Shoreway Loop
In addition to its ideal location, the condo boasts a wholly furnished interior that is contemporary and stylish. There are three bedrooms, each with a king-size bed, one queen bed, and a couch bed, allowing a maximum of six visitors to fit in the property comfortably.
The condo's standard features include an air conditioner, parking, cable television, a heated pool, and a washing machine. Like other condos around the area, Shoreway Loop provides 24-hour customer service. Visitors can book a stay at the resort using their free mobile application.
18. Florida Palms Vista Cay
With modern décor and unique settings, Florida Palms is among the most stunning condos close to Disney World. It features a luxurious finish in the sitting room, an exquisite dining area, a full kitchen, a master suite with a king-size bed, and a huge master bathroom with a soaking tub.
The condo features two bedrooms, so it can accommodate groups of up to eight people. The Orange County Convention Center is within walking distance, and all main theme parks, such as Sea World and Disney World, are within a ten-minute drive.
In addition, guests have access to a washing machine and dryer, a heated pool, air conditioners, Wi-Fi, and complimentary parking on the property.
19. Reunion Resort Condo
Enjoy the convenience of living within Disney World's gates at a cheap rate by renting out a whole condo at Reunion Resort. You'll have plenty of space in the 1,200 square feet of this rental's two elegant bedrooms.
The first is a master bedroom with a king-size bed and a private bathroom with a shower and bathtub. Two double beds are in the second bedroom and a bathroom with a shower and a bathtub. The sitting room has a queen-size sleeper sofa, enough for up to eight people.
The resort's conveniences, such as the gym and the on-site eateries, are available to guests during their stay. Reunion Resort Condo also has an Olympic-sized swimming pool.
Final Thoughts
Preparing and having all the details ironed out for a stress-free family trip to one of the most magnificent locations worldwide is essential. After all, planning transportation to and from Disney World from your Florida accommodation is vital for a memorable family vacation.
You can make life simpler by staying at condos near Disney World with a free shuttle. That way, you won't need to worry about anything. Although the place has a wonderful setting and an abundance of services, condos near Disney World with a free shuttle will make your vacation hassle-free.
More about our TFVG Author