Suppose you're interested in taking your kids to Key West, Florida, for an unforgettable vacation. In that case, you can find plenty of things to do, from watching the sunset at Mallory Square to relaxing at their local beaches.
If you're interested in treating your kids to the tastiest dishes in town after a long day, you can find several restaurants scattered across the neighborhood.
Although Key West offers several local favorites, like conch fritters or key lime pie, several restaurants offer tasty international options, like Cuban cuisine.
We compiled this list of the best Key West restaurants to help you streamline your search for quality places to eat with your family.
Address: 512 Front St, Key West, FL 33040
The first place on this list of the best Key West restaurants you should consider checking out with your family is Two Friends Patio Restaurant, near The Pier House Resort & Spa.
As one of Key West's oldest bars, this eatery offers outdoor seating on a covered patio and a nice view of the nearby waterfront. They also offer live music every day and host karaoke on Fridays and Saturdays.
Their most popular dinner options are coconut shrimp, steamed snow crab legs, lobster & shrimp linguine, and bacon cheddar burger. We also recommend their stuffed crab omelet for breakfast and their fresh veggie bagel for lunch. Parents will love their Key West Lemonade, Strawberry Daiquiri, or Chocolate Martini on a warm, sunny day.
Address: 410 Wall St, Key West, FL 33040
El Meson De Pepe's Restaurant is one of the best Key West restaurants you should consider booking before watching the sunset at Mallory Square. This rustic, historic eatery serves authentic Cuban cuisine by Key West Bight, the city's historic seaport. After an exciting day of sightseeing, parents can enjoy a refreshing Caribbean cocktail at the restaurant's patio bar.
We recommend sampling their Churrasco or Vaca Frita with a Banana Bash cocktail and fried sweet plantains on the side. Their kid's menu offers plenty of tasty options for your kids, like their chicken finger salad, fried shrimp, or cheeseburger with fries or plantain chips.
Don't forget to sample their key lime pie or cookie butter cheesecake for dessert.
Address: 313 Duval St, Key West, FL 33040
You can find Hard Rock Cafe in the Downtown neighborhood, near Key West Theater. This casual eatery serves mouth-watering burgers and American comfort food in a setting decorated with rock n' roll decor. In addition, the restaurant's outdoor patio is dog-friendly and has live music every Thursday, Friday, and Saturday.
If you and your family are feeling extra hungry, start with their nachos or pepperoni flatbread. Then, try their BBQ pulled pork sandwich, grilled chicken fajitas, or cowboy ribeye with a golden onion ring tower on the side.
They also offer chicken breasts and hamburgers with gluten-free buns if you're interested in ordering something for your kids. Their hot fudge brownie or Madagascar vanilla bean milkshake is an excellent after-dinner treat on a hot day.
Address: 300 Petronia St #1, Key West, FL 33040
If you're in the mood for sweet crêpes for breakfast or lunch, La Crêperie French Café Key West is your best option. You can find it at the historical Key West Lighthouse. You can enjoy this restaurant's French-inspired dishes on its outdoor patio or near the open kitchen area. Its cozy atmosphere is a great setting for enjoying a tranquil brunch with your family.
Their Red Velvet, Key Lime, and L'Amour de Baies crêpes are bursting with fruity flavors that go great with white wine, coconut water, or a smoothie. Many of their menu options are organic, gluten-free, vegan, and vegetarian.
We also recommend Le Mer Omelet, Croque Madame, or Quiche Lorraine if you want to try something besides crêpes.
Address: 3591 S Roosevelt Blvd, Key West, FL 33040
Are you having trouble finding Key West restaurants with a more immersive dining experience? Then, consider stopping by for dinner at Benihana, a popular hibachi restaurant by Key West International Airport.
Their culinary team prepares traditional Japanese dishes at your table as the flames rise before your eyes. Their knife work is something to behold in person. You can also try their sushi options.
Kids 12 and under can sample their hibachi chicken, filet mignon, or shrimp and pair it with soda, juice, or a Banana Berry Blast smoothie. If they're extra hungry, let them try their combination entrees, like chicken & shrimp or filet mignon & chicken.
Address: 221 Duval St, Key West, FL 33040
The best place to treat your kids to dinner after spending the day at the Key West Aquarium is Lucy's Retired Surfers Bar & Restaurant, a local neighborhood restaurant with a surf-themed aesthetic and flavorful seafood dishes crafted with locally sourced ingredients.
Their full-service bar serves plenty of frozen specialty drinks and offers plenty of beer on tap. They also have a covered patio space for outdoor dining and welcome guests with dogs.
Their kid's menu offers burgers, shrimp & chips, tacos, cheese quesadillas, and chicken tenders. Parents can enjoy a refreshing Tropicolada, Flamingo Punch, or Palm Dragon from the bar. Don't forget to try their signature Key Lime Tini, a sweet mousse topped with graham cracker crumbs.
Address: 804 Whitehead St, Key West, FL
If you're a fan of open-air dining, Ram's Head Southernmost is one restaurant you don't want to miss out on during your trip to Key West. Its patio is an excellent place to enjoy Key West's sun and warm air as you sample its tastiest seafood dishes and cocktails. They have live music every day and an all-day Bloody Mary bar.
Their crab dip and conch fritters offer a warm and zesty start to any family dinner night. Some of their most popular menu options are bacon-wrapped scallops and seafood risotto.
However, if you're looking for a healthier dinner option, they offer plenty of salads with optional protein toppings and a plant-based Beyond Burger.
Address: 1007 Simonton St, Naval Air Station Key West, FL 333040
Are you and your family in the mood for casual surf & turf? If so, Duffy's Steak & Lobster House is a great option to consider after spending your afternoon at the Key West Firehouse Museum. The restaurant's laid-back vibes make it one of the most popular places to eat in Old Town Key West.
Their prime rib, stuffed jumbo shrimp, and live Maine lobster stuffed with crab meat offers succulent flavors for any dinner night. If you stop by earlier for lunch, they offer plenty of sandwiches and salads. Most of their savory entrees come with fries, veggies, rice, or a baked potato on the side.
Address: 524 Duval St, Key West, FL 33040
La Trattoria's Restaurant's classic Italian specialties offer some of the finest flavors in Key West's Old Town neighborhood. This dining destination has a lively yet refined vibe, a martini bar, and stylish white-tablecloth seating that makes the space feel extra immersive. You can also find it in the Oceanside neighborhood.
We recommend trying their Cannelloni Della Pasta, a savory specialty stuffed with veal and spinach, baked in a rich tomato cream sauce that melts in your mouth. Parents interested in giving their night extra spice will love stopping by for $7 martinis during La Trattoria's Monday happy hour.
If you crave something sweet, consider ordering their chocolate mousse or lemon sorbet for dessert.
Address: 310 Duval St, Naval Air Station Key West, FL 33040
Minutes away from Key West Bight stands Caroline's Cafe, a cozy restaurant stationed in a historic house. It's a great option because of its outdoor seating, tranquil atmosphere, and wide selection of regional dishes. They also offer free delivery for anyone in the Old Town District.
Their shrimp and bacon club, Southwestern chicken salad, blackened chicken pasta, and Caribbean steak offer a unique flavor blend that most food lovers can enjoy. Although they have an extensive menu of specialty cocktails and house wines, they also offer plenty of zero-proof beverages your kids can enjoy, like pink lemonade or pineapple juice.
Their key lime pie and cheesecake of the day are excellent treats your family can enjoy if you want dessert.
Address: 1400 Duval St, Key West, FL 33040
If you're staying near The Southernmost House Hotel, the best place you can enjoy a family meal with a scenic waterfront view of the Atlantic Ocean is Seaside Cafe at the Mansion.
This family-owned restaurant has a quiet atmosphere yet has some of the most innovative seafood-centric dishes in the city. They also offer outdoor seating on a dog-friendly patio on the warmest, sunniest days.
Their menu offers tasty wood-fired sandwiches, popular Key West delicacies, like conch fritters or coconut shrimp, tropical cocktails, and wood-fired pizza. Try their signature honey-butter lobster biscuits or lobster Bianca pizza if you're looking for sensational flavors. They also have gluten-free and vegetarian options.
Address: 729 Thomas St, Key West, FL 33040
Can't find any nearby Key West restaurants offering tasty breakfast and lunch options in the Bahama District? Then, consider taking your family to Blue Heaven for a sensational Floridian-Caribbean dining experience. Its funky atmosphere, live music, and open-air seating make it a great place to enjoy something to eat before going to the park or beach.
Their pineapple pancakes and lobster BLT Benny are excellent breakfast options if you want variety in your meal. Their Jamaican jerk chicken is excellent if you stop by for dinner. Kids 12 and under can order grilled cheese, chicken, shrimp, or pasta from their kid's menu.
13. Fogarty's
Address: 227 Duval St, Key West, FL 33040
Located in Key Wests's downtown area, Fogarty's is an excellent setting for enjoying a dinner night out with your family. For over 20 years, this casual eatery has had a lively Flying Monkeys bar where parents can enjoy frozen specialty drinks and a welcoming vibe for anyone craving quality American fare.
After starting with their buffalo chicken tenders or Tex-Mex rolls, consider sampling their shrimp po'boy, blackened fish tacos, or Cuban pork bowl with fries or fresh broccoli.
They have an extensive beer and wine list, but their Chocohol and Banana Breeze offer the sweetest flavors at their bar. They also offer a zero-proof Monkey Slush if your kids want something else besides soda or juice.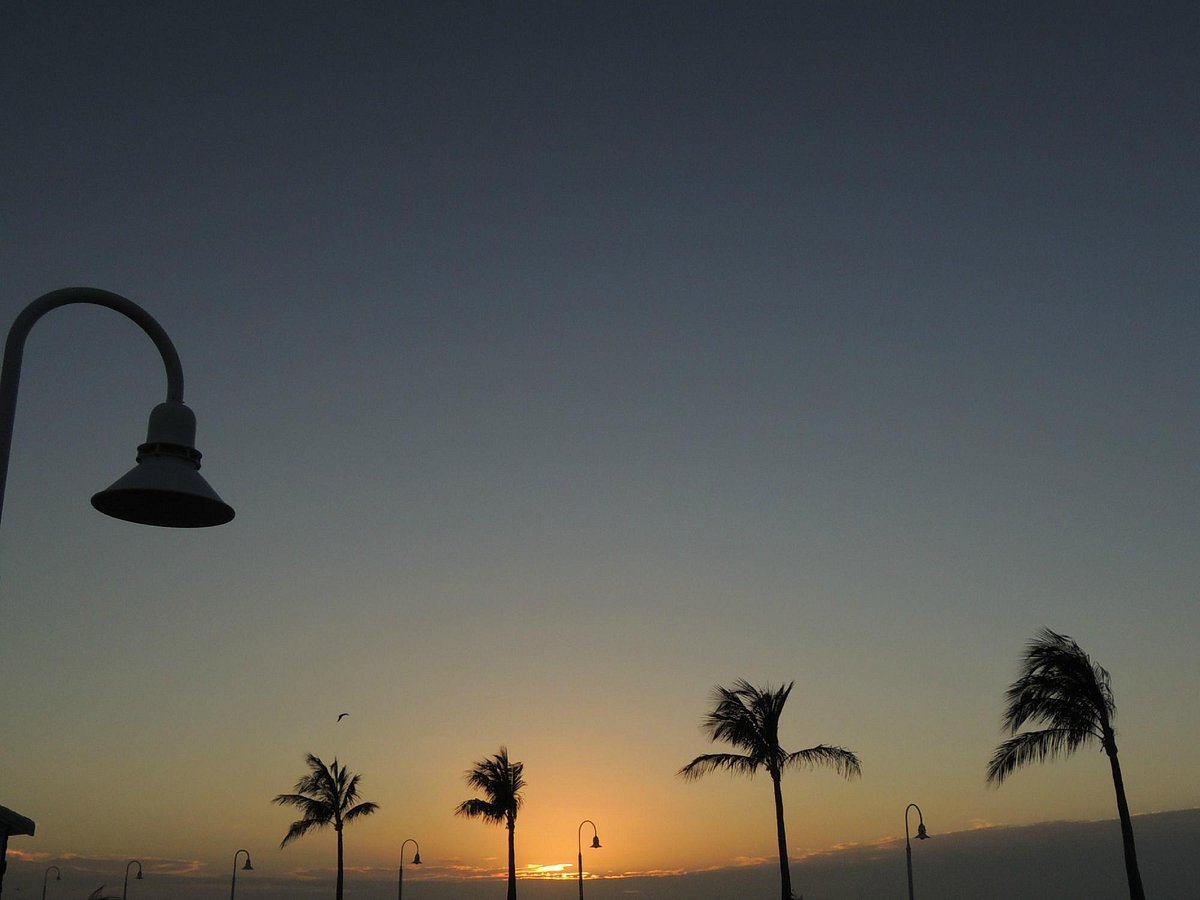 Address: 0 Duval St, Key West, FL 33040
Another one of the top Key West restaurants for families with kids is Sunset Pier, found inside the Ocean Key Resort & Spa. They serve tasty seafood dishes and offer a dockside view of Sunset Key. Their colorful tables make the place stand out even on the foggiest days. They also have live music every night and a souvenir shop next to the tiki bar.
Their salmon poke bowl and pork belly tacos are a nice change of pace to some of the city's popular international dishes. Their Florida stone crab claws are also great shareable starters if you want to enjoy more of the restaurant's best seafood dishes.
Address: 631 Greene St, Key West, FL 33040
Within walking distance from Galleon Marina stands Republic Seafood Company, one of the go-to Key West restaurants in the Historic District. It offers a lovely seaport view of the area and outdoor seating. Their culinary team prepares amazing fresh seafood dishes made with locally caught fish.
Be sure to visit their raw bar for fresh oysters and Key West pink shrimp if you're looking for something different to enjoy at the start of your meal. Many families love their blackened jumbo scallops and Caribbean spiced Mahi Mahi. If you're not interested in seafood, you can sample their steak or ribs.
Their strawberry tempura is an excellent dessert option for anyone who loves sweet, fruity treats.
Address: 725 Caroline St, Key West, FL 33040
Another great restaurant offering tasty Italian dishes is Onlywood Grill, located near The Marker Key West Hotel. This intimate, relaxed restaurant has a homey atmosphere that many families will enjoy. Their counter-serve pizza, pasta, and grilled meats are excellent options for anyone staying for dinner or looking for something enticing to go.
Their best specialty pizza options are Dolce Parma, Frutti Di Mare, Ortolanna, and Genovese pies. Their wood-fired lobster tail, boneless marbled ribeye, and Tuscan-style skirt steak offer bold flavors for anyone looking for a savory bite to eat. Don't forget to try their Nutella pizza if you're in the mood for a creative dessert.
Address: 509 Duval St, Key West, FL 33040
Suppose you're looking for a place to eat after spending the day at the Mel Fisher Maritime Museum. Then, consider treating your family to some of Key West's best surf & turf at Jack Flats, a laid-back sports bar. This family-friendly venue has several TV screens for watching local sports, cold air-conditioning, and a homestyle menu with abundant flavors.
Jack Flats' menu offers plenty of sandwiches and grilled entrees. We recommend sampling their steak salad, buffalo chicken wrap, fish tacos, or key lime shrimp. They offer plenty of drinks the entire family can enjoy, like coffee, orange juice, or sparkling water.
Address: 115 Duval St #6505, Naval Air Station Key West, FL 33040
Bagatelle's wrap-around balconies offer lovely views of the Downtown area's streets. This cozy, old-school restaurant serves creative seafood dishes for breakfast and dinner. They also serve brunch all week and have two happy hours every day, from 9 AM to 11 AM and 4 PM to 6 PM.
Their Moon Lounge is an excellent setting for private events and offers a bar and live entertainment.
Don't miss out on their blackened swordfish or pan-seared grouper if you stop by for dinner. We also consider Bagatelle's lobster omelet to be their best brunch option. Their award-winning wine list offers several red, white, and sparkling wine options for enhancing any dish's flavors.
Address: 712 Duval St, Key West, FL 33040
One of the most popular Key West restaurants in the east of the Historic District offering tasty crab entrees is Pinchers, a casual seafood destination. Its airy vibe is an excellent place to unwind after taking your kids to Truman Waterfront Park. Kids 12 and under can eat free with the purchase of an adult entree.
If you're interested in trying their crab or shrimp dishes, we recommend their soft-shell crab, blackened shrimp, or sauteed blue crab clusters. They also have pasta, sandwiches, and seafood baskets if you and your family want something else.
After dinner, consider treating your family to their raspberry swirl or chocolate mousse cheesecake for dessert.
Conclusion
The best Key West restaurants for families with kids should offer a wide selection of dishes that anyone can enjoy, regardless of their age. Although some restaurants specialize in seafood, it's always great to consider alternative options if you're interested in trying something new during your stay.
These restaurants are a great place to unwind after spending a day at the city's most popular tourist attractions. We hope our list can help you decide where to eat whenever you plan on visiting Key West. After all, you can always return to the places you missed during your last trip.
More about our TFVG Author