Ocala National Forest is a fascinating destination and a perfect stop if you are visiting North Orlando, Florida. If you love natural swimming, Ocala National Forest has first-magnitude springs. You can explore crystal-clear water on kayaks and paddle boards. Our travel experts share the best springs in Ocala National Forest.
Juniper Springs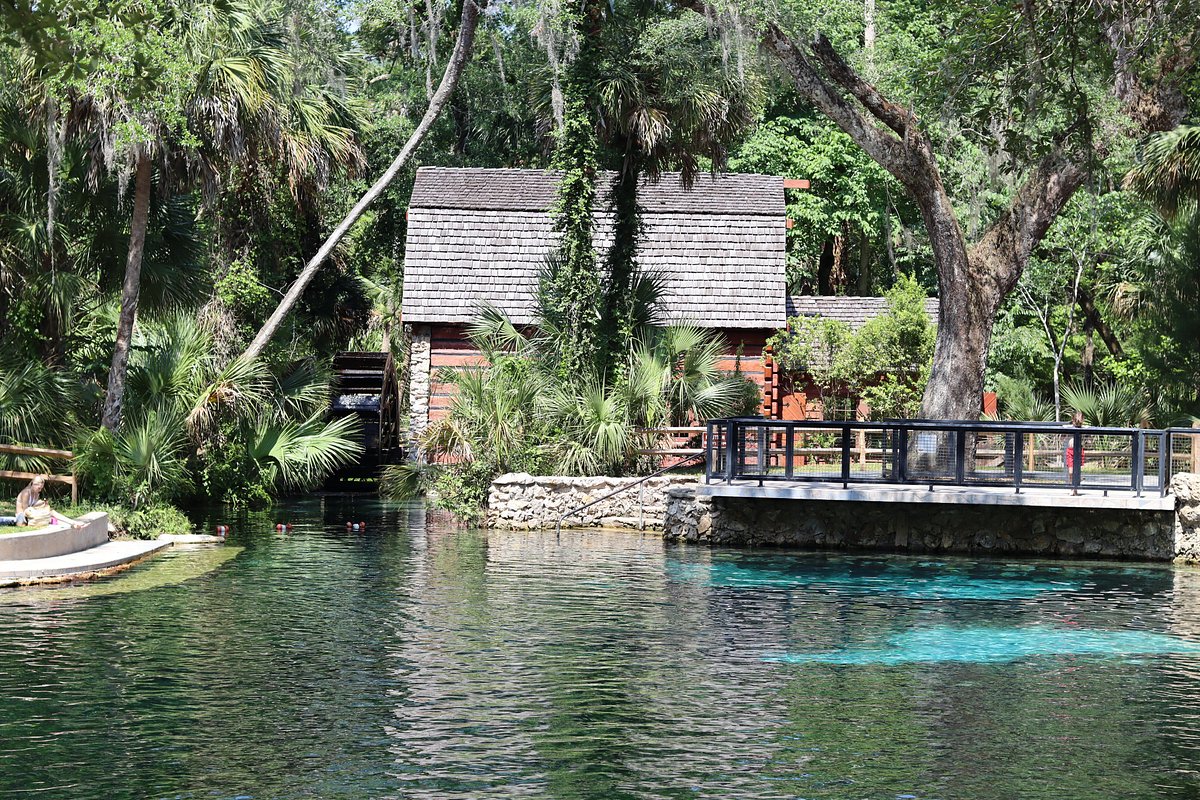 Juniper Springs is the most popular recreation area on the East Coast of Florida. The Civilian Conservation Corps established Juniper Springs in the 1930s. Interestingly, the springs have a waterwheel, which the corps used to generate power in the 1930s.
The sparkling springs are located 40 minutes from Ocala. Juniper Springs boasts of deeply shaded sites with numerous birding and wildlife viewing activities.
Campsites in the springs are equipped with tent spaces and picnic tables. Other essential amenities you will find in Juniper Springs include:
Flush toilets.
Hot showers.
Dump station.
You can take striking photos at the end of the small hike in the springs. You will find a small bridge that overlooks crystal clear water. However, you are not allowed to swim at this spot, so you can take gorgeous photos at any time.
Juniper Springs is an affordable site to visit because it only costs $11 for two people. You will access the springs for free if you choose to camp. Be ready to part with $22 per night at the campgrounds.
People prefer Juniper Springs over other springs because they allow kayak running and tubing. You are not advised to kayak in the springs if you are a beginner. The trail has low-lying trees, making it fit for advanced kayakers.
A kayak in Juniper Springs costs $42. Don't carry anything disposable, as the staff will check before you start kayaking. You can buy food from the main canteen. Remember that alcohol is not allowed here.
There is the main pool at the springs for swimming and snorkeling enthusiasts. You should not swim outside the main pool because of alligators. The only downside is that the pool has a lot of grass, making it unappealing to most swimmers.
Unlike other springs in Ocala National Forest, Juniper Springs have a high presence of alligators. The springs have experienced several attacks over the years. For instance, a lady was attacked and killed by an alligator in 2006. To avoid such attacks, you shouldn't swim in prohibited areas.
Alexander Springs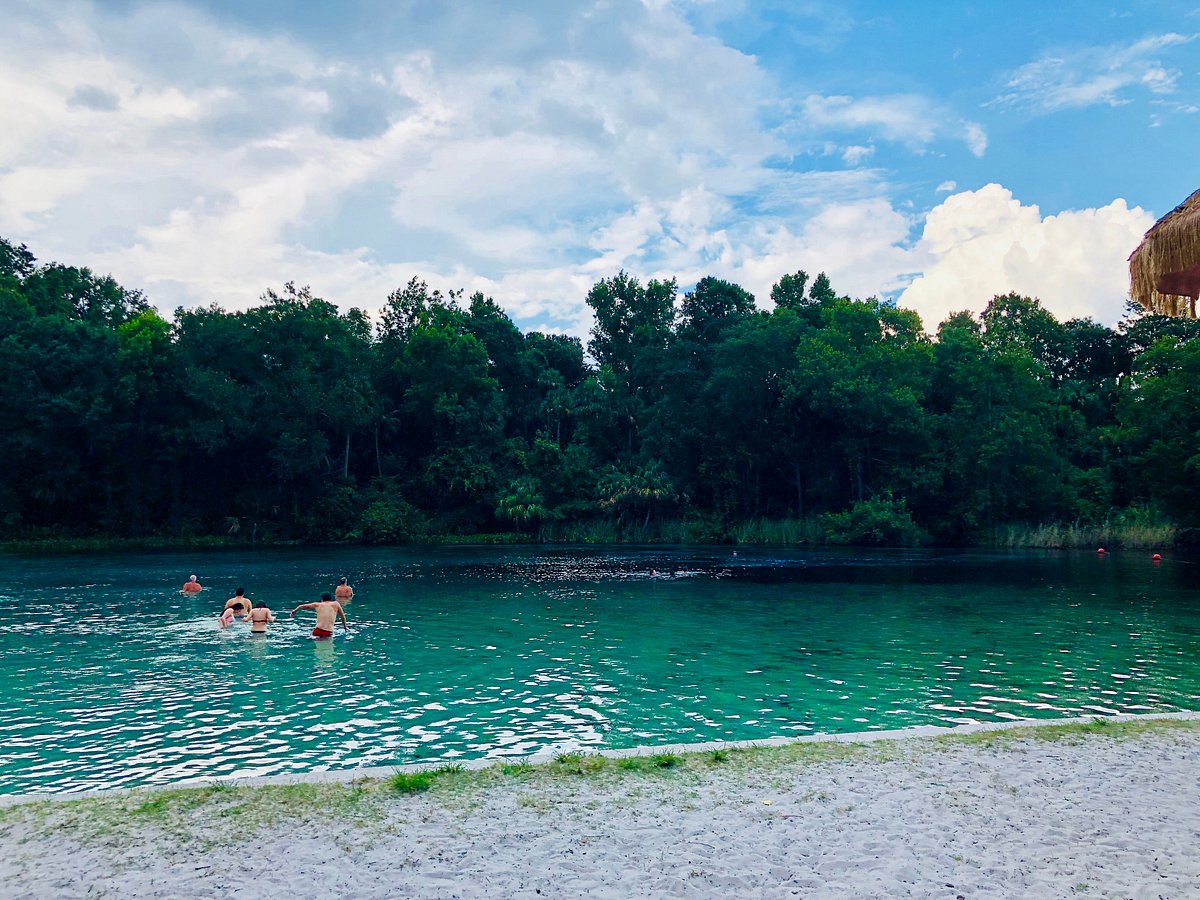 Alexander Springs is a refreshing stop in Ocala National Forest. The springs are located between Astor and Altoona. The popular trails have towering palms and lush foliage. You can explore the beautiful Alexander Springs using a kayak.
Alexander Springs has an abundance of wildlife, such as alligators and bears. In the heavy woods, you will find raccoons and other unique creatures. You will pay $6 to access Alexander Springs in Florida. Like Juniper Springs and Silver Glen Springs, alcohol is prohibited in Alexander Springs.
The springs have several concession stands and guest rooms. Fresh Water Fish Commission recently introduced Sunshine bass in the springs. Other fish species present in Alexander Springs include bluegill and largemouth bass.
Only licensed and certified divers are allowed to dive in the springs. It's advisable to arrive in the spring early as most diving schools in Florida use it for training. You might not find an alligator in Alexander, but divers often see them when swimming. Although there are no reported attacks, it's essential to be vigilant.
The gradual slant in Alexander Springs enables young swimmers to swim in the natural springs. You will see different types of fish along the sandy floor when diving. The natural terrain and boardwalk are also perfect for family views.
Alexander Springs is the only spring that permits Scuba diving. The springs have a depth of up to 25 feet. Alexander Springs is unique because the visibility is more than 200 feet.
Paradise Springs
The freshwater dive site is located in Southeast Florida. Paradise Springs is commercially operated and open to scuba divers. Paradise Springs is not the ideal choice if you are not a licensed scuba diver. Swimming is not allowed in these springs.
A diver must pay an admission fee of $27 to access Paradise Springs. Paradise Springs has a maximum depth of 140 feet. Thus, you should not dive in the springs if you don't have the proper training and equipment.
You will not find streams flowing from Paradise Springs. Usually, you access the springs using wooden steps. Visitors must follow the tunnel at a 90-degree angle. You lose all light when you dive beyond 99-foot depth.
The hidden gem in Florida allows you to explore fossils and caverns.
Silver Glen Springs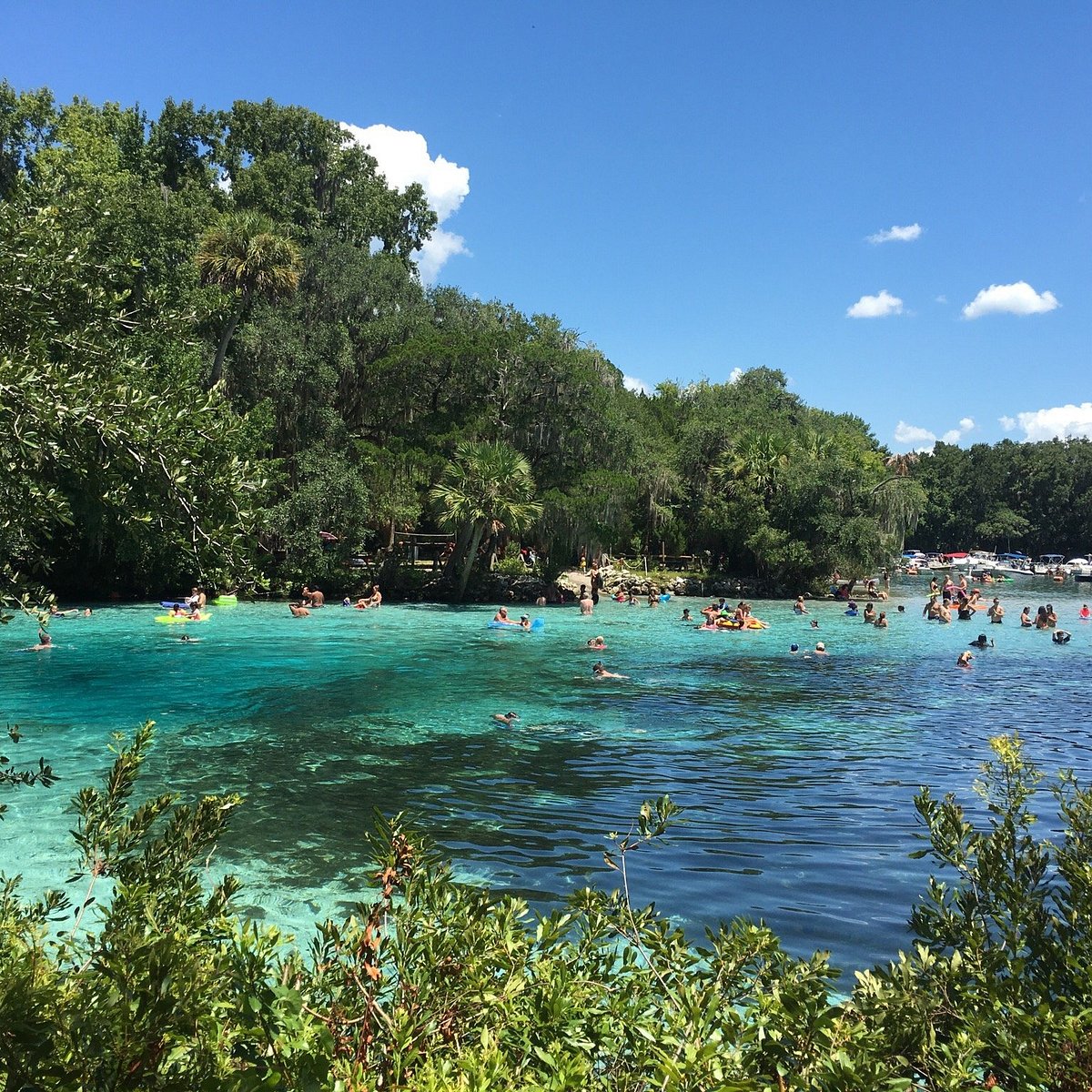 The beautiful spot in Ocala National Forest pours out into Lake George. You can swim, snorkel, and paddle in Silver Glen Springs. The 0.6 stretch of clear water has alligators and different types of birds and species.
Silver Glen Springs have white glass bottom boats which you can use to explore the vast waters. Currently, Silver Glen Springs is the most visited in Florida. Boat ride tickets cost about $8. Rainbows are common at the bottom of the sandy springs.
Under the surface of the water springs, you will find fresh water and saltwater fish. You can also see manatees during the cooler months. It's best to arrive in Silver Glen Springs early as the services are provided first-come. Camping in Silver Glen Springs is not allowed.
Silver Glen is the only spring in Ocala National Forest that maintains 72 degrees Fahrenheit. The springs have two large vents which discharge at least 65 million gallons of water every day. The monkeys in Silver Springs were released by a boat captain 100 years ago.
The park authorities believe at least 400 monkeys are roaming in the spring. It's thought that the archaeological site has been in existence for over 10,000 years.
Salt Springs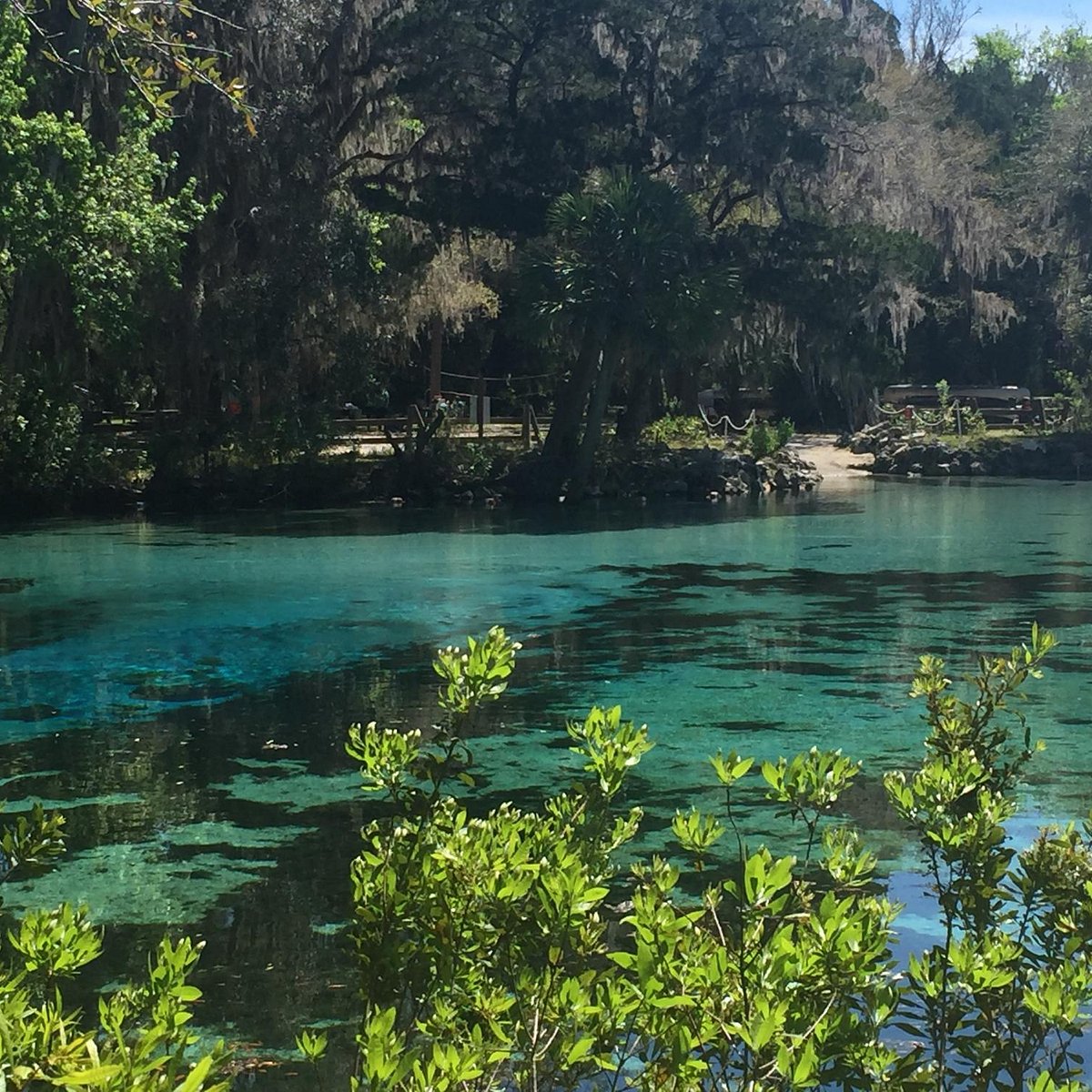 The community around Salt Springs believes that the waters have medicinal healing powers. The recreational jewel has a campground and a nature trail. There are numerous outdoor activities in Salt Springs, such as swimming and fishing.
The springs release at least 50 million gallons of water every day. The boardwalk and sharp climbs in the springs are ideal for a big payoff. You can familiarize yourself with native trees, and shrubs like saw palmetto and sand live oak.
Water in the springs contains potassium and magnesium, thus the slight saltiness. As you snorkel, you can spot different fish species. You pay $6.50 as an entrance fee and $10 as a parking fee.
The vast springs have slippery rocks, so make sure to come with wet shoes. The 1.9 miles trail leads you to a beautiful observation platform in Salt Springs.
Rainbow Springs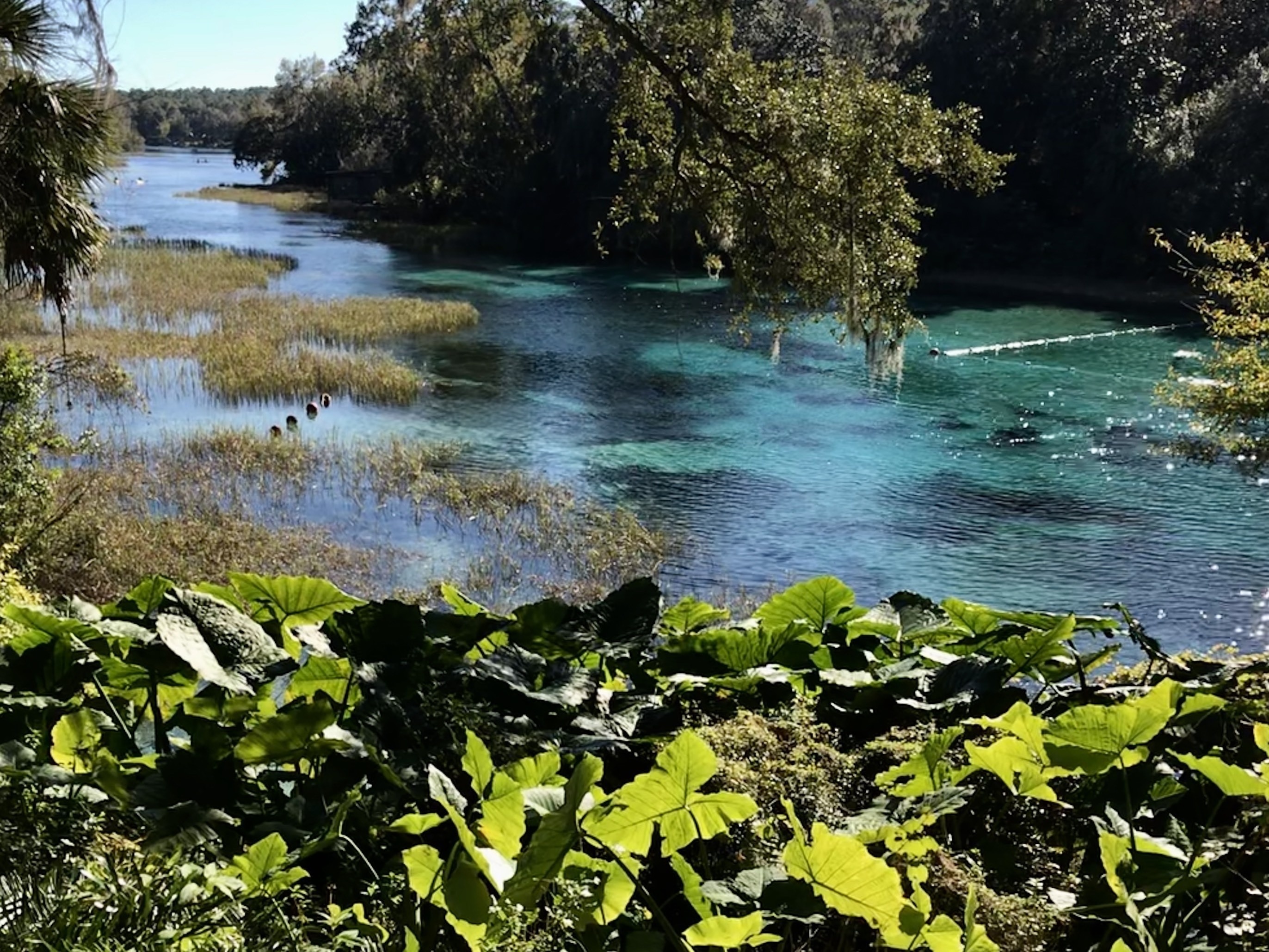 It's time to visit the first magnitude spring formation with your family. You can enjoy the beautiful natural environment in numerous ways. Canoeing, kayaking, and fishing are the most popular activities in Rainbow Springs.
Formerly known as Blue Springs, Rainbow Springs has been in existence for over 10,000 years. You can tour the human-made waterfalls in the springs. The swimming area in Rainbow Springs has a depth of 18 feet.
The crystal clear water in the springs enables you to spot fish and turtles. If you love kayaking, you can hire a kayak for only $20. However, you are not allowed to kayak around the swimming area.
Ensure to arrive early, especially during the weekends, as they close the springs once it's full. You pay $2 as an admission fee, but under six years are free. Book your spot days before to avoid any inconvenience.
You will probably come across alligators but not in the swimming section. The 72-degree waters are perfect for the hot summer months. To camp at Rainbow Springs, you need to pay at least $30. You can tour the springs any day from 8 a.m.
Spring Boils Trail
The wooden walkway overlooks spring eruptions in the shallow water. Visit Spring Boils Trail if you desire to see a bubbling spring. Spring Boils Trail is similar to how Silver Glen Springs looked 2,000 years ago.
Visitors are not allowed to swim at the bubbling springs. Thus, you can hike and enjoy the fantastic views in the park. You can start the hike at the far end of the picnic section. You need to walk a quarter-mile to reach the trailhead.
If you start from the trailhead, it's only a half-mile to get to the spring boils. You can use the picnic grove to access the trailhead at Lake George Trail. At Springs Boils Trail, you see a bear warning sign. Visitors have spotted bears in this section.
If you follow the Springs Boils Trail, it leads you to sweet gum trees and hickory. Spiderwort is abundant when you cross the bridge. The trail passes under hickory, a natural hardwood tree found in North America.
The footpath has hard-packed sand, making it hard to wash away into the salt marsh. It's vital to be vigilant when using the boardwalk as it may be slippery. You will have an amazing view of sand boils when you get to Jody Spring.
The spring bubbles push sand from the stream. Visit the next section where the trails end. You will notice small fish dart through the shallows. The hickory tree along the trail has a large cavity that serves as a home for raccoons during winter.
You find middens left by tribes that occupied St. Johns River more than two thousand years ago along the spring's fence. You can relax and explore the Lake George Trail and take a round trip back to the main parking area.
Scott Springs Park
Ocala's 21.68-acre city park is the best spot for biking, boardwalk, and walking. You can tour the small hidden gem and enjoy different outdoor activities. Scott Springs Park has several picnic tables and a playground. You don't pay an admission fee to access the city park.
Explore Scott Springs Park on foot or using your bike. You can allow your kids to play as they walk through the vast park. There is a spring at the center of the park. However, swimming in Scott Springs is restricted.
Hotels near Scott Spring Park include Seven Sisters, Red Roof, and Hampton Inn and Suites. The park also has numerous restrooms and water fountains.
Frequently Asked Questions
We have rounded up frequently asked questions about springs.
What is a spring?
Spring is a flow of groundwater to the earth's surface. Spring water comes from rainfall water that soaks. Springs discharge water naturally into a stream, lake, or sea. In some cases, springs may be the source of a river.
Most springs have cold water because the velocity of the groundwater is low, while the springs are tiny. Thus, heat is conducted through the bottom rocks, making the water cold. Large springs also have cold water because they have a lot of water, making it difficult to warm adequately.
Springs can dry up and affect the surrounding ecosystems. You can identify a spring on your property by unusual growths of vegetation. A small spring can provide your community with enough water.
Can you find alligators in the springs in the Ocala National Forest?
You can find alligators in marshy areas or open water in Ocala National Forest. Alligators are common in slow-moving rivers in Ocala Park. Visit riverbanks if you want to see alligators in Ocala, Florida.
You are advised not to swim in Silver Springs and Rainbow Springs as they have a lot of alligators. However, alligators don't come up in cold and crowded swimming areas.
What should you bring to the Ocala National Forest Springs?
Wear light shirts, shorts, and pants when visiting Ocala Forest Springs. Don't forget a swimsuit and towel if you are touring springs that allow swimming. A waterproof phone case will help you take awesome videos and pictures at Ocala Springs.
What animals can you see in Ocala National Forest Springs?
Ocala National Forest Springs have manatees and alligators. However, you only see manatees during the winter. You can also discover different bird species in the springs. Raccoons, skunks, and bats are other rare animals in Ocala Forest Springs.
Are there wolves in Ocala, Florida?
Wild wolves no longer exist in Ocala National Forest. However, the national forest authority has plans to introduce wolves to increase the Red Wolf population in Florida.
Is Ocala National Forest worth visiting?
Ocala National Forest is home to Manatees and black bears, making it a top choice for people touring Florida. You can spot rare bird species and alligators when you visit the forest.
Can you bring food to Ocala Springs?
You are free to carry food and drinks when visiting the springs. Carry enough water because not all springs in the forest have water fountains. Visitors can bring their canopy tents into the springs. Rainbow Springs and Scott Springs Park have a lot of space to set up your portable grills and canopy tents.
How many springs are in the Ocala National Forest?
Ocala National Forest has more than 600 springs and streams. Alexander Springs is one of the best swimming points in Ocala National Forest.
Which springs in Ocala can you swim in?
When you visit Ocala National Forest, you can swim in Alexander Springs and Paradise Springs. However, be sure to observe safety precautions as advised by the spring's management.
What is the right time to visit the springs in Ocala, Florida?
You can tour Florida Springs any time. However, many people prefer visiting the springs during summer. Expect the springs to have a lot of people during school breaks and national holidays. Visit the springs on weekdays if you don't like crowded places.
Manatees and other rare animals are visible in the springs during winter. That's why springs such as Rainbow and Silver Glen close their doors during colder months. It is best to visit the Ocala Springs during spring as they are less crowded.
Are there any discounts for Ocala Springs?
Florida residents above 65 years and disabled receive a minimum of 50% off the base fee in the springs. Law enforcement officers in Florida receive 50% in discounts.
Do Florida residents get discounts at state parks?
You will save up to 25% if you are a Florida resident. You must be a Florida resident and show the authorities proof of age to receive the discount. Remember that you need to apply for the Florida state parks pass every year to be eligible for such discounts.
Do veterans get in free at Florida State Parks?
You get a lifetime military pass if you are a veteran with service-related injuries.
Final Thoughts
It's time to experience Florida's natural beauty by visiting the Ocala Springs on this list. All the springs in Ocala National Forest stay a cool 72 degrees Fahrenheit. You can drift on an inflatable raft across Alexander and Paradise Springs. Observe the safety precautions as most of Ocala springs have alligators and manatees.
More about our TFVG Author