With summer just around the corner, it's time to start planning your next family vacation. That means answering one of the most important questions in the planning process: where should you go?
Miami, Florida, is a popular tourist destination all year long, but it's especially fun in the summer. When there's no school to worry about, you can take in all the sites, enjoy the sun and sand, and make special memories with your kids.
If you're considering a family trip to Miami, you'll probably want to find a family-friendly place to call home while you tour the city. Thankfully, there are plenty of great places to stay in Miami for families with kids.
Let's walk through the best places to stay in Miami for families with kids and all the fun things to do while you visit!
Where To Stay with Kids
The biggest thing to consider when traveling with kids is where you can stay to feel comfortable and safe.
Even big cities like Miami have great options for family-friendly overnight options. These neighborhoods are great for kids and filled with amazing local fare and plenty of entertainment for the whole family.
If you're planning a trip to Miami, try checking out these awesome neighborhoods for your stay:
Coconut Grove
South Beach
Bal Harbour
La Gorce
Coral Gables
Mid-Beach
Key Biscayne
Surfside
Kendall
Palmetto Bay
Upper Eastside
Downtown Miami
Coconut Grove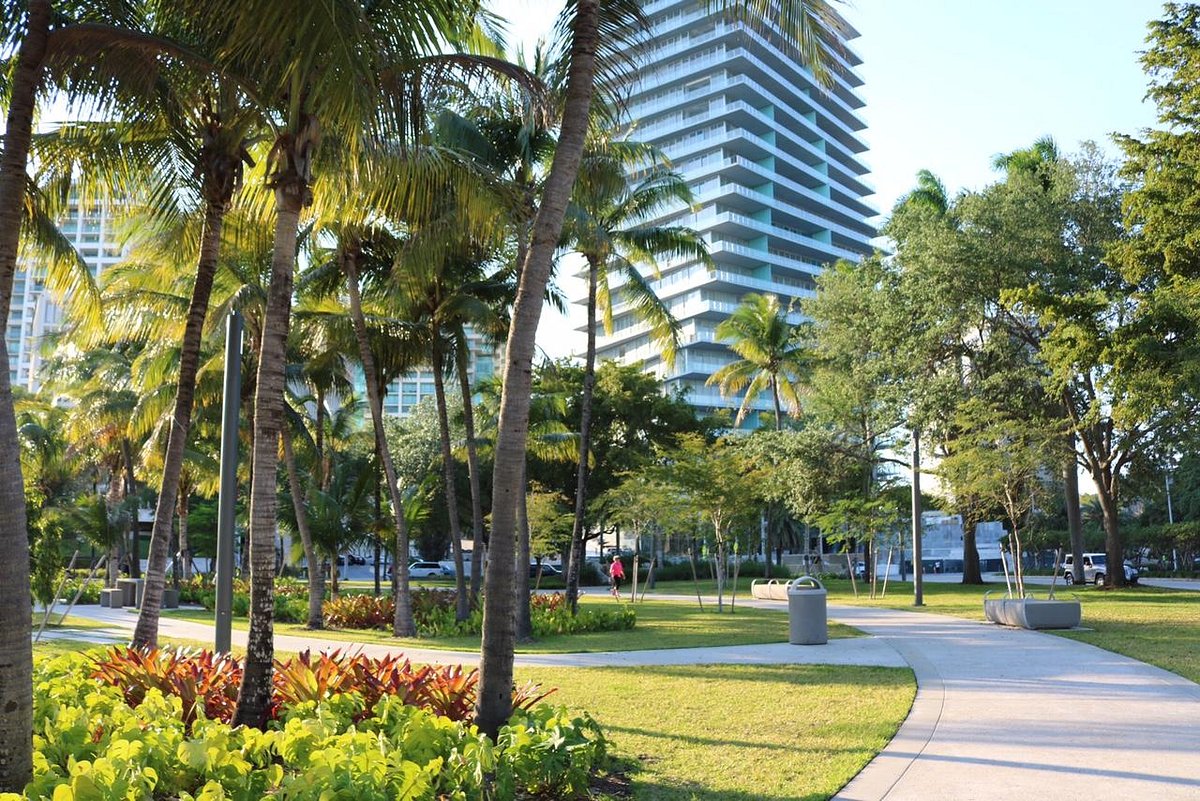 You'll feel right at home in Coconut Grove. It's a charming community on Biscayne Bay, making it the perfect place to relax and watch the waves.
Coconut Grove is home to several delicious local restaurants and fun places to visit. Your kids will have plenty to do!
If you stay in Coconut Grove, take advantage of the historic parks and unique sidewalk shops.
Where To Eat
There are plenty of kid-friendly restaurants to check out in Coconut Grove. You can try Harry's Pizzeria if you're looking for pizza with an unexpected twist. As a local favorite, Harry's is a great place to spend an afternoon before heading to the beach.
If you have adventurous kids, you should check out Coconut Grove's Atchana's Homegrown Thai Restaurant. They bring Thai food to a new level in a family-friendly setting.
What To Do
You won't run out of things to do in Coconut Grove. From Peacock Park to The Barnacle Historic State Park, plenty of indoor and outdoor activities will keep your kids occupied for hours. You might find that you're enjoying the experiences as well!
A must-see attraction in Coconut Grove includes the Vizcaya Museum & Gardens. The beautiful estate features fascinating art pieces, and the gardens are perfectly manicured to make the entire experience worth remembering.
When To Go
If you want to avoid the busy seasons in Coconut Grove, try to go sometime other than March, January, and February.
The summer is always a great time to visit Florida, but keep the relentlessly warm weather in mind.
The best time to visit Coconut Grove is between mid-November and April. So if you aren't planning a summer trip, Coconut Grove could be your winter getaway destination.
South Beach
One of the best things about visiting Miami is getting plenty of time on the beach. If you have water-loving kiddos in the family, consider finding a place to stay in South Beach.
As part of the Miami Beach district, South Beach is great for enjoying plenty of beachfront and time in the sun.
South Beach features plenty of shopping, art-deco architecture, and outdoor cafes where your family can enjoy the scenery.
Where To Eat
Big Pink is one of the best comfort food restaurants in Miami. With a delicious menu of classic American fare, Big Pink is a great place to take the kids. Staying in South Beach puts you right next to it.
Yardbird Table & Bar is another excellent option for family dining. It features adult beverages for you and unique Southern comfort food for the kids. There's something on the menu for everyone, even if you have a picky eater in the family.
What To Do
South Beach is filled with fun things to do. Besides visiting the beach and relaxing on the waterfront, you can check out the famous South Pointe Park Pier.
You can also take your little ones on an adventure through any number of South Beach parks, like Flamingo Park. Here your kids can enjoy big swings and a climbing wall.
Don't forget about nearly three acres of urban garden at the Miami Beach Botanical Garden!
When To Go
South Beach is a popular winter destination for the wealthy, meaning prices tend to skyrocket between November and March.
If you want warmer temperatures and cheaper rates, consider heading to South Beach between March and May.
Bal Harbour
You'll love spending your days in Bal Harbour, Florida! The quaint little village is situated on the same island as Surfside, another beautiful neighborhood on this list.
With beautiful ocean views and exciting beaches, Bal Harbour is a great place to stay with the kids. Even if you spend most of your time exploring other parts of Miami, you'll feel like royalty coming back to your island getaway each day.
Best of all, Bal Harbour is known for more tranquility than other popular beach destinations around Miami.
Where To Eat
Le Zoo is the first eatery to check out when you're enjoying yourself on Bal Harbour. The French Mediterranean-inspired restaurant features fresh seafood, unique cocktails, and stellar options for the kiddos.
Carpaccio Restaurant is another great choice, especially if you're already exploring the shops around Bal Harbour. If you enjoy Italian, you'll love all the offerings at Carpaccio.
Atlantikos is a more upscale option, but perfect for anyone who enjoys a Greek meal every so often!
What To Do
Staying in Bal Harbour guarantees that you'll never run out of things to do.
Bal Harbour Beach is the obvious first choice, a great place for families to enjoy the sun, wind, and surf. The Bal Harbour Marina is another cool place to check out, especially if you have budding mariners in your group.
Finally, the Bal Harbour Shops are well worth exploring if you want to find a few unique Miami keepsakes to take home. Plus, it's where you'll find most of the best restaurants!
When To Go
If you want to avoid the oppressive Florida heat and humidity, consider checking in at Bal Harbour sometime in the early spring.
La Gorce
If you're looking for an exclusive vacation getaway, consider taking your family to the infamous La Gorce. This private island in Biscayne Bay is secluded, luxurious, and home to plenty of well-known celebrities that you might catch a glimpse of on your trip.
Although La Gorce is technically a private island, don't be intimidated by the prices likely swirling through your mind. You can find plenty of affordable rental options for you and your family.
La Gorce gives you a beautiful view of Biscayne Bay and easy access to fun activities, like golfing on Normandy Shores or swimming in the Bay.
Where To Eat
You'll have to take a quick trip up to Normandy Isles to check out Silverlake Bistro, but you won't be disappointed. New American fare meets an elegant dining atmosphere. It's the perfect place to treat your kids to a special meal.
The Arkadia Grill is a hotel restaurant with unique burger choices and delightful homemade pies. It's a little fancy but a great opportunity for your kids to experience something new ad memorable.
What To Do
La Gorce Island is worth an adventure if you're looking for something to do and you're tired of lounging on the beach. The little community is filled with beautiful homes and fun shops that will take at least a day to explore.
La Gorce Park is another option, where your kids can play, and you can relax with a book or meet other parents. The security at La Gorce Park will give you peace of mind.
When To Go
It's never a bad time to visit the luxurious La Gorce. If you want nice weather, consider staying in late spring or early fall.
Coral Gables
The friendly community at Coral Gables will help you feel like you're nowhere near a big city. Even with Miami right next door, you'll love the quaint neighboring city that offers plenty to do for families with kids.
Perhaps most famous for its 1920s Venetian public pool, Coral Gables is home to exciting activities perfect for kids.
With picturesque waterfront views, unique local shops and cafes, and plenty of museums, Coral Gables might be the perfect place to stay when you visit Miami.
Where To Eat
You won't run out of places to eat in Coral Gables. Doc B's Restaurant is a small seafood chain specializing in fresh catches and American comfort food. There are plenty of good options for the kids and an extensive drink menu for Mom and Dad!
Caffe Abbracci is a must-see attraction if you're at a loss for dinner one night. Get the kids dressed up and treat them to a nice Italian meal that they won't soon forget!
What To Do
When you aren't exploring the food culture of Coral Gables, take advantage of family-friendly attractions like the Coral Gables Museum for civic arts or the 1920s-era Merrick House. History lovers in your family will swoon over the beautiful art and architecture.
Additionally, you can explore the scenic Coral Gables Waterway. Maybe make a scavenger hunt out of it with your kids and see who can spot the most wildlife and native flora.
Finally, the Miracle Mile & Downtown Coral Gables offers the whole family plenty to do. You can explore for hours without losing interest in shops, cafes, and fresh entertainment.
When To Go
You might miss the bustle of Miami if you choose to stay in Coral Gables, making it easier to access year-round. If you want to visit when the weather is best, consider any time between March and June.
Mid-Beach
Mid-Beach is the trendy part of Miami. Here you can find luxuriously modern hotels, elegant restaurants, and an abundance of upscale shopping.
If you've got older kids in the family who enjoy a little pomp and circumstance, then Mid-Beach is the perfect place to stay while you enjoy all that Miami offers.
Mid-Beach is more relaxed than other parts of the Miami Beach area, making it the perfect location to stay with your family.
Where To Eat
Cafe Bernie is a Miami Beach staple, meaning you have to stop by while you're in the area. The menu is inspired by local trends and always offers fresh options for visitors. Whether you like seafood or pizza, you can find it at Cafe Bernie.
If you're looking for something a little more modern on your stay, Orange Blossom is a great pick for families. With new American cuisine and delicious cocktails for Mom and Dad, it's got something for everyone.
What To Do
Mid-Beach has plenty to keep you and your family occupied. You could spend your entire vacation touring Mid-Beach and leave with no complaints.
Apart from the beach, the Miami Beachwalk is one of the biggest attractions in the area. With seven miles of paved beachfront, it's perfect for rollerskating or simply taking in the scenery. There's also plenty of shopping along the way.
There's also Indian Beach Park, where your little ones can play on a playground next to the beach.
When To Go
The best time to visit Miami Beach, in general, is between March and May. The weather is warm without being oppressive, and you avoid the expensive winter rates.
Key Biscayne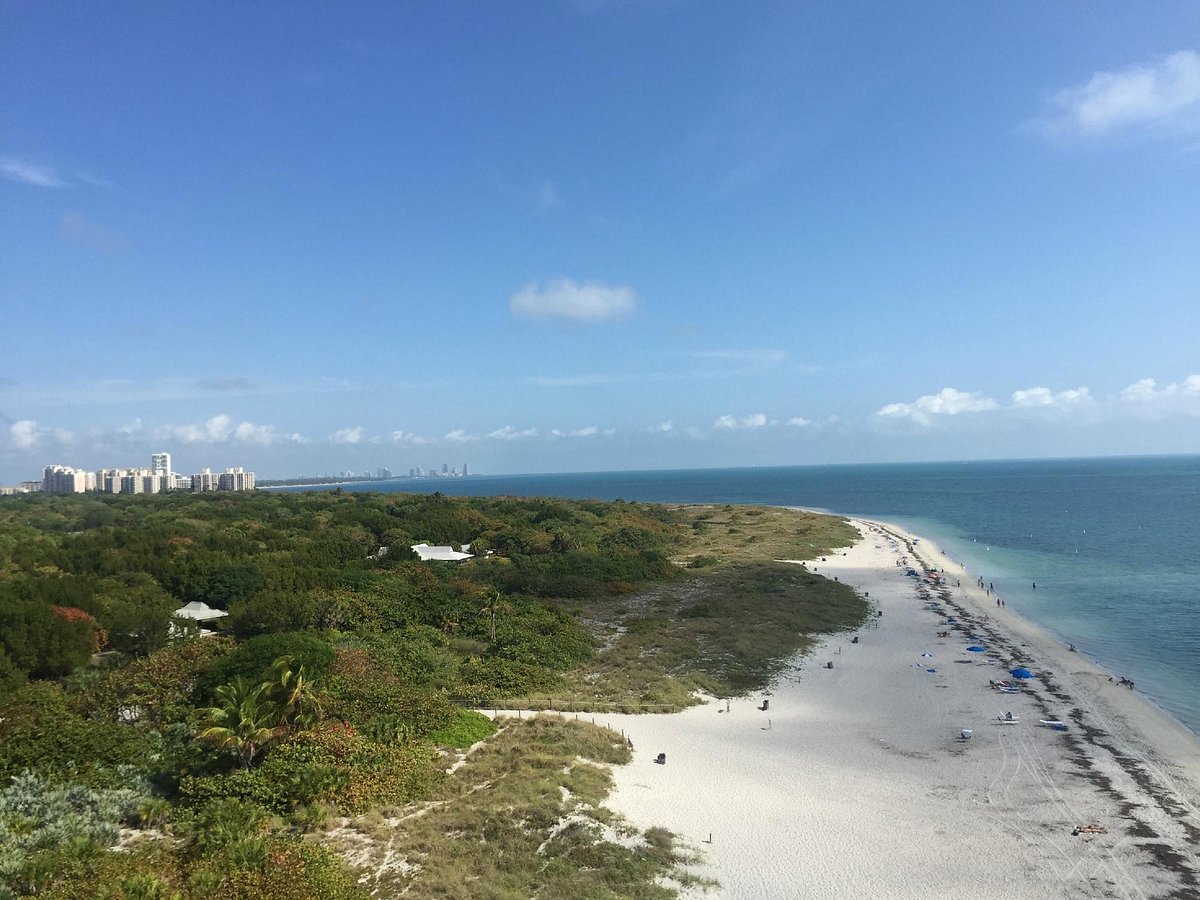 Key Biscayne is a small community on the barrier island of the same name. It's a charming place to vacation, offering lots of beachfront and plenty of parks for the young kids to enjoy. As always, you'll find excellent local food and shopping.
Besides the beach, the best thing about Key Biscayne is the wildlife surrounding you. The community sits between two large parks that are wonderful for exploration and flora and fauna sightings.
It's also a stone's throw from a famous Florida lighthouse. You can eat at the Lighthouse Cafe before exploring the coast and taking a guided tour of Cape Florida Lighthouse.
Where To Eat
If you have young kids with you, your first stop on Key Biscayne needs to be the Donut Gallery Diner. It's a 50-year-old restaurant offering a delicious breakfast menu with more than just donuts.
Sir Pizza is a great lunch or dinner option, depending on your plans for the day. You can easily order online, making it the most convenient option on the barrier island.
But if you want a place where you can sit down and enjoy a nice meal, Kebo Restaurant offers a fresh selection of Spanish and Mediterranean options the whole family will enjoy.
What To Do
Key Biscayne offers so many opportunities for the family that you'll hardly know where to start. Parque Key Biscayne and Key Biscayne Beach are great first choices, and you'll likely end up there more than once during your stay.
If you're up for an adventure, check out Crandon Park to the north or Bill Baggs Cape Florida State Park to the south. You can explore Florida's interesting ecosystem, enjoy different beaches, and meet other travelers.
Finally, you must climb to the top of Cape Florida Lighthouse at Bill Baggs. The historic lighthouse has stood in the same spot since the early 1800s. It offers a great history lesson and stunning views of the area.
When To Go
June is a great time to visit Key Biscayne, although the heat will be setting in. If you're looking to escape the harsh Midwestern winter, visiting in November or December is always a good choice.
Surfside
With a great business scene and plenty of charming rentals for vacationers, Surfside is an idyllic little Miami community that looks out over the Atlantic Ocean. It offers more peace and tranquility than other parts of Miami, even on the beach.
Whether lounging in the sand or strolling through the downtown area, you and your family will have a splendid vacation in Surfside.
Because of its location in the Bal Harbour Islands, you can enjoy a few boat rides to get around and see other parts of Miami. It's also just north of Miami Beach, making a trip down to the famous Florida hotspot easy and fun.
Where To Eat
Prepared by master chef Thomas Keller, The Surf Club Restaurant is a staple in the Surfside community for fine dining and unique cuisine. The atmosphere centers around the bygone days of Miami, and the fresh food caters to everyone.
If you're looking for something quick and easy, you can't go wrong with Monchesse Pizza. Everything is made-to-order at this family establishment, served up fresh at the counter.
Josh's Deli offers an artisanal twist to different traditional Jewish meals, an interesting place to grab a bite if you want to experience something a little unique.
What To Do
You'll want to spend most of your time enjoying Surfside Beach, a wonderfully peaceful beach where you can relax in the sun while your kids play around you. With soft white sand, you'll feel like you've found your slice of heaven.
Of course, Surfside Walking Path is a great option if you need to stretch your legs. You're never far from the ocean, making walking more fun.
Finally, the North Beach Oceanside Park of Miami Beach is right next door. You can get there quickly if you head south on the Surfside Walking Path. It's worth exploring if you want to experience a different beach or let your kids play on a playground.
When To Go
Like most of Florida, tourists flock to Surfside in the winter and spring. If you want to avoid the crowds and the steep prices, consider visiting in May or June.
Kendall
If you have golfers in your family, you'll want to get them a place to stay in Kendall. The southwestern Miami community is known for its exquisite shopping malls, top-of-the-line restaurants, and wonderful golf courses.
Kendall doesn't sit right on the beach, but you can easily get there by car or taxi. Staying in Kendall means more access to interesting cultural centers like museums and city gardens.
While Kendall might not offer the same excitement as beachfront communities, you'll appreciate the quiet time in your home away from home.
Where To Eat
One of the best things about staying in Kendall is the wonderful restaurants within walking distance. El Toro Loco Churrascaria Kendall is a great example. What started as a food truck around Miami became one of the city's best cuisine hubs.
The Brick American Kitchen & Bar offers a wide selection of farm-to-table meals in a relaxed environment perfect for families with kids.
What To Do
The first thing to check out when you stay in Kendall is Zoo Miami, the primary zoological organization for Miami-Dade County.
You can see wild mammals like African elephants and lions, a Bactrian camel, or a pygmy hippo. There's a native bird exhibit featuring all kinds of local Floridian creatures. Or you can experience the flying beasts of Asia and Africa.
And if you have any snake lovers in the family, they'll be thrilled to see a green anaconda in person, finally!
When you're done at the zoo, check out the Gold Coast Railroad Museum, where you can learn all about railroad history in Florida.
Kendall also offers plenty of outdoor exploration and fun. Just head to Continental Park or the Pinecrest Gardens for an afternoon in the sun!
When To Go
If you want the best weather, visit Kendall in the winter or early spring. You can try for May or June if you're more concerned about the cost.
Palmetto Bay
Southeast of Kendall, you'll find the charming village of Palmetto Bay. Established in 2002, Palmetto Bay offers a great selection of fun activities and charming rental properties. It's the perfect place to call your home away from home.
The thing you'll notice immediately about Palmetto Bay is the numerous public parks that are filled with nature and wildlife, perfect for exploring on your Florida getaway.
Plus, there's plenty of shopping around the Palmetto Bay area. So if the boys in your family are off exploring Florida's wildlife, you can take the girls on a fun excursion to pick up a few souvenirs!
Where To Eat
Palmetto Bay offers plenty of great dining options for the whole family. Alaine's Osteria is a charming Italian restaurant that feels like a neighborhood hotspot. Aromas Del Peru is a local favorite with authentic Peruvian cuisine perfect for lunch or dinner.
Finally, your family is guaranteed a good time at Hole In The Wall. It's a friendly tavern with a charming vibe that's community focused. Best of all, you can enjoy your meal in their outdoor seating area.
What To Do
Palmetto Bay Park is a great place to let your kids play on the playground, run through the open green spaces, or play a little basketball on one of the multiple courts.
Coral Reef Park is all about nature if you're looking for a more tranquil experience. Sitting on 50 acres of pristine Florida heaven, you can explore the greens or a streaming canal that runs through the park.
At Bill Sadowski Park, your kids can experience three distinct Florida habitats within 30 acres.
If the parks interest your kids in Florida wildlife, check out Shark Valley Tram Tours. A tram tour is an easy, safe way to experience the life of the Florida Everglades.
When To Go
Like most of Florida, you must decide whether you want cheap rates or good weather. The summer is a better time for smaller crowds and reasonable prices. But the winter and spring months are the best weather-wise.
Upper Eastside
Upper Eastside is predominantly a residential area of Miami. However, it offers plenty of charming rental properties and lots of fun things for visitors to do.
It's known for its modern architecture and sidewalk cafes. A large, shady plaza called Miami Ironside offers retail, design stores, restaurants, and other shopping outlets.
Situated on Biscayne Bay, you'll find yourself right next to wonderful beaches and fun parks for your kiddos.
Where To Eat
Ms. Cheezious came from a food truck and now offers a wide range of fancy grilled cheese sandwiches. It's a local favorite, especially among young folks.
Jimmy's Eastside Diner is a great retro dinner where you can order breakfast all day. There are lunch options, too, if you're not in a breakfast mood.
If you want simple and family-friendly, Andiamo! Brick Oven Pizza should be at the top of your list. The thin-crust style alone makes this a premier pizza location.
What To Do
If you stay in Upper Eastside, you'll want to check out the shops and restaurants along Biscayne Boulevard. Known as Miami's gateway, your walk will be shaded by palm trees and 1920s Miami history.
Situated along Little River, Manatee Bend Park is a great place to spot a native Florida manatee. It's one of the best places in the region to spot fascinating creatures.
If you have the time, check out Space Park and what events might happen during your stay. From yoga in the park to concerts, you can experience a little bit of everything at this Miami park.
When To Go
It's best to visit the Upper Eastside sometime between May and June. After June, the weather begins turning almost unbearably hot.
Downtown Miami
Downtown Miami is not at the top of the list because it's not the safest area in Miami. However, it is a perfectly safe place to stay with kids if you're vigilant and don't wander around late at night.
Staying in Downtown Miami offers your family a wide range of opportunities to experience life in a big city while enjoying parks and the beach. It features cultural centers and shopping districts and even includes several islands.
If you decide to stay here, you'll have more than enough distractions and wonderful local restaurants to grab a bite.
Where To Eat
Crazy About You offers a family-friendly atmosphere and a budget-friendly menu with a mix of Italian, Spanish, and American influences. Best of all, you always get a free appetizer!
Bubba Gump Shrimp Co. is a charming chain-style restaurant that offers a wide selection of fresh seafood and souther-style cooking. If you're craving fried shrimp, this is the place to get it.
If you need brunch, a quick treat, or a cup of coffee, you can find it all at Motek. The Eastern Mediterranean cafe is perfect for taking a load off between activities.
What To Do
When you're not exploring the food of Miami, you'll have lots of places to visit in the downtown area. The Miami Circle is a famous historic landmark and archeological site that provides plenty of photography opportunities for the family. And Bayfront Park is a great place for the kids to play.
The Miami Observation Wheel is a new addition to Downtown Miami's appeal. Open daily, you can take your kids up on the wheel for a great view of the beautiful area.
HistoryMiami Museum will satisfy the history nerds in your group. You can learn about Florida and Miami through the years and engage with top-notch interactive displays.
Finally, you must take your kiddos to Dino Safari Miami, an interactive walk-through experience that brings life-size dinosaur reproductions into action with realistic movements and sounds.
When To Go
Miami gets hot and humid in the summer, but June and July are typically the most affordable times to visit. If you'd prefer pleasant weather, consider booking your stay for November, December, or January.
A Final Word
Miami is a fascinating city that's well worth a family vacation. Your kids can enjoy a day on the beach and then experience a unique cultural center like a railroad museum or Miami's famous zoo.
With so much to do and see, it's no wonder that so many people flock to Miami every year. If it's time for a family vacation, consider adding Miami to the top of your list this year. It could be the best family trip you've ever taken.
More about our TFVG Author