Miami, Florida, is a beautiful destination in which to travel and to reside. When you have kids, your life revolves around your kids. So, it is important to be aware of kid-friendly activities available to you within a certain area.
Whether you are looking to travel, move to, are dealing with children complaining that they are bored, or are just curious about kid-friendly activities in Miami, below is a comprehensive list of 21 of the best things to do in Miami with kids. 
1. Phillip and Patricia Frost Museum of Science
Located near the beautiful coastline of Miami, the Phillip and Patricia Frost Museum of Science is a great way to encourage your children to learn. As a museum of science, the experience focuses on learning principles related to science and technology. The museum is home to four buildings: Frost Planetarium, Aquarium, North and West Wings.
Their mission is to allow guests to learn more about the sectors of science, technology, engineering, and math (STEM). They do so by experiences related to living systems, solar systems, the universe, physics, concepts surrounding light, and biology.
They deliver such experiences not only through the availability of their physical buildings but through offering virtual programs, field trips, and science camps.
From dinosaurs to the impact of personal choices to living critters and everything in between, the Phillip and Patricia Frost Museum of Science is sure to have something to engage and encourage your little ones.
Seasonally, they have special exhibits for you to see. Their most current seasonal exhibit is about different types of dinosaurs and their anatomy. Keep updated by checking their website to see which exhibit will be on display at the time of your visit.
For an adult, admission is $29.95, and for children aged 3-11, admission is $21.95. Children two years or younger have free admittance. Additional admittance (such as for shows) may be extra.
2. Zoo Miami
Zoo Miami is fascinating not only for kids but for adults too. They pride themselves in being the only sub-tropical zoo in the United States. It is also the largest and oldest zoo in Florida. Because Florida has such a unique climate and weather, it can house many different species of animals from various continents.
It was established way back in 1948. It takes up about 750 acres of land and has over 3,000 animals. In addition to showing off the beautiful animals, they show off the different kinds of tropical plants and trees.
If animal safety and abuse prevention are a concern to you and even possibly to your kids, know that the zoo passed a hefty inspection process carried out by the Association of Zoos and Aquariums. The inspection ensures that the animals are well-cared for and happy in their habitats.
Visiting Zoo Miami has educational benefits. The zoo works hard to replicate the animals' natural habitats. Doing so is good for the animals' well-being and your kids to learn about which types of environments different animals live in.
The zoo hosts many other activities. One fun choice is animal feeding, where you can choose to feed giraffes, camels, rhinos, or parrots.
You can also hang out with a tortoise in what they deem an animal encounter. Rides include the Lostman's River Ride, Monorail, Safari Tram Tours, the Wildlife Carousel, and pedal boats.
Zoo Miami walls are another fun addition. Artists from all over decorate the walls with beautiful murals of animals and plant life. They aim to fill all of their empty wall space with wildlife art to broaden perspectives on certain animals.
Educational field trips, zoocademy, zoo camps, night programs, and other learning experiences are also hosted at Zoo Miami.
The base ticket rate is $22.95 per adult and $18.95 per child, with additional fees depending on which package you choose. Other activities are an extra charge as well. Children two or under are admitted at no cost.
3. Miami Seaquarium
The Miami Seaquarium is another great way to explore wildlife with kids. The animals in their care were rescued and are in the process of rehabilitation. Apart from viewing the multiple animals, they offer many additional activities.
At Miami Seaquarium, your child can spend the day swimming with dolphins, greeting a dolphin and learning some training signals, swimming with seals, and interacting with penguins.
Plus, if your kids are as passionate about environmental conservation as the Seaquarium is, their website has a page dedicated to encouraging kids to be Reef Rangers. Being a Reef Ranger entails taking a pledge.
Prices of admission vary, as there are different packages and specific experiences to choose from.
4. Tidal Cove
Kids always seem to have energy. In Miami, Tidal Cove is an excellent way for children to have fun in the Florida sun while burning energy. It is a large waterpark (often voted as one of the best water parks in Florida) associated with JW Marriott Miami Turnberry Resort & Spa.
For people staying at the resort, admission is free. For those who are not staying at the resort, admission is granted with the purchase of a Resort Day Membership. They also offer group discount rates, so it is getting your kids' friends together to join the fun.
Renting a cabana is an option while visiting Tidal Cove. Complete with a flatscreen TV, a personal safe, poolside dining and service, and more, planning a day at Tidal Cove allows you to spend quality time with your kids.
The attractions at Tidal Cove are sure to excite both you and your children. There is a separate section specifically for children called the Kids Cove. For certain attractions, there are height and weight limits.
There are many additional attractions. The infamous Aqua Drop is perfect for the kid who craves an adrenaline rush. As soon as the trap door opens, they are sent down a nearly vertical drop.
In Boomerango, you sit in an inflatable tube, which sends you up a wall before landing in the splash pool. Constrictor is a fun inner tube ride, and Master Blaster is an exhilarating uphill waterslide.
Whizzard is an attraction where you race to the finish of the water slide course. Kids can also take lessons at the FlowRider. Both you and your kids can choose to float down the Lazy River or relax by the Laguna Pool or the Oasis Pool.
This is one of the best possibly all-day events to do with kids in Miami. There are so many different activities to do, and it will leave kids wanting to go back in the future.
5. The Museum of Illusions
The Museum of Illusions comes social media ready with interactive 3D Illusions and "Smash It!" exhibits that will take your breath away, transporting you to a world of fantasy and imagination!
The museum's 40+ 3D illusions produce eye-popping pics, inspired by cartoons, art, current events, movies, and more! Not just that, their "Smash It!" room can help you blow off steam and let go of what is no longer serving you any good!
Guests can look forward to flying on the magic carpet, walking on the edge of the skyscraper, or even surviving the lava bridge. And of course, release your tensions by smashing the plates with your stress-filled thoughts.
Flash photography is not just allowed, it's encouraged. The Museum of Illusions is the place to create memories and let your imagination soar. Created by some of the world's best artists, the Museum of Illusions is one of the most famous attractions in Miami.
6. Miami Children's Museum
The Miami Children's Museum strictly caters to children. But, adults can accompany the children and get joy from seeing the smiles on their faces when they visit the Miami Children's Museum. Children are not allowed into the exhibits without an adult, and adults are not permitted into exhibits without a child.
The museum consists of many different galleries. Children have a wide range of options to choose from, and each gallery offers useful life skills and new information.
The museum also offers unique daily programs, such as themed art projects in the art studio, storytime, and the glass lab. The exhibits were each designed with a specific goal in mind. To accomplish the goal, children complete particular objectives.
Exhibits are a way for children to apply what they have learned to real-life situations. There are exhibits dedicated to learning about banking, construction, health and wellness, pets, the supermarket, and much more. With so many exhibits to choose from, there is something for every kid to learn there.
Tickets must be purchased online before your visit. Play sessions at the museum are two hours long. Playtimes are specific and pre-set, so be sure to check their website to plan your visit.
For general admission, it is $22 to get in. Florida residents can enjoy a discounted rate of $15 for admission.
7. Venetian Pool
A visit to the Venetian Pool in Coral Gables offers insight into the history of Miami. It is even listed on the National Register of Historic Places. In the early stages, it was a place of limestone rock extraction.
As a result of the joint efforts of an artist and an architect, the extraction site was turned into the Venetian casino in 1924. During the early stages, it was a hot spot for celebrities to stop and spend some time.
The Venetian Pool teaches swimming lessons for children as well as adults. In addition, half-day and full-day summer camps are a fun way for children to learn rescue tactics, such as CPR and First Aid.
Apart from the history and educational opportunities, the Venetian Pool is beautiful, with many surrounding palm trees, caves, waterfalls, and coral rock formations. It is also in an excellent location, with many dining options nearby.
Non-residents and residents alike must pay a fee to visit the Venetian Pool. Admission for non-residents is priced at $15 for adults and $10 for children ages 3 to 11. Resident fees are a little over half the price of a non-resident admission fee.
8. Zoological Wildlife Foundation
Even more wildlife encounters, animal experiences, and tours are available at the Zoological Wildlife Foundation.
The options include a VIP Jungle Experience, General Wildlife Experience, Wildlife Presentation, Special Wildlife Experience, Lion Cub Encounter, Jaguar Club Encounter, Primate Experience, Serval Encounter, Tug of War With Big Cat Experience, Feline Experience, Primate Encounter, Kangaroo Encounter, Tamandua Encounter, Owl Encounter, and Sloth Encounter.
With such a diverse range of encounter opportunities that are hard to find elsewhere, children will most definitely be impressed with the Zoological Wildlife Foundation.
9. Everglades Alligator Farm
One of the arguably most well-known things about Florida is the alligators. From airboat rides to shows to tours, children will love visiting the Everglades Alligator Farm.
Regular airboat rides are roughly half an hour long, with opportunities available to have an extended, private airboat tour that is about twice the length of the regular ride.
If you and your children do not mind getting wet from the water and the loud rumble of the boats, this is a must-do experience. There are no age restrictions on who can ride on the boat.
Alligator shows and alligator feeding shows are not only entertaining but educational. Spending a day at the Everglades is a fun way to learn something new when in Miami.
And, if your kiddo is over six years old, they can spend a one-hour guided alligator encounter feeding, holding, and looking at multiple alligators. Prices for admission and different experiences vary.
10. Miccosukee Indian Village
The Miccosukee Indian Village is home to a museum that showcases the Miccosukee Tribe's way of life. It opened in 1983 and contains artifacts and exhibits that portray the history and culture of the Tribe.
They host a live demonstration of alligator "wrestling" – but do not worry, it is simply a demonstration, and no living being is harmed in the process. The demonstration also has historical significance, as when the Tribe settled in the Everglades, alligators provided many resources for them.
Tickets cannot be bought online. They must be bought in person at the Village front office. Adults are admitted for $15, children ages 6-12 for $8, and children five and under for free.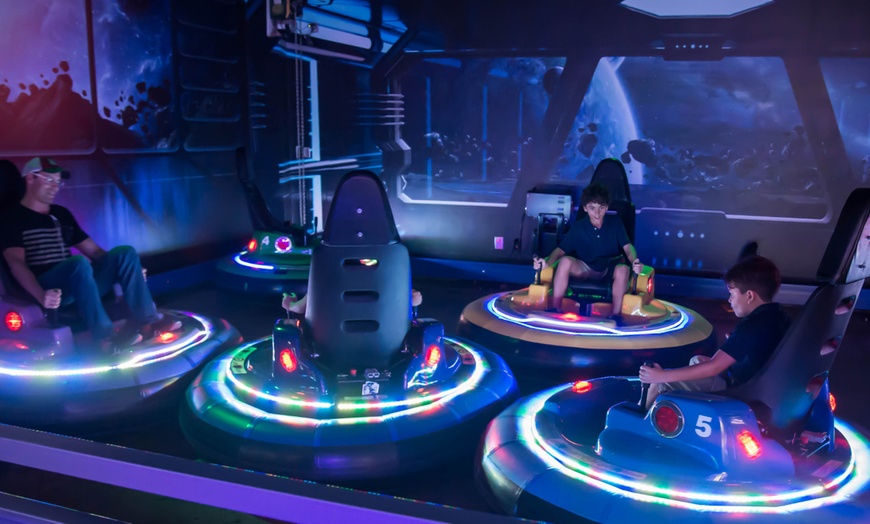 11. FunDimension
FunDimension is another attraction that caters to both children and adults.
FunDimension emphasizes that it is a family entertainment place and is undoubtedly one of the best things to do in Miami with kids. They offer many attractions for young ones and adult beverages for adults.
The attractions include an XD theater, an arcade where you can win prizes, an indoor playground, a laser tag arena, bumper cars, virtual reality, and a climbing wall.
They pride themselves in establishing a unique environment that leaves everyone in attendance feeling happy. In particular, they boast about their restaurant and lounge, which gives parents a place to socialize and eat while the children play. And, when the children get hungry, they can find something to eat there too.
If applicable, each attraction has its height, age, or weight requirements—pay per game or per round of using an attraction.
12. Artechouse
Art, science, and technology make up the backbone of the Artechouse. The facility was established in 2018, so it is a newer attraction. Nonetheless, it is a must-see.
They put on different programs, each with a different theme, purpose, and vision in mind. It is an immersive experience that features different and modern art pieces and exhibits as part of a walk-through.
The featured art is usually the result of the collaborative efforts of artists around the world. Children are inspired to be innovative and to stay curious. You can view the art in person or via the Extended Reality app. The app is a fun way to experience innovative art pieces virtually.
Tickets are sold on a per-program basis. Merchandise is an additional cost. They run from $17 to $24, and children four years old or younger get in at no cost.
13.  Wynwood Walls
Another artsy option to explore in Miami with kids is Wynwood Walls, which is an urban graffiti art museum. Established in 2009, the creator used the multitude of warehouses as his opportunity to make and showcase art.
Street art can be pretty interesting. Street art is a primarily underappreciated form of art. Seeing it for the first time is a good experience that children will appreciate. A child with a creative or abstract mind will especially enjoy this location.
Contributing artists come from all around the world. With a tour or an early access tour, you and your children learn about the meanings behind each mural. The tours last about an hour long.
If you stop by on a Sunday, Wynwood tour guide and artist Ryan the Wheelbarrow will take you around for a history tour. There are also three different street art experience courses where you learn specific tricks and tips on making a mural.
The first class focuses on controlling the can. The second class focuses on being able to start up a mural. The third course focuses on murals of nature.
Some more events that Wynwood hosts are Saturday morning art classes, glow-in-the-dark yoga, and yoga in the garden. Upon occasion, artists play live music.
Reservations are required for most tours and courses. Prices differ for different events. Specific events and classes may or may not be offered at the time of your visit, as they are swapped out from time to time.
14. Flamingo Park
Another one of the best things to do in Miami with kids is to spend a day at Flamingo Park. This vast park has been around since 1950 but has undergone many renovations since then.
Sporty children can enjoy the aquatic center, baseball stadium, basketball courts, handball and racquetball courts, football stadium and running track, soccer field, softball field, tennis center.
For general fun, there is a toy lot/playground. If you have a family pet, a great way to spend time both with your kids and your pet is visiting the bark park.
Whether your kids need some fresh air or need to burn off energy, the Flamingo Park is a great way to spend time outdoors in sunny Miami.
15. Gecko Parx
Gecko Parx is a child's dream play place. From foam pits to trampolines, arcade games, and more, visiting Gecko Parx is one of the best things to do in Miami with kids.
The facility is 40,000 square feet, so there is ample room for your children to run around and tire themselves out. After all the physical activity is over, they can stay a while longer to enjoy a slice of pizza or two.
16. Jungle Island
Jungle Island is an excellent mix of the outdoors, wildlife, and fun. The park was formerly known as Parrot Jungle. However, they suffered damage inflicted by Hurricane Irma a while ago. Since then, they have luckily regrouped and reopened with a new name.
During your visit, your children can enjoy the waterslides, zip lines, and escape rooms. Even more entertaining is the dedicated area for Nerf battles and wind tunnels.
While enjoying all of these attractions, you can also enjoy the beautiful exotic animals. Experiences include animal shows, exhibits, and tours.
17. Bill Baggs Cape Florida State Park
The Bill Baggs Cape Florida State Park is a gorgeous location. The name "Cape of Florida" dates back to 1513 and is linked to Spanish explorer Ponce de Leon. It has quite a bit of history behind it, which is discoverable through guided tours through a historic lighthouse that has been around for over 200 years.
The views from the lighthouse are unbeatable, and your kids will not only love the views but the fact that they had to climb the lighthouse to see it.
If your children would like to do something other than a guided tour, there are many other ways to have fun at the Bill Baggs Cape Florida State Park. You may choose to walk around the area, bike the area, or even explore it via boat or kayak.
There is a fee to get into the park and an additional fee if you choose to stay overnight. Also, some activities are subject to another charge.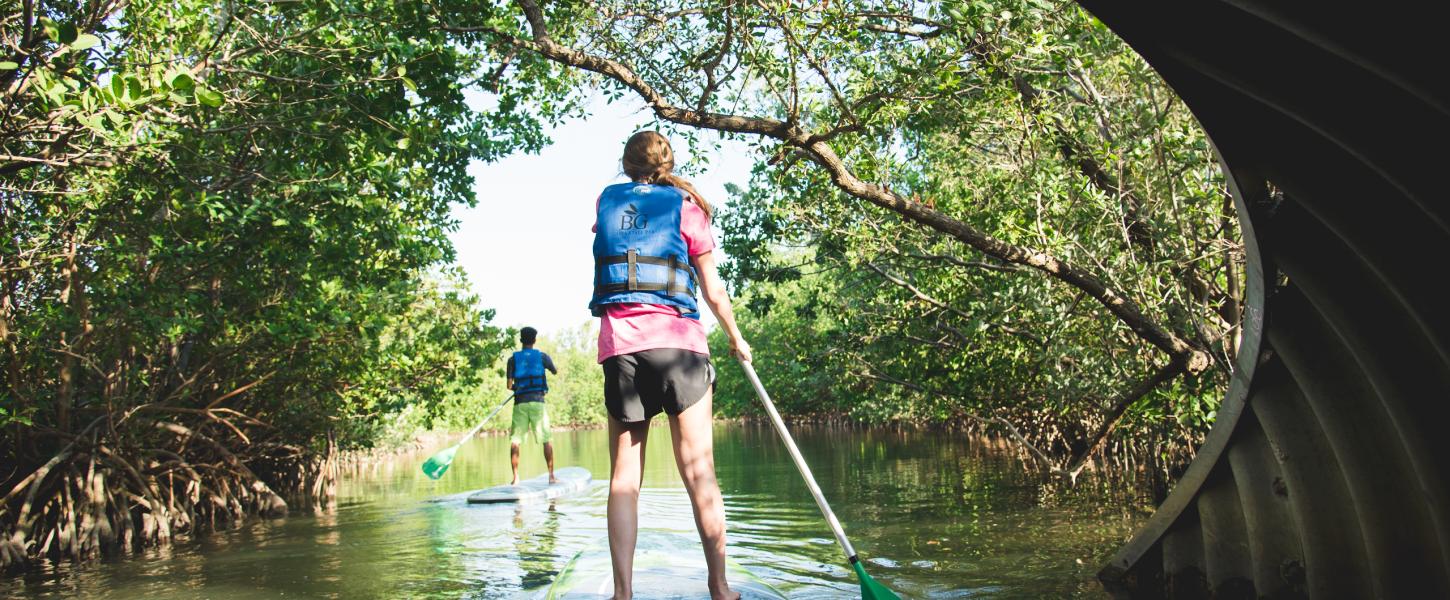 18. Oleta River State Park
This state park is another beautiful place. A river cuts through the heart of Oleta River State Park. For active kids who enjoy outdoor activities, this is a great choice. You and your kids can experience this thousand-acre-plus area by bike, paddleboarding, swimming, or fishing.
You can also find youth campgrounds, although to use them, you must be part of an organized group. Apart from that, they have air-conditioned cabins up for grabs. Be sure to make a reservation before you go.
As this is an outdoor area, you may have the chance to view some wildlife. Sitting out under the sun, picnicking, and keeping an eye out for animals makes for a perfectly fun-filled day that your children are sure to enjoy.
Additionally, their butterfly garden takes up just under half an acre. Many different kinds of butterflies make an appearance there year-round. Lastly, there are a few playgrounds available as well.
The park is open 365 days a year. There is a $6 per vehicle fee to access the park, and additional activities may come at an additional cost.
19. Kendall Ice Arena
To get away from the heat and humidity in Florida, take a visit to the Kendall Ice Arena, where your kids can learn how to ice skate. Choose from many different public skating lessons, each priced at around $15 with skate rental. The best way to purchase tickets is online through their website.
There are a variety of time frames throughout the week when public lessons take place. Check their website to see when a live DJ will be at the arena if that is something that you and your kids are interested in.
20. The Edge Rock Gym
The Edge Rock Gym in Miami is over 14,000 square feet. They have many rock climbing walls of varying difficulties. Daily admission ranges between $19 and $29, depending on if you have your climbing gear or not.
21. Vizcaya Museum and Gardens
The Vizcaya Museum and Gardens operate on an online ticket reservation basis. Visiting the Vizcaya is an entertaining means of learning about and appreciating architecture and the outdoors. Surrounding the beautiful buildings are ten acres of equally beautiful gardens.
There are three different ways to explore the Vizcaya: by learning about the history behind the buildings and gardens, focusing on their present endeavors, or pondering about what the future holds.
Their website has many informative articles available to read so that you and your children can learn about the history of the museum and gardens. Going over these with your kids before you visit is a fun idea.
Simply visiting is a way to learn about their present. They also host a farmer's market for you to enjoy as you walk around. In terms of their future, they have plans in place to restore the Village. Doing so will allow visitors to immerse themselves in the whole cultural experience.
Conclusion
There are so many great activities in Miami to explore with kids.
Some of the best things to do in Miami with kids are not focused only on the children and teaching them new information but also on the adults involved. There are many opportunities to interact with different types of animals in multiple settings, in particular.
Make the best of your time in Miami and check out some of the most entertaining locations and attractions around. Your kids will love the experience.
Even better, getting a group of your friends and their children together is a great way to double the fun and lessen the price with group discounts at select locations.
More about our TFVG Author
A seasoned traveller, Dad, and avid sports tourist, James foundered The Family Vacation Guide to share his expert vacation experiences- especially when it comes to being a travelling family man.
Featured in Travel articles such as Travel + Leisure, TripSavvy and SFGate, you know you're reading some of the best vacation tips online.