Whether you live in the Fort Myers area or are planning a vacation there, we have some fantastic news for families: there are tons of things to do in Fort Myers with kids, and several wonderful kid-friendly activities in the region. There are things to do with quiet kids, active kids, curious kids, and much more.
There are also activities for hot days, cloudy days, rainy days, and virtually anything else Mother Nature throws at South Florida. Best of all, mom and dad will enjoy them too! Let's take a look.
No trip to Florida is complete with spending some time on the beach, and Fort Myers' beaches are some of our favorites in the Sunshine State. Located on a barrier island seven miles long, the waters of Fort Myers Beach tend to be warm throughout most of the year. 
Fort Myers' beaches feature pristine white sand dotted with beautiful seashells for collectors. Located on the Gulf of Mexico, waves are typically gentle, and the water is crystal clear. The beach slopes gently into the water and out to the ocean, with no sudden drop-offs or dips.
If laying beachside isn't your thing, don't fret; there are plenty of other water activities in the area. Rent all sorts of watercraft or book a parasailing adventure.
The IMAG History and Science Center is located in the heart of Fort Myers. With many exhibits in addition to its enormous theaters showing educational and entertaining documentaries, it's easy to spend the entire day here. We love it for rainy days or as a nice break from the sun and heat.
Their exhibits range from traditional to highly unusual. They have a Hall of History with artifacts from southwest Florida's past and Backyard Nature to learn about native plant life and sustainable action.
Their interactive exhibits include the Living Lab, with hundreds of live animals, the Sea-to-See Touch Tank, and the Hands on Hall. Don't forget to schedule a 3D movie, too!
IMAG is open Tuesday-Sunday. Be sure to check out their website for special events and happenings (they have a lot!) so you visit on the best day for your kids' interests. We also recommend buying your movie tickets ahead of time.
If your kids are fascinated by marine life, then this is an ideal activity for you, certainly a memorable must-do. Captiva Cruises offer a variety of experiences, including sunset cruises and sailing cruises.
Their Dolphin and Wildlife Cruise sets sail daily at 4:00 PM and lasts one hour and thirty minutes. While onboard, you'll encounter wild bottlenose dolphins at play.
See them swimming behind your boat, jumping spiritedly out of the water, up close to your boat. You may also see ospreys, bald eagles, and other fascinating creatures.
Volunteers narrate most cruises from the Sanibel Captiva Conservation Foundation.
Reservations are required, and we recommend that you book your cruise at least one week in advance.
While you're on Captiva Island, be sure to check out some of its quaint shops and eateries for dinner or watch the breathtaking sunsets on its beautiful beach. The costs are $30 for adults and $20 for kids under 12.
Ahoy mateys! Kids love pirates, and they'll go bonkers for this cruise, packed with all kinds of fun, including pirate-themed games, dancing, swashbuckling, treasure hunting, face painting, and much more.
You can also upgrade their package and get a pirate patch, pirate hat, pirate sword, and a booty bag.
These pirate cruises last 90 minutes and sail out into the Gulf of Mexico from San Santos Island, Fort Myers. In addition to all of the swashbuckling adventures onboard, you may see dolphins and other wildlife. They also offer sunset pirate cruise options.
Kids absolutely love this exciting adventure, and adults enjoy letting go and getting to be silly, too. If you're looking for a fun date night idea, they also do adults-only cruises with plenty of rum.
Tickets cost $25 for children 13 and under ($40 for the upgraded package) and $30 for adults. There is a cash bar on board for the grown-ups on all cruises.
Bring your kids back to nature with a visit to one of the Sanibel-Captiva Conservation Foundation's preserves. Their public preserves include Bailey Homestead Preserve, Bob Wigley Preserve, Erick Lindblad Preserve, Periwinkle Preserve, Pick Preserve, and Sanibel Gardens Preserve.
Each conservation area contains lush greenery and natural plant life. Most provide trail guides or tours that point out some of the unique features of the area. In addition, your kids have the opportunity to encounter animals in their natural, undisturbed habitat. This includes all kinds of birds, turtles, and much more.
You don't need reservations, which makes it a perfect last-minute option if your kiddos are getting bored of the beach. Be sure to check their website for special events and guided tours. 
Manatee Park is one of the coolest places for kids in the greater Fort Myers area.
Located on Palm Beach Boulevard in Fort Myers, Manatee Park is a natural warm-water refuge for these gentle giants of the sea. Because it is a natural refuge, the manatees you will encounter there are wild, allowing families to see these stunning creatures in their natural habitat.
The best months to see manatees are the winter months, and the only charge is a small parking fee. You can rent kayaks (including tandem kayaks) from the Manatee Kayaking Company to get closer to the manatees.
Kids love exploring their world, and there is no place better to do that than at a zoo. Naples Zoo at Caribbean Gardens is non-profit and nationally recognized, and they do a great deal of rehabilitation and preservation work.
They have hundreds of animals in dozens of exhibits, including clouded leopards, a two-toed sloth, Burmese python, and many more birds, mammals, and reptiles. They also have special experiences, such as feeding the giraffes and many special events throughout the year. Check their website to plan their visit.
Naples Zoo is open daily from 9:00 AM until 4:30 PM. Reservations aren't required, but for faster entrance, you can get them online.
The Calusa Nature Center and Planetarium's slogan is "inspiring people to connect with nature," and they do a great job of that, especially for kids.
Begin your visit in the Natural History Museum to learn all about the local environment and its flora and fauna. After that, visit the raptor aviary or the planetarium for more immersive fun.
Calusa also hosts daily special events and several camps for kids. There are daily animal talks and shows, as well as planetarium shows included with admission. For an additional price, book a unique program such as Nature Explorers, a Full Moon Night Hike, or more.
Lakes Park is part of the Lee County Department of Parks and Recreation, so admission is free (there is a small parking fee), and there's a lot to do in it.
Lakes Park is perfect for a sunny or cloudy day. It's home to the Railroad Museum of Southwest Florida, where for an additional price, your kids can take a miniature train ride.
There are several gardens which the Lakes Park Enrichment Foundation maintains, including a community garden, children's garden, fragrance garden, and succulent garden. The park also has many trails, a playground, picnic areas, and more recreation.
You can also rent boats and bicycles from Wheel Fun Rentals.
Kids and adults alike love miniature golf, and Smugglers Cove has some fun extras that make it extra fun.
For one thing, it's pirate-themed, with caves, waterfalls, a pirate ship, and more. In addition, each of their courses is home to an alligator habitat with more than 20 Florida gators, and you can feed them! It's a memorable experience for your kids and more than worth the trip.
Smugglers Cove has several 18-hole mini-golf courses in South Florida, including Fort Myers, Sarasota, Bradenton, and others. Smugglers Cove maintains them impeccably. Visit for a fun after-dinner activity for the whole family.
The Golisano Children's Museum of Naples, or C'Mon for short, is one of the most fantastic children's museums in the country and absolutely perfect for a cloudy or rainy day.
They have so many exhibits that there's no possible way your kiddos could do it all in a single day, and there's something for every type of kid.
Some of their current exhibits include a veterinary clinic adopt-a-pet, the Inventioneer's Lab, Journey Through the Everglades, Race to Space, World Cafe, and many more. They also have regular special events and offer camps for kids. Be sure to take a peek at their calendar to plan your visit for the perfect day.
Sun-n-Fun Lagoon is a waterpark in nearby Naples, and it's easy to spend a fun-filled day for the whole family. They have five amazing waterslides built atop a water tower, giving stunning views of the park and the surrounding area (the height requirement is 48 inches).
In addition, swim in Family Falls, jump in at the Dolphin Dive, or relax and float down Sunny's River.
There are things to do for little ones, too.
Tadpole Pool has several water features that toddlers and preschoolers can run through and get some of their energy out. The pools are also temperature-controlled, so you can enjoy yourself even if you end up visiting on a cooler day. 
HeadPinz has three locations in South Florida, one of which is in Fort Myers. It's perfect for an indoor day on your vacation, whether it's raining or you just need a day out of the sun.
There's something for everyone at the Fort Myers HeadPinz, too. You and your family can enjoy bowling, laser tag, arcade games, an adventure ropes course, virtual reality, and much more. They even have old-time bowling lanes and a full menu of snacks and meals to keep everyone playing longer.
HeadPinz Fort Myers is open every day from noon until midnight. You can customize your experience based on your family's interests.
GameTime is a 22,000 square foot indoor arcade located in the Gulf Coast Town Center shopping center. They have a plethora of games and activities for kids of all ages as well as adults. Enjoy the newest in arcade entertainment, as well as classic games to take you back to your own childhood.
In addition to dozens of games, they also have a menu of yummy food and a full bar. They open daily at 11 AM and stay open until 11 PM, later on the weekends.
The Shell Factory and Nature Park is a unique complex located in North Fort Myers.
They have all kinds of activities and attractions, including shops, a steak and seafood restaurant, and rides for kids. There's also a Christmas house, mini-golf, zipline, and of course, a nature park with lots of exciting animals.
They offer a la carte pricing, so you pay only for the activities that your family wants to do. Be sure to check out their website for hours and the various attractions' availability and plan your visit.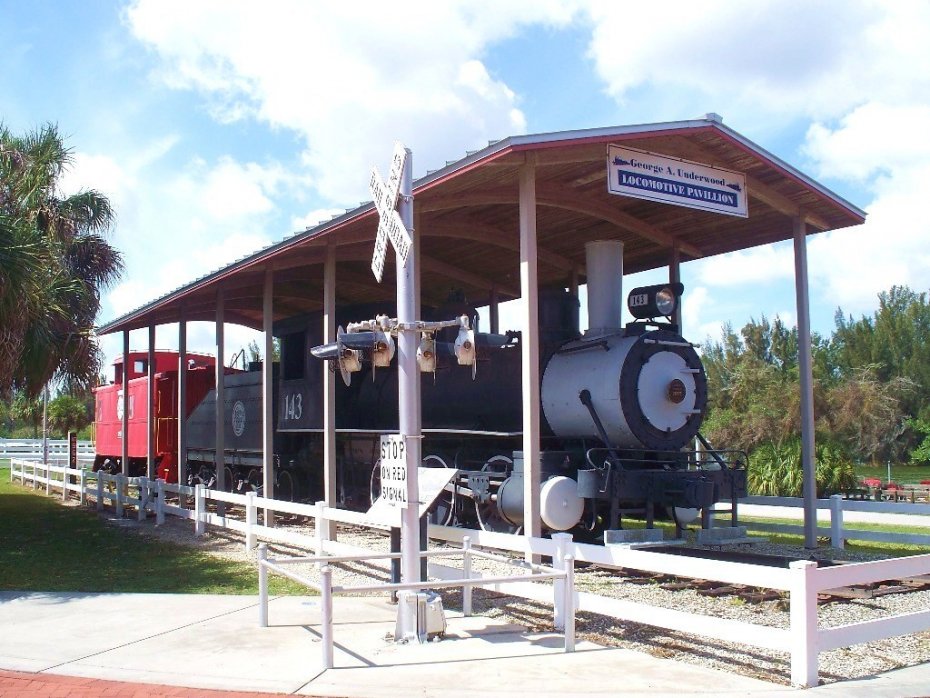 The Railroad Museum of South Florida is located inside Lakes Regional Park, which we discussed above. In addition to the one-mile (15 minutes) miniature train ride, they have several restored trains, including a fully restored 1905 locomotive and tender and a fully restored 1953 Seaboard Airline Railroad Caboose.
The museum also houses an interpretive center where your family can learn about the importance of railroads to South Florida and the United States as a whole.
Many of the exhibits are outdoors, so plan your visit accordingly and come prepared for some sunshine. Their hours are limited, especially during the off-season, so be sure to check their website before visiting.
More about our TFVG Author
A seasoned traveller, Dad, and avid sports tourist, James foundered The Family Vacation Guide to share his expert vacation experiences- especially when it comes to being a travelling family man.
Featured in Travel articles such as Travel + Leisure, TripSavvy and SFGate, you know you're reading some of the best vacation tips online.