When planning your Disney World vacation, nothing beats staying at one of the 32 on-site resorts that will make your magical holiday much more memorable. From the great rooms, dining, recreation, and Disney magic that all the staff provides, nothing beats staying at a Disney resort.
Disney's Animal Kingdom Villas is one of the best resorts on the property. From unique experiences like exotic animals running around to impeccable service, you can't go wrong with choosing this resort for your Disney vacation. Before deciding which resort you'll go with, here's everything you need to know about Disney's Animal Kingdom Villas.
Overview of Disney's Animal Kingdom Villas
Disney's Animal Kingdom Villas
Address: 2901 Osceola Parkway, Lake Buena Vista, Florida 32830-8410
Phone: (407) 938-3000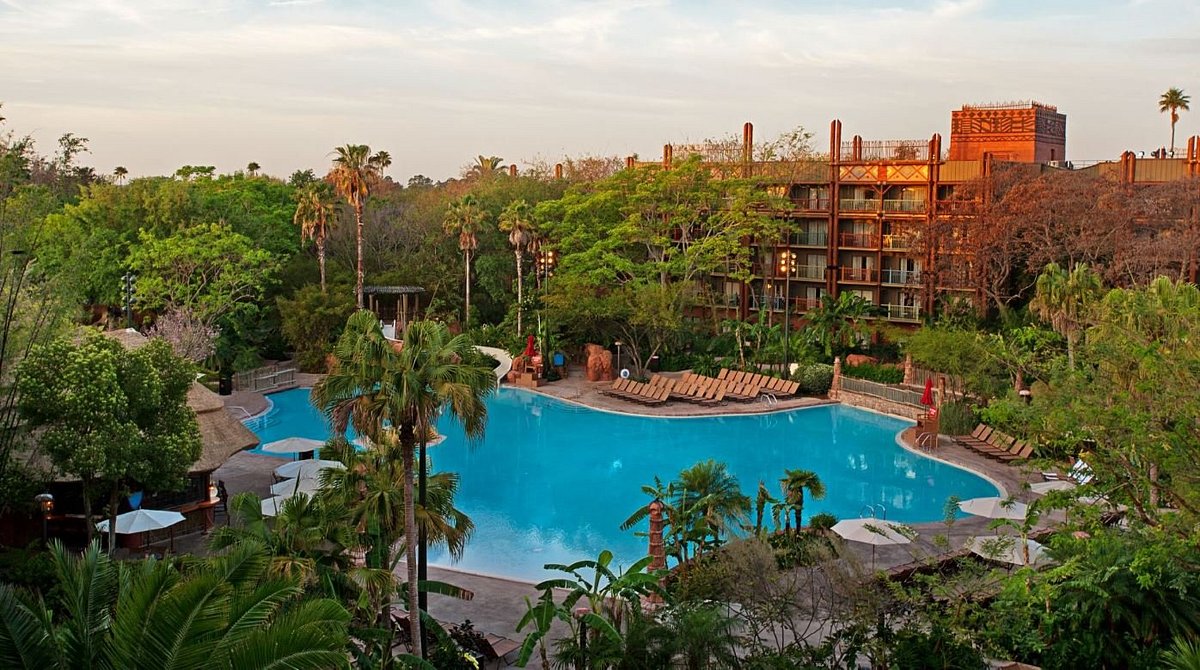 Disney's Animal Kingdom Villas is divided into two different sections. There's Jambo House which opened in 2007, and Kidani Village, which opened in 2009. Both sides of the resort feature similar aesthetics and many shared facilities.
There's a walking path that connects Kidani Village and Jambo House, but if you're not up for walking, they have transportation inside the resort you can use.
The resort makes you forget you're in Orlando, Florida, and not somewhere in Africa. It is inspired by African kraal and features four lush savannas where more than 200 animals live and roam. You'll find one of the country's largest collections of African art here.
Check-In and Check-Out Procedures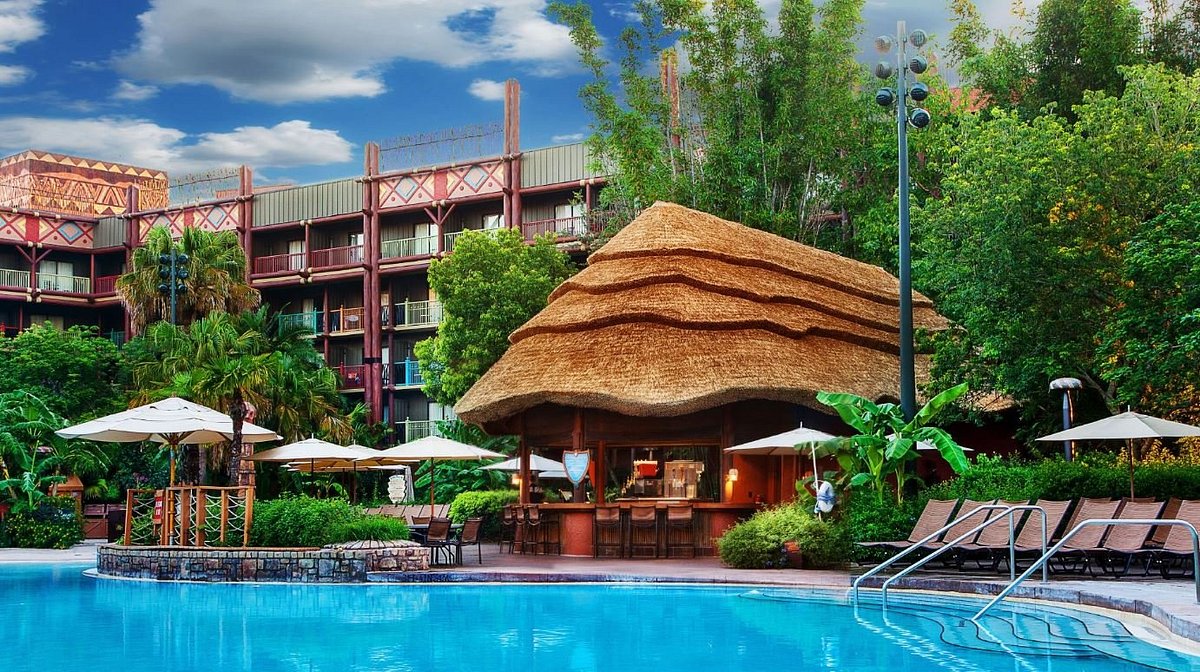 Knowing Disney's Animal Kingdom Villas' check-in and out procedures can make your stay there go more smoothly. When you arrive at your resort, you will be able to check into your room by 3 p.m. on the first day of your stay.
You'll head to the front desk of your resort and receive the keys to your room for your stay. As for checking out, you'll need to be out of your resort room by 11 a.m. on the day your reservation is over.
Kidani Village & Jambo House Room Options
When you choose to stay at Disney's Animal Kingdom Villas, you'll have a variety of room options to choose from. Even though the resort is divided into two sections, Jambo House and Kidani Village, there are similar rooms in both areas.
The vast majority of the rooms feature a savanna room where you can see over 30 species of African wildlife from your windows. Some rooms overlook the garden, pool, and parking lot. Below you'll find the different rooms you can book when you're planning your trip to Walt Disney World.
Studio
One of the smallest yet more affordable room options is a studio. They're available in both areas of the resort and can sleep a party of four people, including a child under three who needs a crib. A studio comes with a queen-size bed and a full sleeper sofa. A crib is available upon request.
You'll have a mini-fridge, wet bar, coffeemaker, and microwave you can use. You'll also have a private balcony and a TV.
One-Bedroom
Another value room that also sleeps four people is the one-bedroom option. It can even include a fifth person if that person is a child under three.
You'll need to request a crib for the fifth person, but there's a king bed included in the main bedroom and a queen sofa for the other four guests in the living room.
Other amenities of the one-bedroom room options are a whirlpool tub in the bathroom, a sleeper chair in the living room, a flat-screen TV, a washer and dryer, and a private balcony. You'll also have a mini-fridge and microwave to use.
Two-Bedroom
A two-bedroom is an excellent option for those traveling with a larger group of people or who prefer more room. It can sleep up to nine people and a tenth if they're an infant sleeping in a crib. The larger bedroom has a king bed, and then the second bedroom has two queen beds.
If you prefer, you'll find a queen sleeper sofa in the living room and a sleeper chair for three more people. There are three bathrooms, TVs in every room, a full kitchen, a washer and dryer, and a private balcony.
Kidani Village Two Bedroom Lock-Off Floor Plan
The difference between a two-bedroom and a two-bedroom lock-off room is that the two-bedroom has two bedrooms while the other has a one-bedroom with a connecting door to a studio room.
These rooms can sleep eight people comfortably and a ninth infant in a crib. The primary room has a king bed and the studio features a queen bed and two sleeper sofas. Amenities include a whirlpool in the bathroom, TVs, mini-fridges, microwaves, washers, and dryers, and a private balcony.
Grand Villa
The largest room option at Disney's Animal Kingdom Villas is the Grand Villa. The villa sleeps up to twelve people and a child in a crib. While they're roughly the same size, the Jambo House villa has one floor, while the Kidani Village has two stories.
Both come with the main bedroom with a king bed and two other bedrooms, each with two queen beds. You'll also have a queen sleeper sofa in the living room. There are TVs in all three bedrooms, a full kitchen, a washer and dryer, and a private balcony.
Dining
Disney is known for having a variety of dining options. Whether you want to eat in the parks, at Disney Springs, in the surrounding area, or on the resort grounds, you won't go hungry on your vacation. During your stay, you can take advantage of the excellent dining options at Jambo House and Kidani Village.
Kidani Village
There aren't nearly as many dining options in Kidani Village as in Jambo House, but knowing where you can grab a bite to eat within the village is essential to a fantastic vacation. These are the two dining options in Kidani Village.
Maji Pool Bar
The Maji Pool Bar is at the Samawati Springs Pool and makes for the perfect place to grab a bite to eat and drink while you're lounging and playing by the pool. They have a variety of quick meals like sandwiches, salads, and snacks.
Guests over 21 years old can order beer, wine, or cocktails to enjoy while they soak up the sun.
Sanaa
In Swahili, Sanaa means "work of art," and that's exactly what this restaurant is. You can dine here for breakfast or dinner while you watch exotic animals roam outside. Whether you're five years old or 85, you will love the cuisine and ambiance of the restaurant.
The type of food you'll enjoy here includes African, Indian, and some American dishes. The kid-friendly options are great, so it's the perfect restaurant to try new foods. There's also a lounge near the dining room where the adults can enjoy a cocktail.
Jambo House
Jambo House is where you'll find most of the dining options at Disney's Animal Kingdom Villas. Even if you're staying in a room within Kidani Village, you can easily walk over to all the dining options Jambo House offers.
Boma
Boma is a casual dining restaurant that's perfect for everyone. It has a buffet feature where you can enjoy breakfast and dinner daily. While the decor is very African, the food features a little bit of everything.
You'll find plenty of African delicacies and American food in their buffets. This way, if you have picky eaters traveling with you, they'll be able to find something they prefer.
Since it's a very popular restaurant at the resort, making a reservation can save you a headache when you're hungry, and the place is crowded.
Uzima Springs Pool Bar
If you're hanging out at the Uzima Pool, you can head to the Uzima Springs Pool Bar for a nice lunch. They have sandwiches, salads, and other snacks like the other pool bars on the resort property. Adults should try some African beer to keep cool in the Florida sun.
The Mara
The Mara is named after a river that flows through Tanzania and Kenya, and the restaurant is a savanna-like space. If you're looking for a dining option where you can get something quickly or get take-out, The Mara is a great option.
It's a counter-service restaurant, similar to a food court. They have breakfast, lunch, and dinner options daily. You can eat your food at one of their tables or bring it with you to the pool or your room.
Jiko – The Cooking Place
Jiko is by far one of the most popular signature restaurants at Disney World. This vibrant fine dining restaurant is known for its cackling wood-burning ovens and South African wine that brings out the flavors of its signature dishes.
Much like the other areas of the resort, Jiko has a safari and African theme. It has one of the most eclectic menus on the property, showcasing some of Africa's best cuisines.
There are more contemporary dishes like horseradish-crusted salmon, as well as traditional dishes. The traditional dishes feature baked chicken and grilled beef tenderloin. All the menu items have an African flair. They do have kid-friendly options too.
Jiko is a restaurant to celebrate something special or when you want a nice dinner while on vacation. You don't need a reservation, but it's highly recommended you make one before arriving.
Cape Town Lounge and Wine Bar
Cape Town Lounge and Wine Bar is close to Jiko and it's the perfect spot for a nightcap after a delicious meal at the restaurant or for appetizers and wine beforehand. It has a fine selection of African wines and wines from other parts of the world. It also features a full bar if wine isn't your preference.
Pools & Recreation
When you're not frolicking through the wonderful Disney parks, there are plenty of things to keep you occupied on the property. From pools to playgrounds, there's something for everyone at Disney's Animal Kingdom Villas.
Samawati Springs Pool
This pool is one of the most popular at the resort because it has an exciting waterslide. You can slide as many times as you want, curl up with a book in a lounge chair, or float in the pool. When the weather is cool or at night, you can enjoy the two hot tubs that are near the pool.
Uzima Pool
Uzima Pool is the larger pool at Disney's Animal Kingdom Villas, so it tends to have more people because of this feature. It has two hot tubs nearby, a pool bar, and a children's wading pool that you can't find at the other pools on the property.
At night, Uzima Pool regularly hosts a movie under the stars event where you can watch Disney and other family-friendly movies with the whole family.
Uwanja Camp
For the younger guests, Uwanja Camp is an animal-themed mini water park. It features squirting water structures, dumb buckets, and a safe area for kids to play in the water. They even have water cannons and a rope bridge.
Safari So Good Arcade
A great rainy day activity at Disney's Animal Kingdom Villas is the Safari So Good Arcade. There are various arcade games, from pinball to air hockey and other fun games, that people of all ages will love playing.
Hakuna Matata Playground
For the little ones, there's an excellent playground to burn off any extra energy they might still have after exploring the parks all day or playing at the pool. The Hakuna Matata Playground features slides, monkey bars, and other fun activities in a safe space for kids to play.
Zahanati Massage & Fitness Center
If you are looking to treat yourself to spa services or get a quick workout while on vacation, you can visit the Zahanati Massage and Fitness Center. The fitness center comes with various cardio equipment, free weights, and other machines that will let you feel the burn.
As for the spa, it offers a variety of services. You can book different massages, facials, and even nail services. If you're interested in any of the spa services, you'll want to speak with the concierge or call the spa directly to book your time slot.
Community Hall
Located in the Kidani Village is the Community Hall. The best way to describe this recreational space is it's like a friendly neighborhood clubhouse. You'll find pool tables, foosball tables, and other relaxing activities where you can enjoy time with friends and family.
They host arts and crafts in the space regularly too. You can speak to the staff at the front desk if you want to learn about their activity schedule in the Community Hall.
If you want to take advantage of their sports courts, you can rent tennis rackets, ping pong equipment, and even grilling tools. All these activities and tools are available from the Community Hall.
Campfire Activities
A fun recreational activity that you'll find across the various Disney World Resorts, including the Animal Kingdom Villas, is campfire activities.
You'll be able to gather around the multiple fire pits on the property, roast marshmallows, enjoy food and drinks, and make memories with your family and friends.
Many of the campfire activities include watching a movie under the stars. You can speak with the front desk staff to learn more about the schedule and what movies are on rotation.
Amenities
Besides the pools and other recreational activities, the amenity list at Disney's Animal Kingdom Villas is extensive. Some of the most popular amenities you'll be able to enjoy during your stay include:
Complimentary WiFi access throughout the resort
Business center with computers, office supplies, and printers
Designated smoking areas
Locker rentals near the pools
Luggage assistance, storage, and transportation to your room
24-hour laundry service
Valet parking
Grocery orders
Babysitting and other childcare services
Vending machines
Ice machines
ATM
Concierge service
Housekeeping services
Room service
Wake-up calls
Transportation to the Parks
While some Disney resorts offer various transportation options to and from the parks, Disney's Animal Kingdom Villas only offers bus services for guests. The buses run from the resort to all four of the Disney parks every 30 minutes to an hour.
You can access the Disney bus schedule online or by asking the concierge at the front desk of your villa. The buses start running one hour before the parks open and continue to run for one hour after they close to ensure that everyone can safely make it back to their hotels.
You can drive your vehicle to and from the parks, but you'll need to pay for parking, so if you want to save some money and not worry about finding a parking spot, the buses are your best option.
Final Thoughts
Disney's Animal Kingdom Villas is one of the best resorts you can choose to stay at for your Disney vacation. They have excellent room options, dining, recreation, and transportation to and from the Disney parks.
From watching the exotic animals roam the area to making memories that will last a lifetime, you'll be happy you booked your stay at Disney's Animal Kingdom Villas.
More about our TFVG Author