Are you planning a family trip to Disney in Florida? A vacation to Disney can be a memorable time but can be stressful when things get expensive.
Consider booking your family a stay at Disney's Art of Animation Resort, which lets you save some money while having Disney magic for every moment of your vacation. Below we explore the value resort, talking about everything from top attractions to fantastic dining options.
Disney's Art of Animation Resort invites you to step into the worlds of Cars, Finding Nemo, The Little Mermaid, and The Lion King. Guests will witness the beginning sketches and ideas that led to those fan-favorite films throughout the resort.
Opened in May 2012 inside the Walt Disney World Resort in Lake Buena Vista, Florida, Disney's Art of Animation Resort is a value resort perfect for families. Special amenities and the overall design make it a perfect place to bring little ones while having elements for older children.
Over 900 of their 1,984 rooms are family suites, designed to sleep up to six people, or seven if one guest is aged 3 or younger. The magic of Disney is infused in every room throughout the resort, giving it an element of childlike wonder.
Visitors can personalize their trips by requesting to stay in any of the four wings that incorporate sketches from their favorite movies, themed furniture and bedding, and stunning room decorations.
You'll truly feel the magic with decorations, props, and callbacks to Radiator Springs and Pride Rock, as well as capturing the beautiful ocean and beloved characters from Finding Nemo and The Little Mermaid.
Disney's Art of Animation Rooms
With families in mind, Disney's Art of Animation has plenty of room to fulfill a family's needs. Please take one of their family suites, themed in The Lion King, Cars, and Finding Nemo to make not only a comfortable place during your stay but a place for unique memories.
Each family suite room includes plenty of sleeping arrangements. One-queen-sized bed, one double-size convertible table bed, and one double-size sleeper sofa will comfortably fit a family of 6.
Two bathrooms and a kitchenette adorn the room for extra space between sleeping arrangements.
Fitting up to four people (five, if one is a child three years or younger, sleeping in a crib), The Little Mermaid wing is another option at Disney's Art of Animation Resort.
Your room will come furnished with one king bed or two queen beds, a crib on request, and one bathroom.
Every room at Disney's Art of Animation resort comes with standard amenities and services. These include the following:
Blackout curtains
Daily housekeeping
Air conditioning
A safe
An alarm clock
A fridge
At least one flat-screen TV
If looking to keep things on the cheaper side, filling the fridge with some meal options and snacks from a local grocery store can help lower costs.
Disney's Art of Animation has two different dining options, which will please everyone at your party if you decide to splurge for a meal or two. Whether looking for a quick snack, or a family dinner, these options will keep you happy and full.
Disney's Art of Animation Landscape of Flavors provides American-favorite cuisines, perfect for kids who are picky eaters. The restaurant has four Disney-themed dining areas and five quick-service counters. This fare varies, so you can get those healthy options or indulge in heartier vacation meals.
Located right within the Art of Animation Resort, this accessible eatery allows guests to study the beautiful wall art of their favorite movies while enjoying a delicious breakfast, lunch, or dinner together.
Breakfast
During breakfast, kids aged nine and younger can enjoy ordering from the kid's menu. Eggs, oatmeal, waffles, and pancakes will ensure your youngster gets a filling meal before the fun day ahead.
Adults can enjoy waffles, breakfast sandwiches, omelets, and pancakes. Vegan and vegetable breakfast options are available for those with dietary restrictions.
Fruit sides, snacks, bakery items, and dessert menus are also available. You're on vacation, so there's nothing wrong with cake for breakfast!
Lunch and Dinner
Lunch and dinner provide plenty of options for you and your family to replenish after a long day of excitement.
Children aged nine and younger can choose from cheeseburgers, a chicken and vegetable platter with pasta, chicken strips, and macaroni and cheese.
Adults can choose from hot dogs, plant-based options, salads, sandwiches, burgers, chicken, pizza, and pasta. Some favorites are the salmon, chili, and sesame chicken stir fry.
And as always, fruit sides, snacks, bakery items, and dessert menus are also available at these meal times.
The Drop-Off Pool Bar is a delightful little stop right by the Big Blue Pool. Ideal for little snacks or drinks throughout the day, guests can order something small between meals. It offers traditional American fare, with options for every family member.
Kiddos can enjoy chips, soft pretzels, or sandwiches as just a few of the snack options. Drinks like juice and water can bring some refreshment from the hot sun.
Adults will enjoy the large drink and cocktail menu. While non-alcoholic drinks are available, wine, sangria, and plenty of themed cocktails are on the menu to order between lunch and dinner. If cocktails aren't your thing, you can enjoy ice-cold draft beer.
Entertainment at Disney's Art of Animation
There are a few different options available for entertainment during your stay at Disney's Art of Animation. Whether tuckered out from the parks, bored of swimming, or having bad weather, Disney's Art of Animation has its fair share of indoor and outdoor activities.
Three pools are within Disney's Art of Animation resort property. Big Blue Pool which is home to the Drop-Off Bar, is inspired by Finding Nemo and is also the largest resort pool in all of Walt Disney World Resort.
Big Blue Pool is also ideal for younger children with an interactive water play area.
Cozy Cone Pool and Flipping Fins Pool are two other swimming areas in the resort, paying homage to Cars and The Little Mermaid, respectively.
Important packing tip–towels are provided at all pools, so don't worry about forgetting them, and save some extra space in your suitcase to bring home souvenirs!
With 26 campfire locations across Disney World, your family can enjoy a classic night around a fire roasting marshmallows together right at Disney's Art of Animation resort.
Movies under the Stars is a unique experience you won't find anyplace else! Movies are played by the Big Blue Pool and begin around 8:30 pm. Call ahead to see the movie schedules and note that hazardous weather may cancel showings.
If you're looking to start your mornings or end your evenings with some light exercise, check out Disney's Art of Animation jogging trail. With 1.38 miles and exciting scenery along the way, you'll be delighted every time you lace up your running shoes.
Curving along Hourglass Lake, this trail enables you to see further decoration and designs inspired by The Little Mermaid, Cars, The Lion King, and Finding Nemo. Run it yourself or take a nice family walk down this unique jogging trail.
An extra spot to help children get their energy out is Squirt's Righteous Reef Playground, part of the Finding Nemo courtyard. If you're looking for a break from the pool, this playground will allow kids to explore while keeping the fun theme in full swing.
There's also the School Yard Wet Playground modeled after the reef in Finding Nemo. And while it offers less of a play structure, you can walk through the Elephant Graveyard from The Lion King.
Found in the Animation Hall Building, the Pixel Play Arcade will be a great source of entertainment for those rainy days.
By purchasing a game card and adding game points, the holder has access to every arcade throughout all the Disney resorts, so you and your family can play anywhere! 1500+ kid-friendly games are available and are sure to eat up time and make some memories.
While fishing is prohibited at Hourglass Lake, there are other nearby marinas guests can fish at if they so desire! Disney has nine marina locations spread throughout the resort, and they can include 2-hour and 4-hour fishing excursions.
Don't worry if you left your fishing pole at home–the trip comes with:
An experienced guide
A rod, reel, and tackle
All the bait you'll need
Depending on your boat, fit up to three or five guests on your fishing excursion.
Photo Ops!
It would be crazy to write out these great features without mentioning the amazing decorations and sculptures that make Disney's Art of Animation Resort so unique. Get up close and personal, and take as many photos as you want without having to leave the resort!
Walk through the resort and let your kiddos pose with their favorite heroes. Above the Big Blue Pool, meet Crush and Mr. Ray from Finding Nemo. And then meet Squirt at the righteous reef playground!
Throughout the Cars section of the hotel, meet your favorites from Radiator Springs. Lightning McQueen, Sally, Fillmore, Doc Hudson, Mater, Guido, and more await you at the Cozy Cone Motel.
The Lion King pride lands boast of Rafiki, Simba, and Scar, as well as everybody's favorite duo, Timon and Pumba. And who could resist posing in the Elephant Graveyard playground?
Guests can take photos with Ariel, King Triton, and the evil villain Ursula. Also, don't forget about the jogging trail, as the extra scenery presents plenty of incredible photo options.
Amenities at Disney's Art of Animation
There are many convenient amenities at Disney's Art of Animation Resort that guests appreciate for all occasions. These amenities make that vacation magic just a bit easier.
One of the largest conveniences of staying at a Disney World Resort, beyond the magic, is the transportation to the parks! Depending on your destination, there might not be a straight route available, but there are always different complementary routes you and your family can use.
Buses leave from Disney's Art of Animation Resort to take you and your family to Hollywood Studios, Animal Kingdom, Epcot, Typhoon Lagoon, and Magic Kingdom. Or try one of Disney's most popular transports–the Skyliner! The Skyliner will take you to Epcot or Hollywood Studios from the resort.
Minnie Van Services is convenient if you don't want to take the bus or the Skyliner. It also eliminates the stress of finding a schedule since you can order it to arrive any time you want.
Ride in style as the Minnie Van shows up with polka-dots in tow and summons a ride as late as midnight.
Minnie Van Services is organized through Lyft and can accommodate up to six guests. Guests should note that Minnie Van Services is not covered by your reservation and will require outside payment.
Complimentary Wi-Fi can't be beaten! Feel free to Instagram your perfect Disney vacation, use the My Disney Experience App to plan character meets, scope out waiting lines for rides, and more from the comfort of your hotel room.
Stream a favorite Disney movie for little ones while waiting at the dinner table or catch up with family members back home. There are so many possibilities with the fast-moving internet.
Parking is also conveniently located on-site for just $15 a night.
Online Check-in
With your My Disney Experience App, utilize the convenient online check-in so you can start having fun as soon as you arrive.
If a guest needs to take out cash or convert their currency, an ATM and currency exchange is available within the resort for guest convenience.
Designated Smoking Area
Smoking is not allowed unless in designated smoking areas.
Laundry and Dry Cleaning
If guests need to do laundry while on vacation, laundry and dry cleaning rooms are available near any of the three pools at Disney's Art of Animation Resort.
Mail
The front desk at Disney's Art of Animation resort can send any mail, as long as it's prelabeled, packaged, and stamped.
Postcards, letters, and packages will all need required stamps–stamps are available to buy in the park.
While souvenir shopping can be one of the favorite parts of the trip, sometimes it can be hard to do. This merchandise delivery and pick-up service can be convenient if you're unable to go out and about or if a wanted souvenir was unavailable at the Art of Animation resort.
Guests can use the "Shop Disney Parks Mobile App" to browse through thousands of shopping items. Whatever you want, regardless of whether it's at Disney's Art of Animation souvenir shop, can be ordered and delivered for you to pick up right at your resort.
Perfect if you're looking to order surprise souvenirs and if you aren't able to find something at Disney's Art of Animation shop. This option is a great way to surprise those little ones too.
Disney's Art of Animation is home to the Ink and Paint Shop, located off Animation Hall. There are plenty of souvenir options, and Ink and Paint cater to younger-aged children. Plenty of toys, clothes, and bathing suits (in case you forgot one) are available.
Disney World fans can find classic souvenirs, like hats, Disney ears, shirts, pins, and more. Many of the souvenirs available are themed based on the resort and the characters, like Ariel, Nemo, Lightning McQueen, and more.
For that hot Florida heat, don't be afraid to pick up some helpful park accessories, like the spray bottle fan or extra sunscreen. For pin collectors, freshen up with a new lanyard to help widen your collection.
Don't fret if you can't find everything you want at Ink and Paint Shop–with your handy app, you can order from any store throughout Walt Disney World Resort.
Final Thoughts About Disney's Art of Animation Resort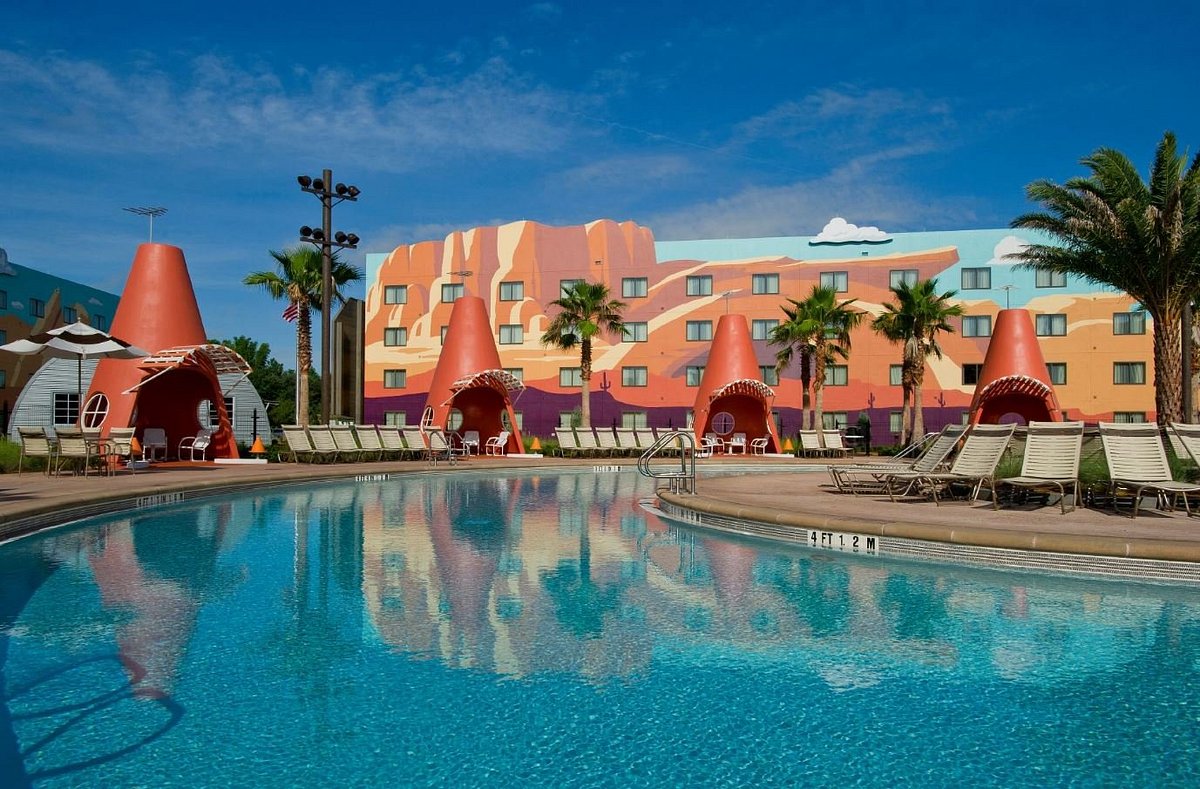 Disney's Art of Animation Resort will help you and your family make plenty of Disney memories for a fraction of the cost. A trip to Disney World in itself can be expensive, but staying at the Art of Animation helps lessen those costs.
It's well worth it with all of the fun advantages. There are so many exciting activities and places to explore at Disney's Art of Animation. Think of late-night walks along the jogging trail or taking pictures with your favorite characters like Tow Mater or Ariel at sunset!
Accommodations at Disney's Art of Animation will leave every family member feeling comfortable and inspired by the art of their favorite Disney film without breaking the bank.
The best part is that the magic never stops–from check-in to check-out, there is magic and fun at every corner. Memories like that are priceless and unforgettable!
More about our TFVG Author