From the majestic seascapes of Finding Nemo to the exotic jungles of The Lion King, Disney's Animal Kingdom has something for everyone. Whether you're an avid animal lover or just looking for a fun day out, there's plenty of adventure and excitement at this amazing park.
For those planning a trip to Disney's Animal Kingdom and wanting to get the most out of their experience, this guide will provide all the tips and tricks necessary for an unforgettable journey through The Big Blue and Beyond.
Featuring some of the most popular and well-loved attractions and shows, this park is truly a must-see. And what better way to experience it than by taking a tour of the parks Finding Nemo – The Big Blue And Beyond attraction!
Where Is Disney's Animal Kingdom?
If you've been looking for a reason to take a family on vacation to Florida, this would be the perfect thing to do while there. You can find Disney's Animal Kingdom located in the Walt Disney World Resort in Bay Lake, Florida, just outside of Orlando.
The park is home to over 1,700 animals from more than 250 species and covers 500 acres.
Guests can explore the park through a variety of immersive experiences, including animal encounters, rides, shows, and attractions.
About The Show (Finding Nemo The Big Blue And Beyond)
Few things are as magical as watching Pixar's Finding Nemo movie come to life before your very eyes. That's exactly what you can expect when you see Finding Nemo – The Big Blue and Beyond at Disney's Animal Kingdom. The storytellers are a group of fish that live in the Marine Life Institute.
The puppets for Finding Nemo – The Big Blue And Beyond were designed by the same designer, Michael Curry, that did the puppets for Disney's The Lion King Broadway show. This live show is based on the 2003 Pixar film Finding Nemo.
It tells the story of the clownfish, Marlin, who goes out on a journey to find his son, Nemo. Along the way, he meets some fascinating friends, including a blue tang fish named Dory. Join Marlin and Dory on their journey through the big blue as they search for Nemo. The story starts off with catching up with the fish from Dr.P Sherman's office.
The live show features all of your favorite characters from the movie, plus some new faces, too, such as Bruce, Crush, and Squirt. You'll be transported to the stunning underwater world of the Great Barrier Reef and beyond. And you might even get wet!
This Animal Kingdom show features some of the most amazing animatronics and effects that will leave you speechless. It is full of live performers, animated backdrops, and special effects. The animated backdrops are large, so expect to get that wow factor.
Finding Nemo – The Big Blue and Beyond is suitable for all ages and is sure to delight everyone that has joined you. So dive on in and enjoy this truly unique experience at Disney's Animal Kingdom.
You will also get to hear some fan-favorite songs in this underwater adventure/undersea world, such as "In The Big Blue World."
What Are The Show Times?
When it comes to finding Nemo – The Big Blue and Beyond at Disney's Animal Kingdom, there are a few things that you need to know. First and foremost, the show times for this amazing attraction vary depending on the time of day and day of the week.
Secondly, there are a limited number of tickets available for each show, so it is important to plan ahead and purchase your tickets in advance.
Here is a breakdown of the show times for Finding Nemo – The Big Blue and Beyond:
Monday-Sunday: 11:00 am, 12:00 pm, 1:00 pm, 2:30 pm, 3:30 pm, and 4:30 pm
As you can see, there are a variety of showtimes available throughout the week. It is suggested that you book your tickets online for Finding Nemo – The Big Blue and Beyond as it is more than likely they will be sold out. Additionally, tickets for all showings are available for purchase online or at the park entrance.
What You Need To Know Before Going
If you're planning a trip to see Finding Nemo – The Big Blue and Beyond at Disney's Animal Kingdom, there are a few things you should know before you go.
First, the show is best enjoyed from one of the upper rows in the theater. This will give you a clear view of the stage and all of the action.
Second, be sure to arrive early to get a good seat. The show typically starts promptly at its scheduled time, so being late could mean missing out on part of the performance.
Finally, although it's not required, we recommend that guests wear comfortable shoes as they will be standing for portions of the show.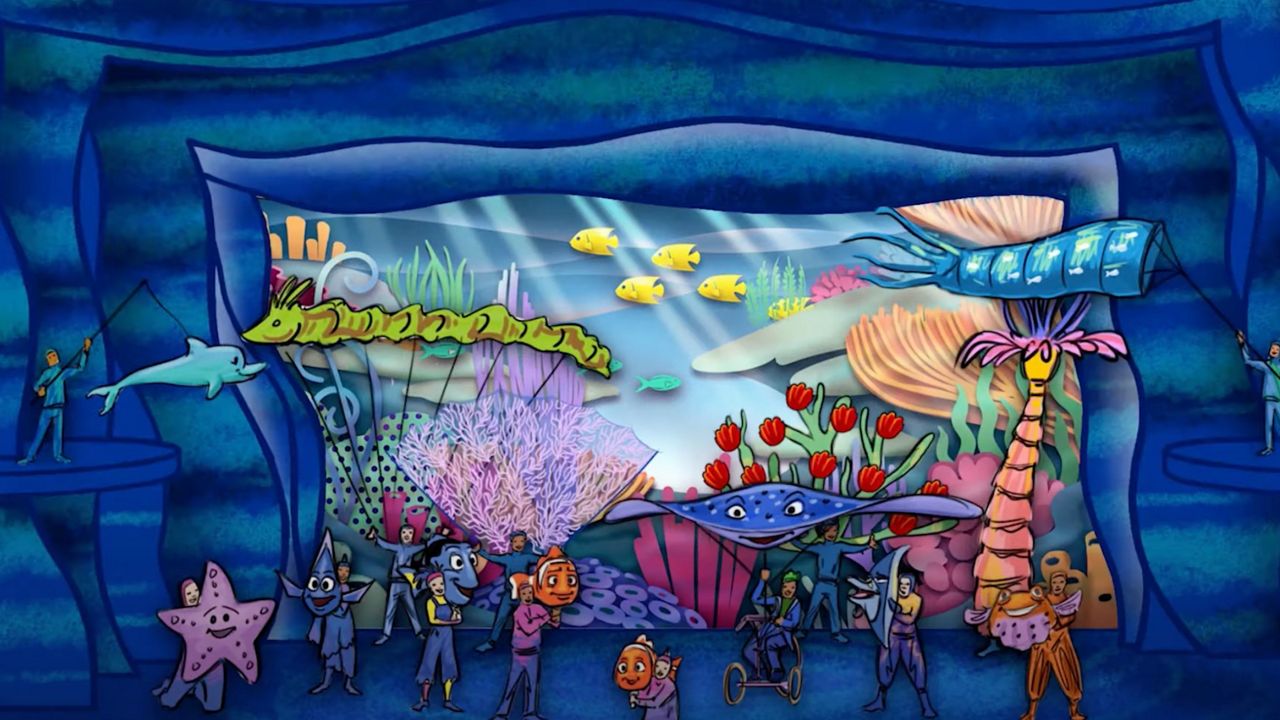 Budget
Here are some things to consider when deciding whether or not Animal Kingdom is worth the price: What are your must-see attractions?
Animal Kingdom is home to some of the most popular attractions in all of Disney World, including the Festival of the Lion King and Kilimanjaro Safaris.
If these are must-see attractions for you, then Animal Kingdom is definitely worth the price.
How much is a ticket? A single day with single-park adult ticket costs between $124 and $189. Children that are aged 3 to 9 are eligible for youth tickets. Children aged 10 and above get standard tickets just like adults.
FAQs
Does the Marine Life Institute from the original movie feature in the live show?
Yes, the cast members that narrate the show are from the Marine Life Institute that is in the Finding Nemo movie.
What is the main song from Finding Nemo – The Big Blue and Beyond?
In The Big Blue World is a fan favorite, and is one of the most recognizable songs in the show. The show even starts off with In The Big Blue World.
More about our TFVG Author
A seasoned traveller, Dad, and avid sports tourist, James foundered The Family Vacation Guide to share his expert vacation experiences- especially when it comes to being a travelling family man.
Featured in Travel articles such as Travel + Leisure, TripSavvy and SFGate, you know you're reading some of the best vacation tips online.