The fairy godmother transforming Cinderella into a princess is one of the most memorable moments in Disney history.
It's no wonder children have imagined themselves being transformed with a wave of the wand and those magical words: bibbidi bobbidi boo!
Disney has found a way to recreate this moment for young visitors in its theme parks, resorts, and cruises.
The Bibbidi Bobbidi Boutique offers children a once-in-a-lifetime experience of being made over them by a Fairy Godmother's Apprentices team.
They can then continue their visit through the park in style, even meeting their favorite Disney princess in a matching outfit.
What is the Bibbidi Bobbidi Boutique?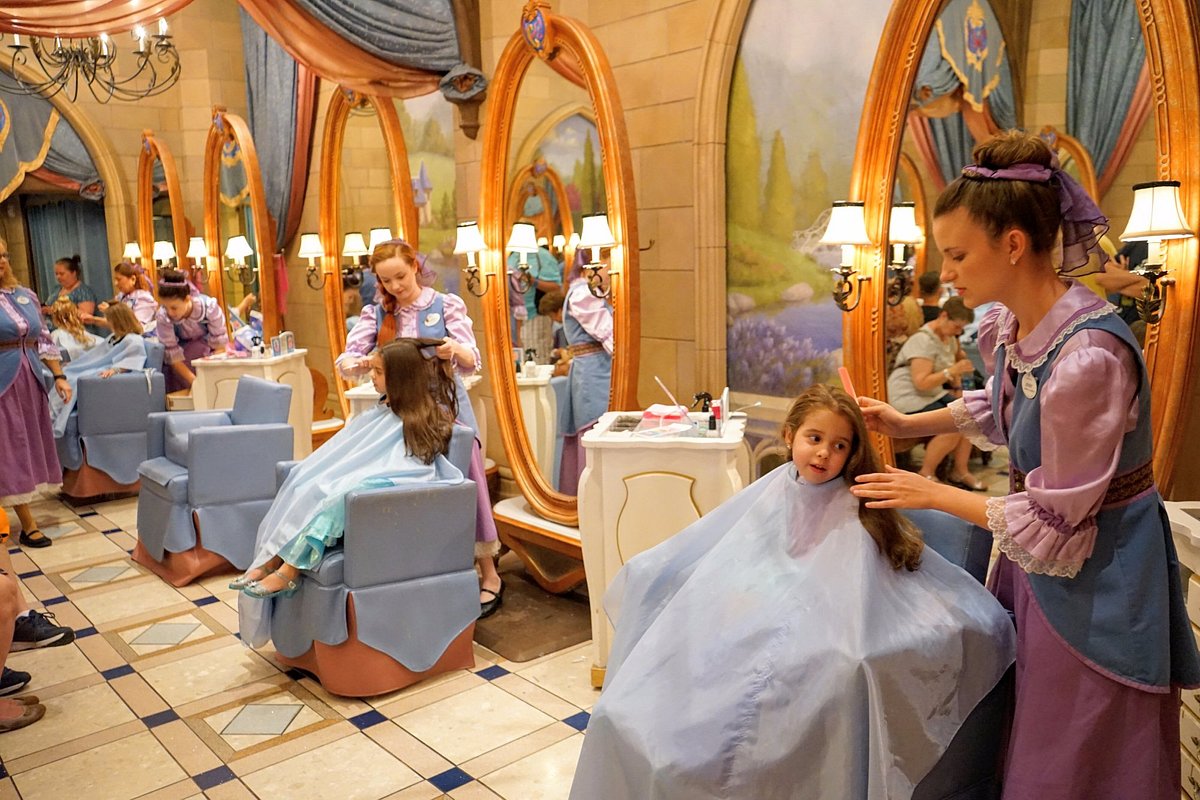 The Bibbidi Bobbidi Boutique is a Disney experience where little girls and boys can be transformed into their favorite Disney princesses, charming princes, or fearless knights.
The original Bibbidi Bobbidi Boutique opened in 2006 at the then Downtown Disney (now Disney Springs Resort).
A version of the Bibbidi Bobbidi Boutique now exists at most Disney resorts, including Disney World, Disneyland, and Hong Kong Disneyland.
The inspiration for the Bibbidi Bobbidi Boutique is from the 1950s animated movie Cinderella.
Cinderella's fairy godmother appears, just as Cinderella weeps in her ruined dress for the ball. With a wave of her wand, the Fairy Godmother transforms Cinderella into a Princess for the night– eventually leading to her happily ever after!
The creators of Bibbidi Bobbidi Boutique wanted children to have the full Cinderella-like experience, while also being able to apply Disney magic to any number of Disney princes and princesses.
In the Boutique, Fairy Godmother's Apprentices (updated in 2022 from 'Fairy Godmothers in Training') help pamper their young guests (kids between 3–12).
The colors in the Boutique resemble that of the Fairy Godmother's dress, and a scroll announces the Prince's ball.
Apprentices will style hair, apply makeup and nail polish, then complete the look with the Disney princess gown of the guests' choosing.
While most clients tend to be girls, boys can also enjoy a makeover into princes, knights, or princesses.
Non-binary kids are welcome, too, as Fairy Godmother's Apprentices can personalize and cater to anyone within the designated age range.
While higher-level packages will include a costume, you're welcome to bring your own to the Bibbidi Bobbidi Boutique. All princesses, princes, and knights will take home a gift bag, makeover items, and photos.
And don't forget the royal oath at the conclusion of the experience!
Where is the Bibbidi Bobbidi Boutique Located?
There are many locations at Disney resorts and theme parks worldwide.
In Disney World, you can find a Bibbidi Bobbidi Boutique right in the middle of the action of the Magic Kingdom, directly behind Cinderella's castle.
Other Florida locations include Disney Springs and Disney's Grand Floridian resorts.
At California's Disneyland, the Bibbidi Bobbidi Boutique is in Fantasy World, just behind Sleeping Beauty's Castle.
Bibbidi Bobbidi Boutique Opening Hours
The Magic Kingdom's Bibbidi Bobbidi Boutique is open from 8am–6.55pm.
Disneyland's Bibbidi Bobbidi Boutique is generally open from 8 am–10 pm, but this can vary on the day. Be sure to check out the website for accurate information and to book.
For all other Disney Bibbidi Bobbidi Boutiques, check out the relevant websites for opening hours.
The Bibbidi Bobbidi Boutique Experience: What to Expect
The first step of the process is to choose your services. This includes selecting a package and then specifying details, such as what you'd like to be transformed into and your desired hairstyle.
While you wait for your Fairy Godmother's Apprentice, you can browse through the boutique and pick out an outfit.
Once the experience starts, the child and guardian will head into a magic dressing room with a talking mirror. After receiving a personal message, the child will change into their outfit, then begin their hair, makeup, and nail transformation.
All makeup used is kid-friendly with subtle colors, including face painting, gems, and glitter.
Once the makeover is complete, the child will face the magic mirror for their big reveal– complete with a sprinkling of pixie dust to unlock their royalty! They'll then have a personal photoshoot in front of Cinderella's carriage.
Finally, the new little princess, prince, or knight will receive a gift bag containing:
The gift bags are reusable and include the option of gold and pink backpacks.
Reservations
It's highly recommended that you book ahead of time for a makeover as these Boutiques can get very busy, particularly in the Magic Kingdom.
You can reserve times by making an advanced reservation up to 60 days before your visit.
You will be asked for your credit card to reserve a time, and if you do not show up for your reservation or cancel with less than 24 hours' notice, you'll be charged a $10 fee.
For more information and to book, check out the Disney World website.
Prices and Packaging
The Magic Kingdom at Disney World offers five different packages. If you are visiting another location, be sure to check and see if their options are the same.
Prices all exclude taxes.
The Carriage Package
The Carriage Package is the starting level offered at the Magic Kingdom for a princess makeover.
Prices start at $99.95. The Carriage Package includes:
Prince or princess hairstyle
Princess sash and cinch sack
The Castle Package
The Castle Package includes everything from The Carriage Package, plus a Disney Princess gown and accessories.
Prices start at $199.95. Disney Princess dress choices include:
You should note that there are no shoes included, so be sure to bring your own!
The Deluxe Castle Package
This is an upgraded version of The Castle Package, where the gown is of higher quality, and the accessories come in a box set. It includes all the services of the Castle Package.
Prices start at $229.95. Disney princess dress choices include:
Shoes are not included in this package either.
The Princess Dress Collection
If you want to purchase a princess dress, you can do so at the Boutique. You can also upgrade to a dress from this collection for your makeover.
Three tiers of dresses are available: the Castle Package, the Deluxe Castle Package, and the Signature dress.
The Castle Package's dresses have the most variety, but the Signature dresses have the highest quality.
Prices tend to be around $450 per gown. There are four signature dresses to choose from:
The Disney Frozen Crown Package
Due to the popularity of Frozen, a special package was created in some Bibbidi Bobbidi Boutique locations specifically for Anna and Elsa.
Prices start at $119.95. The Disney Frozen Crown Package includes:
Shimmering snowflake hairpiece
Princess sash and cinch sack
The Disney Frozen Package
The Disney Frozen Package includes the same as the Frozen Crown package, with the addition of an Anna or Elsa gown.
Prices start at $179.95.
The Knight Package
Available for little knights, the Knight Package offers hair styling using hair gel and a sword and shield.
Prices start at $19.95.
The Deluxe Knight Package
An upgraded version of The Knight Package, The Deluxe Knight Package includes hairstyling with gel, a sword, a shield, and a knight's costume.
Prices start at $79.95
Bibbidi Bobbidi Boutique: Disclaimers
Children must be accompanied by an adult (at least 18 years of age), and up to 2 people may be present during the transformation. Makeovers may take up to an hour.
Children must have clean and tidy hair in order to participate in Bibbidi Bobbidi Boutique makeovers.
Hair will not be able to be styled if there are signs of lice, or if the hair is too tangled to work with within a reasonable time.
Bibbidi Bobbidi Boutique: Age Restrictions
Children must be at least 3 years old and no more than 12 in order to receive a Bibbidi Bobbidi Boutique transformation. Gowns typically run from size 3–13.
Bibbidi Bobbidi Boutique: Cancellations
Cancellations not received at least 24 hours before your appointment time, no-shows, and late cancellations will all be charged a fee of $10.
This amount will be taken from the card you used to make the reservation.
The Verdict on the Bibbidi Bobbidi Boutique
The Bibbidi Bobbidi Boutique helps kids to really embrace the magic and spirit of their Magic Kingdom visit.
Watch your little ones light up as they play pretend and receive a full makeover from their Fairy Godmother's Apprentices. Whether they want to be a classic or modern Disney princess, prince, or noble knight, their dreams can come true!
Even if Cinderella isn't their favorite Disney movie, a visit to the Bibbidi Bobbidi Boutique will still be a memorable experience.
While there's always so much to do at Disney World, if you have little ones you must make this a must-do on your trip so that they can experience the magic of the Bibbidi Bobbidi Boutique for themselves.
More about our TFVG Author