There might be no better way to brighten up your family photos of an already magical day than to add face paint. Kids love it, and it's the perfect way to kick off a Disney vacation with a flourish.
There are seven places in Disney World that do face painting, many of which have specialty options or themed designs when you get there. Make sure you know what you want before entering the park to make the most of your face-painting experience!
1. The Marketplace at Disney Springs
The most iconic face painting location at Disney World is the Marketplace face painting stand at Disney Springs outside the park. You can choose from various awesome and hilarious designs, so you're sure to find something that suits your taste.
2. World Showcase at Epcot
The face painting studio in Epcot is in the World Showcase, nestled between China and Germany.
This face-painting kiosk has been known to have themed face-painting options available, so keep your eyes peeled for limited-time options if you're in the area.
3. Sunset Boulevard in Hollywood Studios
The Sunset Boulevard face painting kiosk near Star Wars: Galaxy's Edge is the place to go for all your favorite movie characters, especially Star Wars characters. If anyone in your group wants to look like R2D2 or BB8, this kiosk is their best bet.
4. In Character in Hollywood Studios
There is one more face painting option in Hollywood Studios, located in the In Character Store.
While every face painting studio is welcome to everyone, this kiosk has a princess theme, so if you have a little one in your group that prefers to stay away from girly options, another kiosk might be a better choice.
5. Tomorrowland in the Magic Kingdom
The Tomorrowland face painting kiosk is just outside the exit for Space Mountain. This kiosk only has the standard designs available throughout the park (plus any applicable seasonal selections), but you can't beat it for its convenient location.
6. Harambe Market in the Animal Kingdom
The Animal Kingdom at Disney World has two face-painting stands, but the Harambe Market location is the better choice if your little ones want to look like their favorite animal.
The first is in Harambe Market, between Ziwani Traders and the Mombasa Market. Here, you'll find various animal face-painting options, from lions and tigers to flamingos and butterflies.
7. Pandora in the Animal Kingdom
The second location for face painting in the Animal Kingdom is in Pandora, the Avatar-themed area of the park.
Here, you and your traveling group can have your faces painted in hues of blue to look like the iconic Avatar aliens, amongst other options. The accents in your face paint will even glow in the dark!
Bonus: Bibbidi Bobbidi Boutique Makeovers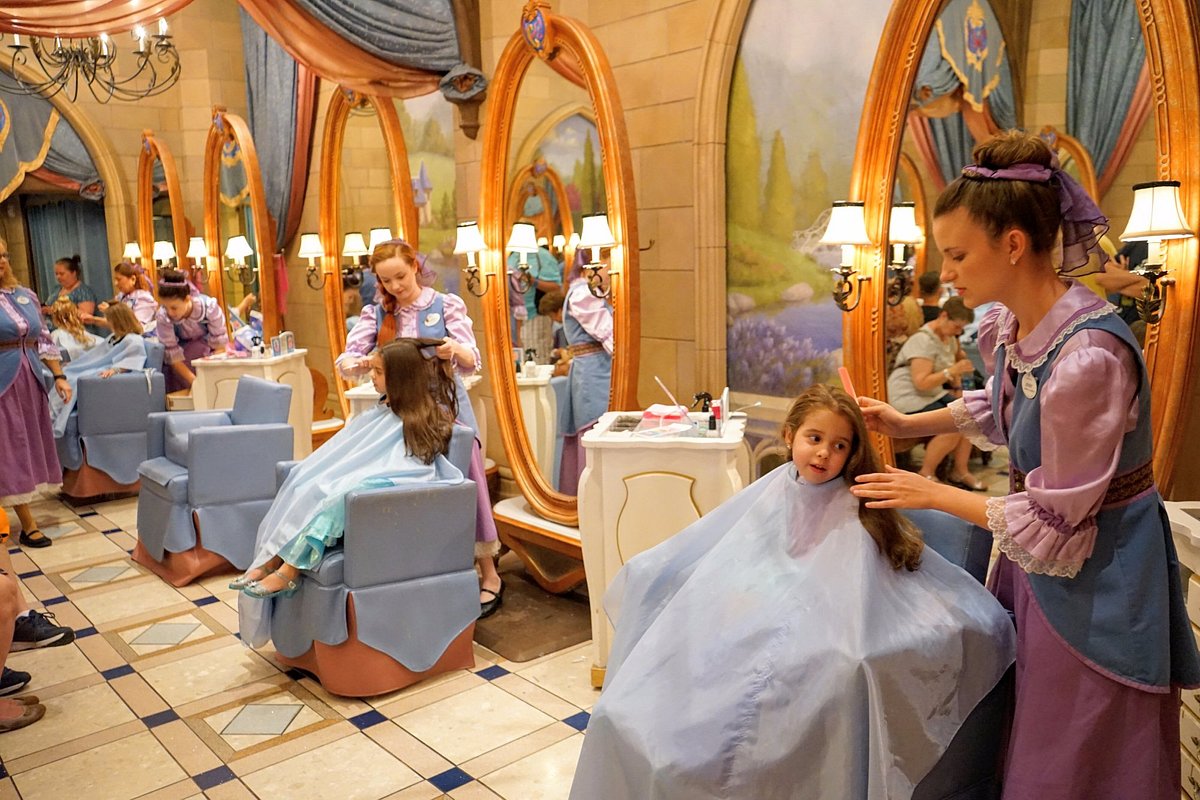 Disney World ended the Pirate League Makeovers, but they have fully restarted the Bibbidi Bobbidi Boutique Makeovers. There is no better way to make little princesses and knights feel more special than dressing up in a complete outfit.
The Bibbidi Bobbidi Boutique Makeovers are far more expensive than standard face paint, so this might not be an option for all families. You should also note that you must book the makeover in advance, and only children ages 3 to 12 can participate.
Disney World has a few different tiers of Bibbidi Bobbidi Boutique Makeovers available for knights and princesses. Princess Packages range from $90 to over several hundred dollars, while Price Packages are much less expensive, ranging from $20 to $150.
For the Princess Package, the higher tiers come with additional makeover items, such as painted nails and full hairstyles.
For the Prince Package, all boys will receive a sword and shield. Higher-tier packages come with a full Knightley costume to complement their new sword and shield.
Face Painting Prices
Face painting at Disney World has variable pricing, depending on the design and extra features, like glitter or detailing. The prices start at about $12, but most patterns are about $15 to $18.
Specialty seasonal designs have been known to cost as much as $22 to $25 before, so keep that in mind if you have a bigger painting idea in mind.
Paint Allergy Concerns
Many kids and adults have sensitivities to certain dyes, paints, and makeup. If you have any concerns, ask the cast member to have a look at the bottle and check for the ingredients you're sensitive to.
You can also do a spot test of the colors you want to use and check for a reaction. A spot test is an especially good idea if you're not sure what you're sensitive to; you don't want to ruin a perfect day by breaking out in hives or a rash!
Seasonal and Specialty Face Painting
Disney World offers a variety of unique designs during certain seasons, such as Halloween Time and Christmas or Holiday themes. Keep an eye out for seasonal or limited-time options while choosing your designs!
Disney World also has specialty face painting in some regions of the park that aren't available elsewhere. For example, in Pandora, you can receive face paint to look like the aliens in Avatar, while near Galaxy's Edge, you can look like your favorite Star Wars character.
If you have time, consider looking around between a few different kiosks to see what you like best. You don't want to walk past a booth with face paint on and see an option you like much better!
Face Paint Tips
Getting your face painted at Disney is a magical experience, and you want it to be the best it can possibly be. Here are some tips the make the most of your face-painting experience:
Take Pictures
Get your pictures taken right away, especially for little ones. Kids tend to rub their faces by accident, especially with paint on them, so make sure the memory isn't lost when they rub their eyes!
Apply Sunscreen First
If it's sunny–and it usually is in Orlando–get your face painted right after you put sunscreen on. Putting your face paint on as soon as you're done putting on sunscreen will help you maximize the time you have it on before you or your kids need to re-apply.
Don't worry too much about avoiding splash rides or sweating in the sun. If you don't mind waiting in line, Disney World offers touch-ups free of charge throughout the day.
Plan Ahead
Face painting takes about 10 to 15 minutes, but line times can take much longer. Make sure to leave enough time for everyone in your group who wants to participate to get a chance to get their face painted!
Also, if you like a design but not a certain aspect, don't hesitate to ask the cast member if they can change a color or feature. Customization is available for most designs!
Join the Fun
If your kid is getting their face painted, don't be afraid to join the fun. Plenty of adults get their faces painted at Disney, and it can make for a memorable experience and unique family pictures.
Final Thoughts
Face painting can be an excellent activity for the whole family. There are no age restrictions and no limits on creative designs available. If you can dream it, the painting cast member will work with you to make it happen.
Getting dressed up for your adventures as your favorite Disney characters is the perfect way to make a magical day absolutely perfect. Keep your eyes peeled for seasonal, limited-time designs that will make your vacation the best it can be.
More about our TFVG Author