LEGOLAND in Florida is an absolute water-filled wonderland for kids!
The resort offers a complete experience that includes different shows, rides, events, activities, food, and accommodation.
Thanks to its plethora of activities and offerings, you may even want to consider staying for a few days to make the most out of your trip.
However, keep in mind that LEGOLAND primarily caters to younger kids. Aside from LEGOLAND, teens and adults might want to consider visiting other parks as well.
When it comes to planning your first trip, you'll likely have plenty of questions.
But, don't worry! In this article, you'll learn everything you need to know before you splash and have fun at the LEGOLAND water park!
What Is LEGOLAND Water Park Florida?
LEGOLAND water park is a family resort centered around kids having the best possible time.
The resort is inspired by LEGO toys, movies, and characters set on a massive 150-acre land that even includes a world-famous botanical garden!
Along with over 50 rides, you'll also have other attractions, events, contests, and shows to keep the kids entertained for multiple days.
How To Get To LEGOLAND Water Park in Florida
Address
One LEGOLAND Way, Winter Haven, FL 33884
The LEGOLAND Water Park is located at a sweet spot accessible from nearby cities.
It's only 45 minutes southwest of other major theme parks in Orlando, and can be found just east of Tampa!
How To Get To LEGOLAND Water Park in Florida From The North
If you're passing through Orlando, drive along the I-4 West until you reach Exit 55, where you'll turn to the U.S. Highway 27 South.
Continue on this road until you reach State Road 540/Cypress Gardens Boulevard, where you'll make a right turn.
Keep driving for four more miles until you see the park to your left. Don't worry about getting lost, because the water park is hard to miss!
How To Get To LEGOLAND Water Park in Florida From The South
Those coming from the south can drive along Highway 98 North until it turns into Highway 27 North.
From Highway 27 North, turn left into State Road 540/Cypress Gardens Boulevard and drive for four more miles until you see the park to your left.
How To Get To LEGOLAND Water Park in Florida From The West
If you're driving from Tampa, take the I-4 East until you turn right into Exit 27 to Polk County Parkway.
Then, take Exit 14 to Winter Haven through Winter Lake Road.
You'll follow this route until you reach Highway 17 North, where you'll turn left and continue driving for two more miles.
Once you reach Cypress Gardens Boulevard, you'll turn right. Drive along until you find the park to your right.
Places To Stay In LEGOLAND Water Park in Florida
LEGOLAND is a full resort, and they have multiple accommodation options to suit everyone's tastes.
Want to make your kid's vacation memorable? If so, pick a room that fits their favorite LEGO theme!
Whatever accommodation you choose, you're sure to get free self-parking to help you save on parking costs. Some of these options also make for an easy walk to the park.
Beach Retreat
Stay in your own private bungalow that looks like it was made out of LEGOs!
With a pool on one side and a lake on the other, the Beach Retreat is a perfect spot within the resort. Kids get their own room and have access to a fun play area.
Aside from the free self-parking, The Beach Retreat also offers free transportation to the park.
Finally, if that's not convincing enough, a free daily breakfast is also included!
Pirate Island Hotel
If your kids love pirates, then Pirate Island is the place for you!
You'll never go wrong with this option thanks to its nightly entertainment, creative workshops, and daily treasure hunt within the comforts of your room.
There's also a heated resort-style pool and all-you-can-eat dining. Since the accommodation is quite near to the park, you don't have to worry about getting in early!
LEGOLAND Hotel
With it being as close to the action as you can get, staying at the LEGOLAND Hotel makes sure that the fun won't end when the park closes!
For your kid's room, you can pick between several LEGO themes for a personalized experience.
Does your kid like to role-play? The assorted themes mean they can pretend to be royalty, pirates, adventurers, ninjas, or even LEGO Friends!
The hotel also offers daily scavenger hunts in your room, nightly entertainment, creative workshops, and two great dining options.
LEGOLAND Water Park Florida: Everything You Need to Know Before Visiting
LEGOLAND Florida Hours
Hours can vary slightly throughout the year, but the theme park typically opens its gates no earlier than 10 am and closes no later than 7 pm.
The water park, however, generally opens a little later than the theme park and closes a little early. Keep this in mind when planning your trip!
LEGOLAND Florida Rides
With over 50 rides, there's always something for everyone at LEGOLAND!
Kids can soar through the jungle on the Coastersaurus, or captain a boat at the Coast Guard Academy.
For something more laid back but just as fun, kids can try farming at the DUPLO Tractor where everything's their size.
If you'd like something daring and adventurous, you can take flight on the Flying School suspended coaster.
Make sure to explore the park and get the most out of its attractions!
LEGOLAND Florida Waterpark
To cool the heat, head over to the waterpark where there are just as many activities to do.
Kids can race their friends or siblings down the Twin Chasers slide, or try the more exciting Splash Out.
Creativity never runs out at the Build-a-Raft Lazy River where kids can build their own watercraft and relax on the lazy river.
Do away with just swimming around in pools; try something unique at the waterpark!
LEGOLAND Water Park Florida Parking
Heads up, drivers!
Parking opens 30–45 minutes before the park opens its gates. You can save money and get in quicker by purchasing your parking vouchers online before arriving.
Online vouchers will cost around $25 for standard parking and $35 for preferred parking. Disabled parking is also available and can be found right by the guest entrance gates.
LEGOLAND Water Park Florida Tickets & Passes
A single-day pass to both the theme park and water park will cost around $144 at the gate. But if you'd like to save money, you can purchase $124 single-day passes online.
If you're planning to visit more than once a year (or if you're a local), you should definitely look into buying annual passes.
These passes go as low as $150 a year for the Bronze level, though this offer is only available for Florida residents. For additional perks, Platinum-level passes are also available for everyone at $300 a year!
LEGOLAND Water Park Florida Restaurants And Dining
What's a water park without food options to fuel you throughout the day?
Thankfully, there are loads of options at LEGOLAND that cater to adults and kids alike!
Head over to Dragon's Den and sample their craft brews, smoked turkey legs, and brats. For a caffeine kick, try LEGOLAND Coffee Company's iced coffee and seasonal options.
Kids are in for a treat thanks to different options between burgers, pizzas, ice cream cones, slushies, and more!
LEGOLAND Water Park Florida Ride Height And Weight Restrictions
While some rides will have height restrictions, there are many options without restrictions that are suitable even for infants.
LEGOLAND is built for kids, so many rides may not be suitable for adults. While weight restrictions are not specified, some rides have been created specifically with children in mind.
LEGOLAND Water Park Florida Seating Areas & Cabana Rentals
If you'd like a break from the excitement and want some space and privacy, cabana rentals are a great choice.
In this quiet haven, you'll have safe, secured seating and a cabana host who will gladly assist you with getting food to your spot.
Cabana rentals are also great for storing personal items. If everyone's got different places to be, cabanas make for easy rendezvous spots as well!
Cabana prices vary depending on location and size. You may also upgrade your cabana to a premium offering that comes with extra towels, tote bags, souvenirs, and a brick storage container.
Renting a cabana will set you back from $119 for a Standard option, and up to about $350 for the Premium.
LEGOLAND Water Park Florida COVID-19 Restrictions
Masks are encouraged, and disposable masks are made available to guests. No one with COVID-19 symptoms or temperatures over 100.4°F will be admitted into the park.
LEGOLAND Water Park Florida: More Tips For The Best Experience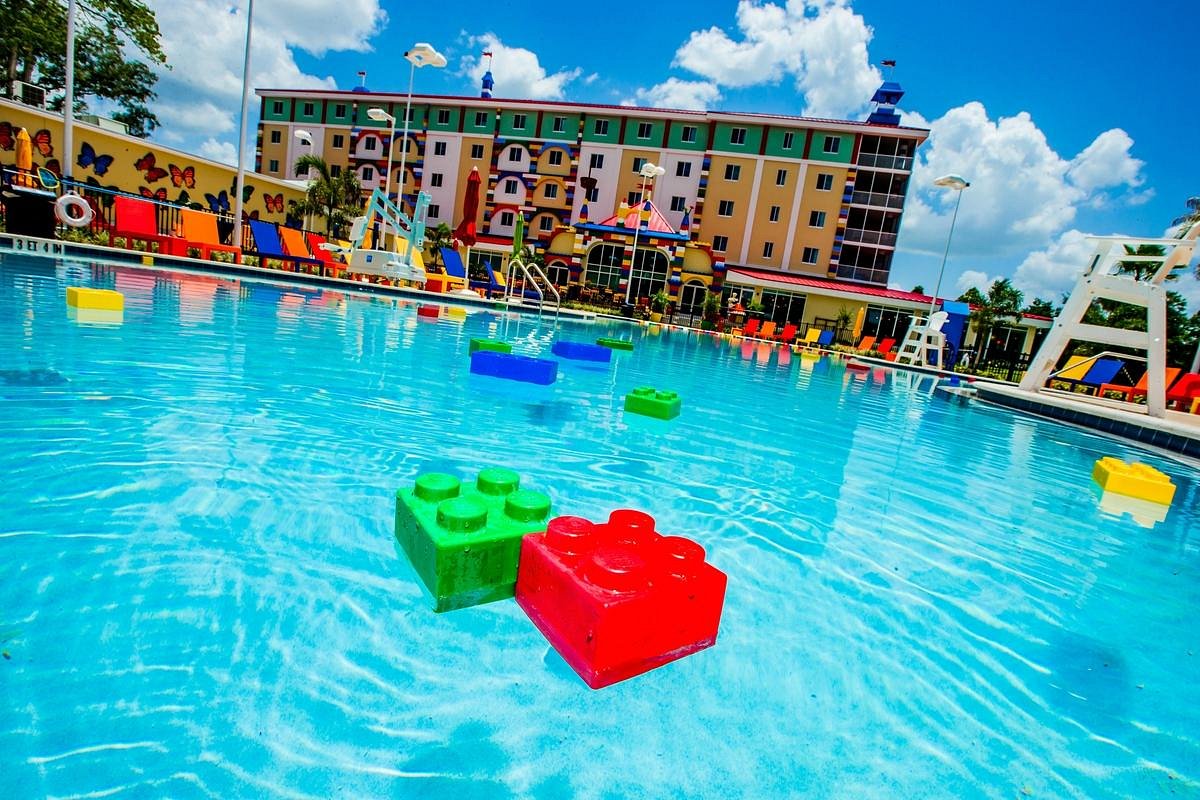 Bring Your Towels
While you can purchase towels in a gift shop, towels are not available to rent.
Make sure you've packed at least one towel for each family member. Don't forget your sunscreen, sunglasses, and hats to protect yourself from the harsh Florida sun!
Rent A Wheelchair Or Stroller If Needed!
You can rent wheelchairs or strollers in the park. They are available on a first-come, first-served basis, so get in early or bring your own to avoid hassle and inconvenience.
Plan Your Itinerary
Because there's a lot to do, plan ahead before going to the park! Having an itinerary ensures everyone gets to enjoy the park without hoarding too much time.
You may want to check out the water park first if you're going to be there during the hottest part of the summer. Again, remember that the water park's hours slightly differ from that of the theme park.
Then, when the sun sets and the temperature drops, you may want to start at the park's far end and make your way to its entry. By going around the park in the opposite way of most visitors, you may be able to escape some of the crowds!
Download the LEGOLAND Florida mobile app
Before you head out, download the LEGOLAND mobile app from the App Store or Google Play Store to help you manage your visit.
The mobile app allows you to conveniently purchase and download your admission tickets, parking vouchers, and cabana rentals.
There's also an interactive map, wait time information, and schedules for shows and events to help you update your itinerary on the fly.
Don't worry about getting lost while searching for the best food options, because all the information you need can be found in the LEGOLAND mobile app!
Have A Splash At The LEGOLAND Water Park in Florida!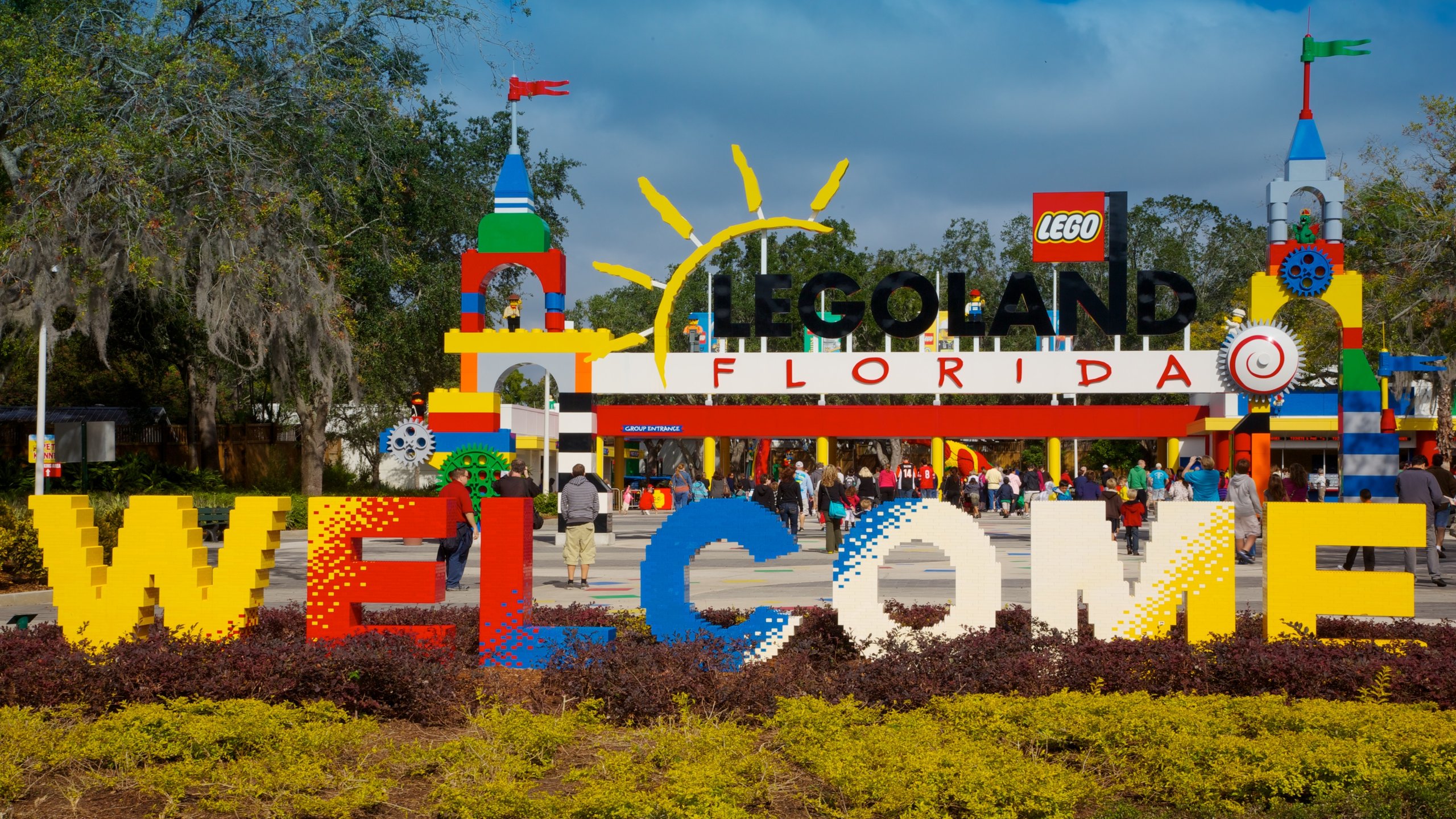 Whether your kid likes LEGOs, loves pirates, or simply just wants to experience good fun in a water park, they're sure to have a blast at LEGOLAND!
While adults can certainly love LEGOs and have fun as well, keep in mind that the park is built specifically for children. All its rides, shows, and events will primarily cater to younger kids.
Because there's so much to do, consider staying for a few days so you can make the most out of the activities. One thing's for sure: An adventure at the LEGOLAND Water Park will be one to remember!
More about our TFVG Author