Since its opening in 2011, Legoland Florida has welcomed kids and kids-at-heart to explore a brick-filled world of creativity, adventure, and fun. Your whole family will find something to love, from heart-racing coasters to play areas designed just for tots!
The Legoland Waterpark, located on the same property, gives you a chance to escape the Florida heat as you splash, slide, and swim.
While you're there, you could also check out the Peppa Pig Theme Park, where toddlers will discover a world of wonder and have the chance to meet their favorite characters from the show. 
They also offer plenty of dining options that make meals more fun, with Lego-themed decor and menus, along with two hotels located right at the gateway to the park.
In this comprehensive guide, we'll break down everything you need to know, including accommodations, attractions, and everything in between!
Legoland Florida Tickets & Reservations
Families have various options for purchasing tickets, depending on the length of their stay and whether they plan to visit a single or multiple parks.
1-Day Tickets
$109.99 per person for admission to Legoland Florida Theme Park
$134.99 per person for admission to Legoland Florida Theme Park + Water Park
$134.99 per person for admission to Legoland Florida Theme Park + Peppa Pig Land
2-Day Tickets
$134.99 per person for admission to Legoland Florida Theme Park
$159.99 per person for admission to Legoland Florida Theme Park + Water Park
$159.99 per person for admission to Legoland Florida Theme Park + Peppa Pig Land
$174.99 per person for admission to all three parks
3-Day Tickets
$174.99 per person for admission to Legoland Florida Theme Park + Peppa Pig Theme Park
$204.99 per person for admission to all three parks
Annual Passes
Awesomest passes include unlimited admission to all three Legoland parks and cost $299.99 for new visitors or $249.99 for renewals,
It also comes with free standard parking, exclusive collectibles, 10% discounts on in-park shopping, 20% discounts on dining, reserved show seating, a free guest pass, and more.
Getting to Legoland Florida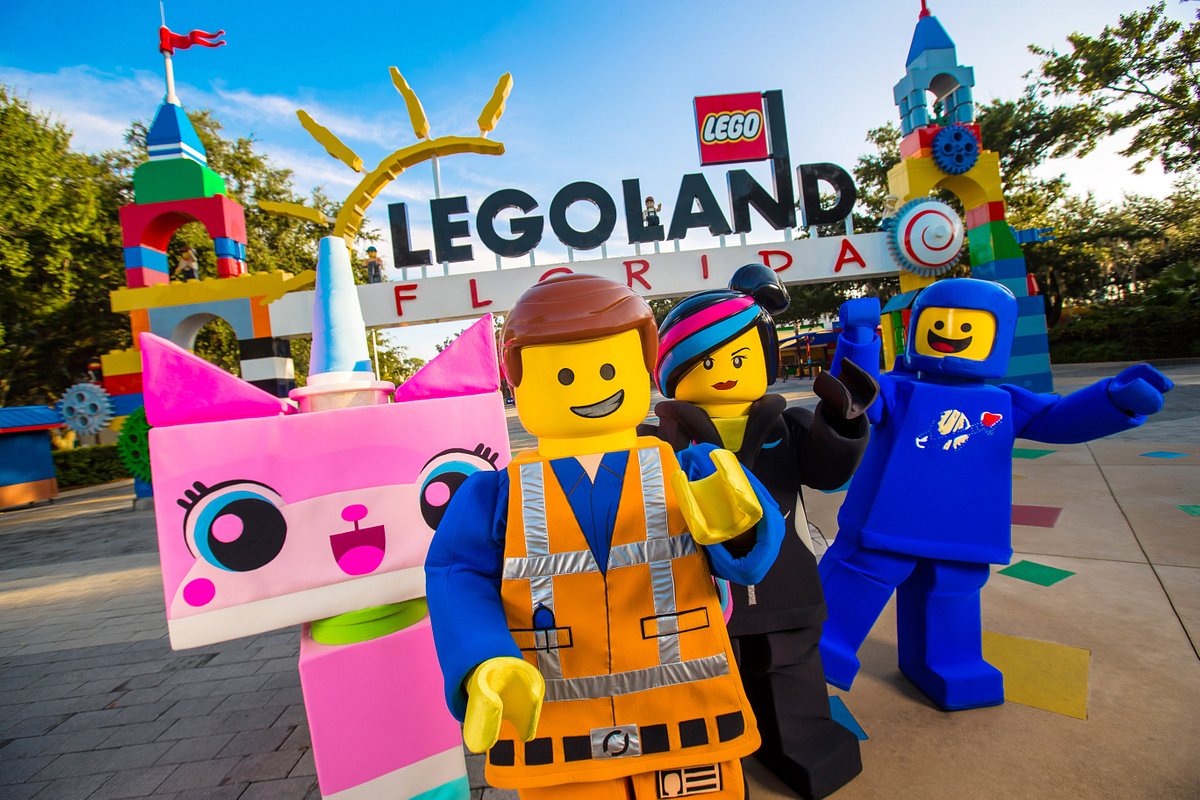 Located at 1 Legoland Way in Winter Haven, Legoland Florida is only one hour from Orlando International Airport and Tampa International Airport.
If you're landing at Orlando International Airport:
Get on FL-528 W for 2.2 miles.
Follow FL-528 W and I-4 W to US-27 S for 28.3 miles.
Take Exit 55.
Continue on US-27 S for 23.2 miles.
If you're landing at Tampa International Airport:
Get on E State Road 60 E for 3.2 miles.
Take I-4 E and FL-570 E to FL-540 for 46.3 miles.
Take Exit 14 from FL-570 E.
Follow FL-540 E, Highway 17 N, and FL-540 E/Cypress Gardens Blvd for 12.8 miles.
Legoland does not offer airport shuttle services, but they recommend booking through Town Car Now for flat-rate transportation from Orlando International Airport or Sanford-Orlando International Airport.
Legoland Florida Rides & Attractions
Legoland Florida has more than 55 thematic rides, attractions, meet-and-greets, and live shows divided into 15 "zones,"
Here are a few of our favorites.
Lego Technic
Experience physics-based attractions that combine science and creativity in the Lego Technic theme park.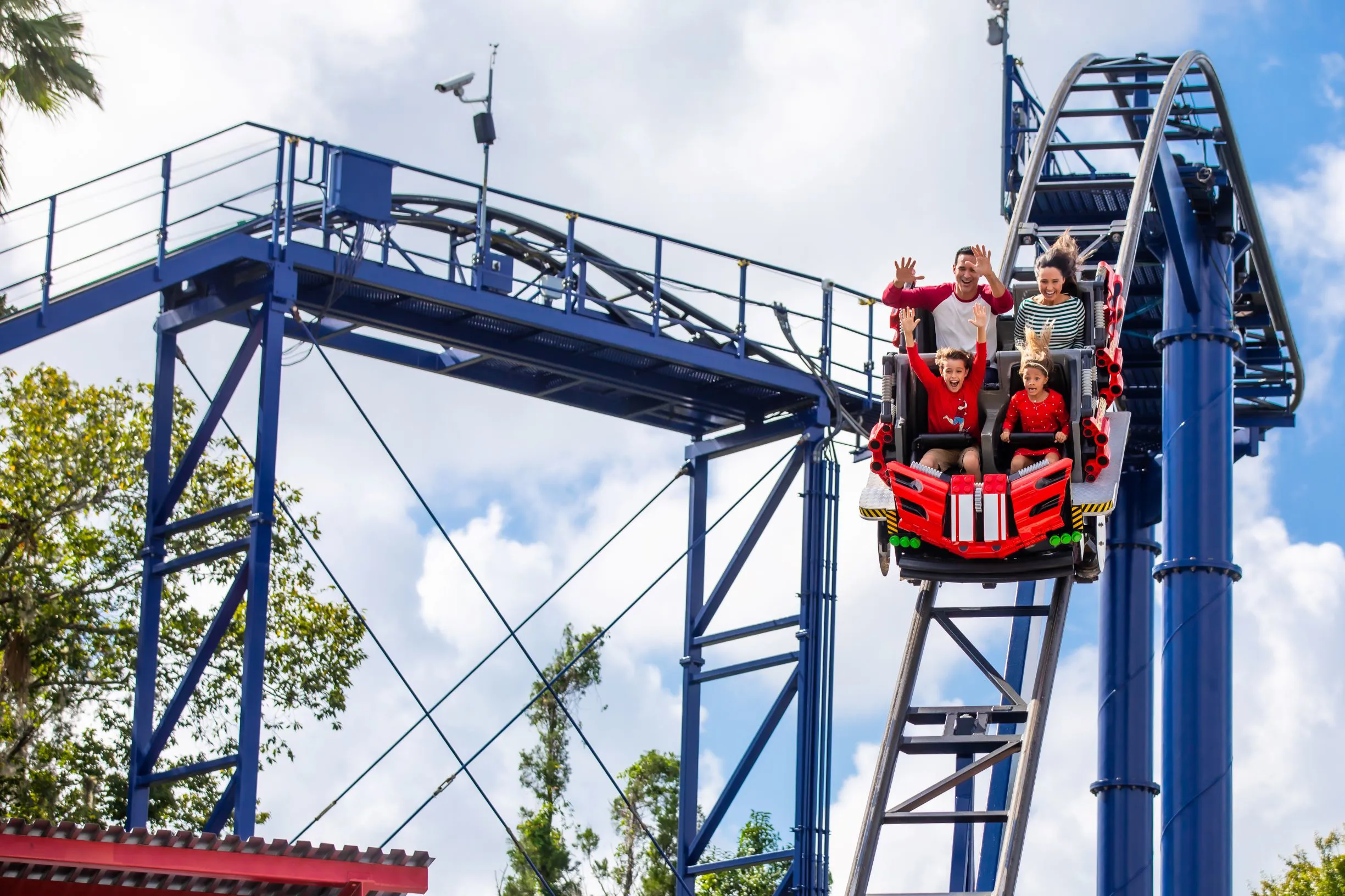 Aquazone Wave Races
Far from a leisurely trip down a lazy river, Aquazone Wave Racers challenges you to race around a pool in a small airboat as you evade water blasts.
Technic Tot Spot
Little ones can get to work in a shaded construction zone with extra-large blocks, slides, and climbable toys designed for toddlers.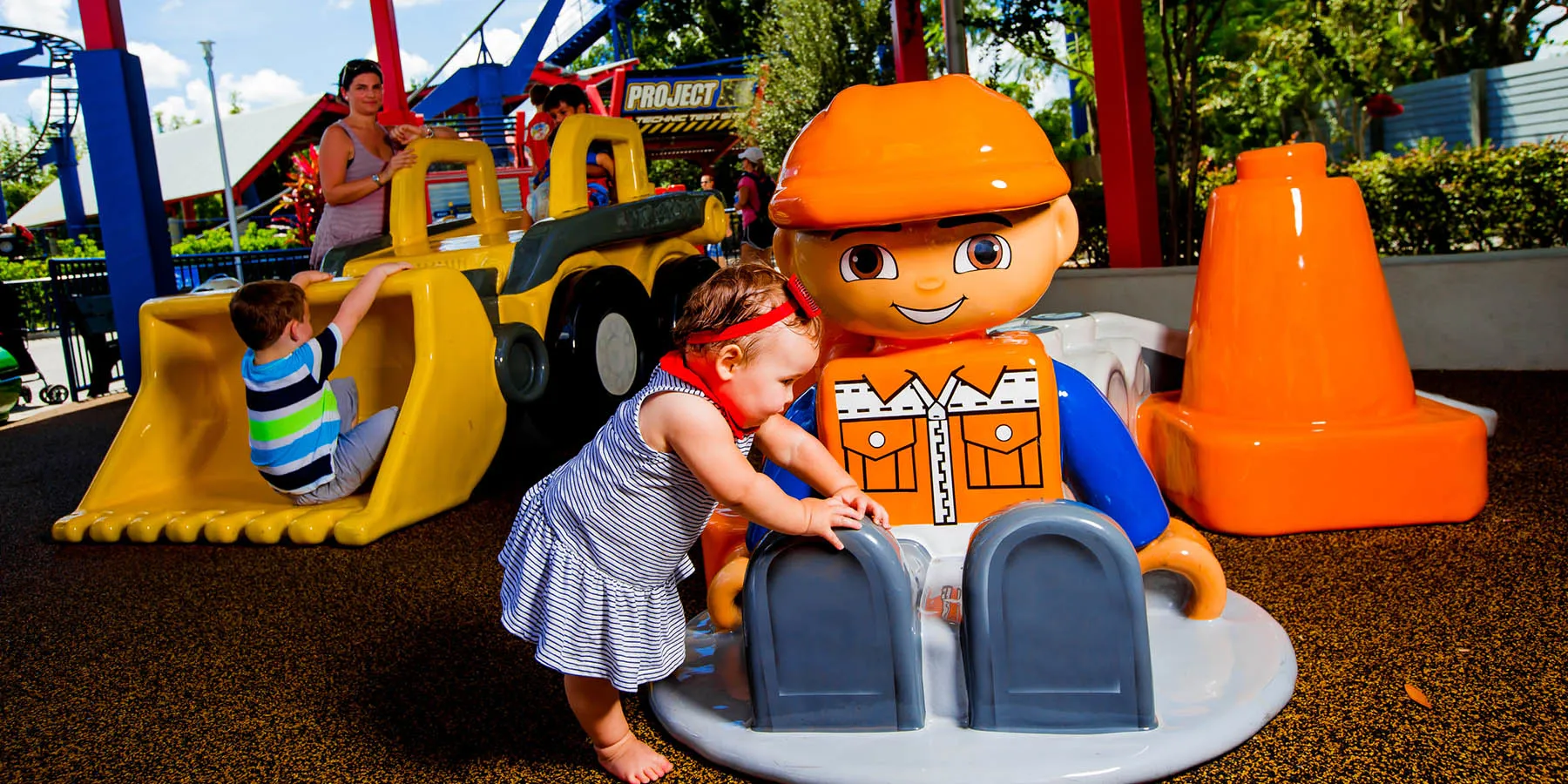 Technicycle
Take flight in a pedal-powered glider that goes high for thrill seekers or stays low for those looking for a more leisurely trip.
The Great Lego Race
Whip around at top speed in this single-car, 4-rider steel coaster with an optional VR experience.
The Lego Movie World
Visit a zone where "Everything is Awesome!" This park area brings The Lego Movie to life, with experiences and attractions designed to put you in the middle of the action.
Battle of Bricksburg
Take on the alien invaders attacking Bricksburg in a water cannon battle royale that invites both riders and non-riders to participate.
Benny's Play Ship
Blast off in Benny's spaceship play area, complete with twisting slides and an extra-tall climbing structure.
Emmet's Super Suite
Stop by for a meet-and-greet with Emmet, Sweet Mayhem, Benny, and Lucy inside of an explorable apartment. You'll want to bring your camera to this attraction!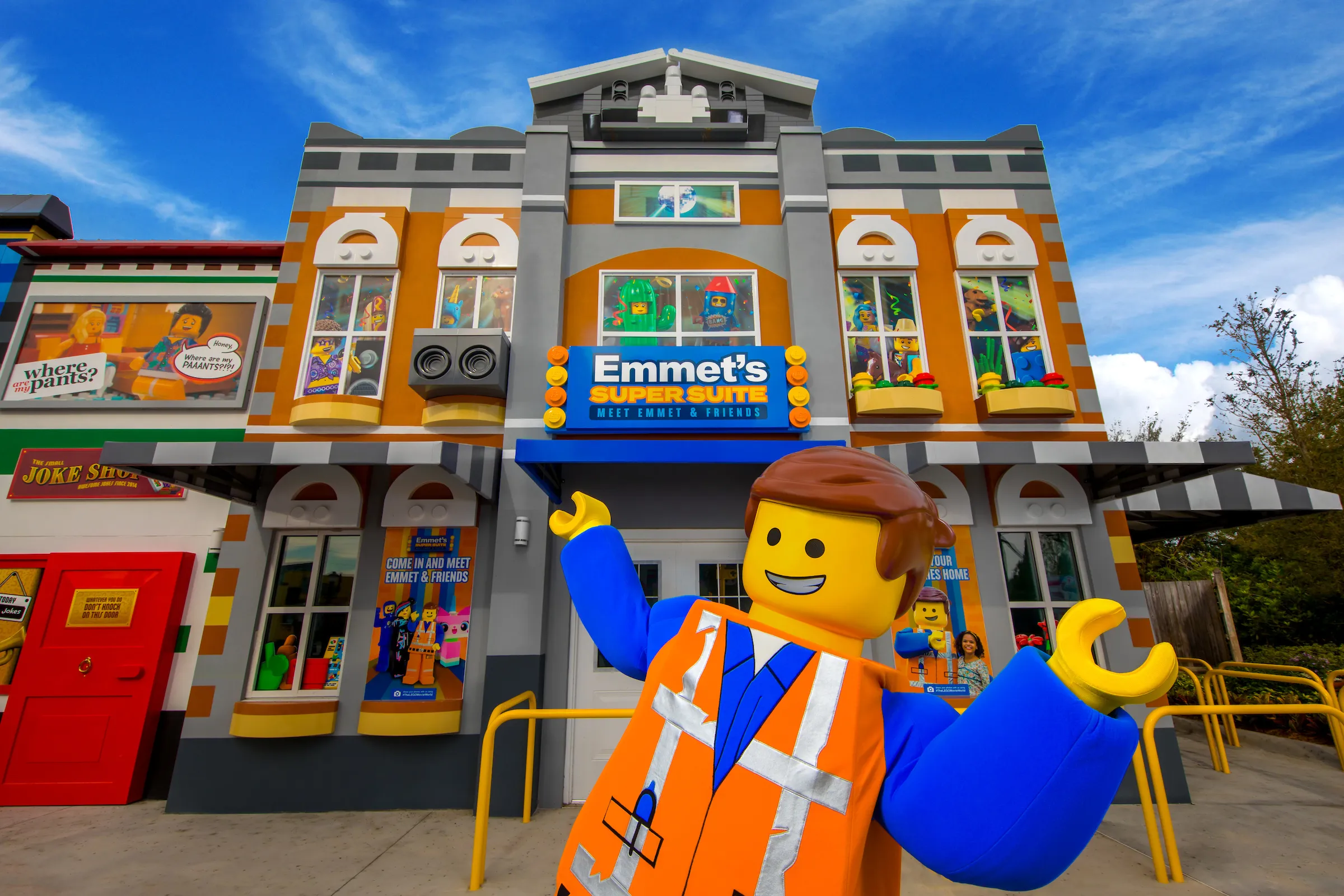 The Lego Movie Masters of Flight
Have you ever wished you could launch a triple-decker couch for a 180-degree virtual dome tour of The Lego Movie universe? With the Masters of Flight, you can do just that.
Unikitty's Disco Drop
Unikitty's Disco Drop is a rainbow-drenched adventure to Cloud Cuckoo Land before spinning and bouncing back to the ground.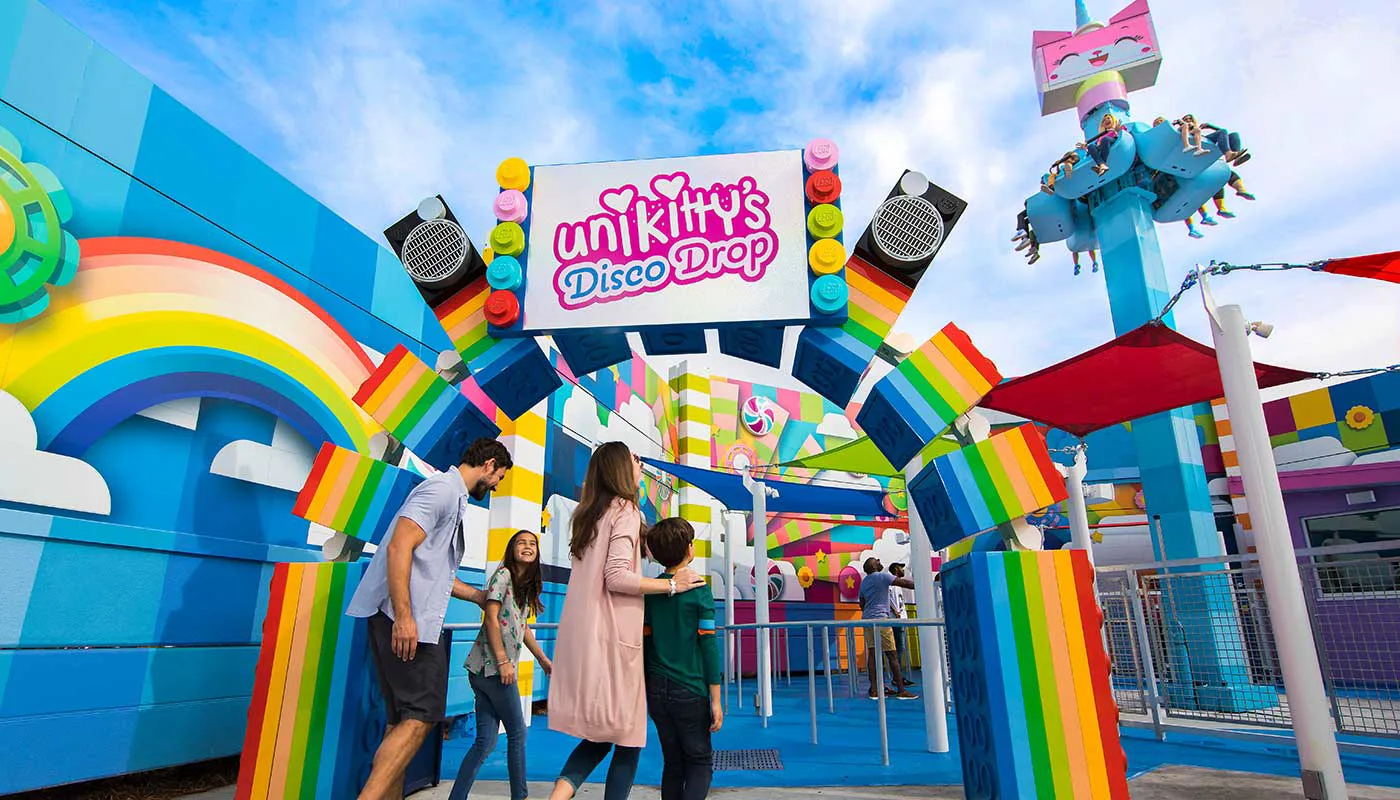 Land of Adventure
Grab your compass and your satchel! Land of Adventure is a wild ride that will delight future archaeologists, paleontologists, and historians.
Beetle Bounce
Strap in and hang on tight as you bounce from a drop tower-style ride on the colorful wings of a scarab beetle.
Coastersaurus
Zip through dips and bound around curves as this jungle-themed wooden coaster whips past life-sized, animated Lego dinosaurs.
Lost Kingdom Adventure
Treasure hunters will squeal with joy as they hop into a desert vehicle and take up their laser guns on this mummy-filled expedition as they ride off-road.
Pharaoh's Revenge
Children can take on physical challenges like swinging ropes, wobbly bridges, and crawl-through tunnels at the Pharaoh's Revenge play area.
Safari Trek
Man the wheel of an animal-print safari vehicle and set out to discover the savannah, complete with realistic Lego wildlife.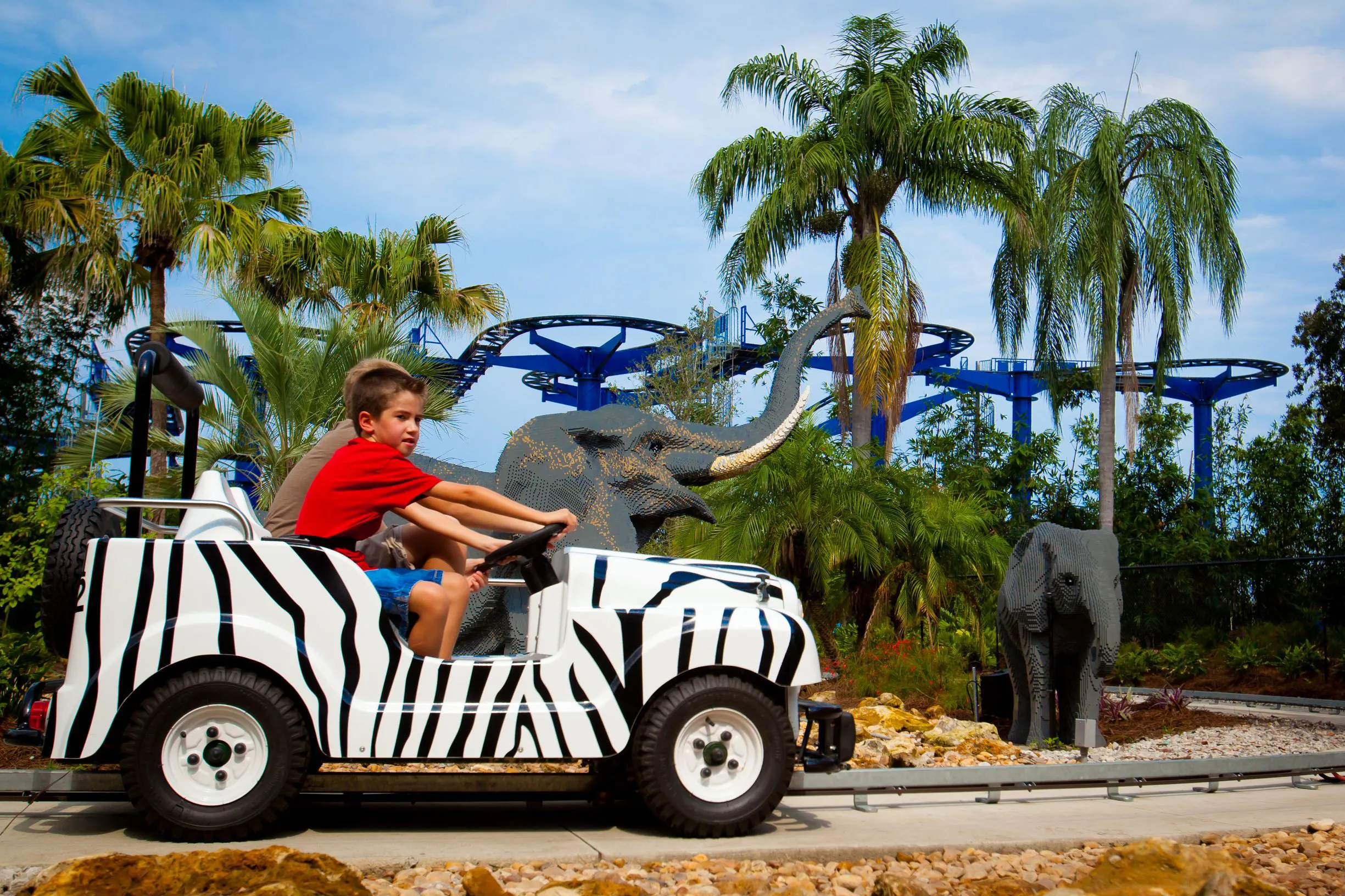 Cypress Gardens
Stop and smell the roses, azaleas, camellias, and more in the historical Cypress Gardens. It's brimming with a botanical bonanza, including an 83-year-old giant Banyan tree.
Fun Town
Fun Town is a quaint zone if you want to slow down between adrenaline-packed rides.
The Grand Carousel
Saddle up on your favorite pony on a charming double-decker carousel.
Duplo Valley
Duplo Valley is the perfect pitstop for families with babies and toddlers. You'll find a range of interactive learning activities, a baby care center, and a quiet room for those with sensory disorders.
Lego City
With plenty of career-centered play, Lego City opens the door for visitors to explore their interests in service-based fields.
Coast Guard Academy
Enjoy a pleasure cruise across calm waters in a steerable Lego boat.
Flying School
Take to the sky in the Flying School suspended coaster as it weaves around nail-biting curves.
NFPA Rescue Academy
Put out fires and save the city at this National Fire Protection Association-funded attraction.
Heartlake City
Focused around the Lego Friends line, Heartlake City is a pink and purple wonderland that characters Emma, Stephanie, Olivia, Mia, and Andrea call home.
Heartlake Stepping Tones Fountain
Dance your heart out to create a musical extravaganza with Lego-shaped instruments that play in sync with moving and grooving.
Mia's Riding Adventure
Mia's Riding Adventure is an equestrian's dream. You'll choose a pony to escort you on this exhilarating disc coaster.
Imagination Zone
Designed for creative play, Imagination Zone is packed to the brim with loose Lego bricks in different zones. The whole family can join in to build earthquake-proof towers, sea creatures, racing cars, and flight vehicles.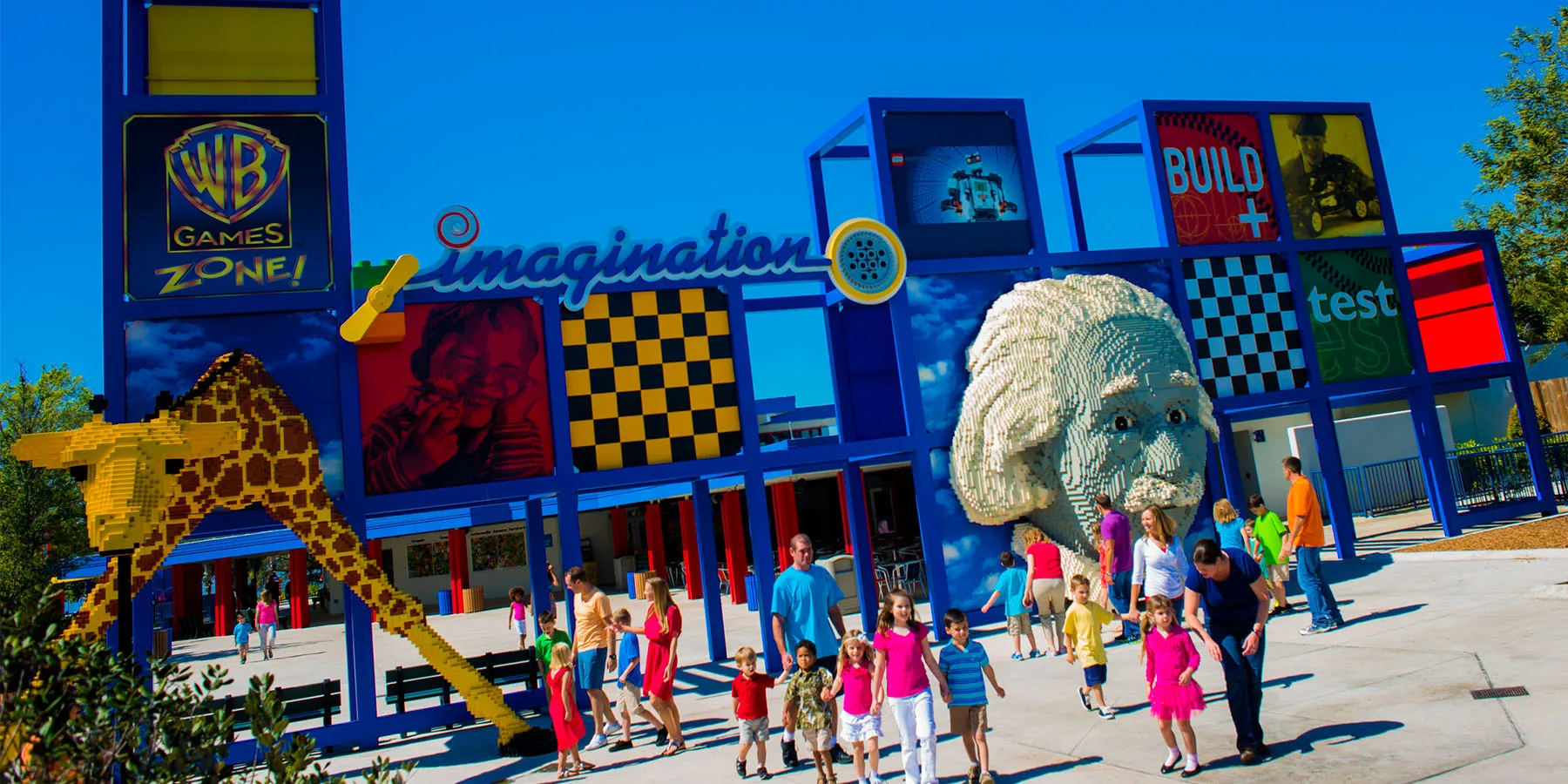 Kid Power Towers
Grab a friend to help you climb up a kid-friendly free fall tower and be rewarded with a bird's eye view of Lake Eloise.
Lego City Space
Kids can put their science skills on full display by building and testing their brick-based rockets or rovers from a liftoff launch pad.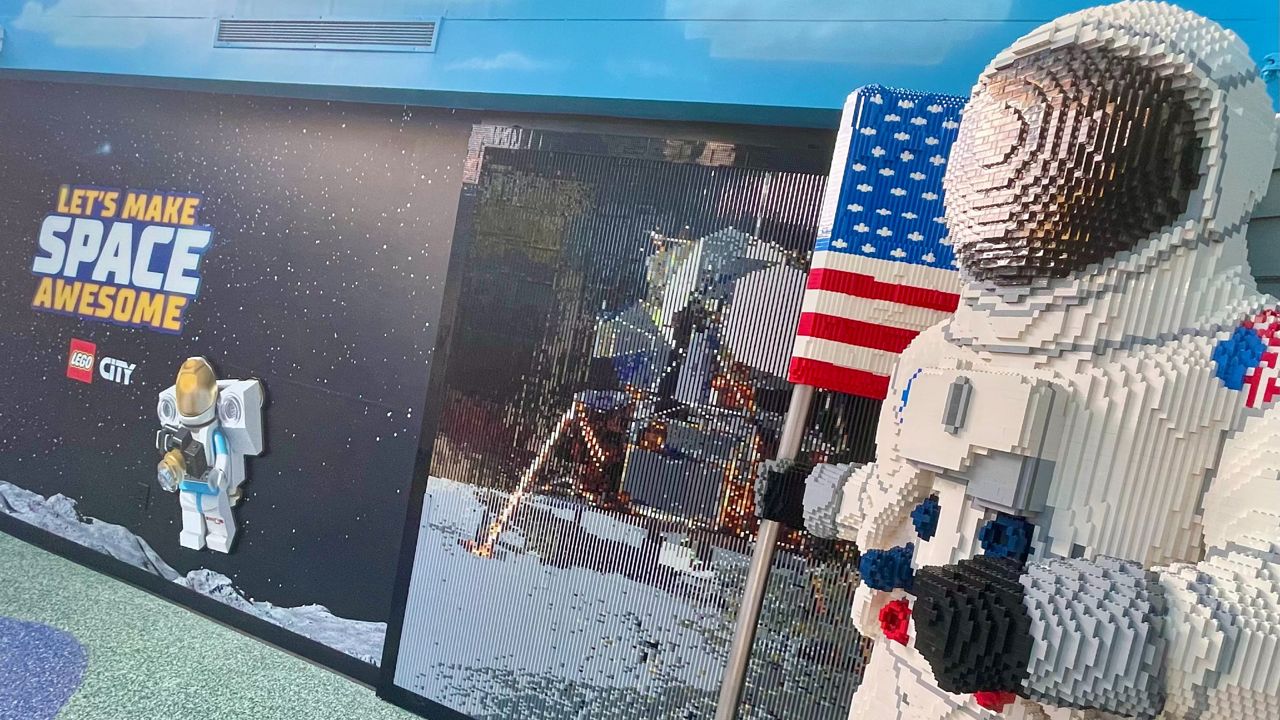 Lego Ninjago World
Show off your Spinjuitsu prowess along with Kai, Zane, Cole, Nya, and Mater Wu.
Lego Ninjago the Ride
Become a master of the air, earth, water, or fire elements with an interactive shooting gallery of familiar foes.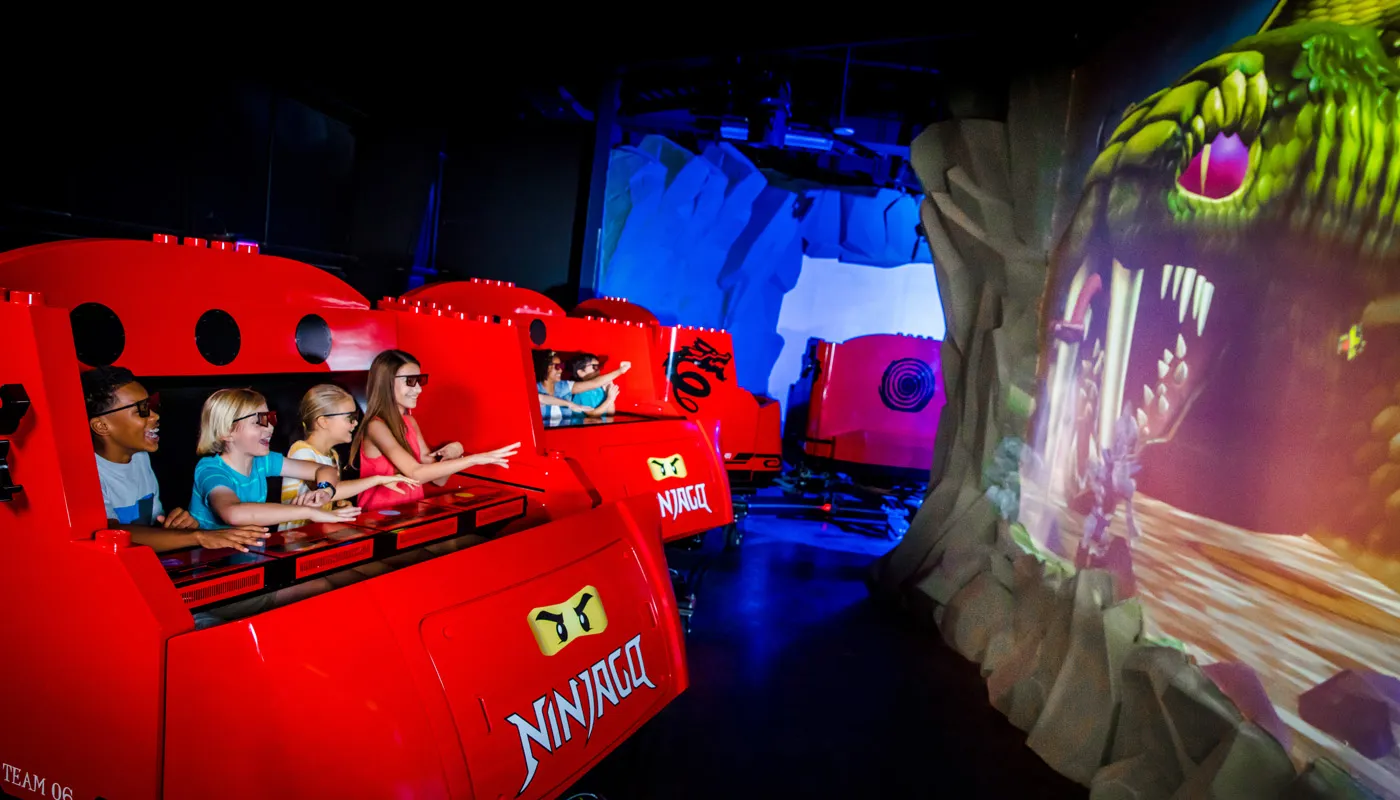 Lego Ninjago World
Team up to defeat villainous ninjas with the help of your favorite Ninjago heroes through a series of challenges, including Cole's Rock Climb, Kai's Spinners, Zane's Temple Build, and Jay's Lightning Drill.
Lego Kingdoms
Go back in time to a medieval land, where mythical creatures roam the forests, and new members of the knighthood are always welcome.
Royal Joust
The royal tournament awaits! You and your trusty steed will gallop through a Lego forest, where you'll encounter mythical creatures and opposing jousters.
The Dragon
You'll scream joyfully as The Dragon takes you on a journey across its twisting indoor/outdoor track.
Miniland USA
The recently renovated Miniland USA is a coast-to-coast gallery walk through iconic American landmarks like the Golden Gate Bridge, Daytona International Speedway, Washington DC, and more.
Pirate's Cove
Arghh, matey, are ye ready to shiver some timbers? Sail the seven seas with Legoland's Pirate River Quest.
The Beginning
Get a glimpse of some Lego magic at Planet Legoland, where professional builders showcase their behind-the-scenes skills.
Legoland Water Park
Splash and play at the water park where you'll find a Lego-themed wave pool, a DIY river raft ride, exhilarating water slides, and interactive activities.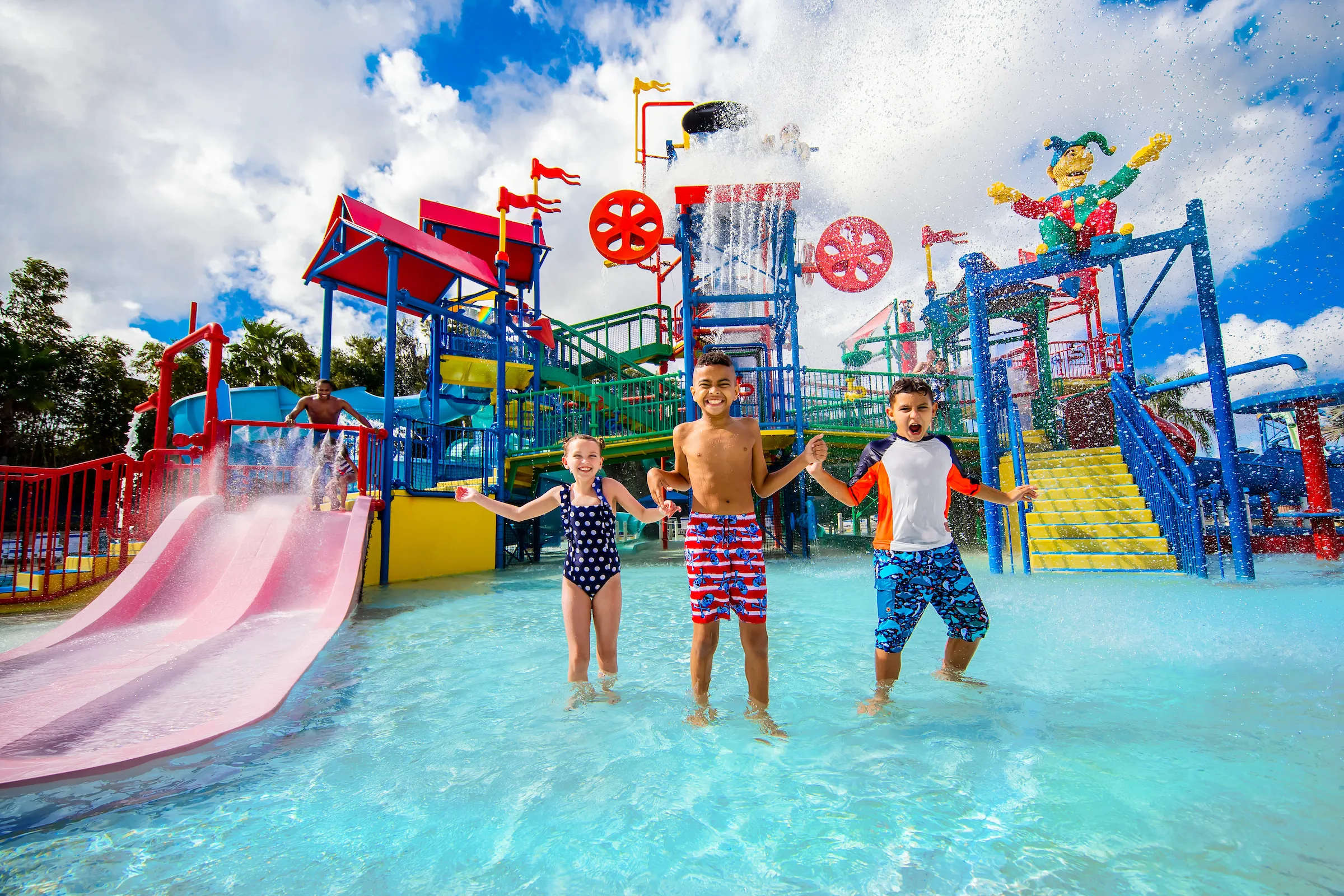 Legoland Florida Hotels
With three onsite hotels just a few steps away from the fun, you can skip parking stress and enjoy hassle-free hotel booking.
Legoland's hotels grant access to a resort-style swimming pool, a weekly rotation of entertainment in the lobby, access to Lake Eloise Boardwalk, a 9-hole mini golf course complete with Lego wildlife, and pontoon boat rides.
Each room includes separate adult and kid sleeping areas. The latter features bunk beds, a pull-out trundle, and plenty of entertaining activities– including a daily in-room treasure hunt– to keep little ones happy between park visits.
Why not also check out our guide to the best hotels near Legoland Florida for more options?
Pirate Island Hotel
Give little buccaneers the experience of a lifetime with a stay in Legoland's Pirate Island Hotel.
There's an impressive lineup of scheduled weekly activities at the hotel's Pirate Island Play Area and Castle Stage Entertainment.
Visit Shipwreck Restaurant and Smuggler's Bar for a family-style dinner and drinks. The unique dining format starts with a mixed green salad, followed by a shared main course platter and accompanying sides.
Legoland Hotel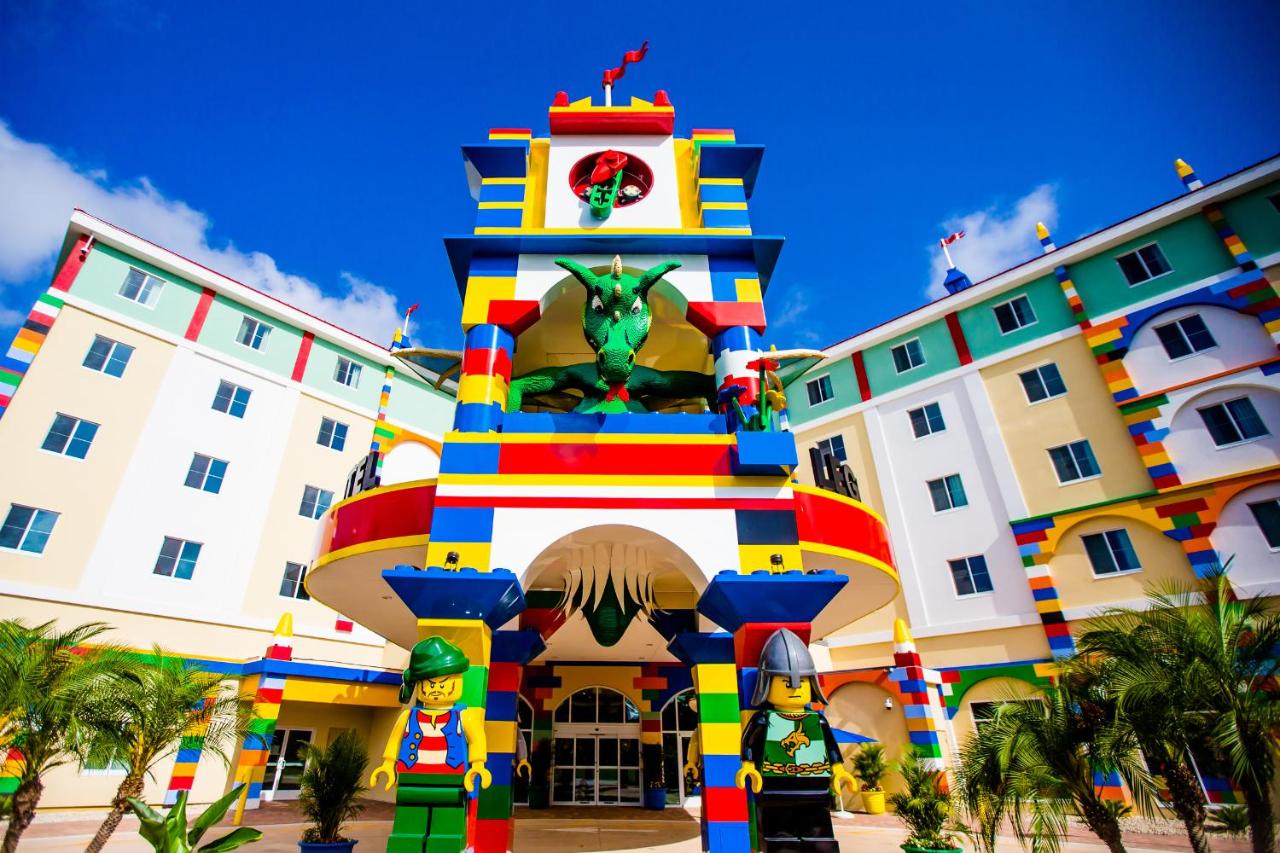 The Legoland Hotel invites your family to dive into the adventure with various room types to choose from, including Ninjago, Adventure, Pirate, Kingdom, Friends, and The Lego Movie.
All sleep up to five and are decked out in thematic paintings, bedding, and Lego building kits.
Legoland Hotel also hosts tons of action-packed events in the afternoon and evening.
Stop by the Bricks All-You-Can-Eat Buffet to power up for a fun-filled day with a classic continental breakfast menu, plus morning favorites like bacon, eggs, and toast.
They offer a full buffet menu for dinner with salad, charcuterie, carved meat, fresh fish, and plenty of sides to stack your plate with.
Skyline Lounge is perfect for a quick bite, with a la carte lunch, dinner, and drinks options. You'll find all your favorites– like fried shrimp, chicken tenders, or steak– and creative new takes on curry, ceviche, and grilled cheese.
Make reservations early! Skyline is popular thanks to its play area and bar.
Beach Retreat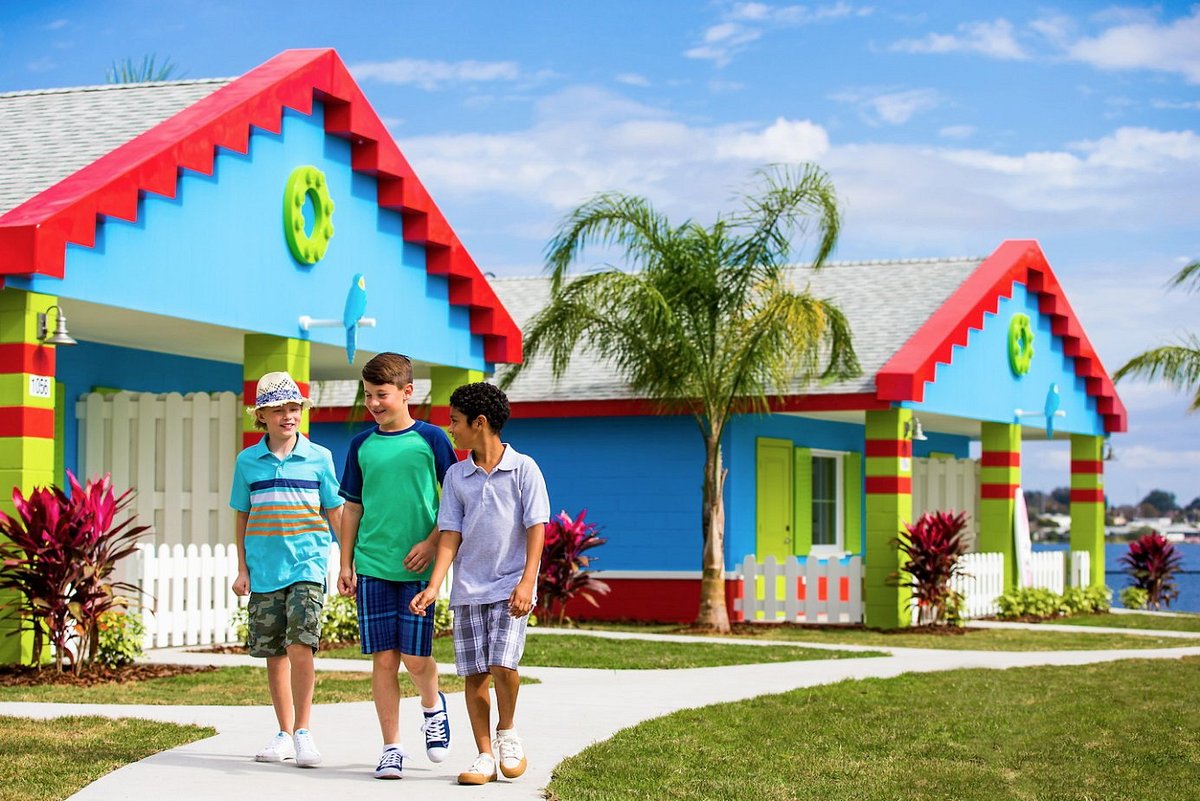 For a more traditional hotel experience, Beach Retreat offers lakeside bungalow accommodations with plenty of Lego fun.
Along with complimentary breakfast, self-parking, and access to a massive resort pool, each "Cove" features an outdoor children's play area where little ones can safely enjoy the sunshine.
The park also provides transportation to and from the park, as Beach Retreat is a bit off the beaten path.
Make dinner plans at Sandy's Castle Restaurant for a sit-down family meal, or visit Brick's Beach Bar for takeout pizza.
Legoland Florida Restaurants
You're sure to work up an appetite while exploring the expansive Legoland Florida park, and there are plenty of dining options to suit even the pickiest of your budding brick builders.
Beach Street Tacos
Chow down on delicious cantina-style street tacos and Tex-Mex sides within Legoland's water park. Diners can choose from a selection of meat fillings and toppings, then finish everything off with spiced and sugared Churro Bites.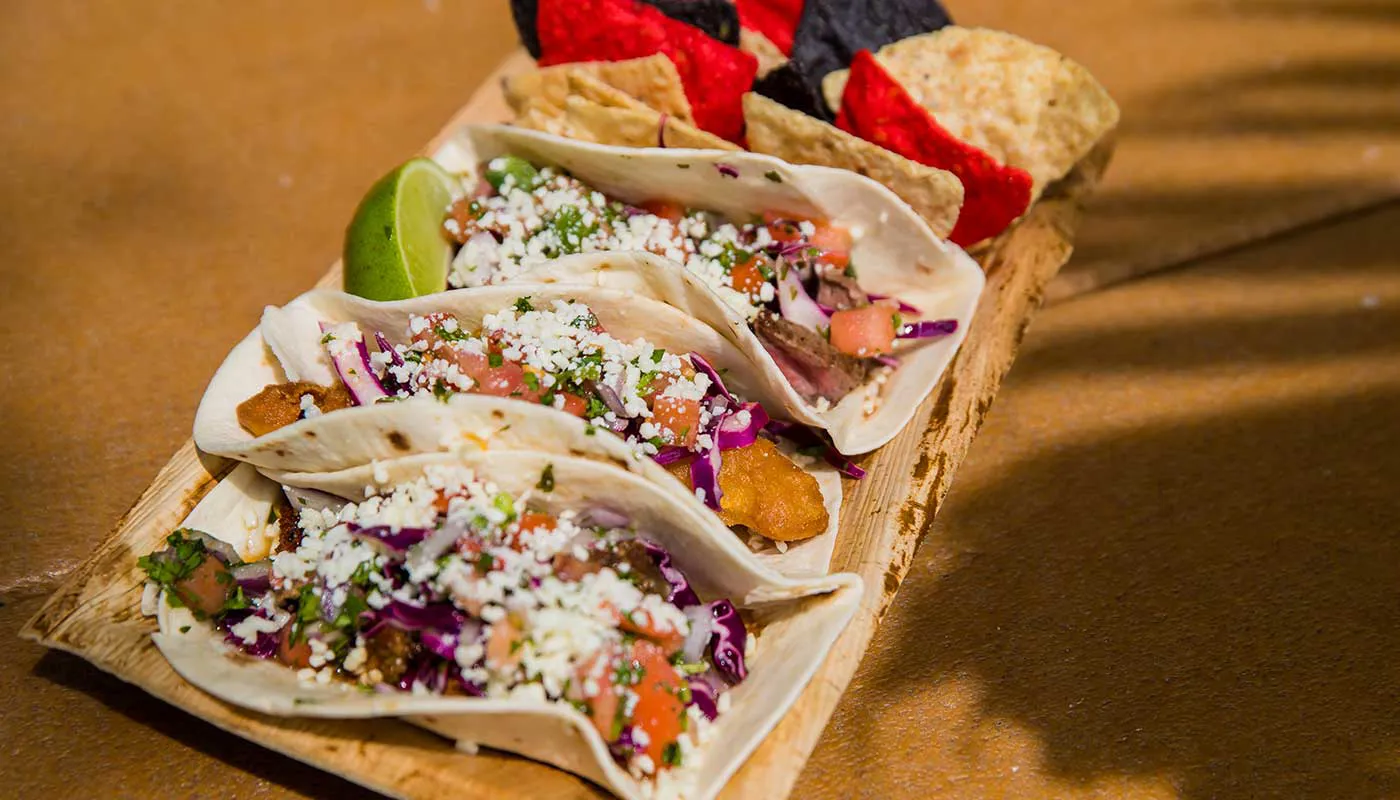 Beach-n-Brick Grill
The only other option in the water park is the Beach-n-Brick Grill, which serves Americana classics like chicken strips, burgers, hot dogs, and green salads.
Burger Kitchen
With its fun, firehouse-themed antics, Burger Kitchen will surely be a hit for the whole family. Enjoy a range of flame-broiled burgers, fish fillet sandwiches, and generous servings of fries.
Kick'n Chicken Co.
For those passionate about poultry, it doesn't get much tastier than Kick'n Chicken Co. You can order hand-breaded chicken tenders, grilled or breaded chicken sandwiches, and fries.
Firehouse Ice Cream
Designed to look like an actual firehouse, this charming ice cream parlor offers Breyer's brand treats in eight flavors, fifteen toppings, and five sauces. Try one of their specialty sundaes, or keep it simple with a hand-dipped cone.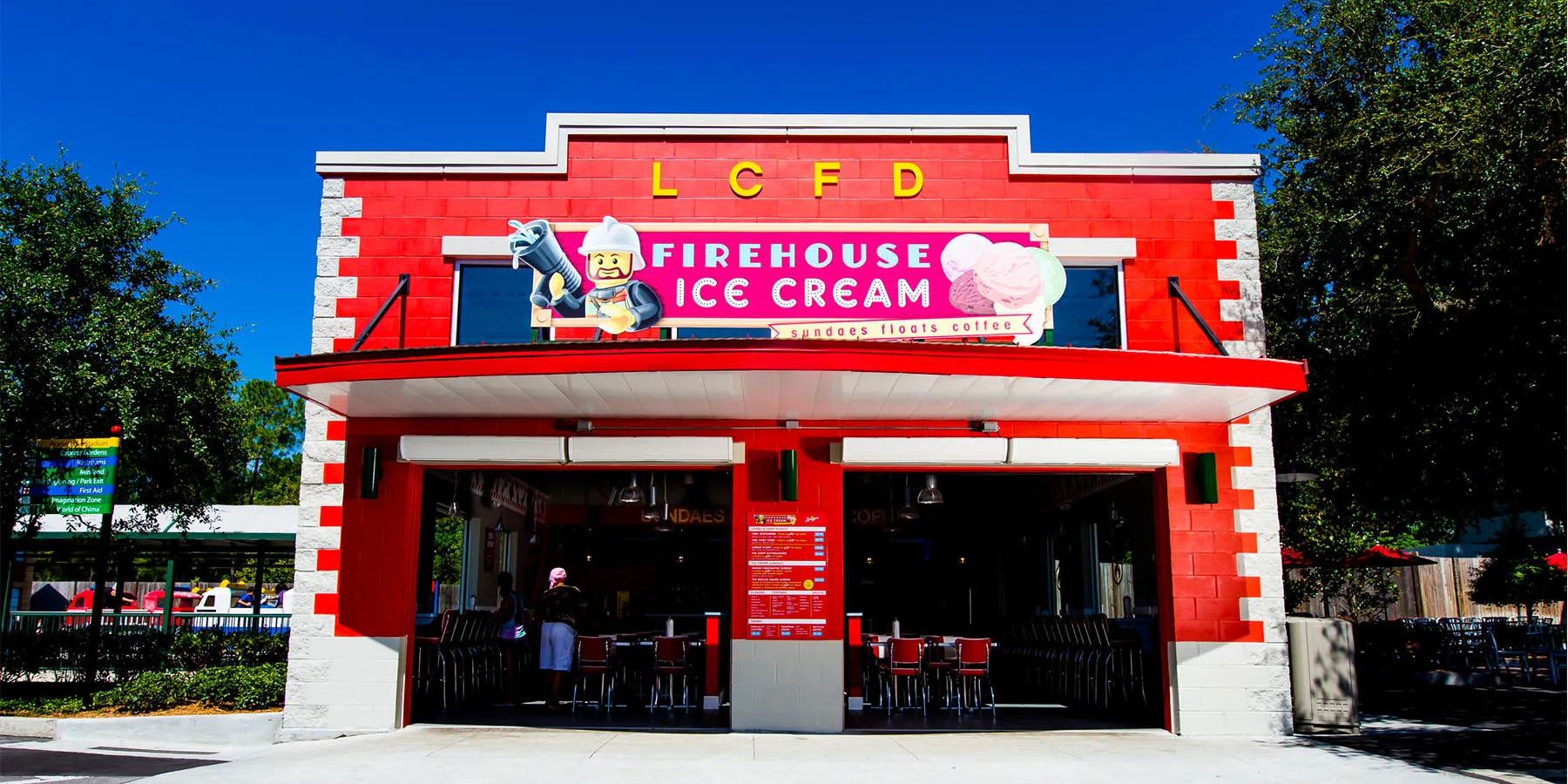 Dragon's Den
Legoland offers renaissance fair favorites, including massive smoked turkey legs, craft beer, and bratwurst sandwiches, all at the Dragon's Den. You can find it a few steps away from The Dragon roller coaster.
Kingdom Cones
Kingdom Cones specializes in chocolate or vanilla soft-serve waffle cones with magical swirls of flavor, including cotton candy, blue raspberry, mocha cappuccino, black cherry, tropical orange, strawberry, blue raspberry, cheesecake, and caramel.
Diners can choose two swirls of flavor for exciting combinations.
Fun Town Pizza and Pasta Buffet
Fun Town Pizza and Pasta Buffet is a feast of all-you-can-eat Italian fare, salads, and dessert pizzas with a monthly rotation of specialty pies.
Fun Town Slushies
Cool off at Fun Town Slushie, where you can mix and match flavors in your souvenir cup. Better yet, you can stop by again the same day, present your cup, and receive discounted refills for the rest of the day.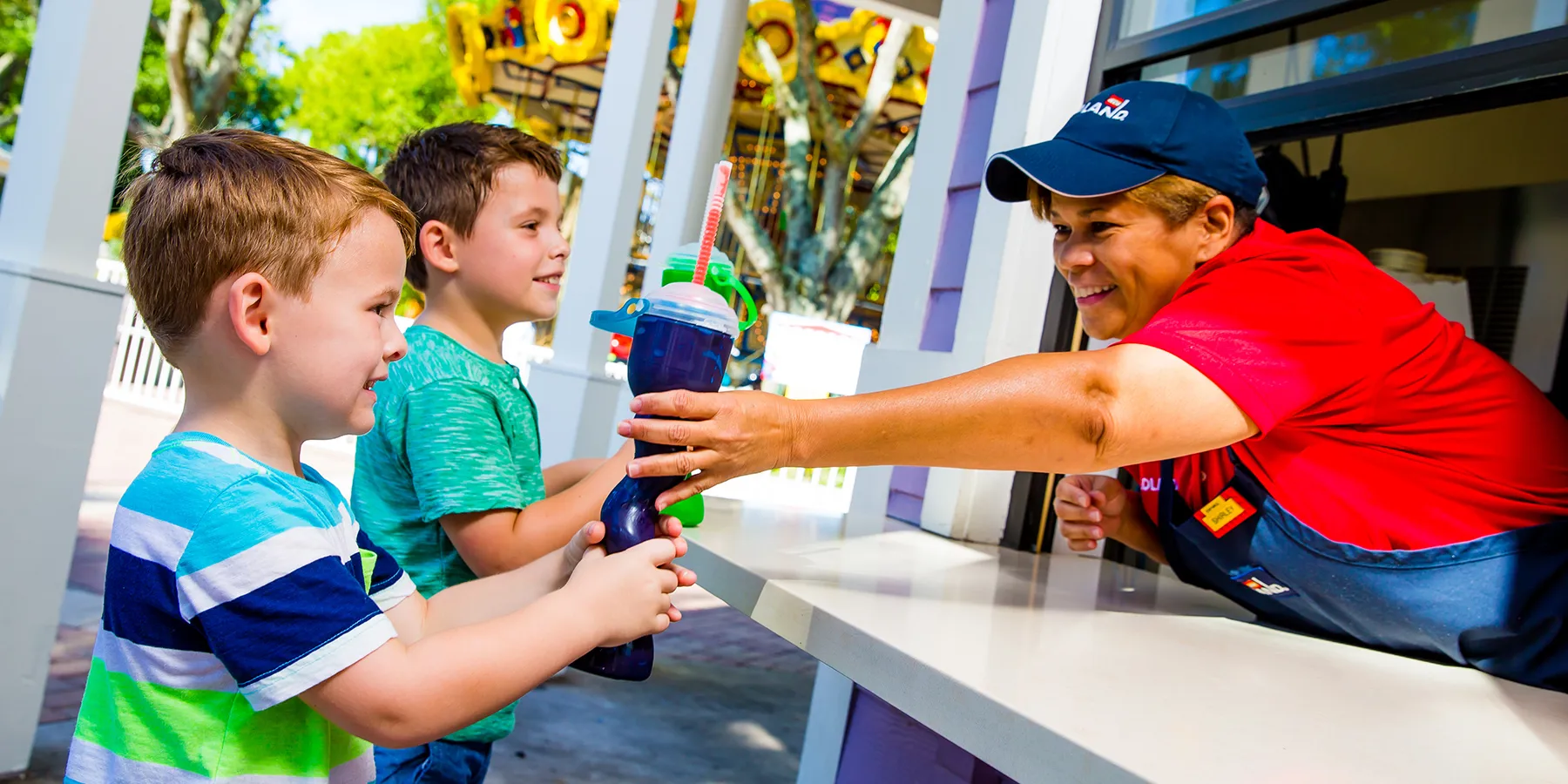 Granny's Apple Fries
Perhaps Legoland's most famous treat, Granny's Apple Fries, consists of thick-cut slices of warm Granny Smith Apples coated in cinnamon and sugar. Enjoy them on their own, dipped in whipped cream, or served a la mode.
Funnel Cake Factory
Every excellent theme park includes funnel cakes on its menu, and Legoland is no different! Top your fried batter cake with powdered sugar, ice cream, or fresh fruit for an extra indulgent treat.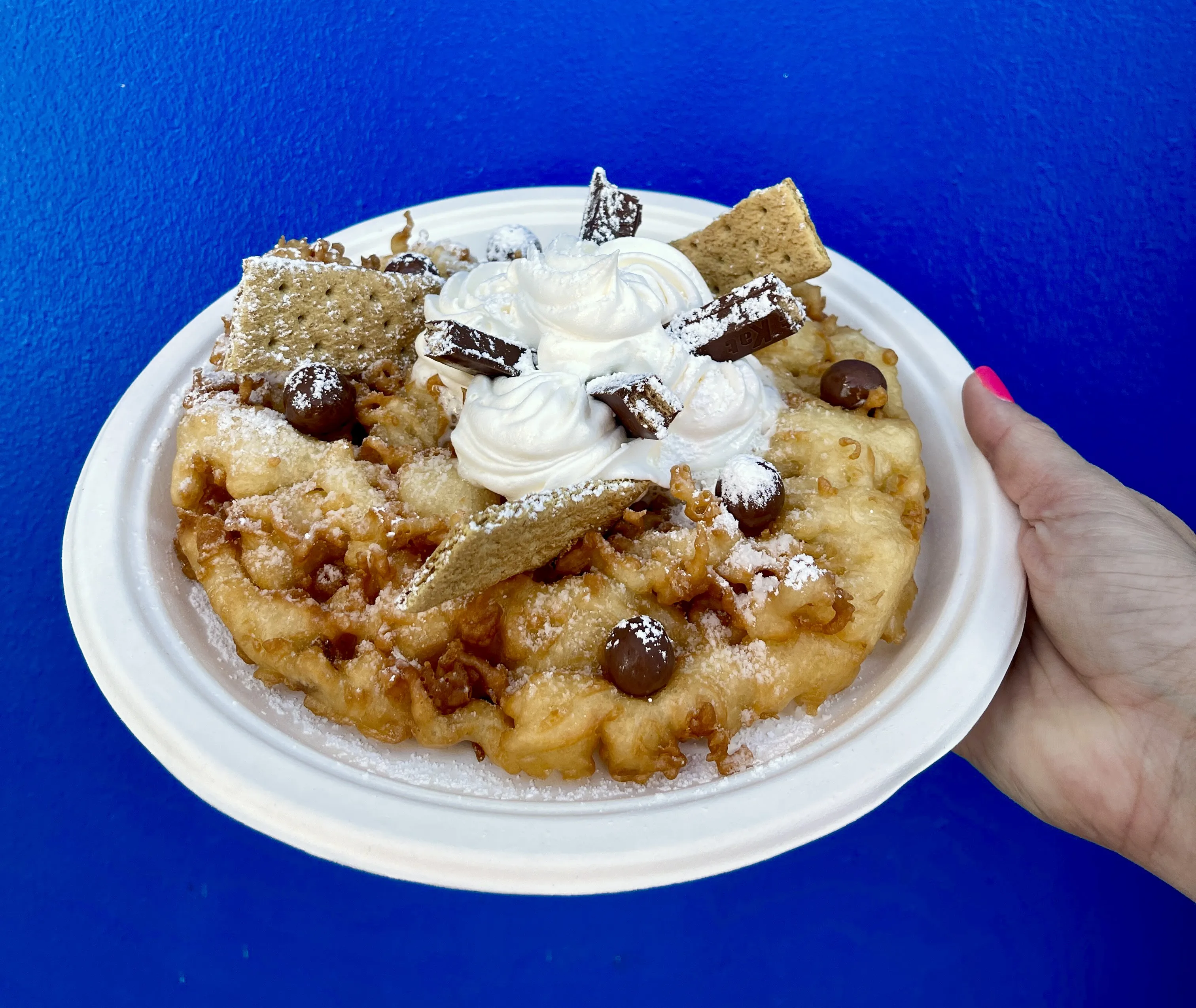 Heartlake Ice Cream Parlor
After wandering through the beautiful Cypress Gardens, stop by Heartlake Ice Cream Parlor for an ice-cold confection served in cones or cups.
Ninja Kitchen Food Truck
For a more exotic dining experience, stop by the Ninja Kitchen Food Truck for egg rolls, pot stickers, spring rolls, bao buns, and chicken wings.
They also offer four scrumptious sauces: spicy mayo, sweet chili, citrus soy, and Asian BBQ.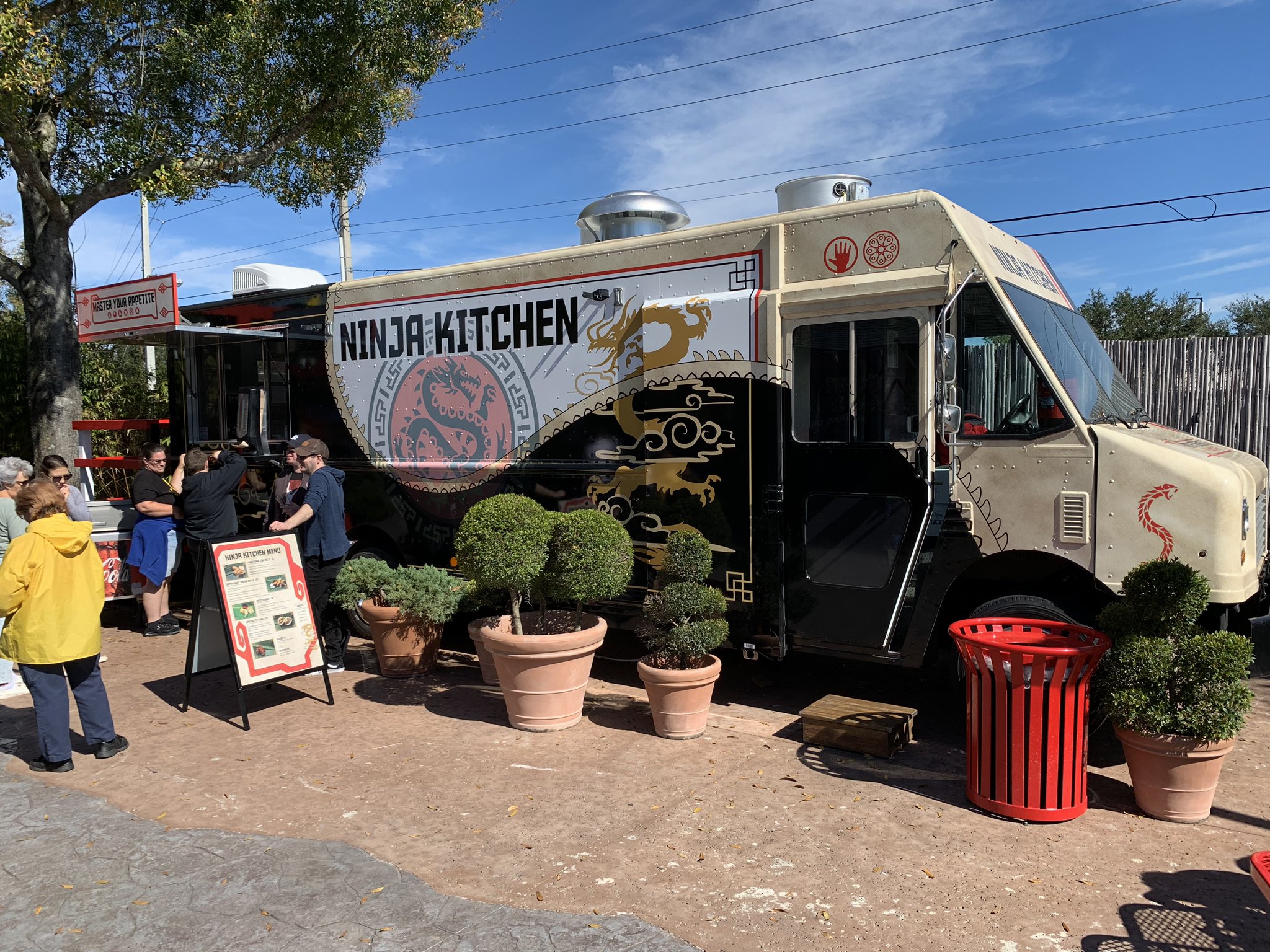 Pepper & Roni's Pizza Stop
If you're craving cheesy, saucy goodness but don't want to sit down for a full buffet, the cleverly named Pepper & Roni's Pizza Stop is an excellent grab-and-go spot for personal-sized pies.
The Legoland Coffee Co.
Early birds can venture outside the hotel for breakfast at The Legoland Coffee Co., where they serve croissant sandwiches, wraps, quiche cups, and steamy cups of joe for the energy you need to fuel a full day of fun.
Taco Everyday
Living up to their slogan of "Don't just taco on Tuesday, taco every day!" this Legoland cantina has a menu of California-style street tacos for the grownups and Unikitty or Benny-themed tacos for the little ones.
Charmingly, the themed tacos feature pink or blue tortillas!
Ultimate Sandwich Builder
Why stop creativity at lunchtime? You can get crafty at the Ultimate Sandwich Builder food truck with choose-your-own-adventure handhelds, loaded mac n' cheese bowls, or gourmet grilled cheese.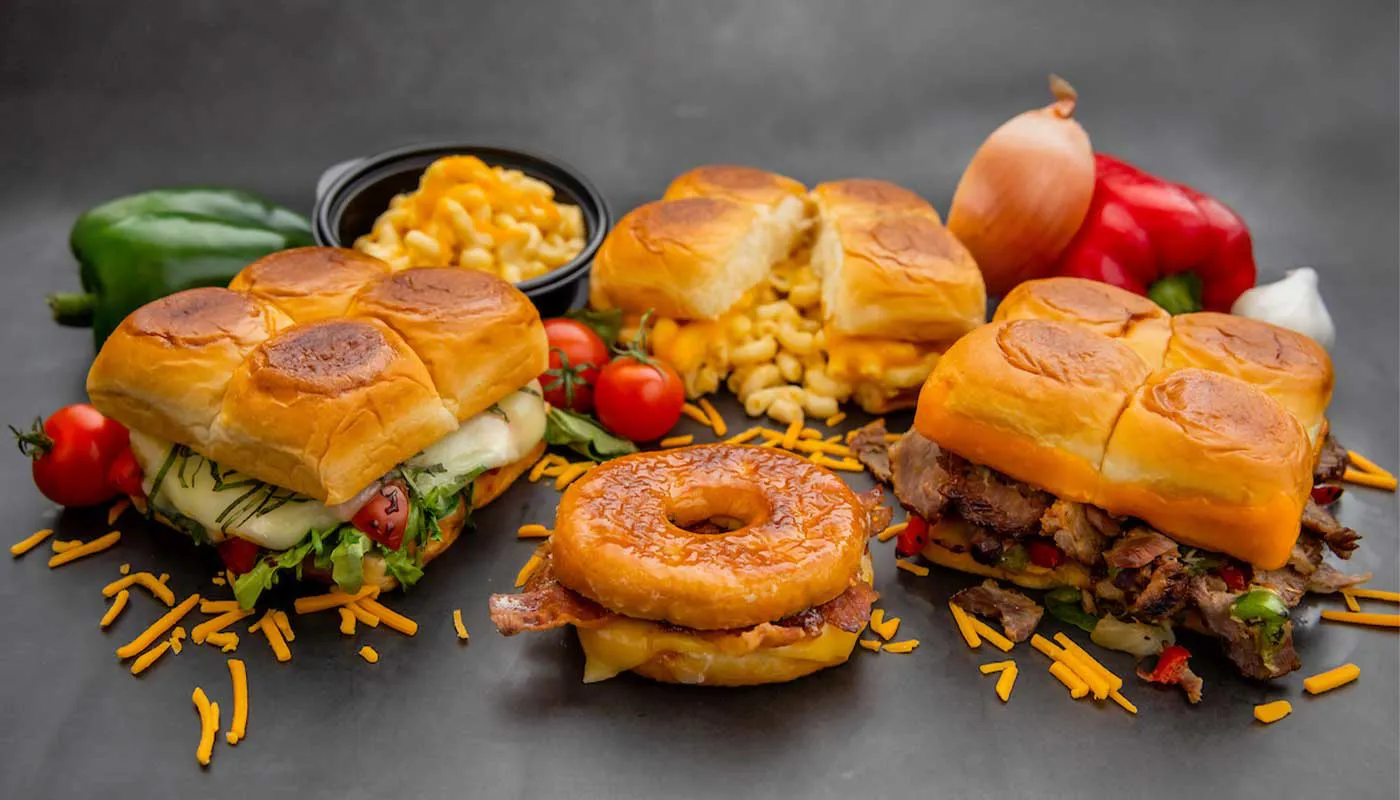 Legoland Florida: Top Tips for Enjoying Your Visit to the Park
Before we wrap up, keep these top tips in mind to make the most of your visit to Legoland Florida:
Hours Vary by Day
Hours of operation during the week are 10 AM – 5 PM and 10 AM – 6 PM on weekends. Be sure to get there early– Once they reach capacity, you can't get in for the day.
Know Your Parking Options
For families staying off-site, you can purchase parking passes. Standard parking costs $23.36 per vehicle in the main parking lot, while Preferred Parking is $37.38 for a designated spot right at the entrance.
Prepay to avoid the long toll booth lines.
It Pays To Plan in Advance
The Book Early & Save Package offers admission to all three Legoland properties and a 3-night stay in any on-site resort for $86 per person per night. As a bonus, your family can enjoy complimentary breakfast and parking at the hotel, mere steps away from the park.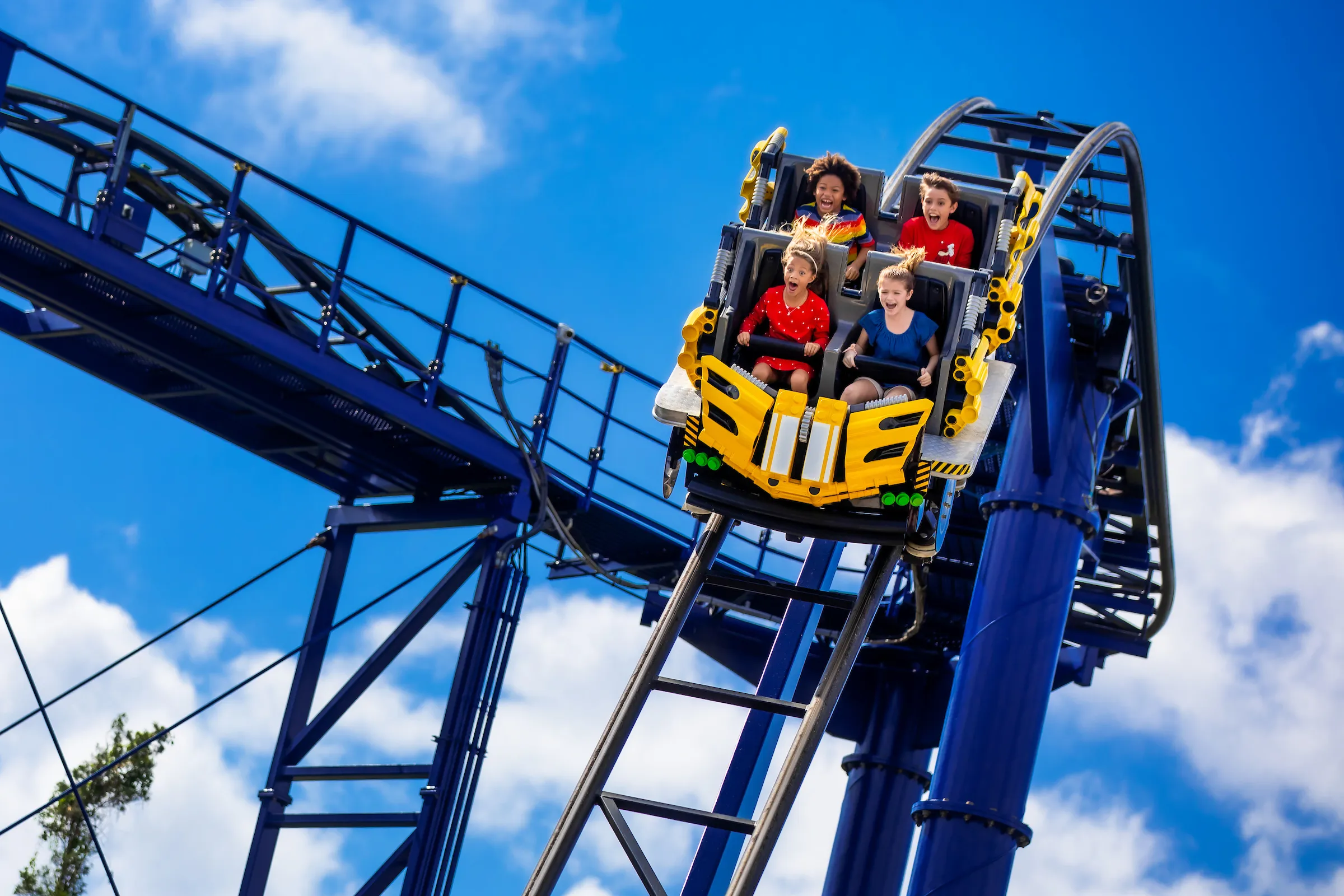 Avoid the Summertime Waterpark Rush
The Legoland Water Park is particularly busy, especially in the summer. Get there early to enjoy the pools and rides before the crowd arrives.
Don't Forget Your Minifigures
Minifig trading happens all over the park. Pack up your collection and score some new tiny buddies to take home.

Parents of Teens, Beware
Because the park is designed for kids and pre-teens, your adrenaline-junkie older kids might find the attraction offerings somewhat limited. They're welcome to join height-restricted siblings on some of the larger attractions, though.
Ask for a Ride Swap
Ask the operators for a ride swap if you're taking multiple little ones, as it allows parents with smaller kids to get back on the attraction without waiting in line again.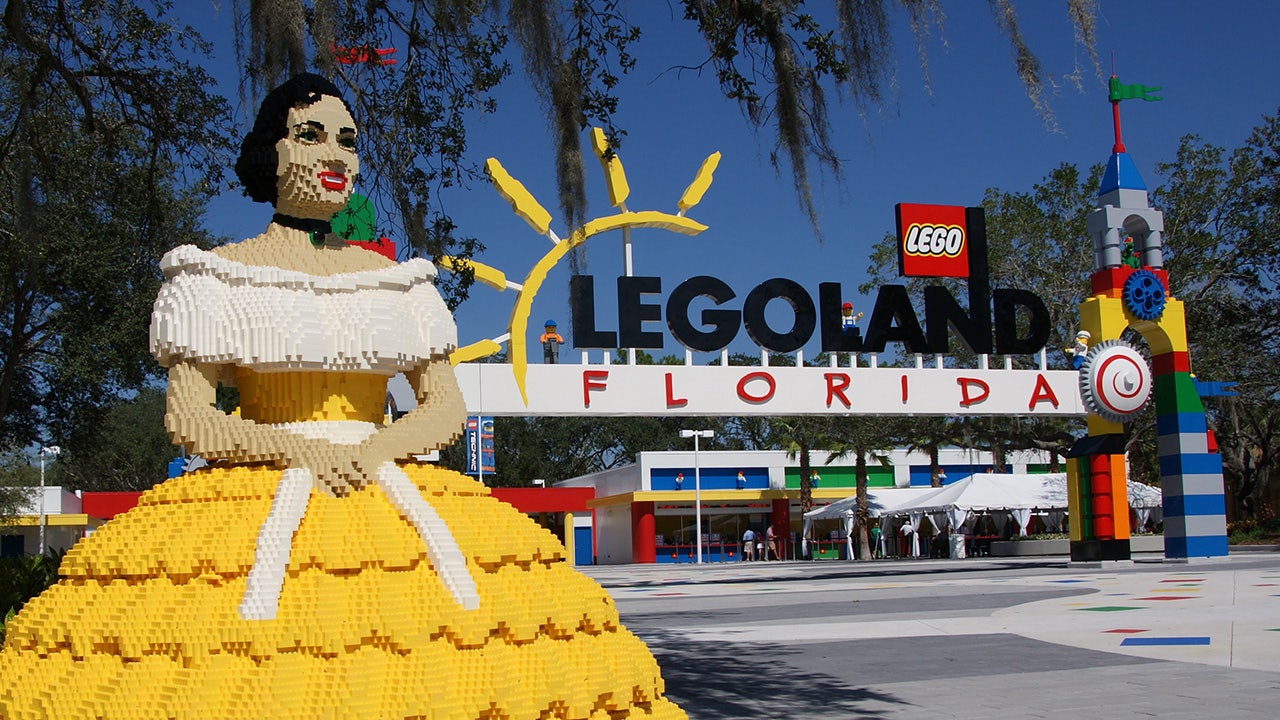 There Are Exceptions to the Food and Drink Rules
While most Legoland dining options have vegan and vegetarian selections, families with more restrictive dietary allergies should ask for a pass that allows them to travel with packed lunches and snacks.
You Don't Have to Visit the Waterpark To Get Wet
There are plenty of water-based attractions in the central park. Be sure to pack an extra change of clothes for post-splash pad play. Just in case, on-site dryers at Pirate's Cove and rentable lockers are available.
Get the App
You can access an interactive map, an attraction list with height requirements, wait times, and online food ordering via the Legoland App.
Final Thoughts
We hope you found this guide to Legoland Florida informative and helpful. Keep these tips in mind and you're sure to have a blast! Whether or not you're a Lego fan, there's something at the park for everyone to enjoy. Book your next family outing today and find out that everything really is awesome!
Before you hit the road, be sure to check out our other Sunshine State handbooks for insight on topics like the best day to visit Epcot and the Hollywood Studios rides suitable for tots.
More about our TFVG Author
A seasoned traveller, Dad, and avid sports tourist, James foundered The Family Vacation Guide to share his expert vacation experiences- especially when it comes to being a travelling family man.
Featured in Travel articles such as Travel + Leisure, TripSavvy and SFGate, you know you're reading some of the best vacation tips online.