When you think of Miami in Florida, or at least vacationing in Miami, what comes to mind are typically activities unsuitable for children. But all that's about to change. The Miami you see in popular shows like Miami Vice and Baywatch doesn't show what this beautiful city has to offer families. That's why we've created this Miami family vacation guide.
From petting zoos to the Everglades, Miami has a whole world fit for children that isn't on-screen, and we're here to show it to you. But first, you're probably still a bit iffy about having a family vacation in Miami at all. Here are some reasons you should.
5 Reasons Why Miami is the Perfect Family Vacation Destination
Miami and family vacations may sound strange at first. We admit the city's more popular with adults. However, that's no reason to disregard it. There are plenty of family-friendly attractions, and it's my job to help you find those. But, if you're still not convinced, here are a few more reasons to convince you to visit.
Awesome Beaches
You can't call it a Miami vacation without visiting the beaches. While portions of Miami Beach aren't suitable for kids, there are plenty of other beaches to enjoy. You can go to Croydon Park Beach, Matheson Hammock Park Beach, South Pointe Park Beach, and more. Just do your research beforehand, and you'll have a great time.
The Weather
Miami is in Florida, so there's plenty of sunshine. That means you can lounge on the beach and go around the city without worrying about unpredictable rain. Plus, the temperatures are generous during winter, so you won't freeze to death trying to sightsee. Admittedly it gets a bit too hot for comfort during the summer months, but that's why you book a resort with pools.
Go On an Adventure
If you want to get your kids moving, you can try watersports. The city has lots of places with activities like jet skiing, kayaking, windsurfing, parasailing, and more. You'll need to check the minor age and weight requirements. Once your kids fulfill those, you can have a blast in the water.
The Animals
Miami has a lot of attractions featuring wildlife. You can visit the Miami Zoo, Miami Seaquarium, Jungle Island, and more. Some of these places let kids interact with animals in safe settings. You and your kids will learn about different animals and how they live here.
Family-Friendly Restaurants
Miami is heaven for foodies, and thanks to the cultural diversity, you'll get to taste a lot of new food. Cuban food heavily influences local food culture, though you'll still find plenty of American and Italian food.
Miami has a lot of family-friendly restaurants where your little ones can try new food too. If they're picky eaters, you can order them something off the kid's menu. But who knows? They just might discover a new favorite food.
When's the Best Time to Visit Miami with Kids?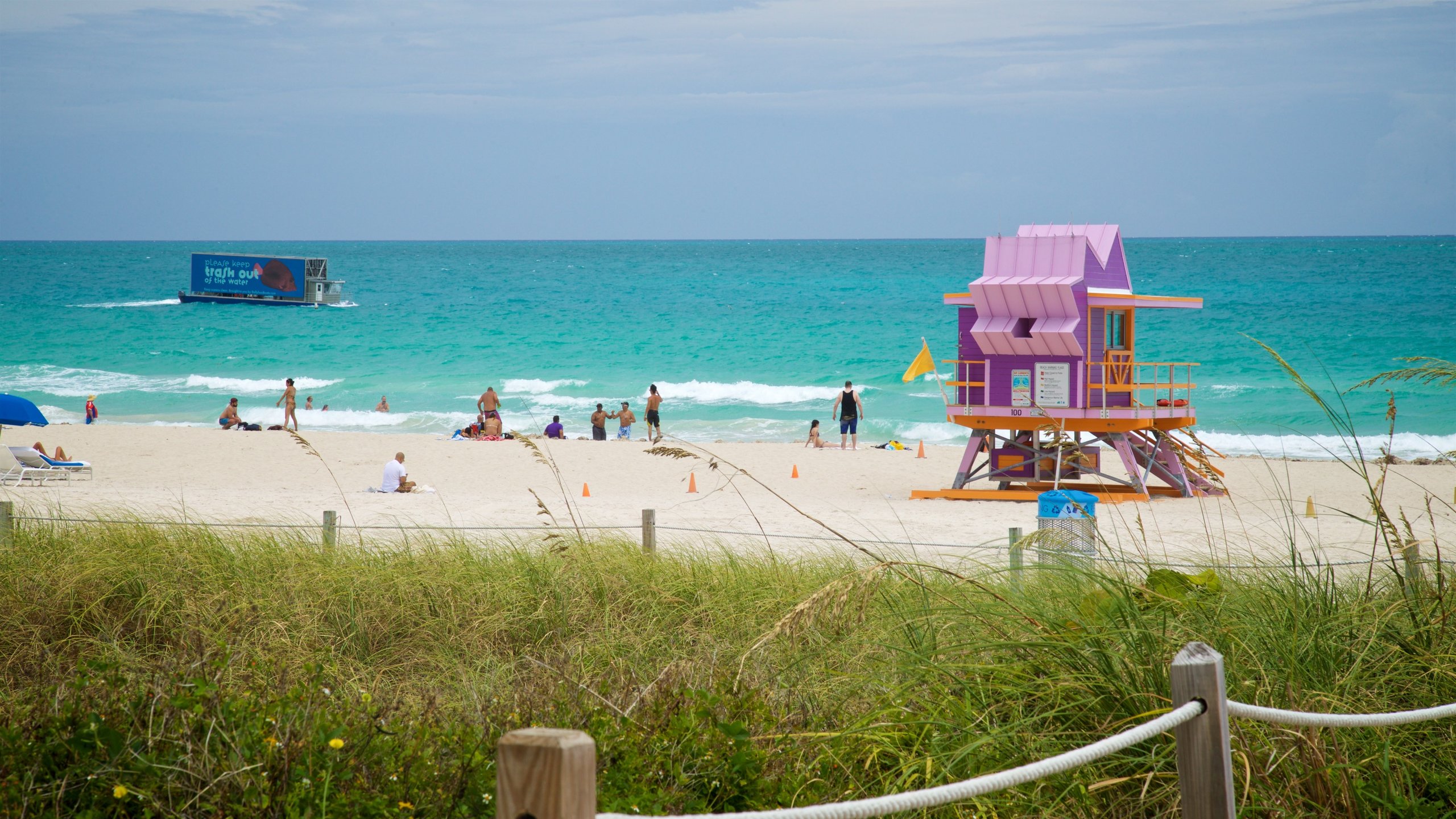 Spring is undoubtedly the best time to visit the city. Sure, there are crowds, but the weather's incredible, and the hotel rates aren't too bad. If you book ahead, you'll have a great time with little chance of rain interrupting your plans.
Another popular time to visit would be winter. The temperature's amazing, but the hotel rates are at their peak. You'll need to search for the right hotel. Probably not the best time to visit if you're on a tight budget.
If you want to avoid the crowds, you could visit in summer or autumn. However, you're way more likely to experience a hurricane or heavy rain showers. The good news is that hotel rates hit rock bottom. You can decide whether the low prices are worth the visit.
What's the Weather in Miami Across the Year?
Miami has nice sunny weather most of the year. But it also sees the signature Florida rains. Spring is heartbreakingly short, only lasting in March and April. The weather's nice, warm but not humid. The temperature hovers in the seventies, and you won't see that many thunderstorms during this season.
Spring fades into summer, which lasts till October. The temperature rises to the eighties, and the weather is usually hot with lots of humidity. But that's not the only thing. Summer is usually marked by intense thunderstorms and hurricanes.
Autumn is much like spring, short and pleasant. It only lasts one month, and that's November. Next, we have December as the official start of winter, which lasts till February. Temperatures stay between sixty-five to low seventies, and rain is rare.
What's the Perfect Length of Time to Spend in Miami?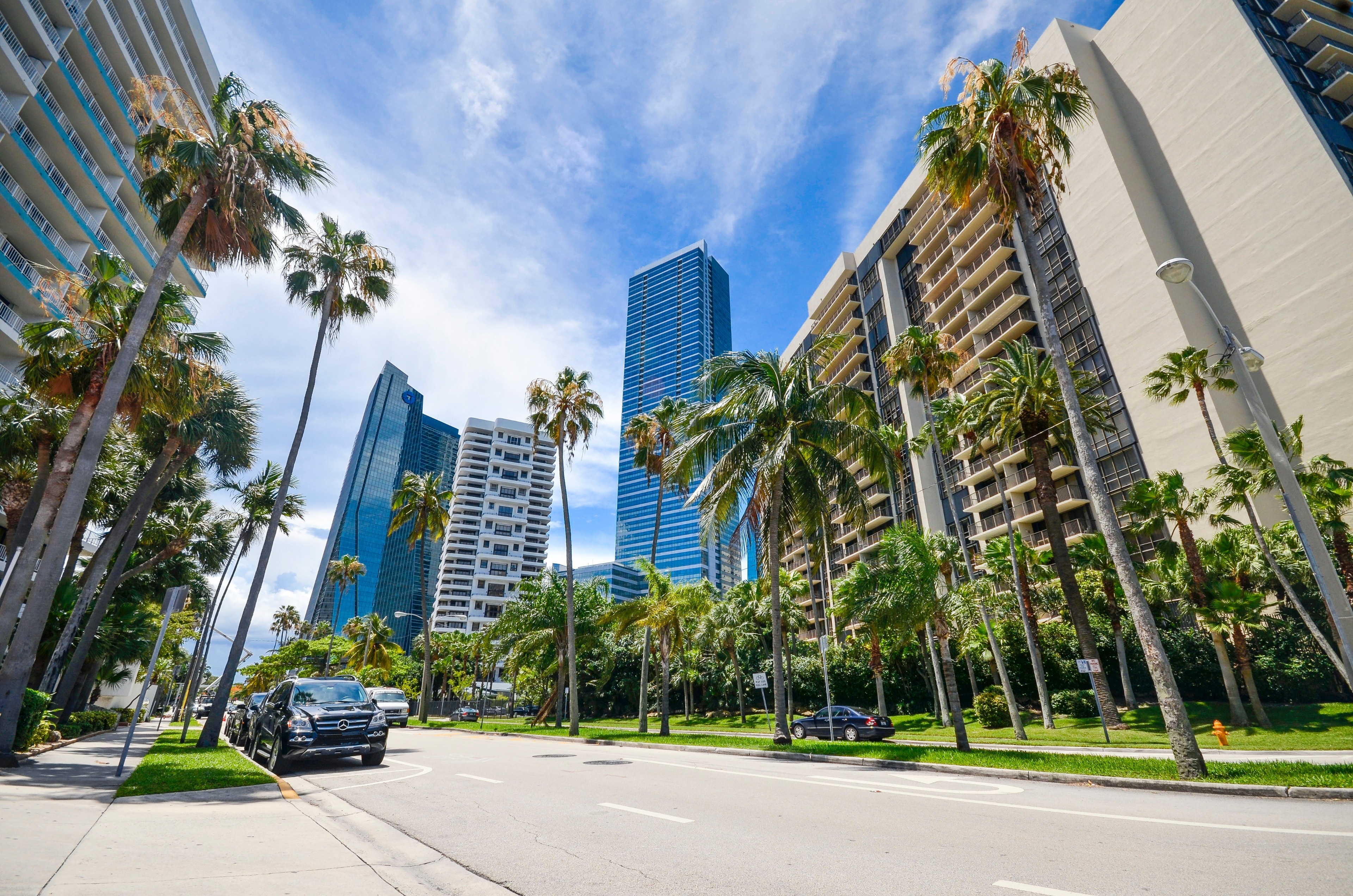 You need at least three days to explore the city. However, we recommend sticking around for a week. That way, you won't feel so rushed, and there will be plenty of time to explore while getting plenty of rest. Plus, you can always take day trips to nearby locations if you still have extra days. Look for hotels in advance so that you don't have to settle for mediocre lodgings at the last moment.
The Best Things To Do With Kids in Miami
It may not seem that way, but there are plenty of things you can do with your kids in the magic city. We took the liberty of listing the attractions you shouldn't miss.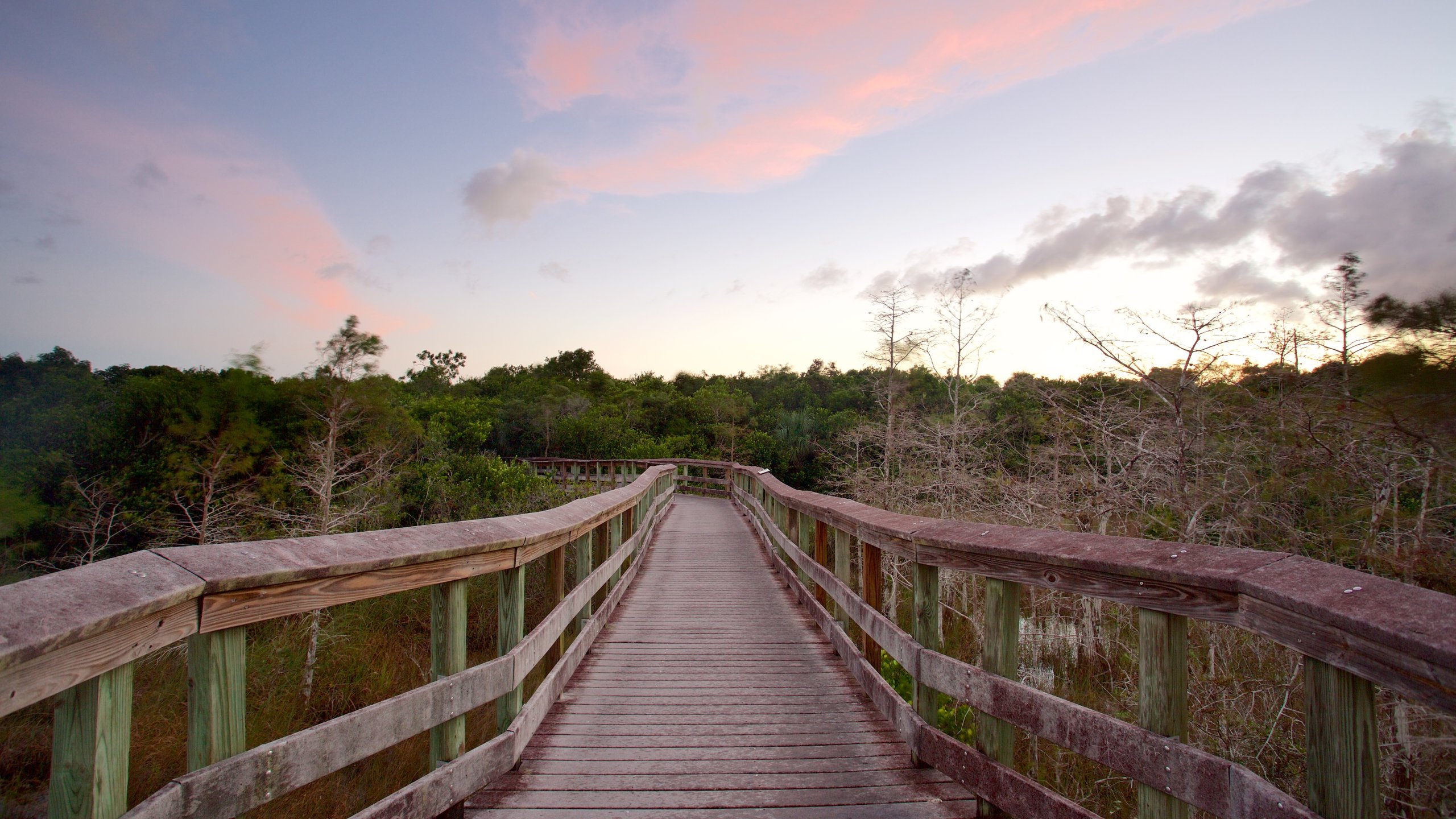 The Everglades National Park is massive. In, it spans over one-and-a-half-million-acres massive. But that's not the only thing. This national park is a World Heritage Site protected under the Cartagena Treaty.
You can enter the park through any of its nine entrances. We recommend taking an airboat tour to see the entire thing because some places are better accessible by water. You could also hike around if you choose a trail that is easy for your kids. To help visitors find the best trails and provide other information, the park has four visitor centers and a junior ranger program.
Bird watching is quite popular here, and you might see some rare bird species. But you'll need to keep your binoculars handy. The park is home to several other species, and you'll most likely encounter alligators, crocodiles, dolphins, herons, and more.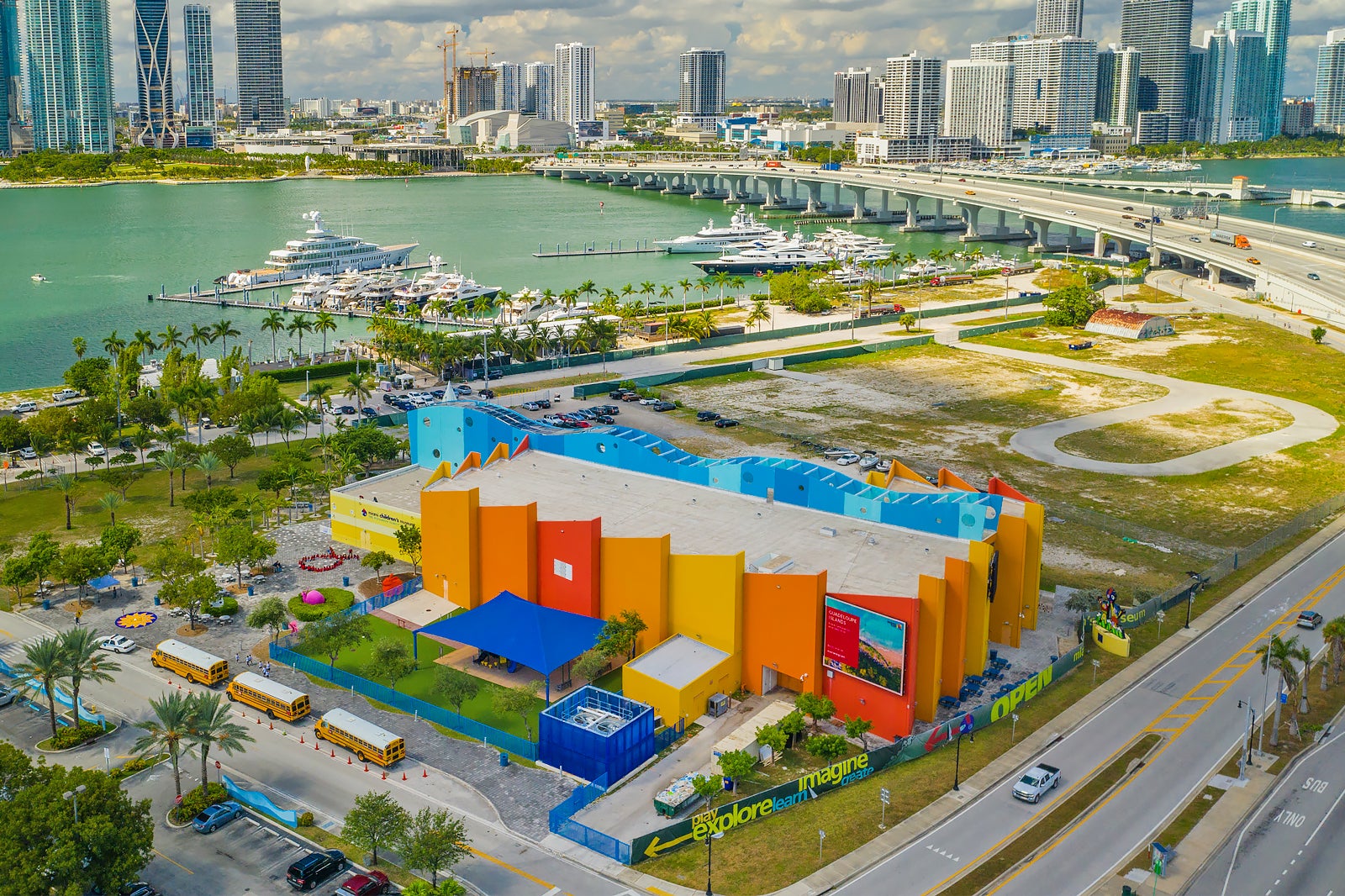 You can find the Miami Children's Museum on Watson Island. You and your kids will enjoy exploring the seventeen galleries, KidSmart gift shop, and Subway restaurant. The museum's exhibits include the Health and Wellness Center, Glass Lab, Construction Zone, and more.
These exhibits are interactive and designed according to the MDCPS curriculum to provide a superior learning experience. You need to buy tickets in advance to enter the museum. If your child has a birthday during the vacation, you can also organize a party here.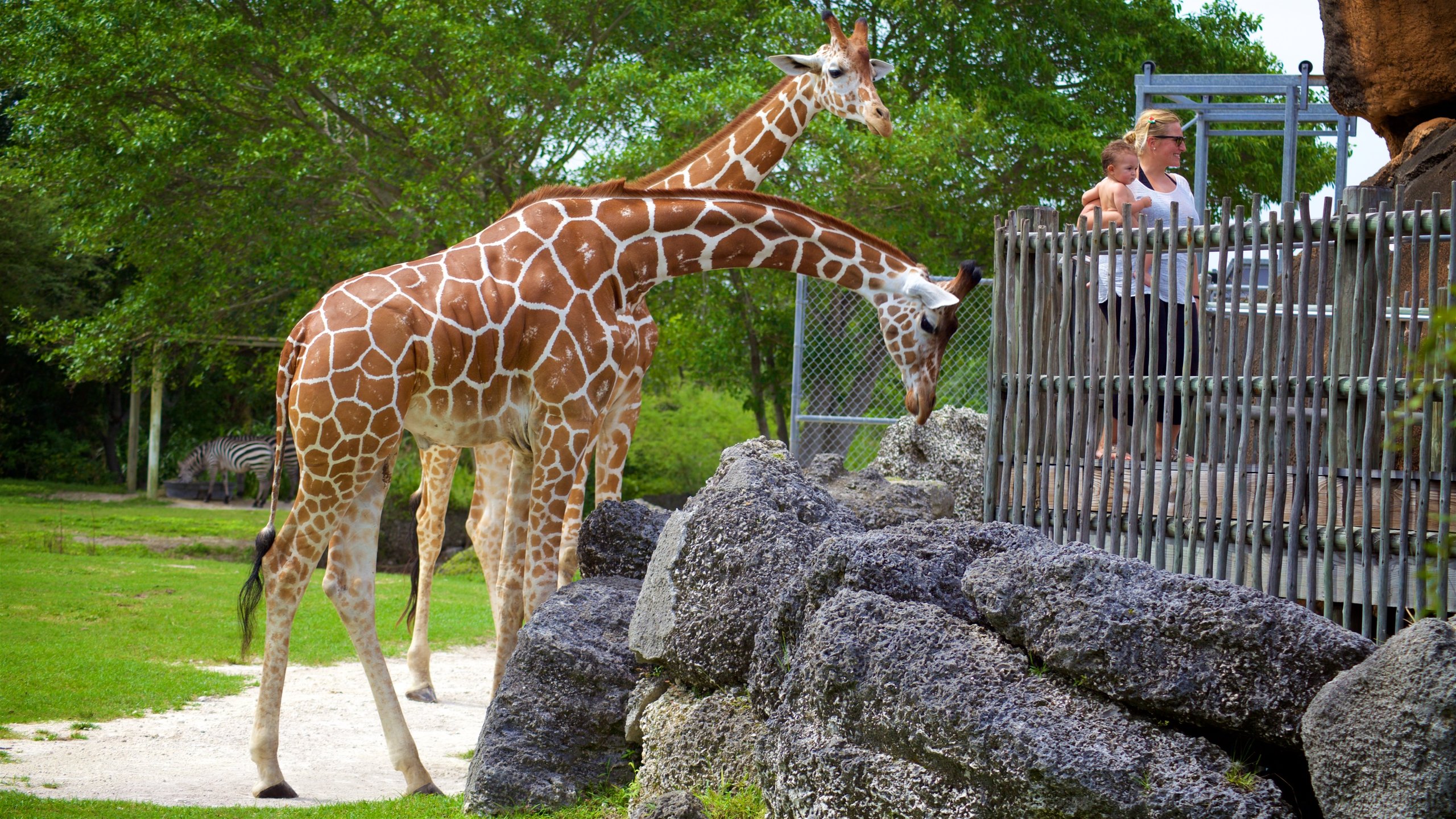 With seven hundred and fifty acres of land, the Zoo Miami is the largest zoo in the state. It was established in 1948, and since then, it has become home to more than five hundred animal species and over a thousand plant species. It also has over a hundred special exhibitions.
If you don't want to walk the entire time, you can take a tram or a safari cycle. Your kids can interact with the animals through activities like the Giraffe Feeding. Plus, you can book a VIP tour to learn more about the place. But you can't take food inside the zoo, and it's a must to book the tickets in advance to skip the lines and maximize your time.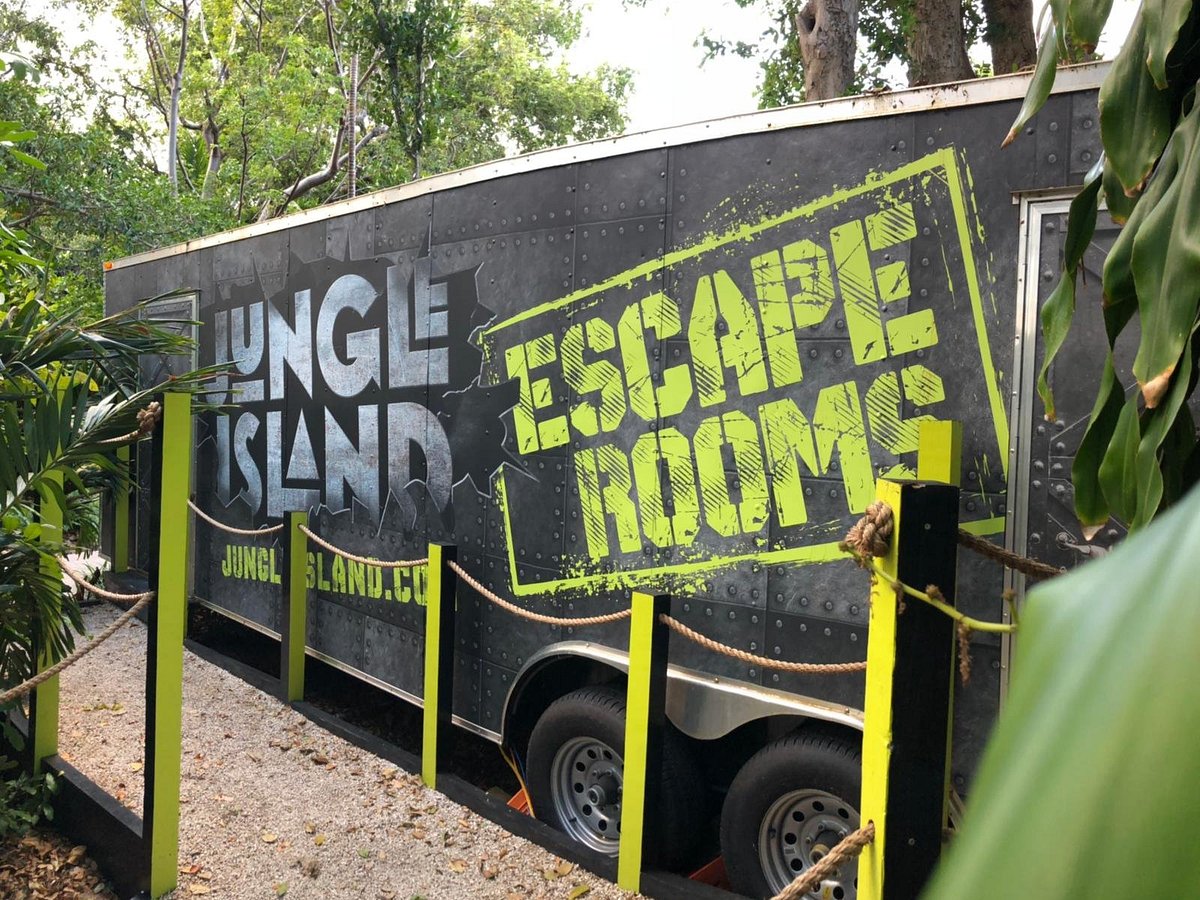 Jungle Island may not be as massive as Zoo Miami, but it still has its own charm. The zoo is near South Beach and downtown Miami and spans 18 acres. If you arrive early, we recommend going to the Liger (tiger-lion hybrid) enclosure first because it gets crowded quickly. Then, you can visit the lions, flamingos, and other animals.
Jungle Island has a petting zoo with baby goats and a beach playground. You can book private encounters with other animals through VIP tours. Once you're done exploring, you can rest at Parrot Cove, a private beach on Biscayne Bay. If you want a VIP encounter, you'll need online reservations.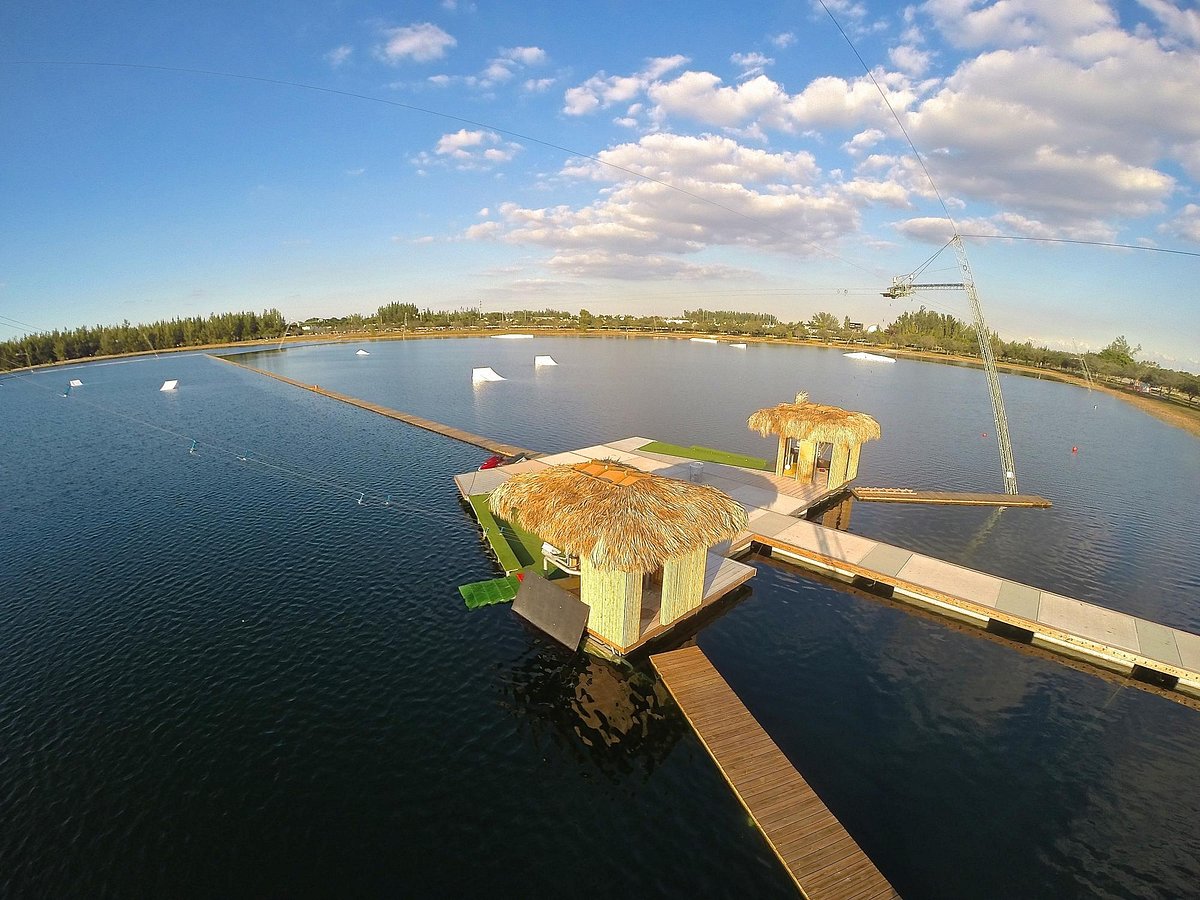 You can't spend all your time lounging on the beach or exploring the city. There has to be some fun, and there's nothing more fun than watersports. The Miami Watersports Complex specializes in cable wakeboards, but there's other stuff.
The cable system consists of two full-sized cables that you can use for wakeboarding, waterskiing, wakeskating, and kneeboarding. Children under ten must take a safety lesson before they can do any of this.
You can also go tubing, wakeskating, wake surfing, and more on the boating lake. Later, the kids can play at the aquapark. Although, they need to be at least six for that. The complex has a Pro Shop where you can rent out gear like safety vests for a day.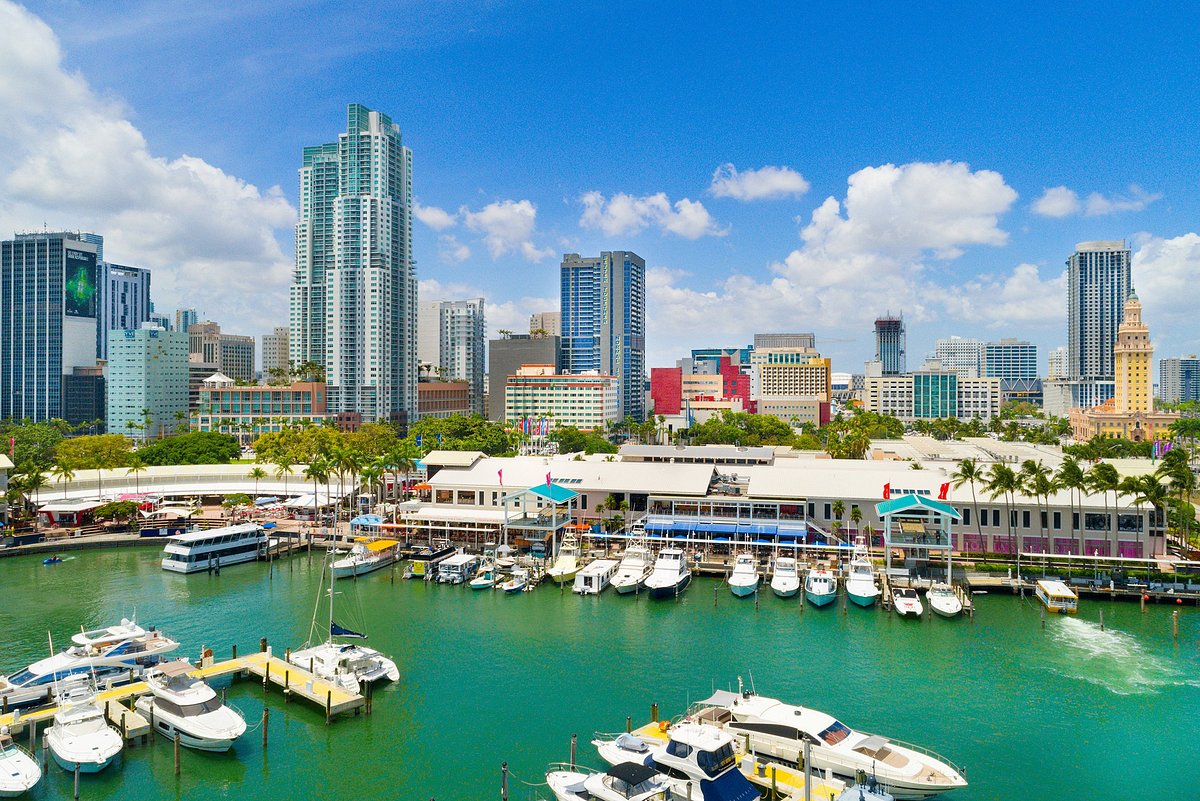 You can find the Bayside Marketplace in Downtown Miami. The site is home to numerous shopping outlets and restaurants, but that's not why you'll be there. You're here for the boat tours.
The Bayside Marketplace is the starting point for multiple boat and fishing tours. You can even have fun aboard a speedboat here. If your kids are dinosaur fans, you'll want to visit the Dino Safari. The safari has more than twenty giant replicas of dinosaurs like T-Rex that are sure to entertain anyone.
Once you're done exploring, it's time to hop on to the Sky Views Miami Ferris wheel. We recommend going on the wheel at night because the view is much more magical once the lights come on.
Key Biscayne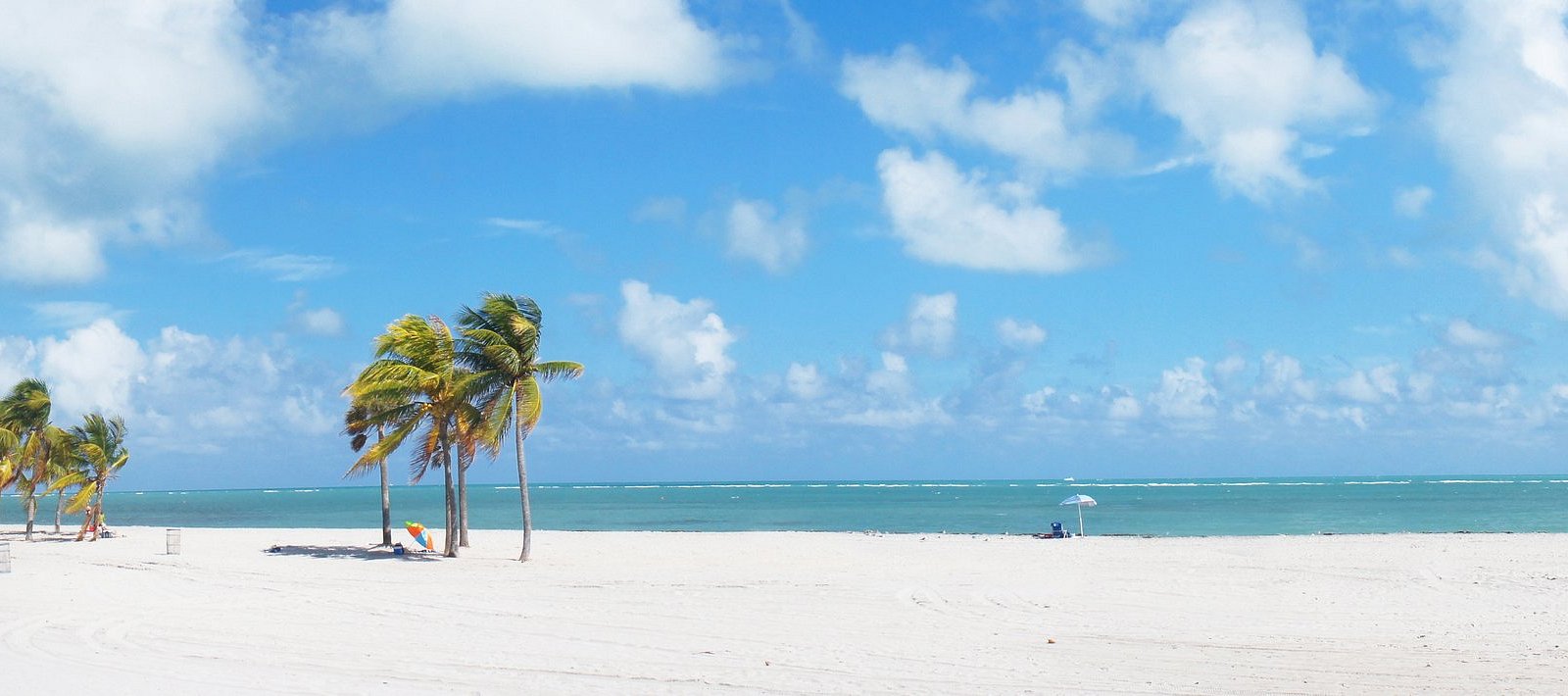 You'll find Key Biscayne just a little further than Downtown Miami. This small village is nestled between two state parks, Crandon Park and Bill Baggs Cape Florida Park. The place is home to eleven small parks where you can enjoy nature.
You can play tennis in Calusa Park or see the lake in Lake Park. Enjoy a little bit of golf? Visit the Crandon Golf Course. Once you're there, it couldn't hurt to go to the state parks, especially the Bill Baggs Cape Florida lighthouse. Here you can climb to the top and enjoy the magnificent view from the historic lighthouse.
Florida gets a lot of rain, especially in the spring and summer, but that's no reason to get stuck inside. FunDimension is an indoor entertainment center that's every kid's dream. The center is open from Tuesday to Sunday and has a host of different attractions suitable for kids and adults.
You can play laser tag or sit on bumper cars with your family. The kids can play in the indoor playground (for one to seven-year-olds) or the arcade. The center also has a climbing wall and Virtual Reality experiences. You don't need to make reservations here. Just walk in and choose a package for your family.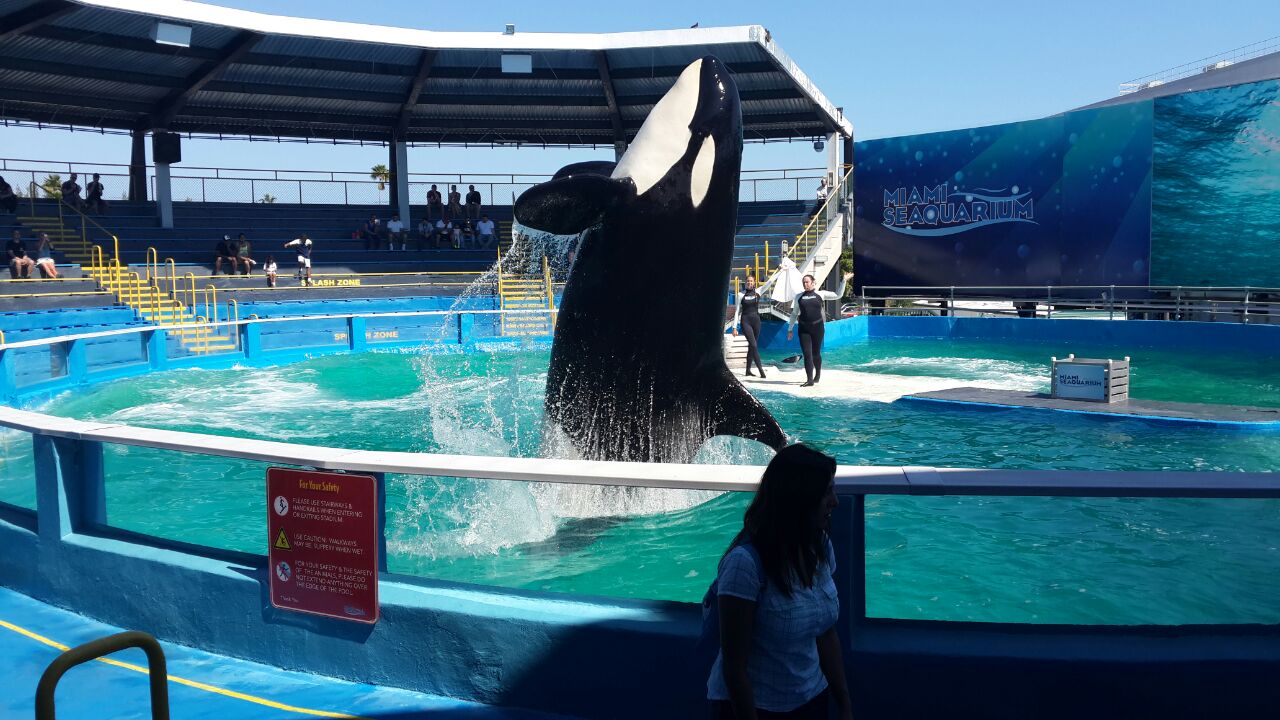 No Miami visit is complete without seeing the Seaquarium. It is the largest aquarium in the country. You can find the Seaquarium in Virginia Key where it has been functioning since 1955. The place has been active in the care and conservation of multiple sea animals and some reptiles.
While there, your kids will have a chance to meet dolphins, stingrays, manatees, turtles, seals, penguins, sea lions, and more. You can book VIP tours and have private encounters with these animals. The aquarium also hosts multiple shows, the most famous one being the interaction between the killer whale 'Lolita' and dolphins.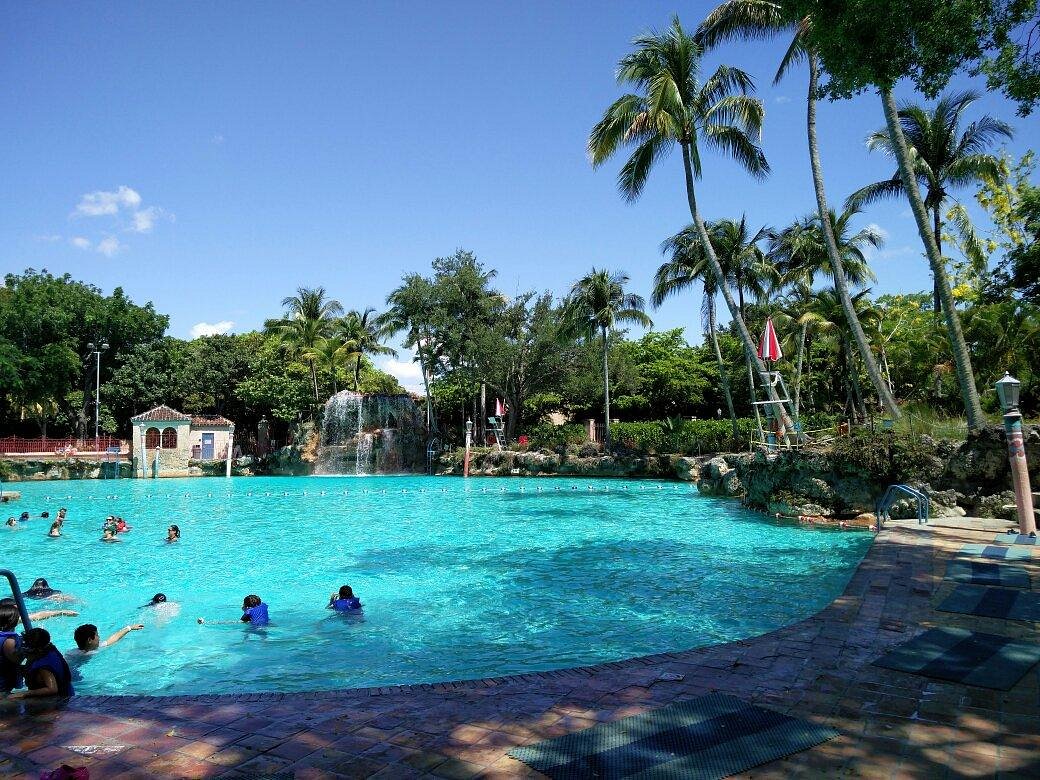 The Venetian Pool is a historic part of Miami. It was established in 1923, making it older than in some countries. Once there, you may feel some Mediterranean influence, and you would be right.
George Merrick, the developer responsible for Coral Gables, took his inspiration from Mediterranean waterfalls and islands. You'll find a few grottos and two waterfalls that add to the pool's aesthetic appeal. It's a fun trip for the family, but your kids must be at least three years old to enter the premises.
The Best Family Hotels & Resorts in Miami
The first step to having a good time in Miami is finding the right hotel. The city is full of hotels and resorts that are kid-friendly, so space isn't the issue. Rather, the deciding factor in choosing your hotel or resort should be its child-friendliness. Here are some places that emphasize creating a safe and fun environment for families.
The Loews Miami Beach Hotel is nestled in South Beach's Art Deco district. The oceanfront hotel features nearly eight hundred guestrooms. Additionally, the hotel features a zero-entry pool with rooftop decks and private cabanas.
The hotel sponsors the SOBE club for guests' kids, and it's a great way to keep your children busy. The club allows kids from four to twelve years, and you can choose between the full or half-day programs. The program also includes pizza-making classes so your little ones can learn how to make their favorite pie.
All the rooms feature Smart TVs, safes, room service, a minibar, and complimentary Wi-Fi. The hotel has suites large enough to accommodate a family of six.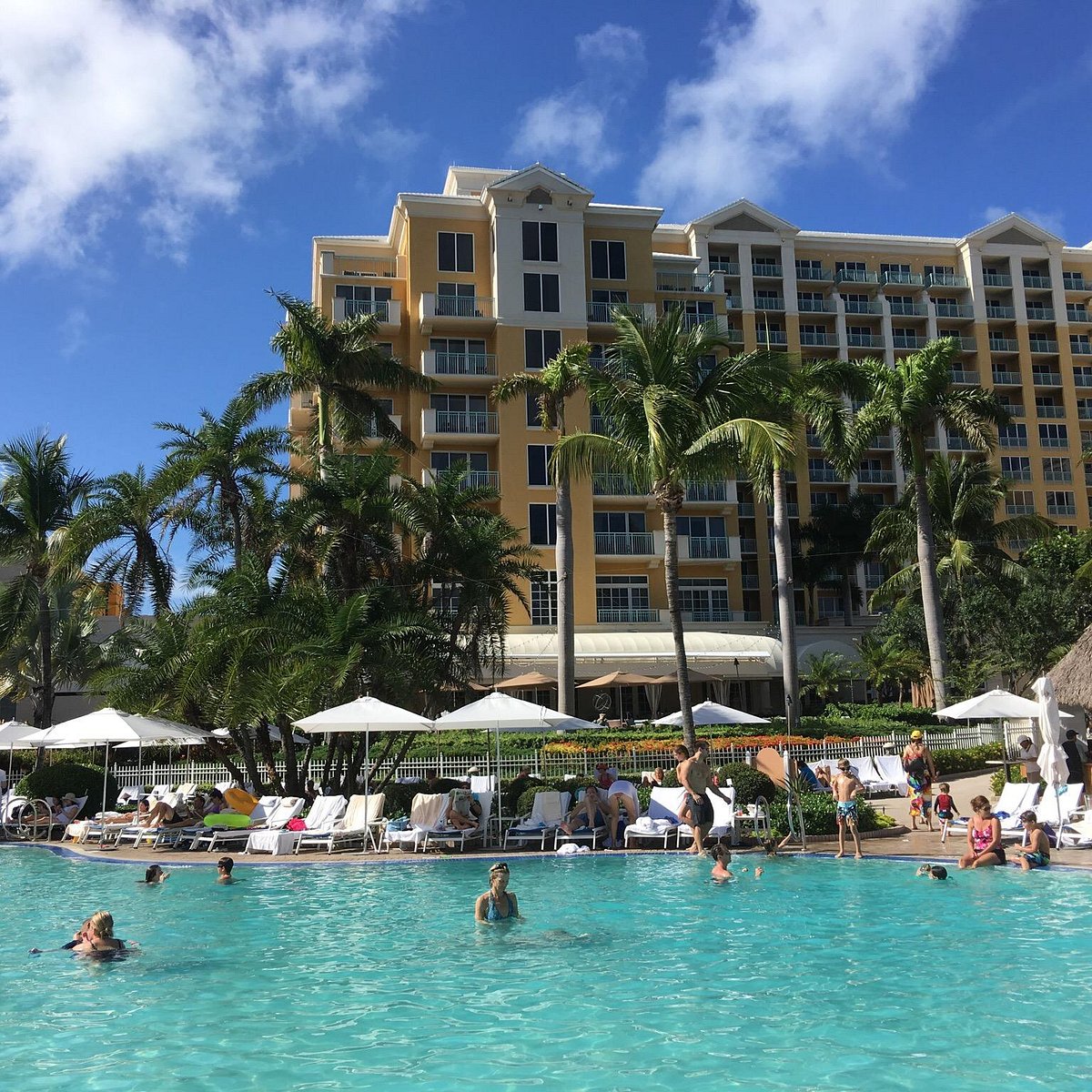 The Ritz-Carlton has the honor of being the only luxury hotel on Key Biscayne. From here, you can easily access Miami Beach, Jungle Island, and the nearby state parks. The hotel rooms have beachfront views and balconies. Other amenities include marble baths, complimentary Wi-Fi, digital safes, in-room dining, and housekeeping.
You can use the Ritz Kids activity program to keep your kids busy. Alternatively, you can all have fun in the zero-entry family pool. The Ritz-Carlton also has a spa, salon, fitness, and wellness center, and three on-site restaurants.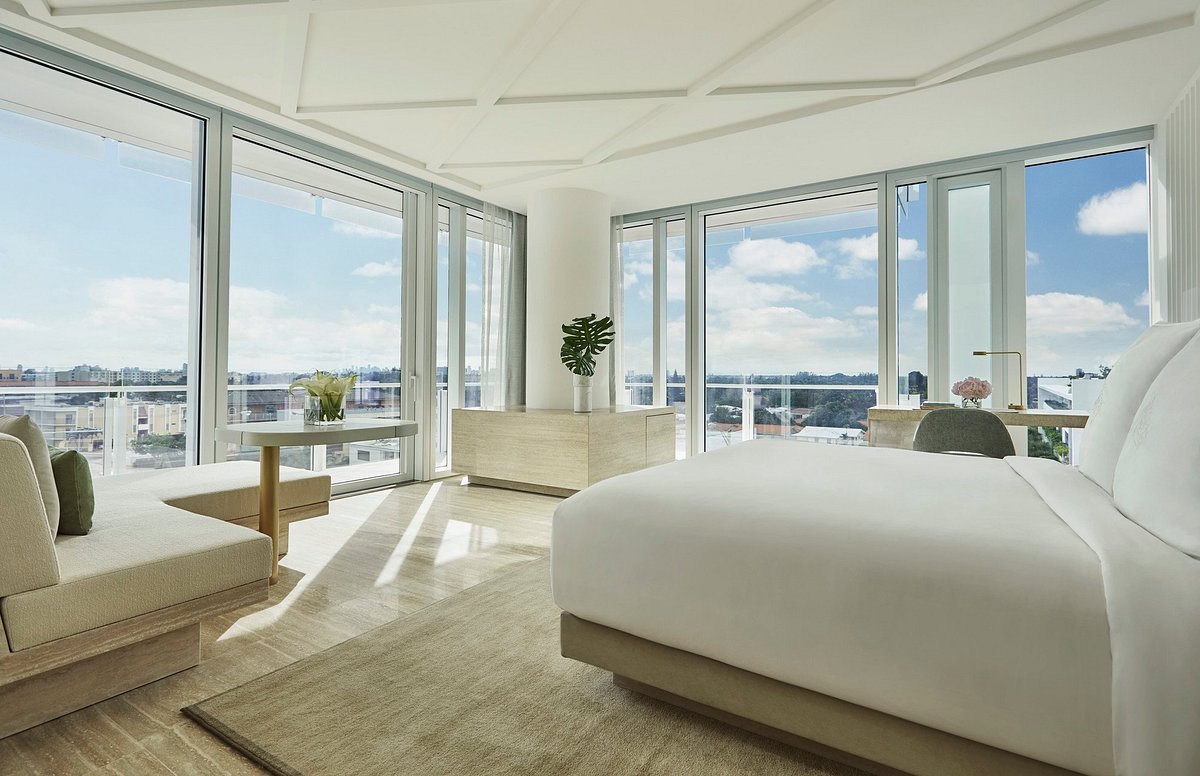 You can enjoy quiet family time at the Four Seasons Hotel minutes away from South Beach and Downtown Miami. The hotel features private cabanas, heated outdoor pools, a beach, a fitness center, and a spa.
Kids are adorable, but you deserve to do some grown-up stuff on vacation. Use the hotel's Kids for All Seasons program to give yourself some time off. The program has trained professionals that care for your kids while you relax.
Hotel services include valet parking, complimentary house car, laundry and dry cleaning, room service, complimentary bicycle hire, and an airline reservation service. There's also a gift on arrival for the kids.
Fontainebleau is one of the most luxurious hotels on Miami Beach. You can book a guest room or suite, depending on your needs. If you don't like booking on your own, use the hotel's concierge and car services, and they'll handle everything for you.
Other amenities include room services, gym access, fitness classes, unlimited Wi-Fi, and bicycle rentals. You can also book private cabanas or relax at the on-site pool or the nearby beach.
If you want to go on a date with your significant other, the FB kids club can entertain your kids while you're out. The hotel has partnered with Itavi to provide premium childcare services for your kids. Fontainebleau also offers on-site dining and spa options.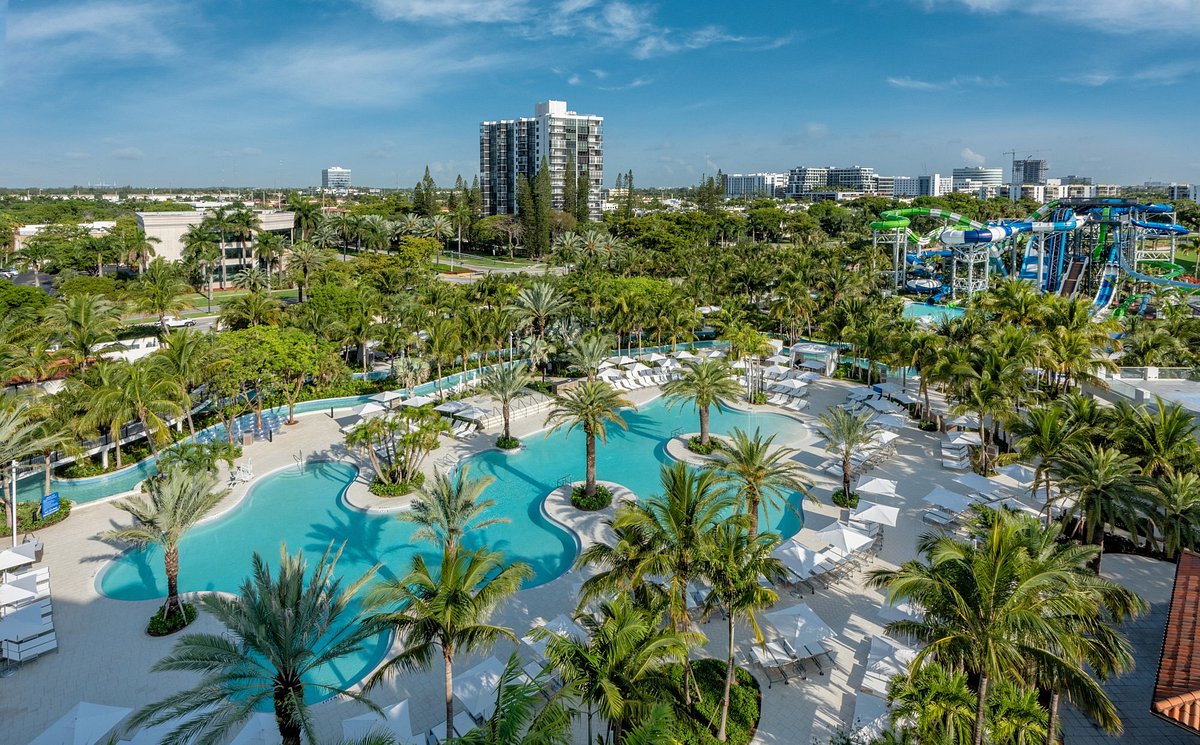 Honestly, if you stay at this JW Marriott resort, we don't think you'll want to explore anywhere else. Let's start with the Tidal Cove Waterpark. You get complimentary access so the kids can go on the slides, the Kid's Cove, and the lazy river. You can do that with them or relax by the pool.
The hotel also offers kid activities where kids aged from four to twelve can have fun under professional supervision. Later, you can play golf at the JW Marriott Turnberry Miami Golf Course. The resort also features seven on-site dining options. If your kids are younger than three years old, they'll eat for free at the Corsair kitchen & bar.
The resort has nearly seven hundred guest rooms and suites, all including balconies. The rooms have views of the ocean, golf courses, and pools. The suites have their own kitchenettes.
What's the Average Cost of a Hotel in Miami?
The average price can go from $200 per night. However, the actual price depends on your room/suite, hotel location, and luxury level. Some hotels charge extra fees for amenities. Plus, if you're availing of childcare services, you'll have to pay more.
The Best Places to Eat With Kids in Miami
Miami is full of great food, and the restaurants there won't let you forget that. However, you need to find family-friendly restaurants that provide options for your little ones. Here are some places that you shouldn't miss.
There's nothing we love more than a fancy restaurant that caters to kids. La Mar by Gastón Acurio is a Mandarin Oriental hotel. The hotel is known for its Peruvian cuisine and glorious views of Biscayne Bay and the city skyline.
The family-friendly restaurant has a smart casual dress code. Kids can order off the kid's menu, which has Peruvian and American food. While they wait, they can color on the menu.
This beachfront restaurant has outdoor seating where you can enjoy the food while taking in the views. The restaurant serves fresh seafood, especially lobster. You can order the food upfront and wait at your seats. There's a kid's menu with grilled cheese and more. But, if your kid's feeling adventurous, it's a good idea to let them try the other food and broaden their palate.
Glass & Vine offers a covered outdoor seating area with live music (usually in the evenings). The restaurant's in the middle of Peacock Park. If the kids need to spend some extra energy, they can do it while you eat. They also have a separate kids' menu.
You can find this restaurant on the Upper East Side. This Italian restaurant offers mouthwatering pizzas and pasta. There's a courtyard where the kids can play while you enjoy your food. You'll have to take your own alcohol because the restaurant promotes a BYOB culture.
Shake Shack offers American fast food, and it's a rare kid that refuses fast food. It's a great place to relax after a shopping trip. They have amazing beef burgers and fries. It's definitely worth a visit. The staff is friendly, so you'll have a good time.
The Best Day Trips from Miami That the Whole Family Will Love
Yes, Miami is great, and there's plenty to see. But, sometimes, you just want to get out of the city, especially if you're there on a lengthy vacation. Here are a few day trip locations near the city.
Fort Myers
Fort Myers is just two and a half hours away from Miami. The city is along the Gulf of Mexico, and if you walk along the beach, you'll see a lot of seashells. You can't explore the whole city in one day, but there are some city attractions that you can see.
You can be a pirate for a day aboard at Salty Sam's Pirate Cruise or watch dolphins from the Captiva Cruise. Let the kids loose at The Shell Factory and Nature Park and learn about trains at the Railroad Museum of South Florida.
Homestead
Homestead is just an hour away from Miami. Surrounded by the Florida Everglades, Homestead presents a pretty picture of nature. You can visit the Everglade Alligator Farm to see alligators and observe how they behave in their habitats.
Later, you can visit the Florida Pioneer Museum and see how the first settlers lived their lives. The museum also tells us a little about the Native Americans and how they lived. Other attractions include Fruit & Spice Park, Homestead Bayfront Park, Homestead Miami Speedway, and more.
West Palm Beach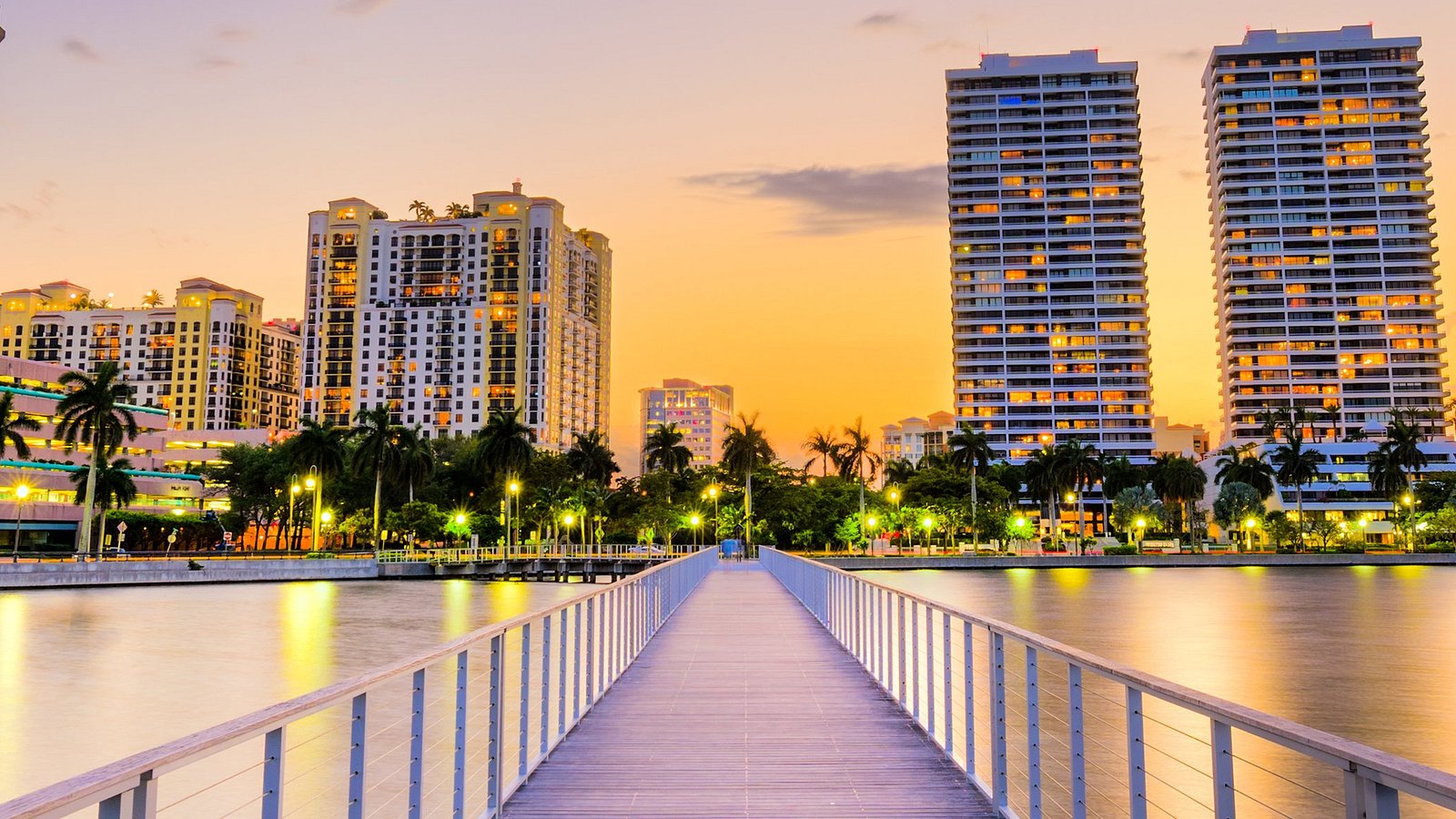 West Palm Beach is a little over an hour away from the city. The city is just as exciting as the more popular touristy ones, so you should expect crowds. Once there, you must visit McCarthy's Wildlife Sanctuary and see the tigers, leopards, African lions, and other animals.
Later, you can go to the Rapids Water Park, Rosemary Square, Mounts Botanical Gardens, and more. You can also get airboat tours of the city. If you still have time, swing by the museums.
Sunny Isles Beach
This iconic coastline is located between Miami and Fort Lauderdale. Driving to Sunny Isles Beach only takes around 30 to 40 minutes from downtown Miami.
Although this place is called a beach, it's actually a small city. However, despite its size, this city is well-known for its fantastic restaurants, luxurious restaurants, gorgeous coastal vistas, and great cultural attractions.
Bimini, Bahamas
Technically, Bimini island is in another country. But since it's just a two-hour ferry ride away, we decided to mention it here. You won't need a visa if you're a US citizen going on a day trip.
Once there, you can lie on the beach, go snorkeling, or visit the Bimini Biological Field Station Foundation.
Orlando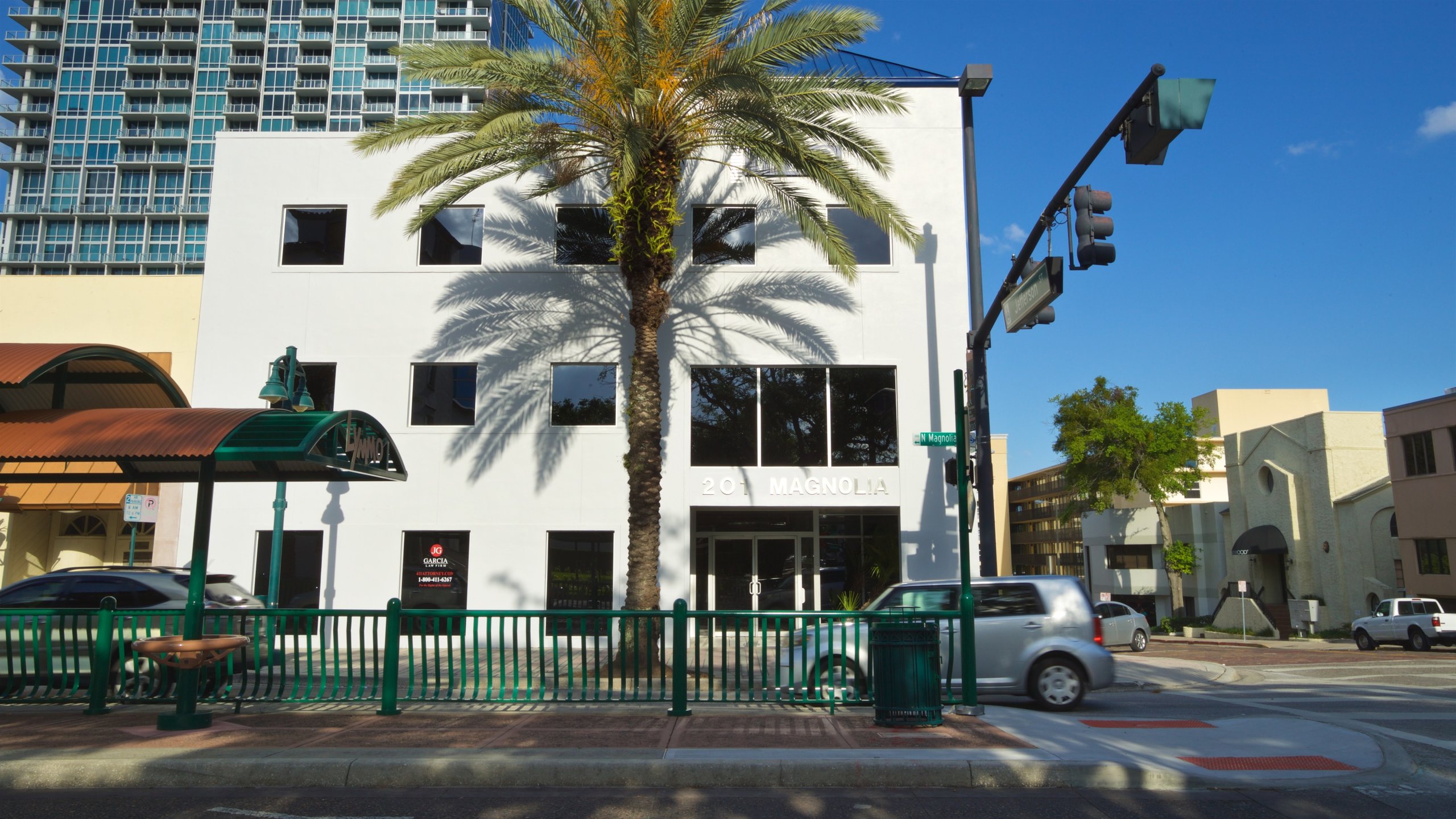 We know what you're thinking, and you're right. There is no way you can see Orlando in just one day. That's why we recommend choosing a location and spending the day exploring that. Orlando has a lot of tourist attractions, so I'll just lay out the best ones.
The first one has to be Disney World. Since you'll need days to cover all that place, pick one park. There are six theme parks and two water parks. I recommend going to Magic Kingdom because that's the most suitable one for kids.
Universal Resort is another great location. Again, you have three parks and a water park. We recommend going to Universal Studios on a park-to-park ticket so you can ride the Hogwarts Express to the Islands of Adventure.
If you're tired of parks, you can always visit SeaWorld, Gatorland, Orlando Science Center, and more. It takes three and a half hours to get there, so you'll have to be very efficient with your time.
How to Get Around Miami During Your Vacation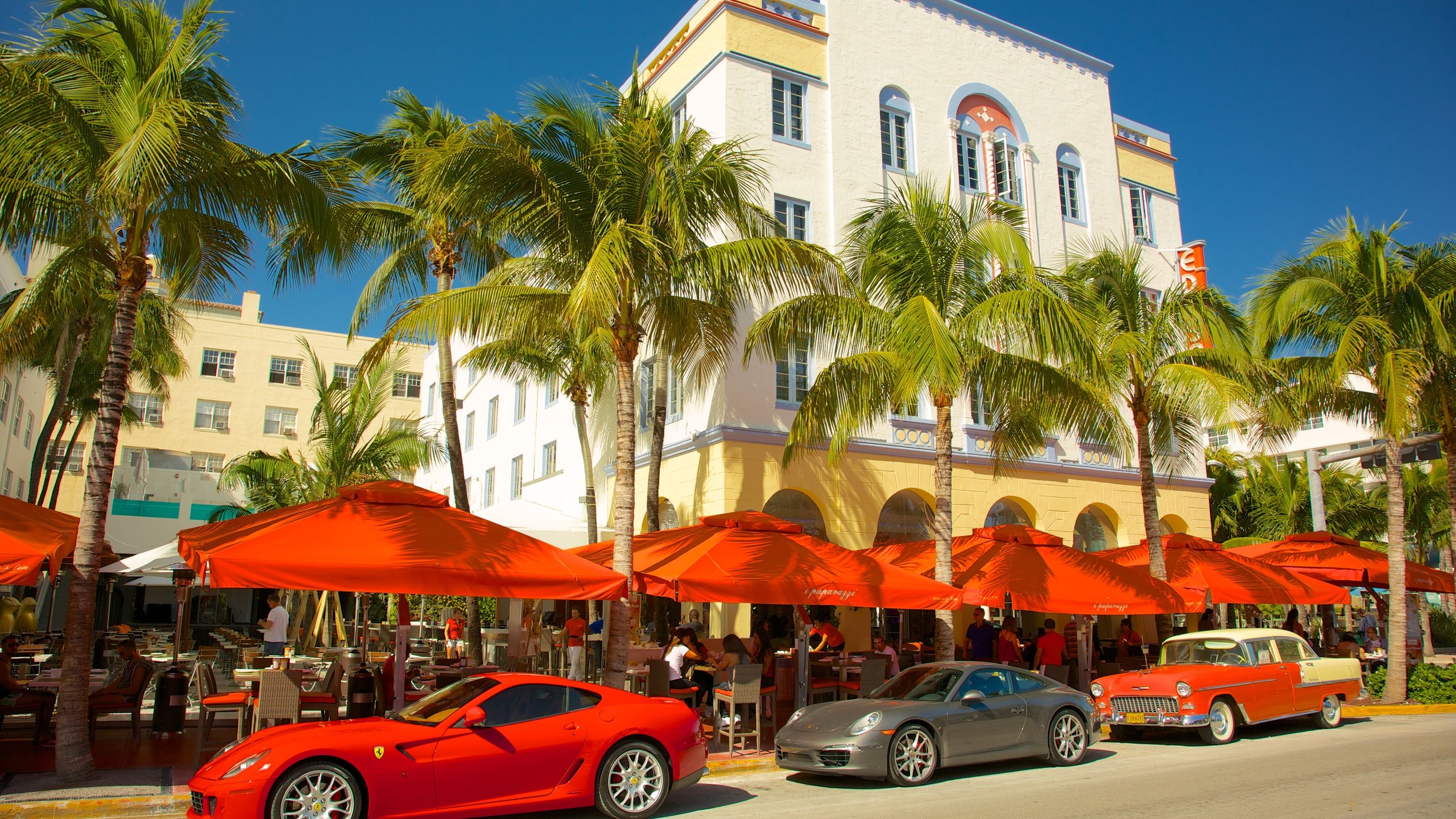 Miami is a big city, so we recommend renting a car to travel. A lot of hotels offer car services that you can take advantage of. Otherwise, feel free to Lyft or Uber away. Alternatively, you can use bikes to get to the nearby areas. Just rent a bike from your hotel or the nearest bike rental.
If you're using a taxi service or your own car, keep a car seat or booster for your babies. Miami doesn't relax the child safety law even if it's not your car. Luckily, you don't need these for the public transport system.
The Miami public transport system utilizes Metrorail, Metromover, and the Beach Trolley. You can use the city's official app to check the routes and timings. However, the chances are that you'll need to change different cars to get to your destination.
The Best Ways to Get to Miami for Your Vacation
Before you visit Miami Seaquarium or the Everglades National Park, you'll need to get to the city. There are two ways to do that, which are as follows:
By Car
If you live near the city or fancy a long drive, you can get here using your car by going through Interstate 95 or 75. A little disclaimer – a long family road trip means potty breaks, snacks, and annoyed kids.
By Air
The less stressful option is flying into the city. The Miami International Airport is located near Downtown Miami. Once you're there, you can book a taxi to your hotel.
Top Tips for Staying Safe in Miami When Visiting with Kids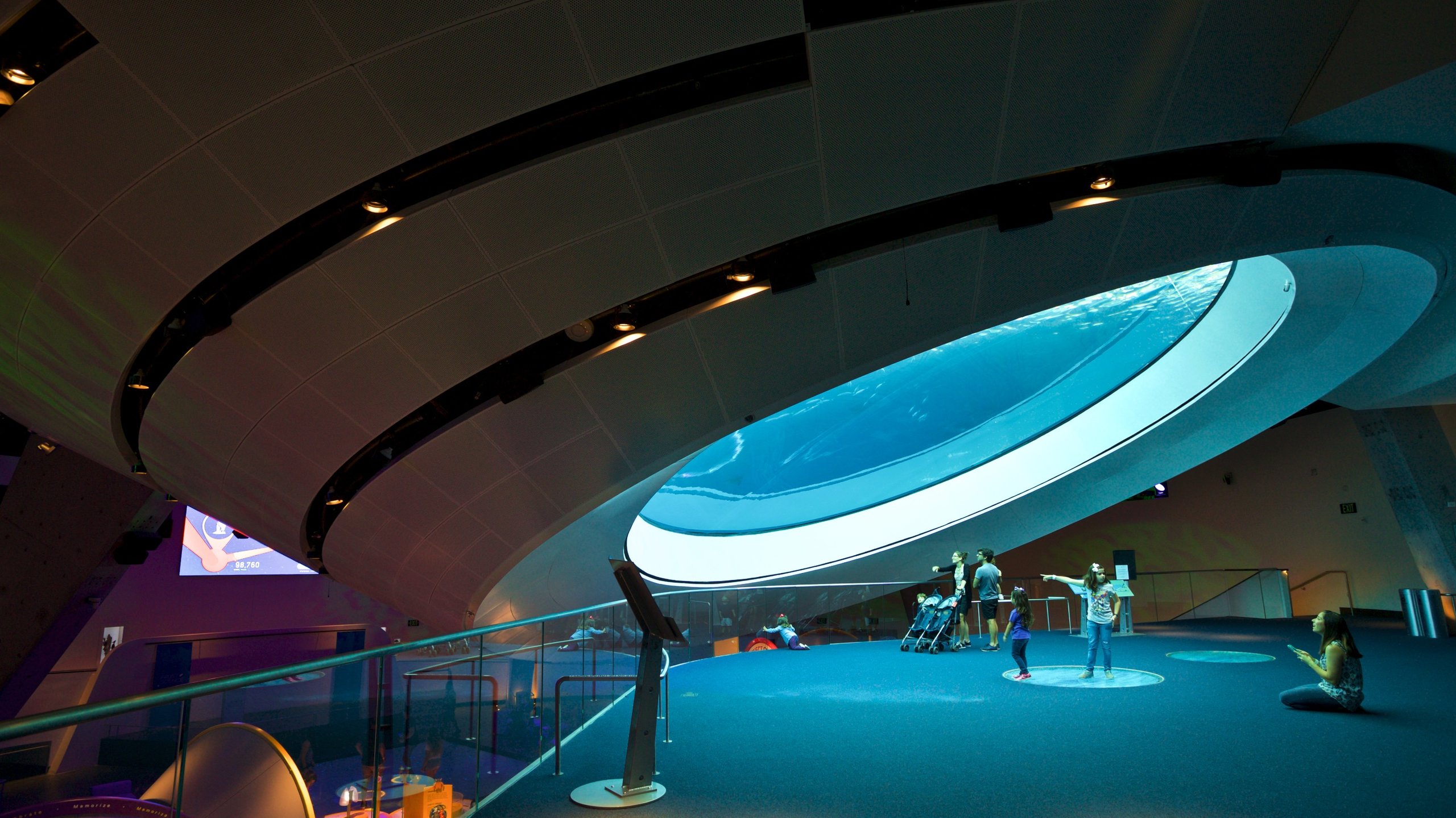 If you stick to touristy areas like Coconut Groove and South Beach, you should be safe. Most of the time, the concern is petty crime, like theft. Still, things can get violent, and you need to stay safe. Here are some tips to help you:
Don't put your valuables in your check-in bags.
Hold hands with your kids.
Memorize the hotel address and make sure the kids know your numbers.
Avoid shady neighborhoods like Liberty City and Overtown.
Stick to crowded places.
Keep your valuables in the hotel safe.
Stay away from beaches with purple flags. They are warnings to let you know about dangerous pests like jellyfish in the water.
Use sunscreen, or the Florida sun will burn you to a crisp.
Conclusion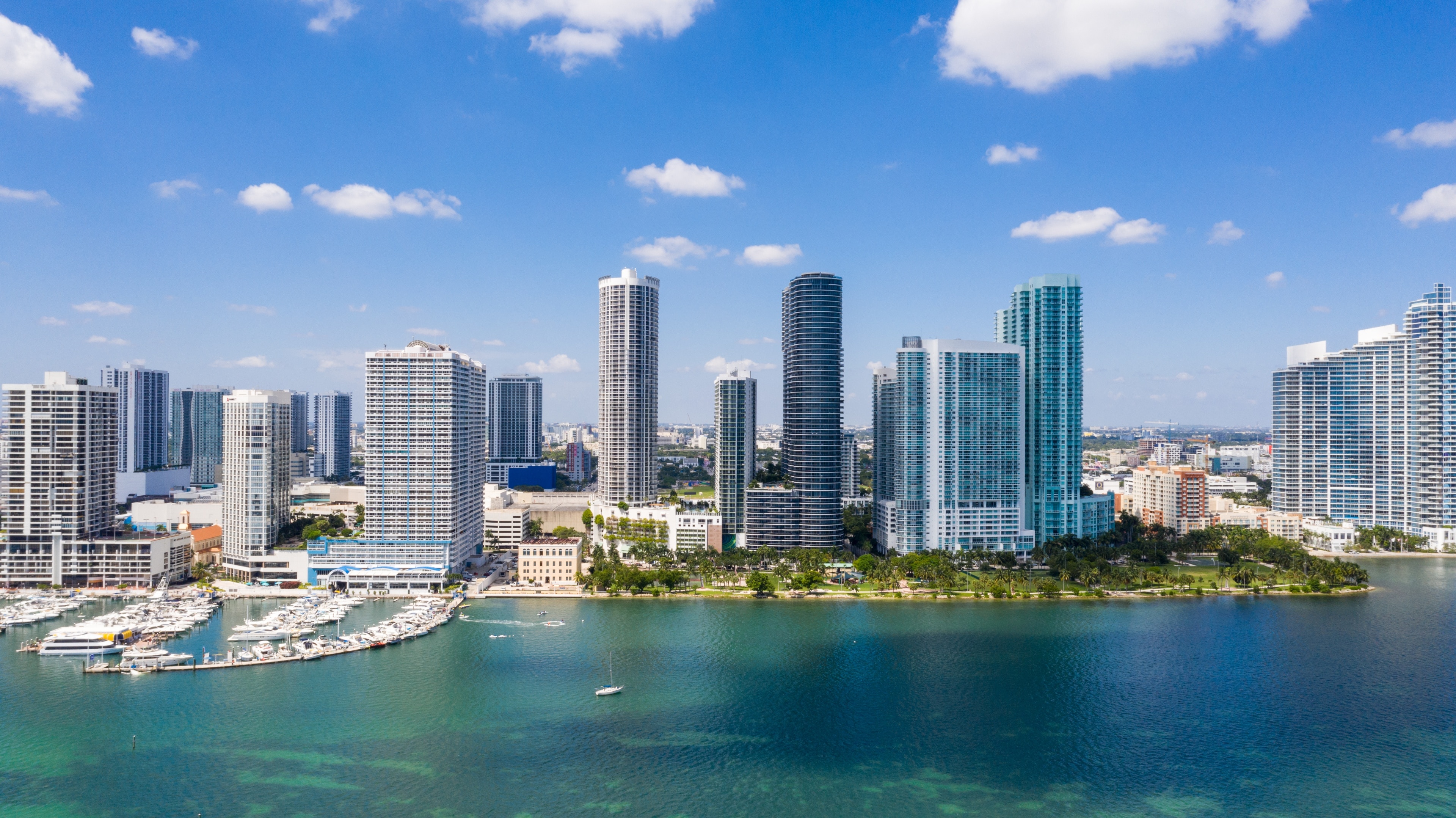 That's everything you need to know for now. There is plenty of new stuff to try in the city so you and your family won't be bored. Plan everything, so you don't waste any time and take full advantage of the hotel services. We're sure you'll have a blast so long as you don't forget your sunscreen. Don't forget to visit the Miami Children's Museum to stuff in a quick learning experience for your kids while you're there.
More about our TFVG Author