If you've ever been to Disney World and tried Mickey Waffles, you'll understand why they're so famous there. On the exterior, these sugary sweets have a crispiness that's just right, while the interior maintains its softness and delicious fluffiness.
But where exactly in Disney World can you get your hands on some Mickey waffles? Disney World has many theme parks, restaurants, and hotels that serve waffles. Here is a list of our best spots to get Mickey waffles at Disney World.
1. Cinderella's Royal Table
Cinderella's Royal Table is a favorite to many Disney visitors looking for unique and tasty Mickey waffles. Breakfast with the toppings is approximately $42 for adults and $27 for children under 9. The restaurant's service is prompt and top-notch.
It's a good idea to plan and make your reservations. Getting a table here is challenging, as the restaurant is in high demand. If you want to increase your odds, make dinner reservations as soon as the 60-day window opens online.
You are free to visit the spot for breakfast throughout the morning hours. You can always expect a hot, fresh Mickey waffle as the restaurant continually restocks them.
2. Sleepy Hollow
If you crave some Mickey waffles while in Disney World, you may want to check out Sleepy Hollow. It serves incredible sweet delights, and the waffles are usually fresh. The staff serves the delectable treats with syrup and a generous butter topping.
There's no need to make a reservation, making the spot a great alternative to Cinderella's Royal Table. Remember, the spot stops serving breakfast at around 11 a.m. Morning lines are also at their busiest around that time.
3. Hollywood Scoops
Hollywood Scoops is among the greatest spots to get Mickey Waffles in Disney World if you're in a rush. If the lines aren't long, you can expect to get served quickly at the restaurant.
The restaurant is distinct from many places near Disney World. Whereas most spots only serve waffles during morning hours, Hollywood Scoops is open throughout the day. Therefore, if you have a lunchtime hankering for waffles, you can always count on them.
In addition, they offer value for your money. You will get a dish piled high with Mickey waffles, freshly picked blueberries, whipped cream, and a large portion of syrup.
If you aren't looking for something to eat in the morning, you should visit the spot in the afternoon. You're likely to find the place less crowded during that time, plus the sugar rush will keep you going for the remainder of the day.
Don't stop by late in the evening when they're desperately attempting to sell off the day's waffles so they can start fresh for tomorrow.
4. Tusker House
Tusker House's waffles are delicious and valued, especially considering the staff serves them with fruit and yogurt.
They're also an excellent option for breakfast or lunch and picky eaters who don't like the typical breakfast fare at Disney hotels. The waffles are the perfect grab-and-go meal when you're short on time but still want something delicious.
5. Boardwalk Bakery
If you're looking for mouth-watering Mickey waffles, visiting the Boardwalk Bakery on Disney's Boardwalk is a must. The bustling bakery offers freshly made Mickey-shaped waffles that are a delicious treat for breakfast or an afternoon snack. The bakery serves their Mickey waffles warm and topped with either chocolate sauce or syrup.
They also come with your choice of sides, such as yogurt, bacon, or sausage. If you're looking for something extra special, order the Banana Split Waffle, which comes with three scoops of ice cream and toppings like caramel and walnuts.
The restaurant serves other delectable treats, including cookies, cupcakes, muffins, and croissants. Whether on the go or stopping for a quick bite, the Boardwalk Bakery will satisfy your cravings.
6. Contempo Cafe
Contempo Cafe serves the classic Mickey-shaped waffle with a sweet and creamy topping. It also comes with seasonal fruit, bacon, or sausage. You can add a scoop of ice cream to the warm and delicious waffle for an extra treat. They also offer other breakfast options like omelets, French toast, and pastries.
The dining spot is conveniently located in the lobby of Disney's Contemporary Resort. That means you can grab breakfast and head right into Magic Kingdom or Epcot on a full stomach.
7. Wilderness Lodge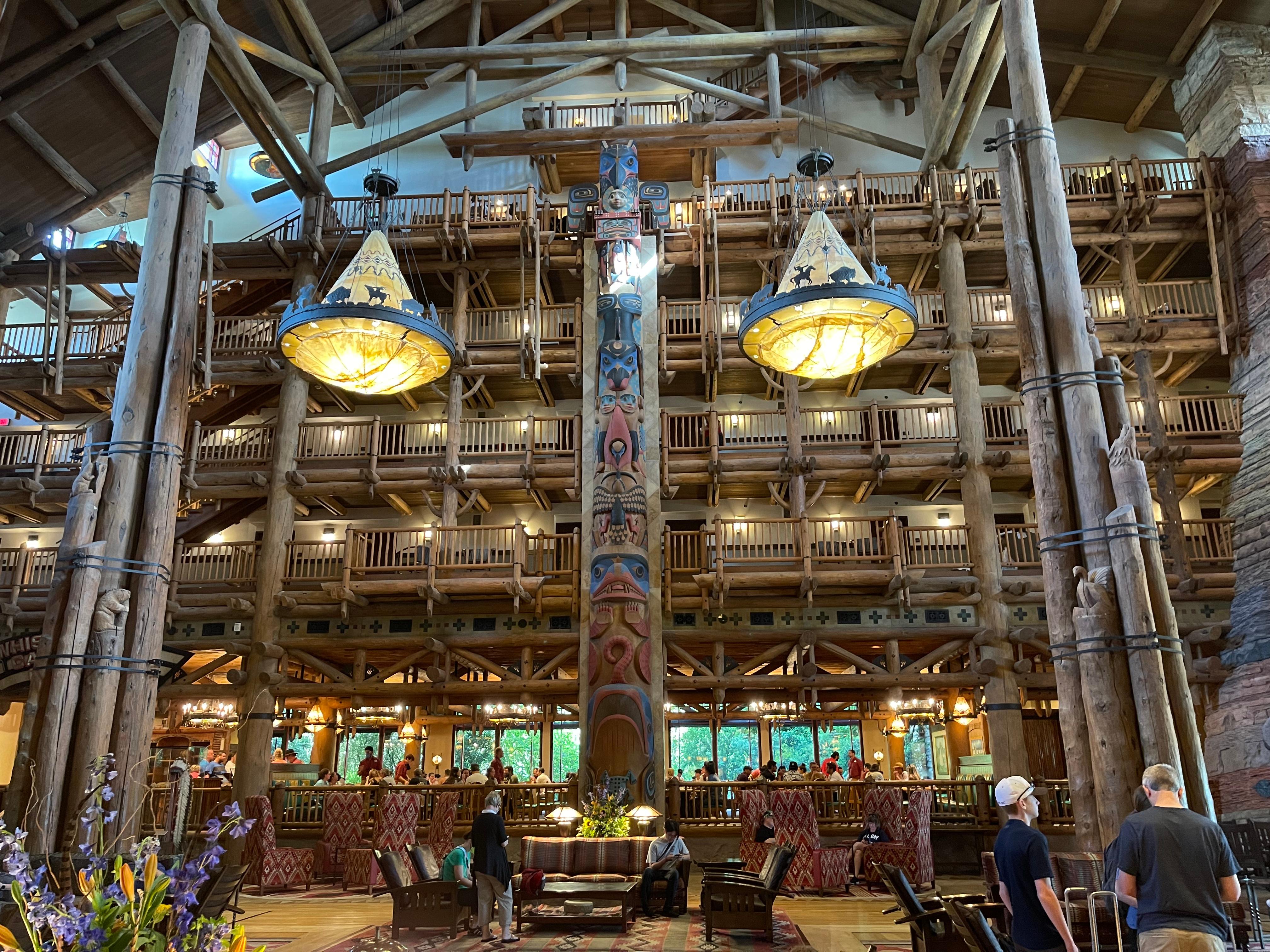 Wilderness Lodge is a favorite Mickey Waffles spot for many Disney visitors. They serve their delectable Mickey waffles hot with a light sprinkling of powdered sugar. In addition, the restaurant makes classic waffles with an original recipe.
They also have topping options, including:
Syrup
Jam
Honey
Melted butter
The waffles are perfect for a special morning treat to help kickstart your day.
8. Kona Island
The restaurant serves some of the tastiest Mickey-shaped waffles you'll find in all of Disney World. The Kona Island experience begins with a warm, crispy waffle made to order with your choice of toppings. Their signature topping is homemade macadamia nut cream and cheese spread.
However, if you're feeling adventurous, you can choose other toppings like strawberries, blueberries, and peanut butter. The presentation of the Mickey Waffle alone is enough to leave you wanting more.
The unique atmosphere sets Kona Island apart from the other Mickey Waffle spots around Disney World. The restaurant offers a calm setting that feels like a true escape from the hustle and bustle of theme parks. You can relax and take in the surroundings as you indulge in your sweet treat.
9. Captain Cook's
With different luscious toppings to choose from and generous portion sizes, it's no surprise that Captain's Mickey waffles are a favorite among visitors to Disney World.
Besides their traditional Mickey waffle, they also serve specialty waffles like the Bananas Foster Waffle and the S'mores Waffle. Captain Cook's makes the Bananas Foster Waffle with bananas, caramel sauce, and chopped walnuts, while the S'mores Waffle features graham cracker crumbles, marshmallows, and chocolate sauce.
If you'd prefer to top your waffles off with something yummier, the restaurant offers various options, including bacon, sausage, eggs, and French toast. Whether you want to satisfy your early morning or afternoon cravings, you'll find something delicious and satisfying at Captain Cook's.
10. The Mara
The Mara in Animal Kingdom Lodge is the perfect spot for Mickey Waffles at Disney World. Located on the resort's first floor, the quick-service restaurant serves some of the best Mickey waffles in Disney World.
Their Mickey waffles have generous syrup, butter, and a few slices of bacon or sausage. If you're feeling extra hungry, you can order additional toppings like fresh fruit, yogurt, and peanut butter.
For those looking for something special, the restaurant has a selection of unique flavors like strawberry cream and pumpkin spice. So, whatever your taste buds are craving, you're sure to find a delicious Mickey waffle at the Mara.
11. Gasparilla Island Grill
The laid-back counter-service spot serves hot and delicious Mickey waffles that satisfy your craving. The restaurant makes the waffles on order, so you know they're always fresh and tasty.
In addition, they come with warm syrup, making them the perfect sweet treat. Gasparilla Island Grill offers an a la carte option with bacon and sausage. The spot is a must-visit if you happen to be around Disney World.
12. Roaring Fork
The restaurant has been serving Mickey Waffles around Disney World for years and still maintains its attraction to visitors in the area.
Although they have other menu items such as omelets, pancakes, and French toast, most customers come here for their signature Mickey waffles.
Roaring Fork is distinct in that they don't limit breakfast serving to morning hours. Thus, you can enjoy a Mickey waffle at any time of the day.
13. Be Our Guest Restaurant
Be Our Guest Restaurant is located inside the Beast's Castle and offers some of the most delicious Mickey waffles as part of its classic breakfast options. The restaurant makes its Mickey waffles perfectly, featuring a light and fluffy texture.
You also enjoy waffles in a breathtakingly beautiful castle surrounded by murals and chandeliers. There's truly no better place to get your Mickey Waffle fix.
14. The Plaza Restaurant
The restaurant's Mickey waffles are as delicious as they look in the pictures and come with syrup topping. They're fluffy and crispy outside, just like any good waffle should be.
Furthermore, the Plaza Restaurant has a fantastic view of Cinderella's Castle, so you can enjoy breakfast while admiring its beauty.
Final Thoughts
Any food lover would feel at home in Disney World. You might indulge in a well-known dessert such as a Dole Whip, or you can go for exotic renditions of traditional foods such as burgers, cupcakes, and ice cream. Mickey waffles are amongst the many upscale cuisines for which Disney is renowned.
If you're planning a family trip to Orlando, Florida anytime soon, then make sure you check out the places on our list of the best spots to get Mickey waffles at Disney World.
More about our TFVG Author