If you're planning a vacation to Walt Disney World outside of Orlando, Florida, you're in for the trip of a lifetime. That becomes even more true if you stay at Disney's Wilderness Lodge.
The Wilderness Lodge is one of more than 20 resorts managed by the Disney Company in Florida alone, and it's a favorite among Disney die-hard fans.
Below, read everything you need to know about Wilderness Lodge, including its history and story, amenities, room accommodations, getting to the parks, and much more. That way, you can decide if it's right for your family and begin planning the trip of a lifetime.
Disney's Wilderness Lodge: All the Basics
The Wilderness Lodge is both a traditional hotel in the Deluxe Resort category and a Disney Vacation Club Resort. That means there are conventional hotel rooms and studio, one, two, and three-bedroom villas. The main lodge contains the Boulder Ridge Villas, while the Canyon Creek villas are separate.
Resort Category and Location
The Wilderness Lodge is a Deluxe Resort. Walt Disney World separates its non-vacation club hotels into three categories: Value, Moderate, and Deluxe. Therefore, the Wilderness Lodge is among the best hotels on the property.
Because it is a Deluxe Resort, Wilderness Lodge has beautiful pool areas, table-service dining, top-shelf amenities, and more. Wilderness Lodge also offers views of Bay Lake and is close to Magic Kingdom, which you can get to by boat. But all of that means that room rates here are steep.
The official address for Wilderness Lodge is 901 Timberline Drive, Lake Buena Vista, Florida, 32830.
The Story of the Wilderness Lodge
The Wilderness Lodge opened in 1994. Like most of Disney's resorts, it is themed; this time, Disney wanted to bring the magic of the great outdoors and national parks to its Florida resort. Specifically, the main building is modeled after Old Faithful Inn in Yellowstone National Park.
When the Disney Vacation Club exploded in popularity in the 2000s, Disney renovated and expanded Wilderness Lodge to include the Boulder Ridge Villas. In 2017, they opened Copper Creek Canyon Villas, which consist of waterside cabins and 158 additional villas.
Wilderness Lodge Accommodations
While most Disney adventurers don't spend much time in the room, knowing that you'll have everything you need is essential.
Standard Rooms
Standard rooms are just that: standard. They typically consist of two queen beds or one king bed, and some rooms have a pull-down trundle bed for additional sleeping.
The rooms are equipped with standard amenities such as hair dryers, coffee makers, and basic toiletries. Rooms also have small refrigerators, perfect for stashing snacks, baby food, and drinks.
Every room has a balcony, although the views vary. When you book, you can choose from several views:
Standard view: overlooks parking or service areas
Nature view: includes views of landscape, trees, and the Copper Creek cabins
Courtyard view: these rooms overlook the pool or the lake
Nature and fireworks view: in addition to overlooking the natural surroundings, you'll also have a partial view of the Magic Kingdom fireworks.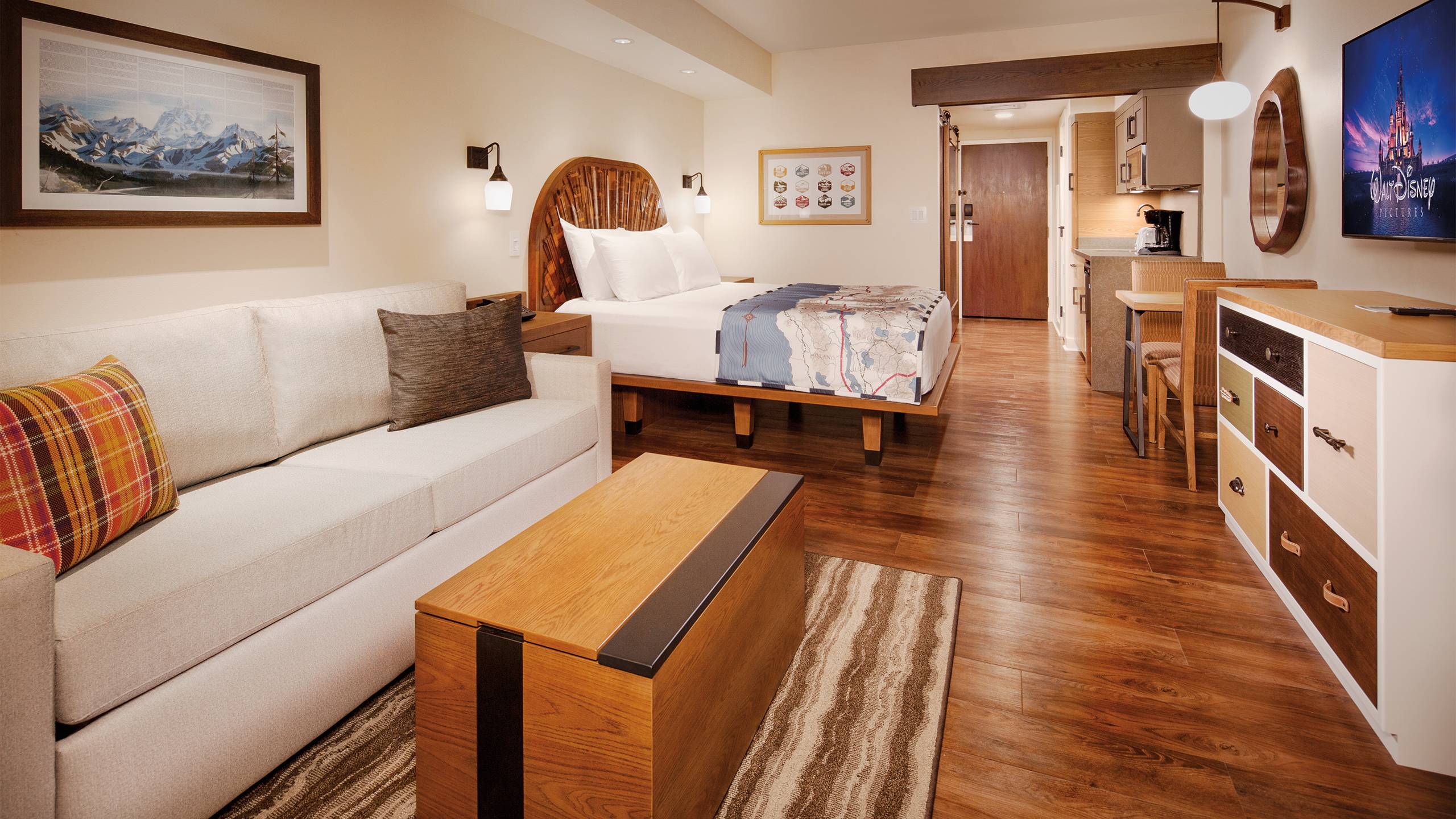 Suites and More
When Disney added the Vacation Club expansion to Wilderness Lodge, they phased out regular suites. Now, there are just deluxe rooms on the Club Level, which can sleep six adults. The Club Level is mainly standard rooms with various views. Guests who book these rooms enjoy daily access to the lounge and refreshments from 7:00 AM to 10:00 PM.
Disney Vacation Club Villas
The villas might be a better option if your family needs more space. You can book a studio, one, two, or three-bedroom villa. For most families, studios are too small, but a one or two-bedroom villa works well. Three-bedroom grand villas are ideal for family reunions.
Studios have kitchenettes, but the rest of the villas have full kitchens with everything you need to make basic meals. They also have living rooms with televisions and balconies.
The larger accommodations and better amenities come at a price. However, you'll save money on food by preparing meals in your kitchen. You should also consider whether having extra room to spread out will cut down on bickering and improve the quality of your family's time together.
Available In-Room Services
In addition to the amenities already discussed, several other services are available during your stay. These include complimentary WiFi, online check-in, daily housekeeping services, concierge, and more.
Another helpful service Disney provides is merchandise delivery and pick-up. If your family likes souvenirs but doesn't like carrying them around, you can have them delivered to your Wilderness Lodge room or hotel.
Other Disney Services
Disney can do that for you if you want flowers, candy, gifts, or other surprises sent to your room. They have an entire Floral and Gifts department that can also help plan other surprises and special extras for your family.
Finally, Disney Signature Services are available to guests staying in Club Level rooms. They provide curated planning tools and services and offer other enhancements to make your family vacation even more magical.
Wilderness Lodge Amenities
There are two pools at Wilderness Lodge for your family to swim. Both provide towels and lounge chairs for guests. All Disney pools are temperature-controlled, so they're comfortable to swim year-round.
Swimming
The two pools at Wilderness Lodge are Copper Creek Springs Pool and Boulder Ridge Cove Pool. Copper Creek Springs Pool is the larger and the more active of the two, and you may hear it referred to as the main pool.
It has waterfalls, multiple areas to swim, and a 67-foot water slide. The main pool area is also where you'll find the splash zone, a wet and wild jungle-gym play area for kids, especially those too young to swim.
The water isn't the only thing to entertain your family at the main pool; Disney also staffs activity hosts who engage guests in games, songs, and more. The fun is undoubtedly geared toward kids, but they tailor it to the age and participation level of the crowd, so adults should feel welcome to get in on the fun as well.
Boulder Ridge Cove Pool is sometimes called the quiet pool, though you don't have to be quiet there all the time. It's smaller and has less activity, so if you've got a family of readers or someone with sensory issues, the relaxed vibes might be a better fit.
Lifeguards are on duty at the main pool from early morning to evening (hours vary and are subject to change). Boulder Ridge Cove Pool is not always guarded, although it is during peak times. Please note that although Wilderness Lodge is located on Bay Lake, no open-water swimming is allowed anywhere on Disney property.
Special Nighttime Activities
If your family is tired after a long day at the parks but not quite ready to turn in, Wilderness Lodge provides plenty to do. Best of all, you can participate in all three main nighttime activities free of charge since Disney includes them in your stay.
The first is Movies Under the Stars, which most of the resorts hold every night. Your family can enjoy watching a different Disney film every night of your stay (weather permitting) on the lawn between Geyser Point Bar and Grill and the marina. Feel free to bring your snacks, too!
Wilderness Lodge also hosts nightly campfires. Once again, this is something they do at other resorts too, but it's particularly fun at Wilderness Lodge since it fits the theme so well. Roast marshmallows and cozy up to the crackling fire. The movie starts right after, so you can do them on the same evening.
The electrical water pageant is exclusive to hotels on Bay Lake. Weather permitting, a brilliant flotilla of illuminated sea creatures and other spectacles float by the hotel, accompanied by music and more. Enjoy the show from Wilderness Lodge's viewing area, or you might be able to catch some of it from your room if you have a courtyard view.
In addition, you can sometimes access the pools past the time when the lifeguards go home for a swim. Just keep your voices low out of respect for the folks in the rooms nearby.
Salon by the Springs
Salon by the Springs offers beauty services, including hair and nail treatments. They even have special nail services for younger guests. It's near the main pool, but they can come to your room if you prefer.
There are also several full-service spas on Disney property if you need more TLC. The closest is at the Grand Floridian, which you can easily access by taking the boat to Magic Kingdom and then hopping on the monorail.
Sturdy Branches Health Club and Jogging Trails
If you have a health nut in your family, don't worry; Sturdy Branches Health Club is fully equipped for all their needs. It has all the standard gym equipment, including treadmills, ellipticals, stationary bikes, weight machines, and free weights. There's also space for yoga or other activities.
If you prefer to walk or run in nature, there's no better resort on Disney property than Wilderness Lodge. The jogging trails are impeccably maintained. What's more, because Wilderness Lodge is so conveniently located near other resorts, you could even pop over to Fort Wilderness or the Contemporary and check out their trails!
Shop at the Wilderness Lodge Mercantile
If you don't get enough souvenir shopping at Disney Springs and parks, stop by this store in your hotel. Not only do they sell lots of Disney merchandise, but they also offer Wilderness Lodge-themed items like mugs, shirts, and housewares. You can get something to commemorate your unforgettable stay.
More To Do at Wilderness Lodge
If you've ever visited Walt Disney World, you know that they go out of their way to make everything magical. That attitude extends to the resorts.
Around every corner, you'll see exquisitely-detailed carvings, art, and other magical touches. You can hunt for Hidden Mickeys, sit by the massive fireplace, or check out the creek that runs straight through the lobby!
Eating and Drinking at Wilderness Lodge
Eating and drinking well are part of any vacation. While there are dozens of restaurants and eateries in the parks, don't overlook the offerings at your resort hotel.
Most Disney dining locations offer vegetarian and vegan options, and they work to accommodate food allergies and other dietary requests. Speak with your server to learn more.
Artist Point
This rustic restaurant offers character dining for dinner. Meet Snow White, Dopey, Grumpy, and the Evil Queen while you dine on a price-fixe menu. Artist Point is a higher-end dining option, so expect adults to pay more than $60 per person.
Geyser Point Bar and Grill
Located outside near the Copper Creek Springs Pool, Geyser Point Bar and Grill is open for lunch, dinner, and drinks. They serve traditional bar food, such as burgers, sandwiches, salads, and fried treats.
This restaurant is open-air, so it's outdoors but cool and comfortable at the same time. It's perfect for enjoying a satisfying lunch during your pool day or a leisurely dinner after a long day in the parks.
Roaring Fork
Open for breakfast, lunch, and dinner, Roaring Fork is a cafeteria-style restaurant. It has a wide selection of menu items and cuisines (many of which are available at other resorts). They also sell a range of grocery items you can take to your room.
Territory Lounge
If you're looking for libations (or mocktails!), stop by Territory Lounge. Open in the evenings, they also serve small plates. If mom and dad get a few moments to themselves, this is a great place. The log cabin theme makes it cozy and romantic.
Whispering Canyon Cafe
Whispering Canyon Cafe serves breakfast, lunch, and dinner. This wild western-themed restaurant specializes in traditional, hearty American fare. The food is served family-style, so bring your appetite. Also, be prepared for boisterous servers and enthusiastic crowds.
In-Room Dining
If you like the luxury of room service, that's an option at Wilderness Lodge. Selections may vary, but you'll find a menu in your room when you arrive.
Wilderness Lodge Transportation
We already gave the address for the resort and described its location near the Magic Kingdom. But one of the most important aspects of where you choose to stay for any vacation is how you'll get to area attractions. Let's look at those details more closely.
Airport Transportation
Disney no longer offers free airport transportation, which is a bummer for long-time visitors who got used to that amenity. However, there are several ways to get to Wilderness Lodge from the airport. These include taking a cab or rideshare (Uber, Lyft, and so on), a shuttle, or renting a car.
Getting to and from the Parks
Disney wants it's hotel guests to stay on its property, so they make it easy to get to and from the parks and other areas using their system.
You'll see buses everywhere throughout Walt Disney World. You can take a bus to any of the four theme parks, two water parks, and Disney Springs. Buses typically run every 15-30 minutes and more frequently during peak times (park open and close). The Wilderness Lodge bus stop is located at the front of the resort between the main lodge and villas.
Buses take guests to the following locations:
You can also take boat transportation directly to the Magic Kingdom. The boat stop is outside the main gate, but you can hop a monorail to the Transportation and Ticket Center for more park transportation options. Boat transportation is also available to Fort Wildnerness Campgrounds and the Contemporary Resort if you want to explore other hotels.
Other Area Attractions
Orlando is one of America's major metropolitan areas, with so much to do. Many visitors to Walt Disney World spend time exploring other area attractions, including Universal Studios Orlando, the Central Florida Zoo and Botanical Gardens, and outdoor activities like kayaking, airboat tours, and more.
Disney does not provide transportation to any locations off their property. If you want to visit these sites, you'll need to hire a ride or drive your car.
Disney provides parking for all registered guests, and they'll give you a ticket to display in your window. If you decide to rent a car or drive your own so you can visit the rest of the Orlando area more efficiently, that's an option. The current fee at Deluxe resorts is $25 per night.
Enjoy Your Trip to Wilderness Lodge and Walt Disney World
As you can see, there's plenty to do at Wilderness Lodge without ever leaving the resort grounds. You can swim, rent watercraft, go for a walk, play games, and so much more. That's all before you ever set foot in one of the four theme parks, which are easy to get to.
If you decide to stay at Wilderness Lodge for your family vacation to Walt Disney World, you'll be assured of a fantastic time. Of course, the most critical factor is enjoying your time away with your family!
More about our TFVG Author
A seasoned traveller, Dad, and avid sports tourist, James foundered The Family Vacation Guide to share his expert vacation experiences- especially when it comes to being a travelling family man.
Featured in Travel articles such as Travel + Leisure, TripSavvy and SFGate, you know you're reading some of the best vacation tips online.