Taking the whole family on vacation is one of the best ways to create memories that will last a lifetime. If you've been dreaming about taking your family to the island of Oahu, you're sure to have one of the best times of your life.
As you prepare for your Hawaiian vacation, figuring out what beaches are the best to go to can be tedious. With over 125 glorious beaches on Oahu alone, it can be challenging to figure out which ones are the best for your family.
If you're looking for a beach that the whole family will enjoy, check out 14 of the best beaches in Oahu for families.
Waikiki Beach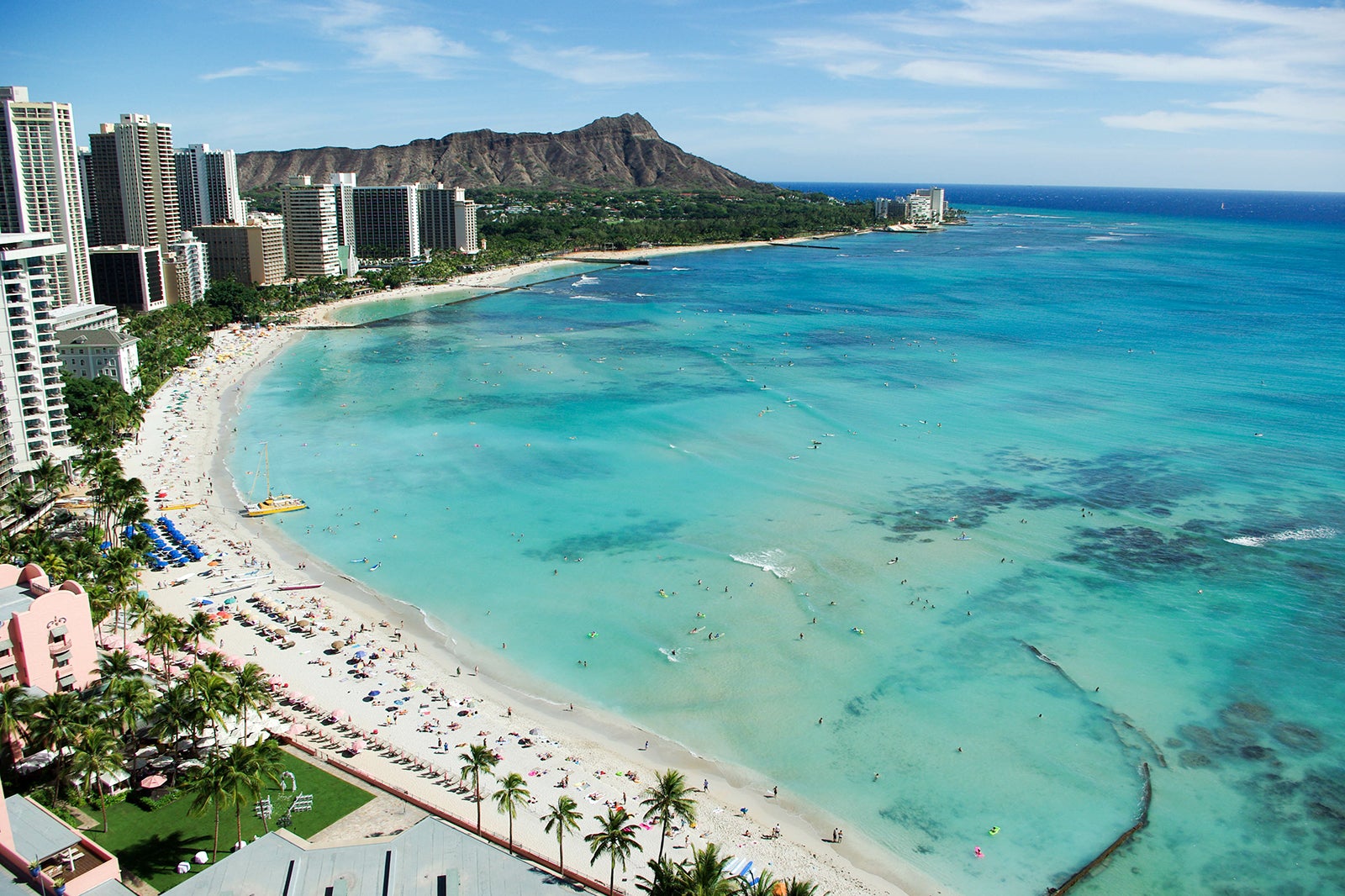 On the South Shore of Oahu sits Waikiki Beach. Waikiki Beach is the most famous beach in Hawaii and the most visited by thousands of people annually.
It's near several family-friendly resorts, restaurants, and shops—people from around the world flock to this beautiful beach for the sand, surf, and sunshine. There are several activities you can participate in here, from jet ski rentals to parasailing and snorkeling.
With some of the whitest sand stretching for two miles, there's plenty of places to lay down your towels or chairs to enjoy the day. While this is a very populated beach, it's fantastic for families because there are plenty of lifeguards and the waters are relatively calm compared to other island areas.
Chun's Reef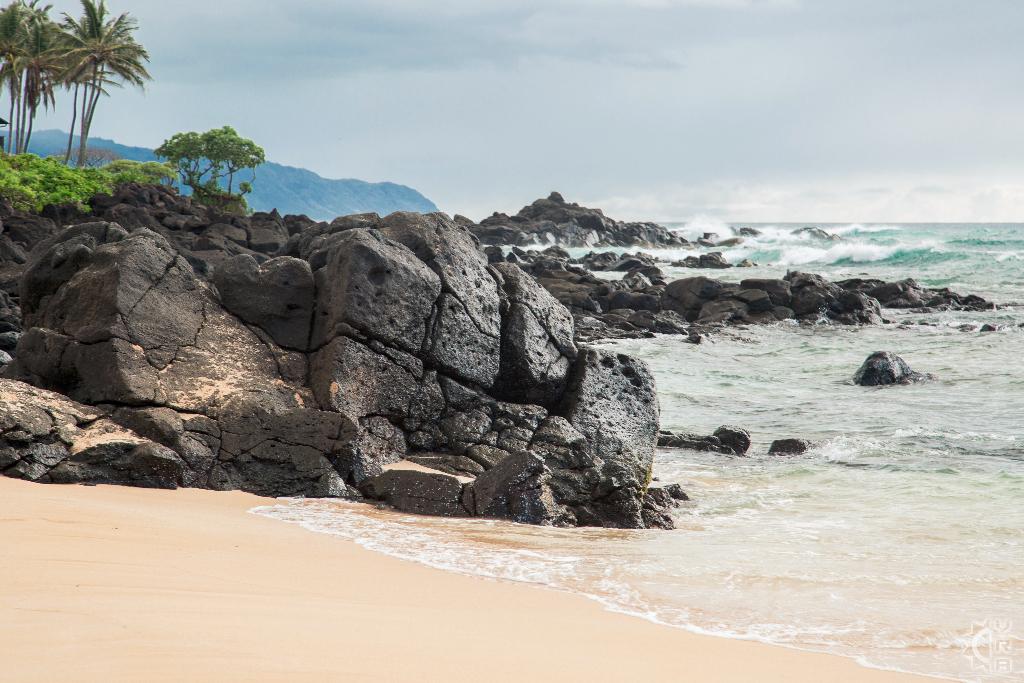 Chun's Reef is one of the best beaches, and you'll find it on the North Shore of Oahu. It's much smaller than Waikiki Beach, which can be perfect for families who prefer a more secluded beach. It has the perfectly soft sand that children and adults alike love with waves crashing onto the shore.
Something unique about Chun's Reef is its small freshwater pond. It's the perfect spot for little ones to play in the water without having to get into the ocean. Chun's Reef is known for having calm enough waves that beginner surfers love. So, it's perfect for the family to take surf lessons without feeling overwhelmed.
Waimanalo Bay Beach Park
If you're looking for a beach that many tourists don't tend to go to, you need to check out Waimanalo Bay Beach Park. Waimanalo Bay Beach Park sits on the Windward side of the island and is frequented by locals and their families.
With pristine water and sand, the entire family will love relaxing and playing here all day. Of course, there are normal beach activities like swimming and playing in the sand, but there's plenty of picnic tables, volleyball courts, and other amenities to entertain everyone.
Ala Moana Beach Park
On the shores of Honolulu sits Ala Moana Beach Park. This stunning oasis is the perfect beach to sit back and relax with the entire family.
It's in the ideal location if you and the family are staying in downtown Honolulu or in Waikiki. This is one of the best beaches for family members in a wheelchair because it's handicap accessible.
With half a mile of beach stretching along the ocean, you and the family will love the soft white sand and how calm the waters are. Calm waters make for a great beach with kids since you don't have to worry too much about rough waves.
Yokohama Beach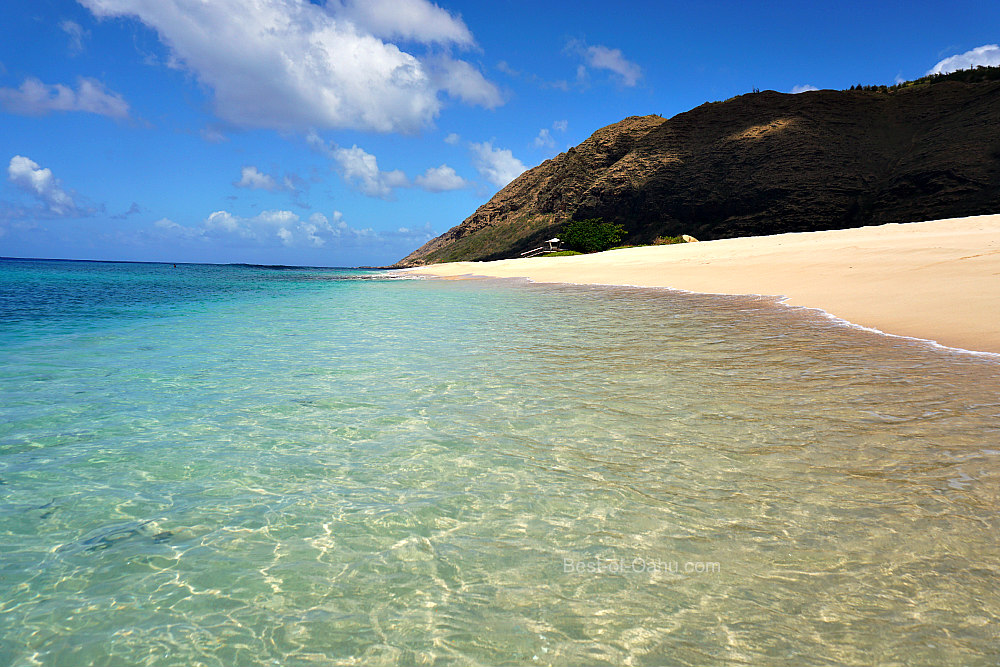 In the more secluded West side of Oahu is Yokohama Beach. Unlike some of the more popular beaches that lay closer to Honolulu, Yokohama Beach is one of the quietest beaches on the island. Surfers flock to the waters on this side of the island. There's been more than the occasional dolphin sighting.
There's a lifeguard on duty throughout the day to keep an eye on everyone in the family. You'll want to check in with them to see what swimming conditions are before you get into the ocean since the waters can be rougher there.
You'll have a large portion of the beach to yourself without feeling like you're too close to other people. This peaceful beach is a favorite among locals and visitors who have been lucky enough to experience its beauty.
Sherwood Beach Park
In the smaller town of Waimanalo, Hawaii is the beautiful Sherwood Beach Park. This beach on the Eastern side of the island isn't as populated with tourists as with locals, but that makes it that much more special to visit. The waters tend to be calmer at this beach than at Yokohama Beach, but there are several lifeguards on duty anyway.
The beach is nestled between the ocean and a forest. This makes it a much different experience to lay on the beach with beautiful high risers towering you and the family. It's the perfect place to enjoy a quiet picnic on the beach and build sandcastles with the incredibly soft sand.
Baby Makapu'u
When heading to Baby Makapu'u Beach, don't get confused with Makapu'u Beach. They're both right near one another, but Baby Makapu'u Beach is the place all the locals on this side of the island take their kids to play in the water. Baby Makapu'u is known for its calm tide pools, where children love to play and explore.
While there are calm tide pools for the kids, it's still a great experience for family members of all ages. Body surfing and boogie boarding are some of the best activities to participate in at this beach for the older kids and family members.
There aren't any showers or bathrooms on this side of Makapu'u Beach, but you'll find these facilities if you head towards the main Makapu'u Beach.
Hanauma Bay Nature Preserve
Hanauma Bay Nature Preserve is hands down one of the best beaches on the island of Oahu. This beach sits on Hanauma Bay in East Honolulu, where the protection of land makes the waters relatively calm compared to some areas on the island.
Since Hanauma Bay is a state park, you will have to pay for entrance. Adults and children over the age of 12 pay $25, and then children under 12 are free. One thing to note about this beach is that you must reserve your tickets in advance. They have a limit to a certain number per day to ensure the beauty of the beach stays intact.
There's plenty for the entire family to do when you visit Hanauma Bay. Besides the apparent swimming, sunbathing, and building sandcastles, you can rent snorkel gear and maybe even see some sea turtles. If you're looking for one of the best views on the island, heading up to the Hanauma Bay observation deck gives you and the whole family a new perspective.
Pupukea Beach Park Tide Pools
You'll find Pupukea Beach Park on the island's North Shore in Haleiwa, Hawaii. This small beach is known for having tide pools which are perfect for snorkeling. You and the whole family can snorkel in the tide pools and see an abundance of sea creatures.
If you want to relax and soak up the sun while your kids snorkel their hearts out, there's space for you to do so. While you won't find a lot of soft sand near the tide pools, there's plenty of rocks where you can plant yourself for a while.
This area of the island is under conservation, so you can snorkel in pristine waters and see coral reefs, fish, and beautiful seashells. For the most part, the tide pools at Pupukea Beach Park aren't very crowded, which can be great to enjoy some quiet time with the whole family.
Magic Island Lagoon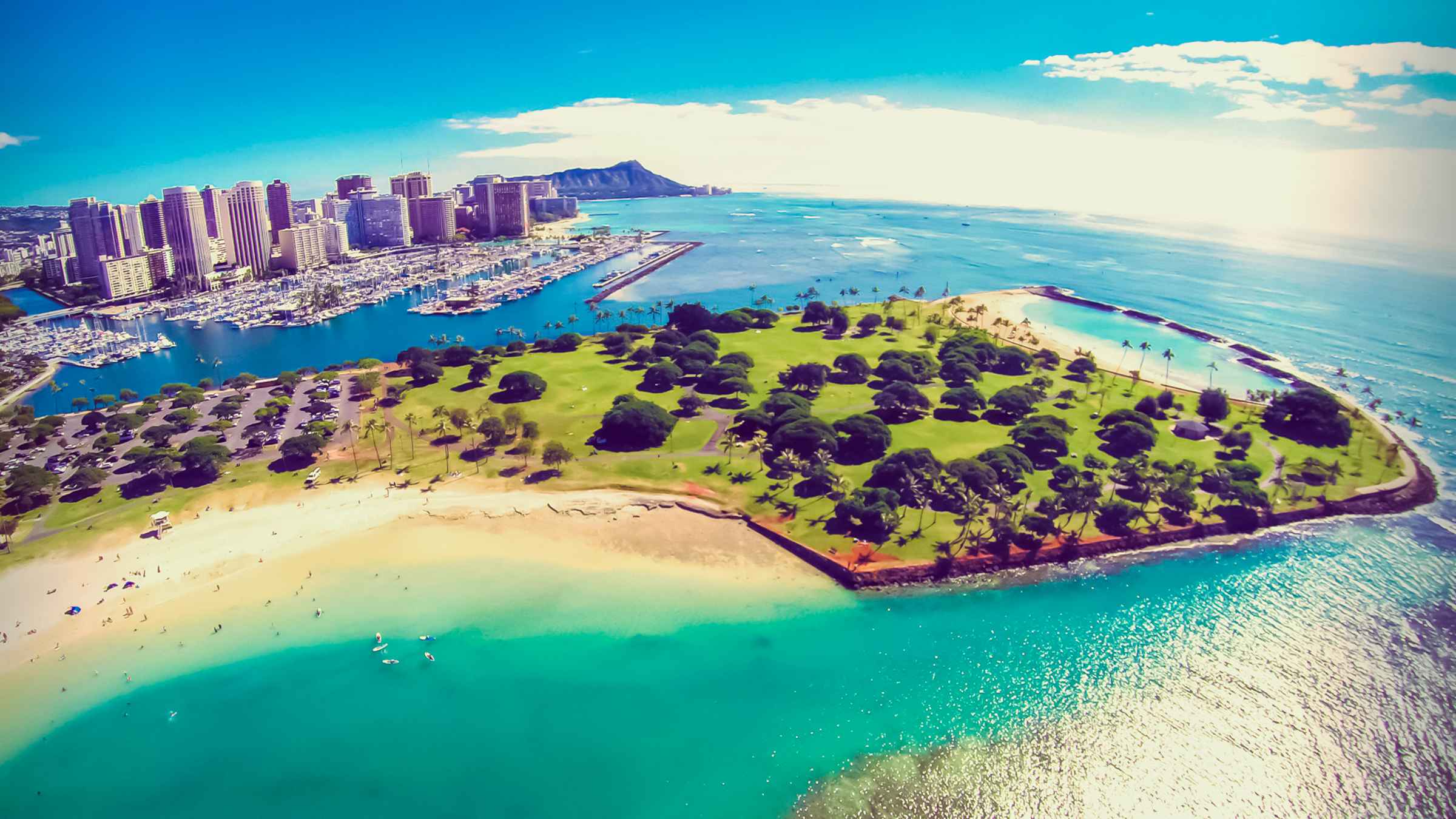 You can find Magic Island Lagoon inside Ala Moana State Park. This specific area of the park is perfect for children because the lagoon features very shallow water, unlike many beaches on the island. Of course, the further out into the water you go, the deeper it is. But keeping children close to the shore is easier when the water's shallower.
Most people, including locals, love bringing their kids here because it's usually full of other families. There's plenty of activities to do at Magic Island Lagoon like swimming, surfing, bodyboarding, snorkeling, and even scuba diving in the deep waters.
On the shores, you'll find ample areas to lay your towel down and relax. There's also plenty of shaded picnic areas if you and your family prefer to eat snacks or lunch out of the brutal Hawaiian sun.
Ko Olina Lagoons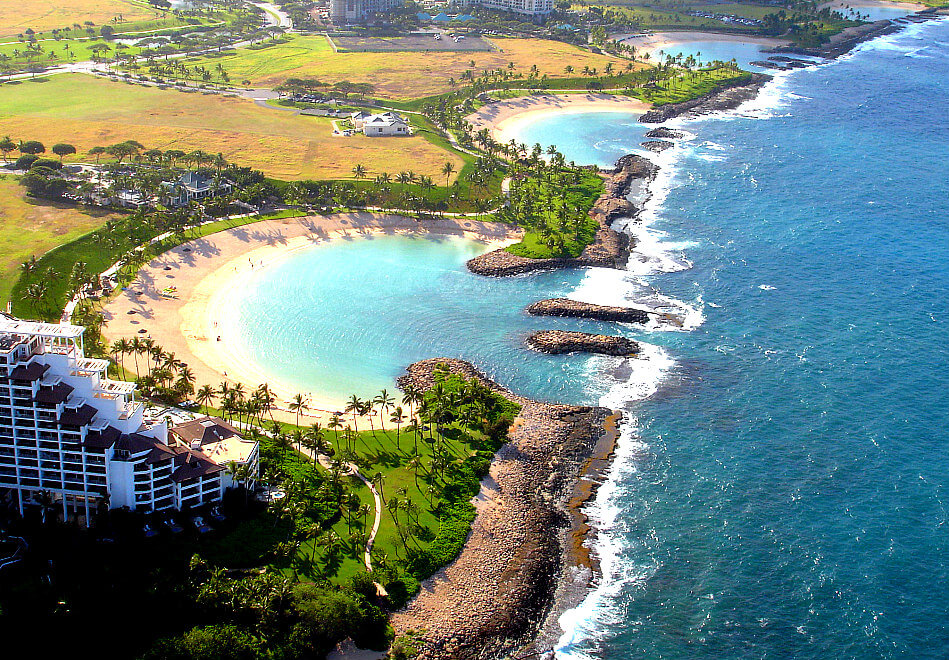 If you love the idea of taking the family to a lagoon but aren't sure which ones to visit, Ko Olina Lagoons needs to be on your list. In Kapolei, Hawaii, you'll find four public swimming lagoons on the southwestern side of the island.
The best part about Ko Olina Lagoons is that since there are four of them, you shouldn't have to worry about any of them being too crowded. These man-made beach coves feature incredibly soft sand and pristine shallow waters that the kids will love swimming, playing, and snorkeling in.
The lagoons open around eight in the morning and are open until sunset. If you and the family can last all day, you won't want to miss the sunset while sitting on the shores of these beautiful lagoons. Something important to know is that if you're visiting during peak season, you'll want to get there early since parking can fill up quickly.
Kuilima Cove
On one of the Northernmost parts of Oahu sits Kuilima Cove. This beach is right next to the Turtle Bay Resort and several delicious restaurants. Even though it's situated near a popular resort, not many visitors spend time on Kuilima Cove's beach. This means there should be plenty of room for you and the whole family.
Swimming and other water activities are popular at Kuilima Cove, but it's well known for snorkeling. As one of the most sheltered snorkeling spots on the island, it's perfect for beginners and children.
The beach is smaller compared to some of the larger and more well-known beaches on the island, but it's still a great beach to walk along and look for seashells with the family.
Bellows Beach
Bellows Field Beach Park is a favorite on the island of Oahu. This sandy beach offers beautiful views of the Pacific Ocean and plenty of mountain views. There are two lifeguard towers on Bellows Beach, making sure that you and your family are safe during operating hours.
If you want to give your kids a unique experience, renting out a campsite for the night is a great idea. There are 50 campsites right off of Bellows Beach, and it's one of the best places to camp on the island. There are two showering sites for both beachgoers and campers to use to wash the sand off.
Kailua Beach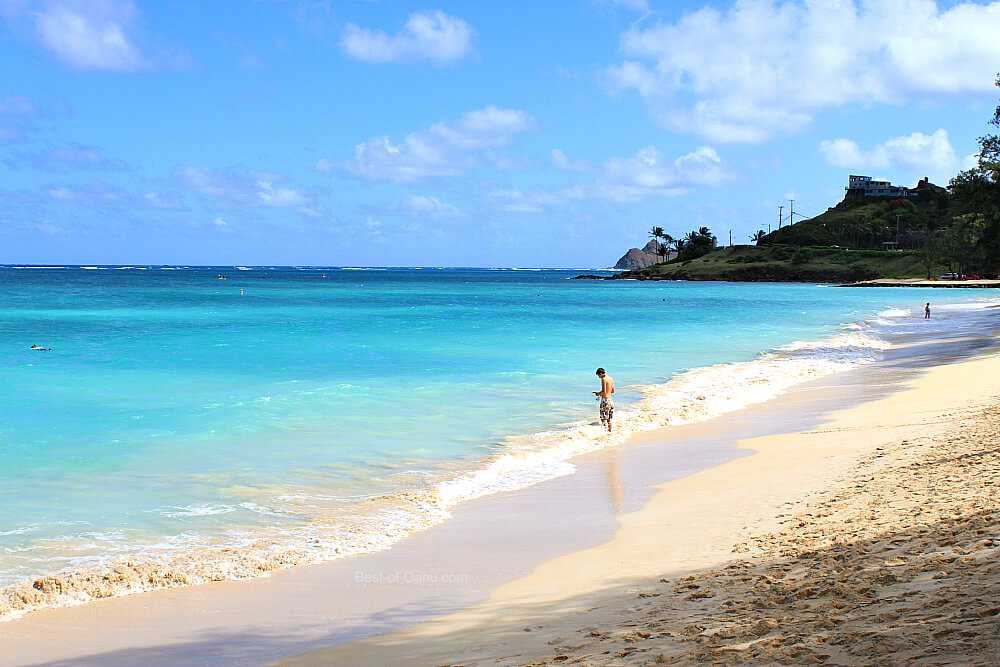 Whether you're staying in Kailua or not, bringing your whole family to Kailua Beach is a must while visiting Oahu. If you ask almost anyone, they'll tell you that Kailua Beach is the second most beautiful beach on the entire island.
The beach stretches for two and a half miles, with white powder sand lining some of the bluest water on the planet. The extra soft sand is perfect for those who don't like rough sand on their feet and makes for a comfortable place to lay if you want to nap on the beach.
There are bathroom facilities, showers, and plenty of picnic tables at this beach for you and your family to use. Lifeguards are situated strategically along the two and a half miles of beach, but if you're traveling with young kids, placing yourself closer to the towers may give you peace of mind.
Final Thoughts
Whether you're looking for one beach to plant yourself at for the duration of your trip or plan on beach hopping, there's plenty of beautiful beaches waiting for you and your family.
Even though there's plenty of stunning beaches on Oahu, finding beaches that are ideal for families is important to everyone's happiness and safety.
From calm waters, populated beaches, and some more tranquil and secluded spots, there's the perfect beach on Oahu for everyone.
More about our TFVG Author
A seasoned traveller, Dad, and avid sports tourist, James foundered The Family Vacation Guide to share his expert vacation experiences- especially when it comes to being a travelling family man.
Featured in Travel articles such as Travel + Leisure, TripSavvy and SFGate, you know you're reading some of the best vacation tips online.