Kauai, Hawaii, is a true island paradise located in the Hawaiian archipelago. Famous for its jaw-dropping waterfalls, lush tropical rainforest, and stunning white-sand beaches, Kauai – the fourth largest island in the archipelago – is undeniably a popular destination for families with kids.
It holds the nickname "The Garden Isle" due to the tropical rainforests that span across the island. With a vast array of incredible places to explore and activities to enjoy, it's no wonder that Kauai is a lovely choice for family trips. And nature-loving families will have a great time no matter where they stay.
However, it can be difficult to choose the best place to stay. This task is difficult for couples, small group tours, and even solo travelers. So, when you bring kids into the mix, it can be even more challenging to evaluate factors such as varying interests, safety and health concerns, family-friendly restaurants and accommodations, accessibility, and more.
To help out in your planning decisions, we've listed and described the best places to stay on Kauai for families with kids.
Kapa'a – The most Tourist-Friendly
The most tourist- and family-friendly place to stay overall is Kapa'a, known for its lively atmosphere and many restaurants. It's the largest town, so you can expect to be around a good amount of people.
Accommodations
Given that it's the largest town on the island, it should come as no surprise that there are all sorts of accommodation options in Kapa'a, including resorts, B&Bs, beach houses and huts, condos, and even camping sites.
Activities & Attractions
Kids (and their adults!) will never get bored in Kapa'a, as there are abundant attractions to keep them entertained.
You can visit the Kapa'a Beach Park, which has lava rock surrounding it and offers plenty of beach activities like snorkeling and whale watching, or the Wailua River State Park, where you can go kayaking or take a nature walk.
Nounou Mountain range hangs over Kapa'a, and you can head there for family hiking.
Specifically, Nā Pali Coast State Wilderness Park is in Ka'pa, featuring the 91-meter Hanakapiai Falls, the Kalalau Trail with gorgeous ocean views, and the remote Kalalau beach. The Sleeping Giant Trail is challenging but certainly doable for a morning hike.
The currents at the nearby beaches are sometimes a bit more aggressive, so it's crucial to be mindful when bringing small children or kids who aren't the strongest swimmers.
Lydgate Beach is the best option for kids, as the currents aren't very strong, and there's always a lifeguard on duty just in case.
Food
Kapa'a is teeming with family-friendly restaurants, from local food stands to the more upscale eateries. You can find fresh juices, Hawaiian specialties, impressive seafood, and international cuisines to please every taste bud and dietary restriction.
Atmosphere
Kapa'a has a vibrant and lively atmosphere, with a good mix of locals and tourists. It's the best destination for families who want to have access to a lot of what Kauai has to offer while still getting all the modern comforts and amenities they need.
Princeville – Best for Luxury Stays
Princeville is located on the Northern coast of Kauai and offers and offers pristine views of the ocean. It's a wonderful place to stay for families looking to treat themselves to a unique, stunning, and highly memorable experience.
Accommodations
Princeville is known for having some of the most luxurious accommodation options on the island. The area caters to those looking for a higher level of luxury, with many resorts offering private pools, high-end golf courses, and beachfront access.
Much of Princeville is built on top of cliffs, adding an even more upscale feel to all the resorts and hotels in the area.
If you don't want to stay in a resort or hotel, there are several excellent vacation rental options you can find through Airbnb.
Activities & Attractions
Just because you're perched on a cliff doesn't mean you can't access the beach! This is still Hawaii, after all, so it's likely that you and the family want to have some beach time on your trip.
Pali Ke Kua Beach is a beach close to Princeville town, and it's a lovely beach for swimming, snorkeling, or simply relaxing.
Some areas can be slippery on this beach, so it might not be best for very young children. Some of the beaches around Princeville also require a steep walk down the cliff, so keep that in mind.
If you have young ones, they might enjoy the tide pools at Queen's Bath instead. You can teach them about the ecosystems within the tide pools or just let them gawk at all the little "fishies!"
You'll also be close to Hanalei, so you can visit some of the attractions there, such as the Hanalei National Wildlife Refuge. Namolokama mountain is also nearby, so you can take the kids on an adventure to a few waterfalls.
You can even do a ziplining tour with Zipline Express around Princeville if you're feeling extra energetic! Or participate in a Botanical Gardens Tour and Chocolate Tasting that the whole family is sure to enjoy.
Finally, if your resort has babysitting services and you want to get away, don't hesitate to spend time shopping, going to a bar, or getting a spa massage somewhere in Princeville Center.
Food
The restaurants in Princeville are characterized by their inviting interior design and cozy outdoor patios and garden spaces.
Atmosphere
Princeville is known for its upscale and luxurious atmosphere. The area is full of high-end resorts, stunning cliff views, and an overall vibe of relaxation and indulgence.
It's a great area to stay for families looking for an extra-special trip that will be remembered for years to come. However, it might feel too ritzy or overpriced for some families.
Hanalei – Best for Surfing Families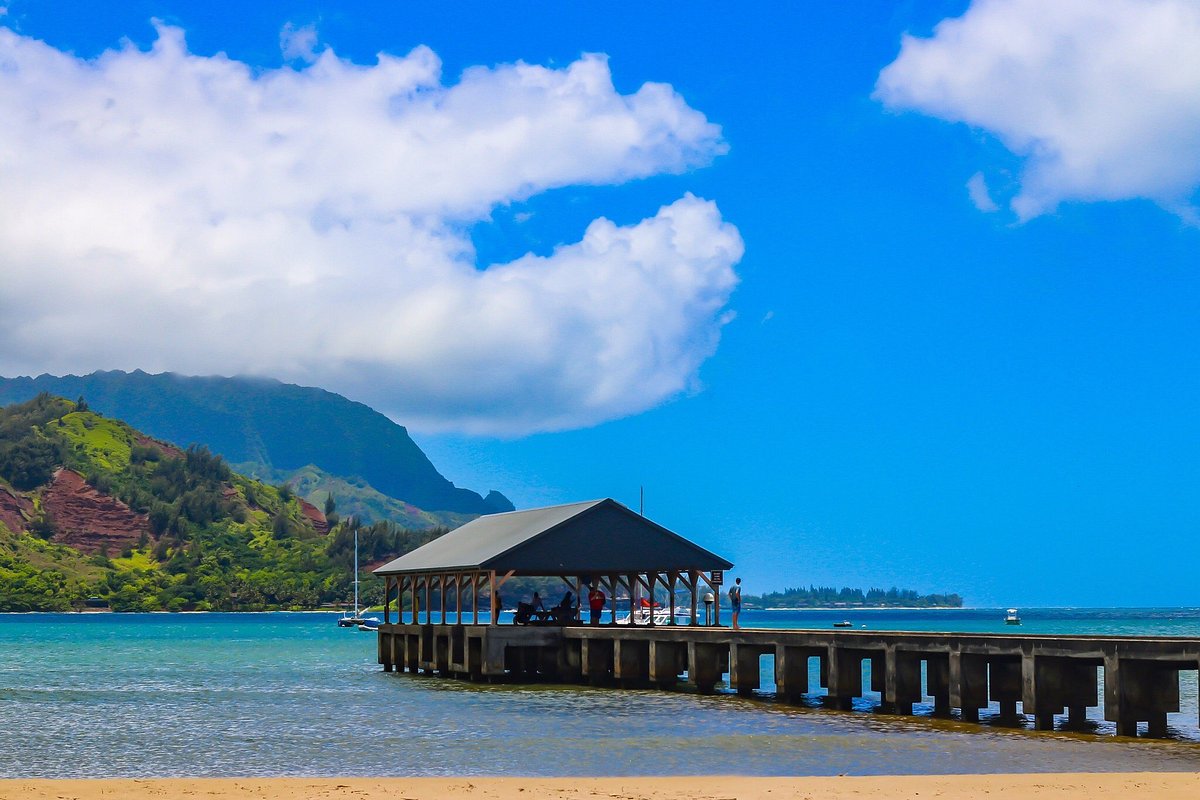 Right near Princeville on the North Shore is Hanalei. Although it's close to Princeville, it has a distinct energy and a more local, down-to-earth feel. But the best aspect of Hanalei is its surfing opportunities!
Accommodations
The accommodation in Hanalei is a great mix of inns and other more budget-friendly options.
If you're looking for a luxurious stay, you can opt for one of the few bigger hotels in the area – or check out Princeville instead. And if you're looking to save money, there are several excellent Airbnb and vacation rental options as well.
Activities & Attractions
Hanalei is best known for its surfing beaches, so if you're a surfing family, this is the place to be. There are several excellent beach spots perfect for beginners as well as experienced surfers.
Hanalei Bay is the main two-mile stretch of beach, and if you don't want to surf, there's plenty to do with kids there, including swimming, building sandcastles, and playing beach games. During the summer, the waters are much calmer and exceptionally safe for kids to swim in.
If the whole family is experienced in surfing, head to Lumaha'i Beach for intense currents and powerful waves.
You can also visit the Hanalei National Wildlife Refuge or take a kayaking tour with Kayak Hanalei – they even offer family kayaking tours! And in terms of beautiful scenery, you won't want to miss the taro fields when driving around Hanalei.
If you're looking for more adventure, there are several hikes and trails around Hanalei. And, of course, the stunning views from Hanalei Hill are not to be missed.
Food
Hanalei has a great selection of restaurants, from casual beachfront spots to cozy cafes and family-friendly restaurants.
You'll find most of the best options in the Town of Hanalei, and we recommend going to JoJo's shaved ice when it gets hot and Kalypso Island Bar & Grill or Tahiti Nui for evening seafood dinners.
Atmosphere
Hanalei is a bit less developed than neighboring Princeville, which gives it a more relaxed, surf-town vibe that many low-key families appreciate. If you're looking to do some surfing, eat great seafood, and have a chilled-out base to explore the rest of Kauai, Hanalei is an excellent option.
Lihue – Best for Convenience
Like Kapa'a, Lihue offers an exceptionally convenient area for families to post up and explore the island. This location is Kauai's second largest town and is also the main hub for Kauai's airport, so if you're coming from afar, you'll likely have to go through Lihue at least once, making it a convenient option to stay in.
Accommodations
Lihue arguably has the widest accommodation options out of any locale on Kauai, ranging from budget-friendly motels to luxurious resorts.
The most popular area to stay is a couple of miles inland from the airport, and it's full of casual hotels, bed & breakfasts, and some great Airbnb rentals.
Activities & Attractions
Since Lihue is the central hub of the island, there's plenty to do here. It's a fantastic place to stay if you want to explore different parts of Kauai, as you can easily make day trips to the likes of Hanalei, Waimea Canyon, and Poipu Beach.
Golfing is another major activity in Lihue, as well as hiking to the "secret" waterfall called Uluwehi Falls. If you don't want to hike, you can take the family on kayaking trips to these falls.
The nearby Kalapaki Beach is another fantastic attraction for kids because the waters here are usually calmer than in other areas of Kauai. You can still practice surfing here occasionally, but it's best for beginners.
Food
Being an airport hub, it's no surprise that there's a range of international restaurants you can find in Lihue.
You can succumb to your cravings for pizza at Pietro's, get Asian-inspired dishes at The Fish Express, or feed the family a range of dishes at Gaylord's to ensure everyone enjoys their meal.
Atmosphere
Lihue has a friendly, homey atmosphere. There are many tourist spots, but it also has a more residential feel, making it a fantastic place to get errands done. You'll find large convenience stores like K-Mart and Wal-Mart. That said, you won't be getting the most local, authentic feel of Hawaii.
Ultimately, if you want to stay in Kauai for a longer time, such as multiple months, the convenience of this location outweighs some potential cons.
Poipu – Best for Beach Resorts and Volcanic Views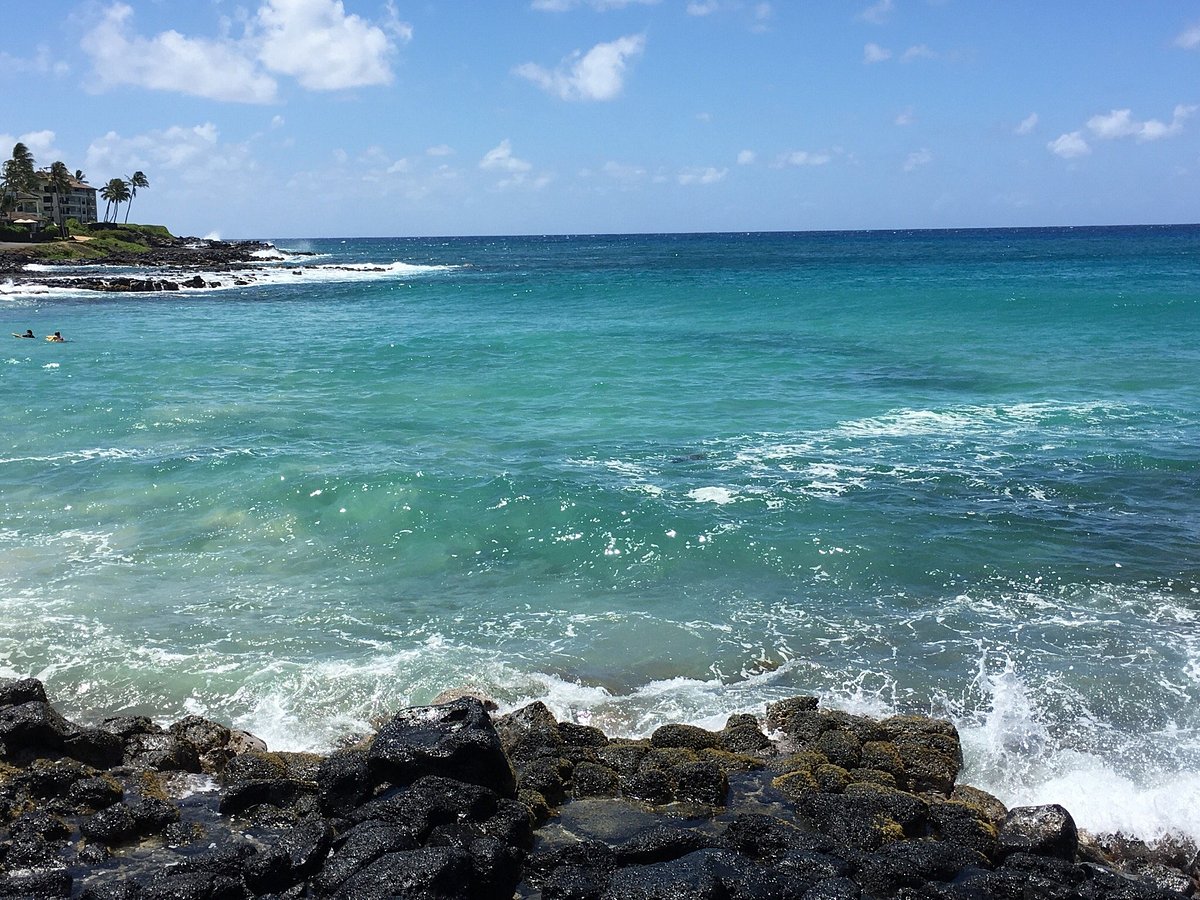 On the south side of Kauai, you'll find Poipu, a beach town that sits on the water, providing easy access to white-sand beaches. It's also one of the prettiest places to stay, given the surrounding volcanic rock formations.
Accommodations
You now know you can find plenty of cliffside resorts in Princeville. But if you stay in Poipu, we recommend taking advantage of the beachfront resorts!
The Grand Hyatt Kauai Resort & Spa is one of Poipu's most popular hotel choices and is perfect for large families who want all the luxuries of a hotel without leaving the comfort of their own private beach.
Activities & Attractions
Poipu is a great place for outdoor activities. At Poipu Beach Park, you can access two separate bays with beautiful waters and tide pools.
Surfing, snorkeling, kayaking, and even stand-up paddleboarding are available here, but body surfing is a huge hit, especially among kids.
You're also not far from Waimea and can take a day trip to the nearby Waimea Canyon to explore its majestic beauty.
If you want to see sand dune cliffs, limestone formations, and Shipwreck Beach, walk along the Maha'ulepu Trail. And if you want to learn about various flora, fauna, and birds, head to the Limahuli Garden and Preserve.
Food
When you stay in Poipu, there's no shortage of restaurants. Some of the most popular spots include:
The Beach House for its seafood dishes
The Hawaiian restaurant called Eating House 1849 Koloa
The healthy eatery Puka Dog
And when you need a light and refreshing dessert, head to Fresh Shave for some tasty shaved ice!
Atmosphere
Poipu is more remote, thus giving it a laid-back beach vibe. That said, you're almost guaranteed to feel relaxed while staying here. The town is also quite small but still has plenty to offer, such as shopping and various restaurants.
Waimea – Best for Hiking Families and Nature Lovers
Waimea, also known as Kamuela, is a charming little town on the interior and west sides of Kauai. Here you'll find rolling green hills and plenty of trails to explore.
Accommodations
There are no large resorts here, but you can still find a few places to stay in Waimea. The West Inn Kauai is a fantastic option for families wanting to stay somewhere more rustic.
If you want a slightly more modern stay, there's the West Kauai Lodging, which has a patio and BBQ area.
Most people stay in the North or East and then take day trips to Waimea, but if you want to beat the crowds, staying here could be a fantastic option for your family.
Activities & Attractions
Although there aren't many accommodation options, there's a multitude of attractions in the Waimea area.
First and foremost is Waimea Canyon State Park, which offers spectacular views of this lush canyon.
You can find plenty of hiking trails here, where you'll explore the red soil and greenery and get rewarded with beautiful lookouts. The Waimea Canyon Trail is the most popular and safe for the whole family.
The nearby Kok'e (or Kokee) State Park also has a few trails, but these can be more challenging.
If you have older, very fit kids and are fit enough yourselves, you can explore Waipo'o Falls Trail or try hiking Awa'awapuhi Trail. Do proper research to ensure that your family is up for the challenge and you bring all the necessary gear.
Finally, you can still get beaches around here, too, especially if you head to Polihale State Park. The beaches there are very calm and relaxing, making it a suitable place for sunbathing or easygoing swimming – perfect after a day of hiking.
Food
When it comes to food, Waimea's main attraction is its homestyle Hawaiian cuisine.
If you want a big meal after a long hiking day, check out Porky's, a restaurant that dishes out big slabs of pork and savory pulled pork sandwiches.
You can also visit the Ishihara Market, a Japanese deli counter, or the Taro Ko Chips Factory to purchase taro chips before your next hiking excursion or car ride.
Atmosphere
Waimea is a great spot for those looking to get away from the hustle of big cities and relax in nature.
It's also great for families that don't just want to be "beach bums" and want to challenge themselves to some active adventure.
The town of Waimea is small, but there's a lot to explore, so it's one of the most underrated places to stay on Kauai for families.
Is Kauai Safe for Families with Kids?
Kauai is an extremely safe and family-friendly destination compared to many other tourist hot spots. However, families should still take precautions regarding safety, including checking for natural hazards and exercising caution when exploring the wilderness.
Some other tips for exploring Kauai safely with kids include:
Wear appropriate clothing for the terrain
Follow all signs and warnings regarding water safety
Watch out for wildlife (especially when hiking)
Keep an eye on your kids at all times
Always have a bottle of water with you to avoid dehydration
You should also go into the water to check the strength of the currents and be mindful of the waves before letting the kids swim
It's important to remember that Kauai is a tropical destination, so you'll want to plan accordingly. Always bring plenty of sun protection, hats, and sunglasses to protect yourself from the intense Hawaiian sun!
Additionally, no special vaccinations are required when visiting Kauai. However, it is a good idea to check with your primary healthcare provider before traveling to ensure you and your family are up-to-date on your routine vaccinations.
With these tips in mind, any family should be able to safely explore and enjoy Kauai's many beautiful sights.
The North and. South Sides of Kauai
Whether you want to stay on the north or south end of Kauai depends on what your family is looking for. The north side of Kauai offers more outdoor activities, such as hiking trails and waterfalls. The south side has fewer outdoor activities but is home to some of Kauai's best beaches and resorts.
Ultimately, the choice is yours, but remember to consider your family's interests and the seasonal weather patterns when selecting where to stay.
How Many Days Is Enough To Travel Kauai?
Kauai is a relatively small island, so you can easily check out the main attractions in three or four days. However, if you're hoping for your family to take in all that Kauai offers, you may want to stay for at least seven days.
With a full week on the island, you can explore more attractions and activities on the north and south of Kauai at a more relaxed pace and enjoy some of the great food and atmosphere.
Frequently Asked Questions
Now that you know about the best places to stay on Kauai for families with kids and have some safety tips for families in your back pocket, here are some of the most frequently asked questions to ensure you're all set to plan your family's dream trip!
What is the best time of year to visit Kauai with the kids?
The best time to visit Kauai with kids is during the dry season, from May to October. During these months, temperatures on the island are milder, and there is less rain.
This ideal weather makes exploring the beaches and hiking trails more enjoyable and safer for young children.
What are some family-friendly activities on Kauai?
There's a myriad of family-friendly activities on Kauai, from swimming and snorkeling to enjoying the beach. You can also explore Kauai's many state parks, check out its waterfalls or take a boat tour.
Other popular activities include visiting the National Tropical Botanical Garden and checking out the Kauai Museum.
No matter what you decide, there's something for everyone on Kauai!
Where should families stay in Kauai?
The best areas to stay in Kauai include Kapa'a, Princeville, Hanalei, Lihue, Poipu, and Waimea.
All these locations provide fun activities, great restaurants, and plenty to explore during your stay.
Do I need a visa to visit Hawaii?
Since Hawaii is part of the United States, Americans will not need a visa to visit. All visitors must present valid identification upon arriving in Hawaii and are subject to immigration laws.
Is Poipu Beach good for kids?
Not only is Poipu Beach good for kids, but it's one of the best beaches on Kauai for young children. The water is calm, the sand is soft, and there's even a playground for your kids to enjoy if they get bored with the water.
Both kids and adults love Poipu Beach, so it's a spot you should consider adding to the itinerary.
Is Princeville good for kids?
Princeville is a good location to bring kids for many reasons. It's close to Hanalei Bay, a great spot for swimming and other beach activities.
Additionally, there are plenty of kid-friendly attractions nearby, including zoos and botanical gardens. Princeville is also home to some excellent restaurants, so you're sure to find something your kids will love.
However, keep in mind that the beaches right below the Princeville cliffside might prove challenging to get to for some young kids. If you're staying with young kids, it's better to enjoy the cliff views from the top. Afterward, travel to neighboring areas for the beaches.
What type of food can I expect in Kauai?
Kauai has a notably diverse range of cuisine, from traditional Hawaiian dishes to international ones. Whether you're looking for Asian fusion, fresh seafood, grill and barbecue, tropical desserts, and even Tex-Mex, there's something for everyone in Kauai.
The island is also home to several award-winning restaurants, so don't forget to treat yourself to a high-end meal during your stay.
What type of accommodation can I expect in Kauai?
Like restaurants, Kauai offers various lodging options, from budget-friendly hotels and motels to luxury resorts. Your family can also enjoy quaint bed and breakfasts or private vacation rentals located near some of the island's most stunning beaches and attractions.
Final Thoughts: The Best Places To Stay on Kauai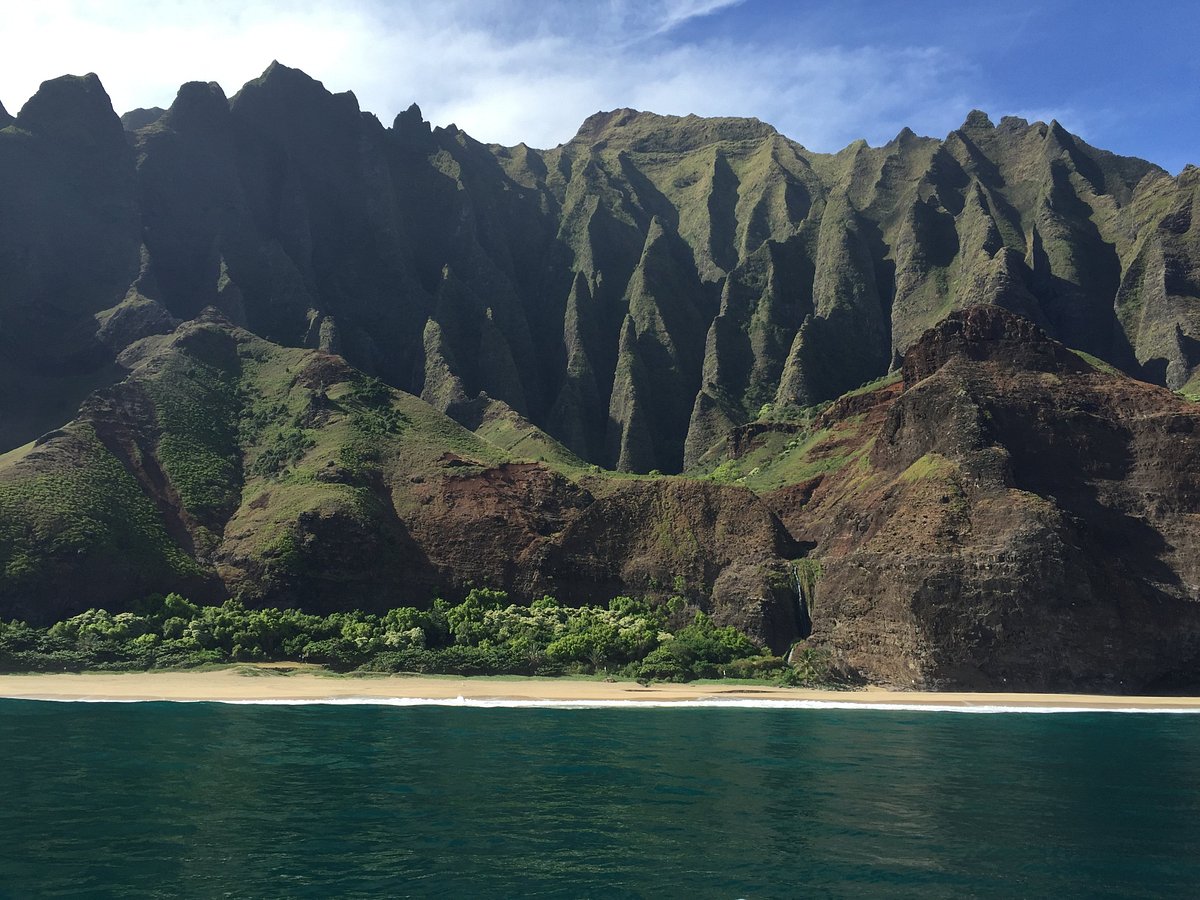 Overall, Kauai is an ideal, pristine, dynamic, and safe destination for families with kids and can provide them with plenty of opportunities to explore the outdoors.
With so many wonderful places to choose from on Kauai, it can be challenging to decide the best places to stay on Kauai for families with kids. But we hope this article has helped you narrow down the options so you can decide what's best for your family's needs.
Regardless of where you choose to stay in Kauai, all locations will offer something special and unique that will surely create incredible memories and life experiences for you and your family. And remember, you can always split your stays between two or three different areas, just to make sure you're not missing out on any fun!
More about our TFVG Author