Are you looking for some family-filled fun in the sun on the tropical island of Maui in Hawaii?
From kid-friendly beaches to lush rainforests to jaw-dropping volcanic mountain peaks – Maui is a destination that is sure to make your family vacation dreams come true.
Now that you've decided to take the family on a trip of a lifetime, it's time to choose the best place to stay.
Experience the true meaning of ohana, the Hawaiian word for family, at these luxurious yet kid-friendly resorts, each with unique characteristics to choose from.
Let's get started on exploring the best Maui resorts for families.
And whilst you're here, why not check out our guides to the best family resorts in Hawaii, including Oahu and Kauai.
200 Nohea Kai Dr, Lahaina, HI 96761, United States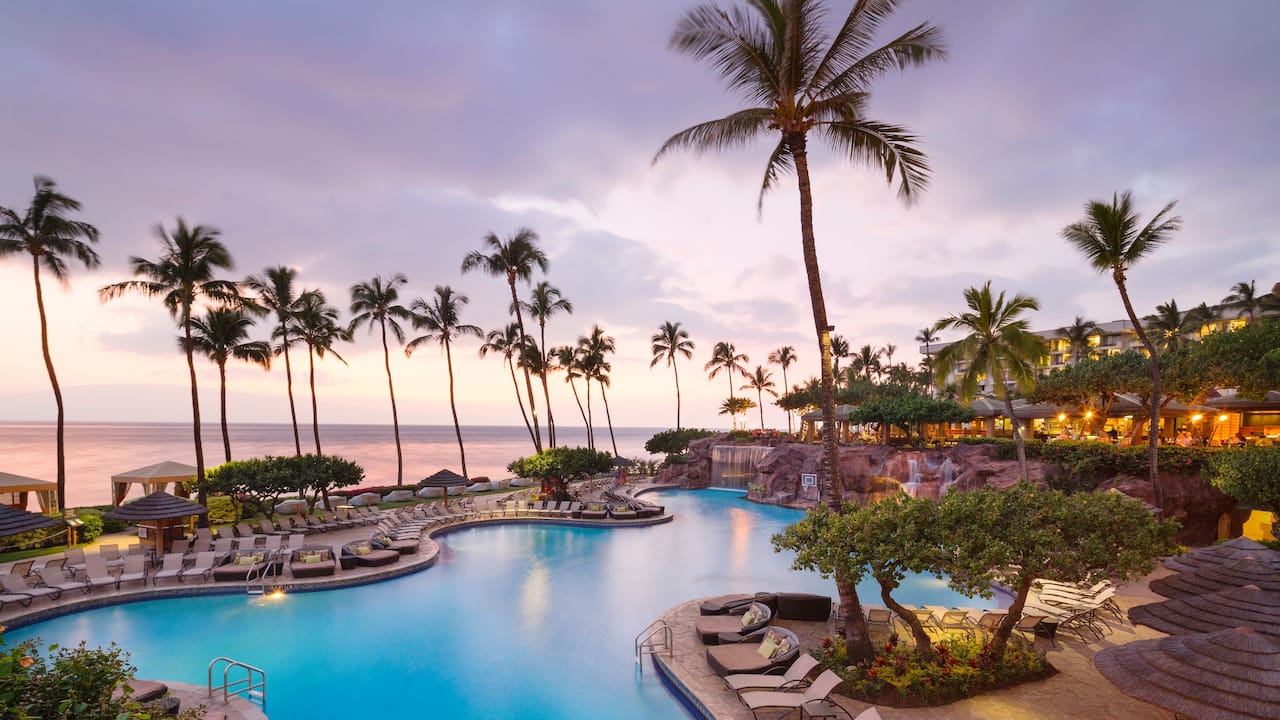 Hyatt Regency Maui Resort and Spa, located on the west coast of Maui, is a stunning beachfront resort on Ka'anapali beach. It features ten on-site restaurants, six pools, a fitness center, a full-service spa, and 40-acres of lush tropical landscape for the family to explore.
Select your room with choices of breathtaking views of the Pacific Ocean, the West Maui Mountains, the Ka'anapali Kai Golf Course, or a Hawaiian garden oasis.
This kid-friendly environment is equipped with a waterpark to enjoy a zero-entry pool, rope bridge, waterfall, and lava tube water slide. For adults, you can spend a day recharging at the spa, play a round of golf, or sunbathe in the infinity-edge relaxation pool.
Take advantage of the unique hotel activities that are offered on the resort grounds during your stay. Bring the kids to a penguin presentation where they will learn about African Black-footed penguins or attend the rooftop astronomy program and stargaze under the Maui skies.
For a family night out, attend the Drums of the Pacific La'au. At the La'au, you will dive into a Polynesian cultural experience with song, dance, and fire shows while enjoying a culinary feast.
The Hyatt Regency Maui Resort and Spa is sure to be a hit for the entire family while staying on the beautiful island of Maui.
3850 Wailea Alanui Dr, Wailea, HI 96753, United States
The Grand Wailea Resort is situated on the southwest shores of Maui on Wailea Beach. This resort is the perfect mix of luxury and fun with characteristics that all ages will love. Enjoy some fun in the sun in any of the Grand Wailea's pools or catch some rays on the resort's lazy river.
This adventure-packed resort is perfect for entertaining the kids with a unique layout. The pools consist of water slides, whitewater rapids slides, caves, rope swings, waterfalls, and the world's first-ever water elevator.
Combine education and fun with the hotel's Grand Passport that children will receive at check-in. They can use this passport to collect stamps by completing all of the educational activities placed around the property.
Explore the pools one day and experience the ocean the next. There are various ocean activities that you can book through the resort, such as kayaking, boogie boarding, paddle boarding, whale watching excursions, and more.
Snorkeling and scuba diving lessons are also complementary activities that come with every booking. Start learning how to scuba dive in the pool before you graduate to diving in the deep blue.
In addition to all of the family-friendly amenities this resort has to offer, you can also partake in beach yoga, garden tours, golf, spa treatments, or some retail therapy at one of the many on-site shops.
Be sure to capture your stay in all of its glory by taking advantage of the complimentary 45-minute photography session. You and your family will create memories to last a lifetime at the Grand Wailea. Why not have some beautiful family photos to accompany the memories?
3900 Wailea Alanui Dr, Kihei, HI 96753, United States
The Four Seasons Resort is another tropical wonder in southwest Maui on Wailea beach. This open-air resort provides spectacular white-sand beach scenery, one-of-a-kind dining experiences, and entertainment suitable for the entire family.
This resort stands out from the crowd by offering a complimentary kids program daily from 8:00 am to 5:00 pm. The program is suitable for kids from ages 5-12 and is designed to provide their younger guests with fun and educational activities throughout the day.
There are also organized activities available for young adults and trained childcare providers on-call to look after the little ones.
Some activities for the kids include:
Arts and crafts
Outdoor sports
Swimming and water activities
Video gaming stations
Educational marine center
This is the perfect opportunity for your children to make new friends and experience new things. And what better place to do it than paradise?
While the kids are away, the adults will play. Take advantage of some alone time by enjoying a couples massage at the spa, improving your golf skills on a full-day golf retreat, or venturing off to a nearby coffee farm for an unforgettable blacksmith experience with a custom-made lunch.
Whether you want to spend the day as a family or spend some well-deserved time alone, Four Seasons Resort will accommodate all of your needs.
2525 Kaanapali Pkwy, Lahaina, HI 96761, United States
Ka'anapali Beach Hotel prides itself on its authentic Hawaiian ambiance. The establishment embodies the culture and geographical characteristics of its beloved island and all it has to offer. The hotel is located on Kaanapali Beach, stretching across 3-miles of white sand and crystal clear waters.
Keep the family busy with the different ocean, cultural, and island activities the establishment has to offer. This resort is perfect for families who want to experience island hospitality and luxury but also want to get out and explore the beautiful island of Maui.
Arrange an eventful day at one of Maui's famous beaches accessible from the hotel and spend the day snorkeling, swimming, surfing, and canoeing. Venture out for a hike, helicopter ride, zip-lining experience, or boat excursion.
Immerse yourself into the culture by taking hula dancing lessons, learn how to make a lei, or practice the Hawaiian language with one of the hotel's complimentary classes.
All of these activities can be arranged on-site, making your island dreams come true with ease.
1 Bay Dr, Lahaina, HI 96761, United States
Perfectly located, Montage Kapalua Bay is on the northeast coast of Maui, set across 24-acres of the lush Hawaiian landscape. Take your pick of luxurious rooms perfect for families. This resort offers residences with up to 4 bedrooms and a kitchen to truly make you feel at home.
Take part in the Montage Merit program during your stay specifically designed for family-friendly activities. Each activity encourages family bonding through authentic Hawaiian experiences. Together, you can collect up to 12 different pins to take home as souvenirs.
Montage Kapalua Bay also offers an activity-based children's program where children can spend the day indulging in planned indoor and outdoor activities while the adults take advantage of the resort's amenities. This program is offered daily for either half-day or full-day bookings.
This resort is equipped with six on-site dining options, a fitness center, pool, spa, and more. It is conveniently nearby the Plantation Course, which is Hawaii's recognized as the best golf course in Hawaii.
At Montage Kapalua Bay, you can have some family fun time or experience age-friendly activities for the day before rejoining for a delicious family meal at sunset.
130 Kai Malina Pkwy, Lahaina, HI 96761, United States
Make Honua Kai Resort and Spa your home away from home with rooms ranging from spacious studios to 3-bedroom suites equipped with kitchens and in-suite washers and dryers.
This picturesque resort overlooking Maui's popular Kaanapali Beach is sure to satisfy your tropical vacation desires.
This resort truly tailors to families by offering kids under 17 years old to stay free of charge. Splash the day away in the aquatic playground with pools, hot tubs, waterfalls, waterslides, and fountains.
If you want to enjoy all that Maui has to offer off of the resort, you can book your family outings at the concierge desk to ensure a high-quality and organized experience.
Activities include a helicopter tour, watching the sunrise from the top of a volcano, zip-lining or hiking through the rain forest, waterfall rappelling, surfing, and diving over 100 feet in a submarine.
Honua Kai Resort and Spa caters to families and encourages quality time spent together. Your stay will be a family vacation to remember for years and years to come.
6 Kai Ala Dr, Lahaina, HI 96761, United States
The Westin Kaanapali Ocean Resort Villas is a resort that will undoubtedly impress its guests. These ocean-front villas and studios will give you and your family a vacation experience like no other.
Here you can enjoy the refreshing pools, whirlpool spas, waterfalls, restaurants, a fitness center, markets, gas grills for barbecuing, a spa, and a business center.
This resort is positioned on Maui's renowned whale-watching beach, Kaanapali Beach. Along with whale-watching, there are many activities and events in which the family can participate.
You can attend a traditional Polynesian Luau at the resort to get the most out of your Hawaiian vacation. You can also arrange activities with the concierge desk, such as horseback riding, jet skiing, sailing, snorkeling, and cliff diving. Your stay is sure to be packed full of adventure.
In addition, this family-friendly resort offers the Westin Family Kid's Club for children ages 5 to 12 years old. Here, activities related to Hawaiian culture and traditions educate, inspire, and entertain your kids all day long.
Your children will get the chance to make friends while creating arts and crafts and participating in unique adventures like animal expeditions and creating an ocean in a bottle. They are sure to have a fun-filled and education-packed day in the Westin Family Kid's Cub.
Whether you want to spend the day relaxing or spend it going on unforgettable adventures, there is something here for everyone.
Marriott Vacation Club, 100 Nohea Kai Dr, Lahaina, HI 96761, United States
Marriott's Maui Ocean Culb is an island sanctuary set along Kannapali Beach in west Maui. This white-sand beach is rated one of Maui's best beaches, with endless restaurants, shops, and activities along its 3-mile stretch.
Marriott's Maui Ocean Culb offers rooms and villas that accommodate up to 6 guests, making it suitable for a comfortable family getaway. There are three pools for the kids to play in and barbeque and picnic areas for the family to spend a day together in the sun.
For amenities, spend a relaxing day at the spa, get a workout in at the fitness center, dine at 1 of 4 restaurants, and grab your morning coffee at the resort's on-site Starbucks.
The resort is near an area full of local attractions popular with tourists. Here is a list of some exciting places to check out on your trip:
From spending quality time at the resort to exploring the upbeat surroundings in the area, there will be a fun adventure to be had every day.
50 Nohea Kai Dr, Lahaina, HI 96761, United States
Kannapali Alii is a luxury beachfront resort offering hospitality that makes you feel right at home. They make it their mission to make sure you and your family feel comfortable and well taken care of during your stay. Accommodation options include 1 and 2 bedroom private residences.
The breathtaking views surrounding the resort give you the option to choose between an ocean view room, a garden view room, and a mountain view room. The lush and spacious property will not disappoint.
For on-site dining, each room comes with a spacious and fully-stocked kitchen. The resort can arrange grocery shopping and pickup for you and the family to prepare a delicious meal together.
There are also grill masters at the two oceanfront barbeque pits as a complementary service. All you need to do is bring your choice of meat and vegetables, pick one of the mouth-watering rubs or seasonings. Then, sit back and relax while the grill masters prepare your meal.
If you would rather have a relaxing dining experience, there are many restaurants to choose from in West Maui and along the coastline. From fine dining to casual grab-and-go's, you won't struggle for options.
As mentioned before, the area along Kannapali Beach is full of things to do. The resort staff will be more than happy to suggest top-rated outings, restaurants, events, and more for you and the family to enjoy.
5900 Lower Honoapiilani Rd, Lahaina, HI 96761, United States
This beachfront resort on West Maui is perfect for an eventful family vacation. Family packages are available that include activities and complimentary services specifically designed for you and your family to experience together.
When you book a minimum of five nights with a family of five or more, you will receive a complimentary professional photography session, gifts for every guest, and the chance to arrange a fun-filled day with competitive games like bocce ball and Portuguese horseshoes.
This family-oriented resort has a "kids eat free" program at the on-site restaurant where children under the age of 10 can receive a free meal when accompanied by an adult who orders an entree.
They also provide a complimentary camp that runs Monday through Saturday for kids age 6-10. These supervised hours will be filled with activities such as learning the hula, creating a fresh flower lei, running an obstacle course, golfing on the children's putting green, and more.
Every Tuesday, the Napili Kai Foundation, a nonprofit focused on preserving the culture of Hawaii through their children, will teach dances, history, arts, language, and crafts of Polynesia.
Their scholarship program provides high school graduates with financial aid who are seeking self-improvement through education. This is a wonderful event to attend as a family and learn about Hawaii's people and culture while having fun and supporting a good cause.
Other amenities include:
18-hole putting green
Four barbeque areas
Four swimming pools
Two whirlpools
Two shuffleboard courts
Arranged adventures around Maui booked through the concierge desk.
If you are looking for a family-oriented stay, Napili Kai Resort is a great place to go.
4100 Wailea Alanui Dr, Wailea-Makena, HI 96753, United States
This stunning resort is located between the glistening Pacific Ocean and the science Hawaiian mountains. The Fairmont Kea Lani emphasizes the importance of ohana, the Hawaiian term for family. From the moment you arrive, they will make you feel at home.
Relax and unwind in one of their gorgeous beachfront villas, recharge at the spa, or fuel up with the catch of the day at your choice of 5 different restaurants.
This resort is sure to impress the kids with its two kid-friendly pools with waterslides, underwater scooters, a basketball hoop, and various toys that you can rent for the day.
For the adults, enjoy the adults-only tranquility pool where you can sip on a Mai Tai or get a massage in one of the shaded pool-side cabanas.
You can experience one of the resort's planned rituals and celebrations traditional to Maui as a family. They place a strong emphasis on Hawaiian culture and pastimes.
Set off on a sunrise paddle as a family for the E Ala Ē Chant- the Hawaiian way of welcoming a new day. At sunset, witness a torch lighting ceremony practiced to celebrate the end of a day by blowing in a conch shell, lighting the tiki torches, and ending the celebration with a chant.
Experience activities for all ages during your stay at the Fairmont Kea Lani, where family is appreciated and celebrated.
2605 Kaanapali Pkwy, Lahaina, HI 96761, United States
This resort is located on Kaanapali Beach with 23 oceanfront acres. It highlights the infamous Puu Kekaa cliff-diving rock nestled on Maui's western shore, formed by an ancient lava flow.
Here you can witness a sunset ceremony with professional cliff diving demonstrations and a torch lighting ceremony. Sunsets are a must-see while staying at the Sheraton Maui Resort and Spa.
Take your pick of oceanview guest rooms or elevate your experience with suite accommodations for the family, both coming with exceptional views of the Lanai and Molokai islands and Hawaiian sunsets over the Pacific waters.
The resort features a 142-yard lagoon-style pool with waterfalls, a waterslide, and a child-friendly swim zone. Rent a cabana for the day and splash around with the little ones.
In addition to the refreshing pool, the family can experience beachfront access to the white sands of Kannapali beach. This beach is known for its abundance of colorful fish and honu turtles native to the Hawaiian islands.
There are six exquisite dining options on the resort grounds. You can experience unique culinary experiences like dining under the stars or grab a quick bite to eat between your daily adventures.
For an interactive dining experience, attend the Maui Nui Luau. This event provides dinner and a show where you will discover the rich history and culture of Maui and Kaanapali.
The local area is filled with exciting excursions and events, so your stay at the Sheraton Maui Resort and Spa will be nothing less than eventful both on and off the resort grounds.
---
Whether it is relaxation and rejuvenation that you're after or adventure-packed quality time as a family, these resorts have it all. Experience incredible sights and live a life of luxury when you book into any of these Mau resorts.
Maui has many wonders to explore, and these family-oriented accommodations will be more than happy to make you feel right at home during your stay on the island. Make sure to check out these Maui resorts for families' websites for photos, package deals, and more information.
More about our TFVG Author
A seasoned traveller, Dad, and avid sports tourist, James foundered The Family Vacation Guide to share his expert vacation experiences- especially when it comes to being a travelling family man.
Featured in Travel articles such as Travel + Leisure, TripSavvy and SFGate, you know you're reading some of the best vacation tips online.