Hawaii is a beloved vacation spot for families, offering safe and scenic beachside settings and loads of activities to suit all ages.
From horseback riding in the mountains to snorkeling with the fish or enjoying a traditional luau, Hawaii has something for everyone.
Kids and adults alike can enjoy the islands—especially their beautiful beaches. The only challenge on a Hawaiian family holiday? You will likely find that it's choosing the best beach! There are so many options that knowing which stretch of sandy coastline is suitable for your family can be challenging.
This guide is here to help you learn more about the beautiful beaches in Hawaii. Read on for an overview of the top 13 family-friendly beaches to visit while you're there.
Why not also take a look at our guides to the best family resorts in Hawaii and how to choose the best Hawaiian island for a family vacation whilst you're here?
We've also got guides on the best family resorts in Oahu, Maui and Kauai.
13 of the Best Family Beaches in Hawaii
The below roundup covers 13 of the best family-friendly beaches dotting the Hawaiian islands. For each one, you'll get details about the location, the scenery, and what kinds of activities you can find there. Let's get started.
1. Waikiki Beach
Located in Honolulu on the Hawaiian island of Oahu, Waikiki is arguably the most well-known beach in the state. It's nestled alongside the Waikiki neighborhood on the southern shore of the island. Waikiki is one of six beaches in this district—and it's by far the standout favorite of many travelers.
The water along Waikiki beach is clear and clean. You can enjoy many activities, from snorkeling to surfing, which is excellent if you have kids of different ages. Teens can enjoy catching a wave, while younger kids can snorkel.
Additionally, Waikiki has the advantage of being close to the city and many resorts. It's not out-of-the-way, and you don't need to subject your family to extra boat rides or lengthy bus trips to get there. If you want to grab an ice cream or enjoy a family lunch, you can easily do so.
All that said, Waikiki is famous. That means you may find the beach pretty crowded, especially during the peak summer season. You'll find the beach less crowded in early spring and fall—April, May, and October are still warm enough for swimming.
2. Poipu Beach
If you're looking for something a little bit more off the beaten path, head to Poipu Beach. The beach is on the island of Kauai, a tiny spot with a population of approximately 1,000 people. You can find the beach on the south shore of the island.
The island's limited population and small size mean you can anticipate a beautiful, pristine beach. Poipu beach was elected the best beach in America by the Travel Channel. The beach's ranking attests to its pretty, pollution-free state.
You'll find a golden crescent of sand encircling a natural ocean wading pool, where you can walk right into the water. The shallow depths are protected against the surf, creating calm waters where you can sit and soak up the sun.
The water offers activities like swimming, snorkeling, boogie-boarding, and surfing. The diverse offering is great for families with different age groups and levels of swimmers. Plus, the fact that you can wade right into the water without worrying about rocks makes this ideal for little ones.
3. Hapuna Beach
You can find Hapuna Beach in a state park on the big island of Hawaii. It's nestled on the island's west coast, along with several other white sand beaches. The State Park itself covers nearly 62 acres of land.
To get to this beach, you travel down the Kohala Coast's volcanic coastline, taking in beautiful sights along the way. There is paved parking upon arrival, making it easily accessible. You can pack all your beach toys, towels, and more without worrying about lugging them far.
Hapuna means "spring" or "pool" in Hawaiian. The turquoise waters live up to this name, being warm enough to allow for a relaxing dip. The beach offers good conditions for sunbathing, snorkeling, swimming, and bodyboarding. If you go in the off-season and come in the early months of the year, you may even be able to catch a glimpse of migrating whales from afar.
Near to the beach area, you'll find picnic areas, pavilions, restrooms, and showers. These amenities make this spot convenient for families with kids. You can pack a picnic lunch in your car and take a break to eat when the children are hungry.
4. Lanikai Beach
Lanikai Beach is located on the island of Oahu and is considered by many as the most beautiful beach on the entire island. It is located near the town of Kailua, on the windward coast. It measures about half a mile—but while it may be small, it's imposing.
Many consistently rank Lanikai Beach as one of the best beaches in the world. However, do note that the remote location makes it tough to find. There is no public parking lot, and you also won't find lifeguards, showers, or restroom facilities.
The easiest way to get here is to park in downtown Kailua and then walk. If you have smaller kids, you may prefer a more accessible beach. However, teenagers will be sure to love the Instagram-worthy scenery.
That said, if you do make it to this beach, the effort will be worth it. You can access the beach by one of the small alleyways tucked between the area's residential homes. When you emerge from the alleyway, you'll find an expanse of white sand and turquoise water in front of you.
5. Hulopo'e Beach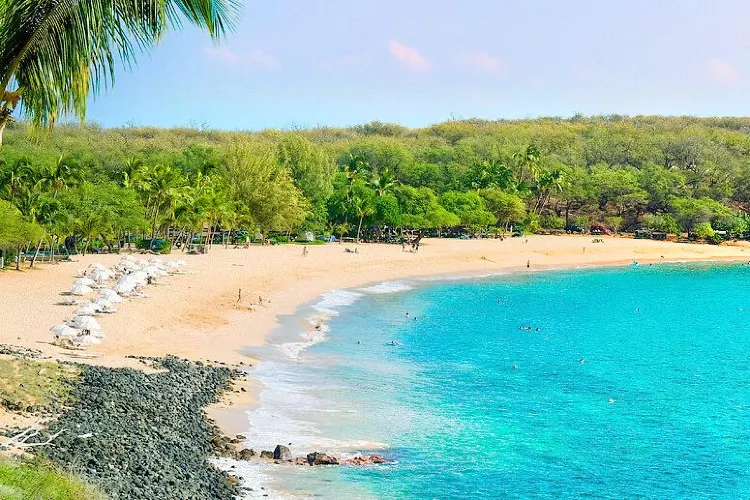 Hulopo'e Beach sits on the island of Lanai, along the south shore. It's a bay, guarded against the open ocean, and a marine life conservation district. Note that this is the only beach safe for swimming in Lanai, so this is your only option if you're on the island.
The bay is crescent-shaped and dotted on either side by large boulders. No ships can anchor here. The fact that Hulopo'e Beach is a conservation district makes it great for spotting wildlife. You can go snorkeling and see diverse fish as well as turtles and spinner dolphins.
If you have small kids, this beach is a safe bet. It is excellent for picnicking and swimming. Additionally, it has a small tidal pool area farther from the central ocean. There are no big waves here, making it a safe space for more minor children to splash and play.
If you go further out, there is enough surf for some bodyboarding and light surfing. Older kids may enjoy taking a lesson and mastering their skills in the relatively tame waters. Just make sure their swimming abilities are sufficient.
6. Waimea Bay Beach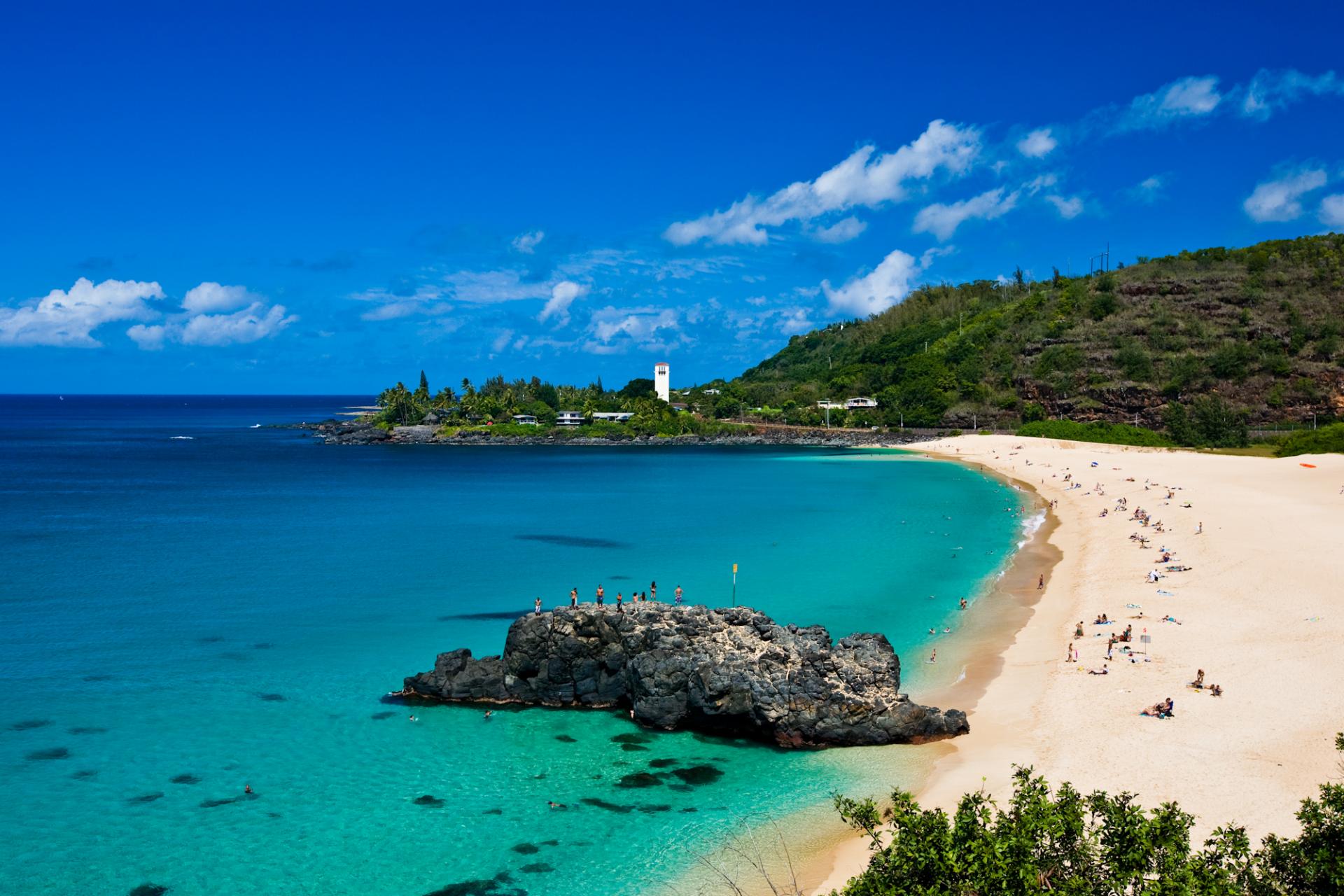 You can find Waimea Bay Beach on the northern shore of the Hawaiian island of Oahu. It's set directly at the mouth of the Waimea River at the outskirts of the Waimea Valley, along Kamehameha Highway. The beach's location makes it relatively easy to access by car.
This pretty beach offers all the amenities you need for a family-friendly getaway, including parking, restrooms, showers, and picnic tables. You can come here for swimming, fishing, bodyboarding, surfing, snorkeling, and sunbathing.
Note that there is also a lifeguard on duty to ensure safety—and for a good reason! Waimea is notorious for its 30-foot waves. You'll find some of the best and the boldest surfers here. However, these wild waves are more likely to be found in the off-season.
During the summer, the water is relatively calm. You can thus enjoy swimming with your family here without worrying extensively about waves or rip tides. However, it's still best to be cautious and equip kids with life vests.
7. Ka'anapali Beach
You can visit Ka'anapali Beach in Maui County, on the Hawaiian island of Maui. The small town lies in the northwestern part of the island. Several beach resorts and significant hotels dot the area, making this beach an accessible destination.
Ka'anapali Beach offers some unique activities that make it ideal for families with older children—namely, swimming and cliff diving! If you have a teenage thrill-seeker in your group, this beach is a great pick.
The beach covers three miles of white sand. You'll find all the amenities you need to ensure your essential comfort, including restrooms, parking, and a lifeguard. Schedule your visit to take in the cliff diving ceremony on the beach's northern cliffs. The ceremony takes place at sunset.
8. Baldwin Beach Park
Baldwin Beach Park is located on the northern shore of Maui. It's a favorite among locals, thanks to its long beach of pristine white sand. If you want to enjoy a long walk, this is an excellent spot for your family to get some exercise on the beach.
Baldwin Beach has the basic amenities you need for a relaxing day on the water, including bathrooms, showers, and lifeguards. There are also picnic tables, a covered pavilion, and barbecues. If you want to make a day of it and pack a lunch, you've got all you need.
The beach has a regular wave break along the shore, especially in the winter months, making it a hot spot for boogie boarders. However, note that the surf in the middle of the beach can be pretty rough. This area is not a place for novices to test out their skills!
That said, the far ends of the beach to the east and the west have protected areas guarded against the waves. You can find calm pools of water here that little ones can enjoy. The western end of the beach even features a so-called "baby beach" that's great for kids.
9. Kailua Beach
Kailua Beach Park is located on Oahu, by Kailua Bay. It's set on the windward coast and very close to another famous beach on this list—Lanikai Beach. Kailua Beach is generally considered the second-most beautiful beach on Oahu.
The beach stretches two-and-a-half miles long and features soft powdery sand and pristine waters. You'll find that it's easy to access, with three separate parking lots. You can enjoy a range of activities on this beach, depending on the location.
The rougher and windier parts are great for windsurfing and kite surfing. The main beach area, in the center, is better for swimming and snorkeling. There is also a quiet spot with a boat ramp for boating activities.
While this beach isn't considered pretty as Lanikai, it's more accessible and convenient for families. Why? It offers beach showers, bathroom facilities, and picnic tables on the nearby park grounds. There are also lifeguards on the premises.
10. Lydgate Beach Park
Lydgate Beach Park is on the island of Kauai, on the east side. It is an area known as the coconut coast. It's located at the mouth of the Wailua River and is considered one of the island's must-see highlights.
You can come here with your family to enjoy surfing, diving, fishing, and swimming. There are also nearby camping opportunities and picnic areas. These conveniences make it a good pick for a full-day family getaway.
A natural dam made of volcanic rock separates the beach park from the open water. This protected area is calm, free of rough water and big waves. The calmness of the water here makes it ideal for snorkeling, giving you ample opportunities to spy tropical fish.
The spot is excellent for younger kids to test out their snorkeling skills while discovering all the underwater wonders the area has to offer. Make sure to bring an underwater camera or GoPro to capture all the sights and make the most of them.
11. Wailea Beach
You will come across Wailea Beach in the southern part of the island of Maui. It's part of Wailea, a 1,500-acre expanse including various resorts, beaches, and attractions. Wailea itself features five separate beaches.
Wailea Beach is the main beach of the five and was previously voted America's Best Beach. It's fantastic for snorkeling and swimming. The surrounding area also offers plenty of attractions, making this a great spot to head for a weekend.
You'll find world-class restaurants, shops, spas, hotels, and golf courses nearby. From Wailea Beach, you can also easily access the nearby Ahihi-Kinau Natural Area Reserve, which has a coastal lava field and is known for great snorkeling and paddleboarding.
The region also features fantastic hiking trails, such as the Hoapili Trail. You can start your family getaway with a hike to get some exercise and then unwind with a lazy beach day. It's all possible in Wailea, giving your entire family something to look forward to.
12. Bellows Beach
Bellows Beach is located on the island of Oahu, facing the windward side. It's set just outside of Waimanalo, a small town of just under 6,000 people. You can access the spot quickly via the Kalanianaole Highway, which makes it easy if you're planning a family road trip to get there.
Bellows Beach is popular with locals, as it's a bit less crowded than some of the more tourist-friendly spots. The sand is a fine white powder, and the water is generally calm, although you may find more turbulence on a windy day.
In general, this beach is recommended only for strong swimmers. If you have little kids, this probably isn't the best spot for you. However, there are calmer swimming holes along the edges that shield from the big breaker waves.
If you come to the beach and find the water is too rough for comfortable swimming, there's still plenty to do. Bring a frisbee or beach ball for some land-based activities. There is also a large camping area nearby.
13. Kalapaki Beach
Kalapaki Beach is located in Lihue on the island of Kauai. It's on the east side of the island, and locals and travelers recognize visiting this beach as one of the top things to do when visiting Lihue. Kalapaki Beach is perfect for stand-up paddleboarding, boogie boarding, swimming, and learning to surf.
The large break wall shields the coast, making for relatively calm and easy waters. You can also enjoy sunbathing, picnicking, and volleyball on the beach. Alternatively, bring your binoculars and watch the cruise ships going in and out of nearby Nawiliwili Harbor.
You'll find all the amenities you need to enjoy a day of family fun at this beach, including restrooms and showers. There are also rental shacks where you can get surfboards, paddleboards, and other aquatic sports equipment.
Kalapaki Beach is also a great place to sign up for surfing lessons. Since the surf isn't too rough, novices can hone their skills without great danger. If you have older kids who want to hang ten, this is a great place to go.
The Final Word on Family Beaches in Hawaii
Hawaii consists of many islands with diverse beaches, each one unique in its way. When planning a family holiday, you want to chart out your path in advance, ensuring you end up on the suitable islands with the beaches you want to experience.
The above guide covers 13 of the best family beaches in Hawaii. With the information above, you can plan your trip with your family, choosing those locations that appeal to you. Doing this will allow you to make the most of your family vacation.
Sun, sand, and surf are just a flight away. Enjoy!
More about our TFVG Author
A seasoned traveller, Dad, and avid sports tourist, James foundered The Family Vacation Guide to share his expert vacation experiences- especially when it comes to being a travelling family man.
Featured in Travel articles such as Travel + Leisure, TripSavvy and SFGate, you know you're reading some of the best vacation tips online.