As the larger of Hawaii's two northwestern islands, Kauai offers an impressive balance of native growth and modern luxury resorts.
Here are fifteen of the best resorts in Kauai for families, as well as more information on what sets them apart from each other.
We've also got guides on the best family resorts in Hawaii, including roundups of awesome options in Oahu and Maui.
1571 Poipu Road, Koloa, Hawaii, 96756, USA
Set on the southern side of the island, the Grand Hyatt Kauai Resort & Spa is the very model of a truly Hawaiian resort. The aerial view makes this obvious, starting with several pools at different elevations set immediately adjacent to a private beach.
Amenities at the Grand Hyatt include free parking and internet access, a champion-level golf course, an in-house spa, and an on-site restaurant, so you don't have to go anywhere else for food. They also offer laundry services, meeting facilities, and a concierge to help you plan your appointment.
For added fun, the resort itself has 12,000 square feet of retail shopping. Offerings range from classic Hawaiian outfits to fine jewelry, swimwear, native woodworking, and various gifts. The entire resort is essentially a capsule of everything there is to love about Hawaii.
Children will love floating in the lazy river pool or exploring secret caves and seating nooks, while umbrellas offer shade within the resort. For a little more excitement, there's a large 150-foot waterslide to go down. Overall, there's a lot to love at this resort, and it's easily one of the top resorts in Kauai for families.
2440 Hoonani Road, Kauai, Hawaii, 96756, USA
Marriott's Sheraton Kauai Resort is set along the south shore's Poipu beach, the home of many of Kauai's top resorts. The entire area is relaxed and upscale, making it the perfect region to explore with your family during a trip to Hawaii.
Most family rooms have a traditional setup with two queen beds in a large, comfortable room. Televisions and air conditioning are plentiful if you want to cool off inside, while authentic restaurants offer fresh and exciting flavors to tantalize your taste buds. The views of Hawaii's sunsets are exceptional, while shaded cabanas provide comfort next to the vast pool.
All guest rooms come with complimentary wireless internet access, on top of cribs and play yards if you're bringing particularly young family members along. Rollaway beds provide some extra space, while a safe gives you a reliable place to store valuables during the trip. The on-site restaurants support casual outfits for dining, which is another nice touch.
The Sheraton Kauai Resort is located just a few miles away from many family entertainments. Scuba diving options are the closest at just half a mile, while hiking, horseback riding, jogging, and bike rentals are available in a five-mile radius. Snorkeling and surfing are immediately accessible, while the mix of an ocean pool, garden pool, and whirlpools provide added fun.
The rooms are smaller here than at some other resorts, though the top suites remain spacious and comfortable. This is an excellent resort to consider if you're looking for a comfortable place to relax while exploring Kauai at your own pace.
3610 Rice Street, Kalapaki Beach, Marriott Vacation Club, Hawaii 
You might have noticed a pattern with these resort names. Marriott owns several of the best resorts in Kauai for families, so they're on this list several times. The Kaua'i Marriott Resort (note the apostrophe in the spelling), also known as the Kaua'i Beach Club, is a sprawling and fantastic resort for bigger groups and families.
The highlight of this resort is the central outdoor pool, which covers an impressive 26,000 square feet. It's easily one of the largest outdoor pools on the entire island and perfect for people who want plenty of space to play. Those who'd relax instead can enjoy an on-site day spa or easy access to the beach.
The standard guest rooms usually only have one king, one queen, or two double beds, which is too small for most families. This resort's villas are much more family-friendly, comfortably sleeping 4-6 people depending on the number you get. The villa areas typically come with a mini-fridge, a microwave, and general eating supplies.
Nearby attractions include a fern grotto, a museum, various waterfalls, a wildlife refuge, and a scenic canyon drive. Several golf clubs offer a comfortably challenging 70-72-par setup across 18 holes, plus rentals and lessons for anyone who wants to learn this classic sport.
Ultimately, this resort is a little less fancy than some of the other options nearby. Still, the massive outdoor pool and reasonably affordable rates make this a stellar choice for anyone who wants luxury at a reasonable price.
2249 Poipu Road, Marriott Vacation Club, Hawaii 
Not to be confused with the similarly-named Kaua'i Beach Club, the Waiohai Beach Club is a villa-focused area that particularly welcomes families thanks to the full kitchens, separated living and dining areas, and gorgeous ocean or island views.
This resort includes three outdoor pools, while the local bar and grill offer authentic local meals. If you're planning to explore the island, this resort's on-site marketplace has packaged snacks and drinks you can enjoy on the go. The Waiohai Beach Club's main pool is impressively natural-looking, providing a surprisingly hidden place to enjoy the outdoors.
Guest rooms here are family-friendly if you're on a budget, offering one king-size bed and a sofa bed that can collectively fit four people comfortably. The two-bedroom villas can fit up to eight people, making them suitable for families of almost any size, though you'll need to use the sofabeds to reach maximum occupancy.
Each villa is a little over a thousand square feet of space, making it functionally house-sized. Not a big house, sure, but it's enough space to move around and relax even in a decent-sized group. Fans are a standard fixture and can provide excellent airflow at night, while the interior bathtubs offer a great way to cool off or clean up.
Local activities are typical for the southern Poipu area. They include a nearby plantation, several parks, a tropical botanical garden, and eight golf courses by various designers within comfortable driving distance.
3325 Holokawelu Way, Marriott Vacation Club, Hawaii 
Kauai Lagoons is one of Marriott's most upscale areas, and it's set a little more inland than many of the area's other resorts. It's also the first resort on this list in the southeastern Lihue area, rather than the popular South Shore region.
Kauai Lagoons is a villa-focused property whose large rentals are easily capable of supporting most families. The focus on villas also means fewer guests at any time, which means you can get further away from the crowds while still enjoying a luxurious rental.
This is one of the best resorts for larger families, thanks to the three-bedroom areas. These sleep up to eight people, but the change from a sofa bed to an extra king-size bed means more people can sleep comfortably and with added privacy.
Nearby entertainment options include waterfalls, a wildlife refuge, and easy access to helicopter tours. A two-level pool offers some swimming fun, while a relaxing whirlpool provides a different experience. This resort isn't immediately adjacent to a huge beach, but it is just a short walk away from a larger open water area.
Ultimately, this is an excellent choice if you're looking for something spacious and private for your trip to Hawaii.
3838 Wyllie Road, Vistana, Hawaii 
Despite the name, this is another Marriott resort. They own and operate quite a lot of properties in Hawaii, but that also means they're able to invest additional resources and supplies to keep things running smoothly. The Westin Princeville facility focus on villas, sleeping up to eight people across two bedrooms, but it also has studios for up to four people.
Features in the rooms include flat-panel televisions with DVD support, whirlpool tubs, and a full-size refrigerator for storing food during your trip. These fridges aren't as common as some people expect, so if you want to dine in rather than eating out, they're a great draw. The studios only have kitchenettes, but the villas have full-size kitchens complete with supplies.
For added help, this resort offers a grocery shopping service, so you don't need to go out and buy things yourself. Bottled water is available for a small fee, while the villas include additional entertainment options. Wired and wireless internet options are available but expect to pay for this access.
This resort is a great place to visit if you're looking to have some access to modern entertainment but put most of your focus on enjoying the scenery and experience of Hawaii. The location in the central of Kauai's northern area is also nice because it provides some separation from the other, busier areas.
In other words, the Westin Princeville Ocean Resort Villas focuses on a middle range of pricing and comfort. It's not exactly a top-tier resort, but it's certainly better than average and aims to offer enough amenities and services to justify the pricing.
2253 Poipu Road, Koloa, Hawaii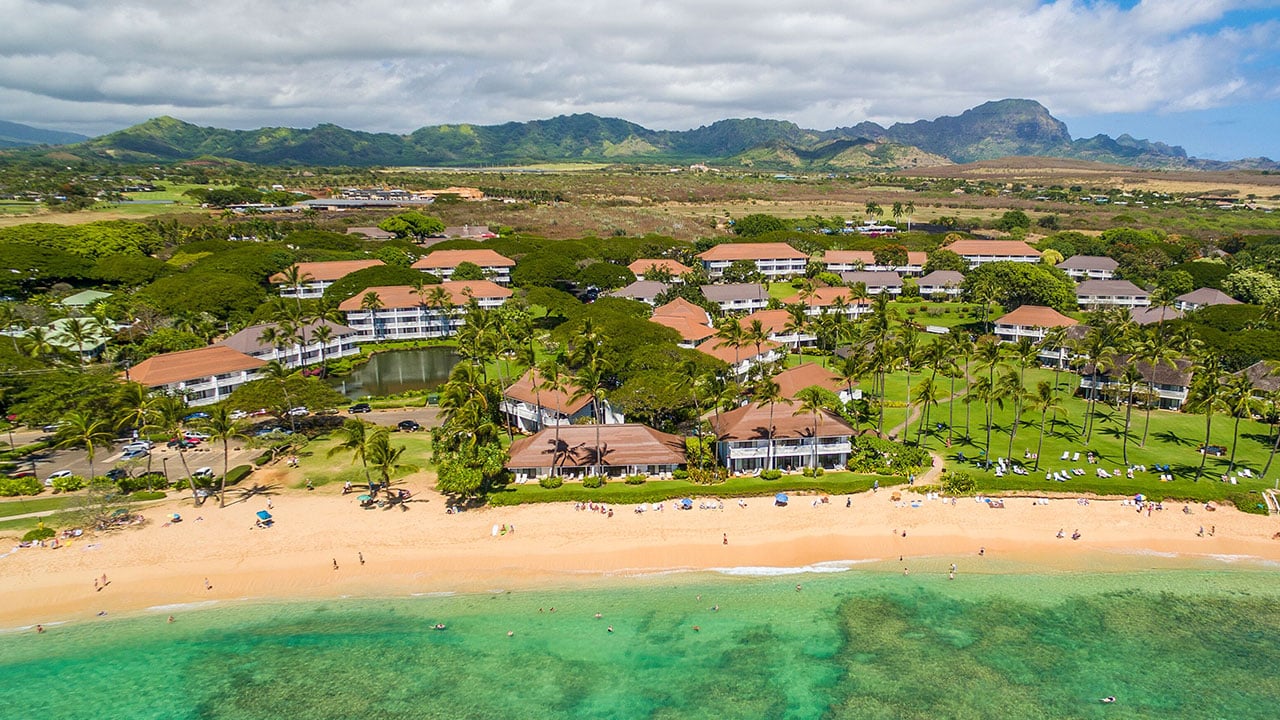 For something that's not a Marriott, Outrigger's Kiahuna Plantation Resort on the southern beach covers an impressive 35 acres of a verdant resort area. The one-bedroom units have a king-size bed and a sofa bed, while the two-bedroom options have one king bed, two twin beds, and a sofabed. That makes either choice suitable for most families.
Standard amenities include blackout drapes to help you sleep better, ceiling fans, and complimentary internet access. Built-in kitchens let you make your own meals, while an in-room safe will protect your valuables. Rollaway beds are also available for a minor fee, making fitting everyone into your room even more straightforward.
The main thing to keep in mind is that this resort focuses on breeze-cooled rooms. That means they're much quieter than areas with air conditioning, but they can also get warmer at certain times of the year. If you don't like heat, you should plan your trip carefully. If you enjoy warmer weather, though, this resort gives you more opportunities to experience it.
Other property highlights include a surf school, barbecue grills, and even an electric car charger. Guest parking is complimentary, though there are no elevators in the building. Dining is available at the Cabana Bar & Grill in case you don't want to make food yourself but don't want to go too far, either.
Ultimately, this resort is a great choice if you enjoy warm weather and want to get a comfortable condominium sized for a family vacation. These areas are big enough to spread out and relax while remaining close to the many entertainment areas along the south beach area.
2641 Poipu Road, Koloa, HI 96756
Koloa Landing Resort is a 25-acre luxurious resort, close to Poipu Beach and near the local seaside shops at Kukui'ula Village. The property includes three impressive lagoon pools, as well as the massive 350,000-gallon main pool.
This resort offers three options for sleeping. The deluxe studios are about 500 square feet and have a queen-size sofa sleeper, but these are too small for most families. The luxury villas are some of the largest on the island and have one to three bedrooms, covering up to 2,700 square feet of space. They also have semi-private elevator access and private bathrooms.
The penthouse suite is ideal for those seeking luxury and covers 3600 square feet — that's about one-and-a-half times larger than the average American house, all in one luxurious suite. General amenities in the villas include air conditioning, a fully-furnished balcony, in-room wireless internet access, and gourmet kitchens with modern appliances.
Other amenities here include swim-through waterfalls in the pool area, barbecues and fireplaces, multiple Jacuzzis, and even professionally-made s'mores three times a week. There isn't much on-site shopping, but that's mainly because the local shopping area next to the resort offers everything you might want.
This resort has tons of room and a great central location, making it ideal for families of all sizes. The easy access to local restaurants is particularly nice, with over a dozen restaurants in proximity and offering everything from fine dining to casual meals.
2253-B Poipu Road, East Entrance, Koloa, Hawaii 96756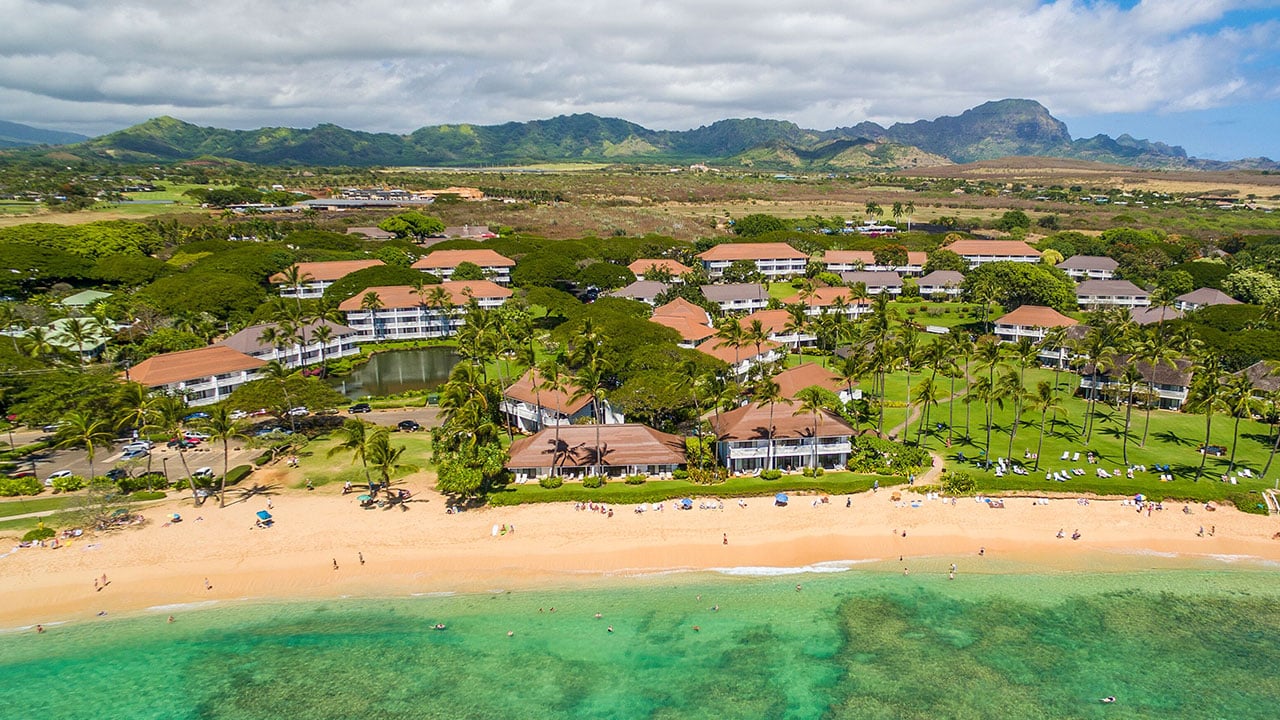 Castle's Kiahuna Plantation Beach is a beachfront, condo-focused property with a few things that set it apart. The most notable is that each condo is individually designed for a unique and exciting experience. They also have more room and view options than many other resorts, with all of the options sleeping either four or six people.
Standard amenities include high-definition cable on televisions, free wireless internet, private balconies, and full-size kitchens. Built-in dishwashers offer easy cleaning for plates and dishes, while the Hawaiian coffee included in each room can help you wake up in the morning.
This resort is also one of the most affordable on the island, even if you need to sleep with a family of four. While not a true luxury resort, the mix of comfort and affordability in the popular Poipu Beach area makes this an attractive option for budget-minded travelers.
As a bonus, this resort is set immediately adjacent to the plantation area, where you can see Hawaii's farmers growing various crops. An on-site bar and lounge offer another way to relax, while the available beach rentals provide an easy way to enjoy the surf.
This is a relatively simple resort without anything genuinely unique to distinguish it, but it still offers excellent service, respectable comforts, and gorgeous views at a family-friendly price.
4-820 Kuhio Highway, Kapaa, Hawaii 96746
Outrigger's Waipouli Beach Resort is set on the eastern edge of Kauai and serves as a deluxe condominium area. It's more compact than some other resorts at just two acres, but the units in the building offer hardwood furnishings, comfortably spacious baths, and gourmet kitchens.
While its basic features don't distinguish themselves, the river pool that runs through the property stands out from the crowd thanks to two details. First, the flume water slides offer children and adults alike a different way to play. Second, the entire pool is heated to ensure it remains at the perfect temperature throughout the year.
Most families will probably prefer one of the two-bedroom units, although single-room choices are available. Standard amenities include a balcony, central air conditioning, ceiling fans, and an in-room safe.
Included telephones offer alternative ways to contact people, while hairdryers can help you dry off faster and get back to enjoying the area. All rooms have wireless internet, and the LCD television includes cable channels for added entertainment. The fully-equipped kitchens are great for preparing your meals, too.
Finally, and somewhat unusually, this resort offers air beds at an additional charge. That's a great benefit for families of odd sizes, or if there's anyone who wants some extra space to themselves.
Outside of all that, this resort offers rapid access to Kapaa, a community of about 10,000 people offering plenty of water sports rentals, restaurants, and shopping areas within easy walking distance.
5380 Honoiki Road, Princeville, Kauai, HI 96722
Hanalei Bay Resort is a comfortable destination in Kauai's northern Princeville area, focusing on condos that have one or two bedrooms. Thanks to a queen-size sofa bed, the one-bedroom rooms still sleep up to four people, so they remain a good choice for many families.
Unusually, this resort also offers privately-owned rental units. These let you rent directly from an owner and range from basic hotel rooms and studios to three-bedroom condos suitable for up to 12 guests. The privately-owned areas may offer amenities and services that aren't part of a standard resort package or even the opportunity to buy the unit outright.
The entire resort is about 22 acres large, offering enough space for everyone to spread out and have fun. A freeform lagoon pool offers a great place to casually swim around, while a spa is tucked inside a grotto of volcanic rock. Tennis fans will love the world-class facility, while weekly garden tours will take you past dozens of plant species.
Finally, a hospitality lounge offers showers, a kitchen, television, and internet access to guests without the need to return to your room. It's free before checkout and only has a small charge afterward. An on-site sundry store offers basic supplies like toiletries and swimwear, ensuring everything you need is available in one place.
3610 Rice Street, Lihue, HI 96766
Sonesta's Kaua'i Resort is somewhat interesting as facilities on this island go because it shares a location with the Kaua'i Marriott Resort above. That means it has access to many of the same features and benefits, including the massive central pool you can see from almost any inward-facing room in the resort.
As a separate company, though, Sonesta can offer its own pricing and deals. That means you could get just about all of the benefits of the location while still taking competitive bids and offers. Sonesta's suites have space for up to three adults, while the standard rooms can hold up to four people instead.
Standard amenities throughout this resort include smart televisions, wireless internet access, and access to outstanding on-site restaurants. This resort is ADA-friendly, with barrier-free rooms available on request with adjusted counter heights, grab bars, larger doorways, and other benefits.
Most resorts on Kauai have limited accessibility options, so families with these sorts of needs should consider this option before most of the other alternatives on this list. All guest rooms come with air conditioning for added comfort.
5-3900 Kuhio Highway, Princeville, HI 96722-3040
Princeville Resort closed as of mid-2021 but is expected to reopen with a new name in November 2021 after renovations. It is one of the most luxurious areas on Kauai's northern shore. Each room is spacious, including generous space to move around and a sitting area, work areas, and high-speed internet access. Original works by local artists help complete the look.
The massive on-site spa offers twelve treatment rooms, a VIP area, various saunas and steaming options, and outstanding massage choices. A nearby athletic center can help you stay in shape during your trip, while championship golf and 24-hour private dining provide plenty of additional entertainment. Luxury boutiques are available for those who enjoy shopping.
This resort offers more amenities than many competitors, including CD players, hypoallergenic bedding, a complimentary newspaper, and premium bedding in the air-conditioned chambers. Cribs and wake-up calls are available, while a double sink provides couples with enough space to move around.
Outside of its other details, this is also a pet-friendly resort, which is comparatively rare among Kauai's facilities. That alone can make this place more attractive, but the staff is open to considering special requests (subject to actual availability).
In short, this is a luxurious resort for those who want a comfortable place to relax while enjoying Hawaii to the fullest.
2640 Puuholo Road, Poipu, Kauai, Hawaii 96756
Whaler's Cove is a private location along Poipu Beach and Hanakaape Bay. Family rentals are primarily condos, with your choice of ocean view or oceanfront locations. The penthouse is a fancier 2000 square-foot setup across two stories at the top of the building, designed specifically for special occasions.
The resort fee includes beach and pool towels, grocery requests, high-speed internet access, gas grills, a heated oceanside pool, a heated spa, and general business and office services. Parking and local telephone calls are also wrapped into the general accommodations.
You don't need to wait until you arrive for the groceries, either. Staff at Whaler's Cove can pre-stock your fridge and room with everything from locally sourced foods to personal care products, letting you minimize what you need to bring along. Several other resorts offer grocery services, but rarely to the point of pre-stocking the room.
One thing to know is that this resort generally includes privately-owned condos. While complete sales are rare and not likely to interrupt your stay, that is possible. The resort guarantees a transfer to a similar or better condo category if they have to modify your reservation this way.
4331 Kauai Beach Drive Lihue, Kauai, HI 96766
Set on the eastern side of Kauai and immediately adjacent to the island's commercial center, Kauai Beach Resort offers an impressive 25 acres of space complete with modern touches for a fantastic family stay.
Most of this resort's rooms fit four people, although some only fit two, so it's essential to check for that before you pick a spot. The suites are somewhat larger but also more comfortable for families, offering large floor plans and private balconies. The deluxe suite is the largest option at this resort and the only rental that can fit six people.
Wireless internet is standard throughout the hotel. Notably, some of the rooms are ADA-compliant, which makes this an excellent option for families with special needs. Most standard rooms here are about 320 square feet, and while televisions and desks are common, they're mainly places to sleep while you enjoy activities elsewhere.
Fortunately, those activities are plentiful thanks to the local shopping and outdoor activity options. If you're on a business trip, they have over 13,000 square feet of outdoor venue space, as well as a massive ballroom for larger group events. Meanwhile, kids can enjoy four pools, one of which is specifically kid-friendly with a sandy bottom and a waterslide.
Hot tubs and poolside lounges complete the experience, while the resort fee includes access to newspapers and magazines, an in-room safe, various drinks, and other benefits.
More about our TFVG Author
A seasoned traveller, Dad, and avid sports tourist, James foundered The Family Vacation Guide to share his expert vacation experiences- especially when it comes to being a travelling family man.
Featured in Travel articles such as Travel + Leisure, TripSavvy and SFGate, you know you're reading some of the best vacation tips online.