A Hawaiian family vacation is never a bad idea. These lush islands provide the perfect escape, with plenty of beaches, sunshine, and ocean waves. Of course, once you decide on Hawaii, you'll have to make a decision on which island to visit. 
Some of the islands are probably easy to rule out. The big island is fun, and Oahu is gorgeous, but for family travel, most tend to wobble between two places: Maui and Kauai.
Both of these islands offer fantastic beaches, stunning sights, and tons of recreational activities, which can make it tricky to decide between them. While Maui offers unique experiences like whale watching alongside luxurious resorts, Kauai delivers some of the best scenery in the world.
Comparing Maui vs. Kauai isn't easy to do, and you may find you're stuck between the two. If that's the case, read on.
Below we'll highlight all the differences between these two stunning islands, so you can pick the best one. 
Getting There 
Before you and your family can begin your vacation at either Hawaiian island, you have to get there. In general, getting to Maui is easier than getting to Kauai. Maui is a more popular destination, which means there are more flights.
Getting to either island is relatively straightforward if you're flying out of the west coast. There are typically direct flights to both from major airports like LAX and SeaTac. However, the number of flights directly to Kauai are limited compared to Maui.
In the midwest, Chicago offers direct flights to Maui but not to Kauai. And on the east coast, you'll have to catch a connecting flight regardless of where you choose to visit. Most of the time, you can catch a connecting flight in Oahu or Los Angeles. Again, though, there will be more connecting flights to Maui, making them easier to get.
The Verdict
Maui is the easier island to get to, especially if you're traveling from the midwest or east coast. If you're traveling from the west coast, though, you can get direct flights to either island.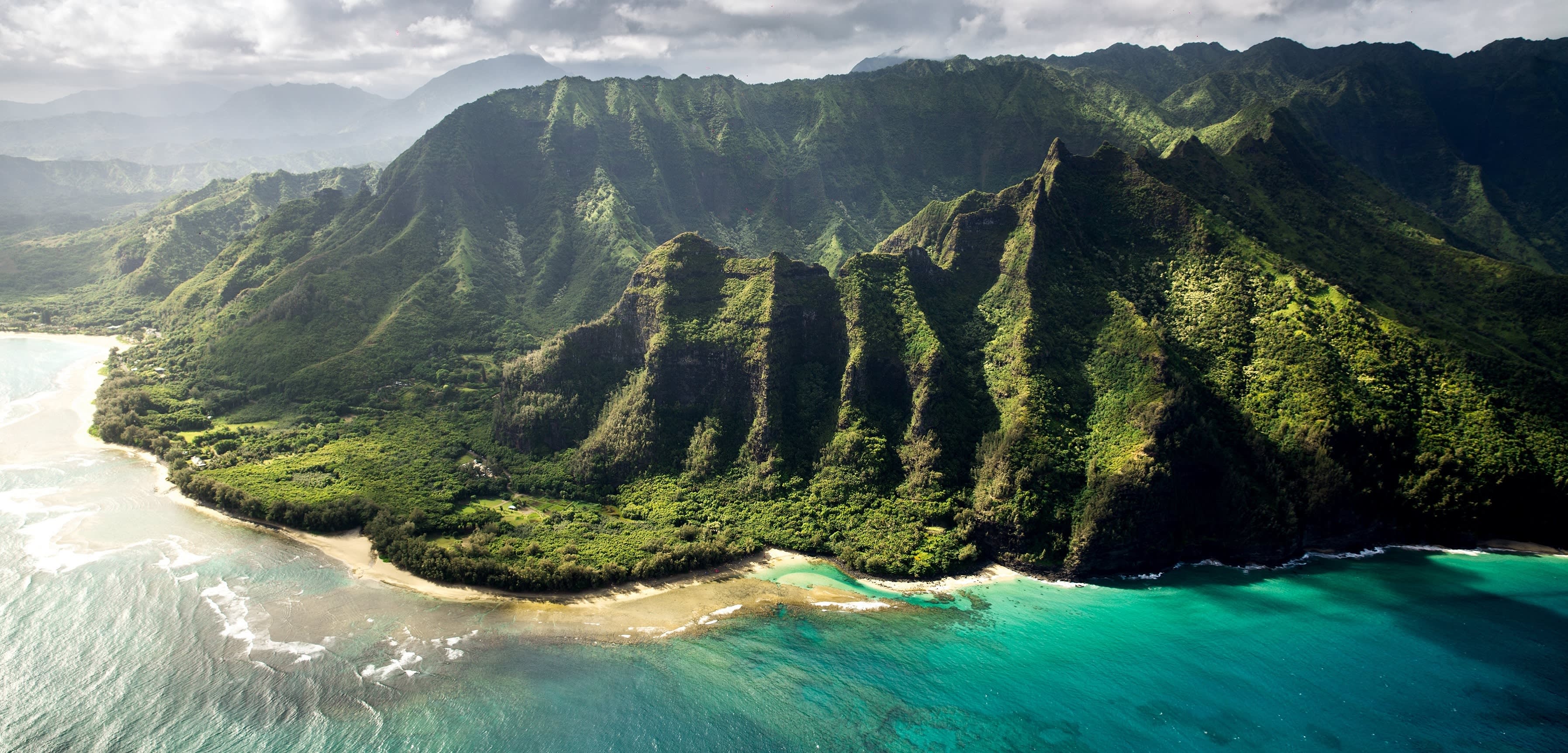 Weather
Your Hawaiian vacation dreams probably include plenty of sunshine and warm weather, even in the depths of winter. Hawaii can certainly deliver that, but each island has a slightly different weather pattern. Some of them are less warm and sunny than others.
Kauai Weather
Kauai is sometimes called the Garden Isle, and it's full of lush greenery. Of course, all that green is thanks to ample moisture. In the middle of July, Poipu, one of Kauai's top resort areas, offers about 2.5 inches of rain on average. In the winter, that number goes up to 3.5 inches.
That said, the temperatures are still warm, often in the upper seventies and eighties. And, though it rains on many afternoons, you'll probably never need a raincoat. The clouds tend to clear quickly, giving way to gorgeous rainbows and stunning blue skies.
Maui Weather
Maui, on the other hand, has a few rainy areas but is overall much drier. The west side of the island receives an average of 0.2 inches of rain in July. In December, that number climbs to 2.8 inches, still far lower than the 3.5 inches you'll see on Kauai.
The south side of Maui, which includes the popular resort town, Wailea, is comparable to the western regions. It's dry and sunny most of the time. Though the northern parts of Maui can receive significant amounts of rain, your Maui vacation is likely to be remarkably sunny.
The Verdict
Maui has more sunny days than Kauai. However, both islands are warm year-round, and the rain on Kauai probably won't inhibit your vacation plans.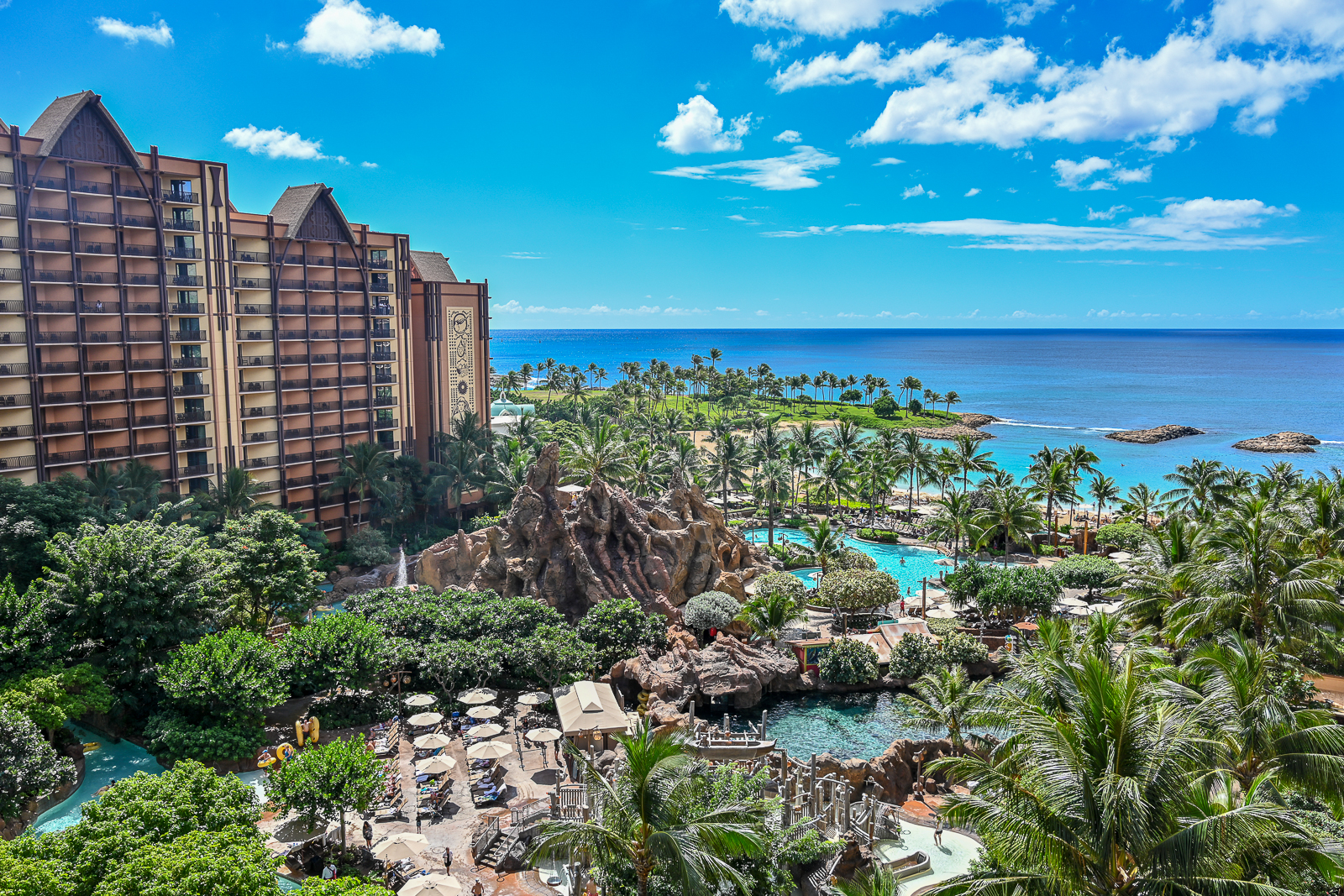 Resort Experience
When traveling with kids, the resort experience tends to mean a lot. Even with a whole ocean to explore, kids often flock to pools and their many amenities. For parents, having access to larger rooms with kitchenettes or living spaces can make all the difference.
Also nice is an active kid's club. That way children have plenty of activities to enjoy if parents need to take an hour or two to themselves.
Both Kauai and Maui offer family-friendly resorts, but Maui has several more to choose from.
Maui Resorts
The Hyatt Regency on Maui, for example, offers something for everyone in the family. It covers 40 acres of land and offers a golf course for mom and dad, along with a water park for the kids. There's also a spa, six different pool areas, and nightly luaus to participate in.
The Grand Wailea Resort is another popular choice for families. It features a tennis court and golf course as well as two pools, although one is adult-only. The resort also offers several kid-friendly activities, including hula lessons and whale watching.
Maui also offers numerous family-friendly vacation rentals on the beach. So, larger families can rent a multi-bedroom condo rather than book an expensive resort stay.
Many of these condo facilities still offer pool and spa access. And, they're often near large resorts, so you can still enjoy some of the resort amenities, like the luaus, restaurants, and bar facilities.
Kauai Resorts
Kauai offers a few resorts that cater to families, but the island is much smaller, and the areas to stay are fewer. That said, what the island does offer is breathtakingly beautiful.
In Poipu, the Grand Hyatt is the top place for families to stay. It offers an incredible pool area directly off the very safe Poipu Beach. Rooms within the resort are spacious and can easily accommodate kids. And, there are several excellent on-site dining options.
On the north side of Kauai sits the town of Princeville. Princeville is a little less family-friendly as it's far away from shopping and tends to experience more rain. However, it's gorgeous. In fact, movies like South Pacific and Pirates of the Caribbean used its stunning coastline for filming.
If you're looking to stay in Princeville, the Westin Princeville is a good choice for families. They offer spacious vacation villas to rent, a children's pool, and a family center designed to engage young children and toddlers.
The Verdict
Maui offers more resort and accommodation options to choose from than Kauai. Still, there are family-friendly places to stay on both islands. 
Beach Experience
Most Hawaii vacationers want to spend some time at the beach. Both Kauai and Maui offer exceptional beaches, but there are major differences between them.
Maui Beaches
Maui offers gorgeous golden strips of coastline as well as black and red sand beaches that are one of a kind.
Wailea beach is one of the most popular choices, and it's home to some of Maui's biggest resorts. Wailea offers relatively gentle waves that are perfect for children to swim and body surf in. However, it also tends to attract crowds. Celebrities have also been spotted there, which only makes the area more popular.
Kapalua Bay Beach is another great family choice. It's full of marine life that caters to snorkelers. There are parrotfish, turtles, and several other underwater creatures to find.
For a stunning sight, the family can also check out the black sands of Waianapanapa. It's along the Road to Hana and features several caves and lava tubes to explore. It's great for slightly older children who want to see something exceptional.
Kauai Beaches
Instead of narrow strips of beach, Kauai offers wide, white sand-covered coastline. Beaches like Poipu State Beach are exceptionally safe for children who want to swim, and they provide more space to spread out. There are rarely crowds like you'll see on Maui beaches.
On the north shore, you'll find Anini Beach, which offers another peaceful place for kids to play. It's protected by a large reef which keeps the bigger waves away. Paddleboarding is a great activity to try out here. You can also fish from the shoreline or snorkel in the calm waters.
There are several other breathtaking beaches on Kauai, but many of them are difficult to reach. They may require a hike in. That could be a fun adventure for older children, but with little ones, it might be hard to get to some of Kauai's more spectacular beach options.
The Verdict
Both islands offer exceptional beaches but in very different ways. If you want easy-to-reach, golden coastline and don't mind the crowds, Maui wins out.
However, if you'd rather enjoy a quiet, safe space for small children to swim or want to adventure into lesser-known beaches, Kauai is the best option. 
Things to See and Do
Both Kauai and Maui offer plenty of things to do and see for the entire family. Kauai tends to feature activities that are a bit more adventurous, while Maui offers more typical tourist experiences.
Kauai Things to See and Do
Kauai was where filmmakers created the Jurassic Park movies, and as you might imagine, that means it's teeming with jungle life. The lush greenery on this island is best viewed by hiking, and there are several worthwhile treks.
Kailua Ridge Trail is a favorite for families. At 3.7 miles, most children can handle it. It features a wide, well-maintained trail with stunning views and plenty of jungle life. Also popular is the Sleeping Giant Trail, which provides views of the mountains, the Wailua River, and the Pacific Ocean in a short, two-mile stretch.
If hiking isn't your family's forte, you might want to consider a river tour. Kauai has a 20-mile long jungle river that provides plenty of family fun. Wailea River is calm and gentle; there are no rapids, making it great for kayaking or paddleboarding with children. You'll see waterfalls, green landscapes, and natural caves.
If you don't want to paddle yourself, there are also guided boat tour options. Many of them will spotlight the popular Fern Grotto. Fern Grotto is a lava cave dripping with emerald-green ferns that grow from the cave's roof downward, creating a natural curtain.
Kauai is also home to Waimea Canyon, also called the Grand Canyon of the Pacific. This 14-mile long, 3,000 feet deep canyon is worth seeing. You can hike down it if you're feeling extra adventurous, but with kids, it might be best to drive to one of the look-out points. There you can snap a panoramic picture, perfect for a holiday card.
Also in Kauai is the renowned Napali coastline. This area of Hawaii is inaccessible by car, but you can get there by boat. It features incredible cliffs, green valleys, and stunning shores. Most of the boat tours offer snorkeling in the area. Because of Napali's remote nature, you're likely to see marine life that you might miss in other parts of Hawaii.
Families will also enjoy the Kauai coffee company. This coffee plantation features guided walking tours, plenty of coffee to sample, and lots of beans to buy. It's an excellent place to visit, especially when parents need a caffeine fix.
Maui Things to See and Do
Maui is a little more mainstream when it comes to activities. There are boat tours, snorkeling, and surfing lessons at every turn. And, everything is very easy to get to.
There's no need to hike, and sometimes you won't even need to drive. You can probably find many of Maui's recreational offerings directly outside your resort, if not within it.
If you're thinking of going with children or any age, the Road to Hana is a must-do. This twisting road features 600 turns through some of the most stunning island sights. You'll pass waterfalls, beaches of various colors, and several small communities. There are also plenty of hiking trails just off the road if that's your thing.
Also in Maui is the Haleakala volcano. This active volcano gives Maui its highest peak at just over 10,000 feet. Viewing the volcanic crater at sunrise is a popular activity and may be worth doing if you're traveling with older children or teens.
For toddlers and little ones, the Ocean Center Aquarium makes for a fantastic day. There, they can view the native Hawaiian ocean life, including sea turtles, octopuses, and sharks.
A pineapple tour is another great way to spend the day on Maui. Guides will drive you through golden fields where workers still cultivate pineapples by hand. The family will learn all about Hawaii's pineapple history, and, for the parents, there's a pineapple spirits distillery to enjoy at the end.
The Verdict
Both Kauai and Maui offer plenty to do, but Kauai features more adventurous options, including renowned hiking and jungle river cruises. Maui is a bit more accessible. The family can drive to most sights, and little walking or paddling is ever required.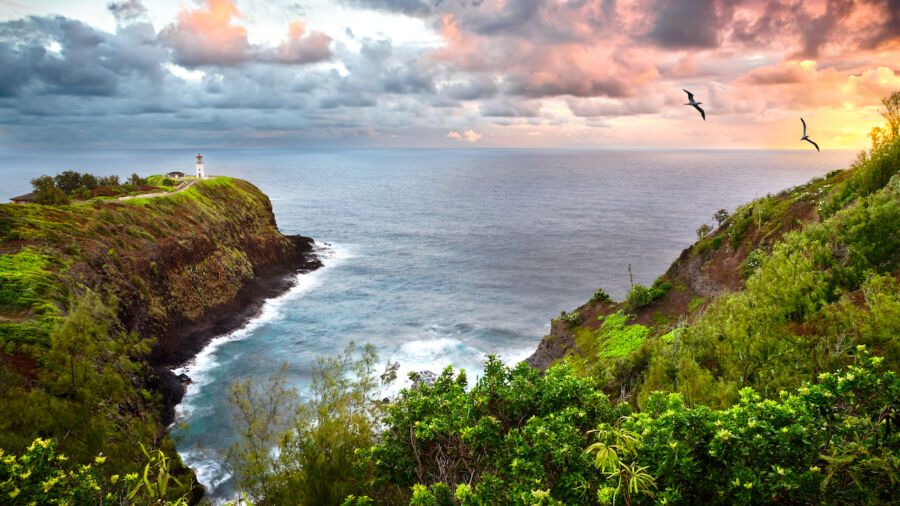 Wildlife
Each Hawaiian island has its own share of wildlife, including Maui and Kauai. What you see in Maui vs. Kauai will differ, though. Both islands feature lots of fish and sea turtles, as well as a variety of birds. But, there are certain animals that you'll only see on one island or the other.
Maui Wildlife
If you want to see whales, you need to go to Maui. From December through April of every year, Maui is home to the densest Humpback Whale population in the world. Over 10,000 humpbacks migrate to these warm, shallow waters, and they put on quite the show!
The whales are there to mate, give birth, and raise their young. Visitors can often see them from shore, or you can choose to get closer on a whale watching tour. Sometimes, you'll even get lucky from the air. With a helicopter tour during the right season, you may spot a few whale silhouettes in the water below.
Even cooler, you can usually hear the whales sing by simply putting your head beneath the waves. This makes snorkeling in Maui that much more exciting.
Kauai Wildlife
Whales don't flock to Kauai the way they do to Maui, but you'll still see unique wildlife on this island. Kauai is home to the infamous Hawaiian monk seals, one of the most endangered species in the world.
Technically, you can see monk seals on other Hawaiian islands as well, but in Kauai, they tend to be more plentiful, especially in Poipu.
Monk seals sleep on even the most popular Kauai beaches in small groups. They're highly protected and territorial, so it's best not to get close. Still, they're a fun sight to see for both the young and the old.
Also inherent to Kauai are wild chickens. According to local lore, these chickens were once domesticated but escaped their pens during hurricanes in 1982 and 1992. Now, they roam free across the island in vast amounts, sporting impressive and bright-colored combs. You'll see them everywhere, from the beaches to restaurant patios.
The Verdict
If you're traveling from December to April, Maui will have whales which are a must-see. However, at other points during the year, the wildlife on the two islands is similar. Kaui does have more monk seals and their ever-famous wild chickens.  
Food and Beverage Options
If you and your family are foodies, both Kauai and Maui offer exceptional options. However, the two islands sport very different styles. While Kauai tends to feature laid-back fare, Maui offers more gourmet dining.
Maui Food and Beverage
In Maui, you'll be able to experience truly gourmet cuisine. Restaurants like Mama's Fish House, Nick's Fishmarket, and The Restaurant at the Wailea Hotel (formerly Capiche?) offer top-notch seasonal dishes that rival the best in the world.
However, many of these gourmet options aren't exactly kid-friendly. They'll work great if you're traveling with teens or want a parents-night out.
That's not to say there's no casual food available in Maui. There are plenty of shaved ice and taco stands. But if you're looking for incredible dining, most of the options on Maui are pricey and cater to adults rather than children.
Kauai Food and Beverage
Kauai has a few casual dining options that are pure gems. Puka Dog, for example, was chosen by Travel Channel as one of the "Top 10 Hot Dog Stands in America." Its tropical relishes truly remake the typical hot dog.
There are also several food trucks in Kauai that have cult followings, like Porky's Kauai and Chip Wrecked.
Then, there are the must-have burritos at the hole-in-the-wall restaurant called Da Crack. Eating Mexican food on a Hawaiian island may seem odd, but chances are the entire family will love this casual walk-up restaurant.
Kauai has its share of gourmet options as well, especially inside the resorts, but food trucks and diners tend to thrive in this laid-back paradise.
The Verdict
Maui has several very impressive restaurants, but if you're traveling with children, it may be hard to take advantage of them. Meanwhile, Kauai is a foodie paradise where many of the best options are casual and family-friendly. 
Other Things to Consider
Before deciding between Maui vs. Kaui, there are a few other things to think about.
Crowds
First, you should consider the crowds. Maui is a much more popular destination, and everything you do there will likely be crawling with other travelers. You'll need to make reservations for activities before you arrive, especially if you're traveling during prime vacation time, like summer or during the holidays.
That's not to say you shouldn't make reservations for things on Kauai as well. It's a much smaller island, and activities can fill up fast. However, there will be nowhere near the crowds you'd find on a Maui beach, even at summer's peak.
Accessibility
Secondly, you should think about accessibility. It's fairly easy to get around on Maui, and if you're in a resort area, you may get by without a car. In Kauai, however, you'll need a rental vehicle.
Even with a car in Kauai, though, it's important to note that most of the coastline is inaccessible. So to really see the island in full, you'll need to take a helicopter ride or spend a day on a boat. And, because Kauai only has one small highway, expect traffic whenever you decide to go exploring.
Overall Vibe
Finally, it's crucial to understand that Kauai is a much calmer island. Restaurants and stores tend to close well before 10 p.m. That might not be a problem if you're traveling with children unless you and your spouse were hoping to sneak out for a nightcap.
Still, it can be incredibly inconvenient to discover you need something in the middle of the night and can't get it. If a kid comes down with a fever and you need Tylenol, finding an open store in Kauai can be a challenge.
That's not going to be the case on Maui. Maui doesn't offer a crazy nightlife experience or anything like that, but it's a bigger island with more resources should you need them.
The Final Verdict: Maui vs. Kauai
When it comes to deciding between Maui vs. Kauai, it greatly depends on your family goals and style.
If your family is adventurous, likes to hike, and spend time outdoors, Kauai might be the better option. There you can explore a literal jungle paradise. Between the Wailua River, Waimea Canyon, and the gorgeous Napali coastline, there's plenty to see. However, much of it is difficult to get to.
Maui offers easier accessibility to sights of interest, which may make it a better option if you're traveling with small children or anyone elderly. It's a bigger and more popular island with a wide range of resorts and accommodations. It's also sunnier and perhaps the best place in the world to see Humpback whales.
In the end, both islands are exceptional destinations, and you'll likely be happy in either place. So, pick the one that suits your family's style best and be ready to plan a second trip to the other island as soon as you can!
More about our TFVG Author
A seasoned traveller, Dad, and avid sports tourist, James foundered The Family Vacation Guide to share his expert vacation experiences- especially when it comes to being a travelling family man.
Featured in Travel articles such as Travel + Leisure, TripSavvy and SFGate, you know you're reading some of the best vacation tips online.