You may never have been to Indianapolis in Indiana. Perhaps you have, but it was a long while ago. Things have changed in the city over the past few years. Gardens, parks, and museums now take pride of place in this once-weary-looking state capital. Fortunately for visitors, many of these new attractions offer free admission to those who come calling.
Downtown Indianapolis is entirely transformed. The World-class facilities like the Indianapolis Motor Speedway, home of the Indy 500, and the Indianapolis Colts Lucas Oil Stadium have received a breath of life. Those in charge have built affordability into their plans. As a result, every way you turn, there are free things to do in Indianapolis for families.
Let's take some time to look at some of the free options for families on a tight budget in Hoosier state's capital city.
Indianapolis Cultural Trail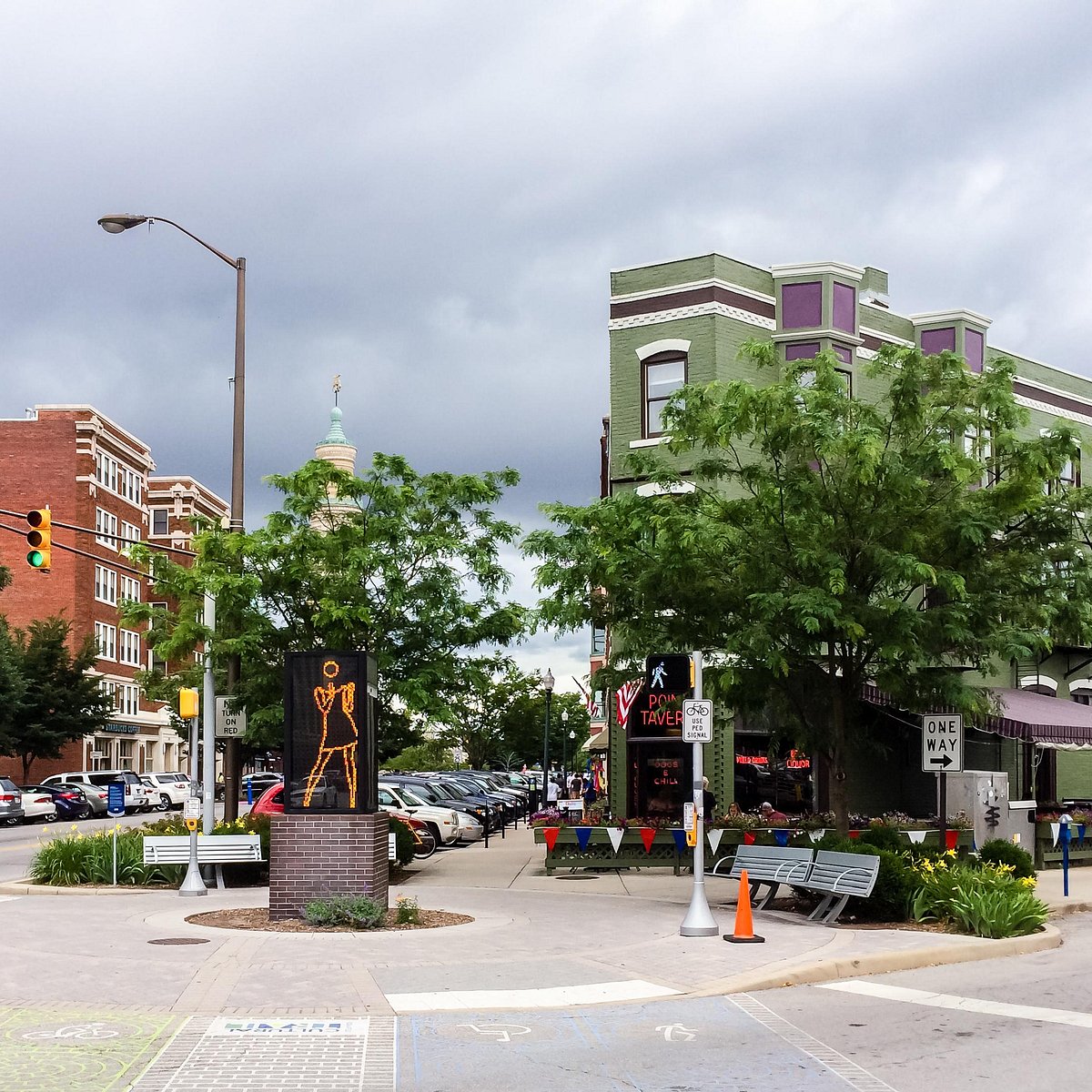 The Indianapolis Cultural Trail incorporates 8 miles of connecting pathways perfect for walking, running, or biking. At the cost of $63 million, the Cultural Trail in downtown Indianapolis connects the city's cultural districts.
If you're fit and healthy, you'll find this an economical alternative to public transport for exploring Indianapolis. It allows you to peruse the works of public art that line the way, initiated by the city at the cost of $26 million.
Another alternative is to take a slow walk down the 3-mile-long Canal Walk in downtown Indianapolis. These paved walkways are on either side of the Central Canal in White River State Park. This affords you the chance to feel the great outdoors and take in the fresh air. Venetian-like gondolas and pedal boats line the White River. A peaceful and relaxed ambiance within the urban environment exists.
White River State Park
The 250 scenic acres of White River State Park in downtown Indianapolis offer many top-level destinations. There are phenomenal attractions all year round. Visitors can expect memorable and unique experiences in an environment mixing waterways, trees, greenspaces, and trails with contemporary attractions of all types.
There are some engaging recreational, cultural, and educational activities within White River State Park. These include the Indianapolis Zoo, the TCU Amphitheater, and the Indianapolis Museum. When you add an IMAX Theater, the NCAA Hall of Champions, and the Eiteljorg Museum, you're not short of activities for the entire family, although some of these do cost money.
We're not done yet. Victory Field, home of Indian baseball, and the Central Canal mentioned earlier are within the park's confines. Several free and paid events take place monthly, with a host of free summer concerts by local artists. You're in for a real treat as a visitor to Indianapolis.
Artspark
Artspark forms part of the Indianapolis Art Center and is one of the many free things to do in Indianapolis. This outdoor creative gallery covers 9.5 acres. There's vast ground to cover, looking at the incredibly unique art pieces Artspark incorporates.
Your youngsters will be confounded by some, fascinated by others, and amused by a few art pieces too. The great thing is that there'll be a reaction, meaning they'll be gaining something from looking. This is part of what the Indianapolis Art Center is trying to achieve.
Sculptures litter the landscape. You'll have time to study certain pieces while your kids expend energy trying to cover the whole park. Your entire family is likely to find stimulation in something on display. You'll leave with a greater appreciation for outdoor art and the beauty of its surrounding natural environment. Don't forget your camera.
Indianapolis City Market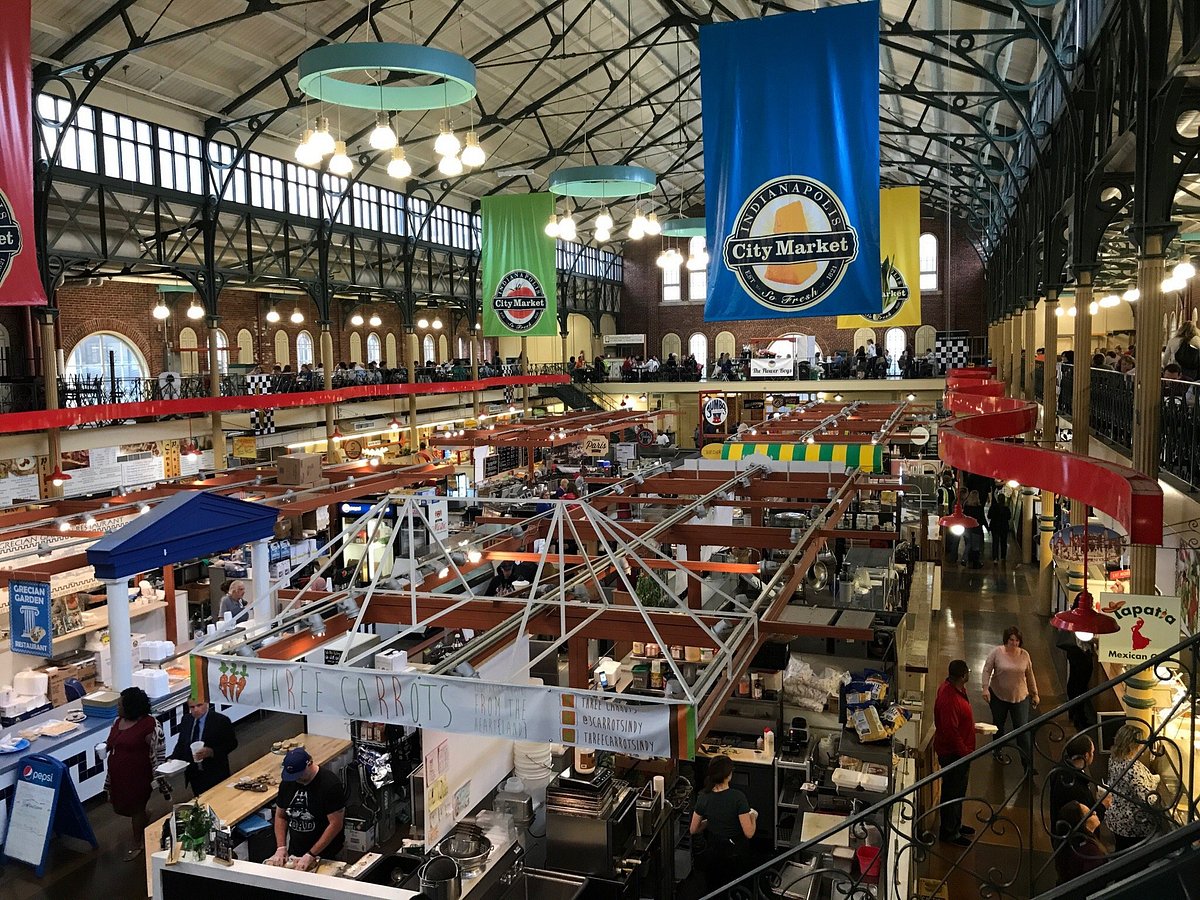 Perhaps the Indianapolis City Market isn't really a free attraction. You're not going to spend money for entry into the market itself. It's free admission, but once you're inside, you'll be tempted by the selection of eateries and local artisan stalls. In all, there are more than 30 stalls, making Indianapolis City Market one of the top urban markets in the city.
The Indianapolis City Market is listed on a National Register of Historic Places and was first opened in 1886. If you want to pay the tour price, you can take a guided tour deep into the Roman-style catacombs beneath Whistler Plaza, which forms part of the market. We know you're not going to Indianapolis City Market to spend money, though, so enjoy the experience!
Produce vendors and local farmers gather for the Original Farmer's Market at the Indianapolis City Market. It's a weekly Wednesday occurrence from May to October. The gathering is a sight to behold. All local farmers and produce vendors display cheese, meat, baked goods, spices, and herbs for visitors to buy.
If you choose to spend some money, you will reward yourself with healthy, organic, and fresh food while supporting local farmers. The Original Farmer's Market opens at 10 am and closes at 1.30 pm. Parents, expect pestering from your kids, so if you're planning to attend, take some extra cash. If you don't want to, postpone your trip to another day of the week!
Children's Museum of Indianapolis
Many past and present visitors regard the Children's Museum of Indianapolis as one of North America's top children's museums. It's undisputedly the largest one in the world, offering free fun to kids of all ages (on certain days of the year).
Children under two never pay, and families get free admission on holidays, including Martin Luther King Jr. Day and Christmas Eve. There's a $6 discount offered on the first Thursday of every month, with free parking and a permanent fixture.
The latest exhibit at the Children's Museum of Indianapolis is SCOOBY-DOO!™ Mansion Mayhem. Children enter the mansion and immerse themselves in the world of the lovable canine cartoon character.
The NEW Dinosphere® is a new and improved version of the 2004 exhibit and is wowing a brand new generation of kids every day. Take advantage of the included holidays at the children's museum. Give your kids one of the free things to do in Indianapolis that they'll never forget!
Monument Circle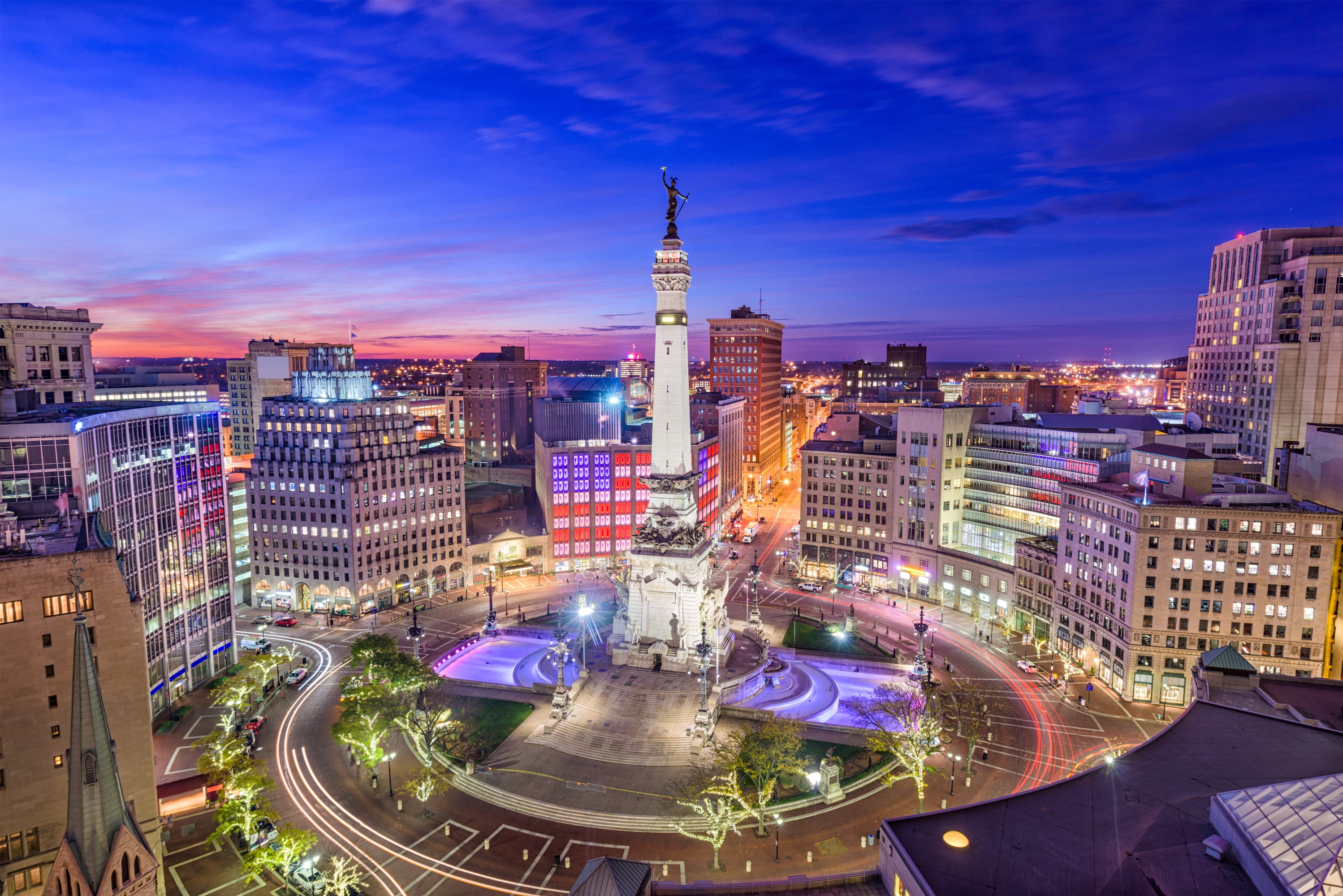 There are many great free things to do in the Indianapolis center around Monument Circle. The Indiana Soldiers and Sailors Monument towers over Monument Circle. It is a memorial to the Hoosiers who served and lost their lives in a procession of wars. The 284.5-foot monument is only 15 feet the junior of the Statue of Liberty in height.
The monument's observation deck provides views of Indianapolis from 275 feet above the ground. It's not an easy task getting to the deck, as you'll have to negotiate all 331 steps before arriving at your destination. It's quite a challenge, but there is a solution for young children and those with lesser stamina levels – an elevator takes you almost to the top for $2.
All veterans ride for free, as a dedication to their service and those Hoosiers that fought in following wars, in honor of whom the monument stands:-
Revolutionary War
War of 1812
Mexican War
Civil War
Frontier Wars
Spanish-American War
Choose one of the other free things to do in Indianapolis with your family on public holidays because The Soldiers and Sailors Monument is closed on all state and national holidays besides Veteran's Day and Memorial Day. Besides the holidays, you can gain access all year round, where the sheer height of the experience will leave every family member wide-eyed.
Also at Monument Circle, you'll find the Colonel Eli Lilly Civil War Museum. It stands on the lowest level of the Soldiers and Sailors Monument. You'll receive much free insight into the Civil War's effect on the Indiana population from this museum.
Finally, every night at the circle, Shining a Light takes place. Shining a Light originated in 2019 as a tribute to United States war veterans. It's a nightly light show that only lasts for five minutes, but sees people flocking to the location to watch it happen.
The Monument, the circle, and many other buildings nearby light up to music by the Indianapolis Symphony Orchestra. Videos and photos are projected onto the walls to honor those servicemen lost in battle. Although it's over quickly, it creates a poignant, lasting memory. It's one of the free things you can truly savor.
Indiana War Memorial Museum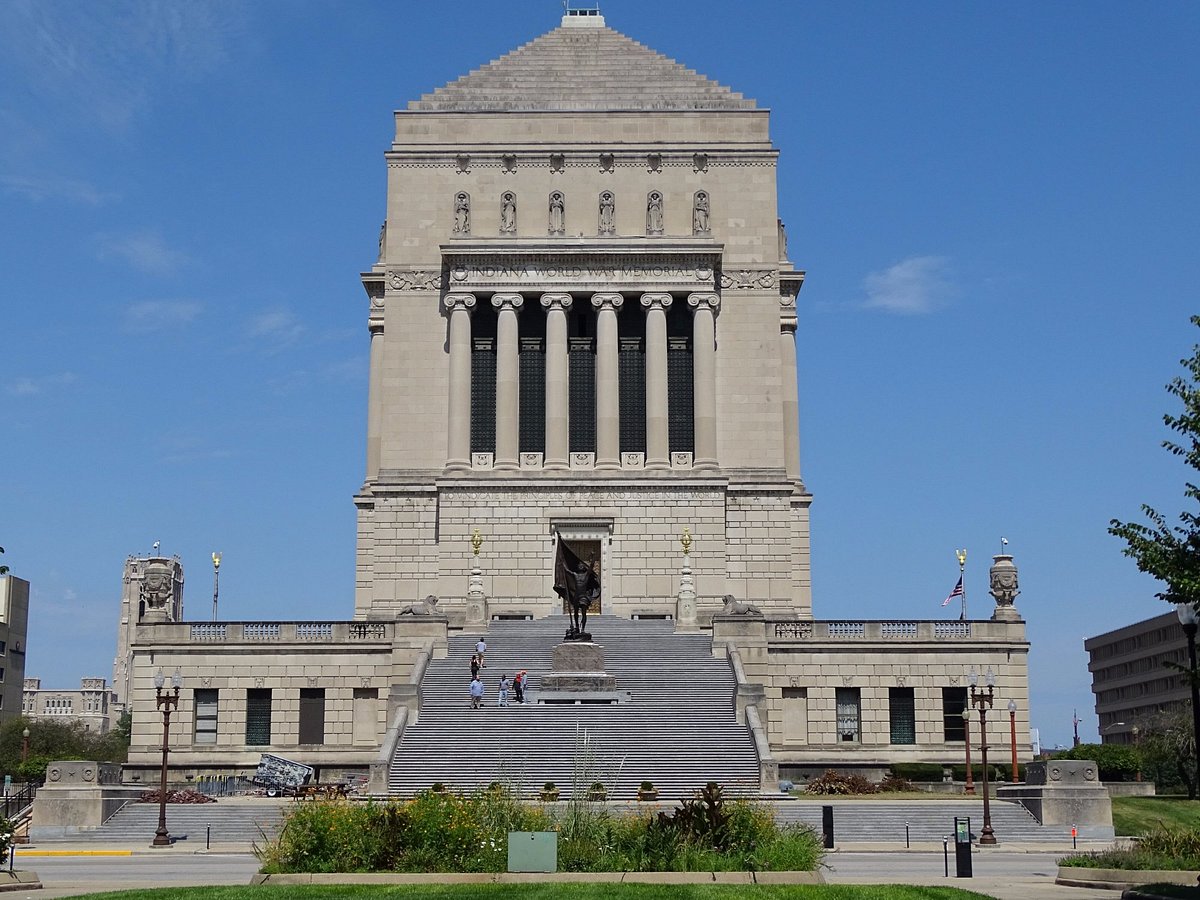 Seeing as we're on the subject of war, let's look at another of the war-related free things to do in Indianapolis. Bring your teenage boys with you to the Indiana War Memorial Museum on any day, Wednesday to Sunday. They'll see exhibits showcasing Indiana's military history.
The displays go back as far as the 1811 Battle of Tippecanoe. President Benjamin Harrison of the Indiana Territory led his troops in battle against the American-Indian forces of "The Prophet" Tenskwatawa.
Different artifacts include an AH-1 Cobra helicopter and an ensemble of military uniforms and weapons. There are also over 400 military flags and a replica of the Liberty Bell.
The gallery of the USS Indianapolis also stands in the Indiana War Memorial Museum. A Japanese submarine sank the USS Indianapolis shortly after it had delivered some parts used in the Atomic bombs dropped on Japan. The Indiana War Museum is one of the country's important historic sites, and any history student will find a visit valuable.
American Legion Mall
Let's move on to some lighter (and free) entertainment. Fancy a free movie or two? Pack your lawn chairs and blankets and head out for a fantastic Thursday outdoor experience. There are free movies on the lawns outside the American Legion Mall! The films show outside to enhance the experience. Who doesn't enjoy watching some great motion pictures under the stars?
If you're feeling peckish, there are food trucks on site that will fix your cravings and fill your tummy while watching. With the right snacks and drinks on hand, the experience will be even more fulfilling!
The American Legion isn't the only place to find top-class free outdoor entertainment in Indianapolis. Several of the city's public parks host visual art exhibits and free concerts featuring regional and local artists. Check your local listings to see where and when these are taking place. A number of the sites will feature on the Indianapolis Cultural Trail.
Concerts on the Canal
The Kruse Family Stardust Terrace hosts Concerts on the Canal at the Indiana History Center. The free event takes place every Thursday evening during June and July. So do you do the free films at American Legion or the free Concert on the Canal? We'll leave that to you to decide!
This series of summer concerts are a well-supported set of events on the Indianapolis calendar. Live music from a host of local and regional rock and pop acts of the caliber of My Yellow Rickshaw and Cool City Band encourages fantastic turnouts. Attendees can bring their food and soft drinks, but alcohol should be bought on-site.
You can find free seating on the grass but would need to reserve table seats at a cost. If you're worried about rain, the organizers have got that covered. If the weather turns nasty, the Frank and Katrina Basile Theater, found on the campus of the History Center, takes over to host the event.
Indianapolis Artsgarden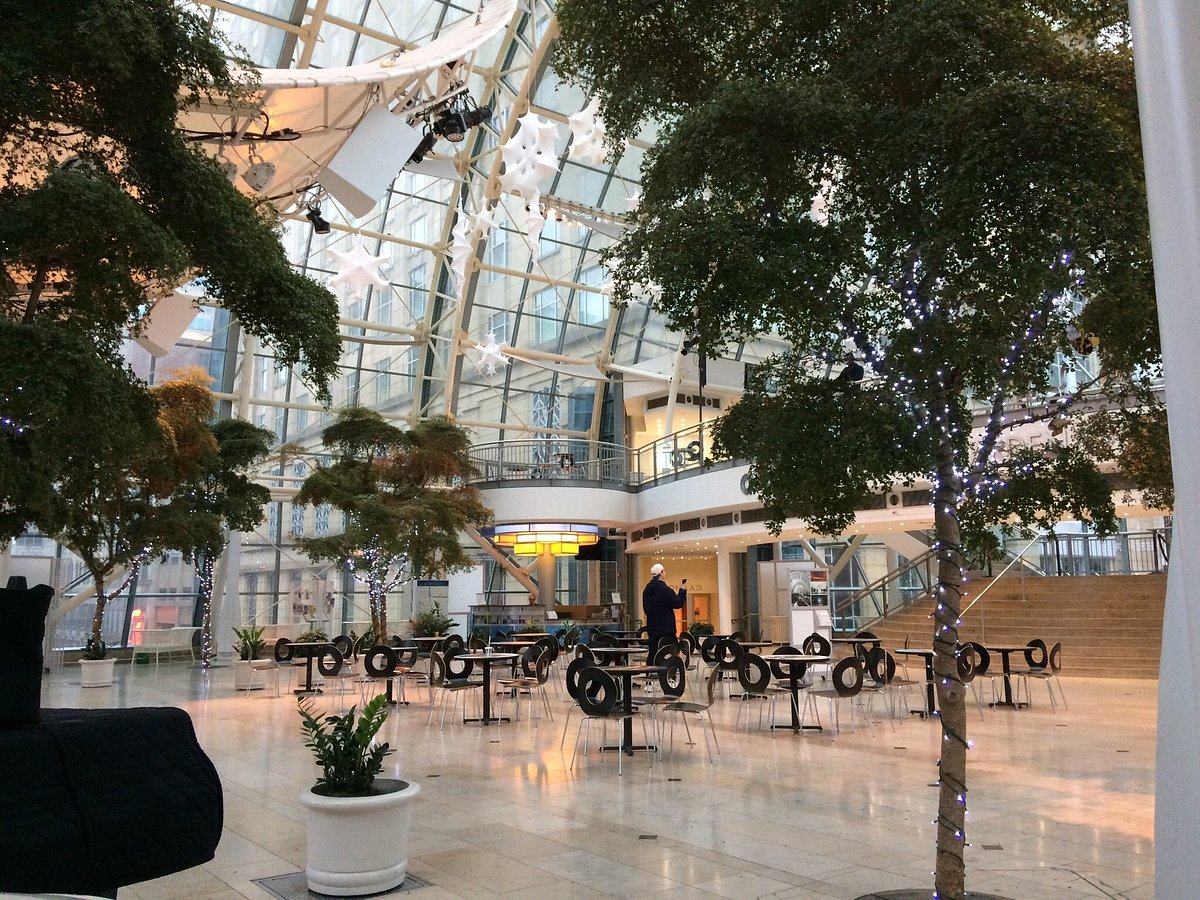 The Indianapolis Arts Garden is a dome-like glass enclosure making up part of the Circle Centre Mall. It's a prolific venue for free events in Indianapolis, playing host to over 250 activities. These include festivals and fairs, and live music performances. The activities also include lectures, visual art exhibits, dance shows, storytelling, and films.
You'll find the Cultural Concierge at the Indianapolis Artsgarden too. The Concierge is a hub where you can obtain pretty much any information about Indianapolis art and culture. You'll get travel guides, ticket info, directions, and free maps to multiple artsy events and activities in the city.
The Indianapolis Artsgarden is seven stories high, suspended almost 20 feet above Washington st. and Illinois st. intersection. Even when there's no performance, it's a great place to sit and watch the bustling city and the Washington street traffic from above.
The Indianapolis Artsgarden serves an essential purpose in the city and is always will be one of the best free things to do in Indianapolis.
Highland Park
Highland Park lives up to its name as the second most elevated place in Indianapolis. It's the perfect community park to bring your youngsters and fur babies to run around being kids, and well, fur babies! The park is just over four acres. It means there's an expansive place for activity and provides enough privacy for an enjoyable family picnic.
Its elevated position overlooking the Holy Cross neighborhood makes the park popular for flying kites. If you haven't yet, take the opportunity to share this incredible bonding experience with your kids.
One of the regal Oak trees in Highland Park is rumored to have been planted by Indiana Governor Noah Noble's wife in his memory. The governor passed away in 1844, meaning, if the rumors are to be believed, the tree has stood for almost 180 years! Its trunk currently measures nearly 36 inches in diameter. Keep your kites away from that one!
Crown Hill Cemetery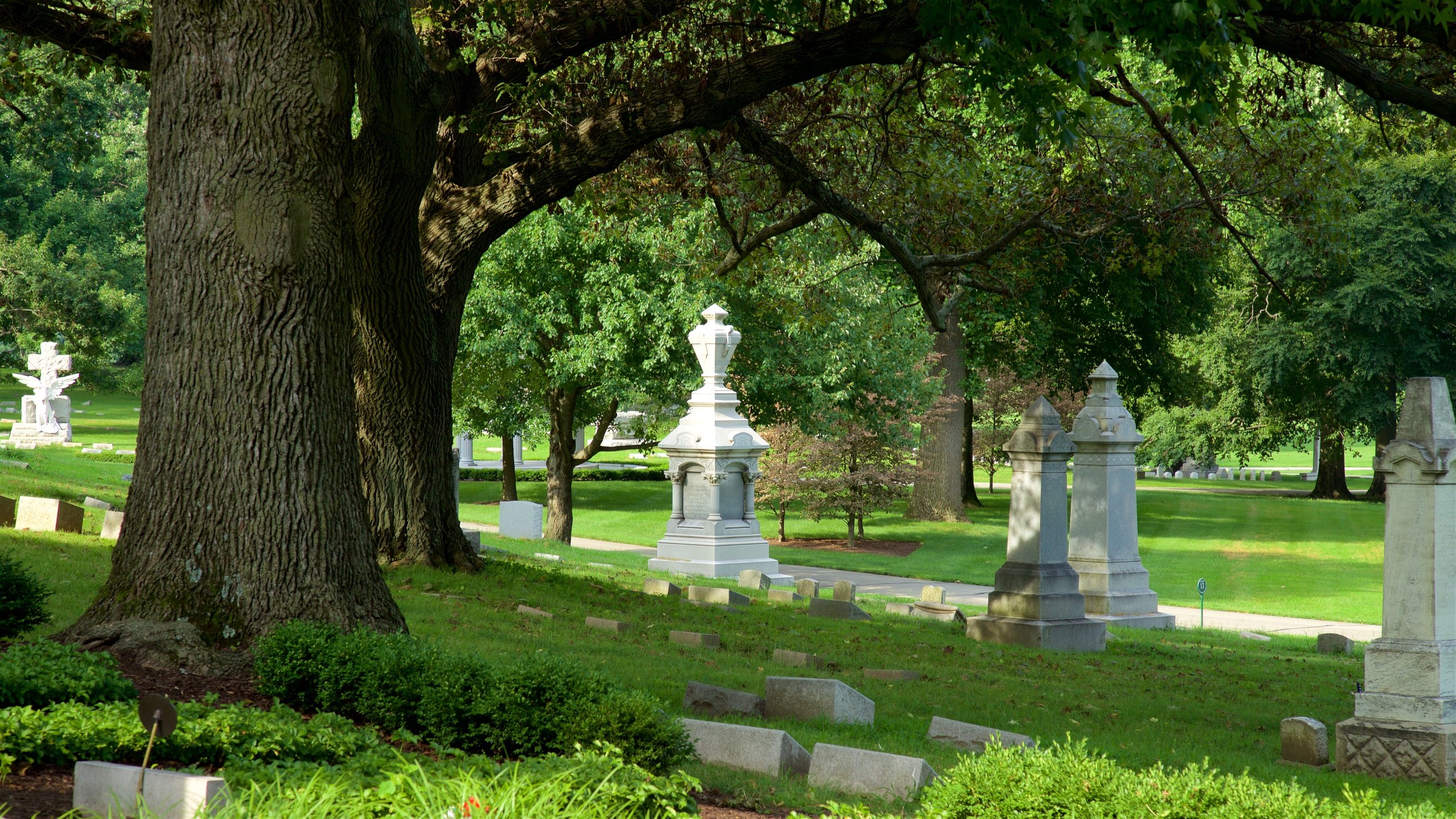 Crown Hill Cemetery was opened in 1862 and allows you to show your family the resting places of some distinguished Americans. Another reason people come to the cemetery is to marvel at the architecture on display. Crown Hill is massive. At 555 acres, it is suitable for exercise by jogging or walking the paths between the headstones.
You could join a guided tour if you're interested in finding out which politician or poet is buried where, but it isn't free. Instead, take some time and walk the grave sites yourself. Even if you don't get to see all the names, many headstones display love and sentiment towards those buried there. Others remain in immaculate condition after many years in the open.
President Benjamin Harrison, the 23rd President of the United States, is the most notable person buried in the graveyard. Two U.S. Vice-Presidents and the Hoosier Poet James Whitcomb Riley also rest in peace within Crown Hill.
War Hero Colonel Eli Lilly and infamous bank robber John Dillenger, America's first "Public Enemy #1", are a further unlikely pair beneath the earth of the cemetery.
Indiana State Capitol
Over 60,000 guests visit the Indiana State Capitol every year. This fact indicates that it is among the most popular free things to do in Indianapolis. This most significant of historic sites is a must-see for budding young politicians and appreciators of fine architecture alike. With its Renaissance Revival Style infrastructure, it stands out among classic state buildings.
The Capitol is a historical landmark site in Indianapolis, listed on the National Register of Historic Places. Two free guided tours are available:-
The School Tour caters to groups of up to 100 guests. It covers the building's history and that of the state. The tour also gives architectural insights into the structure and how the state government operates. It visits a chamber, courtroom, and executive office of various government departments. The tour lasts between an hour and 90 minutes.
The Statehouse Tour takes you through some chambers and offices of three government branches. The guide discusses these branches during this comprehensive 30 to 45-minute tour. They'll also provide insight into the building's architecture and history.
We suggest you take your family on the guided Statehouse Tour. It will provide more than enough relevant information and won't take up your whole day. After all, there's so much to do in Indianapolis for free, isn't there?
Sunrise Yoga on the Canal
Sunrise Yoga on the Canal is an organized early-morning Yoga experience that takes place every Wednesday morning. You're invited to bring a mat and some workout clothes and experience a way to begin your day in a fresh, mindful, and calm manner. It's best to sign up online, so the event organizers have an idea of numbers.
Rope your whole family in and make it an experience you share together. When dawn breaks in front of the flowing waters of the Canal's northern end, even a grumpy child will experience how uplifting and peaceful Yoga is. There's no cost involved, which makes Sunrise Yoga on the Canal the most uplifting of free things to do in Indianapolis.
Antique Fan Museum
We'll end our list of free things to do in Indianapolis with this original offering. The Antique Fan Museum in Zionsville offers free admission to the public. The museum is home to over 2,000 historic and antique fan models. It relocated from Wichita to Indianapolis in 2009 after a 12-year stint in Kansas.
The museum's new home is Fanimation in Bennett Technology Park. It houses collections of fans, including water, steam, battery, and electric-powered fans. Also on display is a collection of handheld fans going back as far as the 1880s. The public can visit the museum during working hours on Monday to Friday, parking next door in the Technology Park.
Your family may or may not become fans of fans after visiting the Antique Fan Museum, but we're sure you're all fans of Indianapolis!
FAQs
Is the Virginia B. Fairbanks Art & Nature Park free to enter?
The Virginia B. Fairbanks Art & Nature Park, known to locals as 100 Acres, is a free park on the Newfields campus riverfront. It encourages the enjoyment of art while appreciating the surrounding nature. You'll find contemporary art pieces along the trails. All trails lead through forests and the most extensive pollinator meadow in Indianapolis.
Are children welcome at the Indianapolis Artsgarden?
Not only are children welcome at the Indianapolis Artsgarden, but there are often events and activities planned with them in mind. It's the perfect place to bring your family and watch a performance or look through the displays. The Artsgarden is also available to rent for birthday parties, weddings, and private events.
More about our TFVG Author