It is time to break the stereotype about family weekend getaways only happening in tropical places. Though a Midwestern state, Indiana has plenty of cool places to take the family when you just need to get away from it all.
Here's our guide to the best weekend getaways for families in Indiana.
Michigan City/Long Beach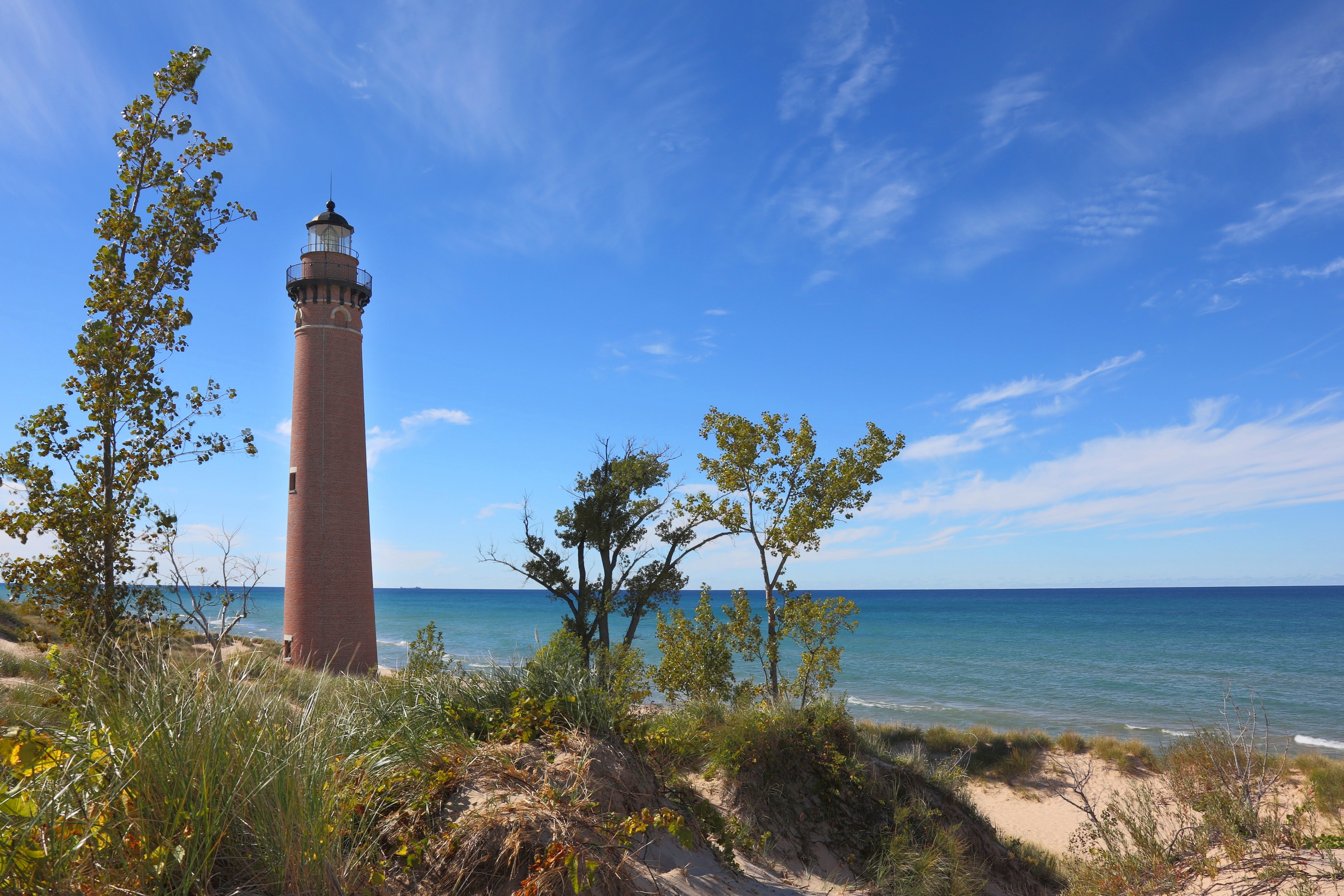 Michigan City and Long Beach are just a few miles from the shores of Lake Michigan, with plenty of historic and family-friendly places to enjoy.
A Thriving Arts and Theater District
The Michigan City Arts District is a thriving street full of shops, restaurants, and pubs. If you happen by in the summertime, you can catch a show at the Canterbury Summer Theater, but the Footlight Theater has shows running all year round. If you are around for the Fourth of July, you may see the annual parade go down the street.
Shopping at Lighthouse Place Premium Outlets
Lighthouse Place Premium Outlets sports clothing, toys, houseware, and food from several popular retailers. It is a short drive away from the Michigan City Arts District and Franklin Street, where you will find several restaurants, motels, and shops.
A Magnificent Beach
The Lake Michigan beach is by far the biggest attraction in Michigan City. On a clear evening, you may sometimes see the Chicago skyline or capture a fantastic sunset.
You can even walk into Lake Michigan, collecting beach glass from the water as you go. Plus, you can traverse the Indiana Dunes, which recently became a national park.
Spend a Night at the Brewery Lodge
Michigan City is full of one-of-a-kind motels, but the Brewery Lodge, located just off Highway 212, provides the perfect rustic experience. You can stay in a unique room with a dining and entertainment area right by the front desk, with a lovely pond and forest views outside every window.
Indianapolis
We cannot forget the capital city itself! In a city like Indianapolis, there is something for everyone in the family to enjoy.
The Indianapolis Museum of Art
Art lovers will love perusing the galleries at the Indianapolis Museum of Art (also called Newfields). The extensive gardens offer room for play and exploration, with an orchard, winding paths, a giant lawn, and even an old manor to tour.
Downtown at the Circle Monument
If you want to tour downtown Indianapolis, make a stop at the Circle Monument for a family picture. You can stop by the Rocket Fizz candy store or the South Bend Chocolate Company for a sweet treat before taking a carriage ride through the city.
See a Show
The theater-lovers in your family will enjoy seeing a show at the Old National Centre or Clowes Memorial Hall at Butler University. Both have amazing shows all year round, including plays, musicals, and ballets.
Children's Museum of Indianapolis
We also cannot forget the Children's Museum of Indianapolis, the largest children's museum in the country. If you are not impressed by the stunning facade of dinosaurs breaking out of the museum, we do not know what will.
The museum includes live theater shows and several interactive exhibits to engage and delight children of every age.
Holliday Park Nature Center
Indiana sports plenty of hiking trails and parks. Holliday Park Nature Center is a great family park. It includes several forest trails, and some even follow the beautiful White River.
There may be some clear spots on the river's shore where you can set up a picnic or do a little fishing. If you walk the park grounds, you can play in the fountain near the Holliday Park Ruins or use the regular playground close to the entrance.
White River State Park
The White River State Park makes for a relaxing day no matter the time of year. You can walk across the bridge crossing the White River and take pictures with all the statues and landmarks along the way. At one end of the bridge, you will find the Indianapolis Zoo, full of incredible animals available for viewing all year round.
The Indiana State Museum takes visitors on a journey through time and space, showing the growth and civilization of the land that would become the state of Indiana. The museum even includes an IMAX 3-D theater that showcases educational and entertaining films for all ages.
Central Canal
After you journey across White River State Park, you can walk down to the Central Canal, full of shops, restaurants, and apartments.
You can even rent a four-person paddleboat for either 30 or 60-minute rides up and down the canal in the warmer seasons. Watch out for the geese and ducks that congregate along the sides of the water.
Better yet, look out for the gondolas that sometimes carry newlyweds or families down the canal, complete with a serenading captain. The paddleboat rental station even offers water bottles and ice cream if you need a quick cool-off.
Bloomington
Bloomington may seem like a simple college town at first glance, but there is far more to it than meets the eye.
Bike Trails and National Forests
If your family likes bike rides, you can enjoy the B-line bike trail, which runs almost four miles through downtown Bloomington.
The Hoosier National Forest is an excellent alternative if your family likes long nature walks, and you can even rent a cabin on forest grounds for a camping trip. You are free to have campfires on the designated camping grounds as long as you follow park decorum.
Tour the Indiana University Bloomington Campus
Of course, the Indiana Bloomington campus offers some family fun too. You can take a walk throughout the campus before exploring the surrounding restaurants and shops. We suggest getting a bite to eat at Kilroy's Bar and Grill before getting dessert at The Chocolate Moose (we recommend getting their soft serve chocolate-vanilla swirl).
Enjoy a Local Park
For summertime visits, Bloomington has plenty of outdoor parks, including some with splash areas. For example, Switchyard Park and Lower Cascades Park have regular playgrounds but include places to splash and play. Switchyard Park includes both a splash pad and a dog park where your furry friends can play.
Nashville
No, we do not mean Nashville, Tennessee. Like that city, though, Nashville, Indiana has plenty to offer for people just stopping through or who want a weekend getaway.
Drive Through Scenic Forests
The drive into Nashville is fun by itself, driving through scenic forests that open out onto vast expanses of hills. If you are driving on US 31, you may find a picnic nook with a fantastic view of the surrounding forest.
Check Out Local Candy Shops
Nashville has several cute and fun shops to sift through. You will find a few sweets shops that sell popcorn in fun and unique flavors, like the Candy Emporium or the Carmel Corn Cottage. There is almost always a kettle corn stand by the parking lots scattered throughout the town.
Rustic Hotels
The lodgings are also pretty unique. The Brown County Inn has a charming farm quality and is a short drive from the Brown County State Park. The Lil Black Bear Inn is pet-friendly, with a different color scheme in each room.
Brown County State Park
Brown County State Park has almost 16,000 acres of incredible hills and ravines formed from glacier meltwaters of the most recent ice age. If you are looking for a spot with plenty of fall colors, this particular state park has several vistas and streets blooming with trees.
Along with the usual campgrounds and trails, you can go on a guided horse ride. If you have your own horse, you can go to the horseman campground close by to enjoy over 70 miles of trails.
We suggest climbing the 90′ Fire Tower to see the famous "hills o' Brown," which stopped ice age glaciers in their path thousands of years ago. There is a rare Yellowwood tree on Trail 5, and the nature center has a timber rattlesnake for viewing.
Monroe Lake
Besides Brown County State Park, Monroe Lake is another defining tourist attraction for Nashville. It is open all year round, and the lake is large enough for:
Boating
Jet-skiing
Fishing
Swimming
If you have the proper fishing license, you can even go ice fishing on the lake in the wintertime. You can hike the trails in the surrounding forest too.
The best way to experience Nashville, though, is to wander through it. You might find a shop you did not notice before tucked in a corner, or you may discover a new favorite kind of chocolate.
Valparaiso
Located roughly 40 minutes from Michigan City, Valparaiso (or Valpo, as Hoosiers call it) has lots of food and entertainment. You might consider making this a joint weekend getaway with Michigan City or Long Beach.
See a Drive-In Movie
While full of fun restaurants and shops, we suggest taking the family to a double feature at the 49er Drive-In Theater. It was named one of the top 10 drive-in theaters in the country, and it includes a retro concession stand, harkening back to the classic days of movie-going. Make sure you bring cash, though, because the box office does not take credit cards.
Local Pizza and Ice Cream
If you are in a more casual mood, you can try some pizza at the Rolling Stonebaker. You and your family might get a kick out of the funny pizza names.
There are plenty of options for dessert after, though the Valpo Velvet Ice Cream shop takes the cake in our book. We suggest getting their cookie sundae, which has warm cookie and caramel sauce on top, perfect for satisfying any sweet tooth.
Gorbis Arboretum
For a more hands-on interactive experience, you can try the Gorbis Arboretum at Purdue Northwest. The Railway Garden shows the history of American railroads in detailed display gardens, but there are over 300 acres of nature walks to enjoy.
Chicago Street Theatre
It is always fun seeing live shows with the family. Check out the Chicago Street Theatre. If you happen to be around at Christmastime, you can see their annual production of A Christmas Carol. Otherwise, they have plenty of concerts and seasonal shows for any time of the year.
Turkey Run State Park
So far, we have looked at amazing Indiana cities and their offerings. Now we want to focus on a specific attraction that everyone in your family may enjoy, especially if you are all nature lovers.
Trails for Every Age
Turkey Run State Park, located near Lafayette, has plenty of trails for all skill ranges. You can take a simple walk or a long trek through the trees, over rocks, waterfalls, and even down a few ladders. It truly is a remarkable place to walk through any time of year.
Stay at the Turkey Run Inn and Campground
At the end of the day, you can return to a rented cabin on the park grounds. Each one comes with basic cabin amenities, like:
Sheets and linens
Bathrooms
Coffeemaker
A TV
Larger cabins will have gas fireplaces and kitchenettes
Do not worry if you want to bring your adventurous pet along because some houses are pet-friendly.
Keep in mind that there is a 2-night minimum stay at the Turkey Run Inn during the off-season and a week minimum stay during the June to August season, with cabins going as high as $185 a night. If you want to bring your RV or tents for a fun night outdoors, there is also a tent ground.
Beautiful and Peaceful Picnic Area
As with any good state park, you will find picnic areas where you can rest and relax after your long hike. You do not even need to hike to enjoy the park's remarkable scenery and relaxing atmosphere. Just plop down on a blanket, open your picnic basket, and let the fun begin.
Horseback Riding
Do not worry if you have never ridden a horse before. Turkey Run offers guided horse and pony tours from April to October for $20 a rider for 50 minutes a ride, giving you a new perspective on the park. Make sure you have cash or checks on hand to pay for rides since credit cards are not accepted.
Kayaking and Canoeing on Sugar Creek
You can rent a canoe or kayak for a relaxing afternoon down Sugar Creek, or you can use public access points to ride your own. Turkey Run itself does not rent canoes or kayaks, but you will find several liveries along the creek that provide that service.
Pokagon State Park
We have mentioned several places that are usually better for summer, but Pokagon State Park has the best of both summer and winter.
Plenty of Wintertime Activities
In terms of winter activities, you can enjoy:
Cross-country skiing
Sledding
Tobogganing
You might even enjoy a little ice fishing with the proper licensure. The toboggan run only operates from November to February, with extended hours during the Christmas season. The Indiana State Park website even offers a virtual ride to get an idea of a toboggan run.
Fun Educational Programs
The park also has plenty of educational programs throughout the year. For example, starting in December, the park holds program talks about local animals and hibernating and how snowflakes work.
There is even an afternoon tea event where the park's naturalist helps guests make tea out of local herbs, explaining the benefits of these local teas.
Electric and Non-Electric Camping Grounds
Pokagon State Park has plenty of camping grounds for those who need or do not need electricity. You can choose from over 200 camping sites with electric access, while there are just over 70 non-electric spaces for campers.
Picnicking shelters are available on all camping grounds, though you need to reserve them in advance to ensure you will have room for your party.
Hiking and Horse Trails
State park trails are not just for hiking. You can take a guided horse or pony (which you can reserve through the Saddle Barn) on the designated horse trails or go for a scenic hike on the hiking trails.
Pokagon also offers several hiking challenges, which you can complete to earn a special sticker and a water bottle. For example, you can take the 8-Mile Hell's Point Hiking Challenge, where you traverse Hell's Point, the highest peak in the park.
First, you will need to take pictures of six designated waypoints, which you will show to the nature center staff when you complete the hike.
Holiday World & Splashin' Safari
Holiday World & Splashin' Safari is the first theme park on the list and probably the best theme park in Indiana. It is a perfect getaway if the family is into roller coasters and water parks.
Fun Seasonal Events
There is enough in this park to take up a whole day at least, with live theater shows, roller coasters, gentle rides, and special events.
If you go around Halloween, Thanksgiving, Christmas, or other holidays, you will find seasonal events to fit everyone's fancy. The park even has a special 4th of July fireworks display!
Themed Cabanas Available for Rental
You can also spend some time relaxing by the pool. Themed cabanas with locking cabinets, ceiling fans, chaise lounge chairs, and mini-fridges are available for rental.
Keep in mind that you will need to rent a specific cabana using a desktop computer. Making reservations on a mobile device will only guarantee you the next available cabana.
Fun Nearby Hotels
This being Santa Claus, Indiana, you will find a few hotels themed after ole Saint Nick and his friends.
The Lake Rudolph Campground and RV Resort is open from May to October, but you can rent Christmas Cabin packages during the first three weekends in December. All rental RVs, cabins, and cottages have:
Fully-equipped kitchens
Shower bathrooms
AC/heat
Tent sites are also available, on top of free shuttle transportation to and from Holiday World.
Lake Rudolph has anything you can imagine in a family-friendly water park, including:
Swimming pools
Splash pads
Regular playgrounds
Paddleboats
Kayaks
Blitzen Kitchen Ice Cream & Pizza provides excellent refreshments for all your water park fun. Santa's Lakeside Cottages operates the same way, with five nearby lakes where you can enjoy a day of fishing (catch and release, of course) and giving the fish food from the resort's complimentary food bucket.
There are also two playgrounds with hammocks, a sandbox, a children's zip line, and a basketball court. The cottages are cozy, with a swing or glider on the deck or patio, along with a charcoal grill and fire pit for making s'mores.
Santa's Lodge is the closest hotel to Holiday World, with various room sizes to choose from. Their amenities and activities include zip lines, a bungee trampoline, a rock wall, paddleboats, and a playground.
Big Splash Adventure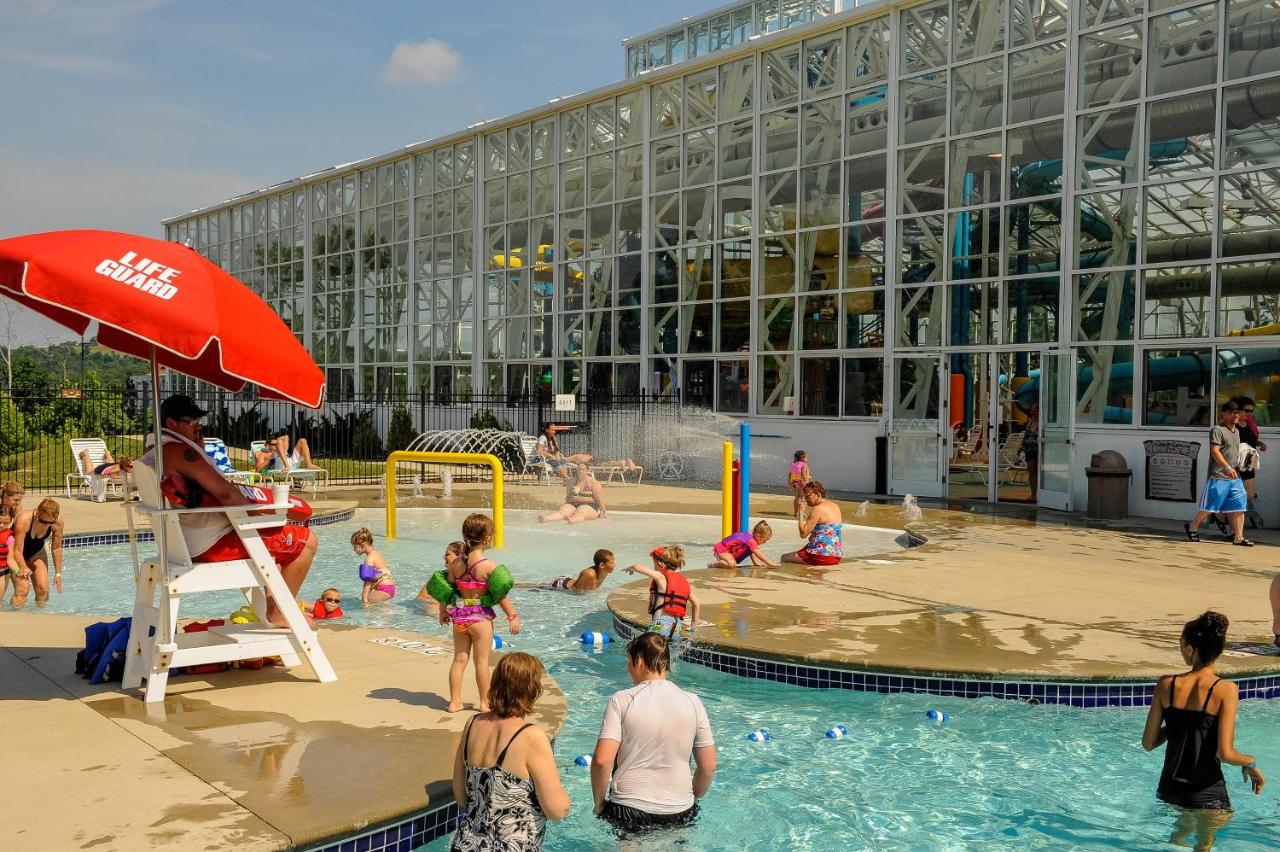 Indoor water parks make for excellent family getaways no matter the time of year. Big Splash Adventure can be part of your Holiday World adventure since you can enjoy the water parks over there before coming back to the hotel for more water fun.
Over 40,000 Square Feet of Water Fun
The Jolly Roger Jetty water slide and Pirate's Plunder are the largest slides in the park, the latter ending in a fun "toilet bowl."
The Lost Treasure Lagoon is a large splash pad where you can splash in fountains and play basketball with your family, while the Lost River is a great place to kick back and relax.
Wilstem Wildlife Park
If you have ever wished to encounter a giraffe, elephant, a sloth, and other incredible animals, Wilstem Wildlife Park allows you to do so. You can also take guided horse rides on the nearby trails, or you can zipline over 5,000 feet through the trees.
Shotz Laser Tag
Shotz Laser Tag is a great place to have a little friendly family competition. It is only $7.50 a person to play in an environment resembling an ancient jungle.
You will also find a 9-hole mini-golf course in the building and an 18-hole course outdoors. Both are good fun and a decent challenge, with waterfalls and other fun obstacles to move around.
Other places to consider for your family weekend getaway
If you're considering other destinations for your weekend away with the kids, take inspiration from our other handy guides below!
More about our TFVG Author
A seasoned traveller, Dad, and avid sports tourist, James foundered The Family Vacation Guide to share his expert vacation experiences- especially when it comes to being a travelling family man.
Featured in Travel articles such as Travel + Leisure, TripSavvy and SFGate, you know you're reading some of the best vacation tips online.