The Hoosier State is known for its basketball and players like Larry Bird, the Indianapolis 500, and the town of Santa Claus, Indiana, where tons of Christmas letters on their way to Santa end up each year.
The state should also be known for its excellent water parks and outdoor activities for families, so whether you're on a weekend getaway in Indiana or you're residents taking a day trip, visiting one of their water parks is a must!
If you and your family want to have some fun in the sun, you'll find a destination that's perfect in this list of the best water parks in Indiana.
Indiana Beach
Indiana Beach is more than a beach. You'll get the full theme park experience at this water park. A lazy river, plenty of water slides, an actual beach, and a special area for small kids make this park fun for the whole family.
The water park consists of roller coasters and other thrill rides, tube flumes, bumper boats and cars, and plenty of rides for small children.
Indiana Beach sits in Monticello, Indiana, and typically opens when the weather turns warmer in April each year. Kids under 36 inches tall can get in free, free parking is available, and a season pass costs less than $70, which is less than the admission for two separate days.
Big Splash Adventure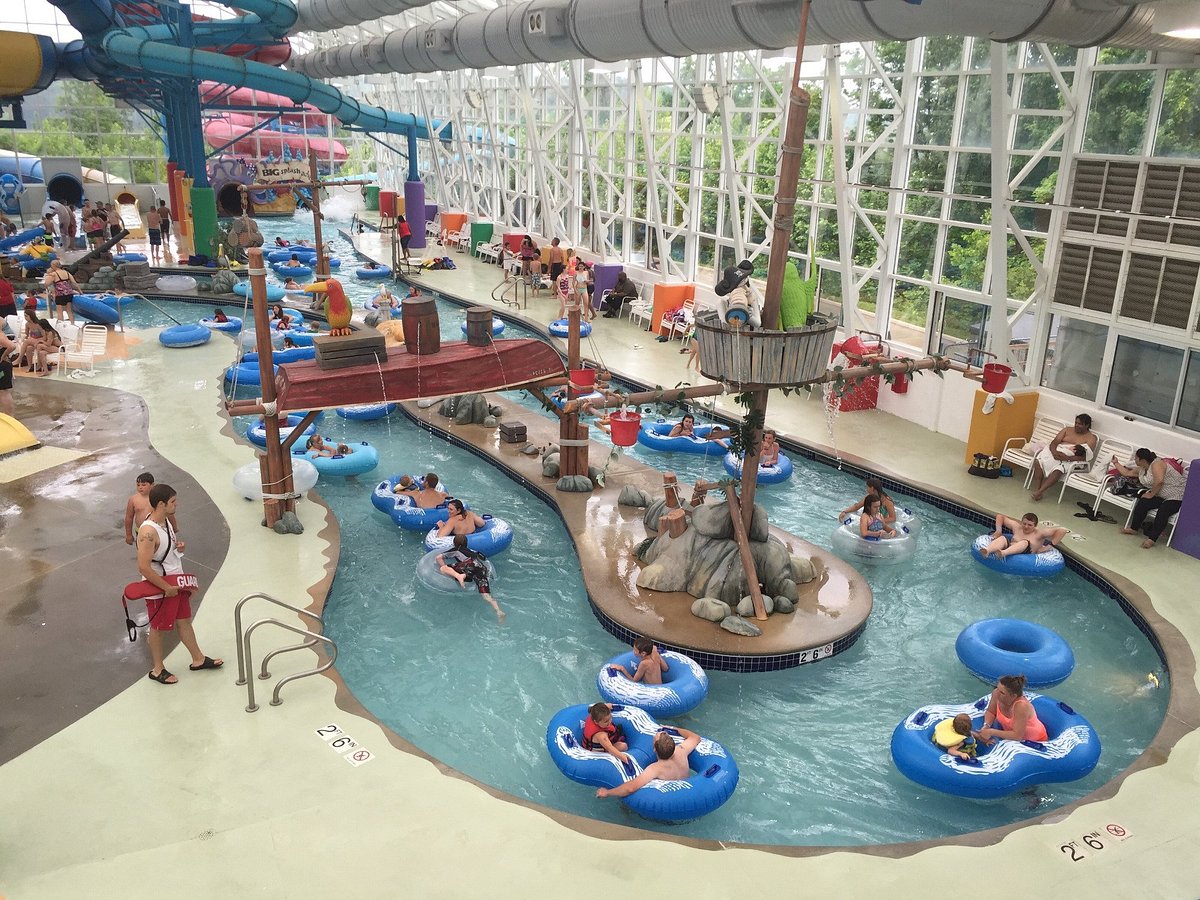 Big Splash Adventure in French Lick, Indiana, is an indoor water park you can enjoy if you're not visiting Indiana during the summer months.
The roof retracts for a more open feeling during nice weather, but the indoor park ensures families can enjoy a water park experience even during cold and snowy Indiana winters.
The 40,000 park features water slides, climbing features, a children's pool, a lazy river, an outdoor pool, an indoor leisure pool, and a hot tub for adults only.
Big Splash Adventure is a hotel and water park, so while the playground and water attractions are free, you have to stay overnight at the hotel to use them. Rates typically run about $150 per night, but it's one of the best water parks in Indiana you can enjoy regardless of the weather.
Deep River Water Park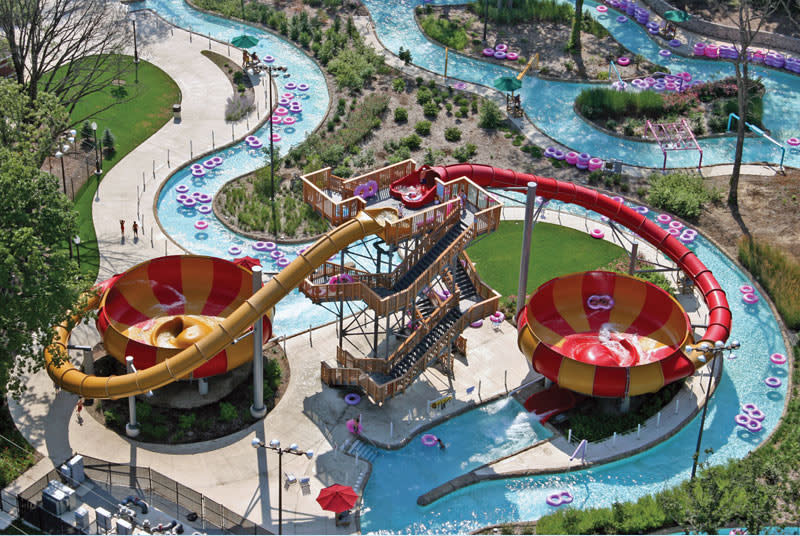 If you're near the Metro Chicagoland area near Crown Point, the Deep River Water Park is the largest water park in Northern Indiana and a great place to stop for some sunshine and water fun.
The park offers the standard wave pool, lazy river, water slides, and toddler pool areas you'll find at most water parks. But Deep River offers a nice guarantee that you can come back for free if they have to close because of the weather.
A highlight is the six-lane mat slide called the Kraken. If you visit during the peak winter months, you can ice skate at the park instead of swimming.
Tickets are $37.95 during the week and $39.95 on Saturdays and Sundays. Tickets for kids under 46 inches tall cost $4 less, the ones for infants under a year old are free, and Indiana residents get $6 off per ticket.
Splash Island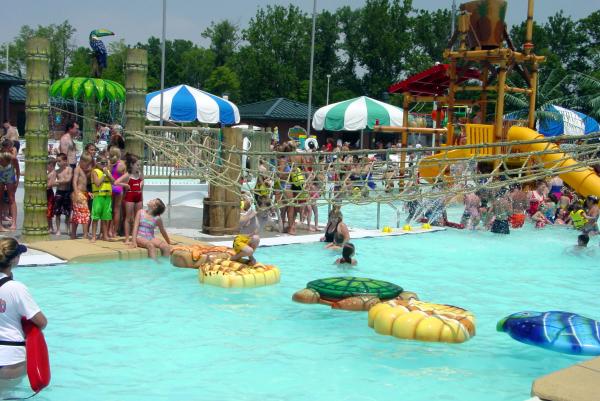 This water park sprawls over more than four acres. It features waterslides, a gentle river, two vortex slides, a six-lane racing pool, a 900-foot lazy river for relaxing tubing with a rock waterfall and tip buckets, and plenty of kiddie slides and water toys for little ones.
Admission to Splash Island also gets you inside the indoor recreation center with a mini-water park, exercise equipment, a jogging track, and a children's play area.
Splash Island opens annually from May to September and is one of the best water parks in Indiana for families on a budget. The most expensive adult ticket is $11. Tickets for kids cost $8 or $10, depending on their ages.
Freedom Springs Aquatic Park
Freedom Springs in Greenwood, Indiana, is open annually from May to Labor Day and offers tube, body, and drop slides, a lazy river, a lap pool, diving boards and play areas for babies and toddlers.
The rides and attractions might not be as full-featured as parks that have a more amusement park feel, but Freedom Springs hosts fun events all summer, like movie nights and their annual Puppy POOLooza that closes the park, where they allow people to bring dogs for a swim.
The pool and park are one of the best water parks in Indiana for a quick swim day that doesn't cost as much as a theme park. Adult tickets cost $12 per day, and kids over two cost $10.
Pine Lake Water Park
This park is another inexpensive swimming attraction for the whole family. The lake does feature some attractions, though, like four major water slides, a log walk across the river, duck boat rides, a jump tower with platforms of 10 to 30 feet, a cable ride, and more.
The cost to get into Pine Lake Water Park is only $9 for adults and kids ten and up, while it's $7 for kids four to nine. Kids under four get in for free.
Marion Splash House
This city-managed water park in Marion, Indiana, has so much more than the average municipal pool. Marion itself is rich with activities for families any time of year, so if you're traveling through the Midwest anywhere near Marion, you should consider a visit.
The Splash House has a wave pool, racer slides, a flush slide, and a kiddie play area with drop buckets for splashing fun. Cabana rentals and concessions make it easy to spend the day, especially for only $8 per ticket for adults and $6 for kids over two.
While you're in Marion, take a stroll through the Gardens of Matter Park and its 6.3 acres of colorful, charming landscaping. You'll see over 7,000 annuals and several bronze statues, an award-winning butterfly garden, a Children's Vegetable Garden, and a statue of everybody's favorite fat and sassy cat, Garfield. The Garfield statue is part of The Garfield Trail.
Garfield's creator, Jim Davis, is a Fairfield, Indiana, native, so a trail of 14 Garfield statues honors Davis while creating a fun tourist attraction and a fun photo opportunity for Garfield fans.
Fairmount Museum on the Trail honors another Indiana celebrity, James Dean and Davis. The museum offers guided tours to ensure you don't miss out on any trivia. Adult tickets cost $5, and kids under 17 get in free with an adult.
If you visit Marion during cold weather, you'll miss out on the Splash House, but you can see the famous Marion Walkway of Lights. Marion goes all out for holiday lights and decorations. Over 2.5 million lights illuminate two miles of the path along the Mississinewa River. The cost to enjoy one of the best Christmas light displays in the country is $5 per car.
Tropicanoe Cove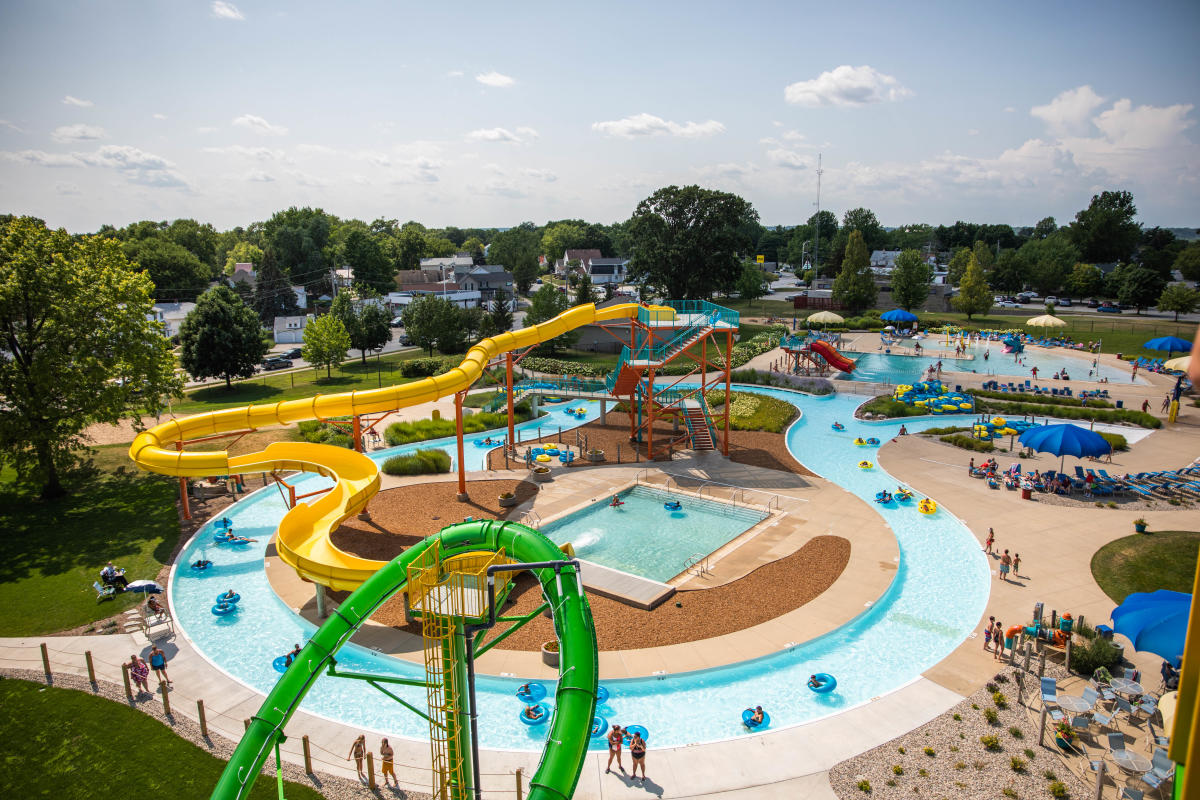 A banana tube slide, Riptide Racer, and Tiki-Twist slides are a few of the water features at Tropicanoe Cove in Columbian Park in Lafayette, Indiana.
This park is open from late May until September annually. Admission costs $9 for adults and $7 for kids over two.
The Carmel Waterpark
This water park is in Carmel at the Monon Community Center. It features all kinds of fun, such as a lap and activity pool, a kiddie pool, cabanas, adventure slides, a surf rider, a plunge slide, a lazy river, and a climbing wall hanging above the water.
The outdoor park is open seasonally and has inexpensive admission fees of $12 for adults and $9 for kids.
Abe Martin Water Park
Outside Nashville, Indiana, in the large state Park in Indiana, you'll find the Abe Martin Lodge and Water Park.
You can stay at the lodge overnight and get free admission to the huge indoor aquatic center — complete with a waterslide, a lap pool, and a large pool for swimming and playing, among other attractions.
When you book a room in the lodge or a rustic cabin, your package will come with a specific number of wristbands for free admission to the aquatic center. You can purchase additional wristbands for $15 each.
Holiday World & Splashin' Safari
This park is one of the best water parks in Indiana. Unlike some small water parks that are municipal community pools with slides and other recreational areas, Holiday World & Splashin' Safari is a theme park with many water rides.
Roller coasters and other thrill rides make it a theme park, and there are plenty of rides and play areas for little ones to keep them occupied.
This attraction is two separate parks you get into for the same ticket price of $59.99, but kids three and younger get in free.
The Best Water Parks in Indiana
When you visit Indiana, you'll see that Indiana is about more than basketball and NASCAR, though those things are fun, too.
Whether you want a relaxing dip in a pool or hot tub, or you prefer high-intensity roller coasters and thrill rides, you'll find something to love in all of these best water parks in Indiana.
Other fantastic water parks to consider for some family fun
If you're hoping to find some more of the best water parks, our round-up below will be the perfect place to start.
More about our TFVG Author
A seasoned traveller, Dad, and avid sports tourist, James foundered The Family Vacation Guide to share his expert vacation experiences- especially when it comes to being a travelling family man.
Featured in Travel articles such as Travel + Leisure, TripSavvy and SFGate, you know you're reading some of the best vacation tips online.