New Orleans, Louisiana is one of the most culturally rich cities in the United States, with a distinctively vibrant character that separates it from the more formal, business-oriented style of areas like Seattle and San Francisco. People don't think of skyscrapers and corporations here, they think of Mardi Gras and fine food.
Here are some of the best places to stay in New Orleans when you're traveling with kids.
The French Quarter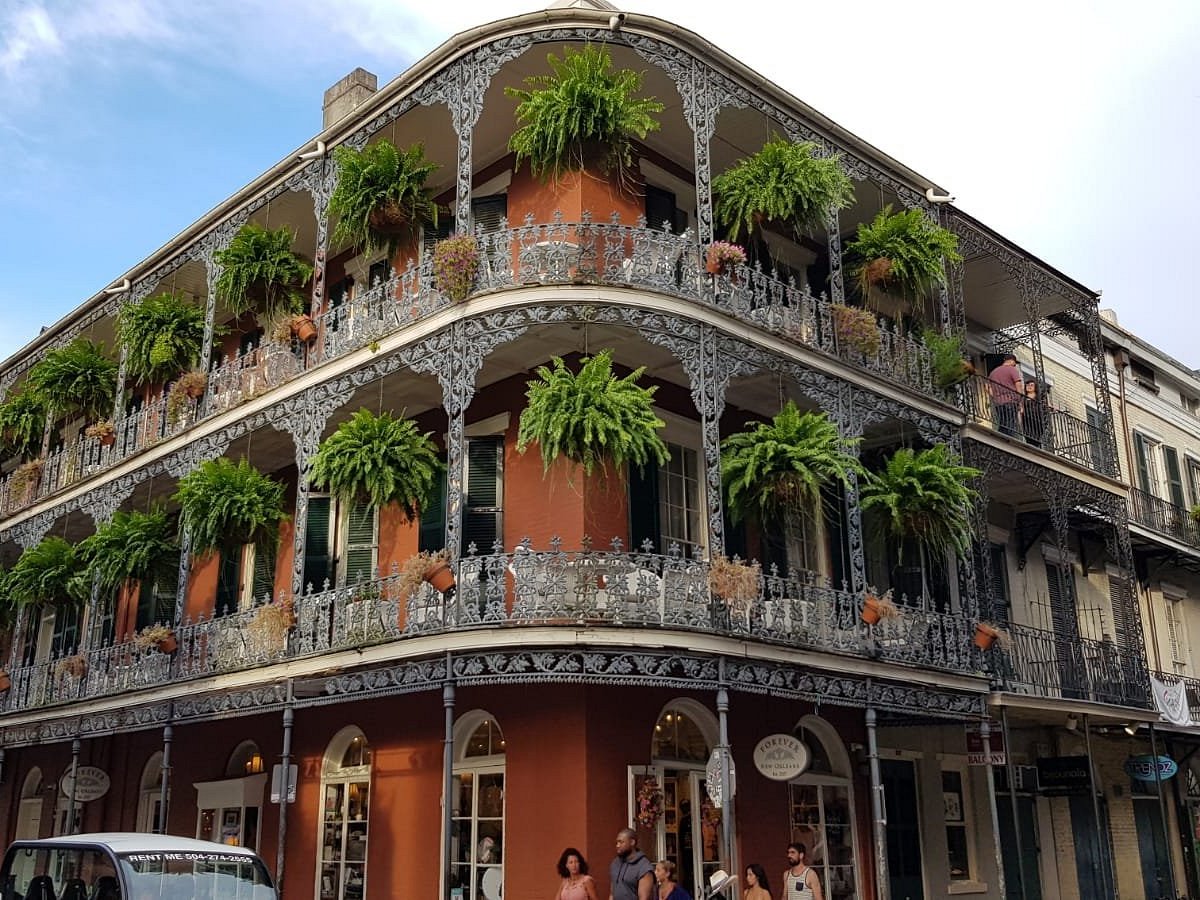 The French Quarter is the unquestioned heart of New Orleans, and it's grown as a tourist destination since the 1890s.
The French Quarter is a cultural melting pot with a distinctive mix of French and Creole styling. Buildings aren't too tall, and there's plenty of greenery between the public squares and the local graveyards.
Music is a cornerstone of New Orleans, and nowhere displays that more prominently than the French Quarter. You may hear vibrant music all day and night, so consider bringing robust earplugs if you're sensitive to that while you're sleeping.
You can have a lot of fun just sitting in the squares and watching people pass by, but consider dropping by some eateries to get local meals. Avoid chain restaurants that serve food you can find anywhere, as going there results in missing a major part of the New Orleans experience.
For architecture, consider stopping by the Saint Louis Cathedral, one of the most iconic buildings in the city. It looks out over Jackson Square, and it's accessible to public visitors who want to take a look around. It's also the oldest Catholic cathedral in continual use across the United States, making it a living piece of history.
If you enjoy the cathedral, consider taking a stroll down Royal Street, which boasts a range of:
Galleries
Antique stores
Upscale entertainments
If you're looking for something with even more local character, though, it's hard to beat Pirate's Alley. This narrow street is packed with history and has a wide range of unique shops, making it fun to explore with your family.
Local bars and restaurants are frequent hosts of live musical performances. Kids can't attend all of those, but they can go to many street performances. Many of these performances aren't scheduled too far ahead of time, so they're something to enjoy as you find them rather than planning your trip with them in mind.
Bourbon Street
Bourbon Street is technically part of the French Quarter, covering thirteen blocks between Esplanade Avenue and Canal Street. However, it's distinctive enough to deserve its own section in this guide.
To put it simply, Bourbon Street is New Orleans' top party town. It's never truly quiet, with an active nightlife involving a range of clubs and bars. You'll hear the street well before you see it, with its light and energy rivaling (and probably beating) that of any nightlife area in the country.
Bourbon Street has a range of family hotels, so you don't have to find a place to stay elsewhere in the city. Many have bars or restaurants on the ground floor, encouraging people to walk around the area and feel welcome inside.
Food and drinks are plentiful, but it gets even more exciting when Mardi Gras kicks into gear and Bourbon Street functions as the heart of the celebrations.
Consider staying elsewhere if you have younger children. This area is just a bit too loud for them, but older teens can still find plenty to enjoy.
As a bit of trivia, Bourbon Street isn't named after the alcohol, as you might expect. The name comes from a French royal family that was in power at the time.
Treme
Treme is an area along the north side of the French Quarter. It's both culturally and historically distinct, serving as the original home of Jazz music and said to be the origin point for the Civil Rights Movement.
For a casual walk through the area, you can visit Louis Armstrong Park and pass through the Congo Square area in the middle. The square is frequently home to music and dancing any day weather permits, and it's a fantastic spot to stop and have an outdoor picnic.
The Treme has outstanding food throughout the area, with a particular focus on comfort food and brunch. If you're feeling full, wander over to the Backstreet Cultural Museum, which mixes modern photography with a wide collection of artifacts and creations by indigenous groups.
Treme doesn't have the same style of fancy bars and pubs as the French Quarter, but it does have plenty of decent taverns with live music. Many of these are kid-friendly if you stay away from the alcohol areas, so it's not an issue to bring the whole family along. Just be sure to check specific restaurants ahead of time.
Treme doesn't have too many hotels, but it has some excellent B&Bs. These are often better for experiencing New Orleans anyway, as a traditional hotel room clashes with the inherently bold and vibrant character that is common to the rest of the city.
Central Business District
New Orleans isn't famous for its business district. But the city's professional hub is a surprisingly upscale area, with a mix of open parks and quality restaurants mixed in around the offices. Many ground floor areas are open to the public, helping the area keep the distinctive culture of the city.
The CBD is a fantastic choice for general shopping and excursions. It's also the home of the local football stadium, allowing your family to catch a game or enjoy a different event in the off-season.
Expect to see 19th-century construction styles throughout the area, as even many office buildings try to keep some of the city's notable character. Make sure to stop by the Orpheum Theater, which frequently has musical productions of varying styles. The South Market area offers more shopping mixed in with art galleries.
Kids will probably enjoy the Audubon Aquarium and Insectarium, home to over 3500 animals across 250 species. Its sections include some larger animals like penguins and alligators, and it's easily one of the highest-rated things to do in the city.
Overall, the Central Business District is a little quieter than the French Quarter. This part of New Orleans is a good place to visit with your family if you think the cultural hub might be too much for younger children.
The CBD is quite popular with business travelers, so it has plenty of hotels at varying price points. It's comfortably close to some of the other interesting spots in the city, and mixing that with its generally safe character means this is the top place to stay if you want to experience New Orleans without the noise of the French Quarter.
Lakeview
Sometimes known as the Mid-City area, Lakeview is north of the French Quarter and has an open, quiet, and walkable design. The City Park area serves as a highlight for the district, framing Lakeview and giving plenty of space to walk around.
Don't let the laid-back character of this district fool you, though. Lakeview has some of the best international dining options in New Orleans, and in a city with food that's already so good, the distinction matters.
Lakeview is heavily residential, so it has a range of accommodation options to support tourists and casual visitors. Many hotels here have a lot of personalities, including a few with weekly pool parties that help liven things up.
That said, Lakeview also has some of the best family entertainment in the city.
The Carousel Gardens Amusement Park features eighteen rides and your choice of daily tickets or seasonal passes when the park is open (usually from March to November).
A short distance away, you'll find the New Orleans Museum of Art, the oldest art museum in the city. It currently boasts a collection of more than forty thousand pieces, covering African, American, French, and Japanese styling. It's easily one of the best museums in the entire southern area of the United States.
Lakeview is one of the best places to stay in New Orleans, especially if you have younger children that you want to entertain during the trip. It's close enough to the French Quarter that you can still visit there for fun but has nowhere near the same amount of noise or chaos as the central tourist areas.
Marigny
New Orleans is full of jazz music, but the Marigny neighborhood has even more than the rest of the city. This trendy area has many outstanding clubs that host not just local musicians but often international acts and performances. If you love music, this is the place to go.
The musical inclinations continue as Euclid Records, one of the city's remaining vintage vinyl stores. If you love the sound of genuine classic records, this is the place to be.
Marigny is also artistic in other ways, and nothing represents this better than the Frenchmen Art Market. The market features a range of local and international crafts, and some are even willing to take custom orders on request.
Like Treme, Marigny doesn't have as many hotels as other parts of the city, so you may need to place reservations well ahead of time if you want to enjoy a trip in this area. However, you can find a decent selection of B&Bs, as well as some boutique hotels and family suites that offer more culture and experience than the big chains.
Uptown
Uptown is a residential district home to two local universities (Loyola and Tulane), whose tall spires are excellent landmarks for navigating the area. Most of the area is residential and relaxed, without the noise of the French Quarter or the relatively high tourist numbers of Lakeview.
Transportation is easy here, with streetcars that travel through the area and let you hop on and off where you want. The Audubon Zoo is a particular highlight, covering 58 acres and serving as the home for about two thousand animals. Between this zoo, the rest of the Audubon facilities, and the Carousel Gardens Amusement Park, there is plenty to do over multiple days.
If you're feeling hungry, try wandering down Oak Street, which has some of the best dining options in the area. You can also find a range of music venues, thrift stores, galleries, and other commercial shops.
Uptown doesn't have as many hotels as the French Quarter, but it does have several historic hotels that help serve the college areas. Expect to get cheaper rooms here if you're visiting during the off-season.
Finally, if you can leave the kids behind for a night, Uptown has quite a few college bars that are welcoming to friendly visitors. These tend to be lively places, and as with the rest of the city, you can expect plenty of fast-paced music.
Garden District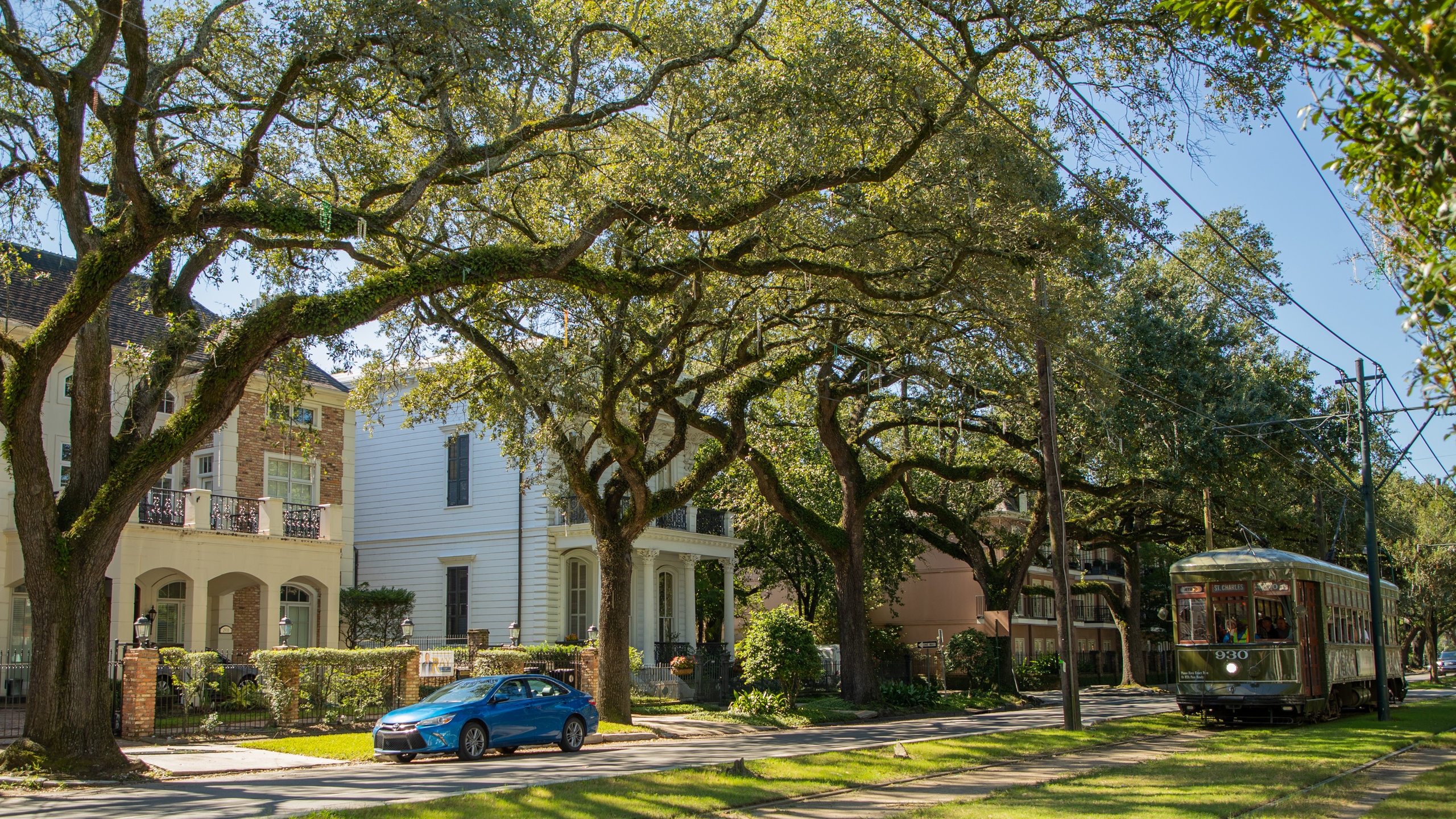 The Garden District fully lives up to its name, mainly featuring homes built up on lots from divided plantations. Most of the homes have their own rich gardens, hence the popular name for the area.
The Garden District is quiet and pleasantly upscale, featuring a good range of outstandingly high-quality restaurants and art galleries to enjoy at a casual pace. If you're looking for something a little busier, consider stopping at the Garden District Marketplace, which features dozens of local vendors with unique goods.
For dining, try to fit in a visit to Commander's Palace, one of the most notable restaurants in the city. It features a mix of African and French food options with Cajun styling, fitting into the cultural melting pot of the city's overall style. Numerous other restaurants are also available, most with generally excellent food.
The Garden District has more hotel options than some other parts of the city, including both brand-name hotels and smaller B&Bs. Boutique hotels are also quite popular here, offering a better experience for those ready to enjoy them.
Things To Know Before Visiting New Orleans
New Orleans is a great city to visit with or without kids along, but knowing what to expect from the city can make things significantly better. Here are a few things to keep in mind when traveling around New Orleans.
Cars Are Optional
New Orleans can be difficult to navigate, with signage that doesn't match what you'll find in other cities. New Orleans is quite old that way.
Even more than that, many of the best areas of the city are highly walkable and feature streetcars for better navigation. The French Quarter and Central Business District are particularly accessible on foot, so you can probably skip renting a car if you're only going there.
The Airport Isn't Close
Some cities have their airports inside city limits, but Louis Armstrong New Orleans International Airport is about 11 miles away from the downtown area. Notably, they try to keep the airport out of the storm zones that can affect the city's property.
This distance is much too far to walk, so realistically, you should either get an airport shuttle, take your choice of taxi type, take an Uber, or rent a car to get into the city. The first two options are usually faster, cheaper, and easier as New Orleans is walkable enough, allowing you to get by without personal transportation.
New Orleans Is Warm
New Orleans is a toasty southern city. It can get cool in winter, but it's rarely less than warm from the end of March to the start of November, and the hot season of mid-May to mid-September has an average daily high of over eighty-seven degrees. This factor is why April and October tend to be the best months to visit the city.
Either way, the local warmth means it's crucial to stay hydrated, wear sunscreen, and avoid exerting yourself too much. It's tempting to push and try to make the most of any vacation, but slow down and cool off in a nice restaurant if you start getting dehydrated. Health and safety come first, after all.
Similarly, New Orleans tends to be humid, so you should wear lighter clothing that lets the water breathe out. Consider carrying an umbrella to ward off the sun, and have raincoats if you're visiting between September and November.
Shops and Restaurants Close on Monday
Many parts of New Orleans close on Monday, including some major destinations like:
The Audubon facilities
The New Orleans Museum of Art
The New Orleans Jazz Museum
The city has a long tradition of resting on Mondays, so things are noticeably quieter. Even many restaurants close on Mondays, though not quite all of them.
However, while some facilities close, that doesn't mean there's nothing to do. You can still head over to areas like Bourbon Street or Frenchmen Street for music, and many parks and other facilities are still open.
Bring Cash
Cards are a popular way to pay for things, but many parts of New Orleans still prefer cash, and ATM fees can add up significantly. Have a good stock of cash in your wallet for what you want to do, and take standard safety precautions like wearing belts that can hide money.
Drinks Are 24/7
New Orleans has exceptionally lenient rules governing alcohol, so it's easy to get a drink whenever you want. Bars can be open 24/7, and some are, so you can get a good drink anytime you want. There's a local law against open glass containers, but most places will let you put your drink in a plastic cup you can take outside and sip from.
The relaxed atmosphere throughout the city makes it pleasant and easy to enjoy your drink as long as you follow a few basic guidelines. First, don't get too rowdy or visibly drunk, as the police will step in quickly if they see that. Second, try sipping your drink and enjoying it over time instead of downing it before you go to the next place.
Enjoy the Live Music
Brass and jazz are the central music themes in the city, but you can also find plenty of metal, zydeco, folk, hip-hop, and bounce from local groups. The music never truly stops in New Orleans, and it's not hard to find a live show in central areas or better restaurants.
This relaxed musical culture also speaks to another point about enjoying time in New Orleans: Don't try to plan a visit too tightly.
While there's nothing bad about a general itinerary, you're missing out on the experience of New Orleans if you try to plan every moment. Instead, it's usually better to create a general schedule, then adjust it if you see something interesting.
Eat Local
The best food in New Orleans is local, coming from individual restaurants instead of national chains. Cajun flavoring is common, appearing in almost any dish where it makes sense (and a few where it doesn't). Seafood is also popular in the city, with most of it caught in the Gulf of Mexico and impressively fresh.
Regional produce, including some fruits and vegetables not well-known elsewhere, are common in local cuisine. New Orleans is also adapting to have more restaurants with menus that are suitable for people with dietary restrictions. So if you're vegan, gluten-free, or have any allergies, you can find plenty of top-notch dining options.
Also, try to get a good balance between reserving spots at a good restaurant and stopping by a counter and ordering based on your whims. New Orleans has outstanding food throughout the city, so it's hard to find a truly bad meal.
Frequently Asked Questions About New Orleans
Here are some common questions people have about taking a family trip to New Orleans.
How many days is enough for a trip to New Orleans?
A suitable vacation to New Orleans is about five days. This time is enough to see many of the sights across the city without staying so long that things start to get dull. If you want to go to multiple locations and visit museums, consider adding an extra two or three days.
When is the best time to visit New Orleans?
The best time to visit New Orleans is whenever something is happening that you want to see. However, if you're worried about the weather, March-April and October-November tend to have the best balance of price, weather, and crowds.
What is the top attraction in New Orleans?
The biggest attraction in New Orleans is unquestionably the French Quarter. Although larger than what we usually call an attraction, the overall experience of walking through the area, enjoying the music, getting some food, and seeing the nightlife makes this the city's biggest draw.
When is hurricane season in New Orleans?
Hurricanes can happen from early June to late November around New Orleans, with most of them happening between the end of August and the start of September. Hurricanes can be highly unpredictable, so if you plan to travel during these times, consider getting travel interruption insurance as extra protection.
What does NOLA mean?
NOLA stands for New Orleans, Louisiana. It primarily refers to things that are local to the city or the area, including some residents and food styles.
Is New Orleans safe at night?
Most parts of New Orleans are reasonably safe at night, including tourist-heavy areas, like the French Quarter, where the police have a significant presence. It's better to travel in groups of at least two when possible.
What should I do on my first trip to New Orleans?
Many people start by visiting the French Quarter, which is easily the most iconic part of the city. However, if you're visiting with kids, consider limiting that to a single day. Once you've seen the most famous parts, try going to Uptown and Lakeview for parks and other child-friendly entertainment.
What's the cheapest time to visit New Orleans?
The cheapest time to visit New Orleans is around August, while hotel and flight rates tend to be lower starting in July before picking back up in October.
The reason things are cheapest in the summer is that New Orleans is quite warm, and most tourists prefer visiting during a cooler time of the year. There's still a lot to enjoy if you can handle the heat, but you can expect the whole city to quiet down.
Should I visit New Orleans for Mardi Gras?
Perhaps not with kids in tow. Many aspects of Mardi Gras are adult-oriented, and it's not the best choice for a family-friendly festival.
What food is New Orleans famous for?
New Orleans has a wide range of local recipes you won't see as often outside the city, so visiting can be an amazing culinary experience. Highlights include gumbo, jambalaya, red beans and rice (especially on Mondays), po-boys, and bananas foster.
Final Thoughts
The best places to stay in New Orleans depend on what you want to do in the city. Although New Orleans is most popular for its food, drink, and adult-oriented entertainment, there are plenty of zoos, museums, galleries, and other child-friendly entertainment to enjoy.
Consider moving between two or three hotels during your trip rather than having one hotel for the entire stay. Happy travels!
More about our TFVG Author