New Orleans, Louisiana is the most magical city and one of today's leading family destinations. It's kid-friendly, and there are many activities for people of all ages.
Founded in 1718, New Orleans is rich in history, nature, and culture. It has a grand tradition and is world-famous for its music.
The vibrancy on New Orleans's streets and the mix of historical influences make this place one-of-a-kind.
On a getaway to New Orleans, you and your family can enjoy the unique cuisine, architecture, tourist spots, and, most notably, the various festivals and celebrations, of which we must remember Mardi Gras.
If you have decided that New Orleans is your next destination, you surely have wondered where your big family can fit in and stay in this hybrid city. For that, we got you covered!
Let's cut to the chase and reveal the five best family suites in New Orleans to enjoy endless days and cozy nights without a worry on your mind!
Overview
We have chosen the most incredible family suites in New Orleans, where you will feel at home while away from your home.
In these places, you can create happy memories and memorable times that you will speak of long after.
We are confident that you can find the most suitable pick from this list because we did our best to bring their uniqueness close to you. Let's discover them together!
Homewood Suites by Hilton, French Quarter – New Orleans
The Holiday Inn Superdome Hotel – New Orleans
The Four Points Hotel – New Orleans
The Ritz-Carlton Hotel – New Orleans
The Roosevelt Hotel – New Orleans
Homewood Suites by Hilton, French Quarter – New Orleans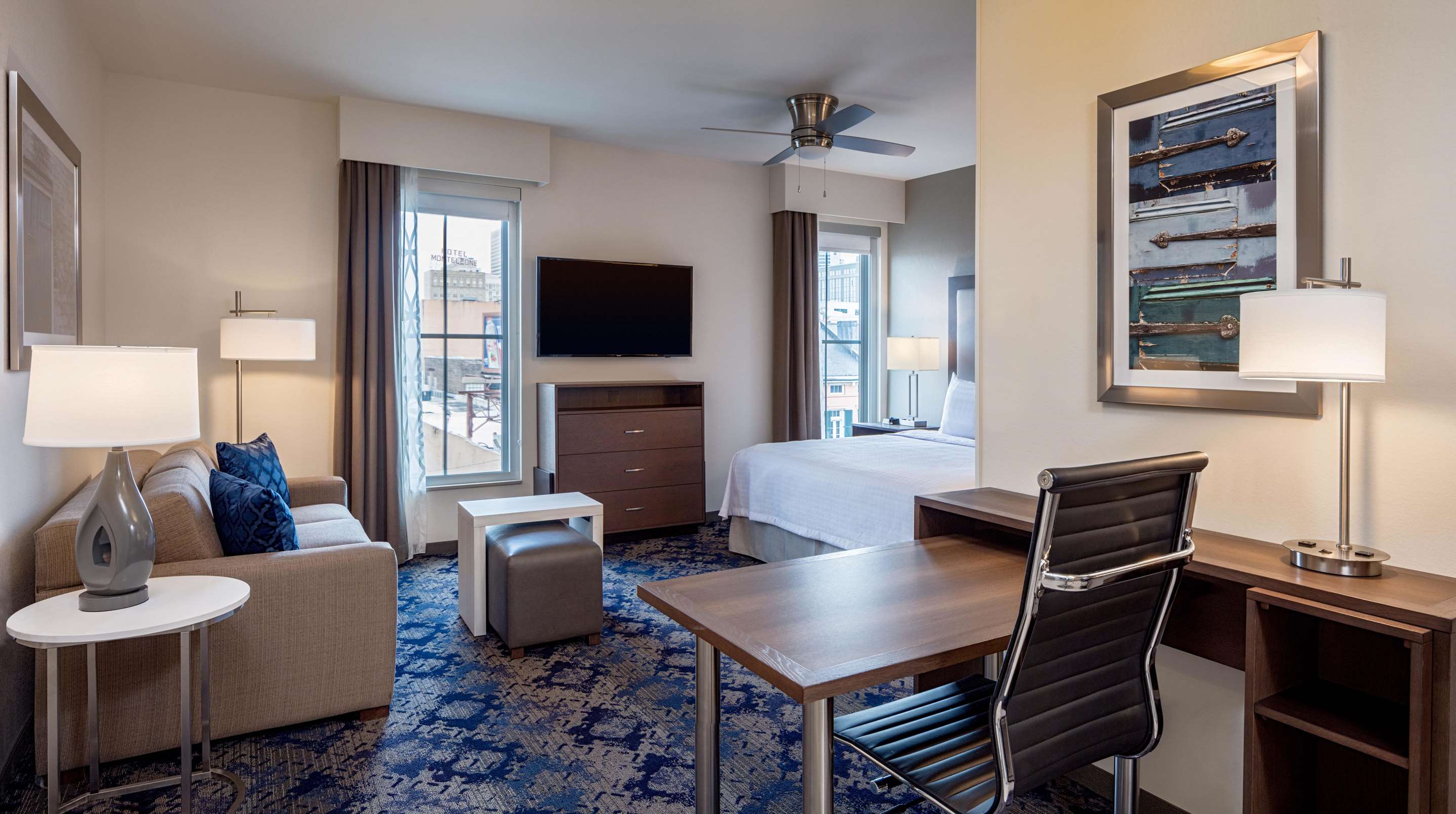 Location
The Homewood Suites by Hilton is an excellent family choice. These family accommodations are located at the Northern Border of the French Quarter. A perfect spot, if you ask us.
Why?
Well, you won't be bothered by the liveness of Bourbon Street; however, you will still be immensely close to every major attraction.
What's fantastic is that these suites are just one mile from the Caesars Superdome, the Smoothie King Center, and the Central Business District.
Hence, you and your children can have the time to visit every attraction and appreciate all of New Orleans' well-known sites.
Rooms
The Homewood Suites by Hilton has 166 big-family and one or two-bedroom suites available. Plus, there's a fully-equipped kitchen in every one of them.
There are connecting rooms with separate living and sleeping areas. Therefore, every family member can have their scope, and you mustn't worry that you will jam-pack the space.
Additionally, you can opt for a non-smoking room or a pet-friendly one. The keys to the hotel rooms are digital, and of course, there's free Wi-Fi in every room.
Amenities
If you book your stay in the Homewood Suites, you can expect a daily free complimentary breakfast.
This is a significant advantage when traveling with your family because you can start your day excellently and conveniently, all gathered together.
Another incredible amenity is the swimming pool, which your children will love. There's a splendid fitness center for grown-ups where you can train daily.
When you are tired from roaming around the city, you can check out the games available in the lobby. Lastly, you can enjoy a family dinner plus drinks from Monday to Friday.
What more can you ask for?
The Holiday Inn Superdome Hotel – New Orleans
Location
Another fantastic hotel located in the heart of New Orleans is the Holiday Inn Superdome. With an exceptional reputation, the Superdome won't dissatisfy anyone.
As you may expect, the hotel is located in the birthplace of jazz, a few blocks from the French Quarter and Bourbon Street. That means that most of the engaging activities in New Orleans will be at your feet.
You can tour the World War II Museum for an excellent history lesson, or if you and your family aren't into that, you can visit the nearby Audubon Aquarium and Zoo.
We mustn't overlook that the Smoothie King Center and the Mercedes-Benz Superdome are just two blocks from the hotel.
Rooms
The rooms and suites at Holiday Inn are flawless. They are modern and have a private balcony. Sleeping is great, and you will be amazed by the room's workplace.
Every room has access to free Wi-Fi and a personal safe where you can put your valuables.
In addition, these family suites in New Orleans are equipped with a microwave, mini-fridge, coffee maker, and an iron board. All the best to complete your stay.
What we like most are the artworks in every contemporary room, including Andy Warhol's famous prints. Also, keep in mind that all of the rooms are non-smoking.
Amenities
The Holiday Inn Superdome is a top pick for families because of the closeness of various activities.
One of the best is horse riding, golf, tennis, and racquetball, which are just five minutes from the hotel.
Moreover, there's a heated outdoor roof pool for both kids and parents. Additionally, there's a 24-hour fitness center with modern training equipment.
Besides the high-speed internet, every room has an HD TV on which you can watch your favorite shows.
Seven-day-a-week housekeeping and a guest laundry are other amenities your family can use during the stay.
Finally, the fact that children eat for free in the Holiday Inn Superdome makes this hotel the ultimate pick. Likewise, their stay is also gratis if your kids are under 11 years old.
The Four Points by Sheraton Hotel – New Orleans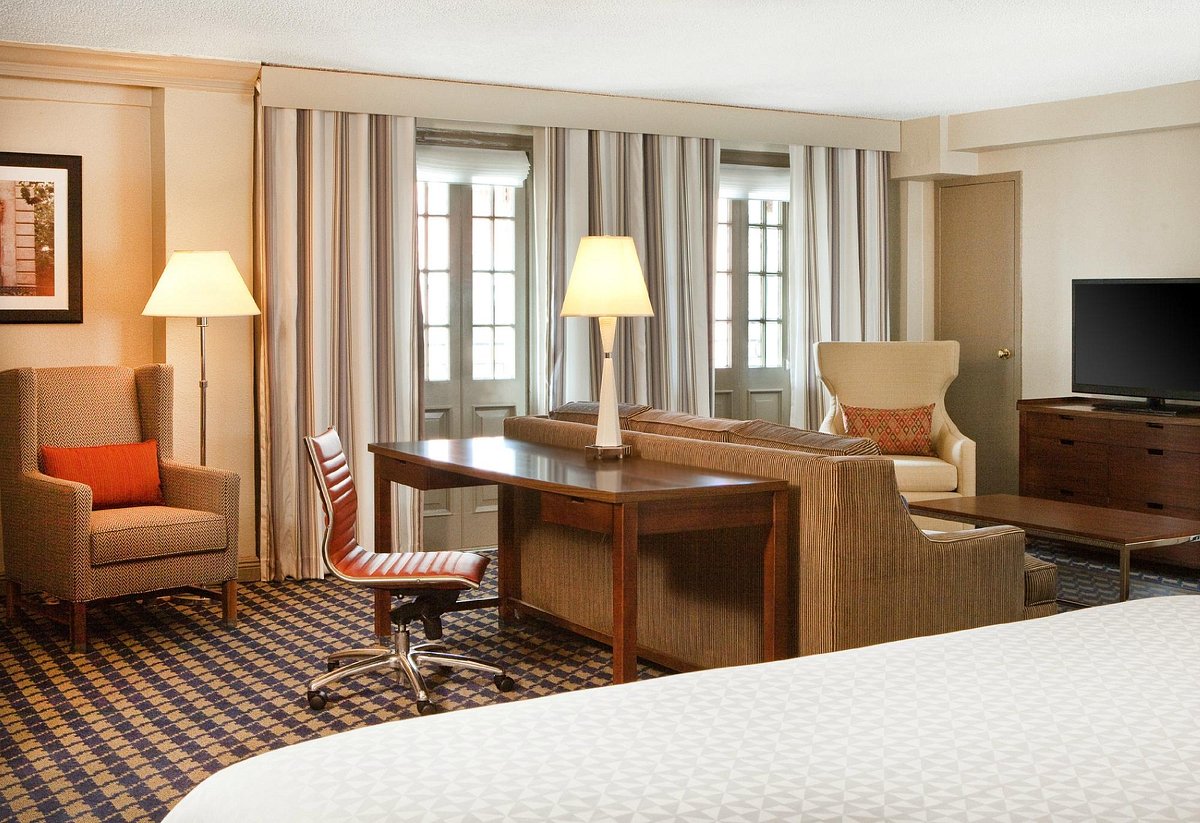 Location
Another superior pick for a family vacation in New Orleans is The Four Points by Sheraton Hotel.
Located in the French Quarter, this vintage-style hotel overlooks Bourbon Street and is undoubtedly one of the most often selected family suites in New Orleans.
If you stay at the Four Points, you will be immensely close to Jackson Square, Cafe du Monde, the St. Louis Cathedral, Sazerac House, and other alluring sites.
Being just a glimpse away from the world-famous attractions, you will feel all of New Orleans' life and charm.
Rooms
In this historic hotel, the rooms and suites are all renovated, and as we mentioned, the balconies have a gorgeous view over Bourbon Street. All of the rooms, as well as the hotel, have a non-smoking policy.
The spacious suites can fit huge families, and everyone can have space to enjoy the getaway.
Also, we must tell you that this hotel isn't pet-friendly, and no animals are allowed on its premises.
Amenities
The Four Points by Sheraton is an eco-friendly hotel that practices sustainability. Therefore, if you want to make a change in your travels, don't think twice and book a suite.
The hotel has special programs for kids, which can keep them busy and entertained. As expected, there's an outdoor pool where you can enjoy daily swimming and merrymaking.
An equipped fitness center, a gift shop, a convenience store, and a dry-cleaning service are further amenities available for guests who pick the Four Points hotel.
The coffee and tea are complimentary, and there are some delicious and outstanding restaurants on-site where your kids can even relish tasty burgers.
The Ritz-Carlton Hotel – New Orleans
Location
Another upscale hotel that lies in the French Quarter is the Rich-Carlton Hotel. This four-star hotel is located on Canal Street, and the building is from 1908. Therefore, you can expect vintage charm paired with luxury.
When staying in the Ritz-Carlton, you will be just a mile from Bourbon Street and Saenger Theatre.
Expectedly, other tourist attractions are very close. You can select to visit the Garden District, Audubon's Insectarium, Aquarium, Park and Zoo Garden, Caesar's Superdome, Smoothie King Center, and others.
Rooms
The rooms and suites in Ritz-Carlton are flawlessly designed and include some commissioned New Orleans artwork. Every room has free high-speed Wi-Fi and a smart TV. There are work desks too.
The suites have two twin and two double beds, while the apartments have one or two bedrooms. The rooms are spacious and designed with taste and style. Of course, there's a mini bar for refreshments.
The room service is available 24 hours, and phones with multi-lines and voicemails are placed in every room. Moreover, smoking isn't allowed anywhere in the hotel.
Amenities
The Ritz-Carlton hotel is one of the hotels in New Orleans with the most extensive spa amenity. The spa is a 25.000 square feet facility with 22 treatment rooms and more than 100 different spa therapies.
Moreover, there's a fully-equipped fitness center where you can work out before or after your spa treatments. But what makes Ritz-Carlton so kid-friendly?
Just upon arriving, all kids are gifted with activity books and crayons. What's fantastic, the Ritz-Carlton offers a unique scavenger hunt for your children, with a prize at the end.
Besides, the restaurant has a special menu for kids, including a nibble, an entree, and a kid's beverage in a special cup.
The kid's program is rich and rests upon four pillars of kids' education and entertainment: water, land, environmental responsibility, and culture.
We also mustn't forget to mention the indoor pool, which puts a smile on every guest's face.
The Roosevelt Hotel – New Orleans
Location
The Roosevelt Hotel is an exclusive historic hotel located one block from the French Quarter. This hotel opened its doors in 1893 and was once the home of Louisiana governor Huey P. Long.
The site of the Roosevelt hotel is top-notch, close to every activity but still far enough from all the noise.
What's essential, you can reach Jackson's Square, Bourbon Street, and the waterfront all on foot.
Rooms
The Roosevelt Hotel has some gorgeous suite choices for families. There are the Deluxe and Superior rooms or the King Suites.
The Deluxe and Superior rooms have two queen beds, while the King Suites have a separate living room and a pull-out sofa. You can also opt for the Astoria/Waldorf/Presidential luxury suites.
Moreover, there are even pet-friendly rooms if you like to take your furry friend on vacation.
The rooms are smoking-free, and there's room service available for you every moment. As an effect, you can fine-dine in your room when you feel too tired to visit the restaurants.
Amenities
It's no wonder families value the Roosevelt hotel. Everyone can enjoy the rooftop pool and the hot tub, besides the other family-friendly activities.
In the Roosevelt, you will also discover the unique Waldorf Astoria Spa. That means, while kids play, grown-ups can pick from massages, facial therapies, hand and foot therapies, and make-up and hair styling.
We must too mention the fitness center and the rooftop bar, which can be a great delight during the beautiful days in New Orleans.
When it comes to dining, you can enjoy the delicious on-site Italian restaurant, where you will be amazed by the tasty specialties menu.
We especially recommend the Roosevelt hotel for the Christmas Holidays. Then, the lobby is beautifully decorated, and the children all gather to celebrate in Teddy's Bar.
Santa Claus and elves can make Christmas unforgettable for your kids, and they can enjoy holiday food.
Parents aren't forgotten either. In other words, while kids enjoy the festive activities, grown-ups can celebrate with sparkling wine and cocktails.
Conclusion
In the end, we may indeed say that whichever family hotel in New Orleans you choose, you won't make a mistake. We have included every little detail we could find so that you can decide according to your and your family's particular needs.
Every one of these family suites in New Orleans has its pros and value, but only you can know what you are looking for, for a splendid stay in the city.
We tried to do some deeper digging and compared the stays, guest reviews, and prices. Therefore, we can say with confidence that we did a good job.
Now, it's up to you whether you will listen to our advice and have an extraordinary holiday with your family.
More about our TFVG Author