New Orleans is an exciting and lively city that never sleeps. There are so many different restaurants with signature dishes and entertaining music halls and venues that adults and kids alike will enjoy.
Even walking from destination to destination is an exciting experience. Beautiful historic buildings line the streets, and if you fall in love with the architecture, you can visit and tour local mansions. There are also plenty of family-friendly attractions for everyone to enjoy, such as the Audubon Zoo and the National World War II Museum.
When you're in a city buzzing with life, it's essential to find a relaxing hotel that you and your family can retreat to after a full day of exploring. Fortunately, there are many different family-friendly hotels located in various parts of the city.
To make things easier, here are 14 of the best family hotels in New Orleans. Make sure to book your next reservation with one of them. They're sure to be comfortable places of respite that all members of your families can enjoy.
Maison de la Luz
Maison de la Luz is just a 3-minute walk from Lafayette Square. It's a beautiful and elegant hotel exuding Southern charm, and it has a total of 67 luxurious suites that are well-equipped for short-term and long-term stays.
Each room has high ceilings and large windows that let in plenty of natural light. They all have thoughtful designs with beautiful art pieces and luxurious bedding and toiletries. If you have a larger family, you can consider booking one of their spacious suites.
Along with staying in elegantly designed rooms and suites, you'll also experience excellent hospitality. You can arrange to have coffee sent to your room each morning and have access to full room service.
The hotel also has a chic Guest House with a breakfast room and living room. You can enjoy a delicious buffet or order from their specially curated a la carte menu. The blend of luxury and calm will make you feel refreshed and rejuvenated during your stay.
Crowne Plaza New Orleans French Quarter
The Crowne Plaza New Orleans French Quarter is a spacious hotel that has everything you need. As you walk down the elegant halls, you'll find a full-service restaurant, relaxing lounge, and 24/7 fitness center.
You can choose to stay in single and double rooms or suites. All the rooms have comfortable beds and get cleaned and refreshed every morning so that you have a comfortable place to return to after a day of exploring.
The location of this hotel is excellent. It's in the City Center and close to the Audubon Aquarium, Bourbon Street, and Jackson Square. If you don't know where to start, you can work with the hotel's concierge service to plan fun activities for you and your family.
Cambria Hotel New Orleans Downtown Warehouse District
Cambria Hotel New Orleans Downtown Warehouse District is a boutique hotel located near the French Quarter and Central Business District. It has a modern style with eclectic furniture and art pieces, and the guest rooms can hold between two to four guests.
This hotel is also close to many attractions and landmarks. You can walk with your kids to the World War II Museum or the Warehouse District, where you can explore different art galleries and listen to live music. The French Quarter is less than two miles away, and the Audubon Zoo is about 6.5 miles away.
Before you explore the city, make sure to enjoy a delicious breakfast or brunch at the hotel restaurant. It serves many delicious dishes inspired by local cuisine with a modern twist. Don't miss out on the signature dish–gulf fish smothered in smoked tomato butter and fried green tomatoes.
Alder Hotel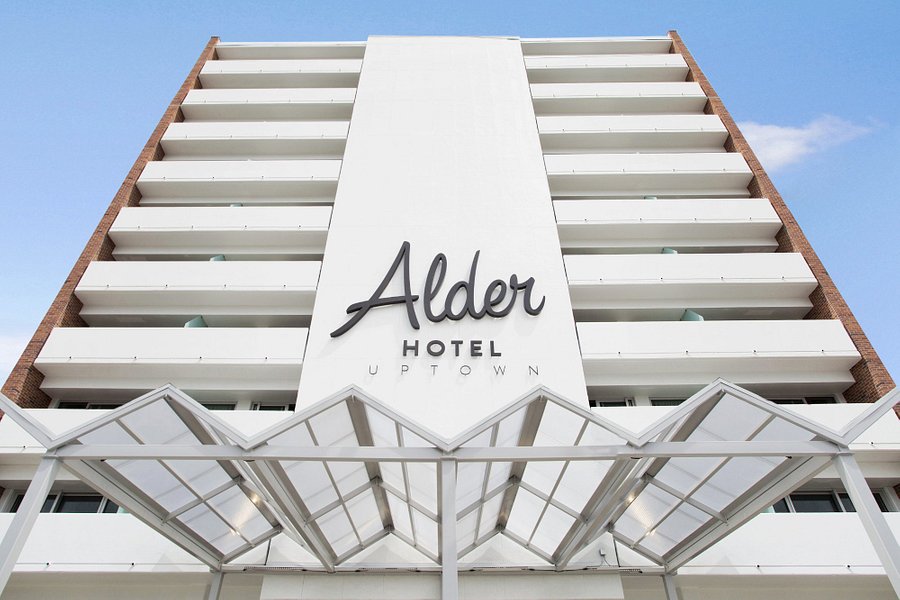 Alder Hotel rests in the heart of Uptown New Orleans near the Freret Street corridor. Tulane, Xavier, and Loyola universities are also nearby. Therefore, it's an ideal place to stay for people visiting family members or friends who are students at these universities.
This hotel is also pet-friendly, so up to two pets can occupy one room. The rooms can have between two to four guests at a time.
If you're a guest at this hotel, make sure to include the Freret Street corridor in your itinerary. There are many local restaurants, such as Bar Frances and The Company Burger, where you can enjoy cajun food and award-winning dishes. You can also take the historic streetcar to ride through the neighborhood and make your way to historic mansions and homes.
Windsor Court Hotel
Enjoy a four-star experience at the luxurious Windsor Court Hotel. This hotel had a recent $15 million renovation, so you would be staying at a contemporary establishment with updated rooms and many amenities.
Windsor Court Hotel is pet-friendly. If you book a reservation for your pet, your room or suite will have a pet bed and water bowls ready for you upon arrival.
This hotel has other great amenities, including a fitness center, a 65-foot saltwater pool with a poolside bar, and a restaurant that has live jazz performances during weekend brunch. You can also enjoy afternoon tea at Le Salon or pick something up at the onsite on-the-go eatery.
Once you venture out of the hotel, you can choose to visit the French Quarter, Mississippi River, or Warehouse District. They're all less than two blocks away.
French Market Inn
If you and your family enjoy sightseeing, you'll love staying at the French Market Inn. This historic hotel is in the heart of the French Quarter. It's also within walking distance of Jackson Square, the French Market, Bourbon Street, and the Audubon Aquarium.
The hotel itself has a rich history. It started as a bakery, and then it transformed into an inn in the 1830s. The guest rooms still have a historic look and feel. Many of the rooms have exposed brick walls and antique-style furniture. You and your family are sure to feel comfortable in each of these cozy rooms.
One special service that the French Market Inn offers is accommodating for family reunions. Therefore, if you'd like to plan a family reunion, make sure to ask about any applicable specials or packages.
Drury Plaza Hotel New Orleans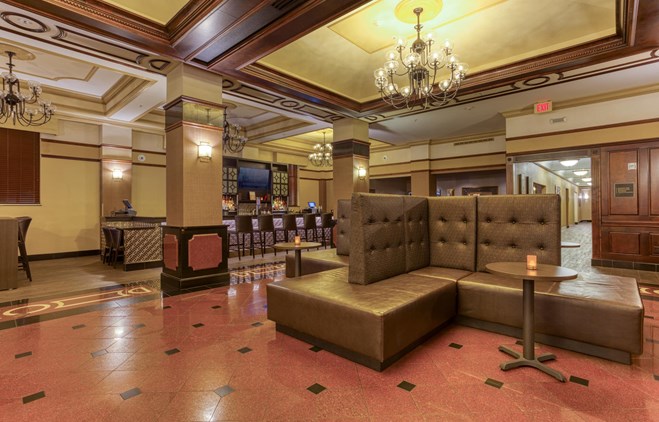 This hotel is also in a historic building–the Cumberland Phone Building. It's on Poydras Street in the Central Business District and is nearby Bourbon Street, the French Quarter, the Garden District, and the Aquarium of the Americas.
All the rooms at this hotel include free wifi, a television, microwave, and refrigerator. All guests also have the option of dining in and enjoying a complimentary breakfast. Other hotel amenities include a heated outdoor pool, 24-hour fitness center, and 24-hour business center.
Staying at Drury Plaza Hotel New Orleans means experiencing high-quality service and hospitality. Drury Plaza hotels have won the JD Power award for Highest in Guest Satisfaction Among Upper Midscale Hotel Chains for 16 years.
Hotel St. Marie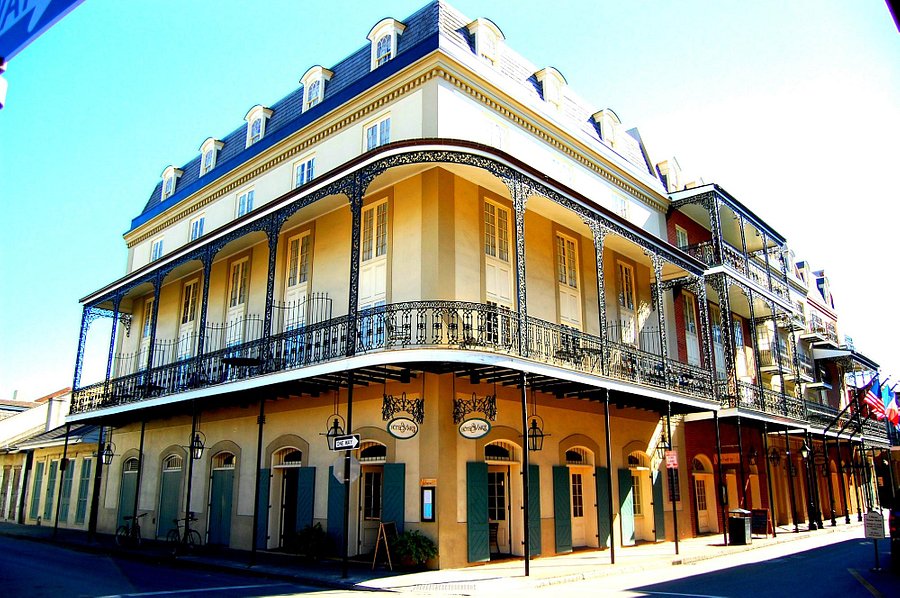 The charming Hotel St. Marie is just steps away from Bourbon Street and a short walk away from St. Louis Cathedral and Jackson Square. It has a classic French Quarter-style look with quaint, painted shutters and wrought-iron balconies overlooking its tropical courtyard.
Guests can choose to stay in single rooms or suites. All the rooms have comfortable queen or king-sized beds, and the suites include elegant sitting areas.
Vacherie Restaurant & Bar is on the first floor, so you don't have to leave the hotel to enjoy authentic Cajun food. It offers breakfast, lunch, and dinner, and you can also order on-the-go menu items.
Hotel Provincial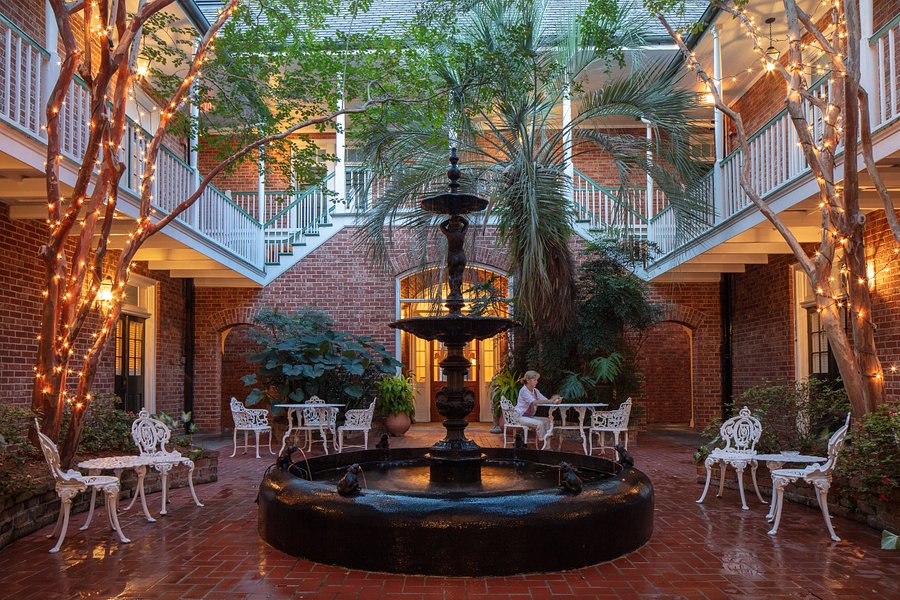 The stately Hotel Provincial offers a comfortable and accommodating stay for all its guests. It has all the charm of the French Quarter, such as a secluded tropical courtyard, but it also includes many modern conveniences.
The guest rooms all have comfortable Sealy Plush Mattresses and feather pillows. They also have flat-screen LCD televisions, free wifi, mini-refrigerators, and a coffee maker.
There are many local attractions and delicious restaurants located near the hotel. Some of the closest attractions include the Old Ursuline Convent Museum, French Market, and Lalaurie Mansion. You can also walk to Cafe Du Monde, Croissant D'Or, and Cafe Amelie if you're craving delicious meals and desserts.
Hotel Peter And Paul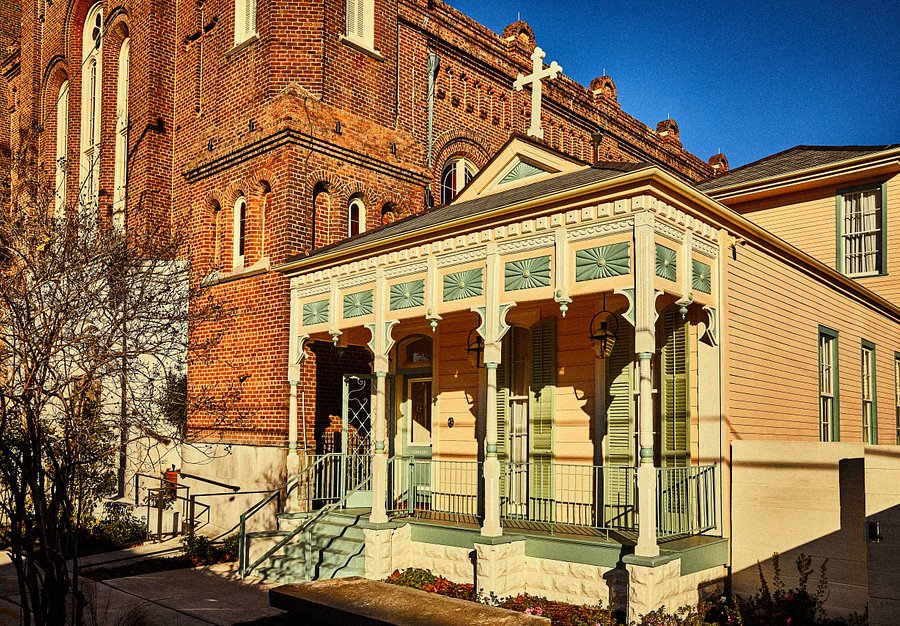 This hotel is a combination of four historic buildings–a school, rectory, church, and convent. Guests will have a truly unique experience here. For starters, no two rooms are alike, and each one has its own set of dramatic furnishings.
Families will enjoy an accommodating stay at this hotel. There are several adjoining rooms, so families can stay together while also having private sleeping areas.
The hotel itself is worth exploring for its beautiful interior design. You can enjoy a meal at the Elysian Bar or have refreshing ice cream from Sundae Best Ice Cream located in the convent.
Hotel Peter and Paul is in the Faubourg Marigny, which has many delicious Cajun bistros, the nighttime Frenchmen Art Market, and Washington Square. After a fun day of exploring with the kids, you can take a stroll along the Mississippi River or take a break in Crescent Park.
Place d'Armes Hotel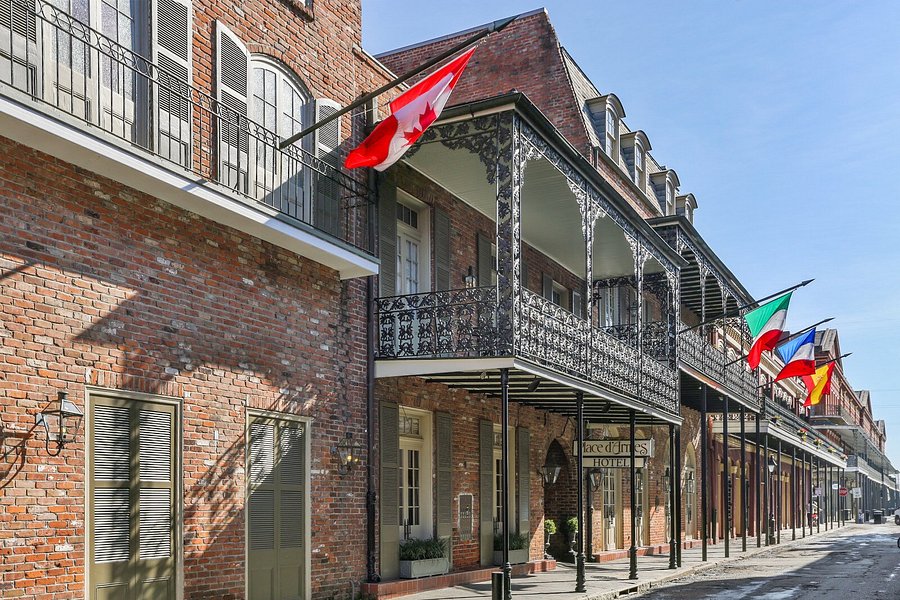 Guests of Place d'Armes Hotel will enjoy a relaxing stay as they explore the surrounding French Quarter. There are 84 rooms, and each one has comfortable furnishing and free wifi. Some of the rooms also have charming exposed brick walls and cozy balconies.
The hotel also has a front desk available 24/7 and concierge services ready to help you have a memorable family vacation.  
The hotel is within walking distance of the World War II Museum and St. Louis Cathedral. If you walk a couple more blocks, you'll reach Bourbon Street and Jackson Square. In between visiting landmarks, you can stop by Cafe Du Monde to enjoy some delicious beignets.
After a fun day of exploring, you can return to this boutique hotel and enjoy the secluded tropical courtyard, fountains, and swimming pool.
Hotel Monteleone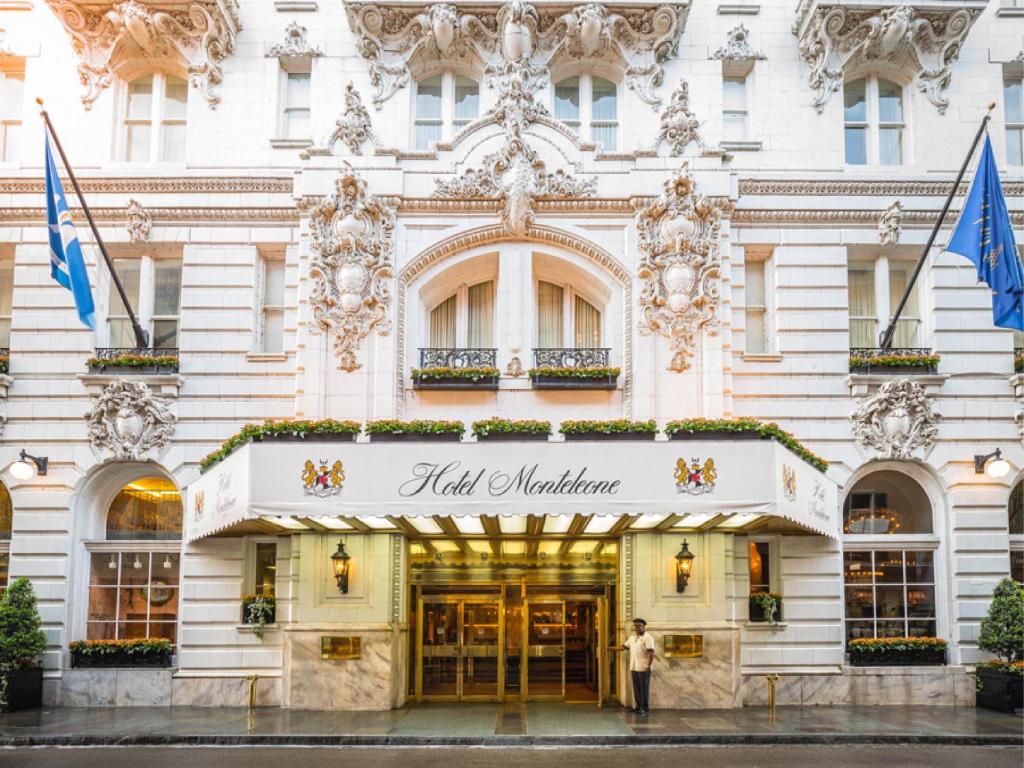 Hotel Monteleone is a luxury hotel located in the heart of the French Quarter on Royal Street. It has 522 spacious guestrooms, which include 22 beautiful and relaxing suites. Each room has complimentary high-speed wifi, a large-screen television, an in-room safe, and a refrigerator.
The hotel also has an award-winning restaurant, Criollo. You can also enjoy a relaxing and rejuvenating time at its full-service spa. Other amenities include an exercise facility, heated rooftop pool, and breakfast room service.
Once you step outside, you'll find yourself surrounded by unique boutiques and small shops that sell antiques, art, and jewelry. Notable attractions located several blocks away include House of Blues New Orleans, Bourbon Street, and Canal Street.
Hotel Le Marais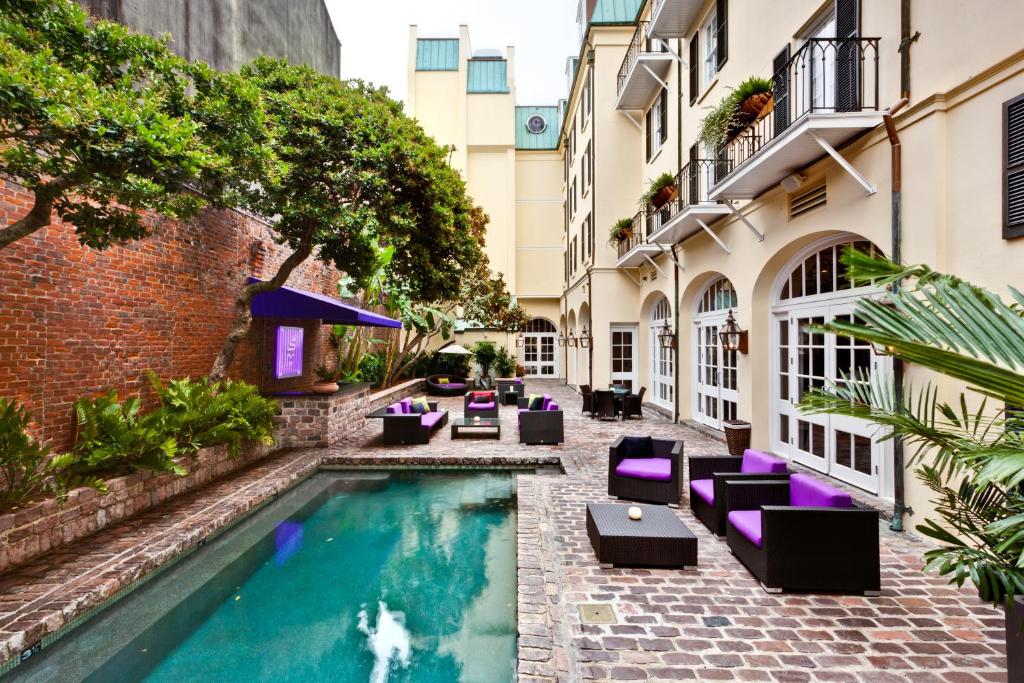 Hotel Le Marais is in the French Quarter, and it has a luxury feel within the setting of an intimate boutique hotel. Amenities include a heated saltwater pool, business center, fitness center, and complimentary wifi in common areas and guest rooms.
All the rooms have wood-grain porcelain tiles and plantation shutters. They each have extremely comfortable pillow-top mattresses to ensure that you have a relaxing evening after a busy day of exploring.
The hotel is just half a block away from Bourbon Street and within walking distance of Jackson Square. It's also near delicious restaurants, including Brennan's Restaurant, Rib Room, and Kingfish.
The Eliza Jane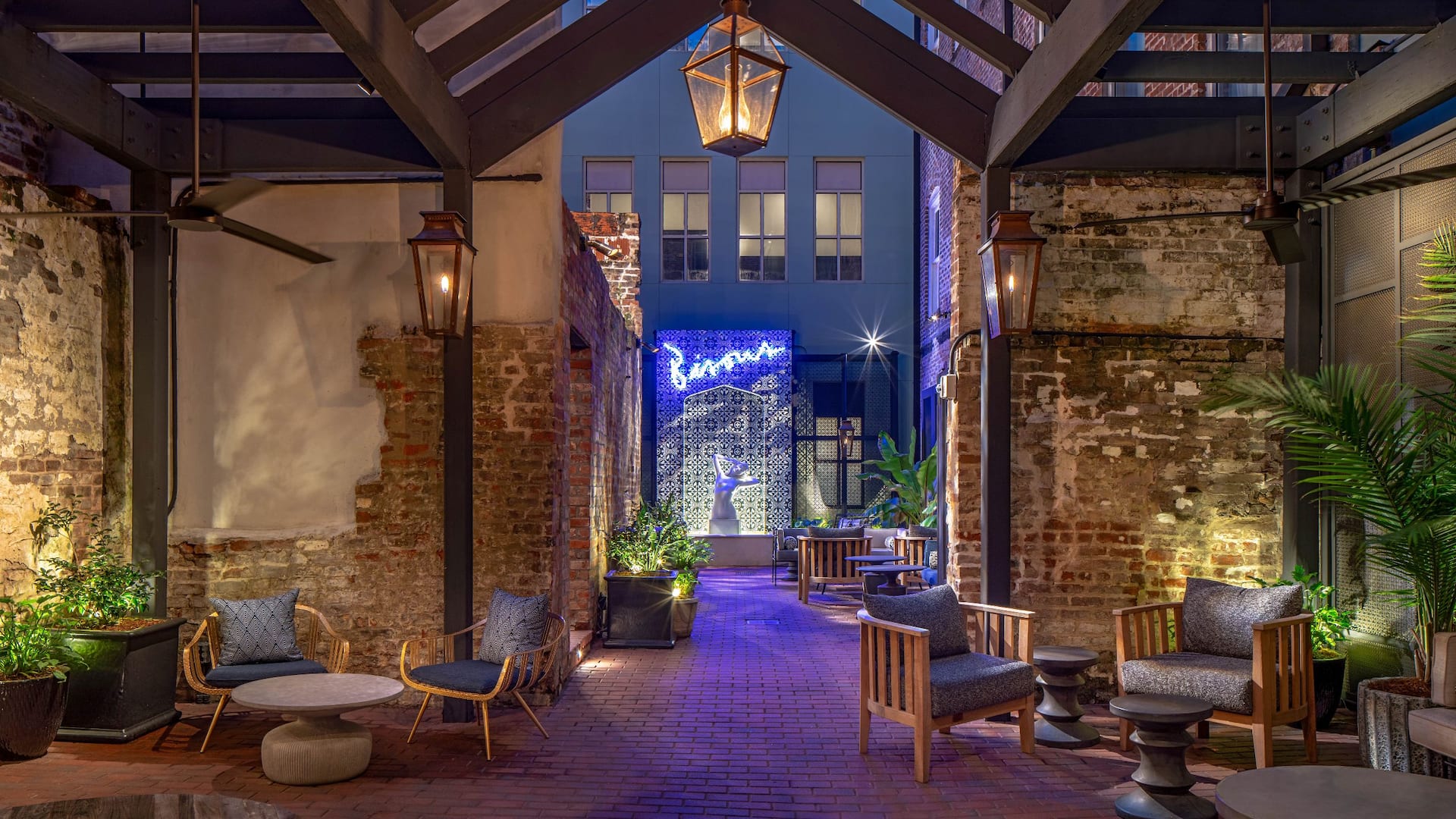 The Eliza Jane rests near the French Quarter, Central Business District, and Warehouse District. This hotel has 196 rooms, which include 50 suites. Each room has eclectic and cozy furniture that blends modern and traditional designs.
The main level has a literature-themed lounge, a French restaurant, and a cozy courtyard. You can also find a 24-hour fitness center.
The hotel staff is very hospitable and welcoming. The concierge service can assist with making dining reservations and provide information on local events.
The Eliza Jane is close to The Historic New Orleans Collection, World War II Museum, and the New Orleans Museum of Art. Make sure to stop by some musical landmarks, including Preservation Hall, Spotted Cat, and Tipitina's. All these places are sure to be a hit with all members of your family – both kids and adults! You can also enjoy dining at nearby restaurants, including Cafe Amelie, Peche, and Commander's Palace.
More about our TFVG Author
A seasoned traveller, Dad, and avid sports tourist, James foundered The Family Vacation Guide to share his expert vacation experiences- especially when it comes to being a travelling family man.
Featured in Travel articles such as Travel + Leisure, TripSavvy and SFGate, you know you're reading some of the best vacation tips online.