Maine is arguably the most beautiful state in the United States of America. Rocky shorelines lined with lighthouses, expansive green forests, and fresh seafood; what's not to love? What better way to enjoy the beautiful state than flying through its beauty on a zipline?
Check out ten of the best places for ziplining & aerial adventures in Maine below!
Sugarloaf
Among the beautiful golf courses is a zip line waiting for your family to come and have the time of their life! Sugarloaf Golf Resort has six different zip lines between 20-30 feet above the ground. Tour guides will take you along the zip lines through the mountains.
Experience flying through mountains at speeds up to twenty-five miles per hour! This is an activity that the whole family will enjoy.
If someone in your group isn't up for an adrenaline-pumping zipline ride through the beautiful mountains, there are plenty of other activities that Sugarloaf offers. Golf, hiking, mountain biking, disc golf, scenic lift rides, and paddling are all available at Sugarloaf.
Monkey C Monkey Do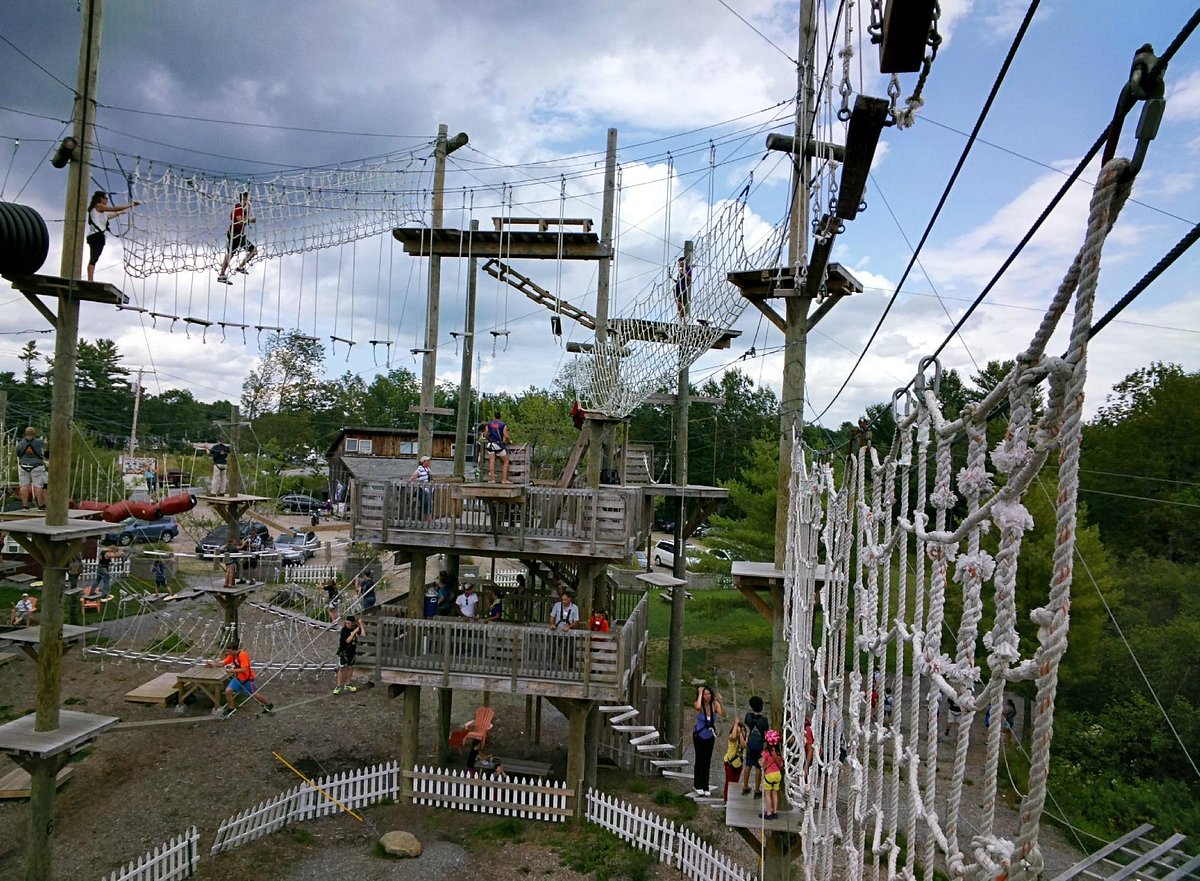 Located in Wiscasset, Maine, Monkey C Monkey Do in Maine's Premiere Ropes Course and Zip Lines. Their most popular package includes an element ropes course with over 60 obstacles to conquer. A giant swing gives you a break from the hard work on the ropes course. A unique zip line will have you coming back again and again.
Zipline alongside your best friend on the twin zips. Monkey C Monkey Do has something for everyone, including a kids course for the youngsters!
Monkey C Monkey Do also offers tactical laser tag, a heart-pounding take on indoor laser tag. It is played outside on their tactical laser tag field.
Take Flight Aerial Adventures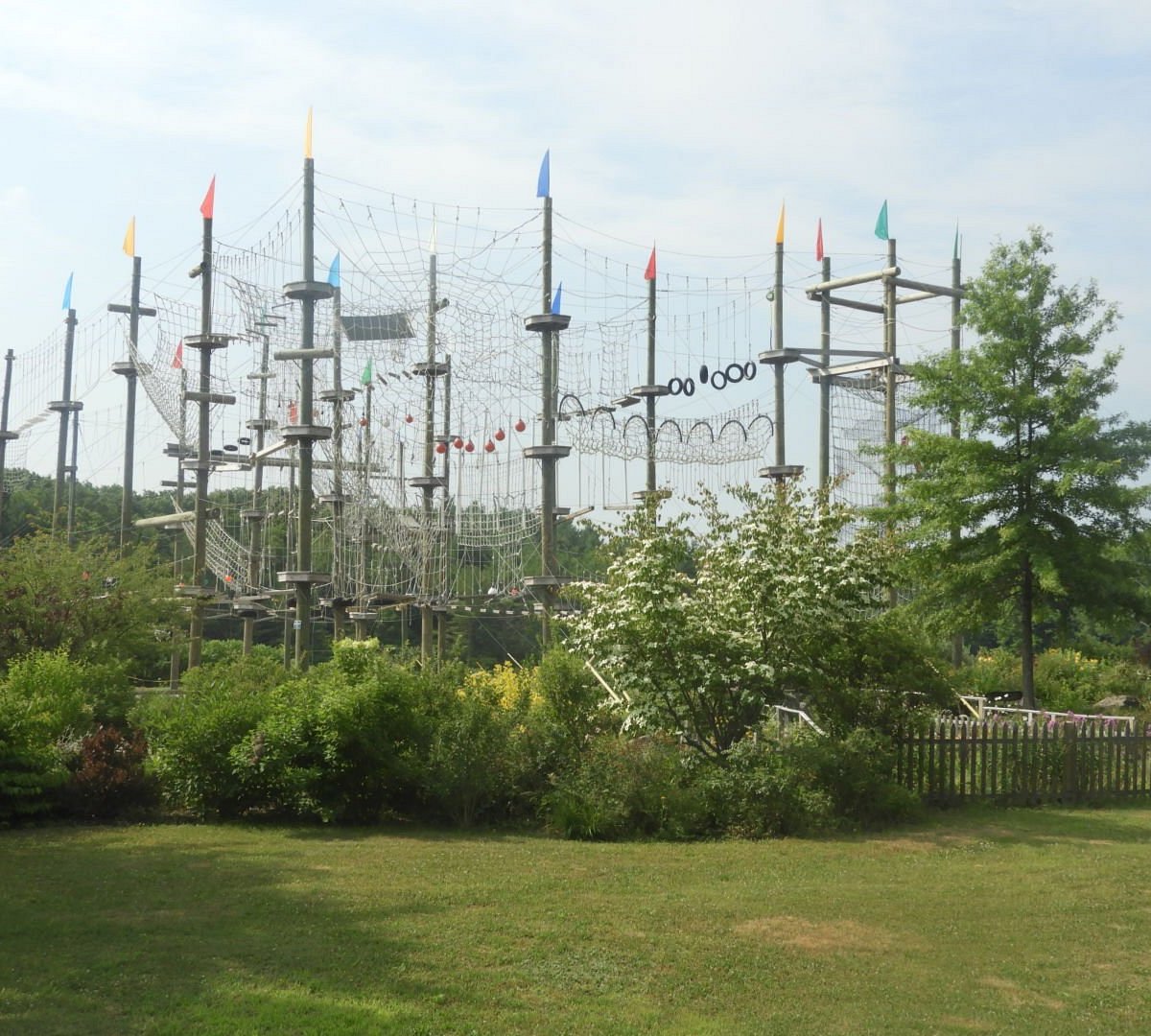 Take Flight Aerial Adventures is an aerial adventure course located on the Maine and New Hampshire coastline. The challenge course has over 65 elements, challenging beginners and experienced alike.
If you want a more relaxing aerial experience, take flight on an adventure zip line tour. Explore the forests of Maine on six zip lines with three climbing elements that will give you something to conquer along the way.
If you have the whole family at Take Flight Aerial Adventures, take them out to the Team Building activities to grow closer. The program promotes communication, teamwork, trust, and leadership.
Xtreme Adventures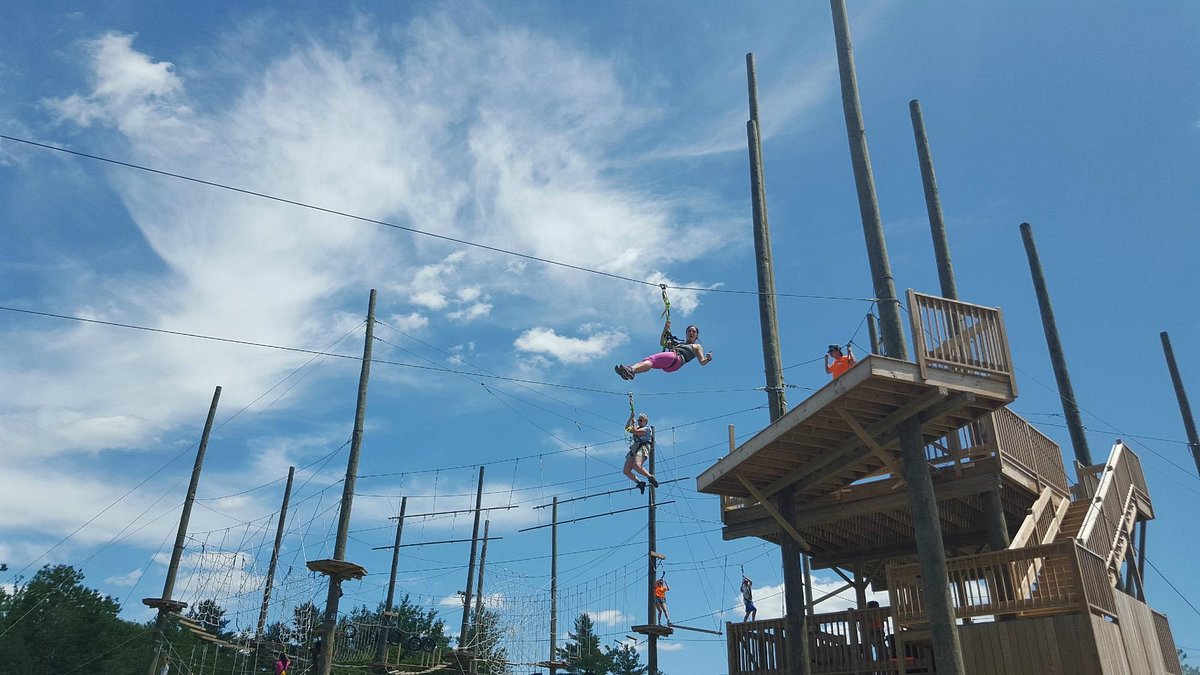 Xtreme Adventures is in Brewer, Maine. It is in the center of the state, making it a destination for visitors from all corners of Maine. This adventure park features a ropes course with over 40 obstacles that will challenge your family.
Four zip lines are available to guests, with four more in the plans to open this spring. Take a ride on the Giant Swing that sits 35 feet above the ground. Grab a friend for your trip to Xtreme Adventures because they run on the buddy system. You and your buddy will go through the day together for safety and fun.
Xtreme Adventures is suitable for ages four and over with adult supervision. Teens and adults can explore the forest in this family-centered adventure park.
Monkey Trunks Saco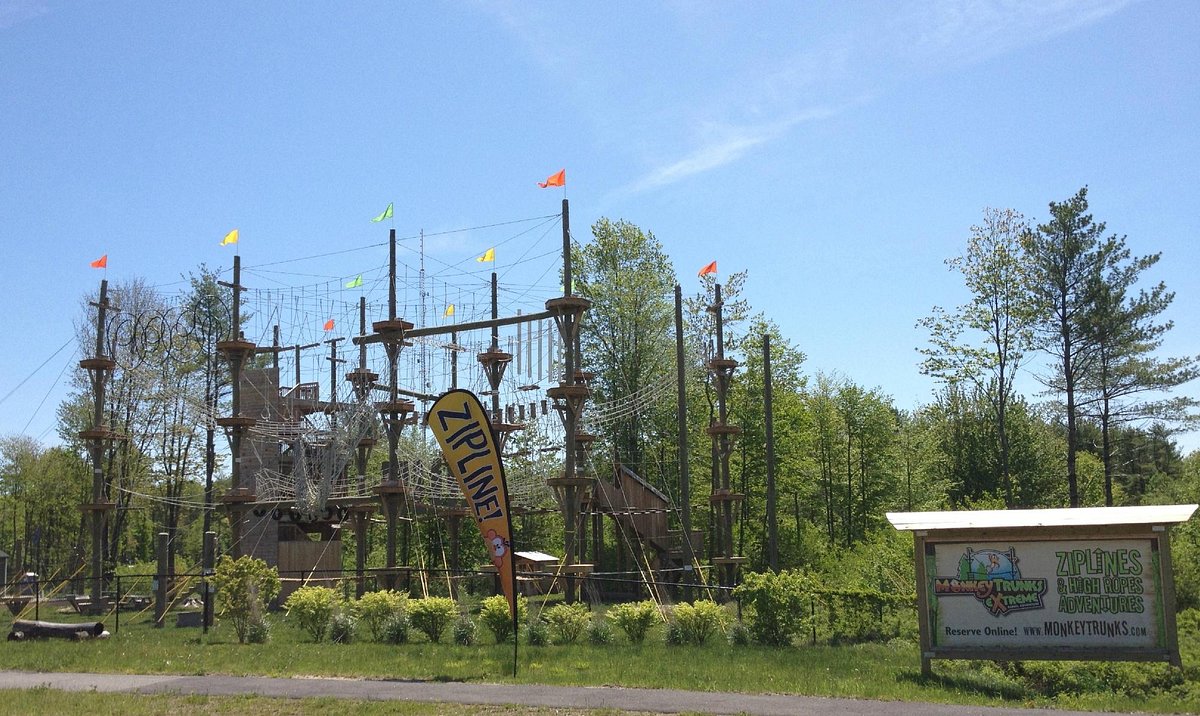 Monkey Trunks offers high-flying fun for children, teens, adults, and families! It is in Saco, Maine. Your visit to Monkey Trunks will begin with going to class. That's right; you have to learn safety before you are in the air!
After completing ground school and gaining safety instruction knowledge, participants will graduate from safety school and will be allowed to navigate the courses. You will begin on the green beginner courses to show you are now a professional at ropes courses. You must demonstrate you know how to use your equipment properly in this phase.
After you have completed this stage, you are allowed to progress through the increasing levels of difficulty amongst the courses. These courses feature tightropes, beams that swing, rolling logs, zip lines, suspended tires, cargo nets, and more!
If you bring the little monkeys along, let them play on the children's course to test their skills and abilities. Each platform on the children's course is no higher than six feet in the air. The children's course includes six to eight obstacles and finishes with an eighty-foot zipline for an exhilarating ending.
Call ahead and make a reservation for you and your family to visit Monkey Trunks!
Adventure Bound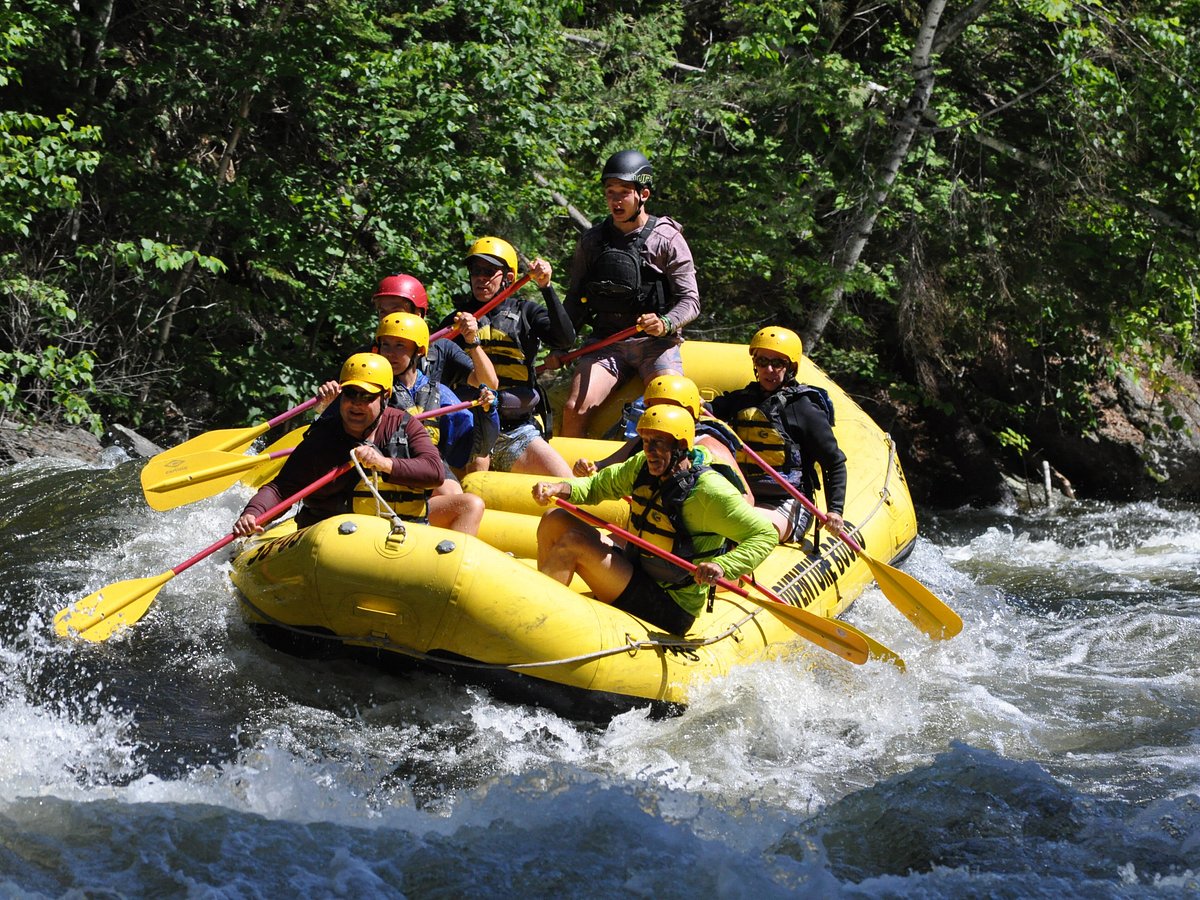 Adventure Bound is located in Caratunk, Maine. They offer multiple outdoor activities, including both a high and low ropes course. Bring the family out for some fun on the ropes course or trust-building exercises.
The high ropes element course tests participants mentally and physically. A supportive and safe atmosphere will positively challenge the participant to push through any insecurities. Guides will familiarize each participant with equipment use so they are comfortable and confident with every aspect of the experience.
The low ropes course has six elements that are used by groups to familiarize themselves with elements, practice communication, get acquainted with working with one another, and sharpen their teamwork skills. Every element is done in the group, not by an individual. This allows the group to take advantage of each individual's strength to benefit the group as a whole.
Scheduling for the ropes courses can be custom-made. A typical full day on the ropes course starts between 8 am and 9 am with orientation. Then your group will move on to field games and warm-up. We will then cycle through the low ropes course, with some people on the course and some eating lunch.
The afternoon consists of conquering the high-ropes course. Partner elements will kick off our time at the high ropes course, and we will end with the giant swing and finally the leap of faith. The day will end between 3 pm and 4 pm.
A half-day at Adventure Bound ropes course starts with orientation, either in the morning or afternoon. We will spend about an hour on the low-ropes course, then head out to the high-ropes course for about two hours.
Seacoast Adventure
If you are looking for something a little less challenging, head to Seacoast Adventure in Windham, Maine, for some high-flying fun! Their Sky Swing will have your heart pumping and adrenaline rushing.
Towering at 100 feet in the air, you will feel the excitement of hand gliding and skydiving all in one ride. The swing accommodates 1, 2, or 3 riders at a time.
This is a great option for some high-flying fun without the mental and physical challenges of a ropes course!
More about our TFVG Author